Bacon Wrapped Water Chestnuts are a simple and delicious appetizer for game day or any party. The soy-soaked water chestnuts are crunchy and flavorful, and once you add the bacon…yum! You can't go wrong with bacon wrapped appetizers. Try this bacon wrapped water chestnuts recipe right away!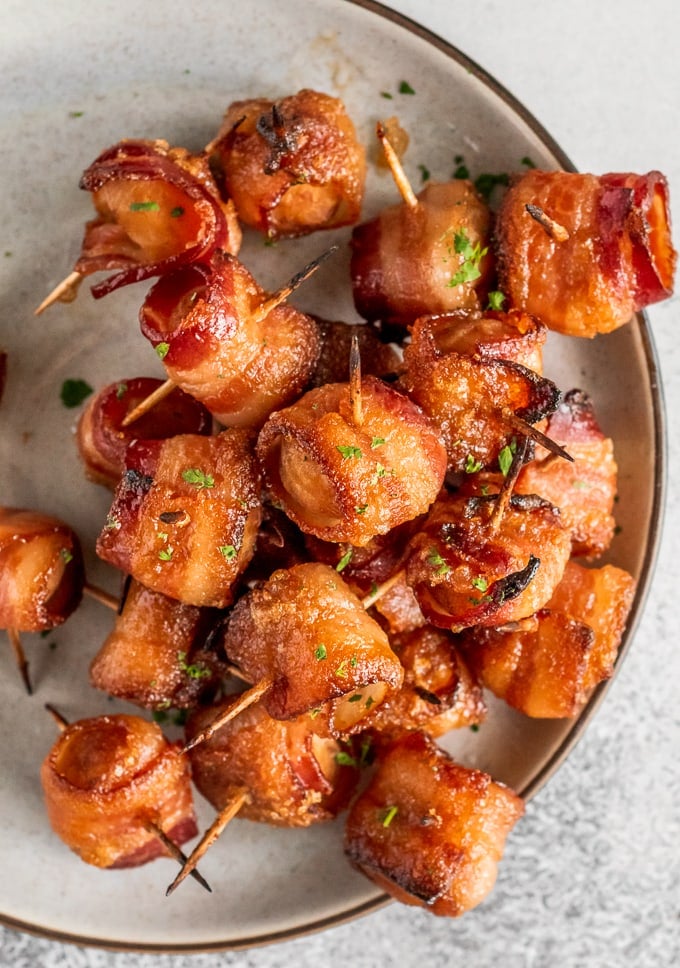 Bacon Wrapped Water Chestnuts
Bacon wrapped water chestnuts are one of our favorite appetizers! Perfect for any holiday or get together. Anything that has bacon in it is already a favorite of mine, but the combination here of the crunchy water chestnut is just so yummy!
I love bacon. That should come as no surprise to you guys! I'd add bacon to just about everything if I could, because it just adds so much savory flavor.
I've made Bacon Cheese Fries, Brussels Sprouts with Bacon, Bacon Pancakes…and of course I've just about perfected this Oven Baked Whiskey Bacon!
This Bacon Wrapped Water Chestnuts recipe is perfect because not only do you get BACON, but it's wrapped around crunchy, soy-soaked water chestnuts and it tastes so amazing!
It's definitely a lighter, fresher taste than the bacon wrapped tater tots I made (another amazing bacon wrapped appetizer), so it's a great thing to add to the appetizer list for parties or game day.
Try this Bacon Wrapped Water Chestnuts recipe for your next game day appetizer. Bacon wrapped appetizers for the win!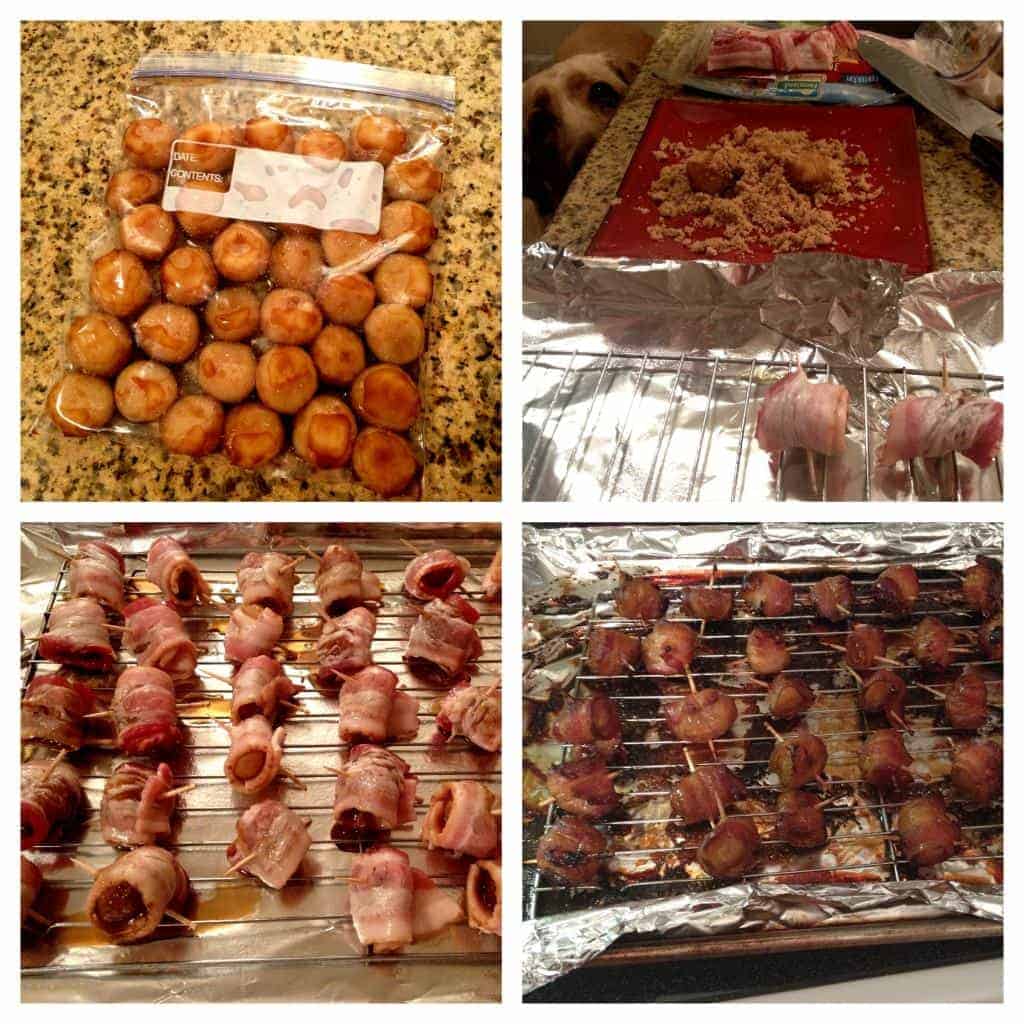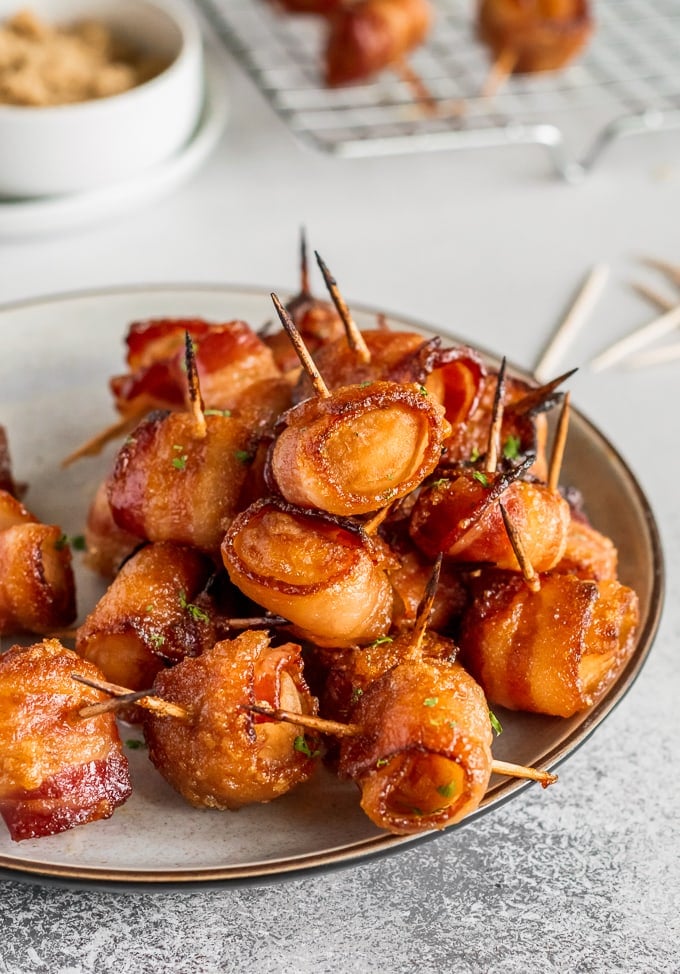 Bacon Wrapped Appetizers
This bacon wrapped appetizer makes me think of football season. My mom would always do a good job feeding us during football games on Saturdays and Sundays.
I have to cheer on my Tigers and Chiefs (a sad upbringing, indeed) while eating the right foods! This really takes me back and makes me think of more goodies I need to make for this blog.
Anything wrapped in bacon is perfect for game day appetizers (especially the Super Bowl), and this bacon wrapped water chestnuts recipe is no different.
Mix them in with that rest of the appetizers, like Swedish Meatballs, an easy Queso dip, or these fried buffalo wings with homemade buffalo sauce.
How to Make Bacon Wrapped Water Chestnuts
This bacon wrapped recipe is really so easy.
Marinate the water chestnuts in soy sauce for at least 1 hour
Drain them & coat in brown sugar
Wrap each one in bacon & secure with a toothpick
Back for 30-45 minutes in 350°F
We made these this weekend and it was such a fun day. It was topped off with family poker, caramel apple hot toddys, and bacon wrapped water chestnuts.
How great (and different) it is to actually be able to cook for people…even if it is still just the simple things. I'm on my way to becoming the domestic goddess I strive to be!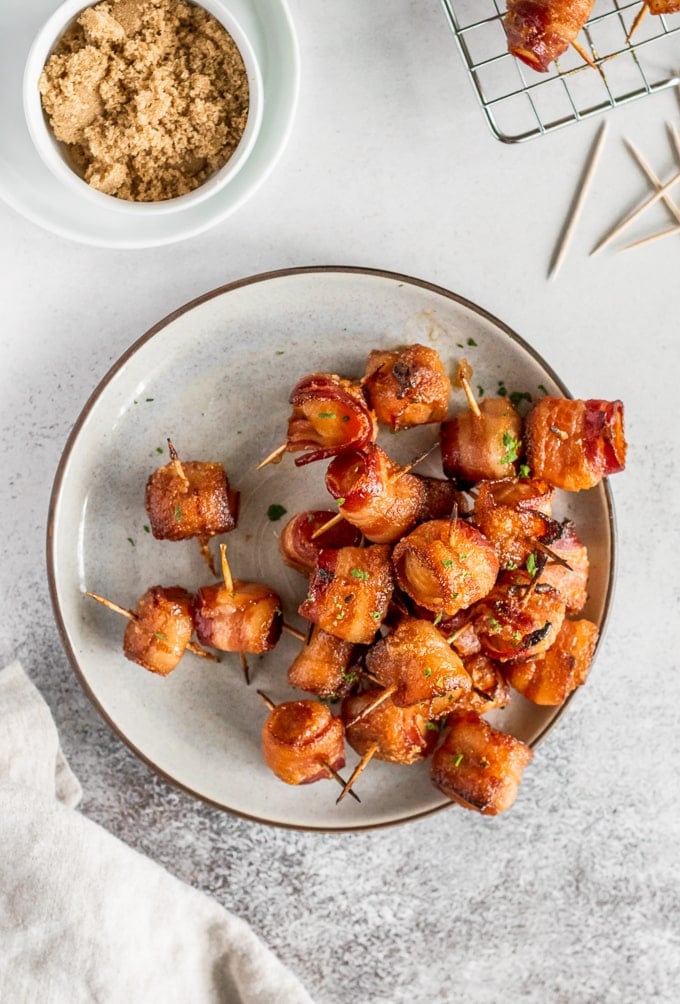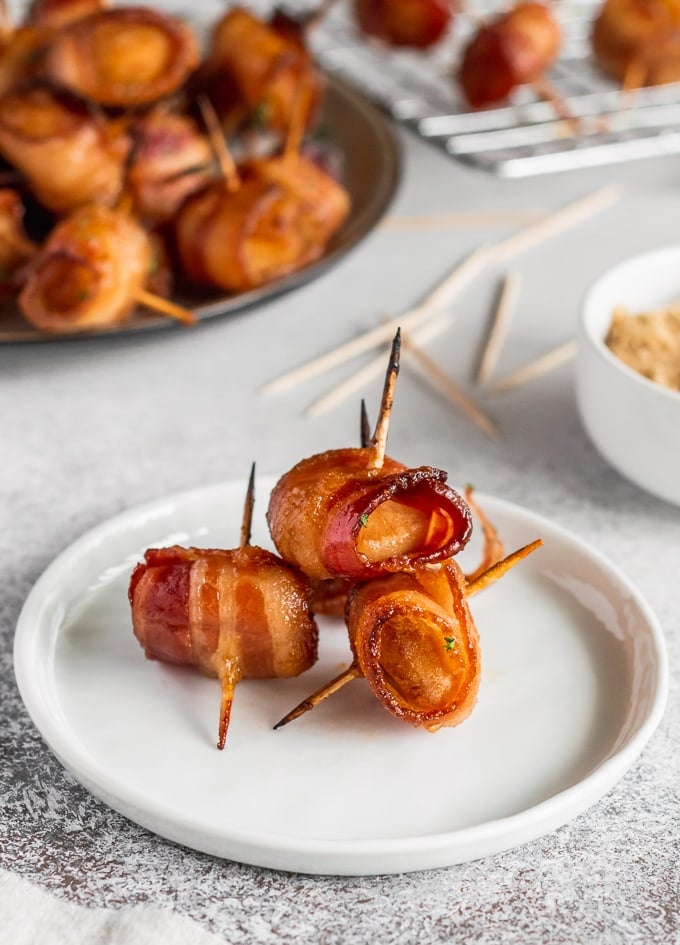 How long do you cook bacon wrapped water chestnuts?
In this recipe, you'll cook the bacon wrapped water chestnuts for between 30-45 minutes.
Are water chestnuts good for you?
Water chestnuts are definitely a great thing to add to your diet. They have a good amount of nutrients in them, plus they have antioxidants.
And they are low in calories and fat! So they are great things to snack on…Once you wrap them in bacon, it's a whole other story!
Are water chestnuts a nut?
No! Water Chestnuts are not actual nuts, so they are safe to eat for anyone who may have a nut allergy. They are actually a vegetable that grows in marshy waters and look similar to chestnuts (which is where the name comes from).
Can you buy fresh water chestnuts?
Yes! You can buy fresh water chestnuts and use them in this recipe. However, it's much more difficult to find fresh ones rather than canned.
Fresh water chestnuts will generally only be available at specialty grocers or Asian supermarkets. And it's much more difficult to keep fresh ones…well, fresh. Canned is the best option!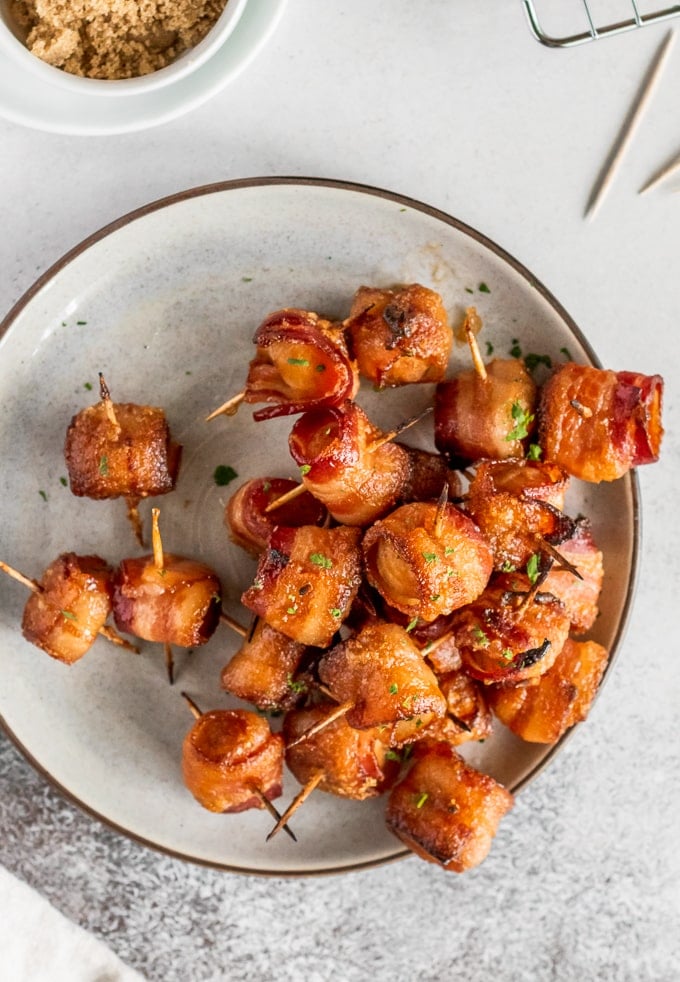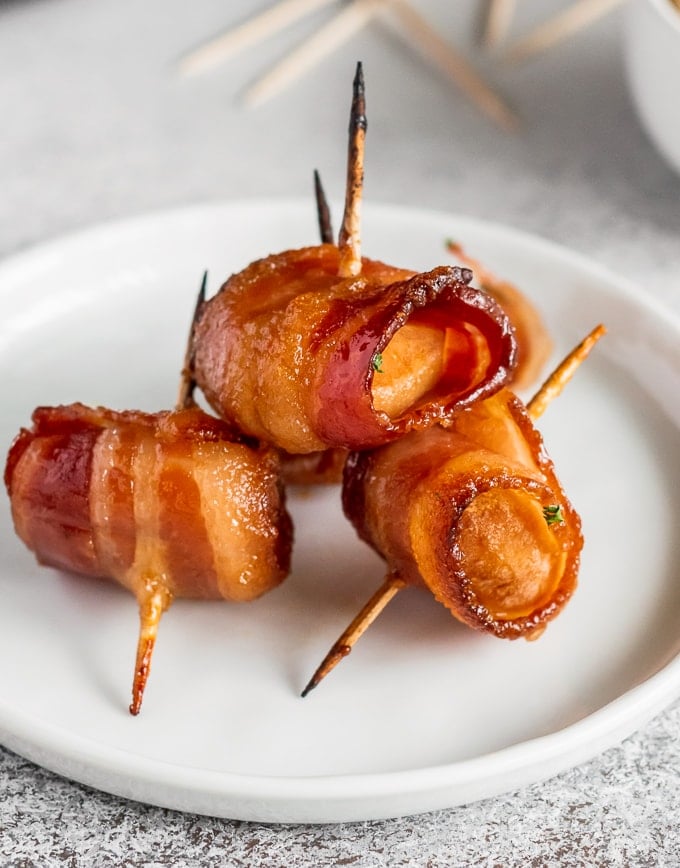 These bacon wrapped water chestnuts is so good and so easy to do. The soy sauce and bacon give so much flavor to the water chestnuts, and they become the perfect bite-sized bacon wrapped appetizers.
If you like this recipe, try some other favorite appetizers:
And don't forget to add these other bacon wrapped appetizers to the table:
If you make this recipe be sure to upload a photo in the comment section below or leave a rating. Enjoy! You can also jump to recipe.