These bacon wrapped water chestnuts are one of our favorite appetizers! Perfect for any holiday or get together. Anything that has bacon in it is already a favorite of mine, but the combination here of the crunchy water chestnut is just so yummy!
my dad has a few favorite recipes that when made, he will eat until they're gone.  if you dont get there in time to have some…there won't be any left.  party mix, mashed potatoes, and bacon wrapped water chestnuts.  bite-sized…savory…and addicting.  you have to try them to believe me…because although they sound and look a little strange…they really are one of my favorites.
this appetizer makes me think of football season.  my mom would always do a good job feeding us during football games on saturdays and sundays.  have to cheer on my tigers and chiefs (a sad upbringing, indeed) while eating the right foods!!  mmm…takes me back! and makes me think of more goodies i need to make for this blog.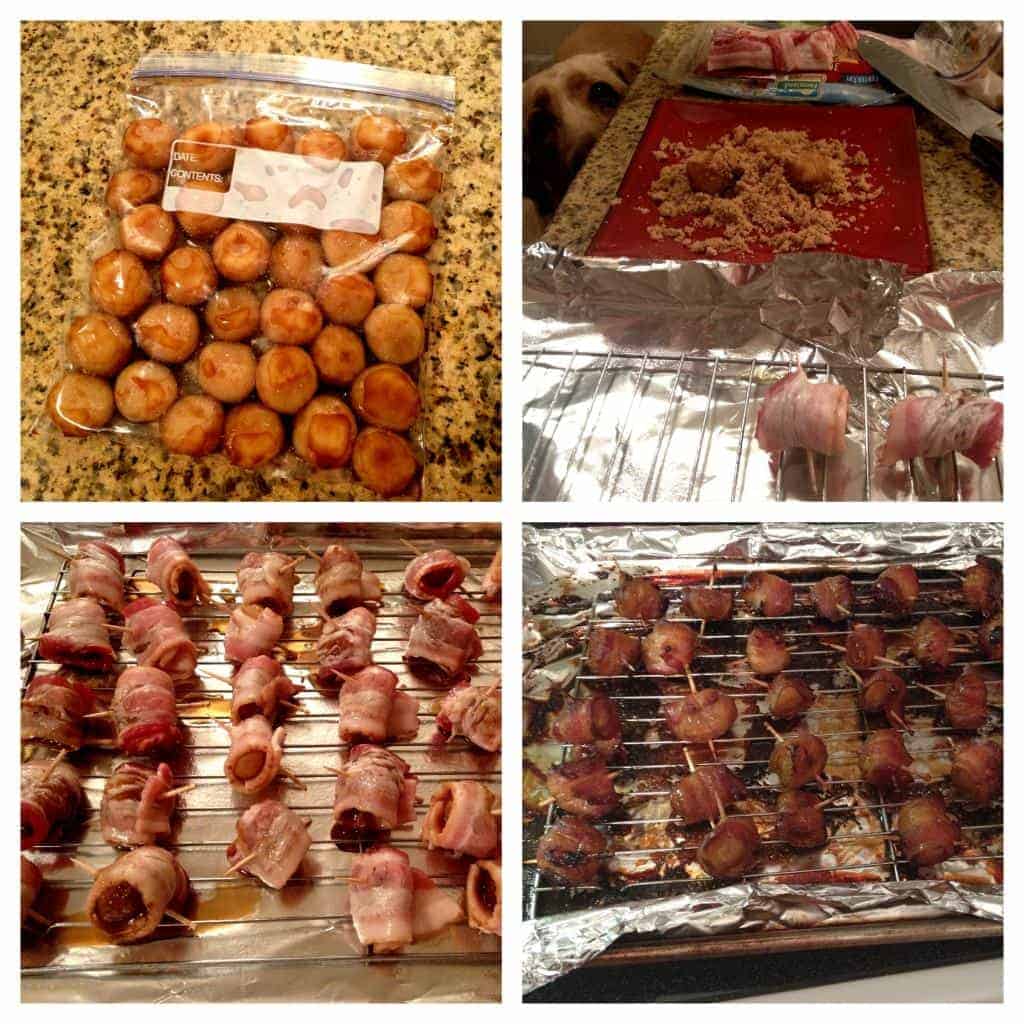 these are really so easy.  marinate the chestnuts, coat in brown sugar, wrap in bacon, and bake! easy as pie.
we made these this weekend to have after the big christmas barbershop quartet show we attended as a family.  (yes…you read that correctly).  it was such a fun day; topped off with family poker, caramel apple hot toddys, and bacon wrapped water chestnuts.  how great (and different) it is to actually be able to cook for people…even if it is still just the simple things.  i'm on my way to becoming the domestic goddess i strive to be!
:)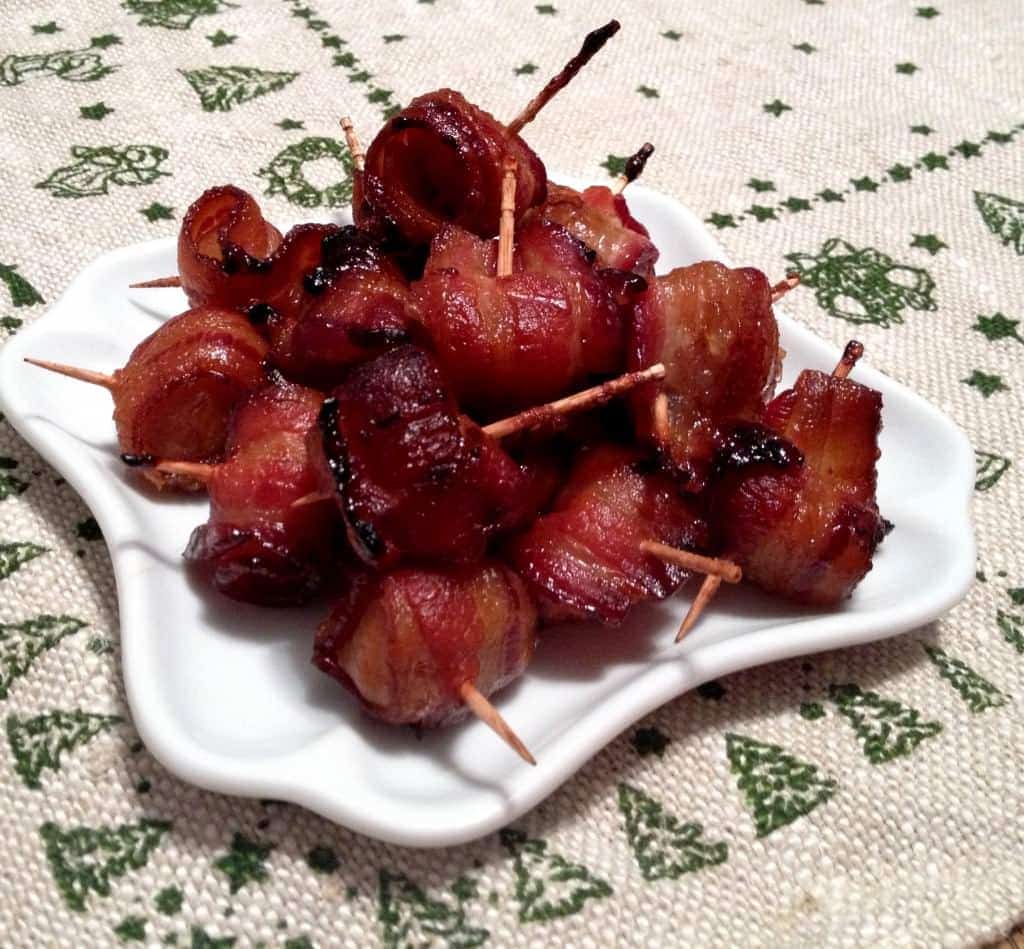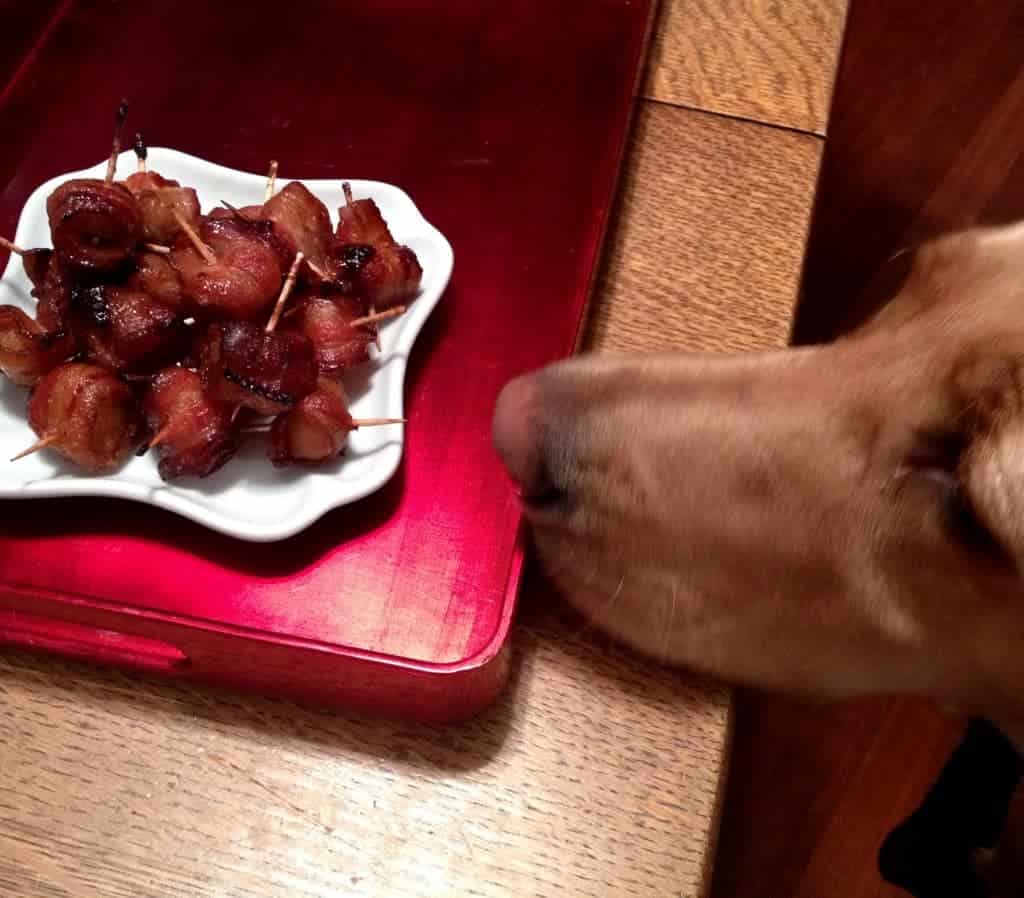 scout had her eye on these.  she didn't let them out of her sight.  you could see the light leaving her eyes as they disappeared one by one…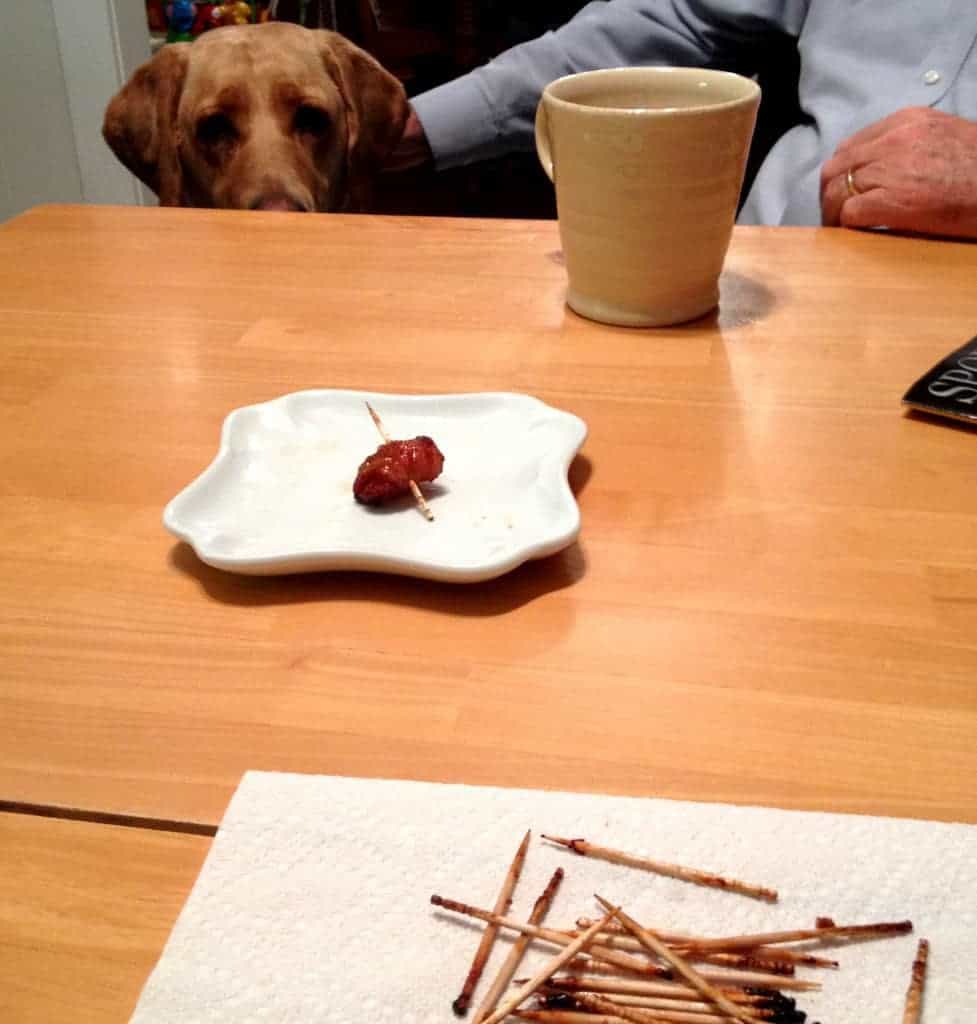 poor scout.  lucky you!! enjoy!
CLICK HERE TO SEE MORE AMAZING APPETIZERS!!
bacon wrapped water chestnuts
my dad's favorite appetizer! crispy bacon wrapped water chestnuts. delicious! try this for your next party. they'll be gone in no time.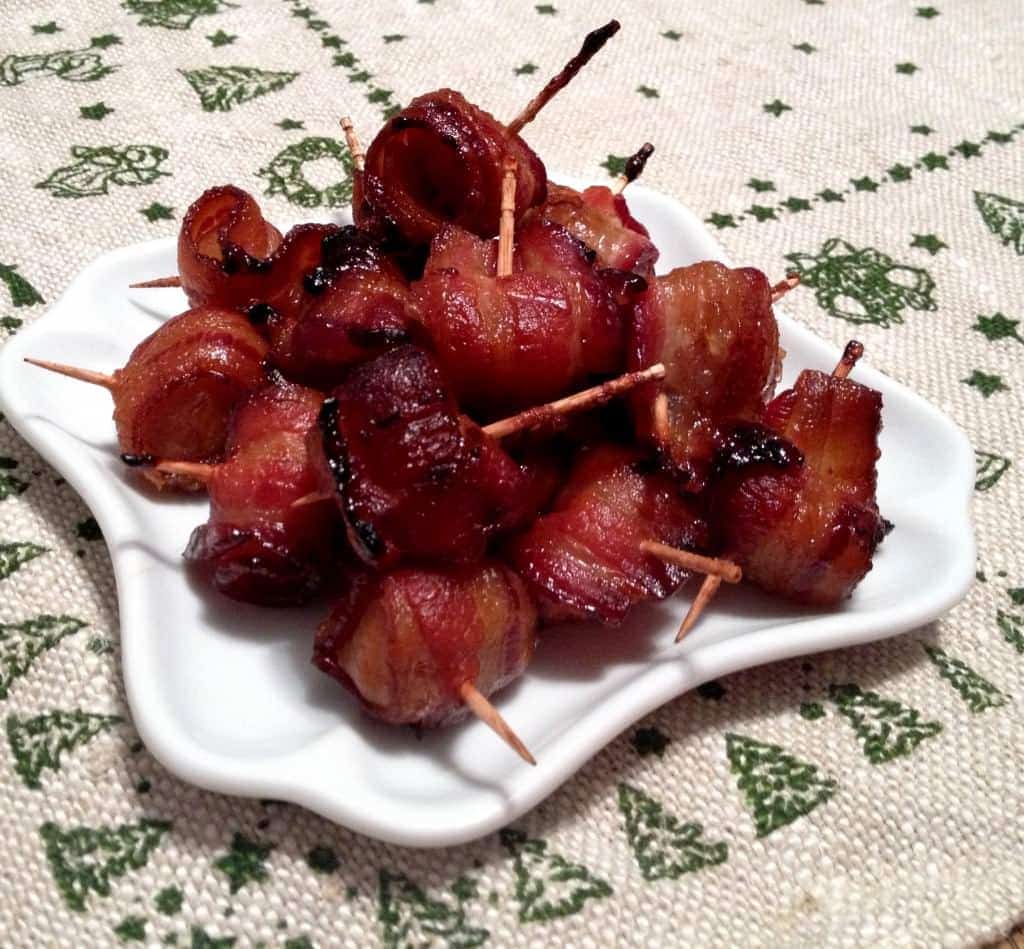 Ingredients
2 cans (8 oz) Whole Water Chestnuts - drained
1/2 c. Soy Sauce
1 c. Brown Sugar
1 lb. Bacon - cut cross-wise into 1/3rds.
Toothpicks
Instructions
Completely cover a cookie sheet or baking pan with aluminum foil.
Place a sprayed cooling rack over the pan to catch the drippings.
Marinate the water chestnuts in soy sauce for at least 1 hour (or overnight).
After marinating, drain the water chestnuts.
Preheat the oven to 350 degrees.
Place the brown sugar in a bowl.
Roll each water chestnut in the brown sugar.
Wrap 1/3 slice of bacon around each chestnut and secure with a toothpick.
Place on the prepared pan.
Bake for 30-45 minutes or until browned.
(You can broil the water chestnuts for the last few minutes to crisp the bacon. Watch closely)
ENJOY!!
7.7.0.1
1992
https://www.thecookierookie.com/bacon-wrapped-water-chestnuts/