Enjoy a juicy, flavorful entree with this easy Baked Italian Chicken. Not only can you season it with ease, but it also bakes in no time, leaving you with a satisfying meal to enjoy with family and friends.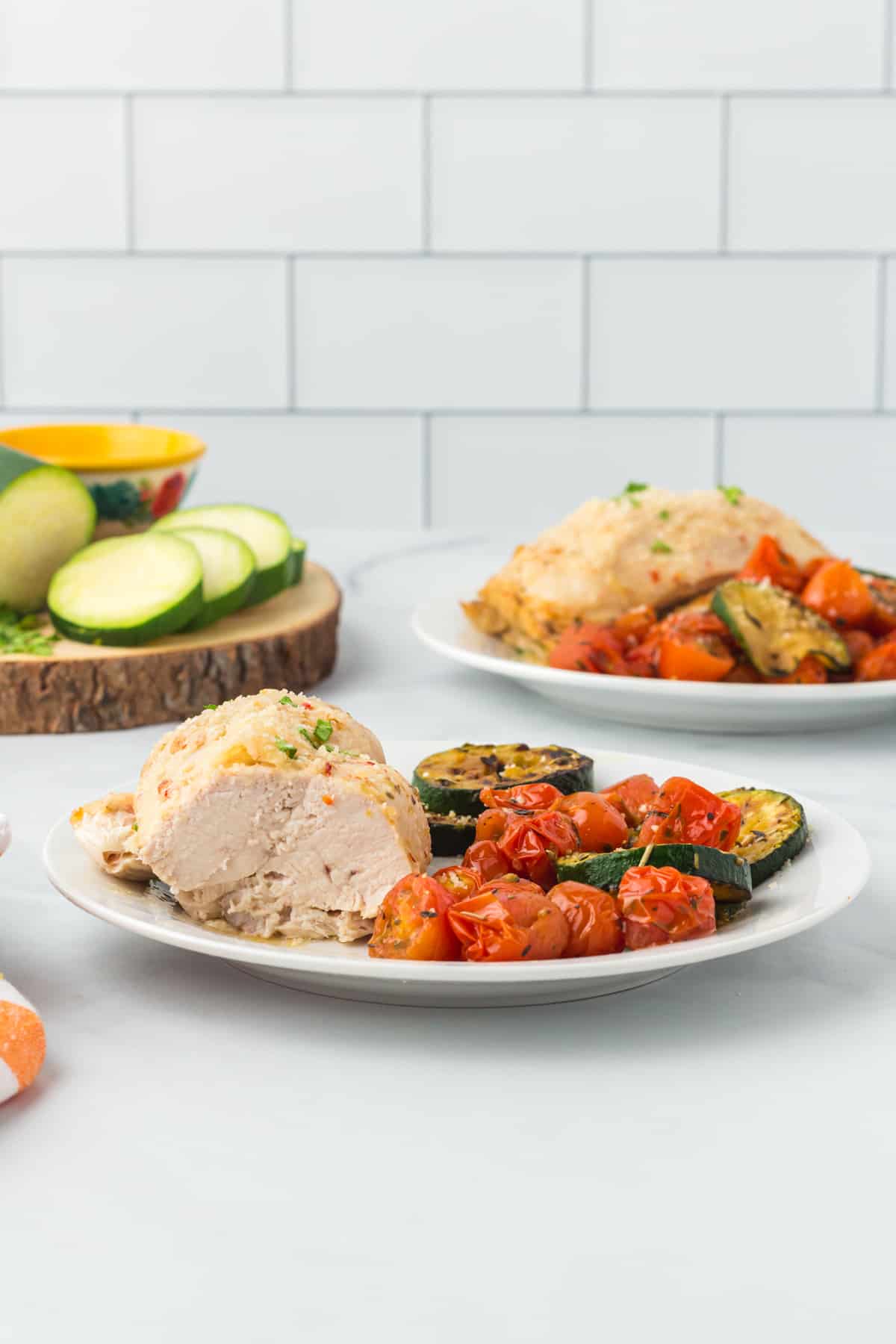 Italian Dressing Chicken
If you're looking for a new and easy way to prepare chicken, this Baked Italian Chicken recipe is so simple. All you need is a few simple ingredients and your chicken to make something that you can pair with a bunch of different side dishes.
Why You'll Love this Italian Chicken Recipe:
IT'S SO SIMPLE: Making flavorful, juicy chicken doesn't have to be a challenge. Try this recipe to make the easiest, most enjoyable meal possible.
IT'S SUPER FLAVORFUL: This chicken is the kind that melts in your mouth and leaves an incredible taste on your tongue.
VERSATILE: The juicy, tasty chicken is so good that you can pair it with tons of different sides, including pasta, potatoes, and rice.
Enjoy the savory taste of this homemade Baked Italian Chicken. It's such a simple recipe that will leave you with the most enjoyable meal ever.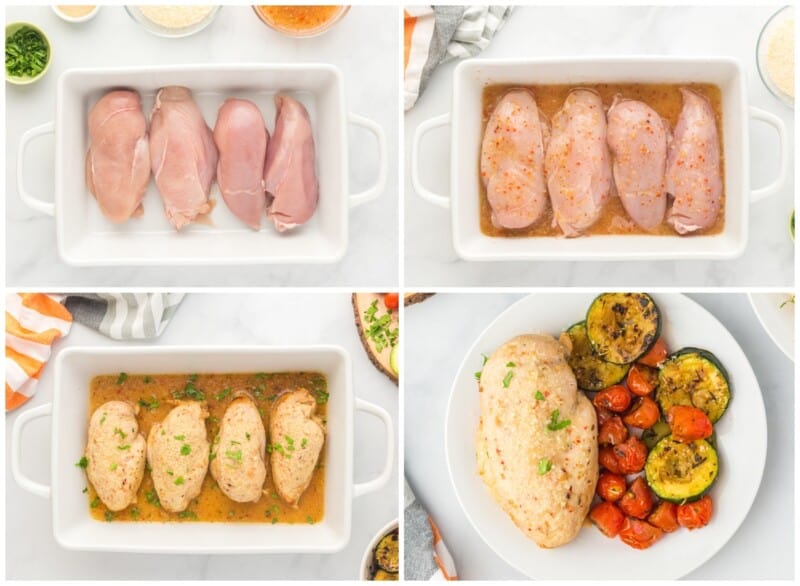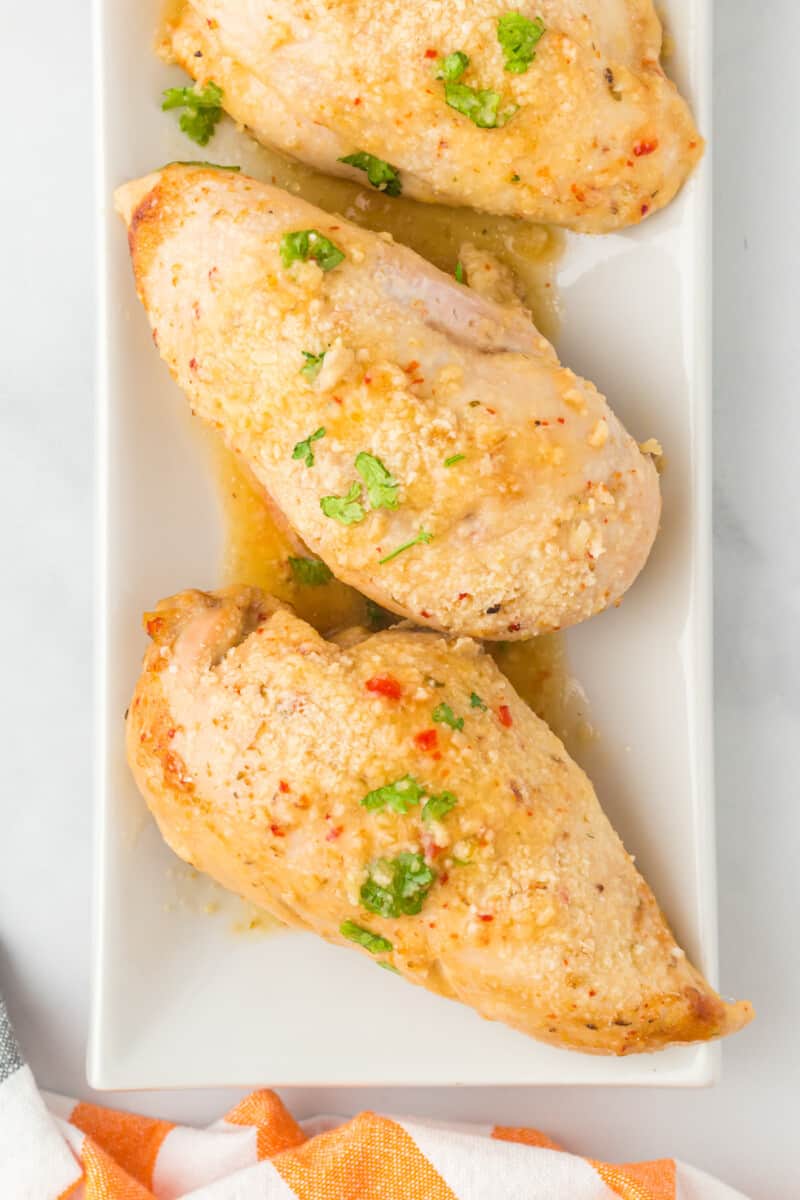 How to Make Baked Italian Chicken
You can jump to the recipe card for full ingredients & instructions!
Set your oven to 425 degrees F.
Place the raw chicken in a 9×13 baking dish.
Grab a bowl and mix your Italian dressing with garlic powder before pouring it all over the chicken.
Bake in the oven for up to 35 minutes, checking the internal temperature with a thermometer.
Remove from the oven, sprinkle parmesan cheese on top, and place back in the oven for a minute or two to get that crisp cheese coating.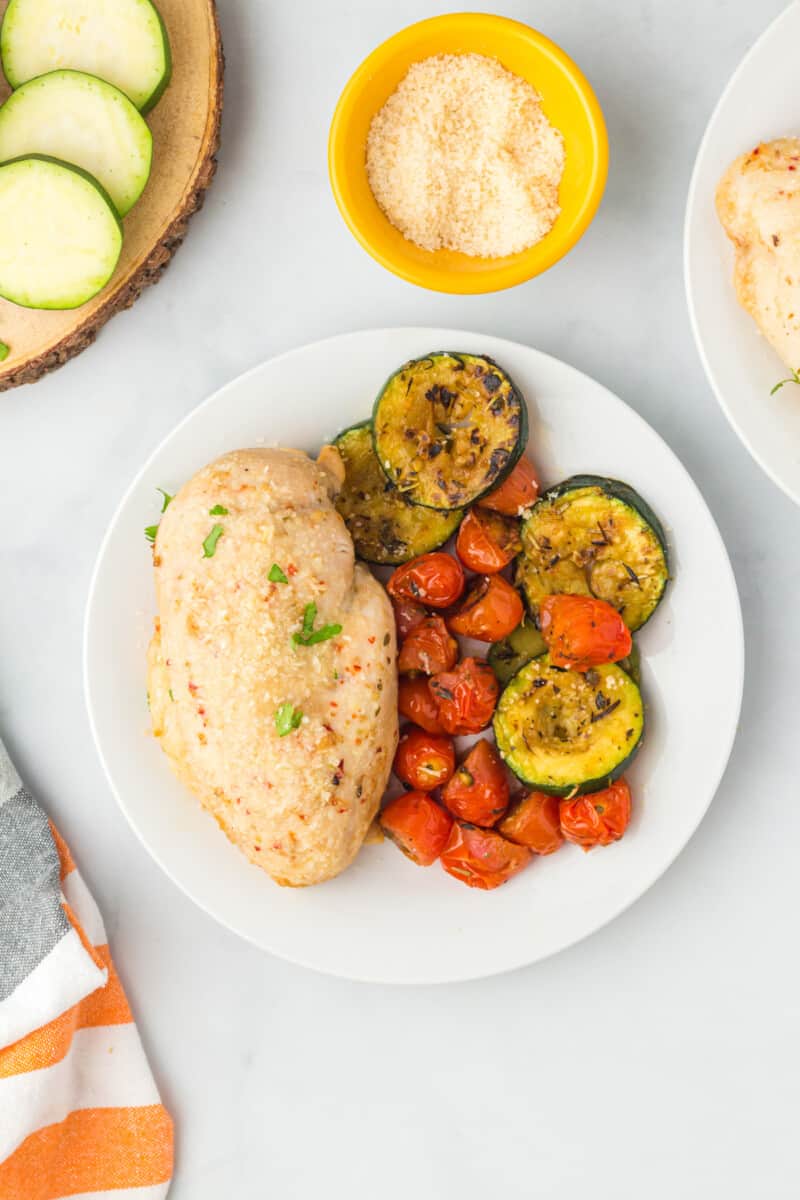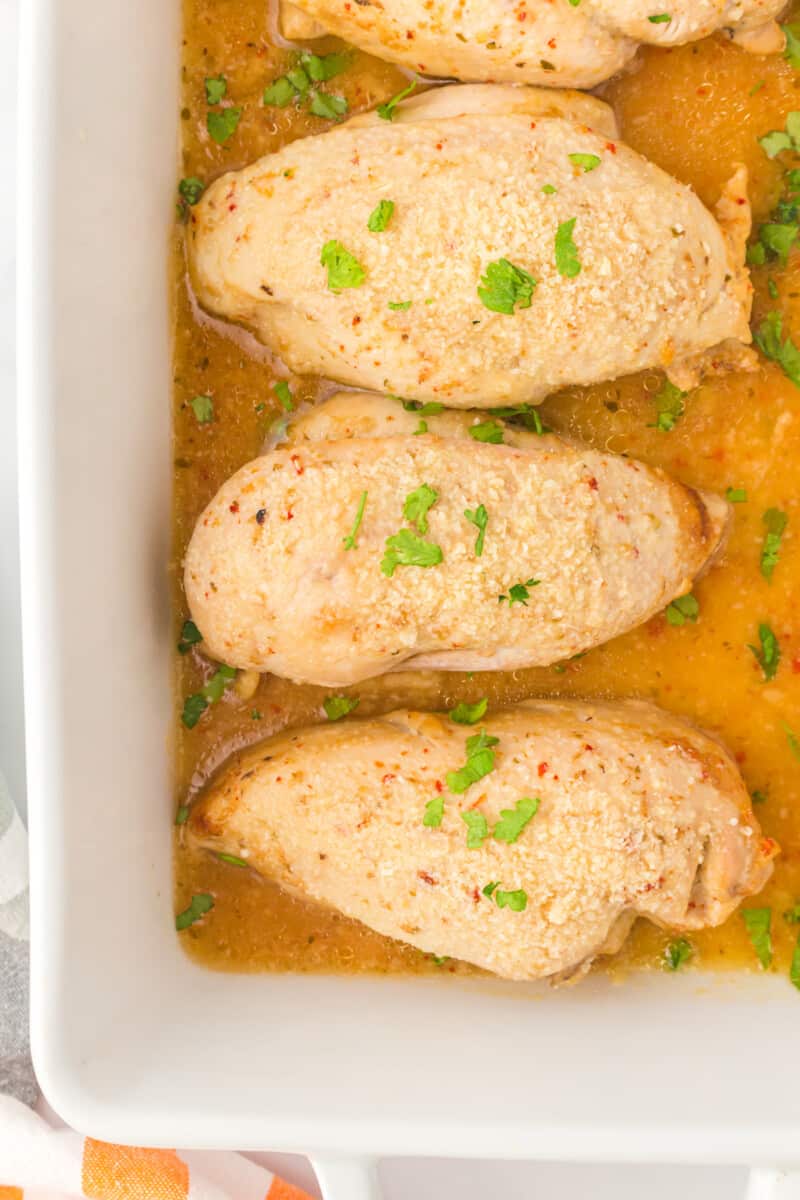 What kind of chicken should I use?
Chicken breast is definitely the best to use. Be sure to select boneless, skinless chicken because it's easier to work with and will taste great.
Can I use chicken thighs?
If you don't have chicken breast, you can use chicken thighs as an alternative. However, I personally prefer this dish when made with chicken breasts.
Can I use frozen chicken?
While you can use frozen chicken, expect the baking time to take a bit longer because it needs to cook all the way through. You'll need to extend the time your chicken spends in the oven.
What kind of Italian dressing should I use?
Any kind of zesty store bought or homemade Italian dressing works great. I love this homemade Italian dressing recipe.
Serving Suggestions
The chicken tastes amazing when served with any pasta of your choice, such as spaghetti or fettuccine.
You can enjoy this Italian baked chicken with a side of creamy mashed potatoes with parmesan cheese added on top.
Broccoli is a great vegetable to pair with the chicken and your side, whether you choose pasta, potatoes, or something else.
When you want to make a homemade meal without spending too much time in the kitchen, try this Baked Italian Chicken recipe. It's flavorful and goes great with lots of sides.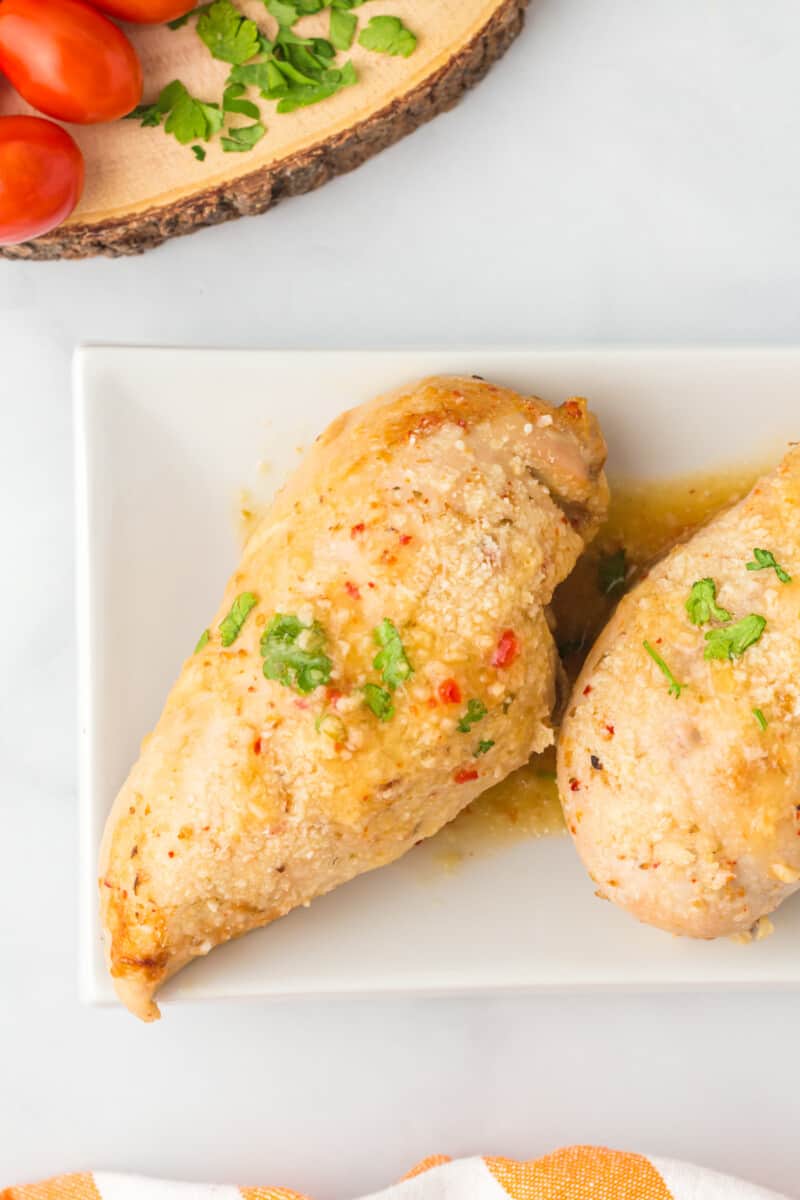 Tips!
Always use a meat thermometer to check the internal temperature of the chicken before you serve it. It should reach 165 degrees F.
Feel free to use any brand of Italian dressing that you prefer. Kraft is one great option. However, Kroger makes a version of Italian dressing that is SO good, too!
If you want to make your chicken a bit spicy, you can add some red pepper chili flakes to the mixture.
Enjoy this tasty Baked Italian Chicken. It has the perfect taste and texture and even stores well in the fridge so that you can eat leftovers!
How long do leftovers last?
Store chicken in an airtight container in the refrigerator for up to 3 days or in the freezer for up to 2 months.
What is the best way to reheat leftover chicken?
To avoid dry, chewy chicken, skip the microwave and use the oven instead. Place chicken into an oven safe baking dish, loosely cover with foil, and reheat in the oven at 350°F for about 15 minutes.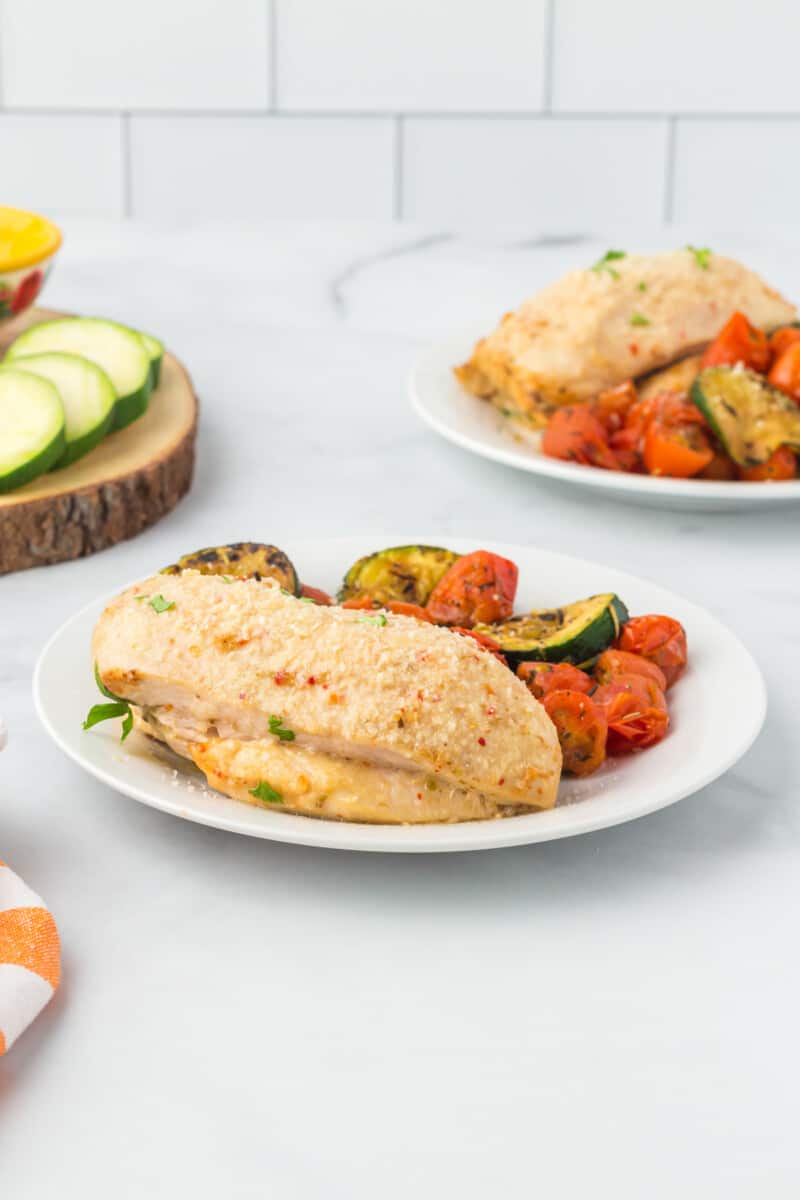 Make this Baked Italian Chicken with less than five ingredients. Check out other easy recipes that will taste as good!
If you make this recipe be sure to upload a photo in the comment section below or leave a rating. Enjoy! You can also jump to recipe.