Dinner just got delicious with Homemade Meatballs! I'm so excited to share this family-favorite recipe for how to make meatballs with you! So simple to make, but I promise you, these will be the best Italian meatballs you've ever had!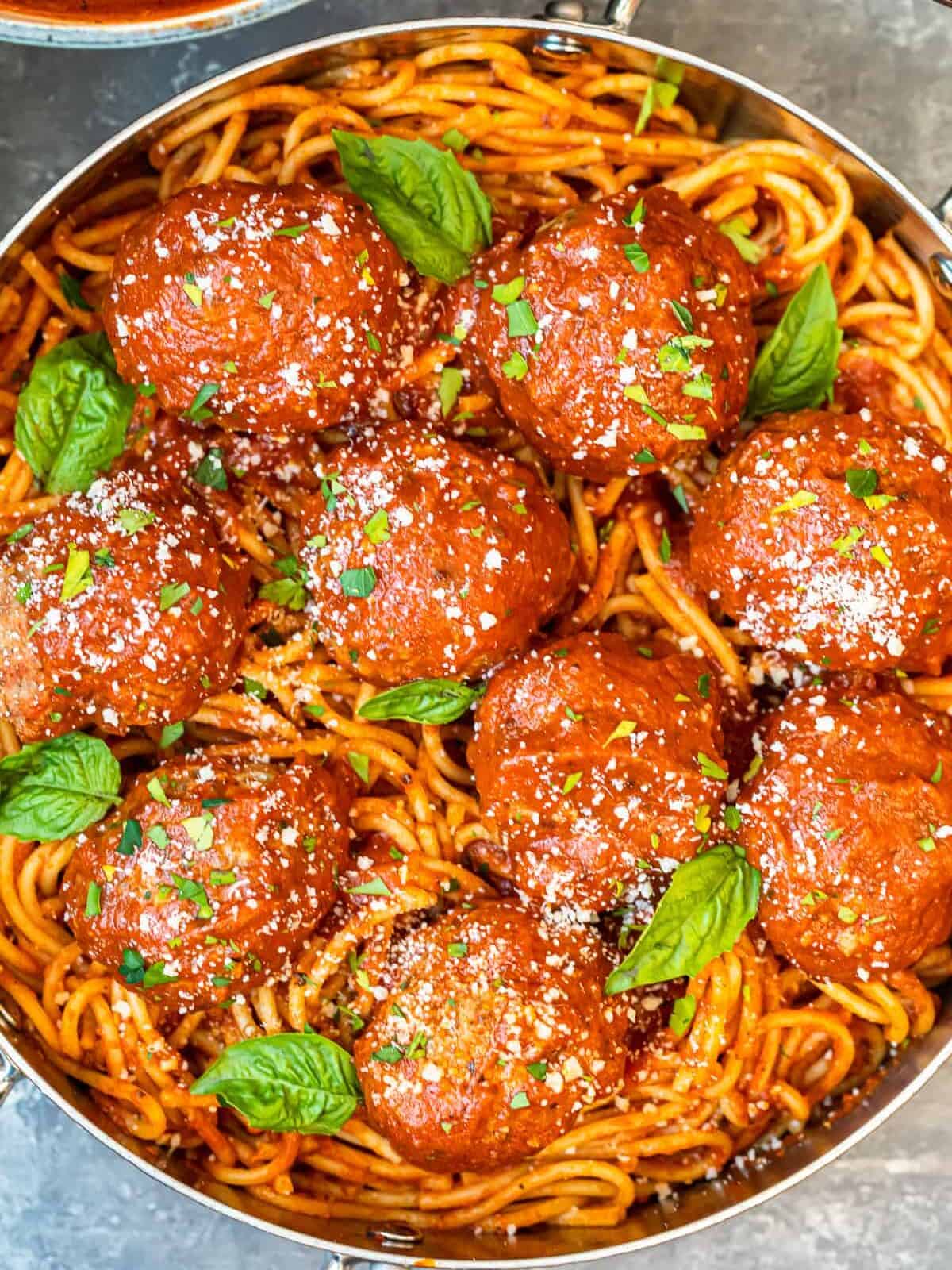 Why We Love This Meatball Recipe
This is my Grandma Adee's recipe, and we have been eating it my entire life! I sure wish my grandma was still with us today to make a big batch, laugh, and have a wonderful night. Every time we make these homemade meatballs, we think of her.
Variations on Italian Meatballs
When you're learning how to make meatballs, it's important to have a consistent recipe to follow. Then, as you start to get the hang of it, you can start to make them your own! Try adding different dried herbs or grated cheeses to yours to change up the flavor profile, and simmer them in different sauces, like Alfredo sauce or barbecue sauce!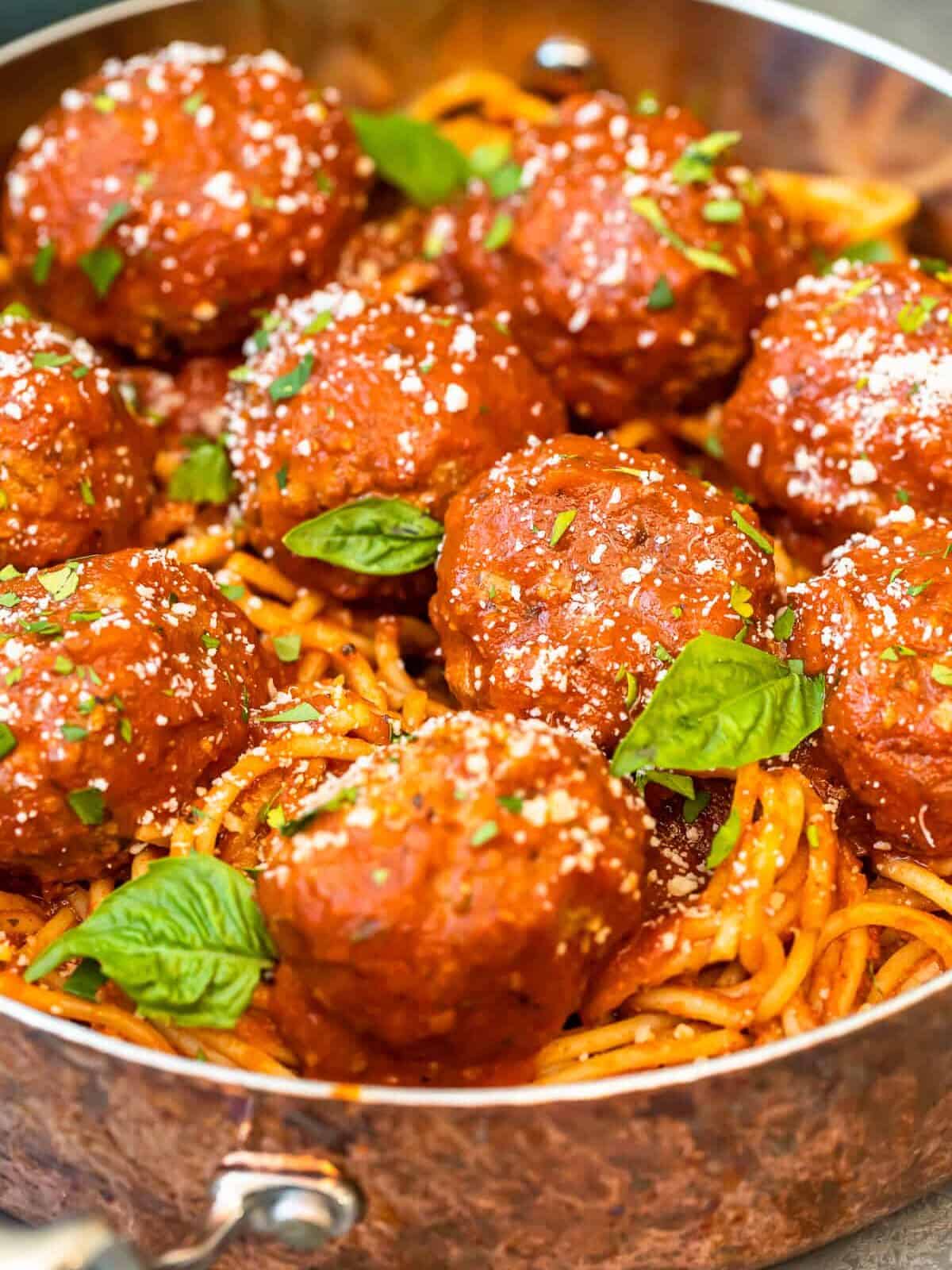 How to Store and Reheat
Store leftover homemade meatballs in an airtight container in the refrigerator for up to 4 days. Reheat in a saucepan set over medium-low heat or in the microwave in 30-second increments until warmed through.
How to Freeze
These homemade beef meatballs can be frozen either raw or cooked, so make a big batch and freeze some for later!
Freeze the raw or cooked meatballs in a single layer on a lined baking sheet, cover with foil, and freeze until solid, at least 1-2 hours. Transfer to a Ziplock bag to store for up to 6 months. Let thaw overnight in the refrigerator before cooking or reheating.
Serving Suggestions
These homemade meatballs can be served in so many ways. Spoon them over a bed of fresh homemade pasta with garlic bread and an Olive Garden salad. Or make meatball parmesan, meatball subs, or meatball sliders. Yum!
What's the difference between Italian-style meatballs and regular meatballs?
Italian meatballs call for Italian seasonings, like Parmesan cheese and oregano, whereas Swedish meatballs use seasonings like nutmeg and allspice.
Is it better to bake or pan-cook meatballs?
I prefer to cook my meatballs right in the sauce to infuse them with extra moisture and flavor. However, you can also bake them in a 350°F oven for about 30 minutes.
How many eggs do you need for meatballs?
I like to go with 2 eggs per pound of meat!
Why do you put milk in meatballs?
Milk adds moisture to meatballs to ensure they don't dry out in the oven. I prefer to use something richer, like half-and-half or heavy cream, for the added flavor, but whole milk works in a pinch.
Can you over-mix meatballs?
Yes! If you over-mix your meatballs, they will turn out tough and dense. Mix these meatballs gently with your fingers for the best results!
Why did my meatballs fall apart?
I can promise you, these meatballs stay perfectly intact, so for best results do follow the recipe! Meatballs fall apart due to the binding ingredients; eggs and breadcrumbs. Too much, or too little, of either can cause your meatballs to fall apart during cooking.
Do meatballs get softer the longer you cook them?
If simmered in sauce, these meatballs will get more tender as they are cooked. However, I don't recommend cooking them past 165°F, as they will start to get tough if overcooked.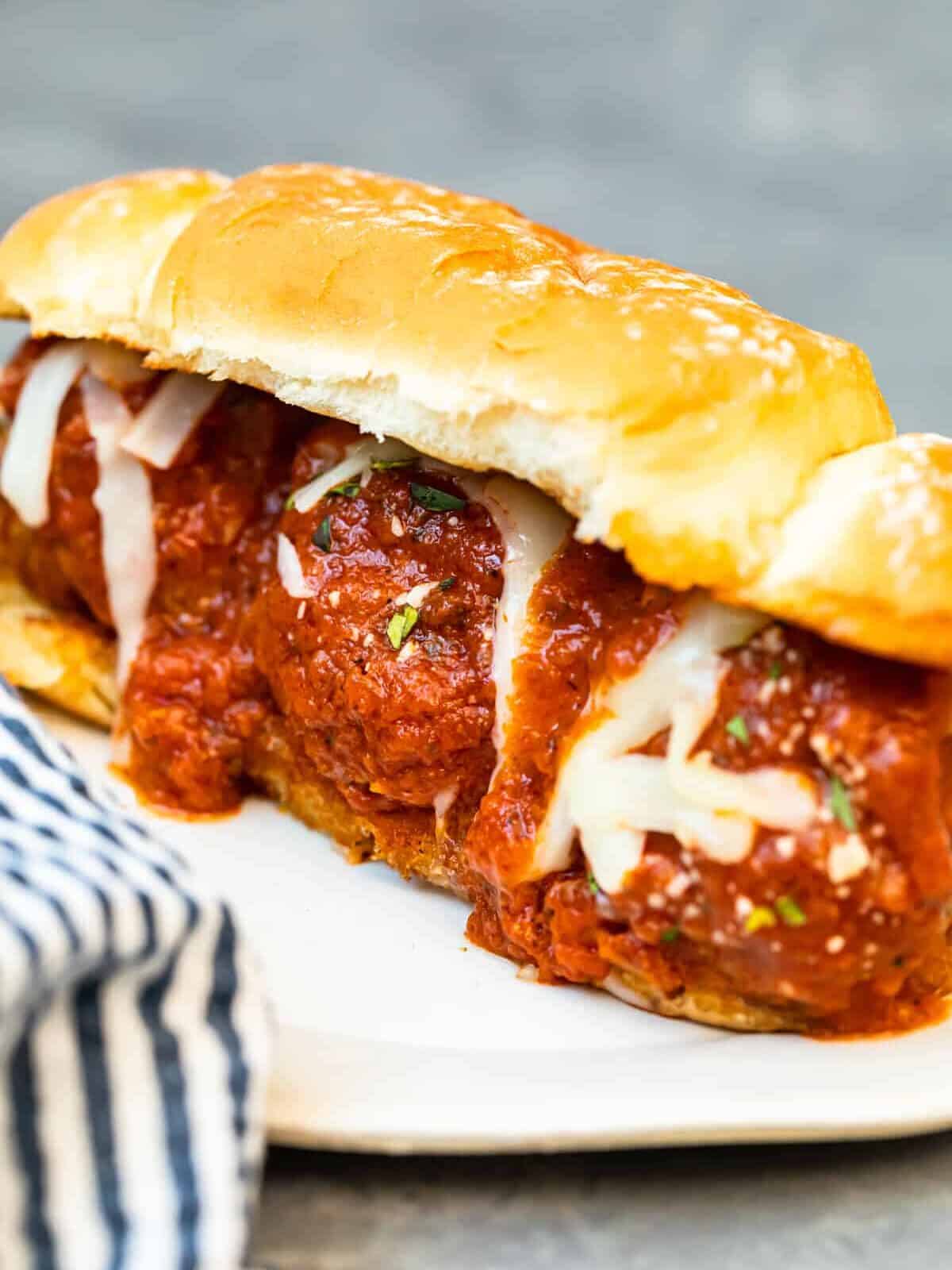 More Meatball Recipes To Try
5-Star Review
"Very easy to make and tastes great 👍" – Erlinda
How to Make Homemade Meatballs Step by Step
Make the Breadcrumb Mixture: Beat 6 large eggs lightly in a large mixing bowl with a fork. Add 6 tablespoons of half-and-half, 1½ cups of breadcrumbs, 1 tablespoon of dried parsley, 1 tablespoon of dried basil, 1½ teaspoons of dried oregano, 6 tablespoons of freshly grated Parmesan cheese, 1½ teaspoons of table salt, ¾ teaspoon of freshly ground black pepper, and ⅛ teaspoon of crushed red pepper flakes (if using). Stir to combine.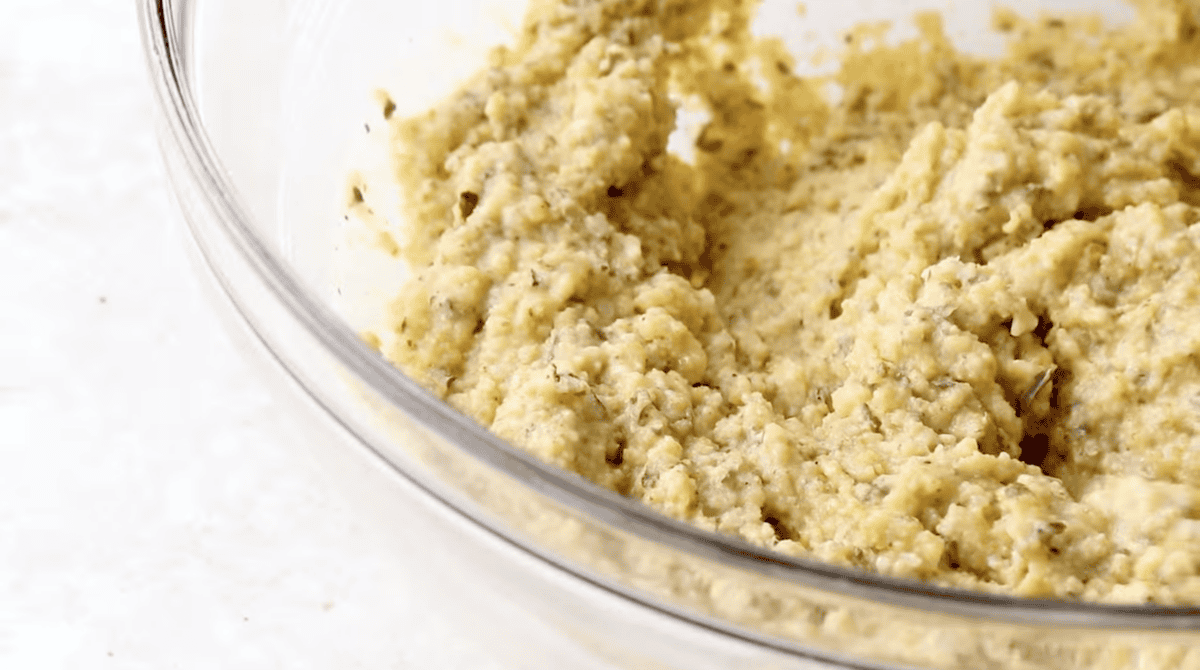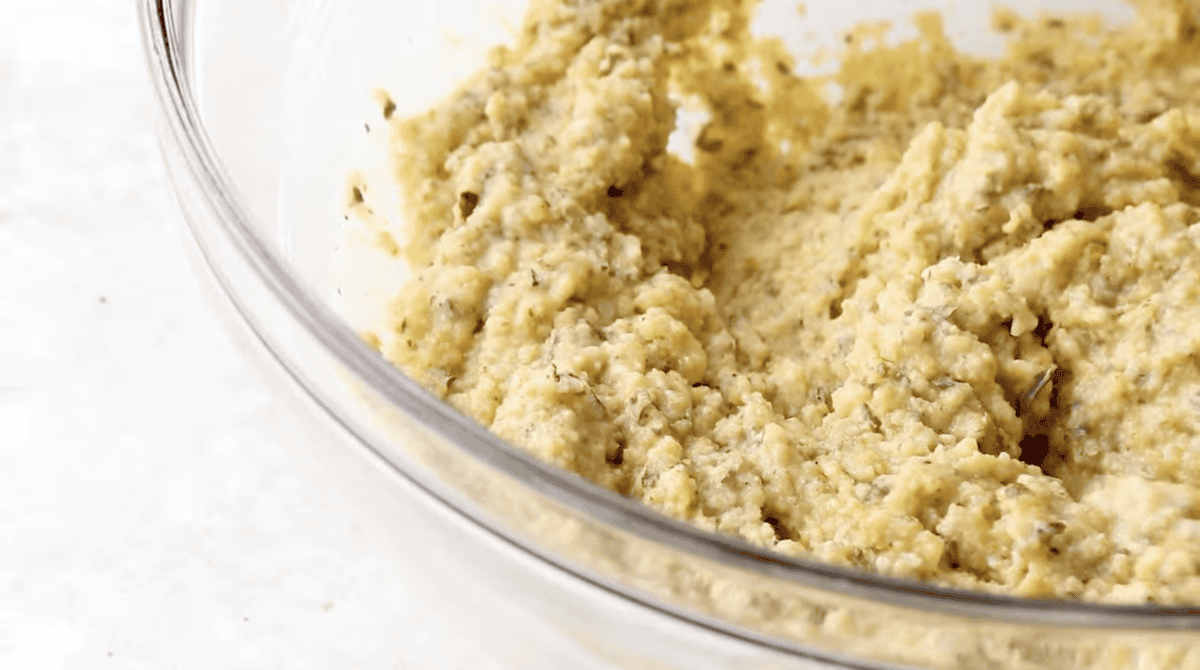 Mix the Meatballs: Add 3 pounds of ground chuck to the breadcrumb mixture and mix until evenly distributed, being careful not to overwork the mixture or the meatballs will be tough.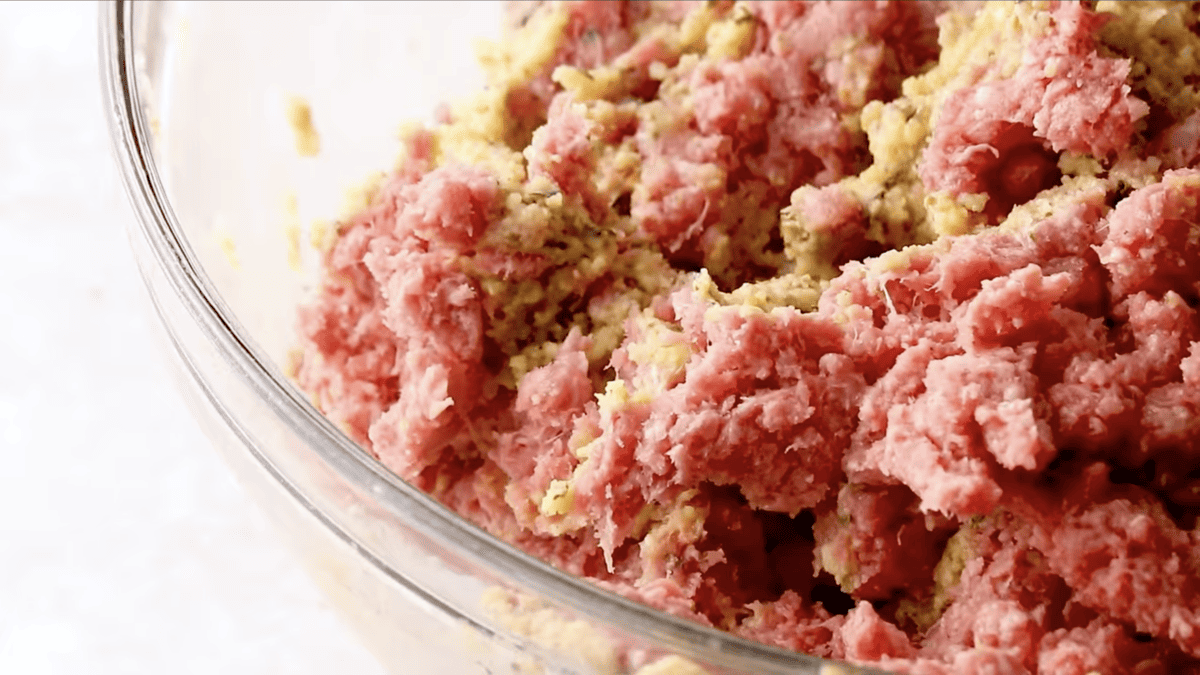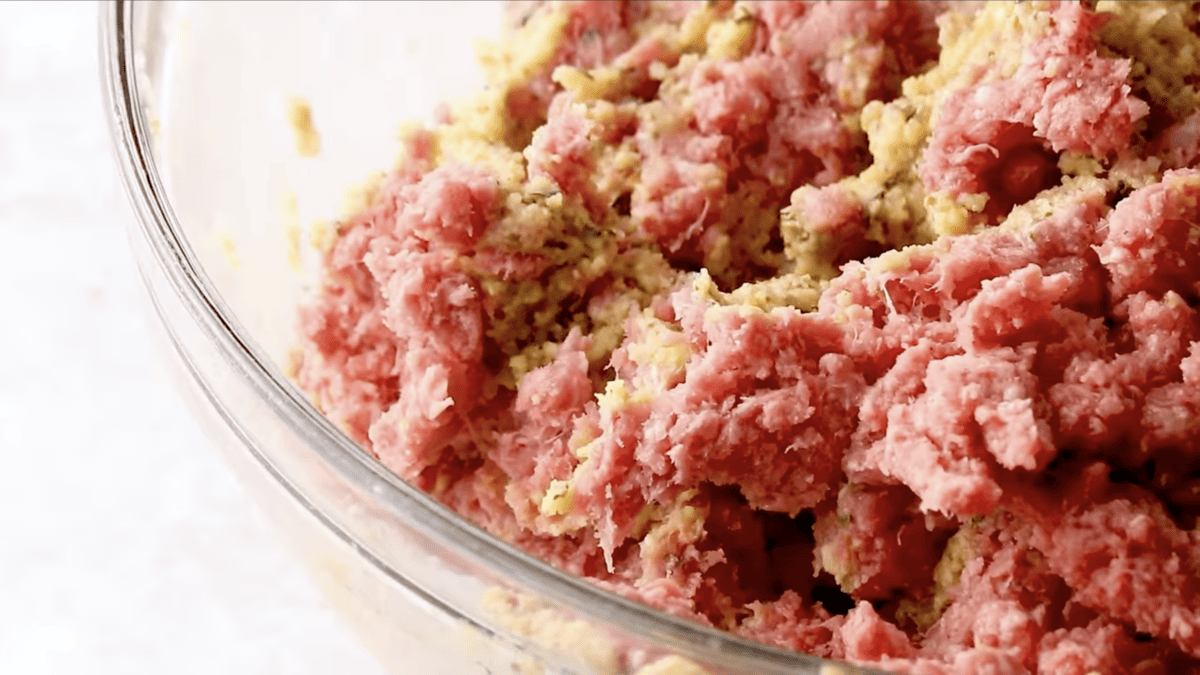 Shape the Meatballs: Divide and shape the meat into equal-sized meatballs by rolling gently between your hands. At this point, the meatballs can be cooked or frozen raw for later use.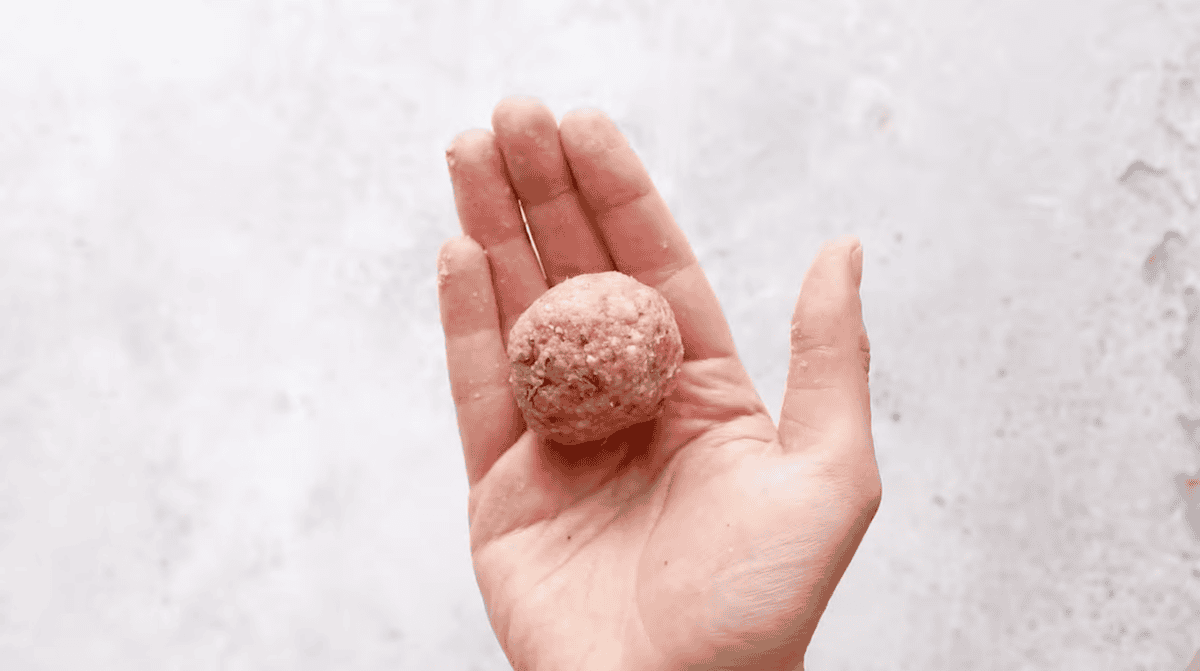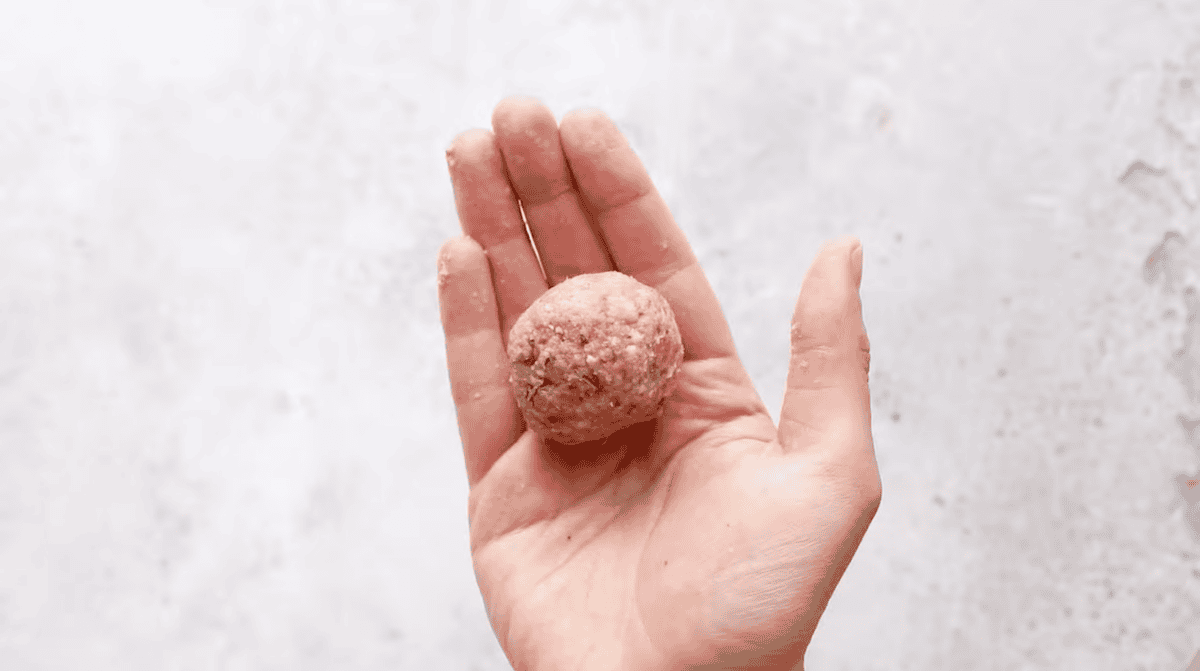 Boil the Sauce: Bring your favorite sauce (if cooking all meatballs, 5-6 quarts of sauce are needed) to a boil over medium heat, stirring often.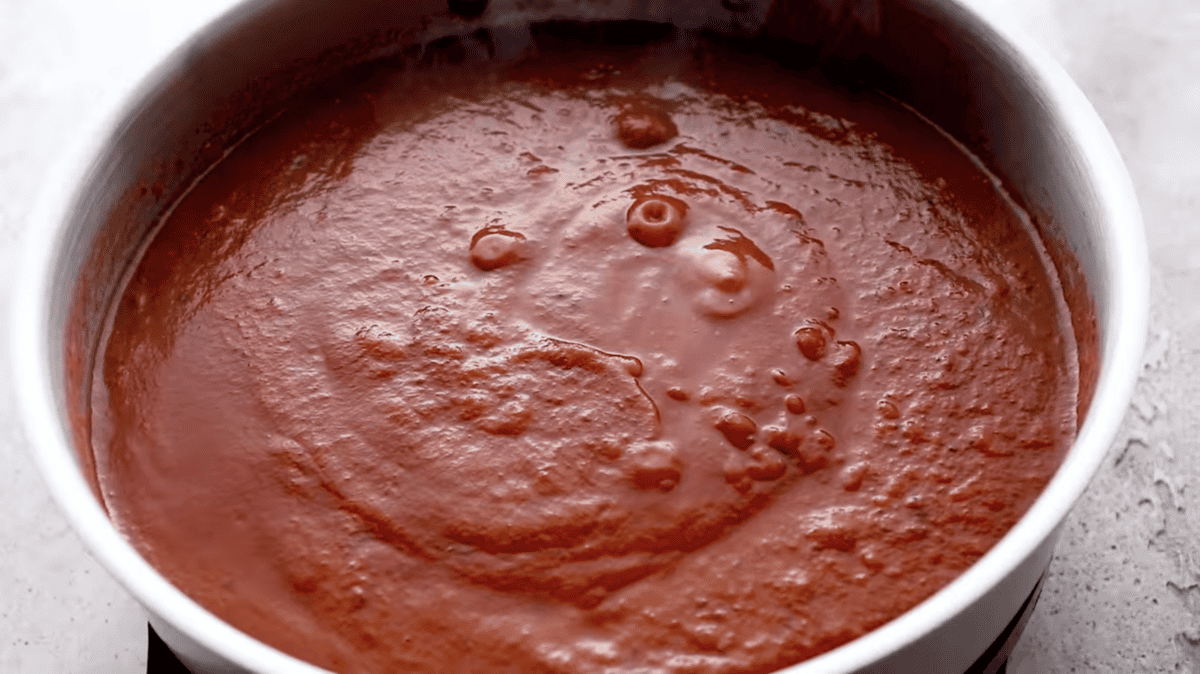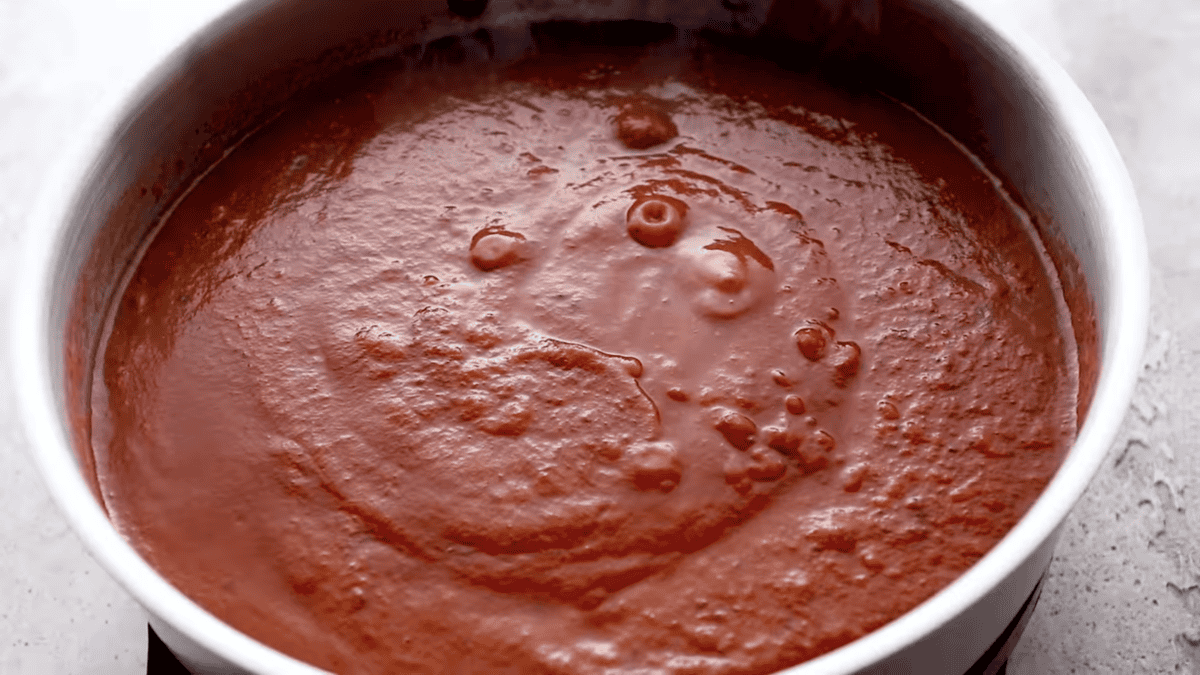 Add the Meatballs: Add the raw meatballs and return the mixture to a boil without stirring.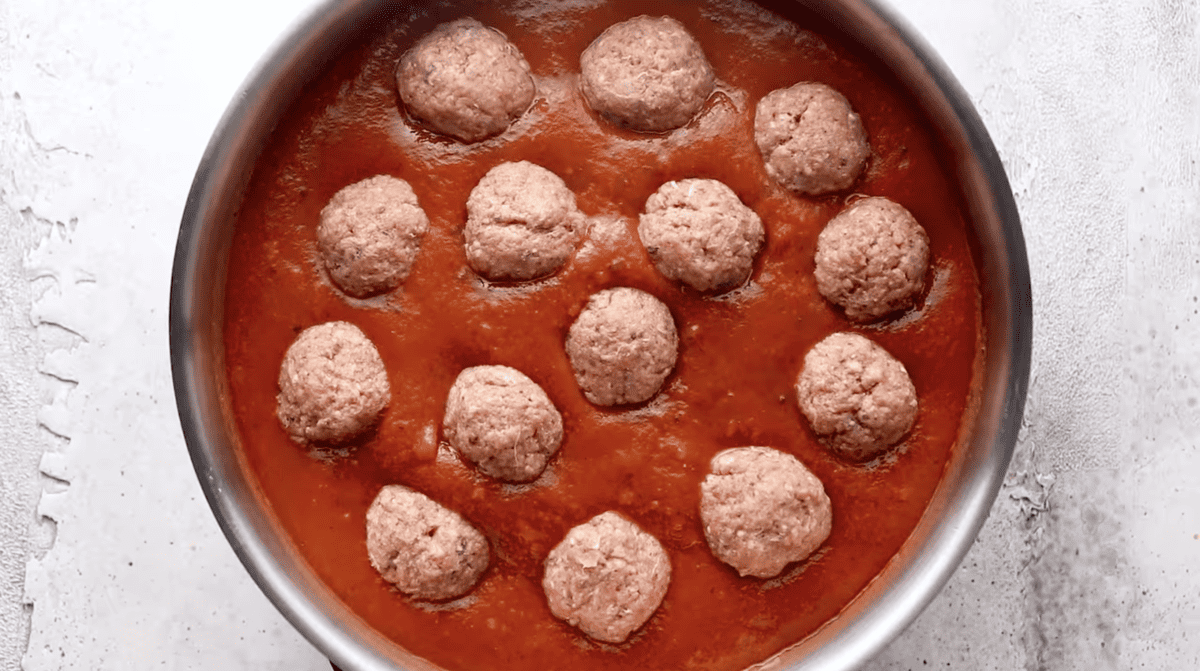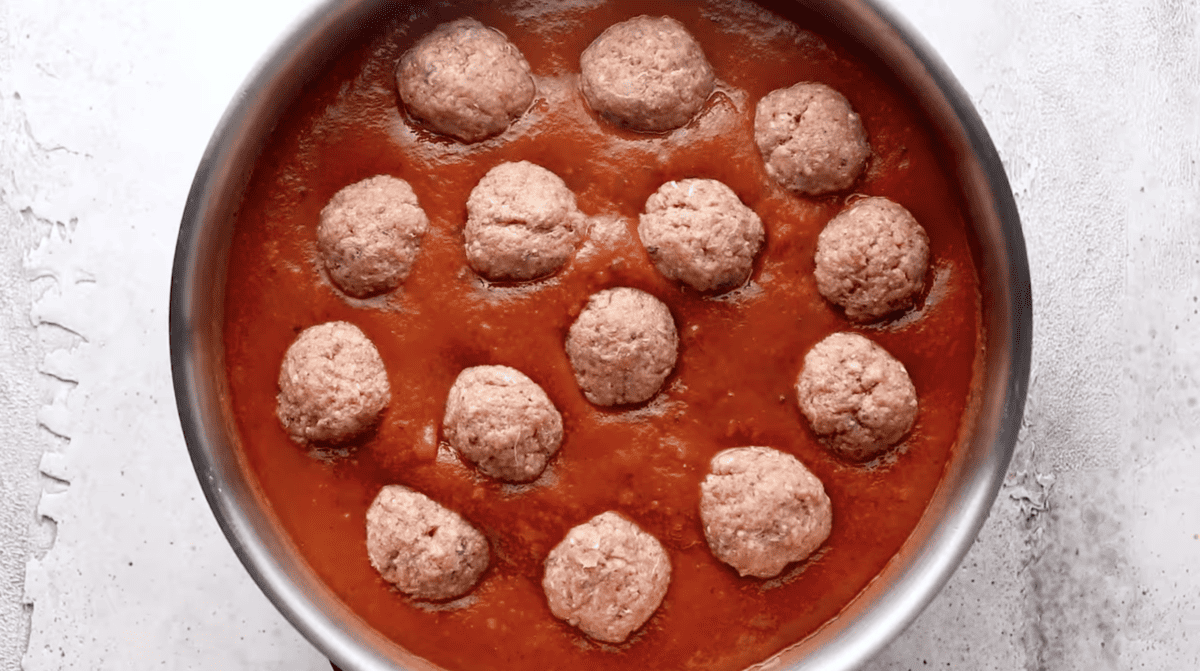 Stir the Meatballs: After 5 minutes, stir very gently so the meatballs stay intact. Reduce the heat to low and simmer for 45 minutes (gently stirring every 5 minutes), or until meatballs are cooked through (165°F).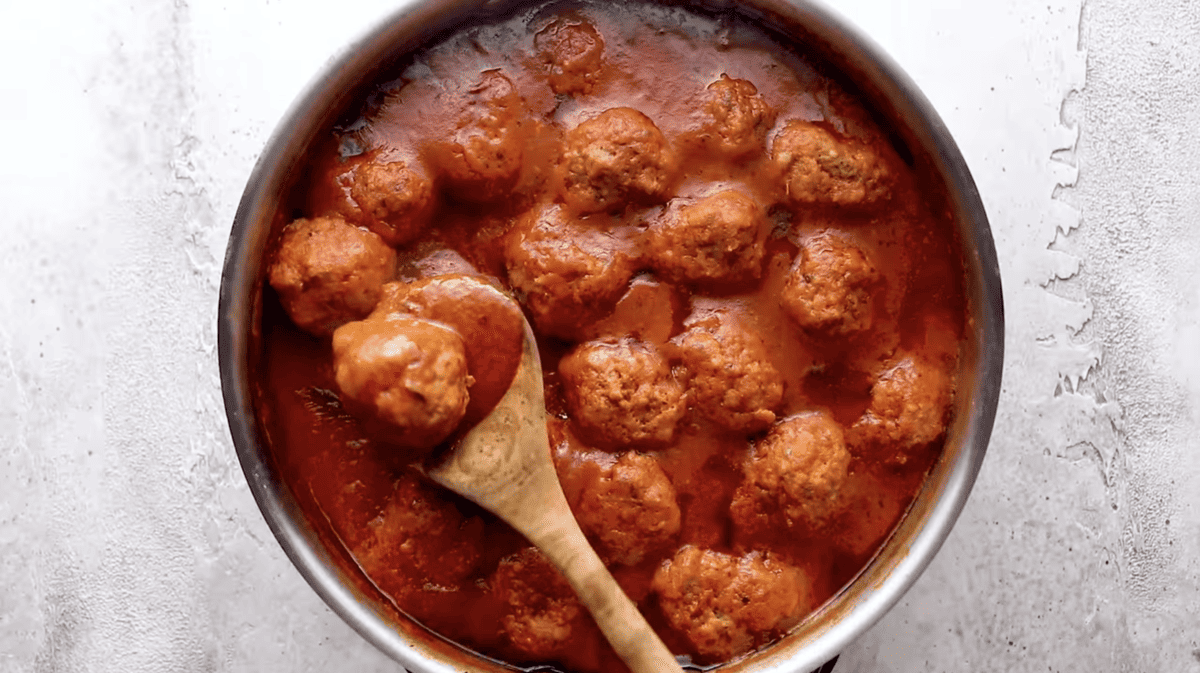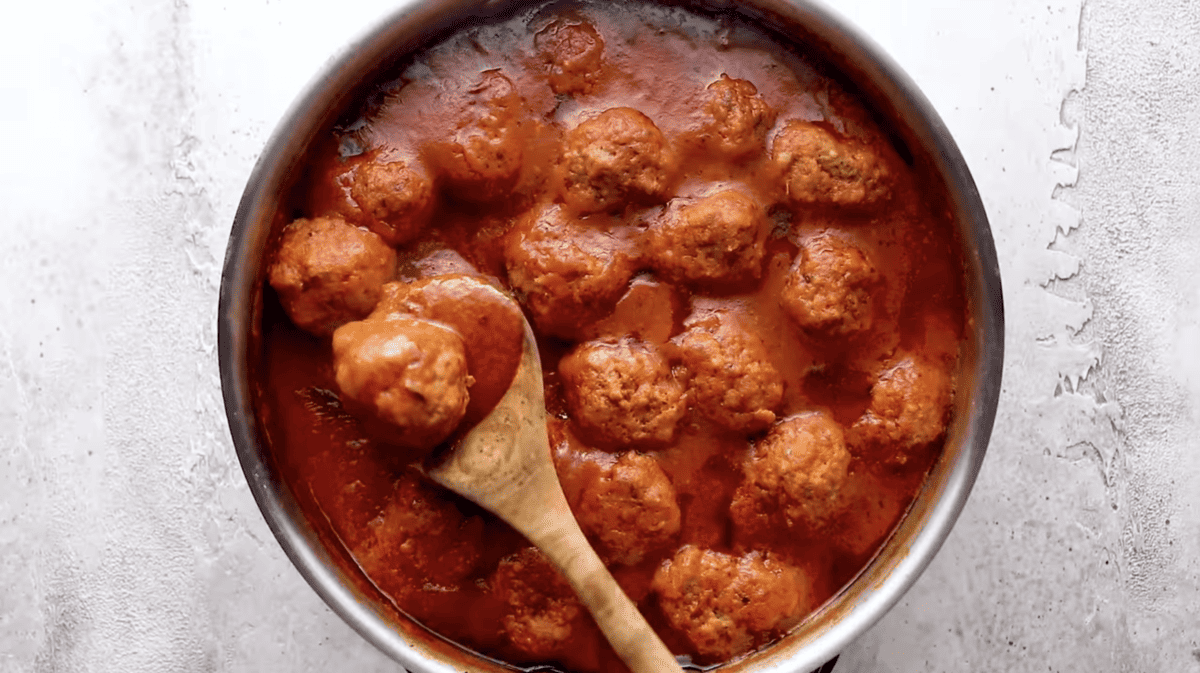 Thicken the Sauce: Transfer the meatballs to a metal rack set over a rimmed baking sheet and continue cooking the sauce (at a simmer), stirring every 10 minutes, until it is reduced to the desired thickness. The reduction time can vary from 30 minutes (for store-bought) to several hours (homemade).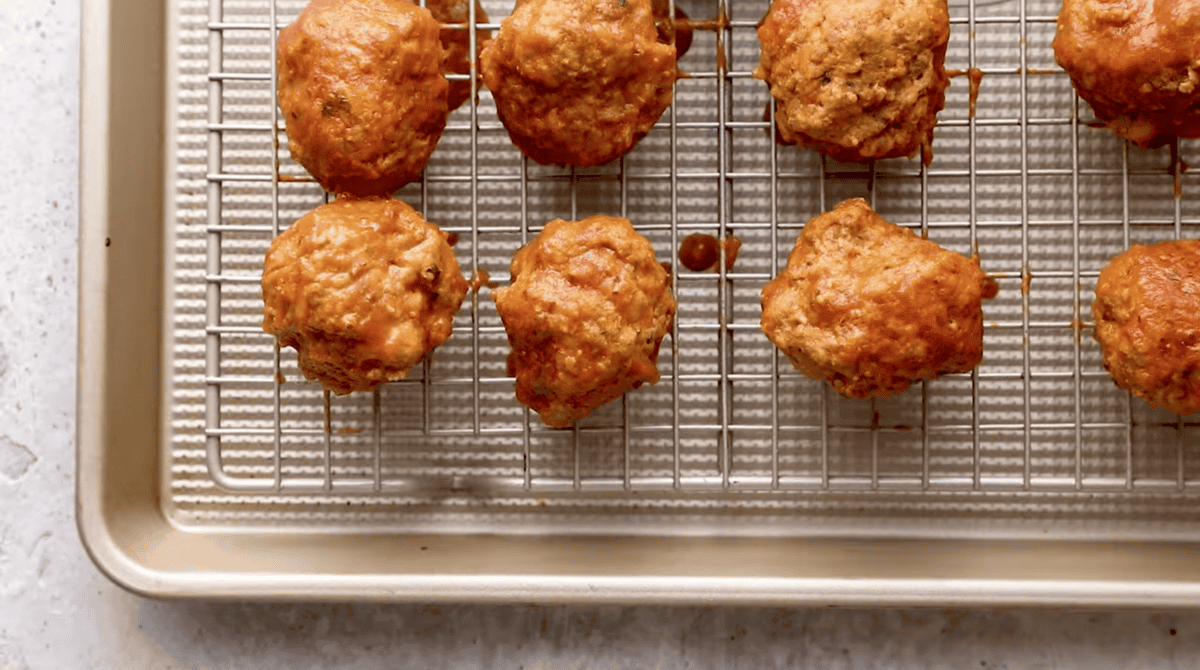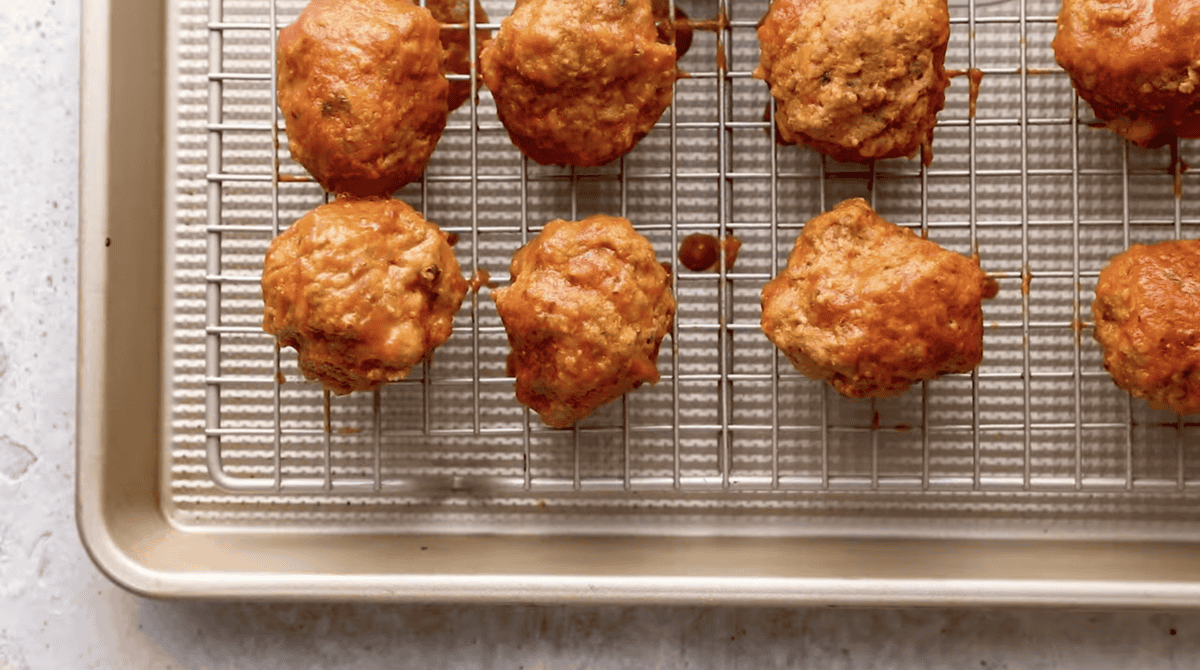 Serve the Meatballs: Serve the meatballs topped with sauce and fresh basil, if desired.