A cheesy Easy Chicken Parmesan recipe that's baked and not fried. Only 5 ingredients needed to make this delicious classic, perfect for a hearty weeknight meal!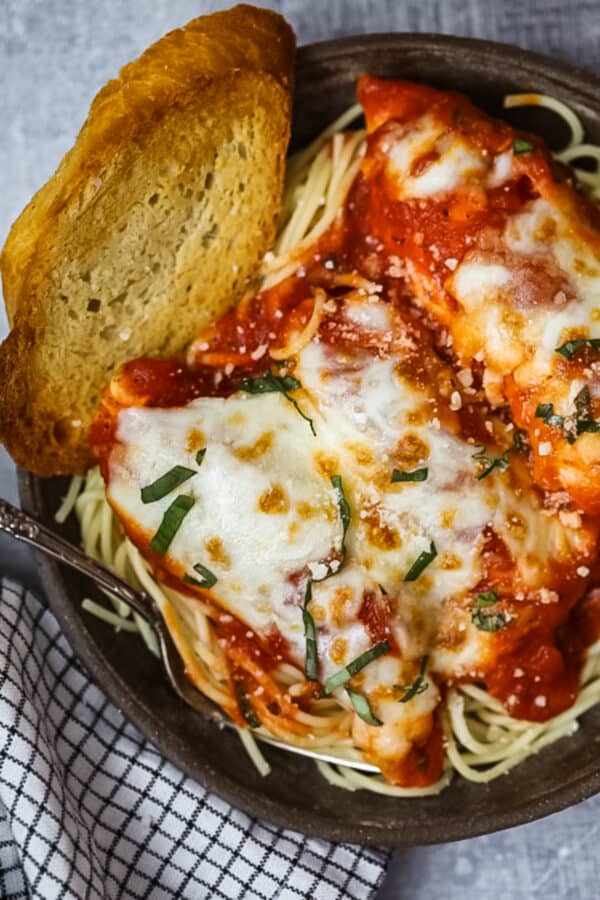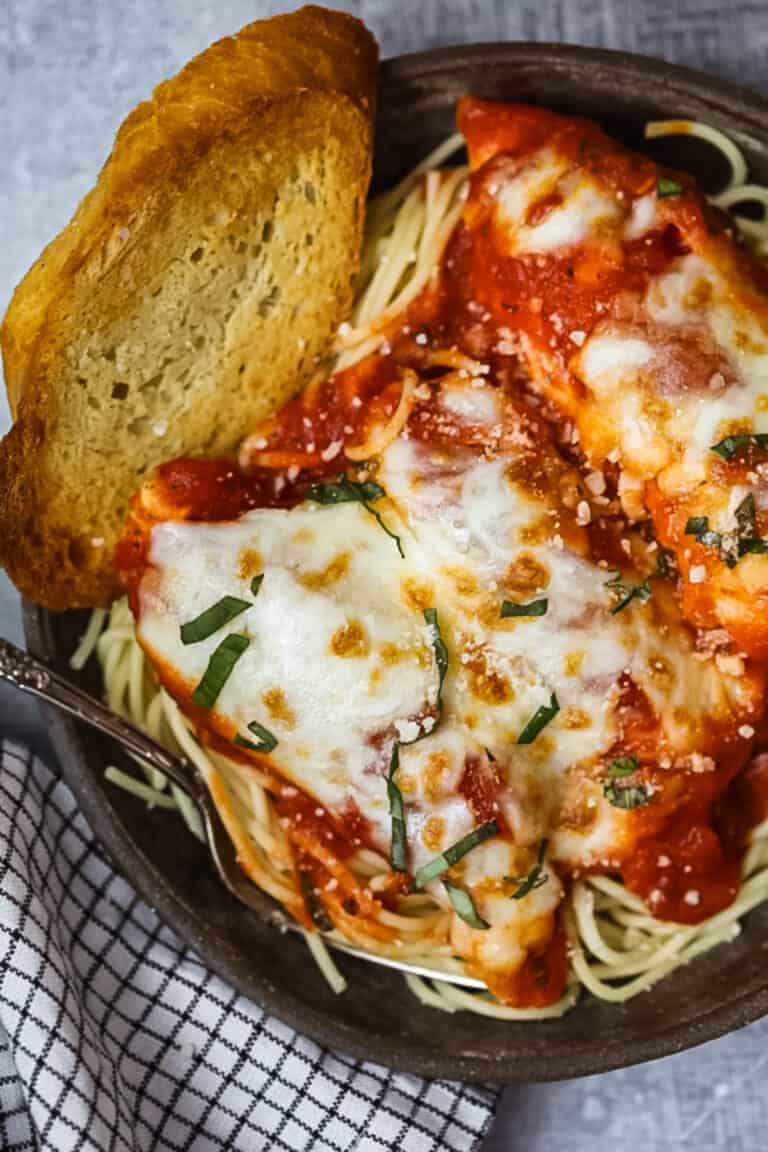 This Easy Chicken Parmesan recipe (aka chicken parmigiana) is a classic recipe that'll become a family favorite. When it comes to hearty and delicious main dishes, this one has to be a hall of famer. Now I've made it even easier to make, with just 5 key ingredients.
Why this is so good
An easy take on a delicious classic, only five ingredients.
Paired up with spaghetti for a complete meal.
Looks fantastic with minimal effort, great for guests!
Baked not fried, for a healthier twist.
Ingredients
Spaghetti – you can use gluten free or whole wheat spaghetti – just make sure to adjust the cook time to package instructions.
Spaghetti Sauce – jarred or homemade, whatever you have the time for!
Chicken Tenders – or 6-8 small chicken breasts.
Mozzarella Cheese and Parmesan Cheese.
How To Make This Easy Chicken Parmesan
Pour spaghetti sauce in a casserole dish and lay chicken evenly on top, then pour the remaining sauce over the chicken. Bake the chicken.
While the chicken bakes, cook the spaghetti as per package instructions. Then place the cheese on the chicken and broil.
Let the chicken cool for 5 mins and serve over a bed of spaghetti.
Enjoy!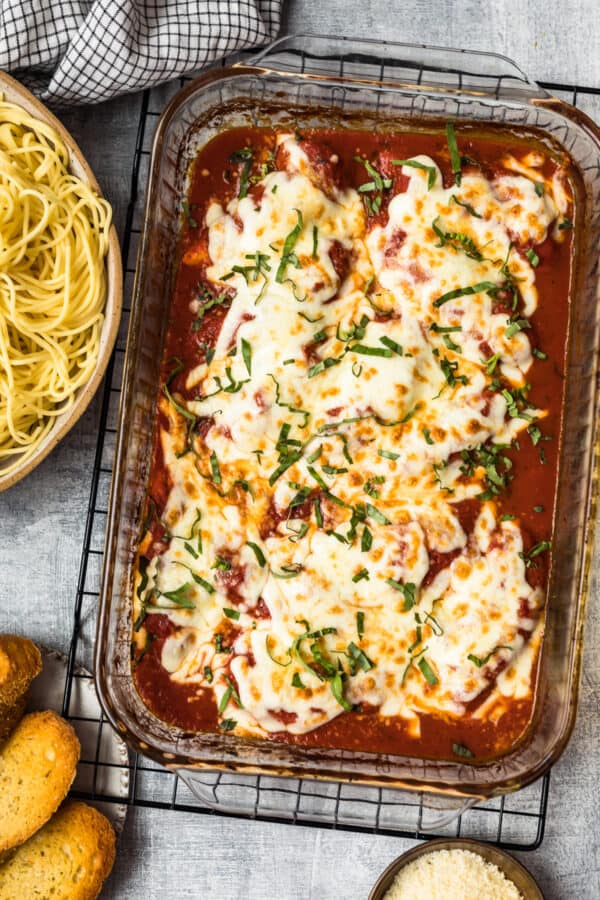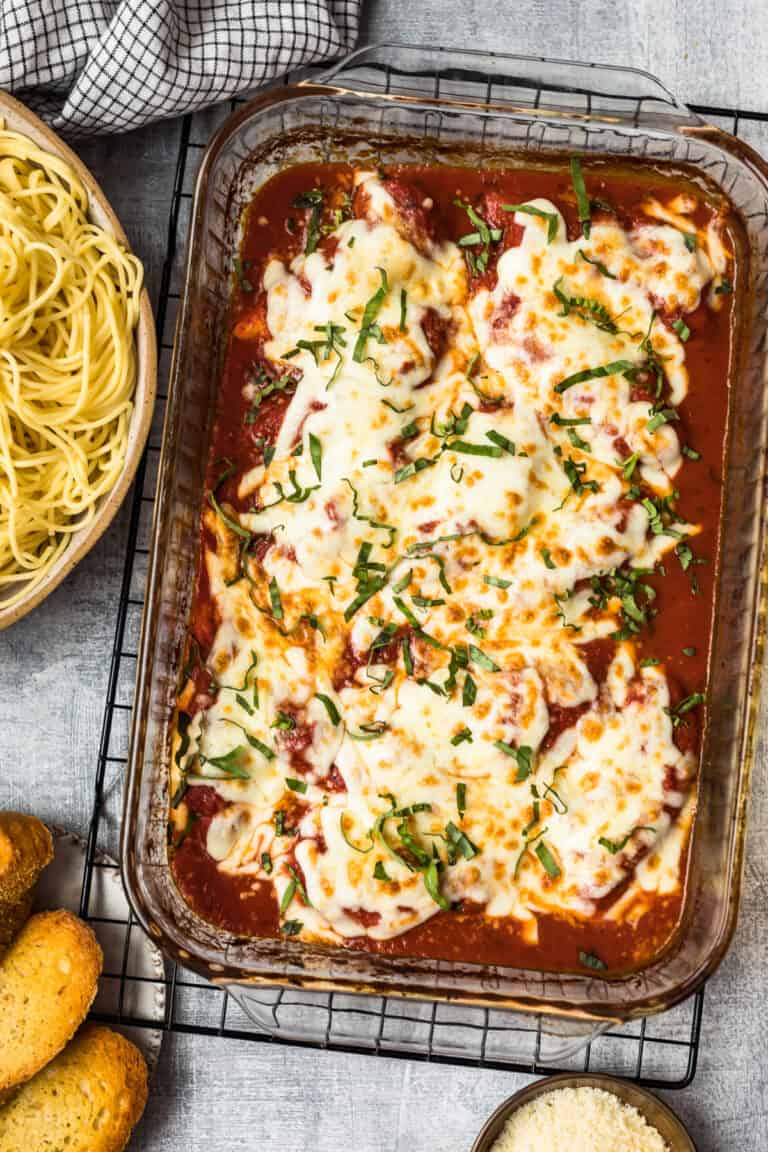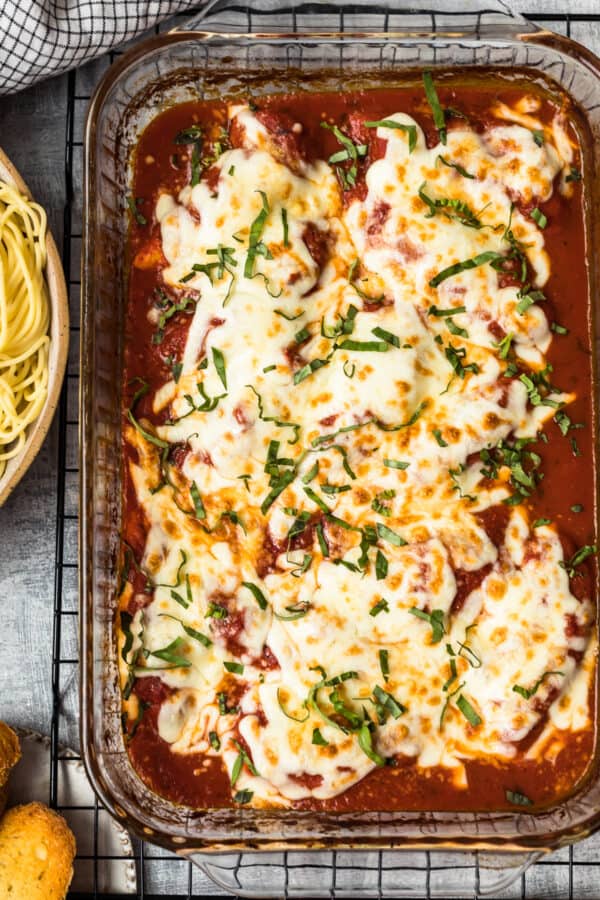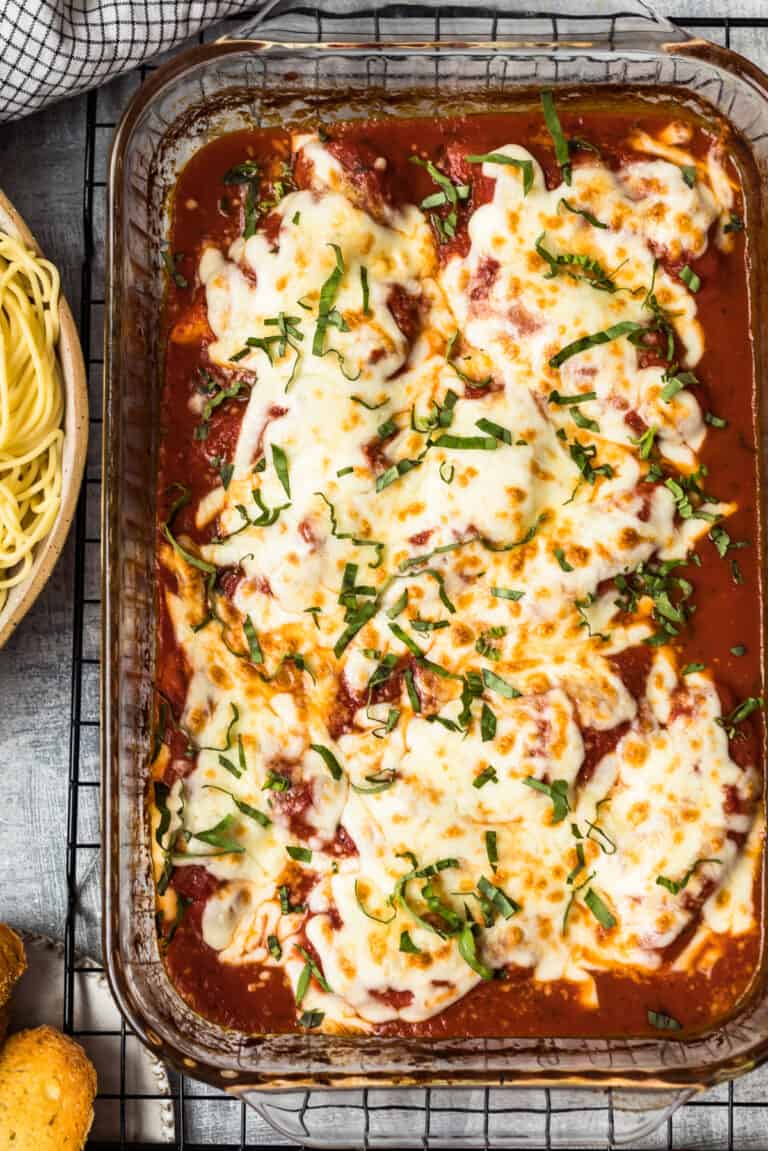 An easy Chicken Parmesan recipe
It's easy, simple, so comforting and also perfect for work leftovers. Only 5 ingredients needed! If you want to whip up a homemade sauce go for it, but I've used jarred sauce and it works great. Plus it looks great too, for minimal effort – win win!
You'll be making this baked chicken recipe for weeknight dinners for a long time because it's totally foolproof. It's not fried, so it has less calories and it's never dry.
What to serve with this dish
Easy Chicken Parmesan is a hearty meal on its own, you can serve with a side of crusty bread or add some greens into your meal with shaved brussels sprouts, sauteed leeks or brown butter glazed carrots.
Best pasta for Easy Chicken Parmesan
I've used spaghetti for this chicken parm, that being said, you can really use any type of pasta you like, chicken parmesan served with penne pasta, orzo pasta or even a side of tortellini. Whatever takes your fancy!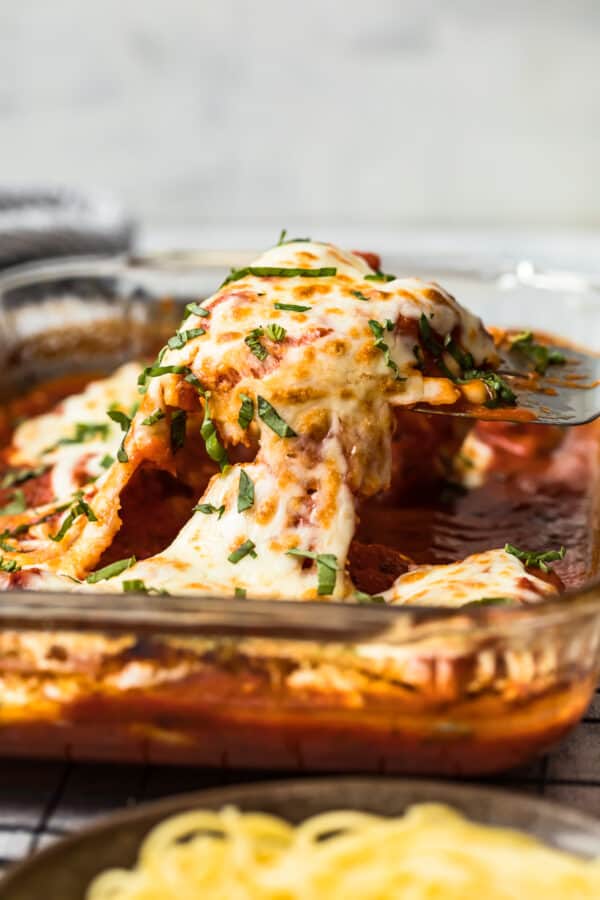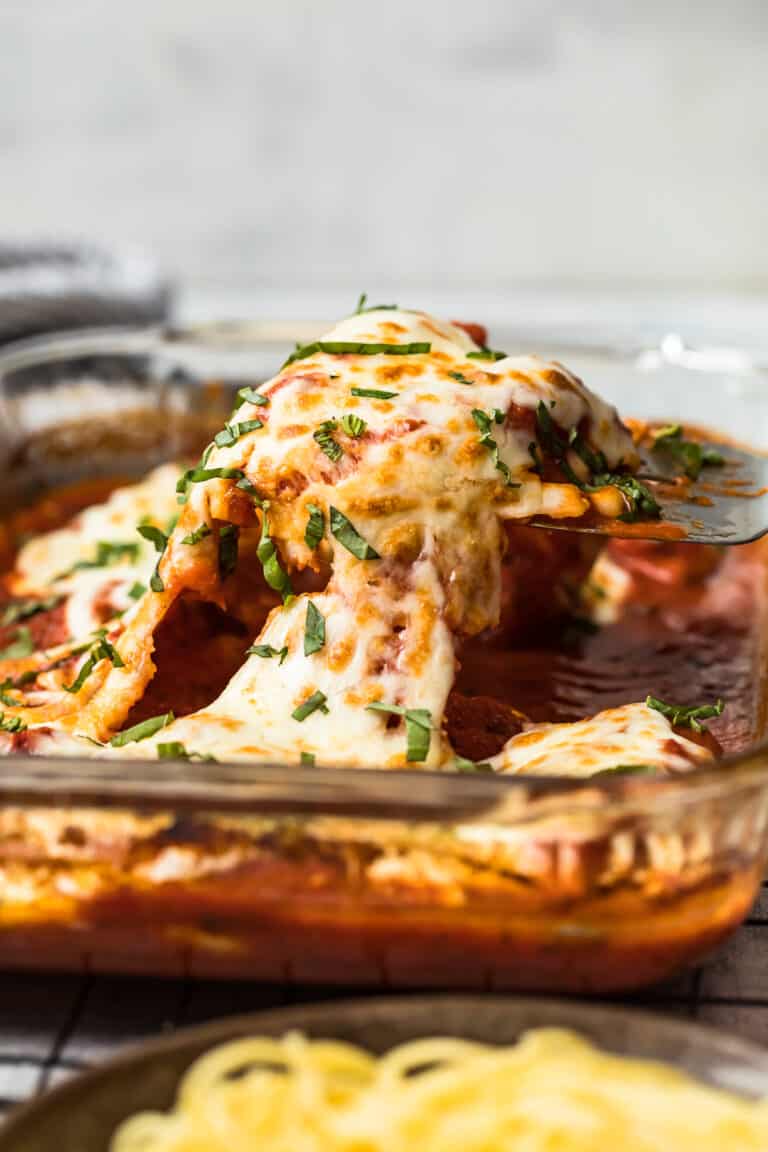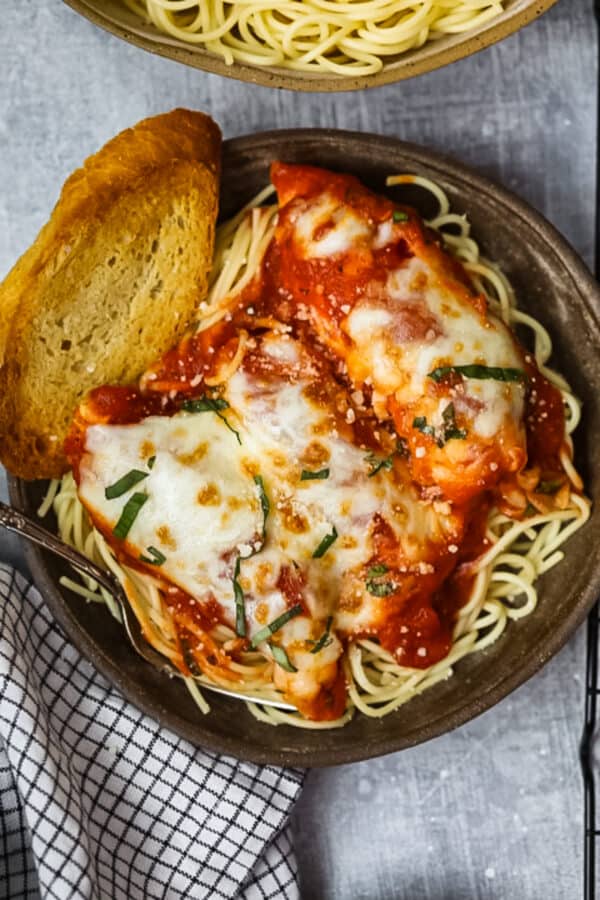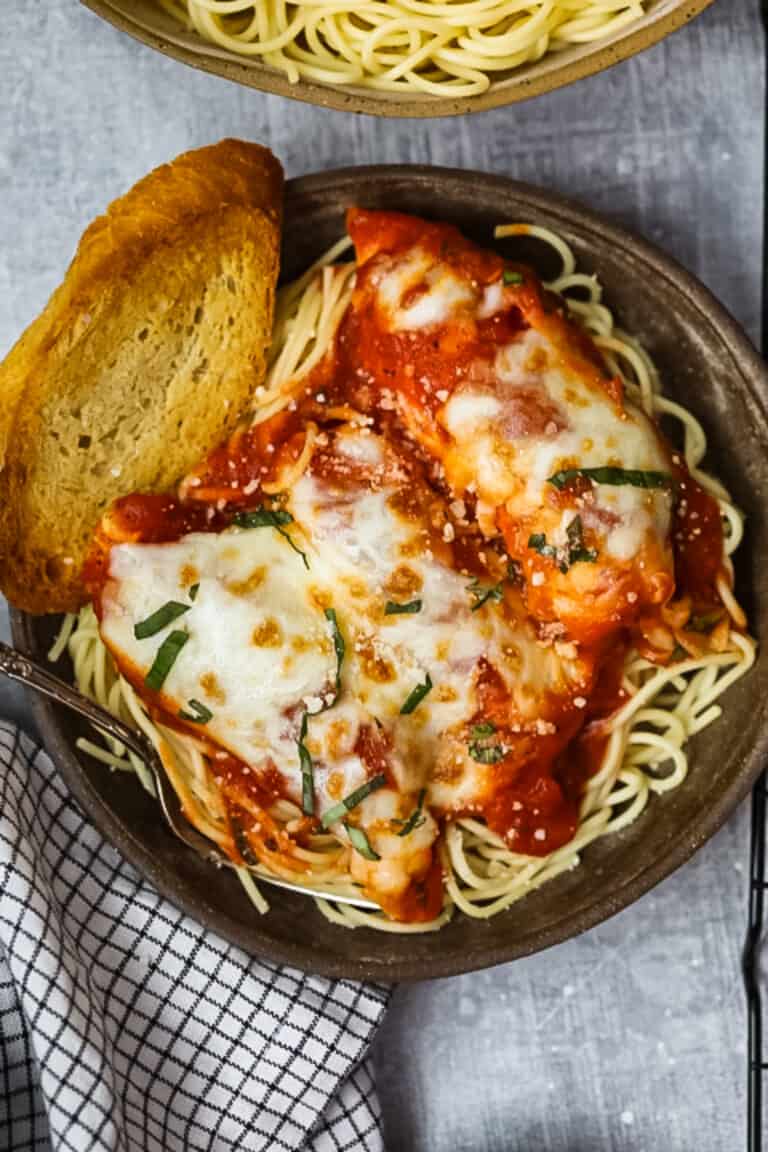 Top Tips
Choose chicken tenders/breasts that are similar size so they cook evenly. If some are much larger, cut them in half.
You can add as much or as little sauce as you like to the chicken.
Ideally use whole milk mozzarella cheese on top of the chicken, but you could also use a fresh mozzarella cheese or fontina cheese.
You can garnish your chicken parmesan with chopped parsley or fresh basil, whatever you have on hand.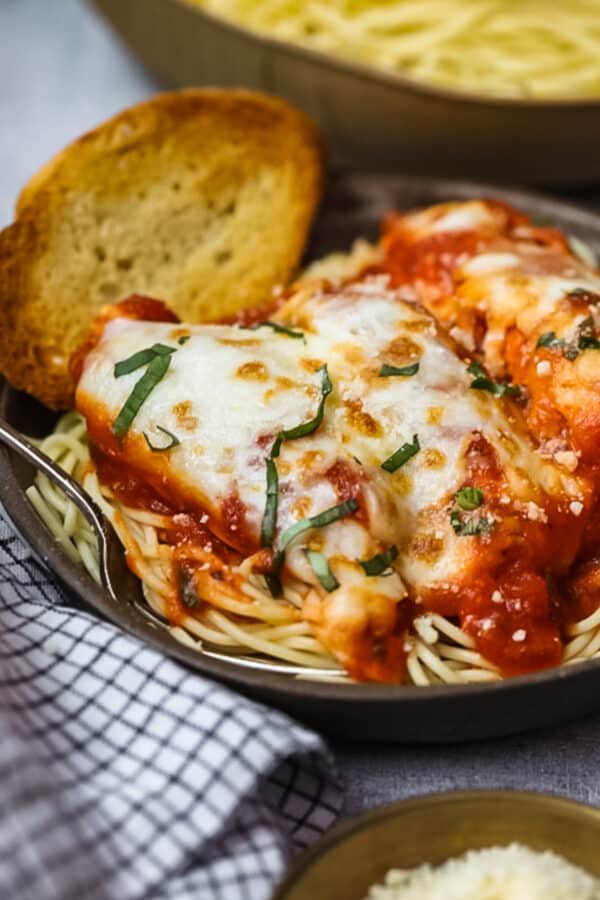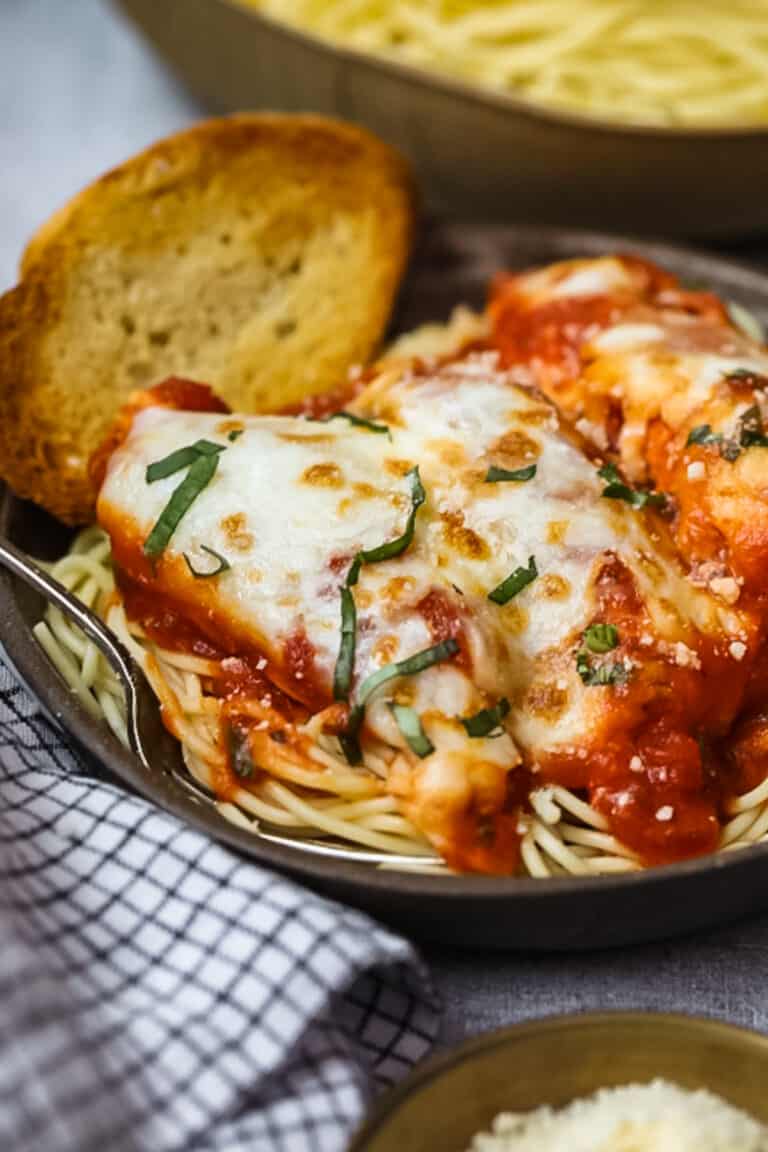 Check out these other delicious chicken dishes
Have you tried this Easy Chicken Parmesan recipe? Feel free to leave a star rating and I'd love to hear from you in the comments below!