Chicken marinara is a simple dinner that the whole family will love! This baked chicken marinara recipe is only 5 ingredients, and it's absolutely delicious. Serve the cheesy baked chicken on a bed of spaghetti for the perfect weeknight meal!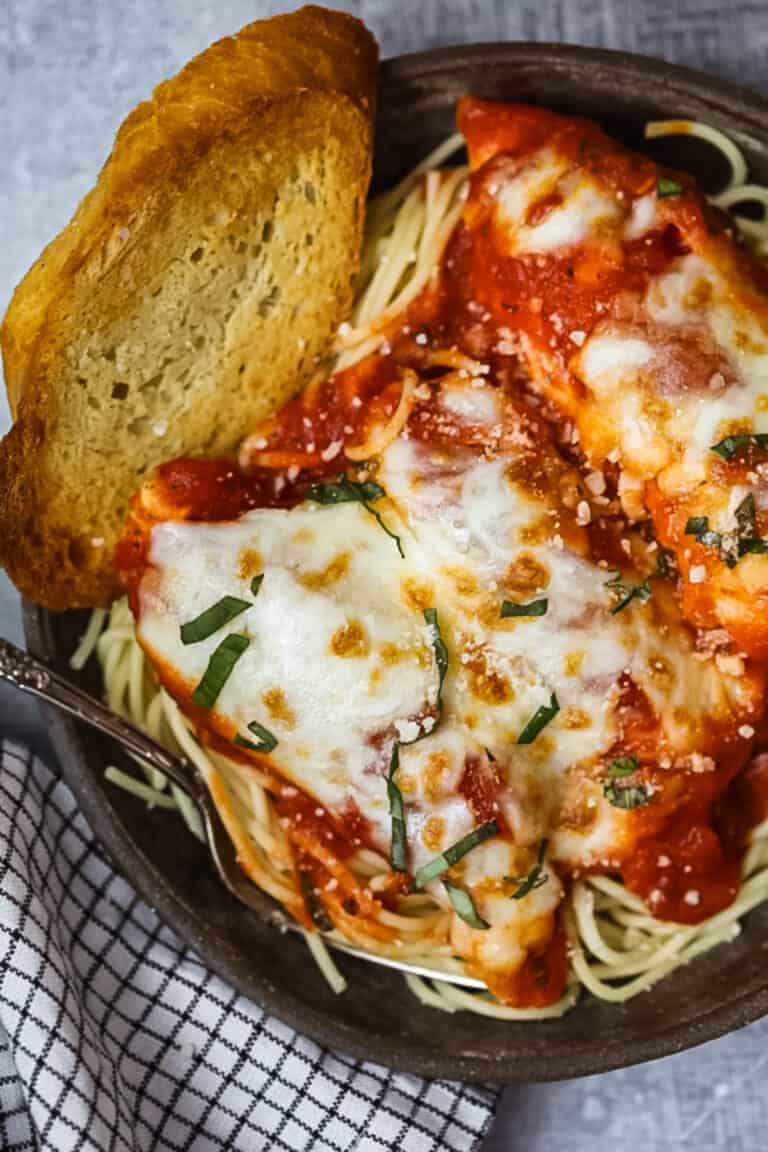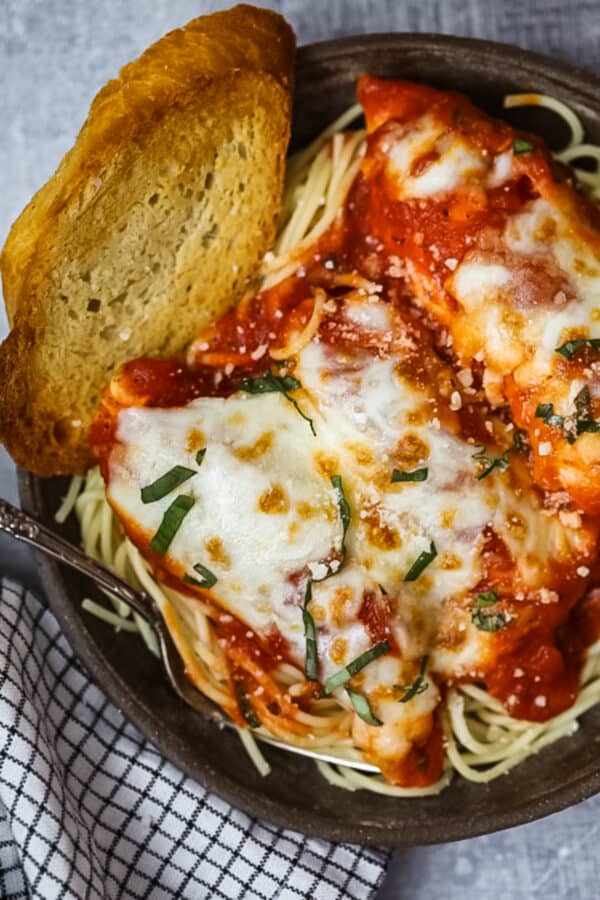 Baked Chicken with Marinara Sauce
This chicken marinara recipe is so easy, so delicious, and everyone is sure to love it. It's something the whole family will be happy to see on the dinner table week after week!
Baked chicken is smothered in marinara sauce and then topped with mozzarella. Serve it on a bed of spaghetti, and you're done!
Why You'll Love this Chicken Marinara Recipe:
5 INGREDIENTS: This dish only requires 5 ingredients to make! It couldn't be easier or quicker to get dinner on the table.
FAMILY FAVORITE: The whole family will love this baked chicken marinara. It's cheesy and delicious!
BAKED NOT FRIED: This recipe is baked instead of fried! Baked chicken topped with marinara and mozzarella is just perfect.
This dish is an easy take on a delicious classic, and it's only five ingredients. It's paired up with spaghetti for a complete meal, just add bread and salad! It looks fantastic with minimal effort, and it's great for when you have guests too.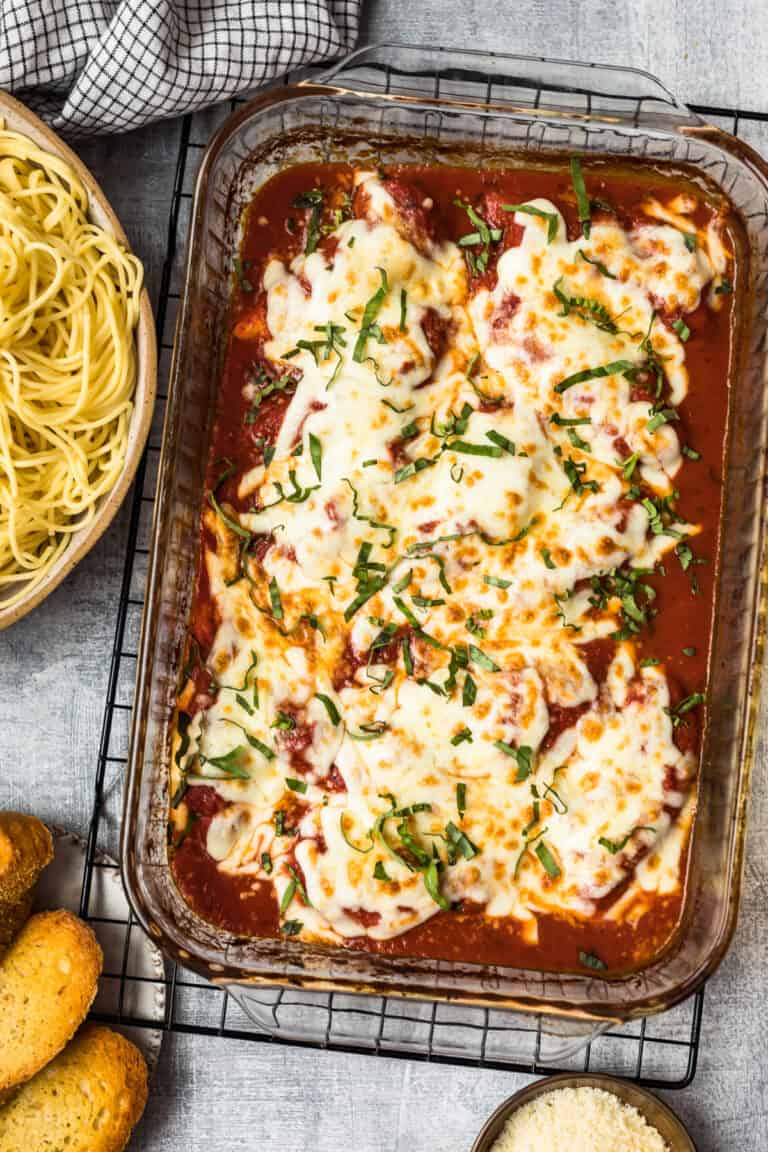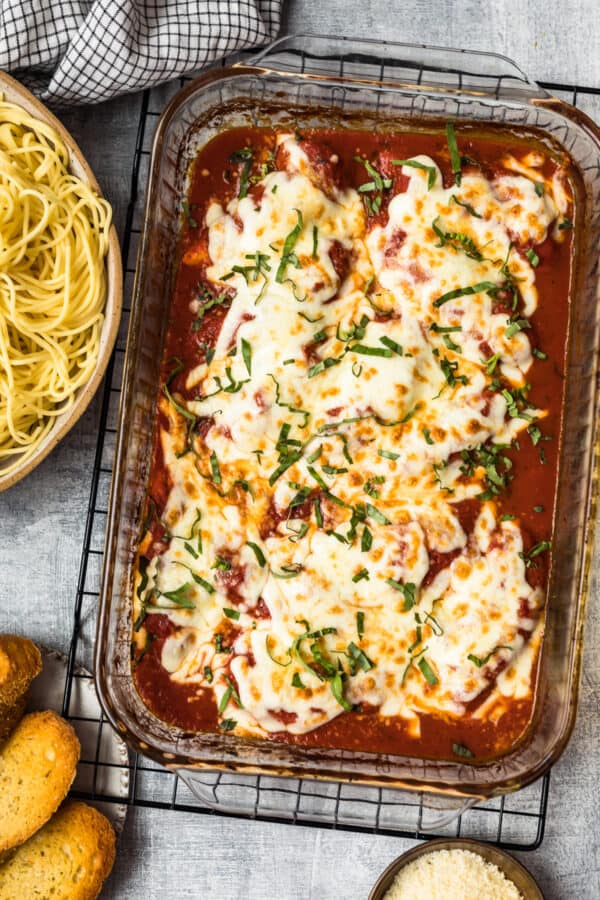 5 Ingredients
Spaghetti: Spaghetti is the perfect pasta for this recipe. But you can use another long strand pasta, or even a gluten free or whole wheat option if you prefer!
Marinara Sauce: Use your favorite jar of spaghetti sauce, or a homemade marinara.
Chicken: You can use chicken tenders or chicken breast, whichever you prefer.
Cheese: Two types of cheese (Mozzarella and Parmesan) make up the fourth and fifth ingredients!
How To Make Chicken Marinara with Spaghetti
Be sure to see the recipe card below for full ingredients & instructions!
Pour marinara sauce in a casserole dish and lay chicken evenly on top. Then pour the remaining sauce over the chicken.
Bake the chicken.
While the chicken bakes, cook the spaghetti.
Place the cheese on the chicken and broil.
Let the chicken cool for 5 mins and serve over a bed of spaghetti.
Enjoy!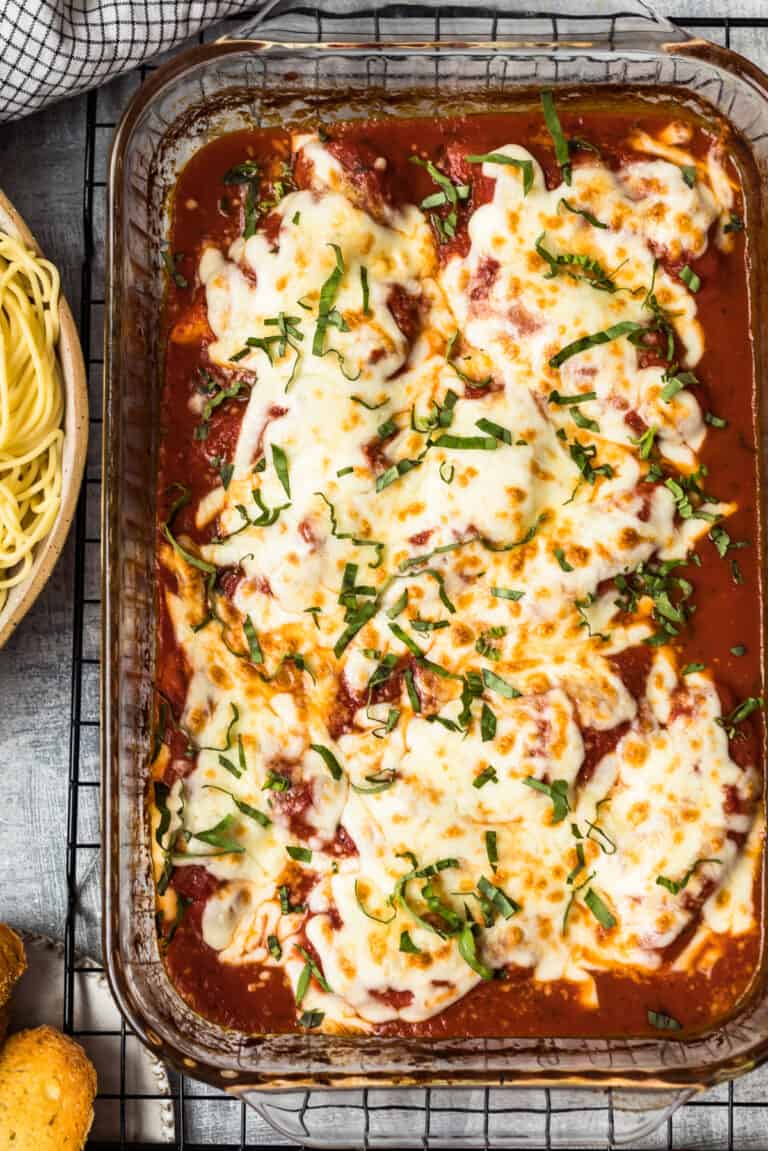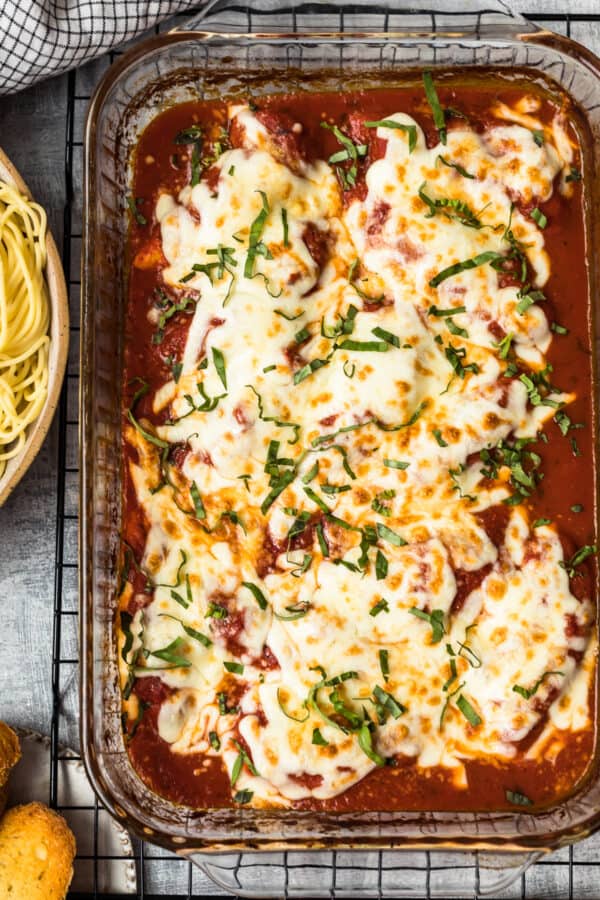 What kind of chicken should I use for this recipe?
You can either use boneless, skinless chicken breasts or chicken tenders. Both work great! And you can use fresh or frozen, just thaw frozen chicken the day before.
How long does the chicken take to bake in the oven?
Baking at 350F, the chicken will take between 30-45 minutes to cook. Take it out when the internal temperature reaches 155F (the temp will rise when we broil it).
What should I do with leftovers?
Store leftover chicken in an airtight container, and keep it in the fridge up to 3 days. You can then reheat it in the oven to serve. Leftover spaghetti can also be saved in the refrigerator, but I usually recommend boiling fresh pasta since it's so quick!
How do I cook the spaghetti?
Cook spaghetti (or any pasta you use) according to package instructions. Simply boil it in water on the stove, until noodles are al dente. This can easily be done while the chicken is baking.
What's the difference between chicken marinara and chicken parmesan?
They are quite similar, but not exactly the same. Chicken parmesan is typically breaded and fried (or baked). The chicken is also sometimes butterflied and thinned out. With this recipe, however, our chicken breast is not thinned out or breaded. It's much quicker and simpler!
You'll be making this baked chicken marinara recipe for weeknight dinners for a long time because it's totally foolproof!
Serving Suggestions
Chicken marinara is a pretty full meal on it's own. It's baked chicken topped with marinara and mozzarella, served with spaghetti. So the only thing I add is some delicious garlic bread, a salad, or maybe some extra veggies.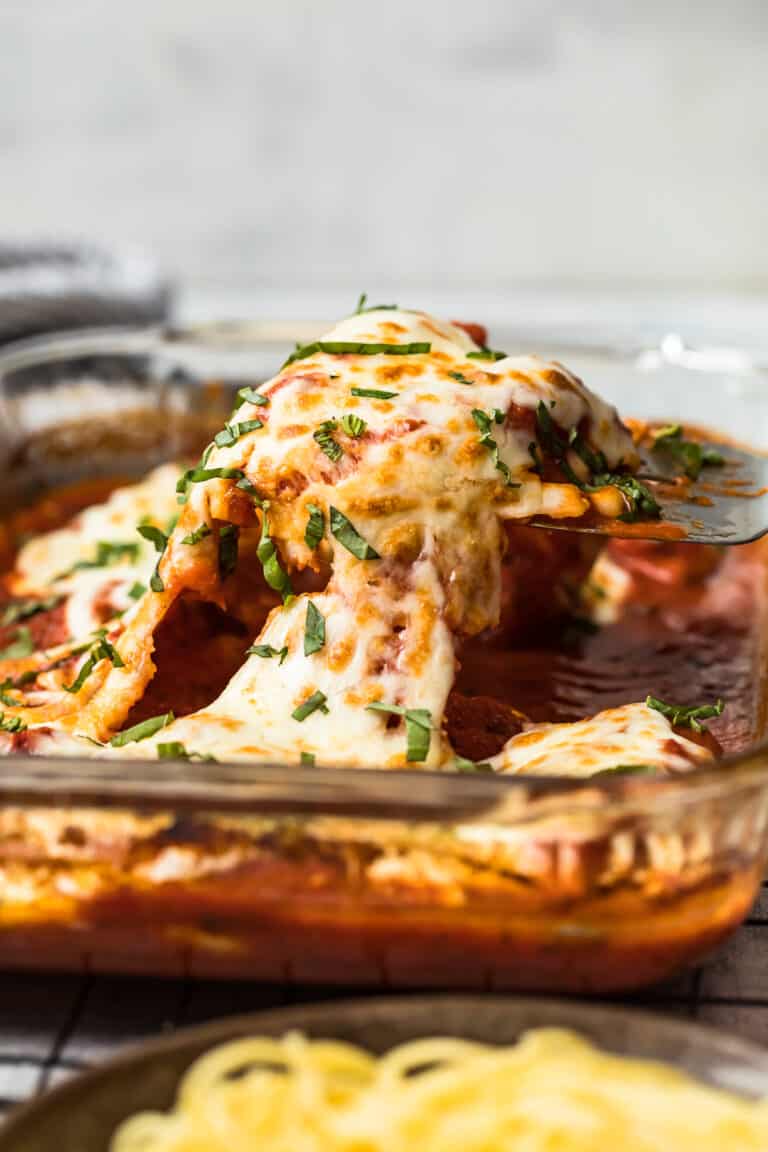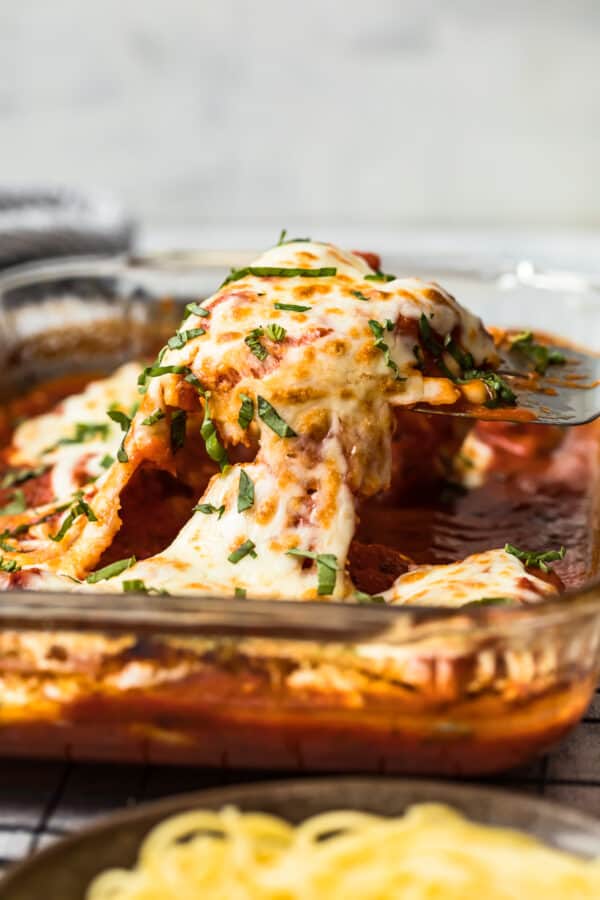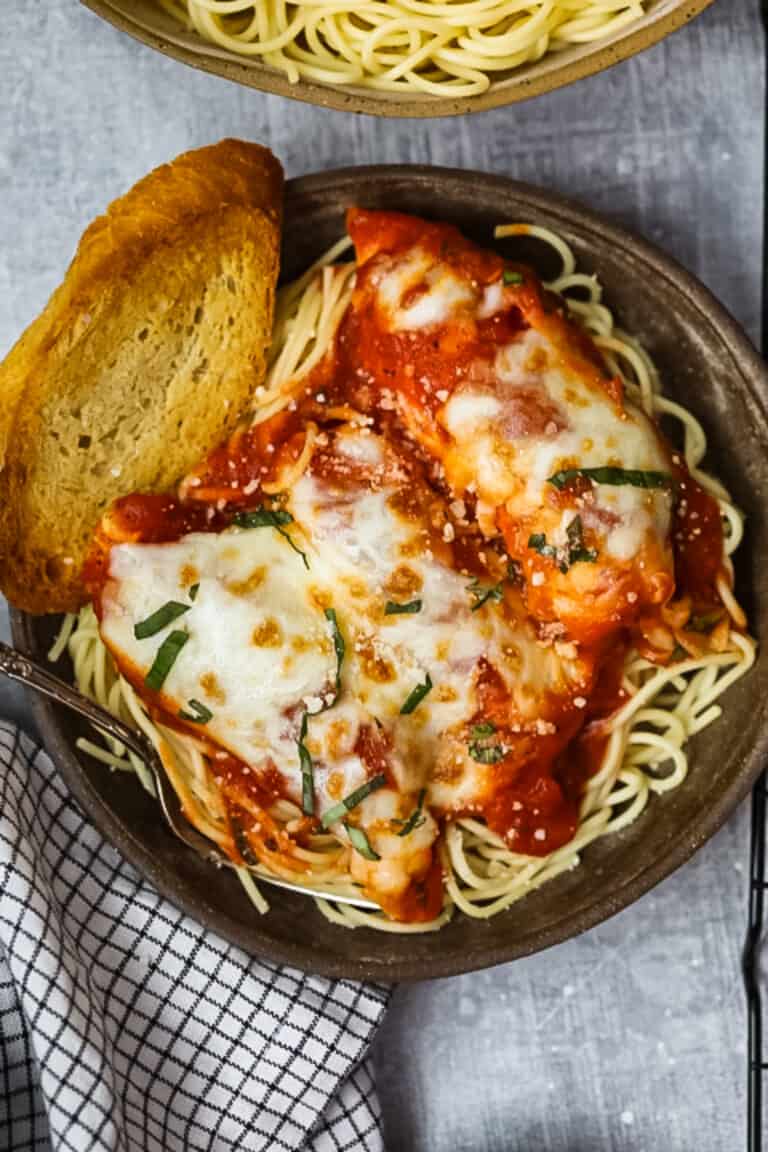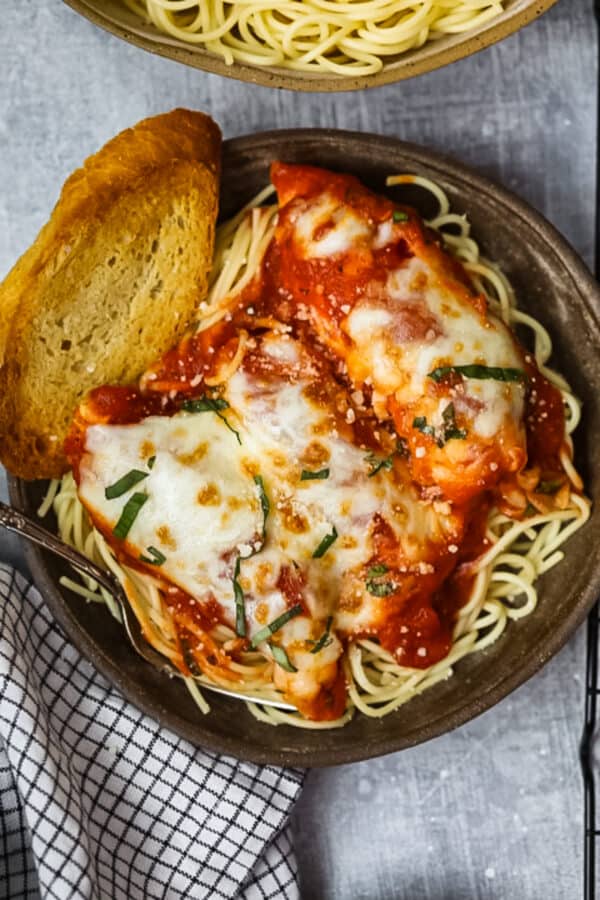 Tips!
Use chicken tenders/breasts that are similar in size so they cook evenly. If some are much larger, cut them in half.
You can add as much or as little marinara as you like to the chicken. Make it saucy, or keep it light.
I recommend using whole milk mozzarella cheese on top of the chicken, but you could also use a fresh mozzarella or fontina.
Garnish your chicken marinara with chopped parsley or fresh basil!
Can I use homemade marinara sauce?
Absolutely! A store-bought jar of sauce is great for convenience. However, you can use this recipe to make marinara sauce instead. It can be made ahead of time and refrigerated, so it's ready to use!
What pasta should I serve with chicken marinara?
Spaghetti is the most classic option to serve with this dish. But of course you can use any type of pasta you like or have on hand. Long noodles, like bucatini or angel hair pasta, work great. But short noodles, like penne or rotini, will still taste good with the sauce and cheese!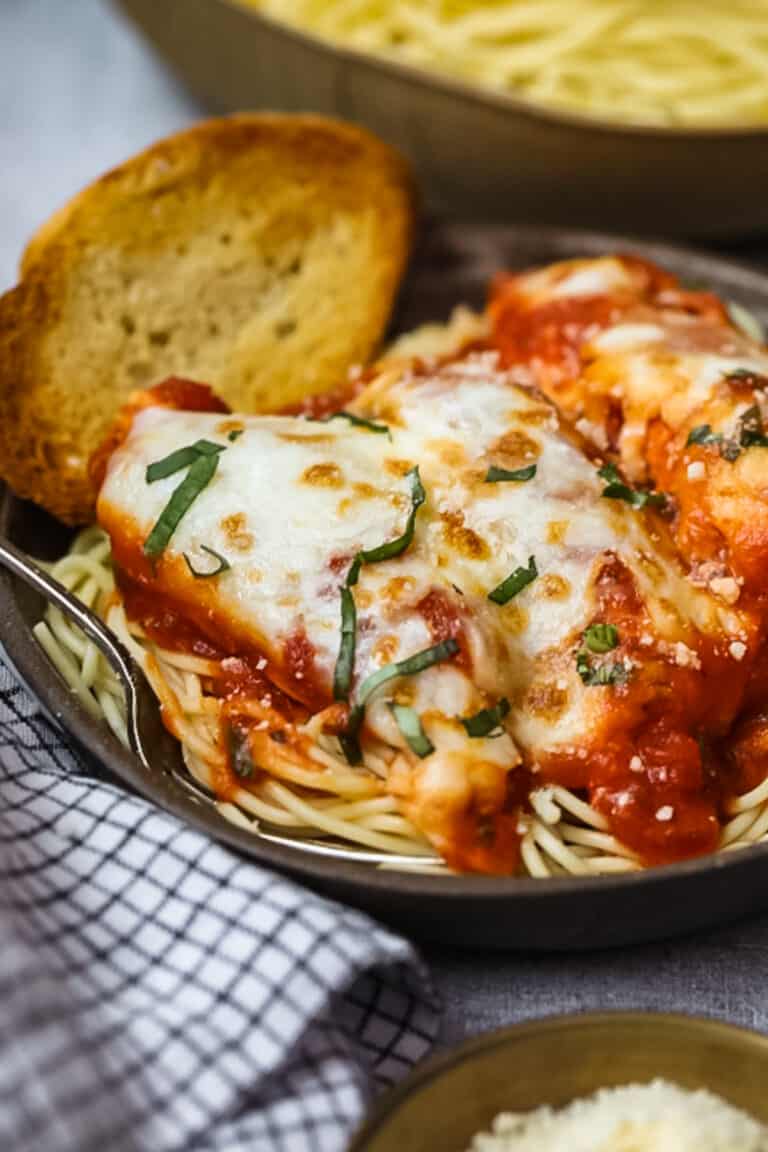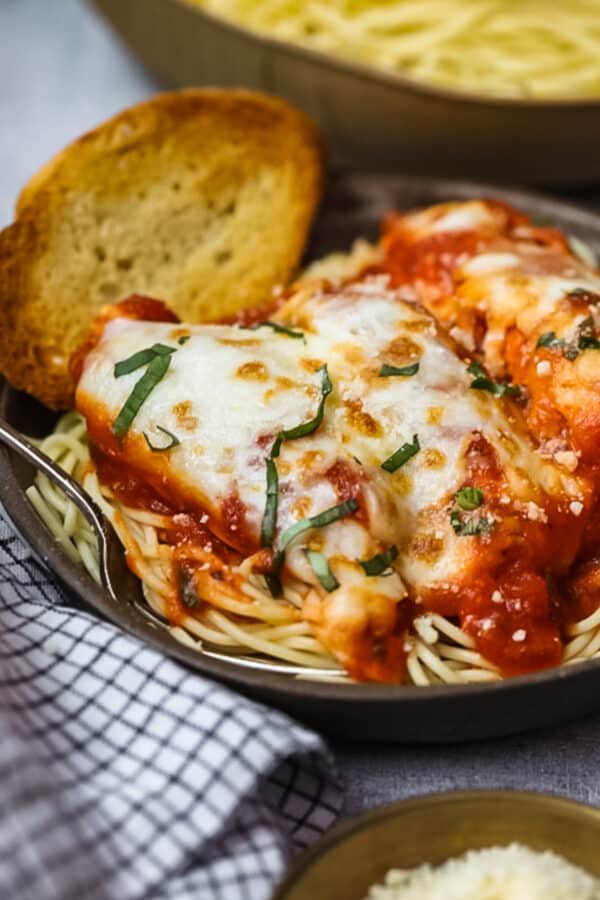 This super easy, 5 ingredient, baked chicken marinara will definitely be your new go-to dinner for weeknights. It's cheesy, easy, and tasty!
If you make this recipe be sure to upload a photo in the comment section below or leave a rating. Enjoy!