MOZZARELLA STUFFED MEATBALLS are the ultimate appetizer! Theses Italian meatballs are stuffed with whole milk mozzarella and they are oh so juicy and tender. You better make a double batch of these Mozzarella Meatballs if you want them to last!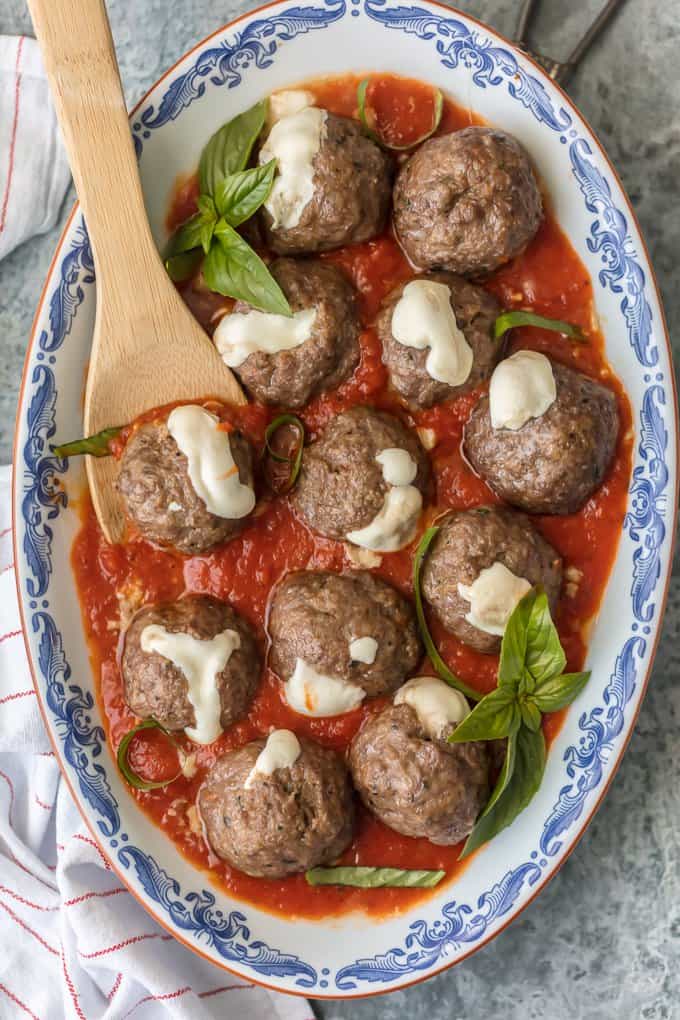 Mozzarella Stuffed Meatballs
Mozzarella Stuffed Meatballs are so cheesy, juicy, and delicious! These Mozzarella Meatballs are the perfect appetizer for any occasion.
These meatballs are SO good! To say I'm obsessed with this recipe is an understatement. I want to throw copies of this recipe from the rooftops so that everyone can enjoy these Mozzarella Meatballs as much as we do!!
I have to admit, Mom came up with this Mozzarella Stuffed Italian Meatballs recipe after I told her about a craving I was having, and I'm so lucky that she did. I'm going to be requesting she make these time and time again, most likely including this weekend. I'm totally addicted!
These Mozzarella Stuffed Meatballs would be the perfect appetizer for tailgating, a party, or before dinner with friends.
Mozzarella Stuffed Meatballs are the ultimate appetizer! They're so cheesy and delicious covered in marinara sauce.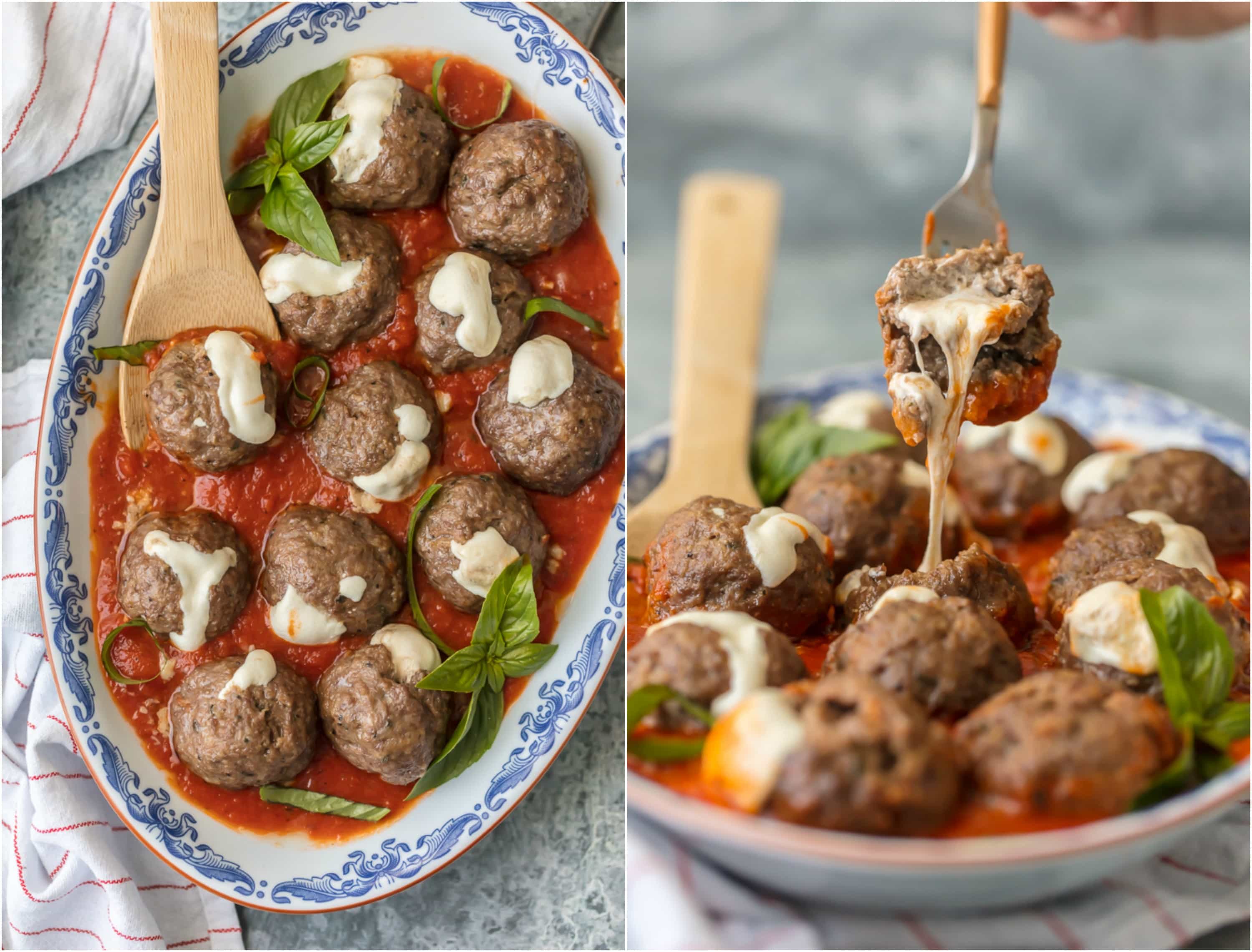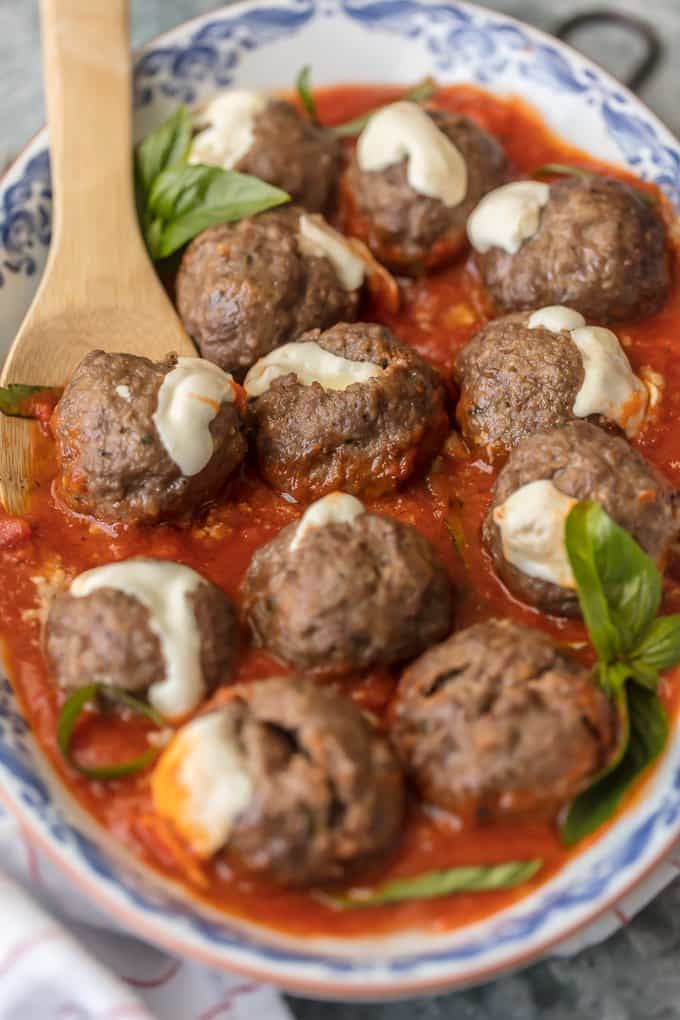 Italian Meatballs Stuffed with Mozzarella Cheese
I told Mom I wanted mozzarella stuffed meatballs and she scoured the internet for different recipes to blend together to create a masterpiece. She adapted this recipe from The Recipe Critic, one of our all-time favorite sites. You guys, Alyssa is the QUEEN and I just love her site. Her recipes are tested and good every single time. Mom made some changes but the original idea was Alyssa's. Be sure to check out her site ASAP!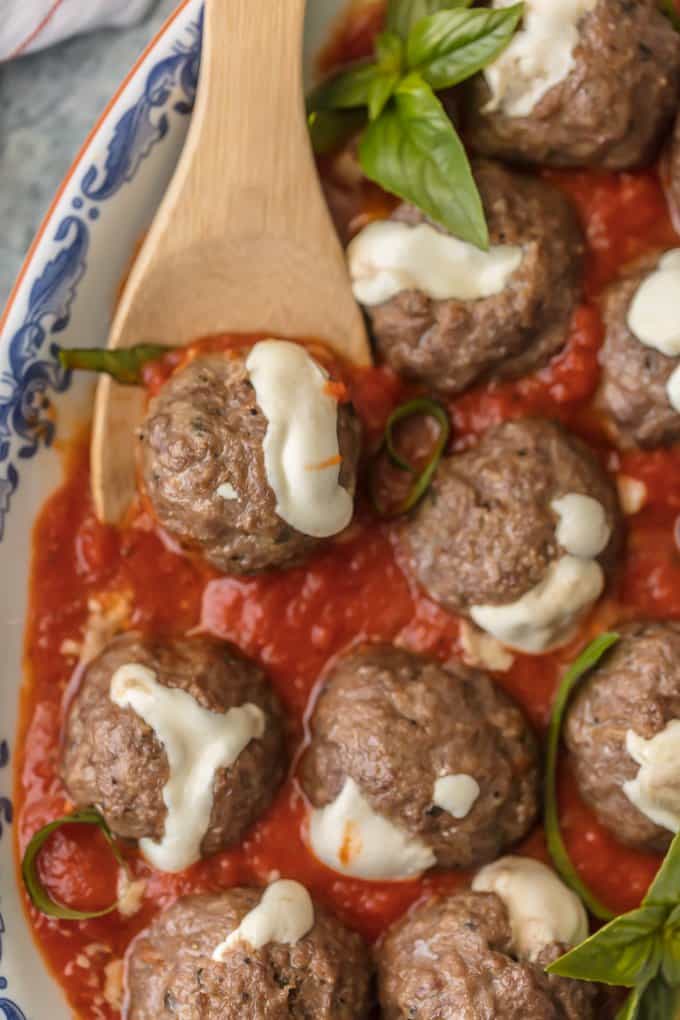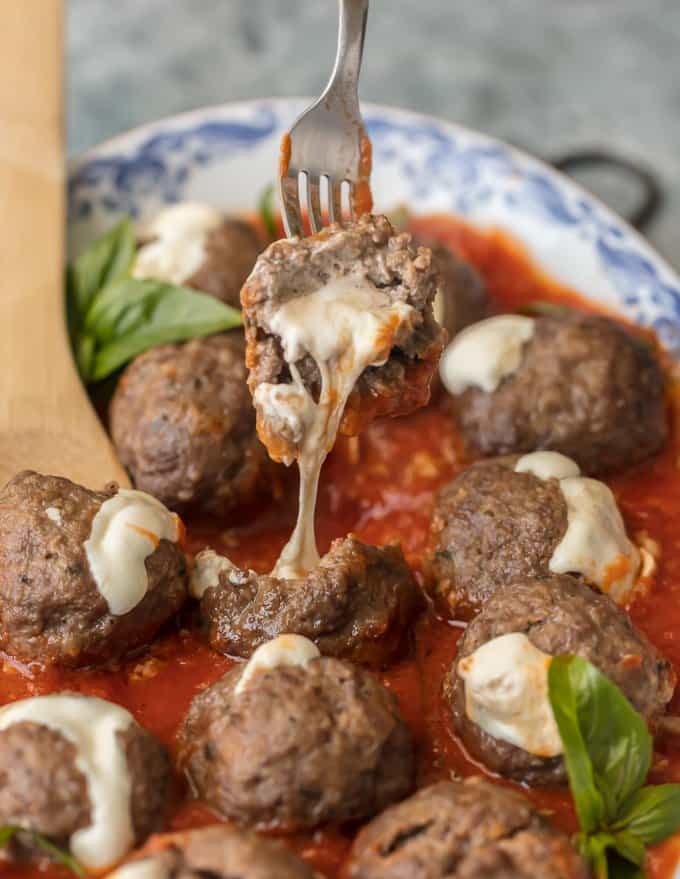 Meatballs with Marinara Sauce
We served these cheesy Mozzarella Meatballs with store bought marinara sauce because I'll be honest, that's just how I roll sometimes, but you can also use this homemade marinara. When you can find easy shortcuts to make a home cooked meal that much easier, I'm all for it!
Do some taste testing and find a pre-made marinara that you love and it goes a long way with these Italian meatballs.
How long do you bake these?
These Mozzarella Stuffed Meatballs take about 15-20 minute to bake in the oven. I can't believe how easy and quick this Italian meatballs recipe is. They turn out sooo juicy and cheesy!
What temp do you bake meatballs in the oven?
If you want to bake meatballs in the oven, set your oven to 350 degrees. These Mozzarella Meatballs turn out perfectly! Just the right crispiness on the outside and the perfect ooey gooey melty cheese on the inside. I LIKE.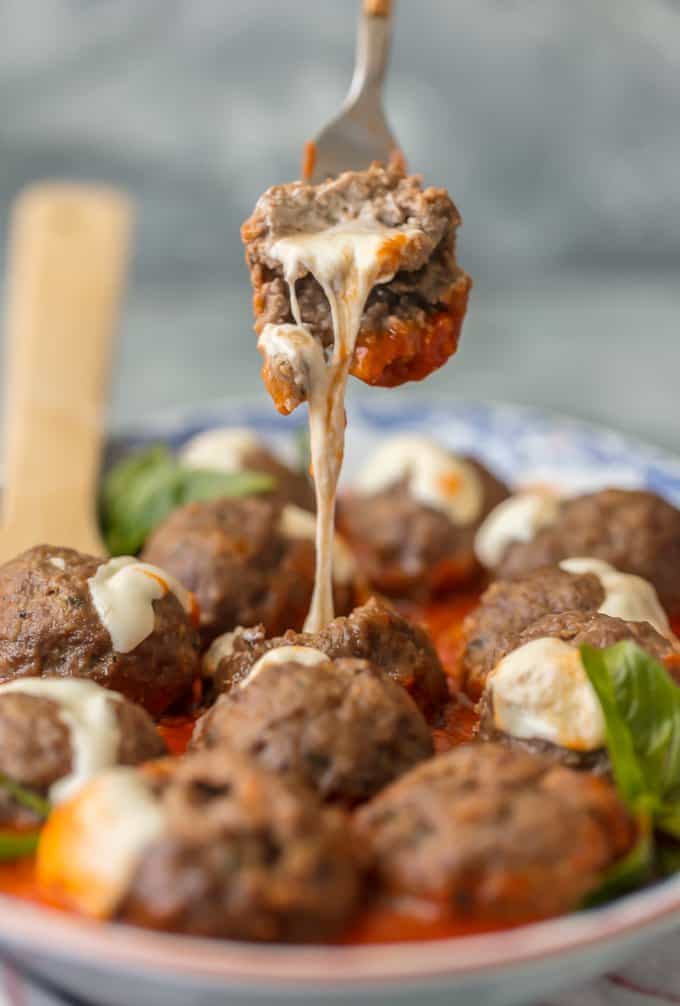 Once you taste these Mozzarella Stuffed Meatballs you're going to want to eat them all the time. Not great for the waistline but great for the soul. I'm going to write a new book called Stuffed Meatballs for the Soul. Wayyy better than Chicken Soup for the Soul :).
See the recipe card below for full details on How to Make Mozzarella Stuffed Meatballs. Enjoy!
If you like these Mozzarella Meatballs, try these other meatball recipes: