This easy Mediterranean Chicken Bake is our favorite "dump and bake" casserole! Throw everything together (balsamic glazed chicken, cheese, white beans, tomatoes, artichoke hearts, and more) and cook for an EASY dinner recipe!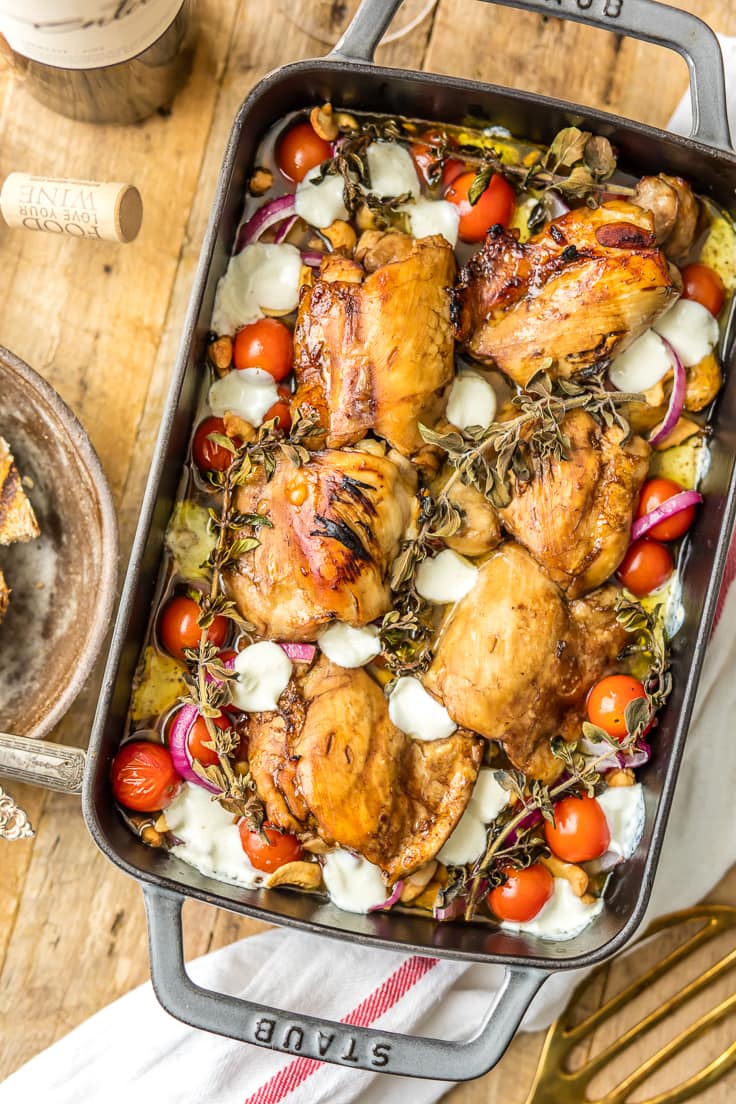 Mediterranean Chicken Bake
This Baked Mediterranean Chicken recipe is the perfect healthy and delicious casserole. Plus it's made in one pan for the ultimate easy meal!
This Mediterranean Chicken Casserole is filled with all kinds of tasty and healthy things! They say that the "Mediterranean diet" is one of the healthiest on the planets, so making a dish filled with ingredients from the region seems like a great way to create a balanced dinner.
Start with balsamic glazed chicken, add in white beans and cashews, and finish off with veggies and a bit of cheese (a little cheese never hurt anyone!). Bake it all together into a mouth-watering meal, and you're set!
Delicious? Check! Easy? Check! A well-balanced meal? Check! You can't lose with this baked chicken casserole!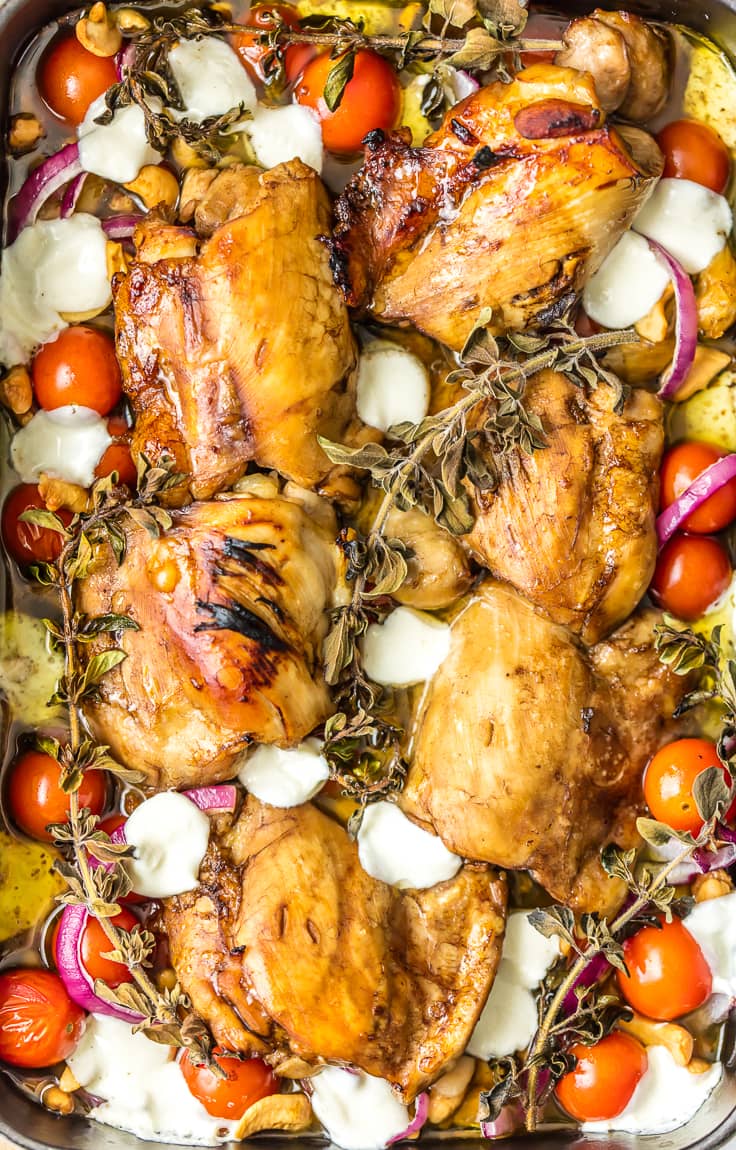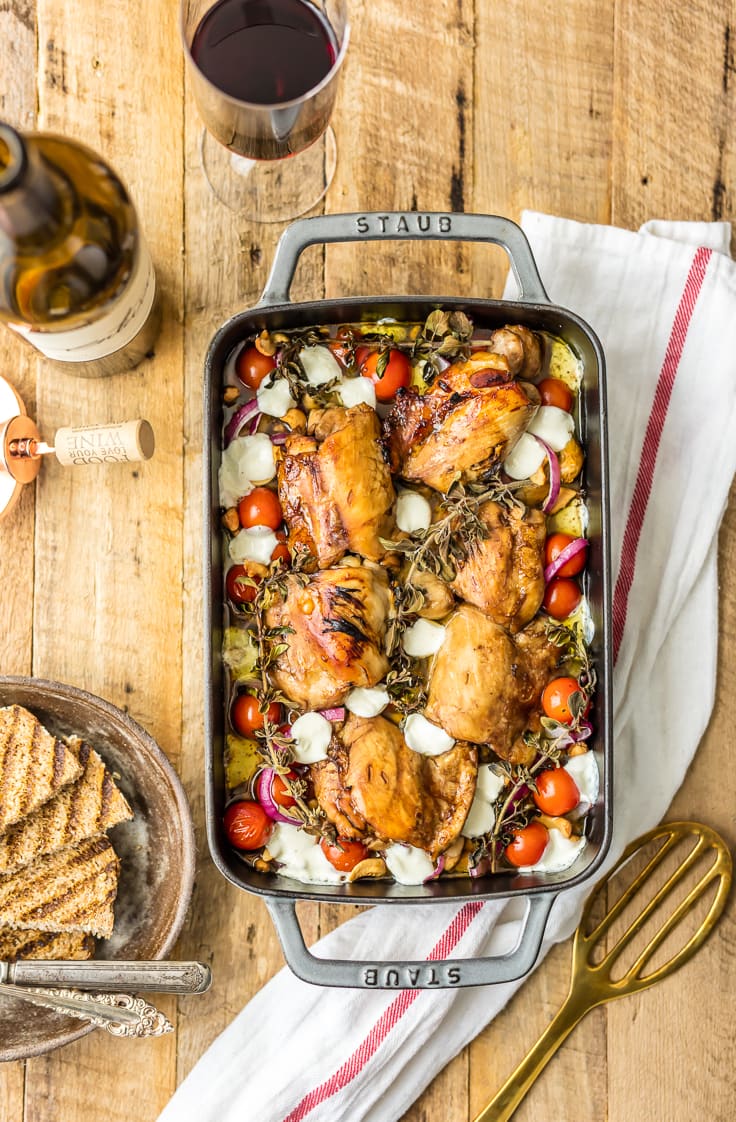 Easy Chicken Bake Recipe
This is one of those amazing recipes that you can throw together, let bake, and allow all the flavors to come together to create perfection. The cashews, balsamic, tomatoes, artichokes, beans…everything just compliments each other in a way that will make you coming back for more and more and more.
You can serve this Mediterranean chicken with rice or pasta, or you can serve it without. Everything you truly need is just right here in the pan. SO MUCH FLAVOR!
I know you've heard of "dump cake"…and this is kind of a "dump bake". The cheesy marinated chicken kind!
Mediterranean Chicken Casserole Ingredients:
Balsamic Chicken – You can use chicken breast or chicken thighs. Thighs are a little bit richer and juicier, but breast is a little bit healthier and leaner.
Artichoke Hearts – Use canned or jarred. Artichokes are rich in anti-oxidants, vitamins, and minerals.
Red Onion
Cherry Tomatoes
White Beans – Drain and rinse if using canned beans.
Cashews – Use whole salted cashews. You could substitute for unsalted to reduce sodium.
Chicken Broth – Try my homemade chicken broth recipe, or use your favorite store-bought brand.
Mozzarella – The Mozzarella adds the perfect level of creamy, cheesy goodness in moderation.
Oregano – Chop up fresh sprigs of Oregano.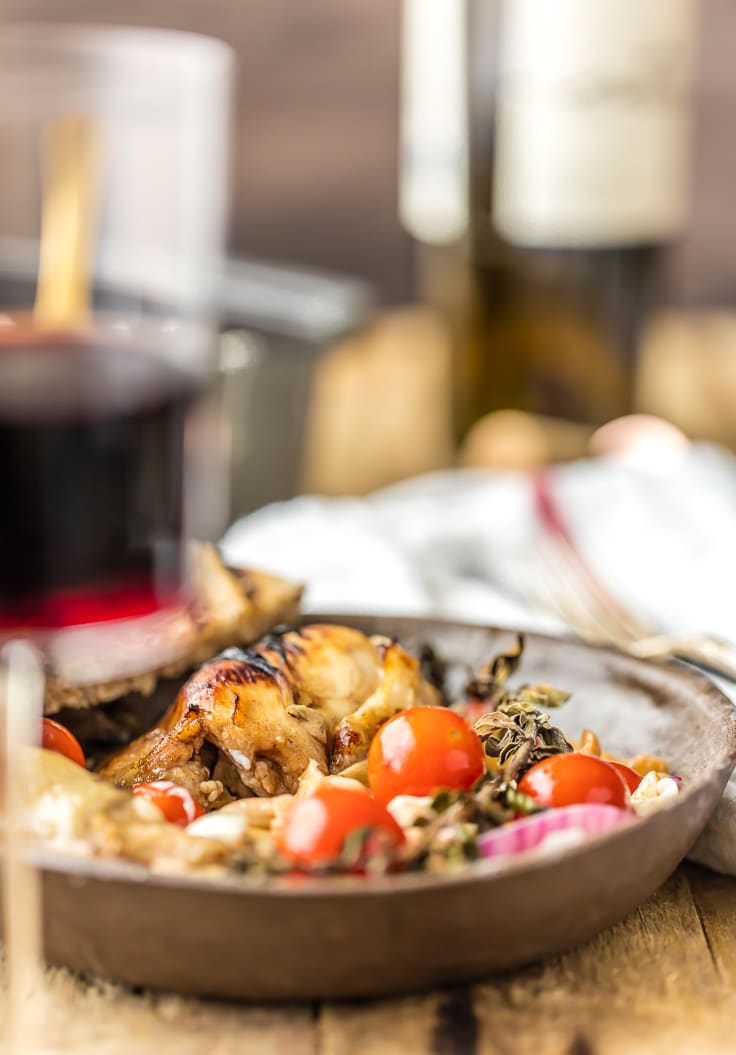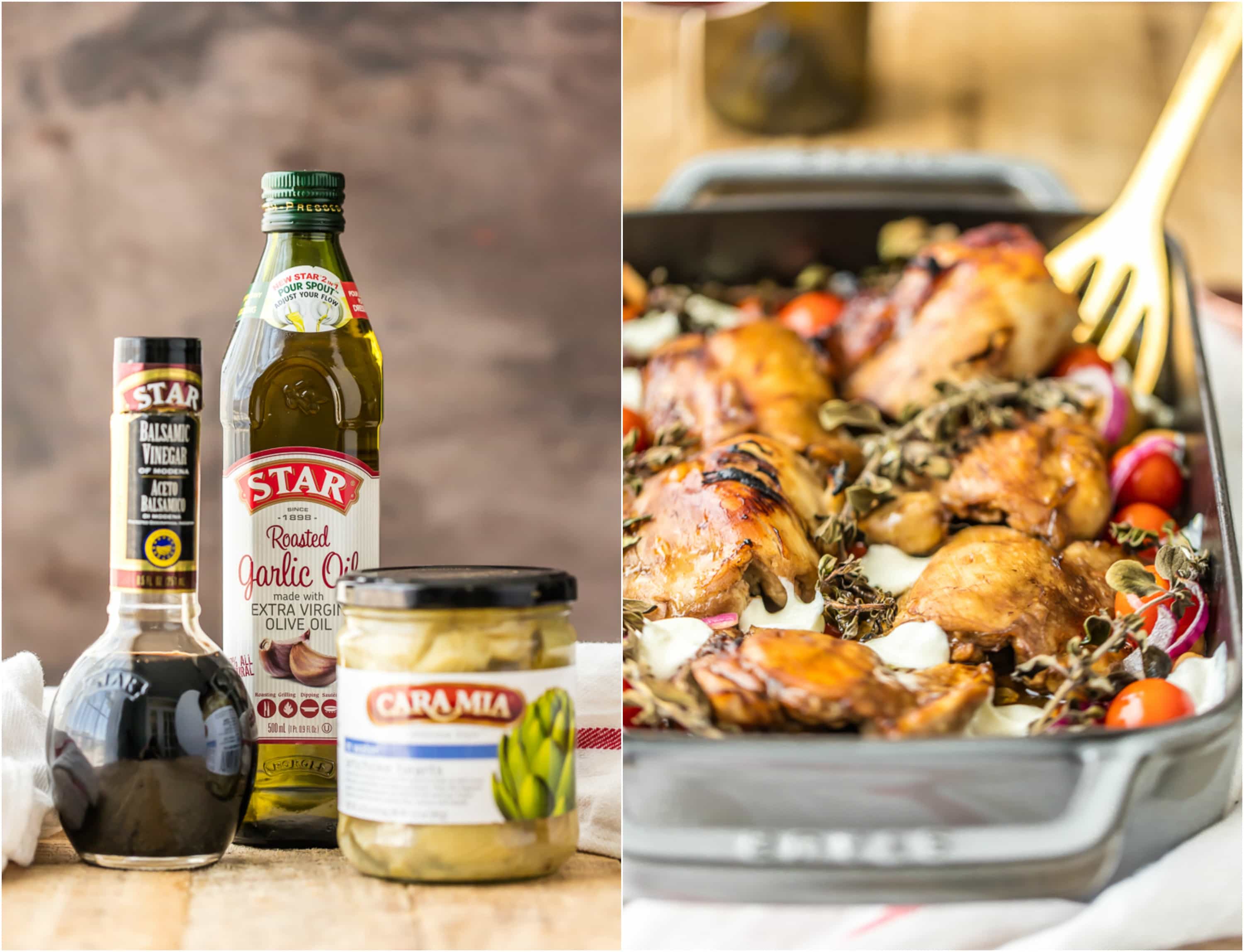 How to Make Mediterranean Chicken Bake
Now, when I call this healthy, I'm talking good sources of protein, plenty of veggies, and healthy sources of fat. Overall it's a well-balanced meal…but that does't mean we can't have the cheese and enjoy the amazing flavor.
To Make:
Marinate chicken in balsamic vinegar.
Add beans, cashews, artichoke hearts, tomatoes, and onion into the casserole dish.
Brown the chicken in a skillet (just a couple minutes on each side).
Place the chicken in the casserole dish with the rest of the ingredients and brush with balsamic. Then add the chicken broth and oregano.
Bake 15-20 minutes at 400°F (or until chicken is fully cooked through).
Take it out of the oven, add the mozzarella, and serve!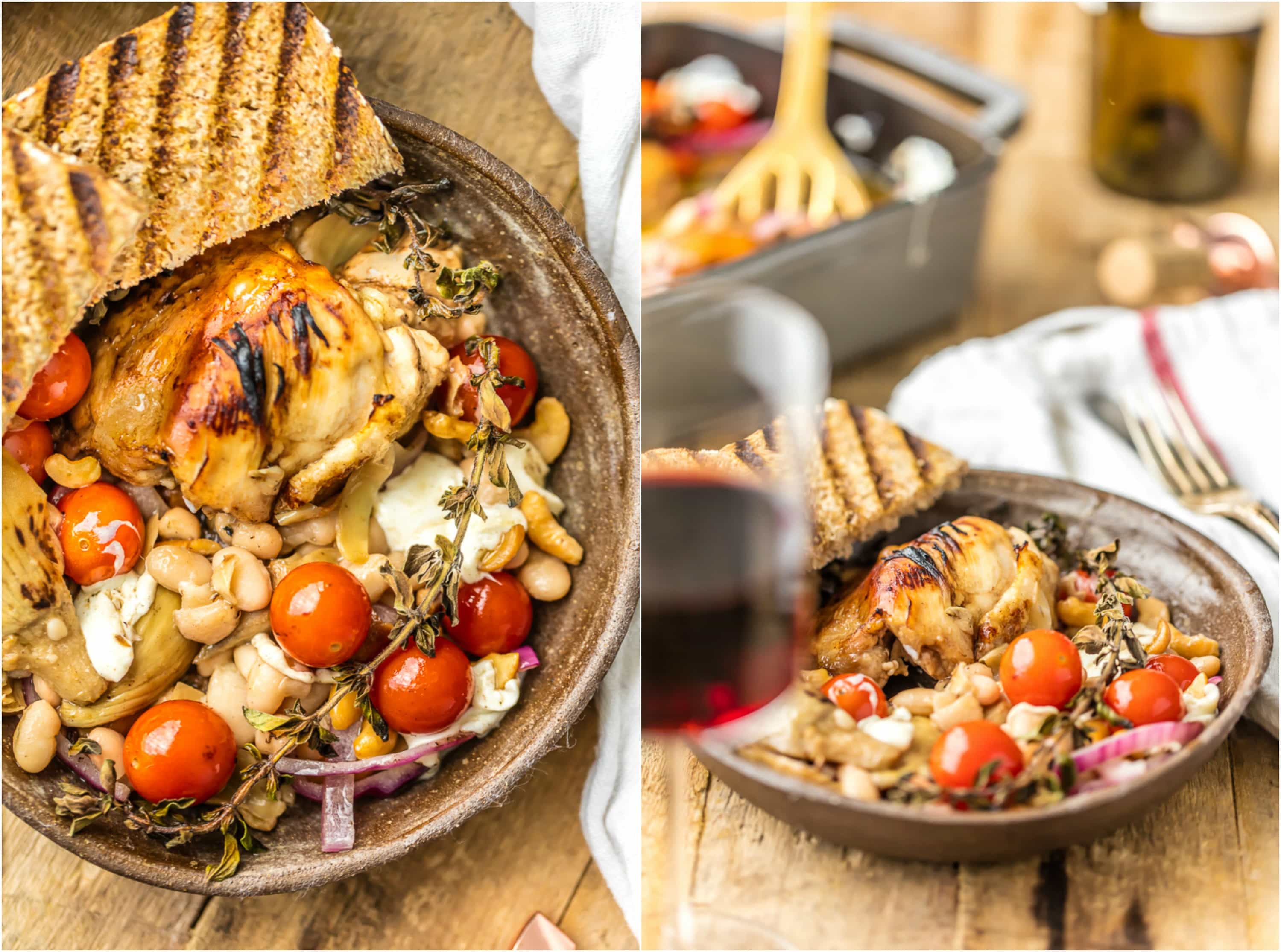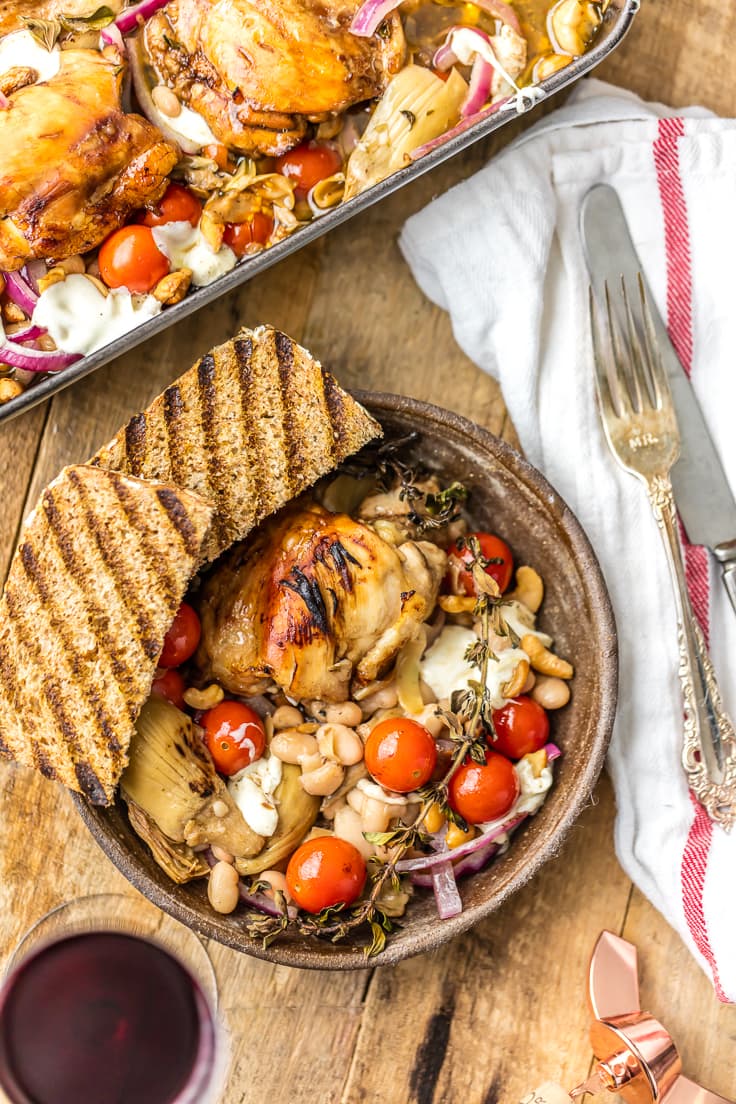 We absolutely love this easy Mediterranean Chicken Bake, and I know you will too! What's not to love about a one pan meal that's THIS delicious?!
Check the recipe card for details on how to make this Mediterranean Balsamic Glazed Chicken Bake. Enjoy!
Find more our of favorite Baked Chicken Recipes for dinner, like our Baked Caesar Chicken, Swiss Chicken Bake, Lemon Honey Balsamic Chicken, and Baked Chicken Parmesan.