Balsamic Glazed Mediterranean Chicken Bake is our favorite "dump and bake" casserole! Throw everything together and cook for an EASY dinner recipe!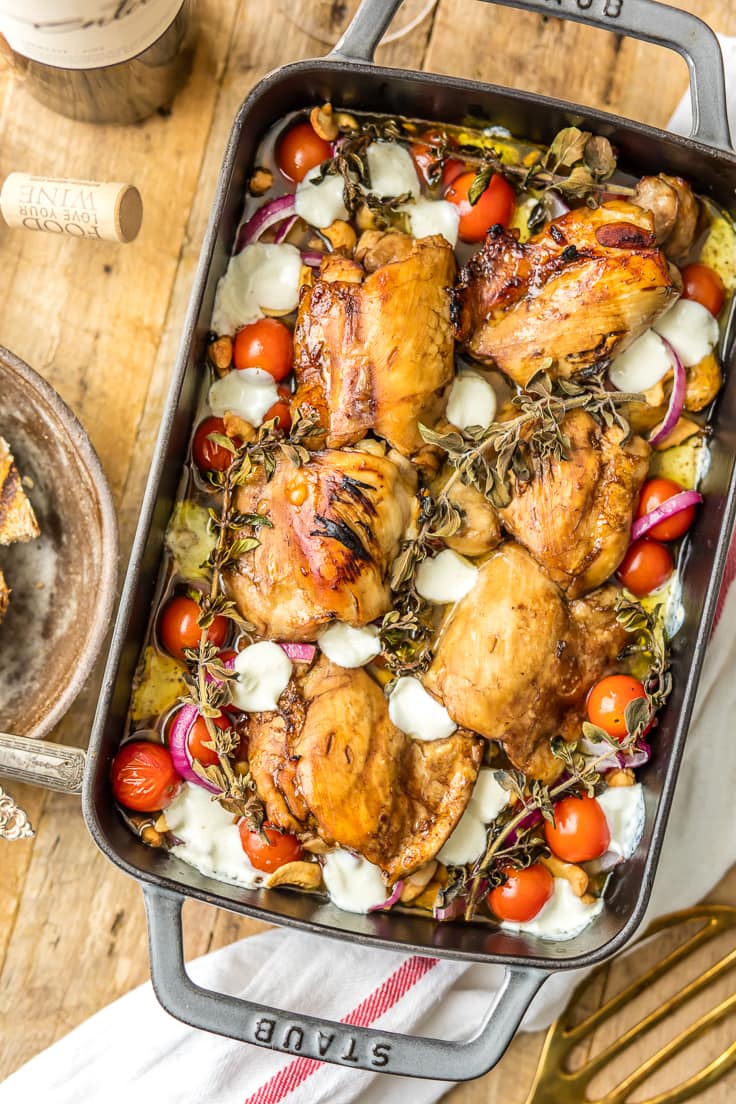 I've got a classy (EASY) dinner for you guys today!! One of my all-time favorite recipes on the site, all gussied up and re-photographed to show off just how flavorful and delicious it really is, Balsamic Glazed Mediterranean Chicken Bake! I adapted this recipe from one of the most beautiful blogs on the internet, The Clever Carrot, back in 2014. I've always LOVED the recipe, but never loved how I photographed it. I just didn't do it justice. You can click to see the original post HERE, and can see what I mean. Over the years, the more I want to touch up old recipes to really let them shine.
This Mediterranean chicken bake is such a simple favorite, it deserves a face lift!
Balsamic Glazed Mediterranean Chicken Bake Makeover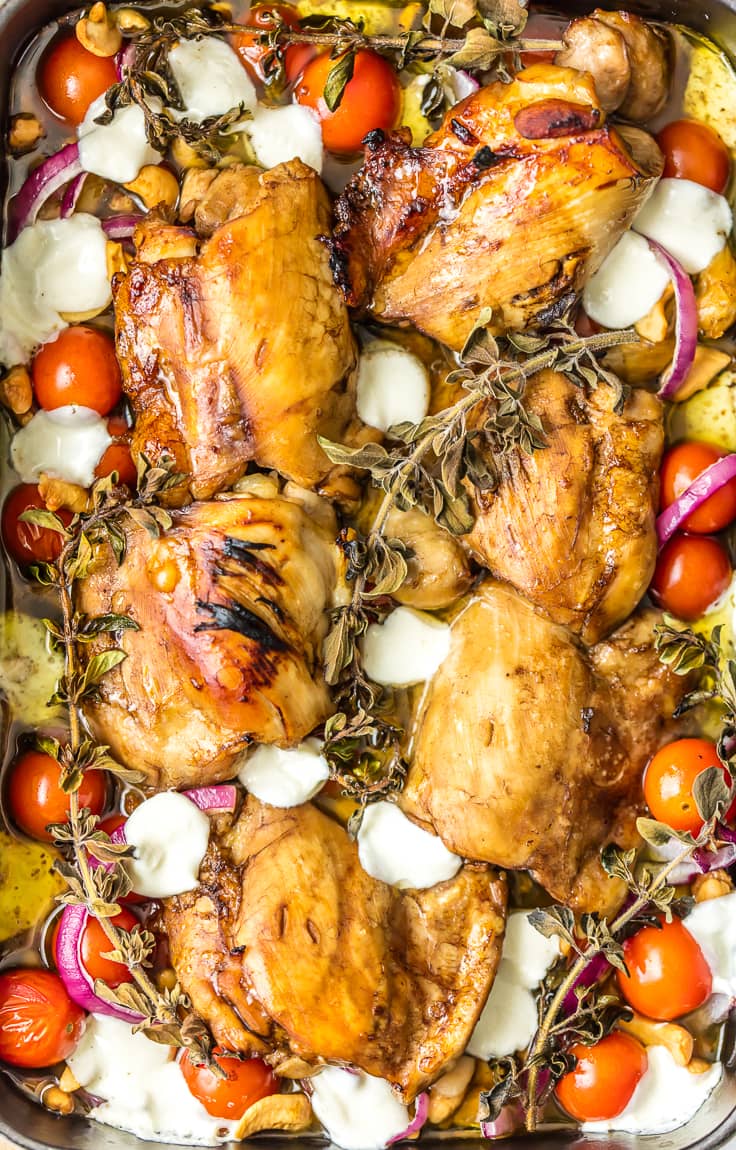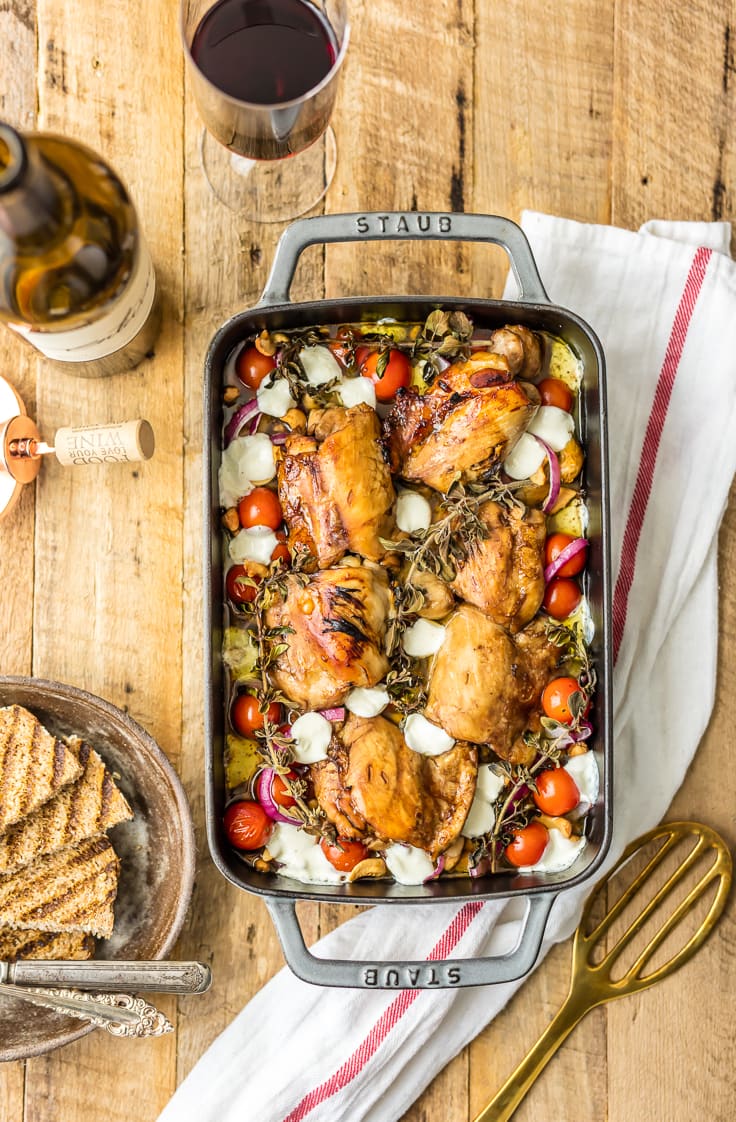 This is one of those amazing recipes that you can throw together, let bake, and allow all the flavors to come together to create perfection. The cashews, balsamic, tomatoes, artichokes, beans…everything just compliments each other in a way that will make you coming back for more and more and more. You can serve everything over pasta or rice, or you can serve it without. Everything you truly need is just right here in the pan. SO MUCH FLAVOR! I know you've heard of "dump cake"…and this is kind of a "dump bake". The cheesy marinated chicken kind!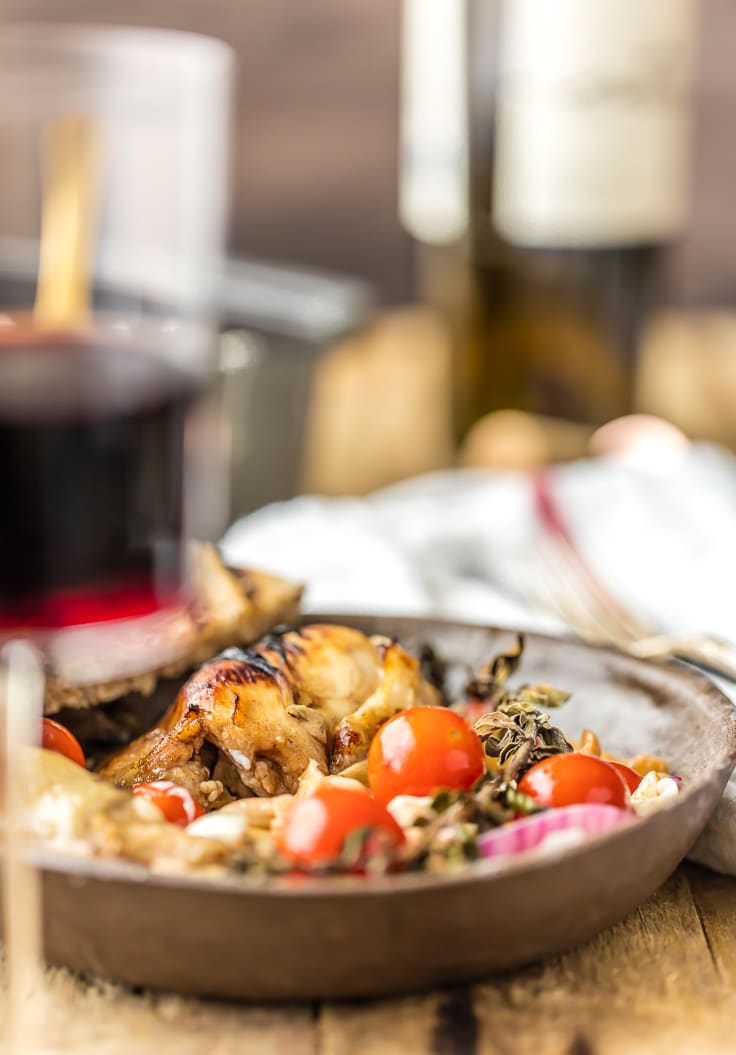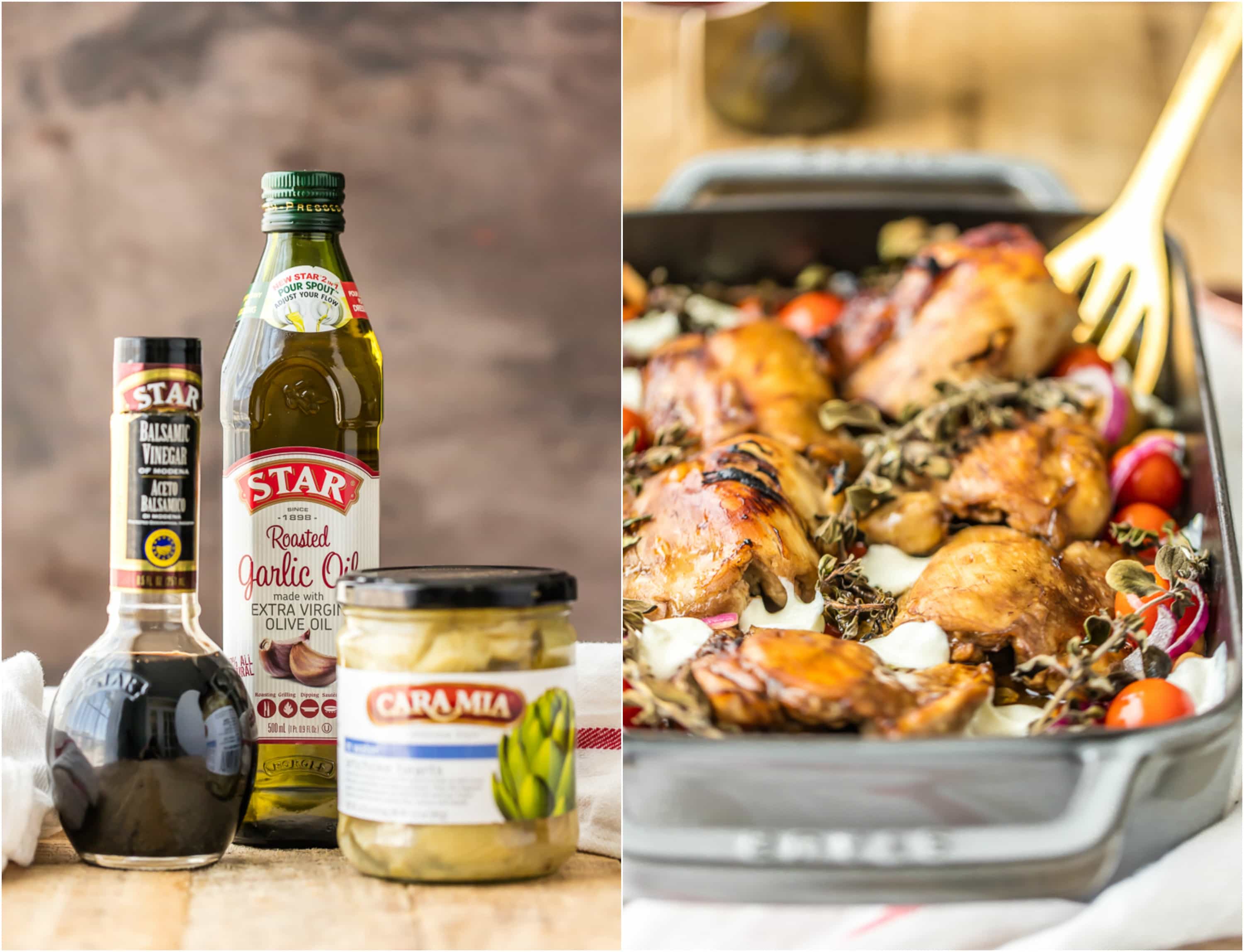 I used a trio of Star Fine Food products for this recipe. This isn't a sponsored post, but they did send me a box of products, and the official word for how I feel is OBSESSED. Using their Roasted Garlic Olive oil, their Balsamic Vinegar, and their Grilled Artichokes in this recipe made all the difference. I've found some new favorites! Thanks for sending the products, Star!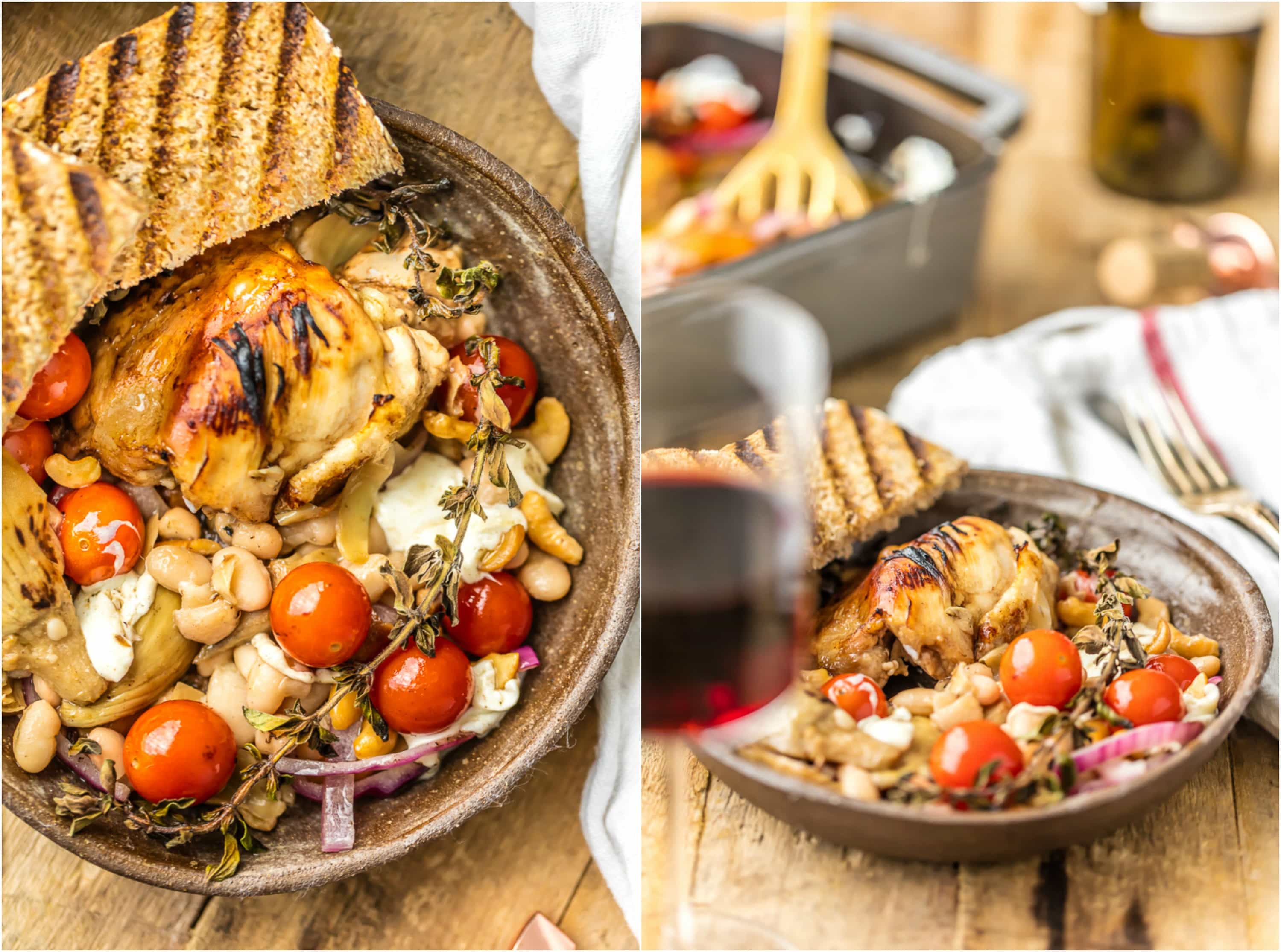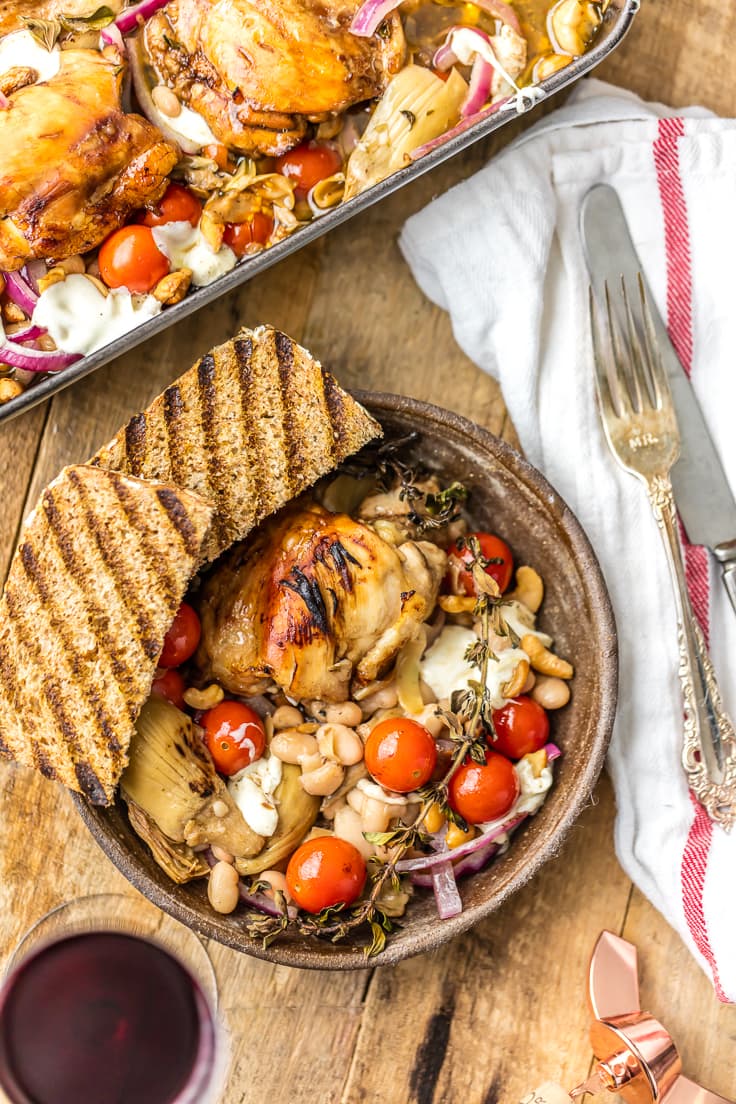 Click HERE to see how this Mediterranean chicken bake recipe has evolved over the years. Don't judge the photos!! :) Enjoy!
Click here to check out our full Baked Chicken Guide for more EASY baked chicken recipes!
How to Make Balsamic Glazed Mediterranean Chicken Bake