Looking for Easy Chicken Recipes? These Chicken Dinner Ideas are so fast, simple, and tasty. Baked Chicken is one of the best things to make for weeknight dinners at home. It's tasty, it's simple, and it's so versatile. This guide will answer all of your questions about making the best baked chicken, plus I'm giving you 72 easy baked chicken recipes to inspire your next delicious and easy chicken dinner!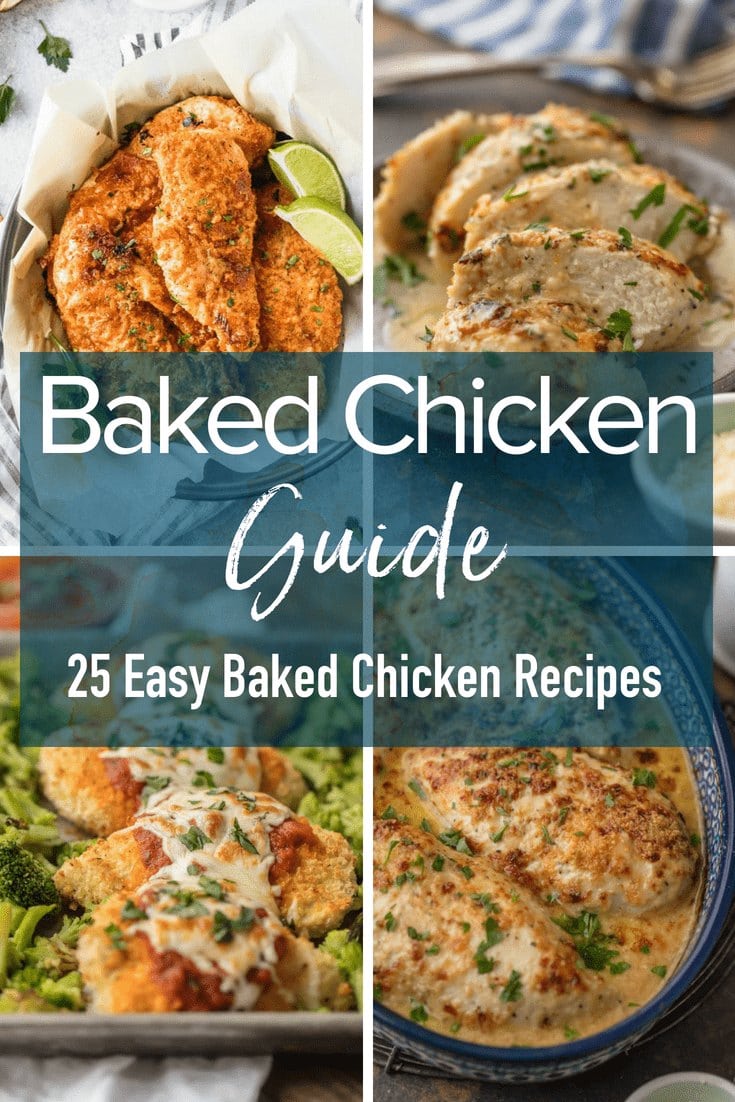 Easy Chicken Recipes – Chicken Dinner Ideas
Baked Chicken is one of my favorite things to make for easy weeknight dinners. There's so much you can do with chicken and an oven, and I never get tired of making new baked chicken recipes to share (or to eat).
Keep scrolling below for tons of EASY CHICKEN RECIPES!
This guide is here to show you how to bake chicken, how long to bake chicken, what temperature to bake chicken…basically everything you need to know to make these easy baked chicken recipes! Plus how to serve, store, and reheat baked chicken. If you're looking for Chicken Dinner Ideas, you've come to the right place.
I've also included some of my favorite easy baked chicken recipes to show you how simple it is to make for a weeknight dinner or any meal. These recipes are absolutely delicious and I can't wait to share them with you! Easy Chicken Dinner Ideas here we come.
In this guide we'll be talking about:
The basic tools you need in your kitchen
How to make baked chicken (simple recipe included)
Answers to all of your baked chicken questions
Easy chicken recipes to make any night of the week
Keep reading to get inspired for your next weeknight dinner with these EASY chicken recipes! Grilled, baked, skillet, casseroles, one pan meals, and more.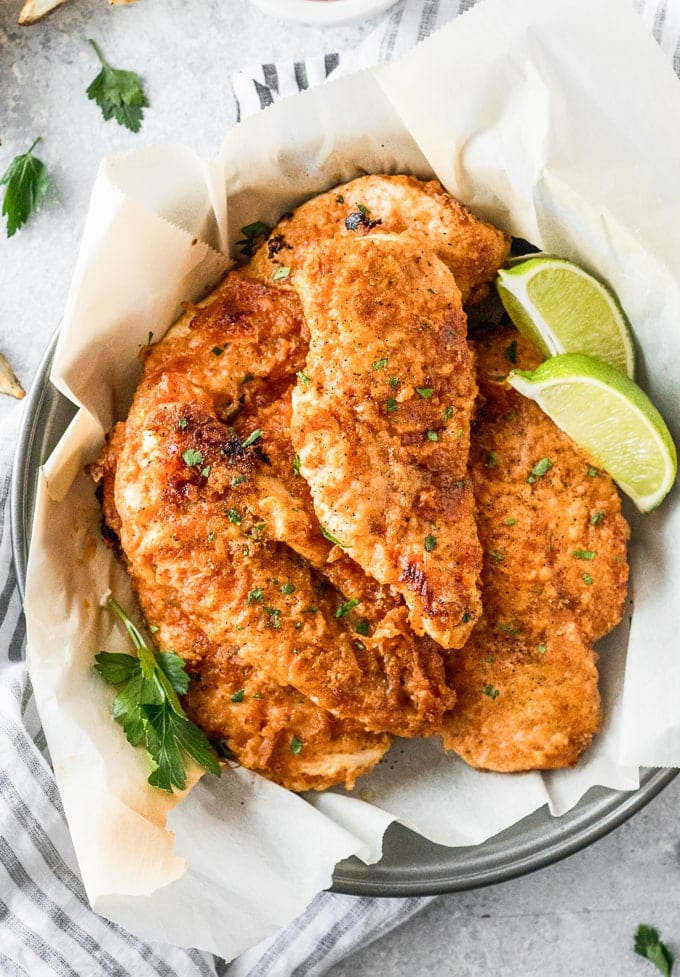 Helpful Tools
Here are a few basic kitchen tools you'll need to make these recipes:
How to Bake Chicken Breast
This easy baked chicken breast recipe is the perfect starting point for a simple dinner. Roast chicken breast, make a simple side dish (like roasted vegetables, potatoes, or another favorite), and you've got an easy chicken dinner ready to serve!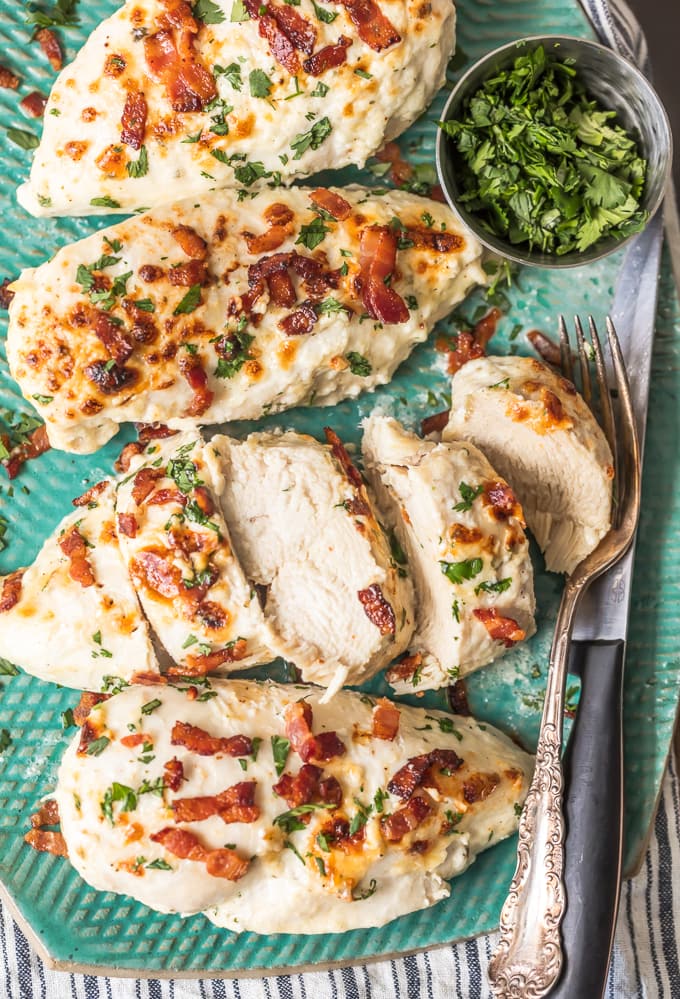 How long does it take to bake chicken?
The answer to this question really depends on the recipe, the part of the chicken (breast, thigh, wing, whole chicken, etc.), and what temperature the oven is set to. 350° F is good temperature to bake chicken.
Here are some basic guidelines for how long to bake chicken at 350° F according to the USDA:
Chicken Breast (Boneless): 20-30 minutes

Chicken Breast (Bone-in): 30-40 minutes

Chicken Legs & Thighs: 40-50 minutes

Chicken Wings: 30-40 minutes

Drumsticks: 34-45 minutes
Regardless of how long you cook baked chicken or at what temperature, you always need to make sure that the internal temperature of the chicken has reached 165° F.
Is baked chicken healthy?
Overall, baked chicken is a healthy option for dinner. Chicken is a flavorful, lean, protein-rich meat, so it's a great thing to incorporate into your meals. Baked or roasted chicken is definitely better than fried, but that's not the only way to decide how good it is for you. Light meat without skin is healthier than dark meat with skin on. So skinless baked chicken breast is a really healthy option!
Obviously making chicken recipes covered in cheese or cooked with certain ingredients will be higher in fat and calories. But at the end of it all, baked chicken is a healthy thing to add into your diet, especially when eaten with vegetables as part of a well-balanced meal.
How do you reheat baked chicken?
To reheat baked chicken, place it in the oven at 350°F for 20-25 minutes. Covering it with foil can help to keep moisture in so the chicken doesn't dry out.
If you are reheating frozen chicken, let the chicken sit in the refrigerator to thaw before baking.
Important Note: Cooked chicken should not be reheated more than one time.
So if you are reheating chicken, eat it while it's still warm, and throw out anything that is not eaten. If you have a large amount of leftover chicken, store it in meal-sized portions and only reheat what you plan to eat.
Can cooked chicken be frozen?
You can freeze chicken if you have leftovers or if you just want to prepare some ahead of time.
Make sure you let the chicken cool completely before storing, ideally letting it sit in the refrigerator to cool.

Then you can move the cooked chicken into freezer safe bags or containers.

Keep it in the freezer for up to 4 months and defrost in the refrigerator when you're ready to reheat and eat.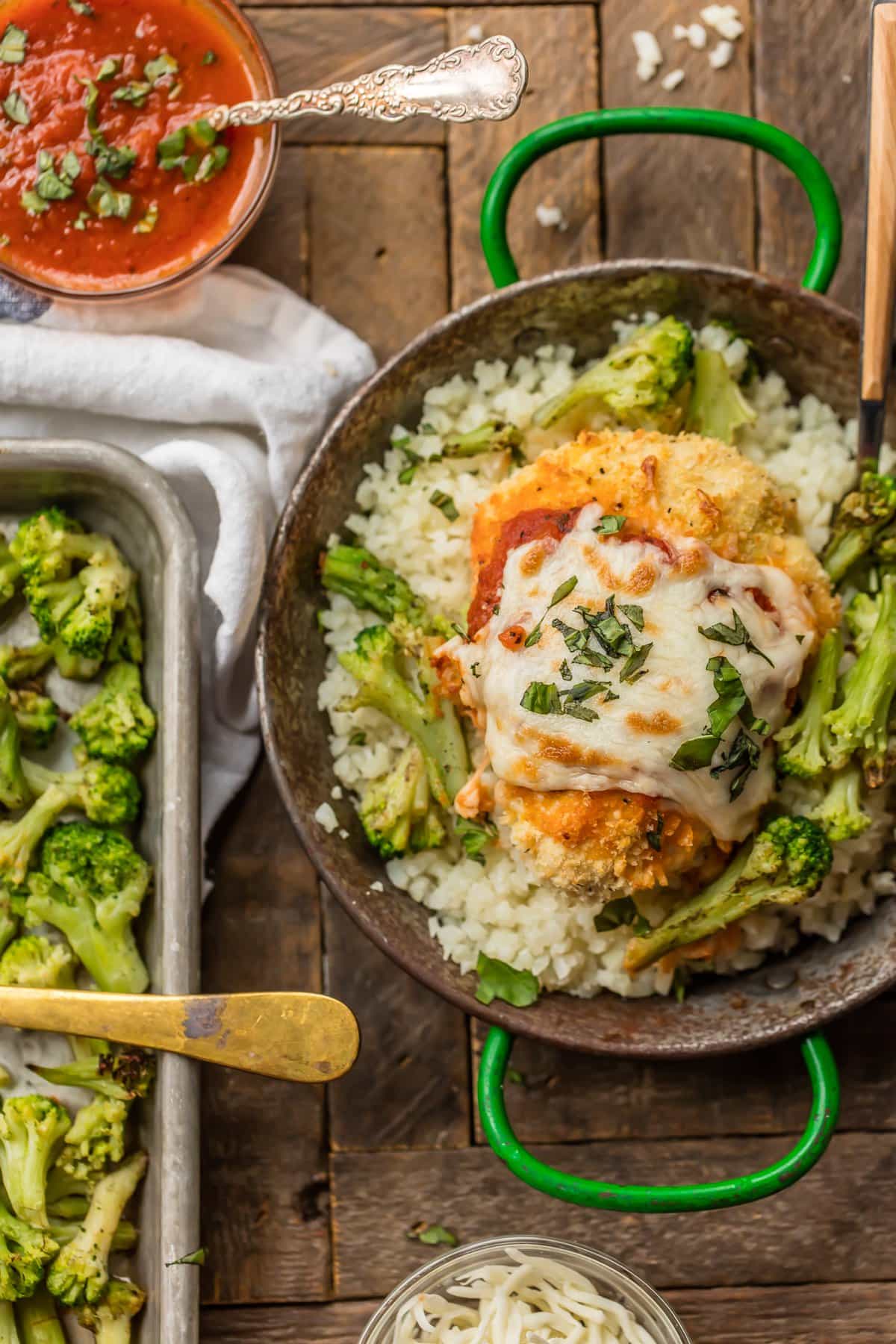 What to serve with chicken for dinner?
Chicken goes well with just about any side dish you can think of. I like eating it with potatoes, vegetables, or rice. Serve it up in a casserole or with a heap of veggies.
Here are some of the best side dishes for any kind of chicken:
What's the best baked chicken recipe?
I have a lot of delicious and easy baked chicken recipes here on the site. I'm sharing all of my favorites with you down below, so you can choose which is best. :)
But if I had to choose, it would definitely be my Oven Fried Chicken Breast! It's one of the most popular recipes here, so I guess I'm not the only one that loves it.
What's a good way to season chicken breast?
The best seasonings and spices for chicken are salt & pepper, parsley, paprika, rosemary, garlic powder, onion powder, and thyme.
You can use all kinds of things to add flavor to your recipes, so that's just a short list of basic spices I like to use. Things like lemon juice, cayenne pepper, chili powder, and more can make great seasonings as well. The sky is the limit here!
How long will cooked chicken last in the refrigerator?
Once it has been fully cooked, you can safely store it in the refrigerator for 3-4 days. So if you have leftover pieces or a leftover chicken bake or casserole, you can save it in the refrigerator for another meal.
72+ Easy Chicken Dinner Ideas
I've collected over 70 of the BEST easy chicken recipes from my site to inspire your next weeknight dinner. Whether you're looking for something simple, something cheesy, or something healthy, I've got a recipe here for you that you will LOVE!
Recipes have been broken down into sections covering: baked chicken, grilled chicken, skillet chicken recipes, chicken casseroles, one pan chicken dinners, and finally, a few more recipes thrown in you can make in a slow cooker or Instant Pot.
Baked Chicken Recipes
Grilled Chicken Recipes
Skillet Chicken Recipes
Chicken Casseroles
One Pan Chicken Dinners
More Chicken Recipes to Try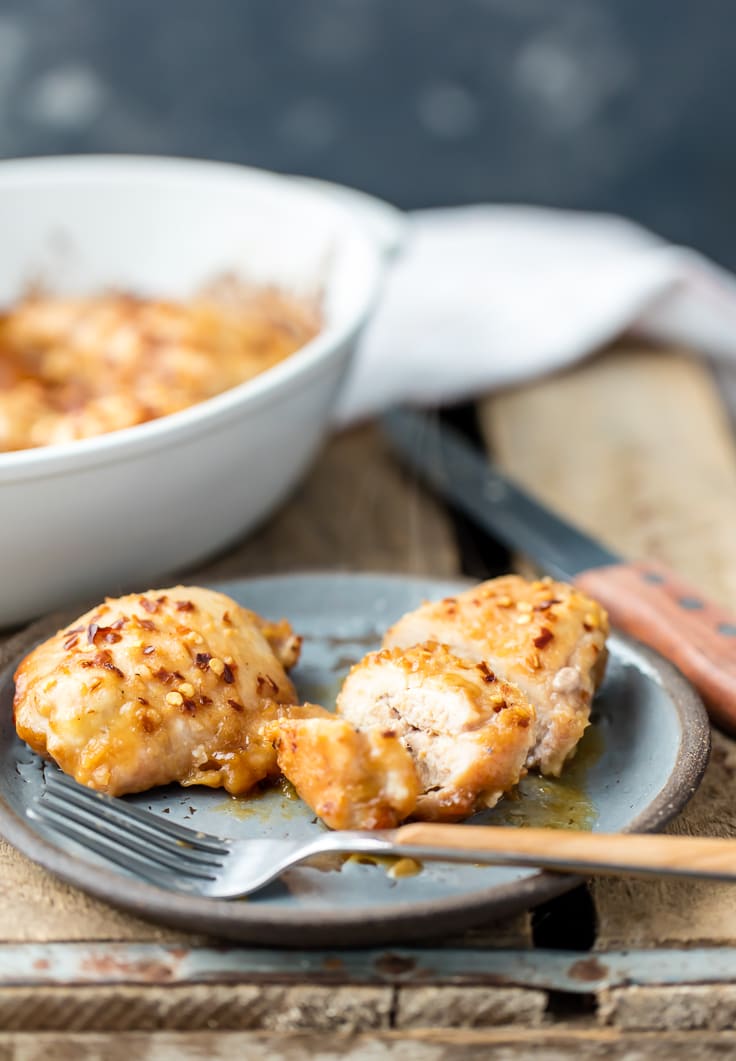 What temperature should chicken be cooked to before eating?
Chicken should ALWAYS be cooked to an internal temperature of 165° F before eating. No matter the recipe, no matter how you cook it, 165°F is a safe temperature. Use a meat thermometer to check every time.
If you need help remembering the recommended internal temperatures for different meats, download my free printable Meat Temperature Chart to keep handy in your kitchen!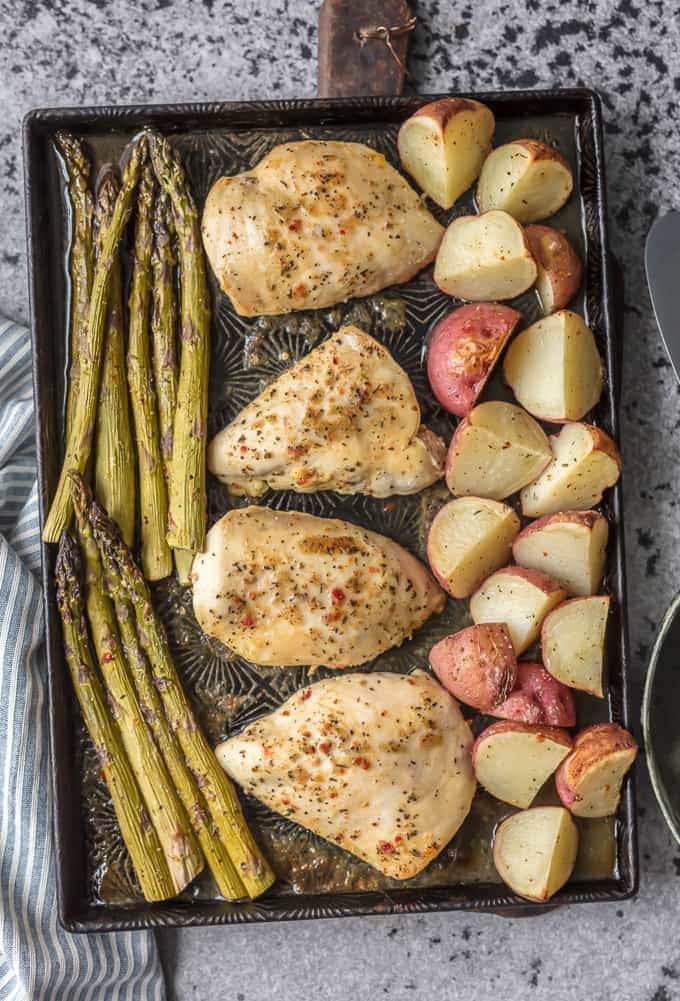 I hope this guide answered some of your questions and helped give you a few chicken dinner ideas to make. If you try any of these easy chicken recipes (baked, grilled, or otherwise), please let me know what you think. Enjoy!