Easy and cheesy Crockpot BBQ Chicken Dip is the perfect potluck appetizer! Quick, and delicious, it's a hearty mix of chicken, cream cheese, bbq sauce, ranch, cheddar, green onions and more – so addictive.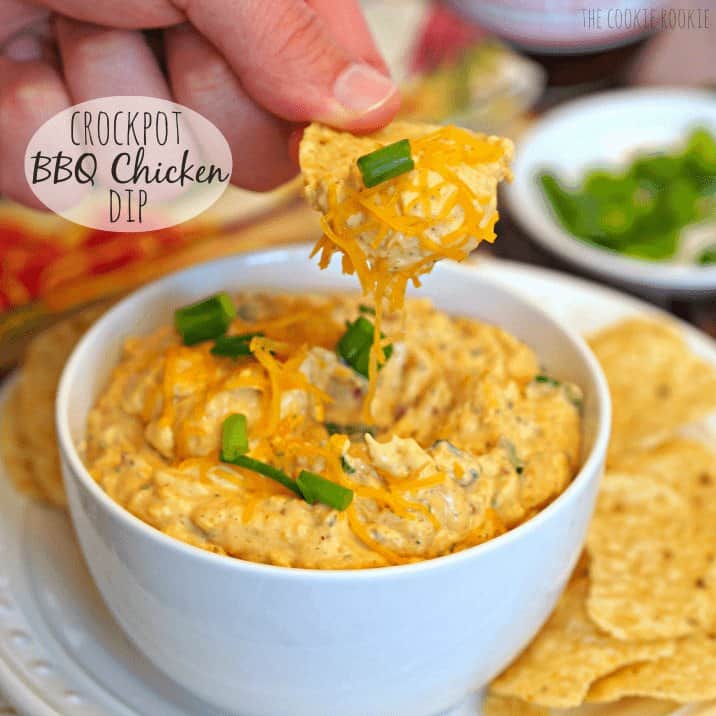 One of my Favorite dips to make for any occasion (literally, any occasion) is Buffalo Chicken Dip. Its so easy, quick, and tasty. Ever since Miss Kathryn Silvey (Hey Kath!) taught me to make that magical dip, I've been hooked. The formula works so well with Buffalo chicken…what about a BBQ chicken dip. Let me tell you, it works. Yum.
Why this Chicken Dip is so good
A really hearty dip, perfect for a hungry crowd!
Easy to make in the slow cooker.
Perfect for game day.
A creamy dip, that's rich and packed with flavor.
Ingredients
Chicken – chopped/shredded, you can use rotisserie chicken.
Cream Cheese – you can also use low-fat, but it has a tendency to separate a bit in a slow cooker.
Cheese – cheddar, you can go for a sharp or mild cheddar.
Ranch Dressing – I went for low fat 3 cheese ranch.
BBQ Sauce – use your favorite BBQ sauce. Vary the amount of sauce depending on how strong you want it.
Cilantro and Green Onion – chopped
Garlic Salt
How to make this Chicken Dip
Be sure to scroll to the bottom for the full recipe
Mix all of the ingredients, until well combined. Place the mix into the slow cooker, on high and stir occasionally. Garnish with shredded cheddar and green onions.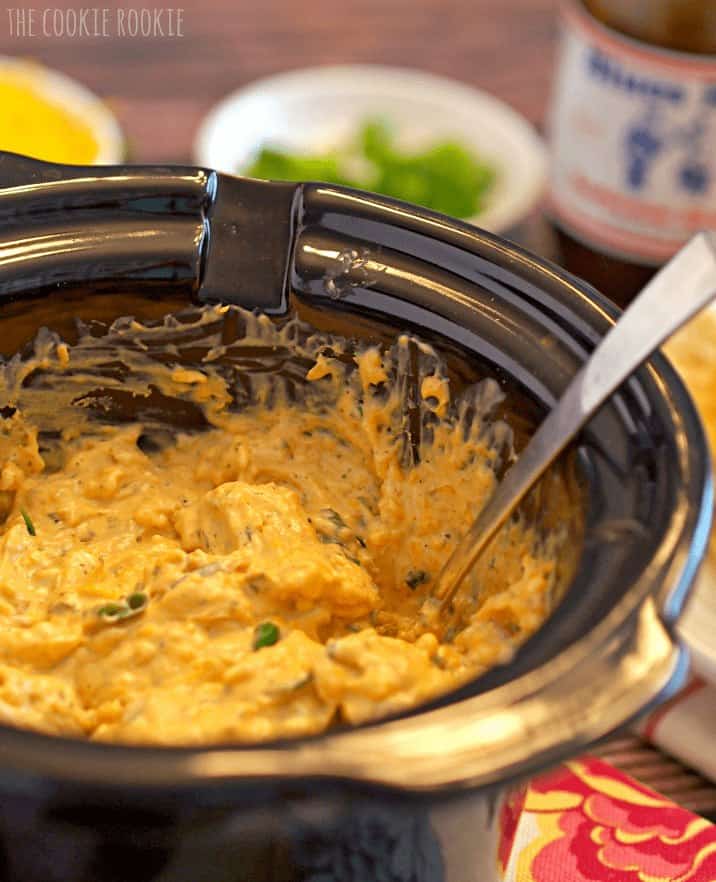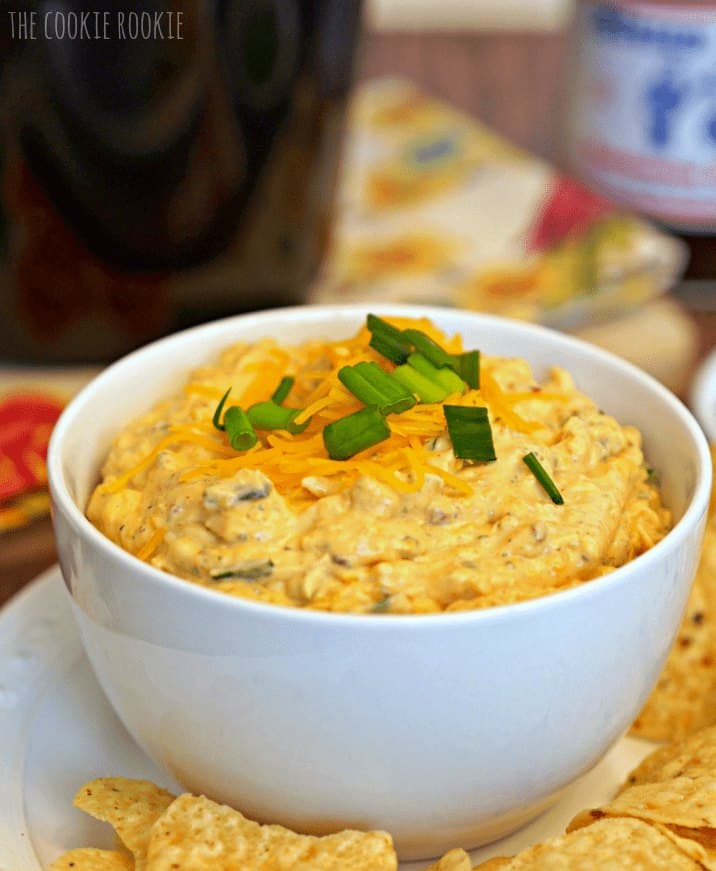 A hearty dip
This is a full bodied dip! Think…BACON instead of the Buffalo Chicken Dip. AND I made it easier by making it in a slow cooker. Bam. So easy. Perfection.
Could this dip be any more perfect for tailgating? It's sure to be a favorite at your next event. I mean cheese, bacon, chicken, bbq…what else do you need in a dip? 3 cheese ranch?? Oh, it's got that too. Yup.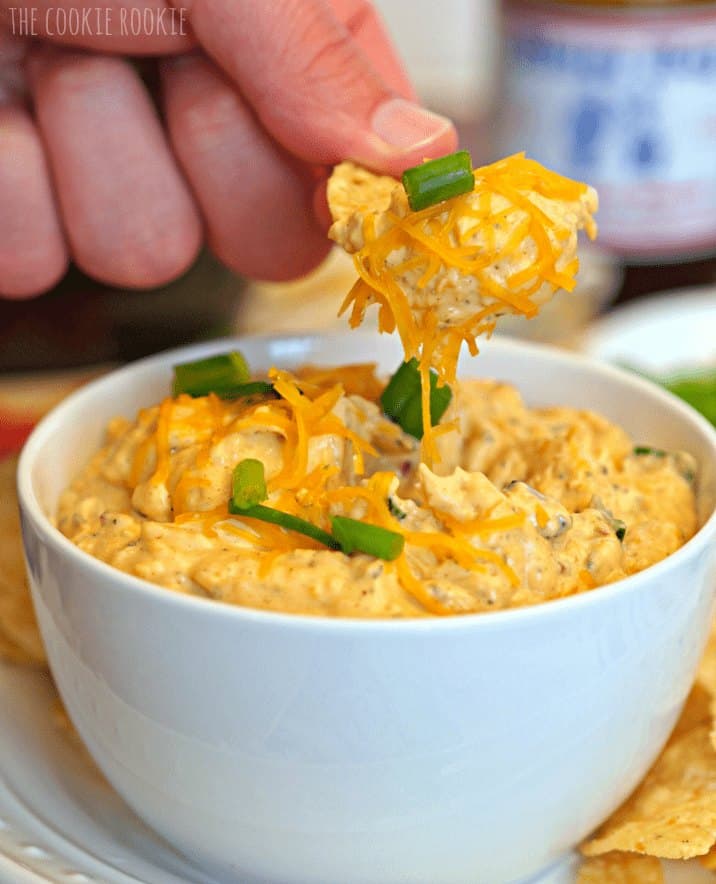 The best chicken for Chicken Dip
A number of chicken dip recipes call for canned chicken breast, which is a logical shortcut considering the other ingredients don't need to be precooked. Unfortunately, canned chicken can have a mealy texture when cooked in the dip. Instead, cook two chicken breasts in the slow cooker before shredding and mixing in the rest of the ingredients. This chicken shreds better and has an overall better flavor and texture. But sometimes, you still need a shortcut up your sleeve. If you're behind schedule, use leftover cooked chicken or rotisserie chicken from the grocery store deli.
Can you freeze this dip?
Yes, this dip can be prepared and frozen to be baked at a later date. For best results, the dip should be frozen before baking; I do not recommend freezing the baked dip.
To freeze this dip, add dip to a bowl with a sealable lid. Secure lid and store in the freezer for one to three months. Before baking, let dip thaw in the refrigerator overnight. When ready to serve, transfer to the slow cooker and cook as directed.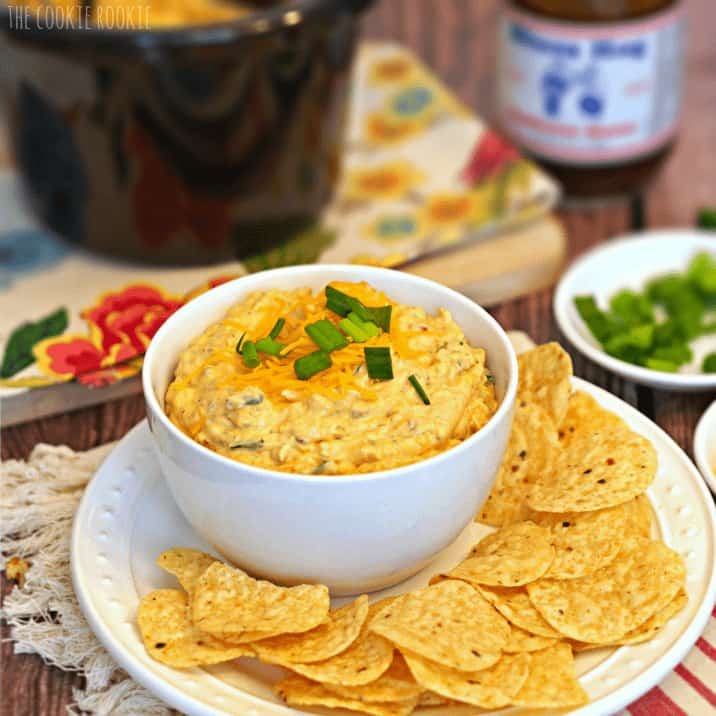 Top Tips
You can whip up this dip in advance and store it in the refrigerator for 3-5 days until it's ready to be cooked.
Adjust your BBQ sauce for the desired strength.
Stir the dip occasionally will it's cooking.
This dip is best served with with different types of crackers and snacks, or celery or other crisp green veggies.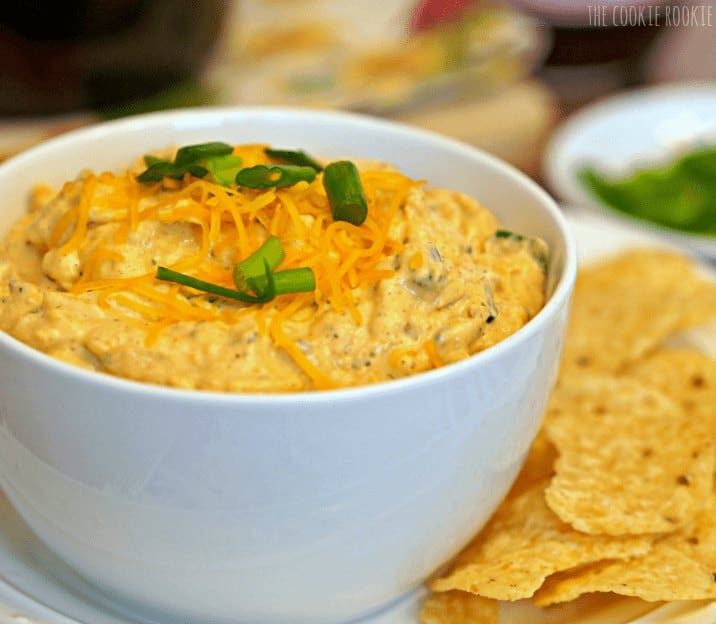 Check out these other delicious dips
Have you tried this BBQ Chicken Dip? Feel free to leave a star rating and I'd love to hear from you in the comments below!