This easy, breezy, cheesy Crockpot BBQ Chicken Dip is the perfect potluck appetizer! Quick and delicious, it's a hearty mix of chicken, cream cheese, BBQ sauce, ranch dressing, Cheddar cheese, green onions, and more – it's so deliciously addictive.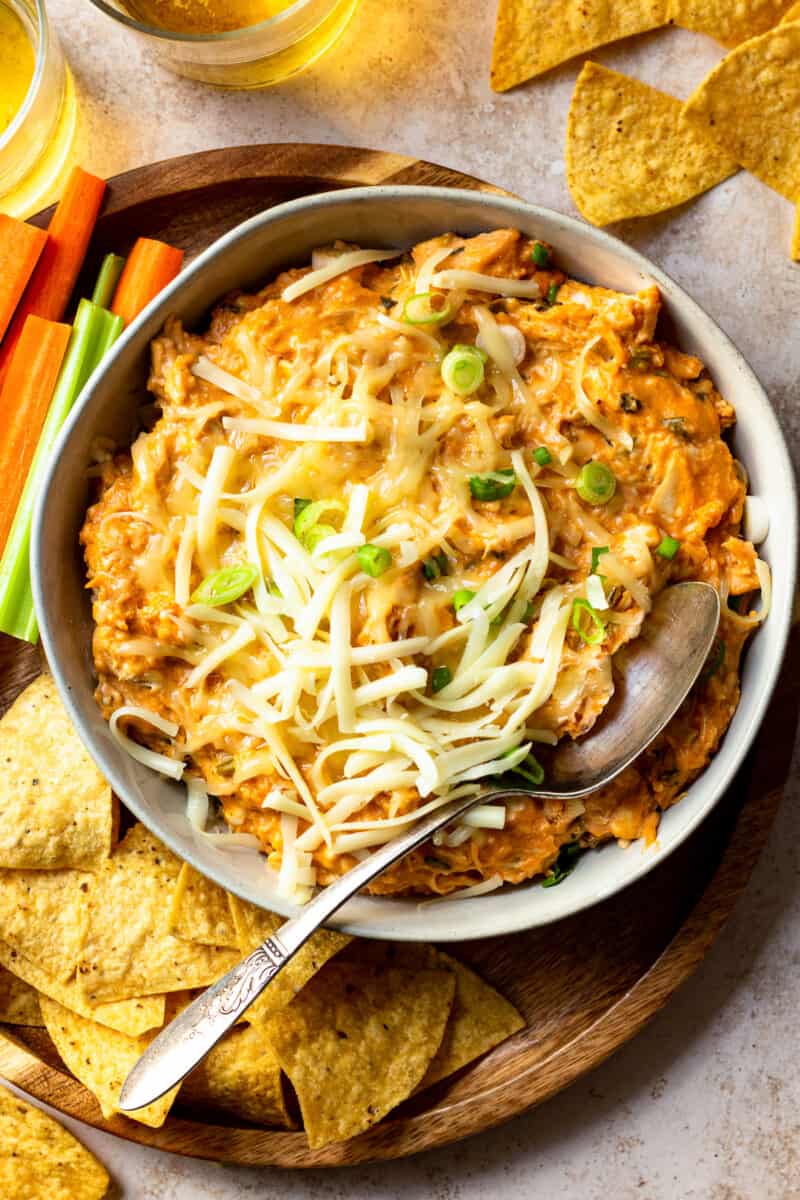 Slow Cooker BBQ Chicken Dip Recipe
One of my favorite dips to make for any occasion (literally, Any. Occasion.) is Buffalo Chicken Dip. Ever since Miss Kathryn Silvey (Hey Kath!) taught me to make that magical dip, I've been hooked.
The formula works so well with Buffalo chicken…what about a BBQ chicken dip? Let me tell you, it works. Yum.
A Hearty Dip
This is a full-bodied dip–very substantial and filling! Think…BACON, BBQ sauce, and chicken! And I made it easier by making it in a slow cooker. Bam! So easy. Perfection.
Why you'll love this BBQ Chicken Dip:
Hearty: This is a really hearty dip, perfect for a hungry crowd and ideal for game day. !
Easy: It's a snap to make in the slow cooker.
Delicious: This creamy dip is rich and packed with flavor.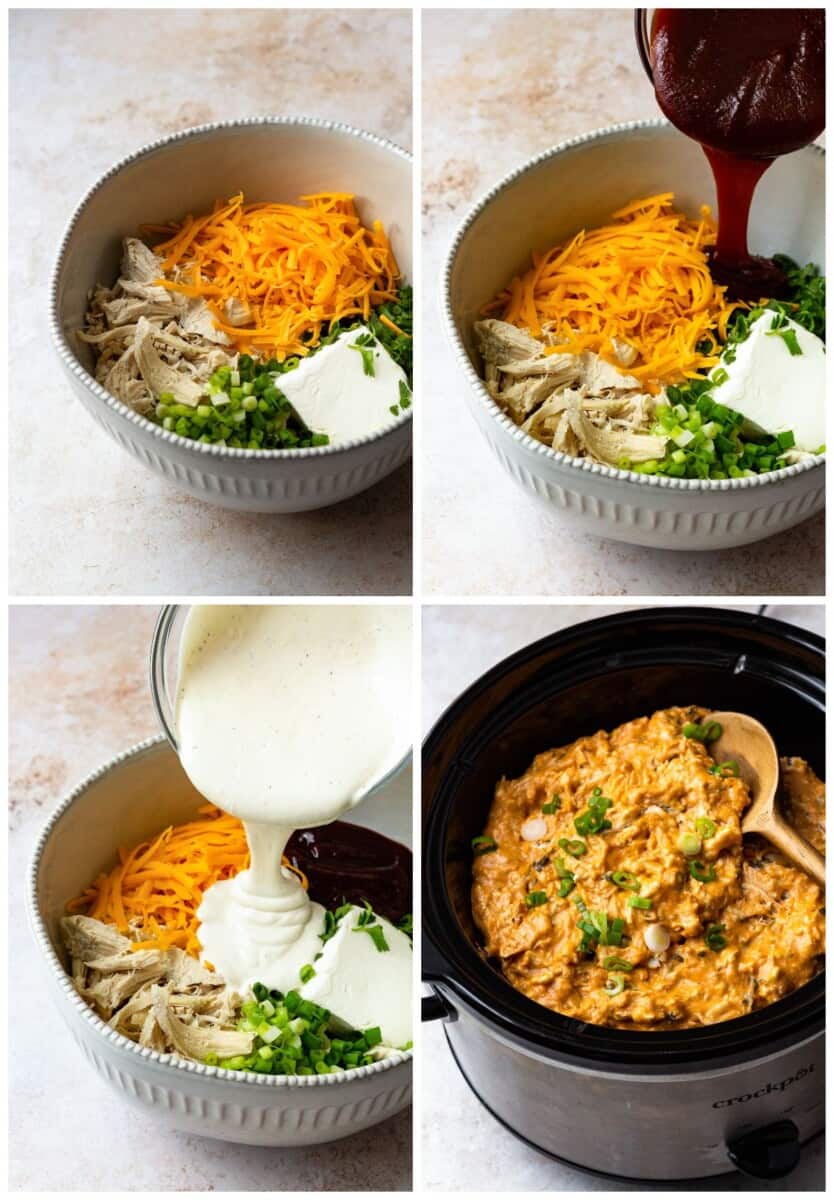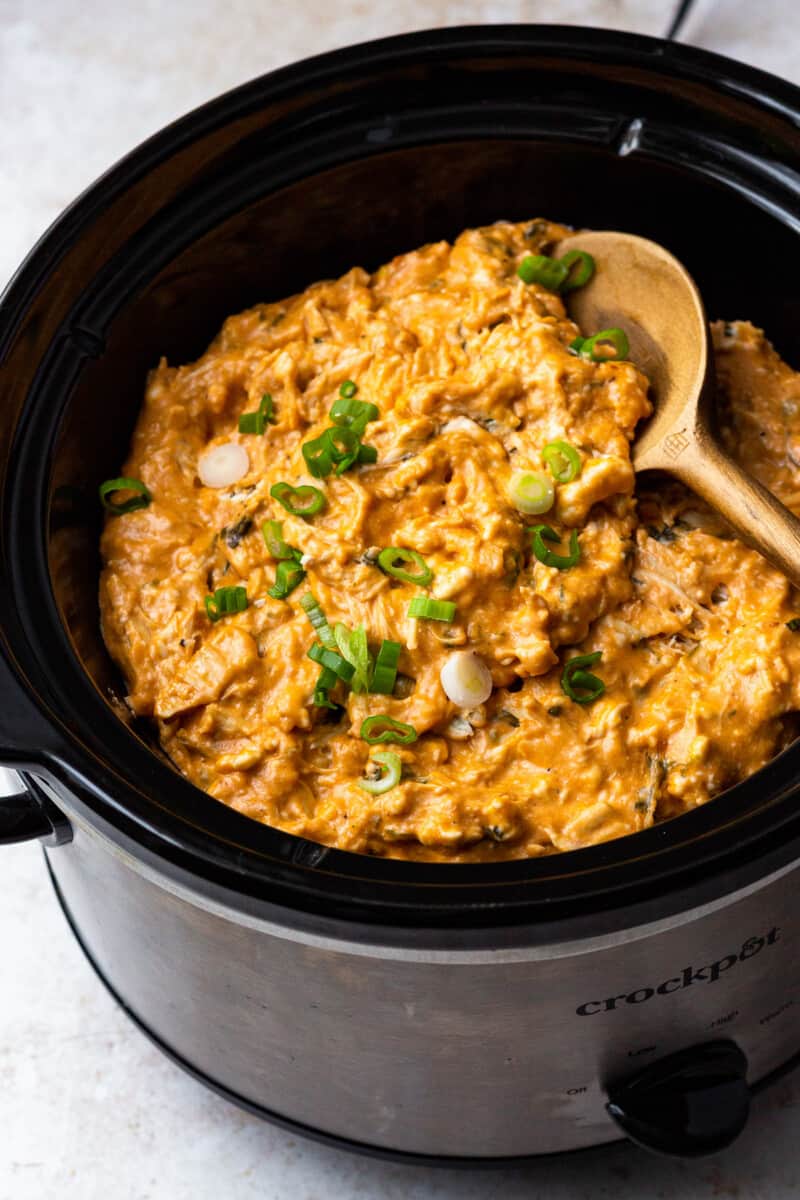 Ingredients
Chicken – Chopped and shredded, which means a rotisserie chicken is perfect.
Cream cheese – Use regular cheese, not low-fat, which has a tendency to separate a bit in a slow cooker.
Cheese – Cheddar; you can go for sharp or mild.
Ranch dressing – I went for low-fat three-cheese ranch.
BBQ sauce – Use your favorite BBQ sauce. Vary the amount of sauce depending on how strong you like it.
Cilantro and green onion – chopped
Garlic salt
How to Make Crockpot BBQ Chicken Dip
You can jump to the recipe card for full ingredients & instructions!
Combine all of the ingredients in a slow cooker.
Set the cooker to high, stir occasionally and cook until fully heated.
Garnish with Cheddar and green onions.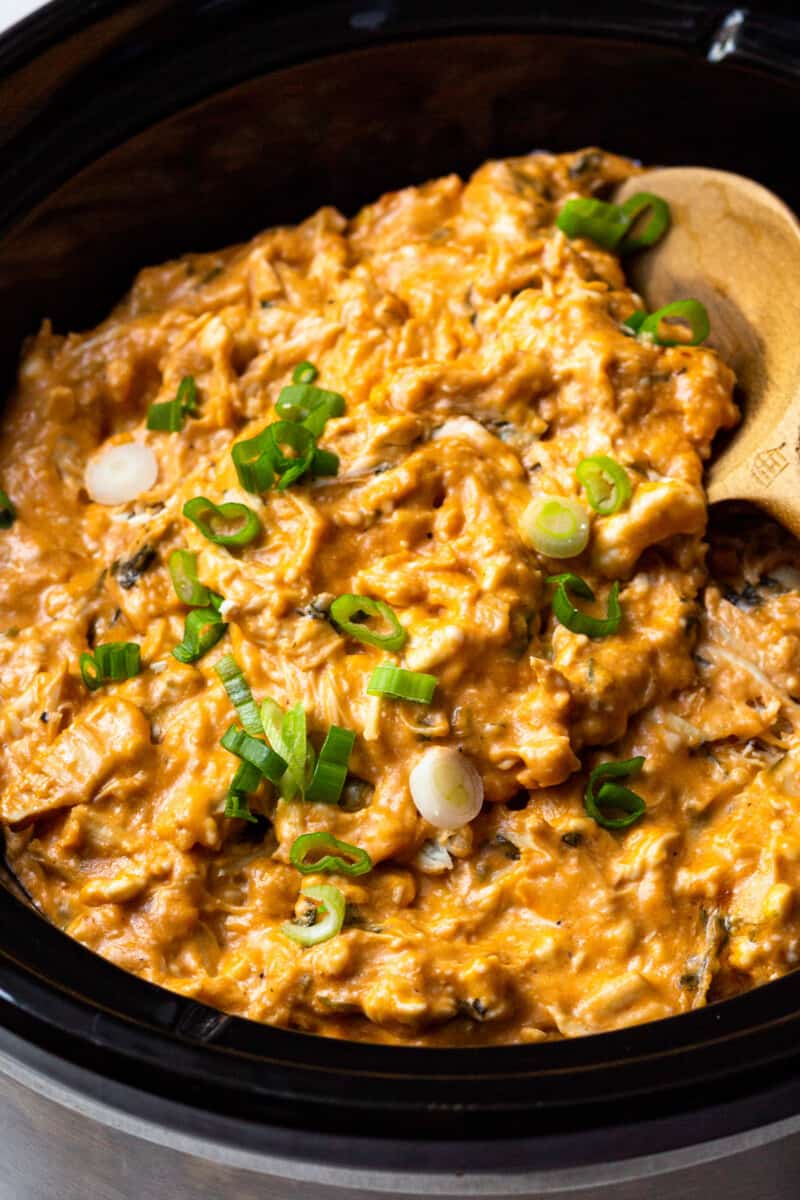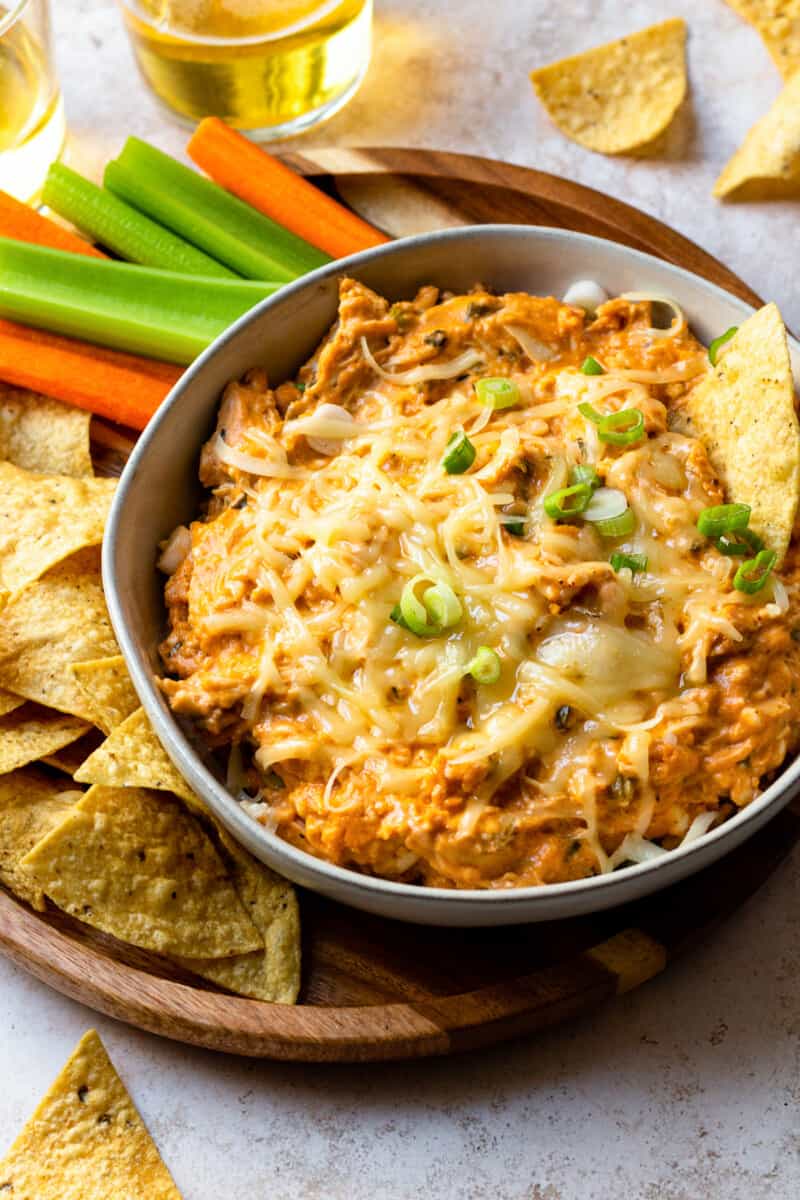 What's the Best Chicken for This Dip?
A number of chicken dip recipes call for canned chicken breast. This is a logical shortcut, considering that the other ingredients don't need to be precooked. The downside is that canned chicken can have a mealy texture when cooked in the dip.
Instead, cook two chicken breasts in the slow cooker before shredding and mixing in the rest of the ingredients. This chicken shreds better and has an overall superior flavor and texture.
But sometimes, you still need a shortcut up your sleeve. If you're behind schedule, use leftover cooked chicken or a rotisserie chicken from the grocery store deli. And you can even buy pre-shredded rotisserie chicken, which takes the chicken prep time down to zero!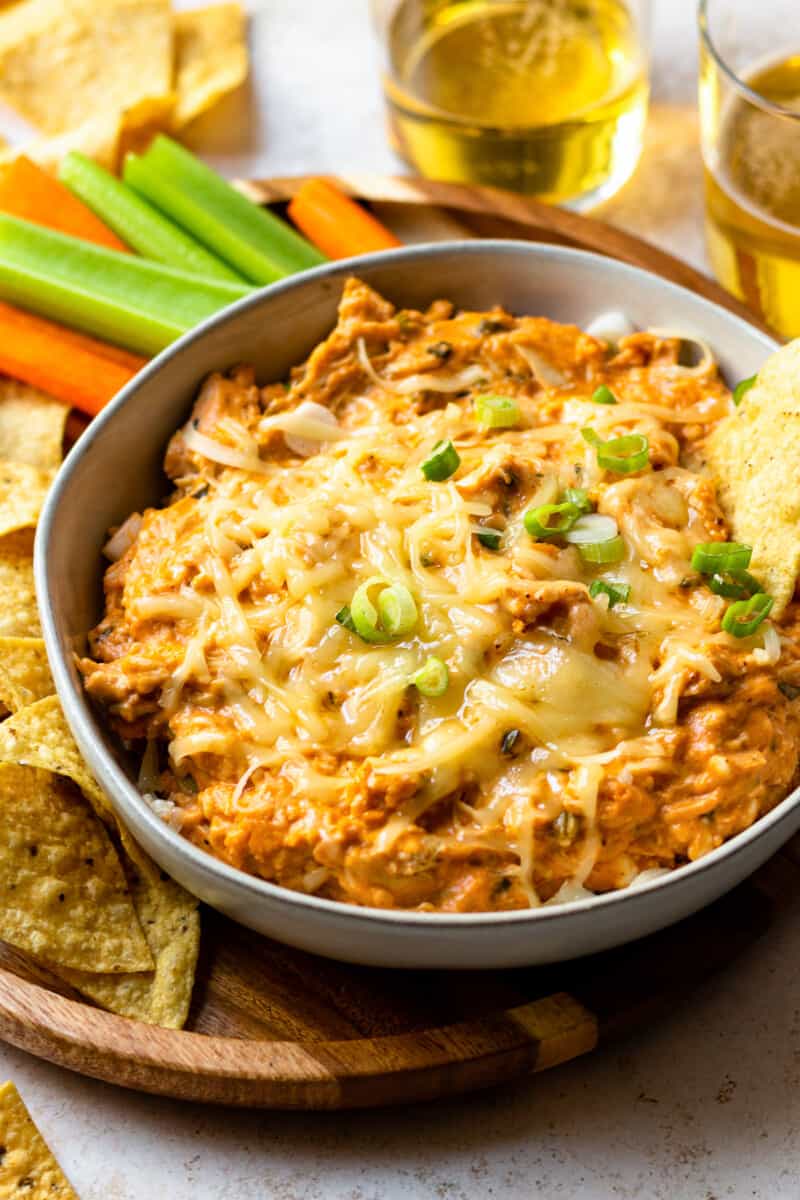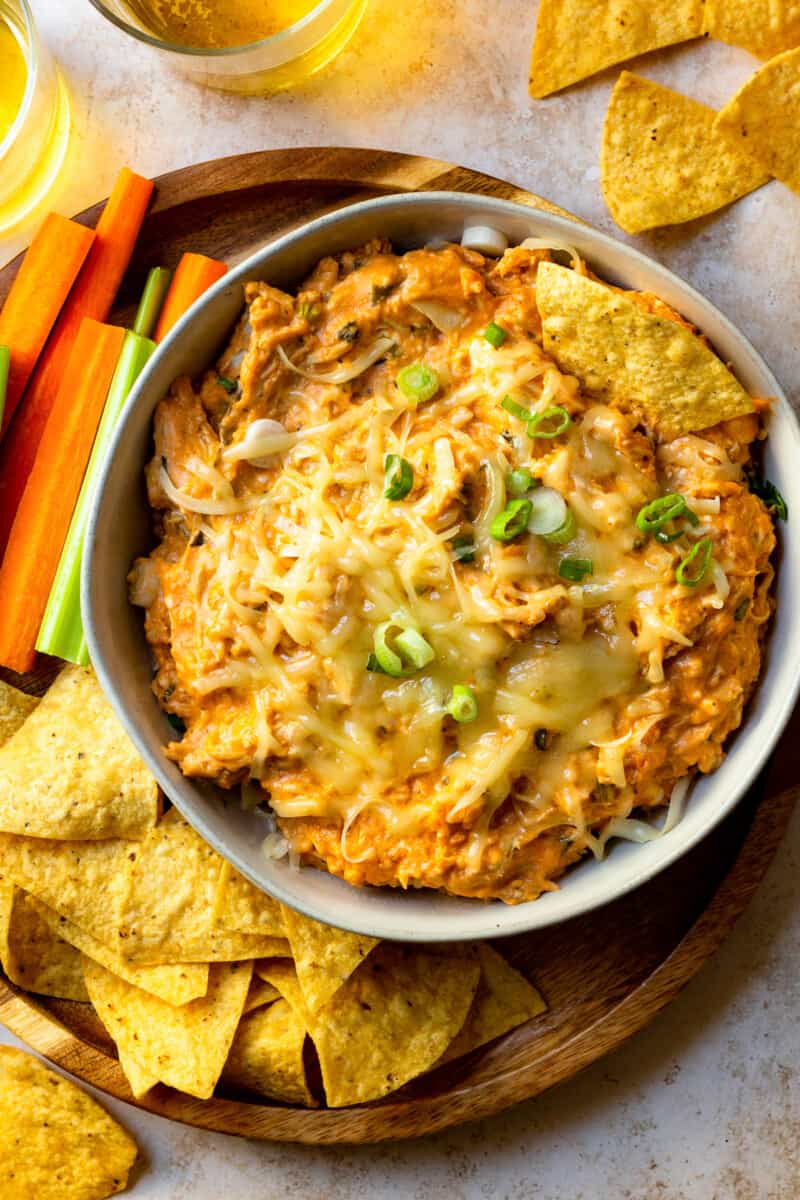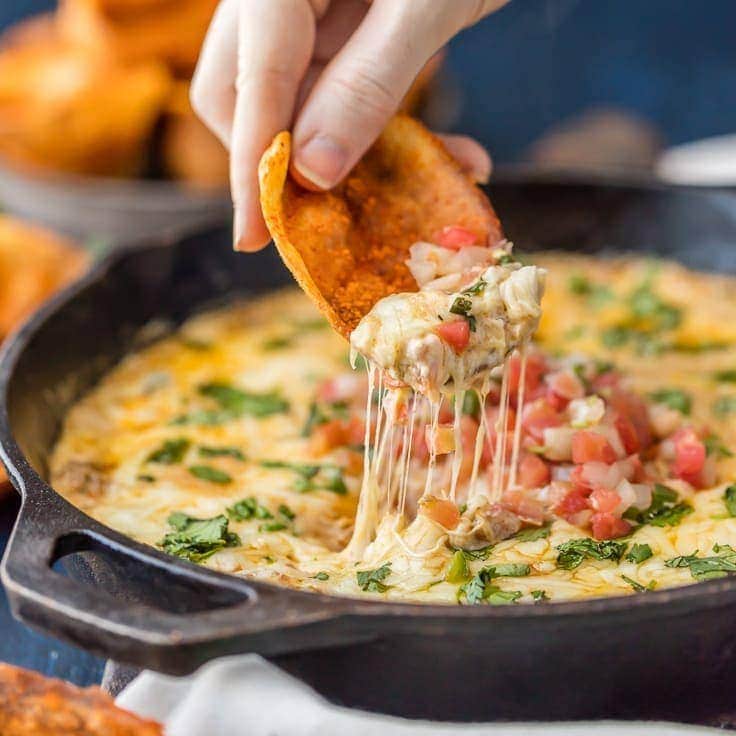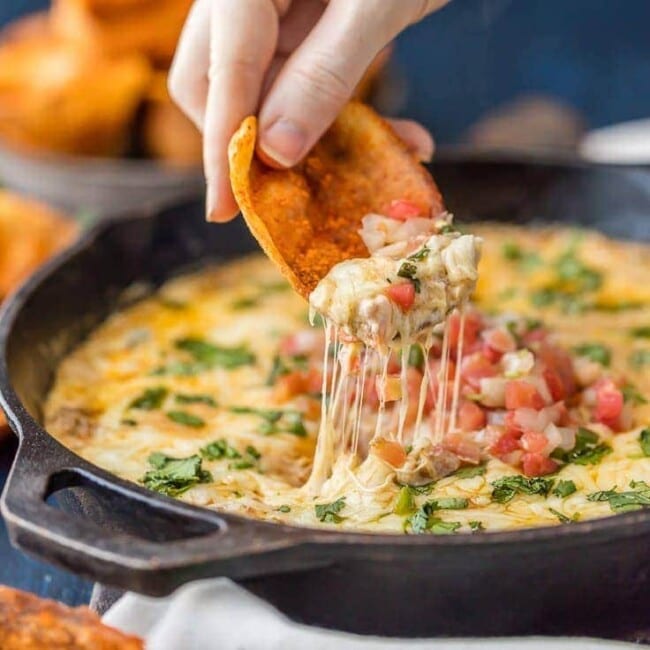 All the Dips!
35+ Favorite Hot Dip Recipes
I dip, you dip, we dip! Dig into all of our favorite dip recipes with our handy guide.
See Dip Guide
Can You Freeze Chicken Dip?
Yes, you can prepare and freeze this dip to be heated at a later date. For best results, the dip should be frozen before cooking; I do not recommend freezing the baked dip.
To freeze, add dip to a bowl with a sealable lid. Secure the lid and store it in the freezer for up to three months. Before heating, let the dip thaw in the refrigerator overnight. When ready to serve, transfer to the slow cooker and heat until bubbly.
Can You Use Low-Fat Ingredients?
It's probably best to use full-fat cheese and cream cheese. Lower fat versions tend to separate when heated. But it's fine to use low-fat ranch dressing.
But seriously now….nobody ever thinks of this as a diet food, so just go for the good stuff!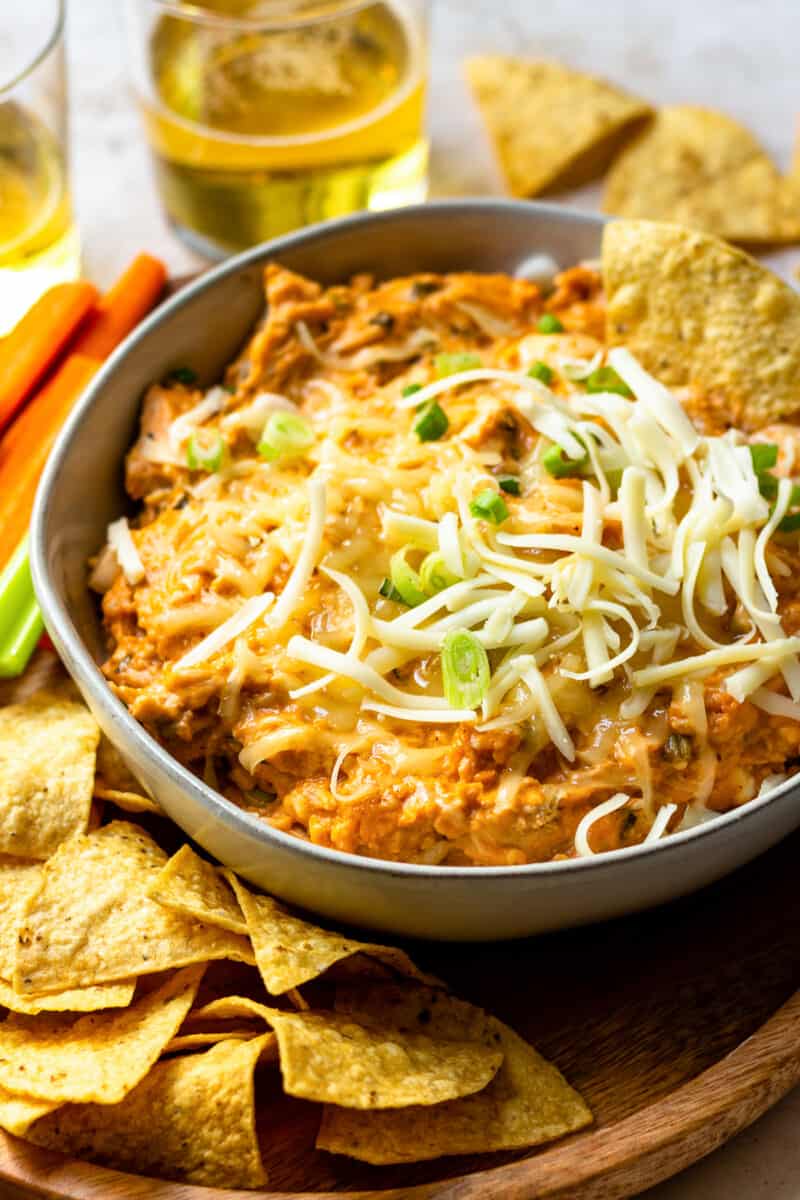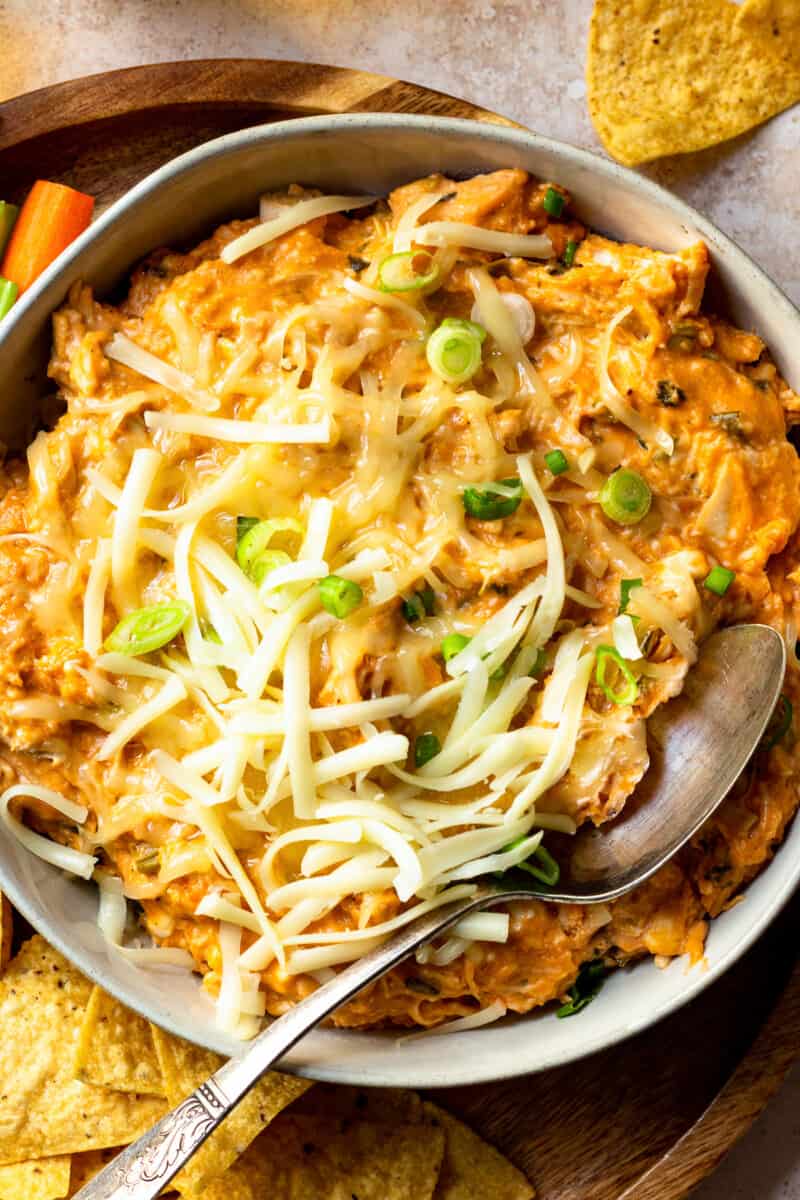 Could this dip be any more perfect for tailgating? It's sure to be a favorite at your next event. I mean cheese, two types of meat, BBQ…what else do you need in a dip? Three-cheese ranch? Oh, it's in there, too. Yup.
If you make this recipe be sure to upload a photo in the comment section below or leave a rating. Enjoy! You can also jump to recipe.