This homemade BBQ sauce recipe is the best BBQ sauce for brisket! It's so easy and so delicious. Make this amazing brisket sauce to cook with our BBQ Beef Brisket Recipe. Or use it for any of your BBQ recipes!
Homemade BBQ Sauce Recipe
Use this easy BBQ sauce recipe to make the perfect brisket sauce. So simple and so delicious!
This may not be a fully homemade BBQ sauce recipe, but I think it still counts if I make it my own. Sometimes I just feel like store-bought BBQ sauces are missing something, so why not just add in those extra flavors myself?
Starting with my personal favorite BBQ sauce, I just mixed in some Dijon mustard, brown sugar, and a couple other special ingredients to get the exact flavor I want. I love using this as a brisket sauce because I think it just complements beef brisket so well.
Of course you can use this sauce on any other meat or BBQ dishes you have in mind as well! Make plenty and keep it in your refrigerator, because you never know when you'll need it (especially during grilling season!).
This "Homemade" BBQ sauce recipe is the perfect Brisket Sauce. Make a batch and see how delicious it is!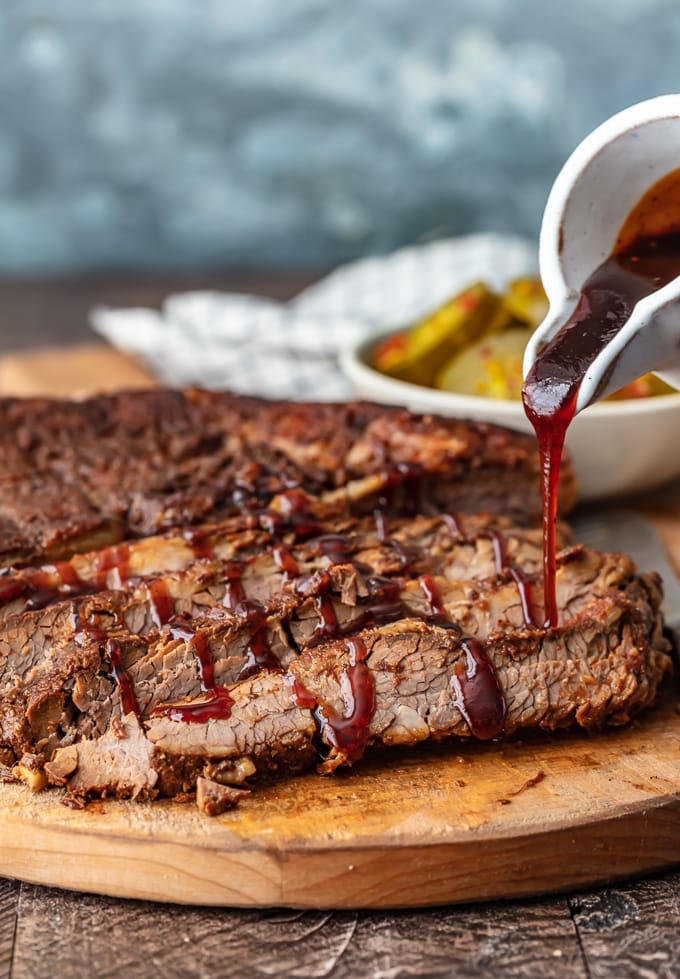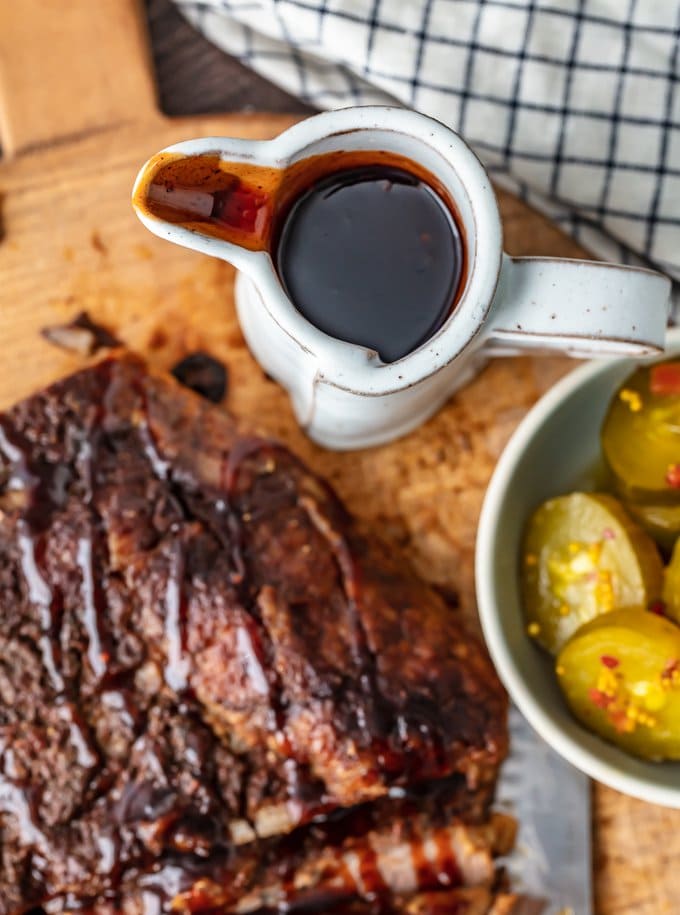 Best BBQ Brisket Sauce
This semi-homemade BBQ sauce is good with so many recipes, but I especially love it with BBQ brisket. It's the BEST brisket sauce and cooks into the beef so perfectly. I use this with my oven baked brisket recipe and it just turns out so good!
Brisket BBQ Sauce Ingredients:
Dark Brown Sugar
Dijon Mustard
Ketchup
BBQ Sauce (use your favorite brand)
Worcestershire Sauce
Nutmeg
Red Pepper Flakes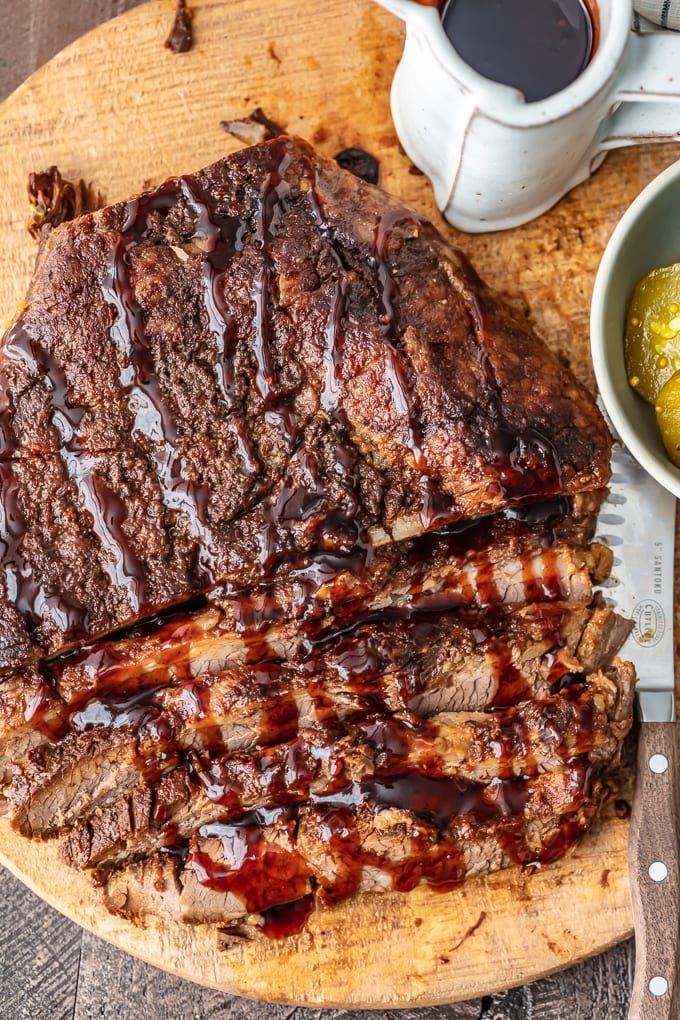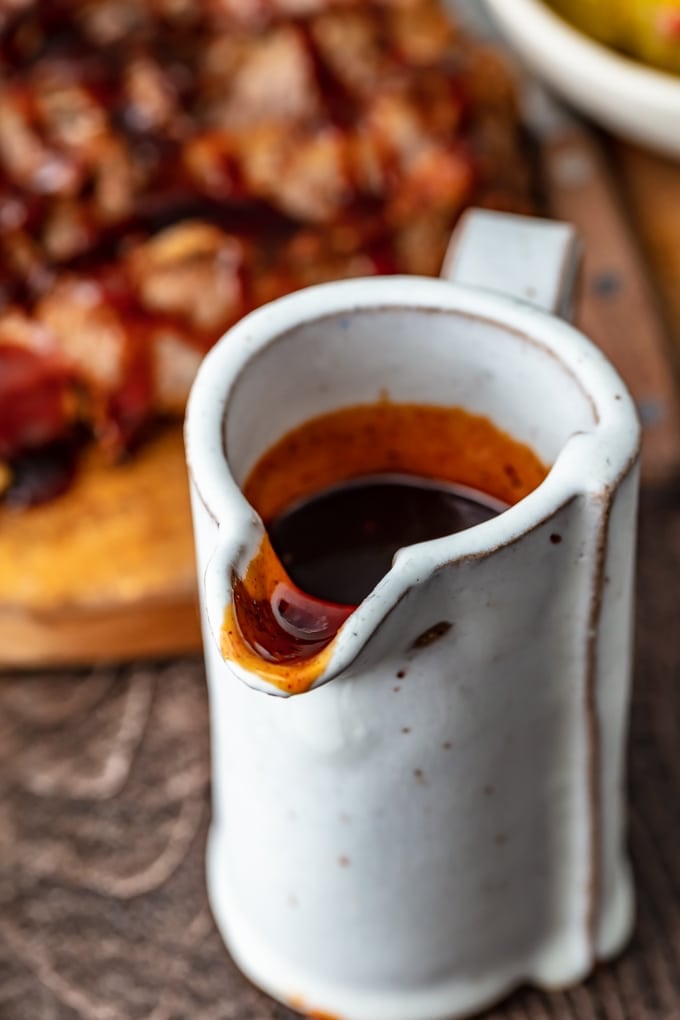 How to Make BBQ Sauce for Brisket
Okay, so this isn't bbq sauce made from scratch kind of homemade, but it's my own special recipe for the best BBQ sauce. Sure, it starts with a pre-made sauce, but it's those extra little ingredients that make it PERFECT. The brown sugar adds a bit of sweetness, the red pepper adds a tiny bit of spice, and the Worcestershire sauce adds a bit of tanginess. Together, it creates the perfect brisket sauce.
There's not much to this once you've got the ingredients down. Just combine everything in a saucepan, bring it to a boil and stir. Once it's done, let it cool before storing. Pour it into a jar and keep it in the refrigerator until you're ready to use it.
This recipe makes about 1 2/3 cups of sauce. You can easily double it if you need more!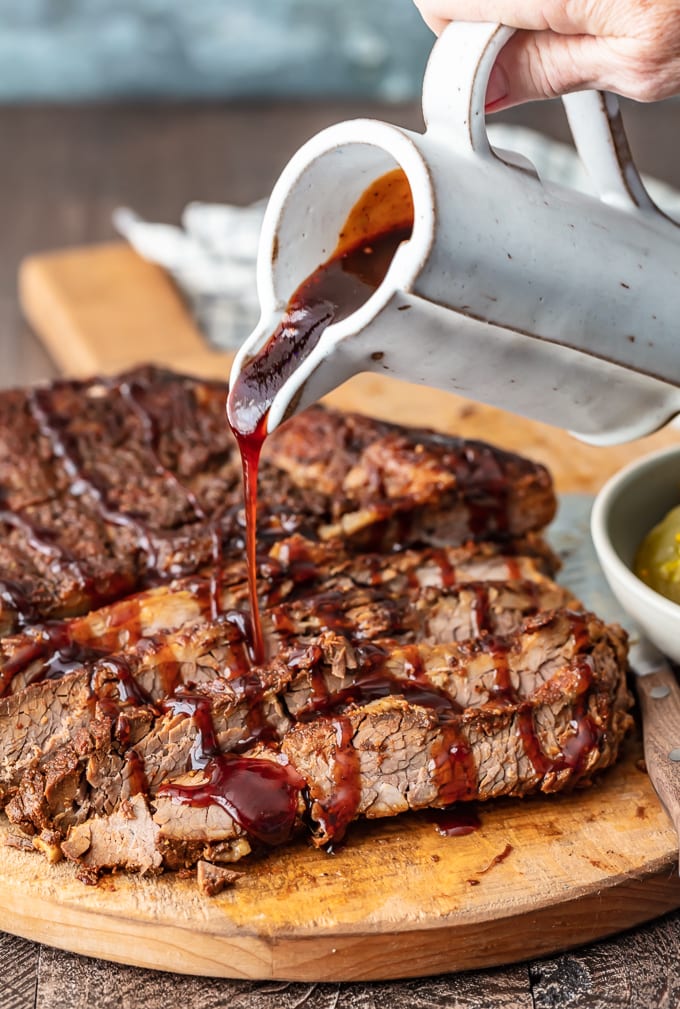 Whether you use this BBQ sauce recipe on our Baked Brisket, or use it for something else, I know you'll love it!
See the recipe card below for details on how to make this Homemade BBQ Sauce recipe. Enjoy!
If you like this brisket sauce recipe, try some other easy sauce recipes: