This Crockpot Sausage Cream Cheese Dip is my mother-in-law Betty's famous recipe! This easy sausage dip recipe is filled with sausage, cream cheese, and Rotel tomatoes, and it's so creamy and cheesy! It's the best dip for holidays, game day, or any party. With only 3 ingredients and packed with flavor, this slow cooker Rotel sausage dip is one heck of an addictive party dip!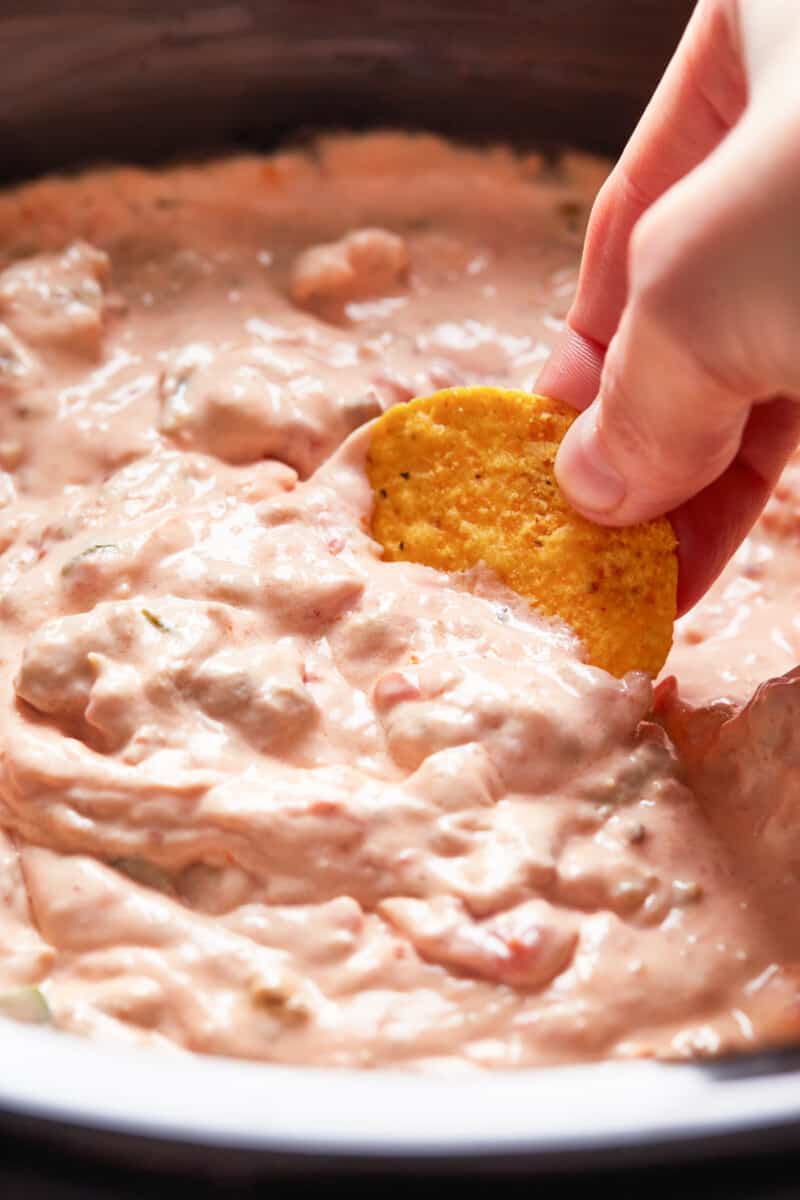 Sausage Cream Cheese Dip Recipe
What's better than party food? Easy party food! When it comes to dip, nothing beats this simple, 3 ingredient sausage cream cheese rotel dip. It's a breeze to make in the slow cooker and it's utterly addictive.
This Crock Pot sausage dip recipe is definitely a crowd favorite. It's one of the best cheese dips for any occasion! It's easy to make, and super tasty.
My mother-in-law, Betty, brings this dip to my family's house every Thanksgiving and it's our favorite addition to the holiday table. I look forward to it all year! This year we are also making it for the Super Bowl because it's just too darn good not to make every chance we get.
Why You'll Love this Crockpot Sausage Dip Recipe:
3 Ingredients: This sausage cream cheese rotel dip only requires 3 ingredients…and I just listed them all. It's such an easy dip to make any time!
Creamy and Cheesy: This dip is so creamy and cheesy, which of course means it's absolutely delicious!
Perfect Party Dip: This crockpot dip is perfect for any party. It makes enough to feed a crowd, and everyone is sure to love it.
This sausage cream cheese dip is a must for any large gathering. Serve it on game day, New Year's Eve, at your Super Bowl party, on Christmas, for holidays, or any time you need a crave-worthy cheese dip!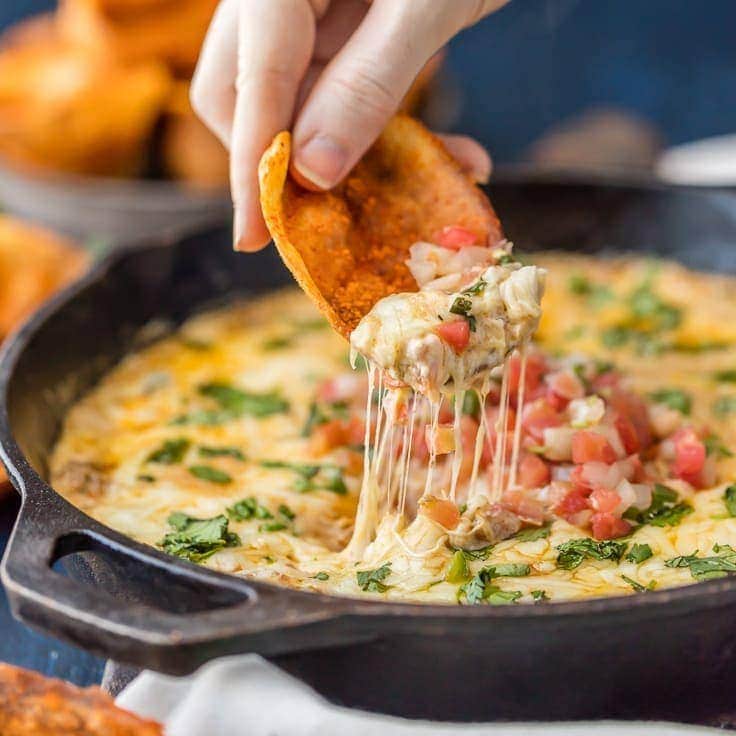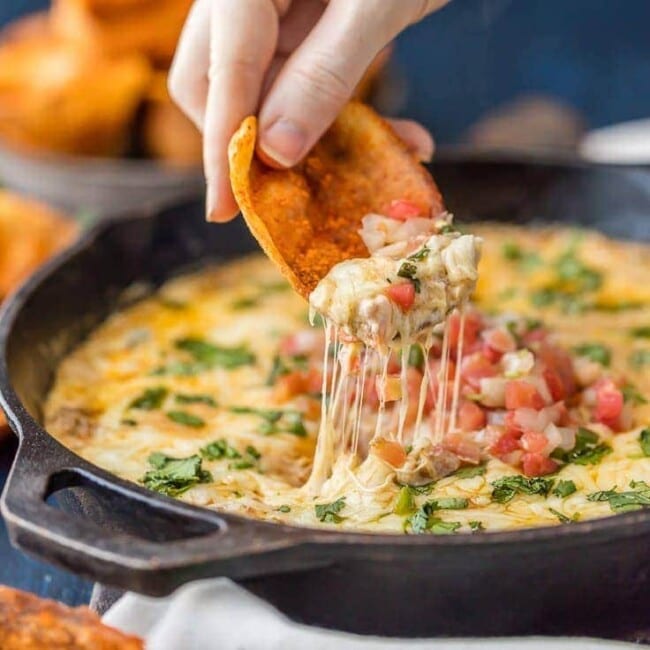 All the Dips!
35+ Favorite Hot Dip Recipes
I dip, you dip, we dip! Dig into all of our favorite dip recipes with our handy guide.
See Dip Guide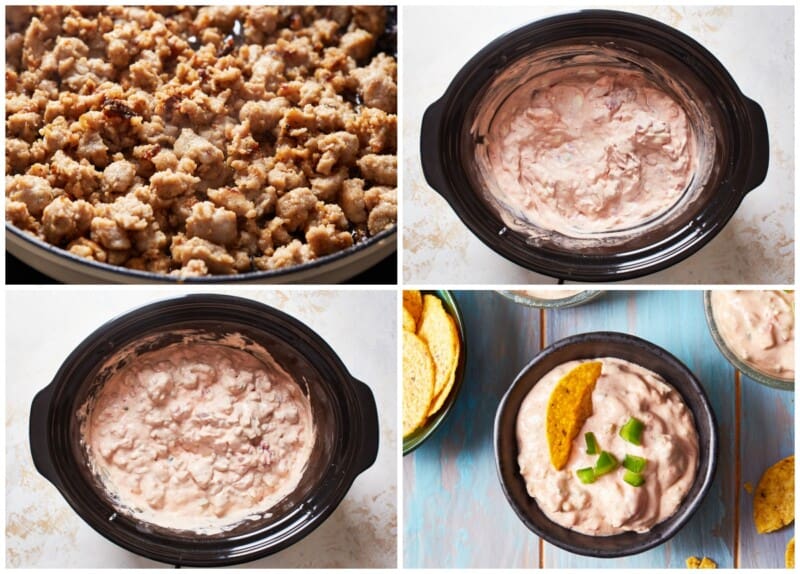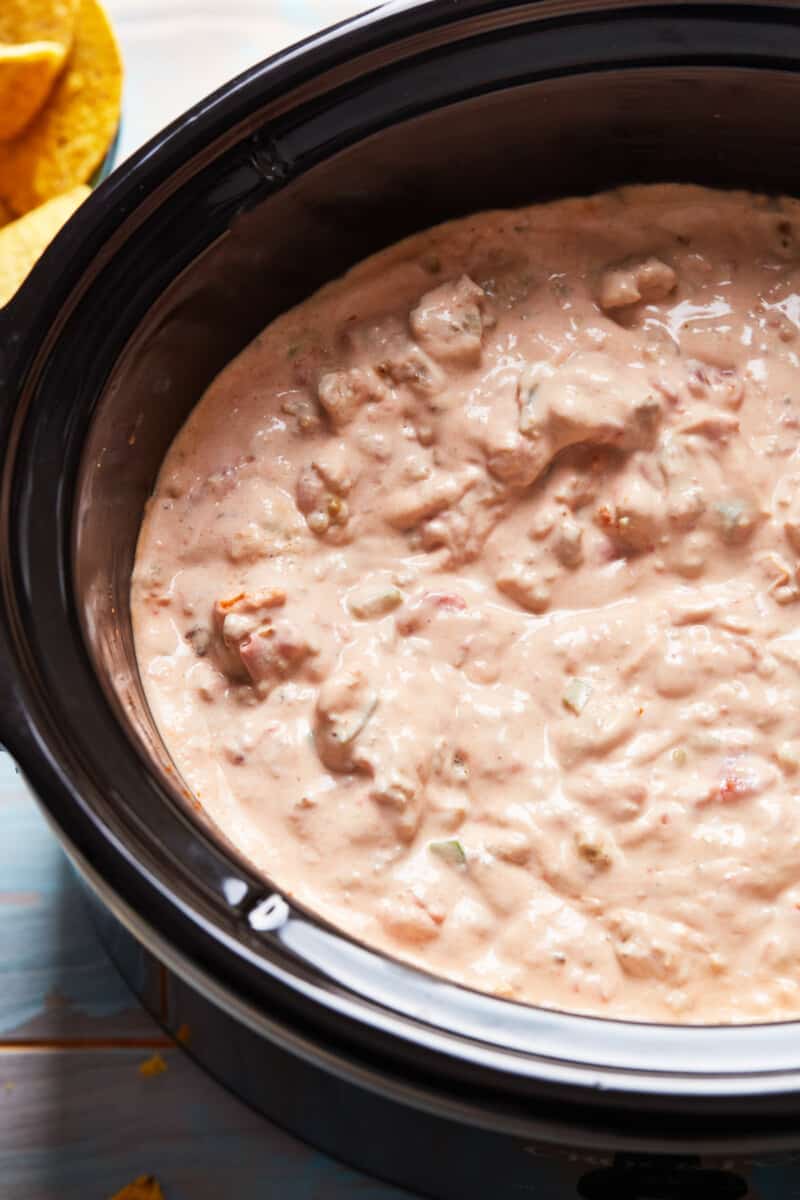 Sausage Rotel Dip For Game Day
This cream cheese rotel dip is hearty and the recipe makes a huge amount. So it's perfect for big crowds and pairs well with beer. That means it's the ideal game day dip!
Any football game or tailgating party will be made better with this recipe. Super Bowl Sundays will now be called Sausage Cream Cheese Dip Day! It's a dip that you can easily spice up too.
3 Ingredient Sausage Cream Cheese Dip
You only need 3 ingredients for this party dip! There's an optional fourth ingredient, and of course, you can add other things if you prefer.
Sausage: Use 2 pounds of breakfast sausage (I like Jimmy Dean's but you can use any brand). I recommend using half regular and half hot/spicy. You could also use all spicy or all regular depending on your taste.
Cream Cheese: Cream cheese makes this dip super creamy! You could also substitute Velveeta if you prefer.
Rotel: Rotel tomatoes add the perfect flavor and spice to this cheesy dip!
Lime Juice: This ingredient is optional, but recommended. A spritz of lime juice really balances out the flavor!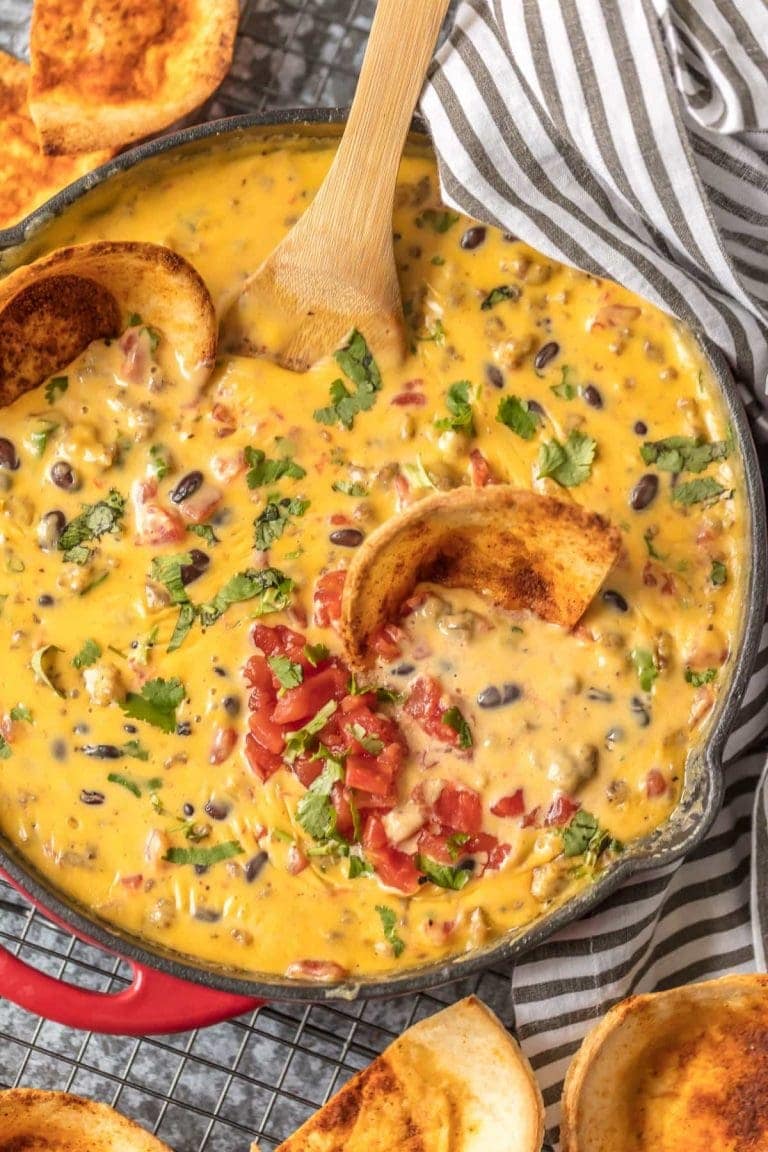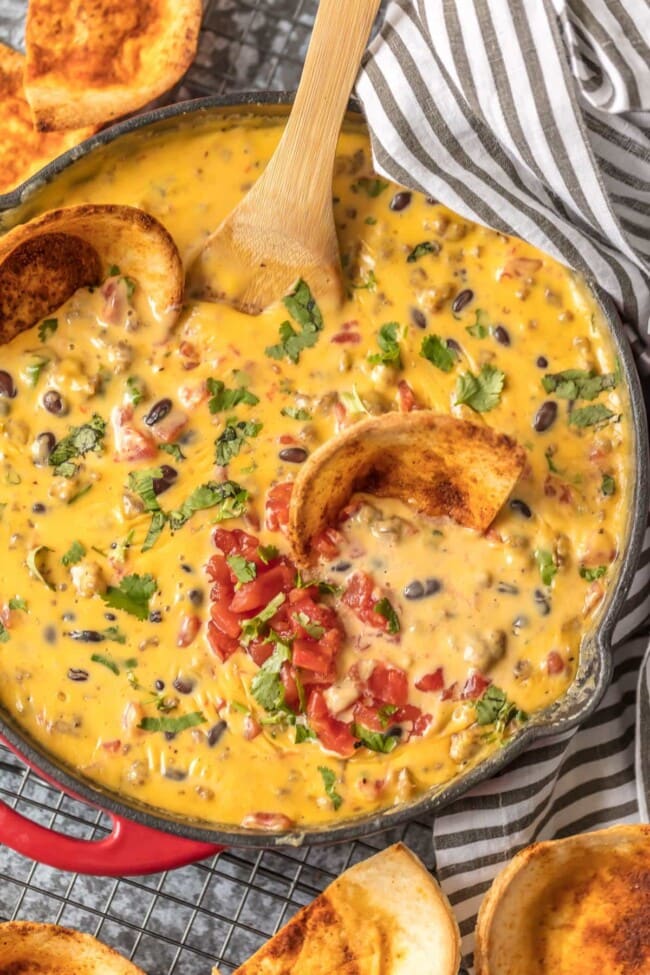 So Cheesy!
17+ Favorite Cheese Dips
Check out all the cheese dip recipes, our specialty!
See Queso Dips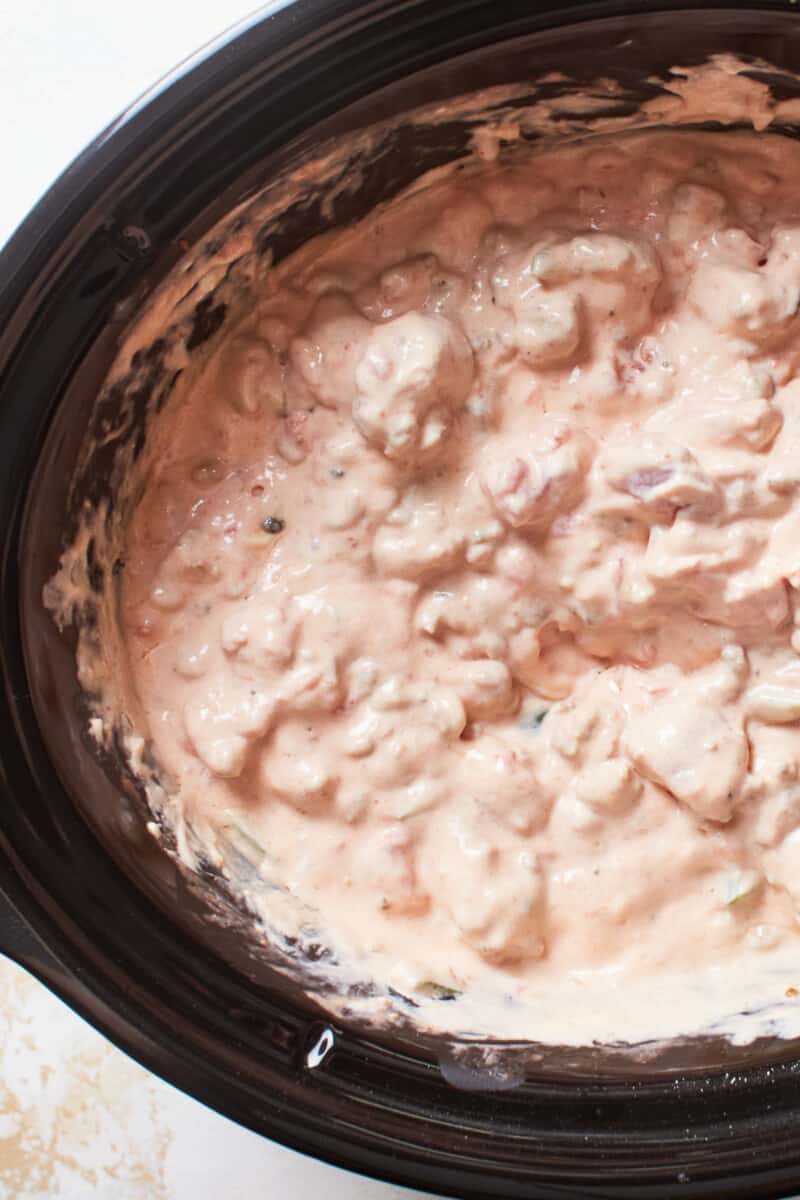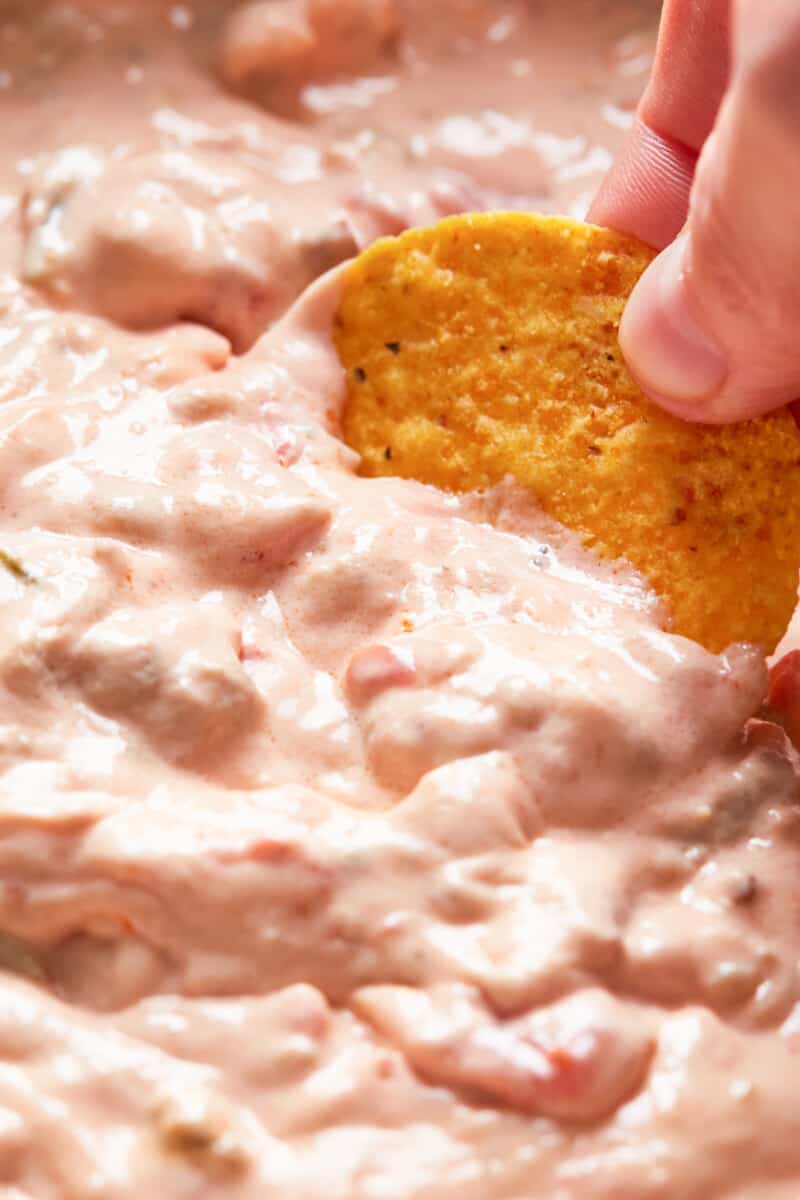 How to Make Sausage Cream Cheese Dip in a Crockpot
You can jump to the recipe card for full ingredients & instructions!
Spray slow cooker with non-stick spray and set to LOW.
Add rotel tomatoes, cream cheese, and lime juice, mix well and place lid on top.
Cook sausage in a skillet on the stove top until browned. Then drain.
Add sausage to the crock pot and cook about 1 hour, or until the cheese has fully melted. Stir every 15 minutes.
Keep dip warm and serve!
If you prefer to cook this sausage cream cheese dip on the stove, check below for simple instructions.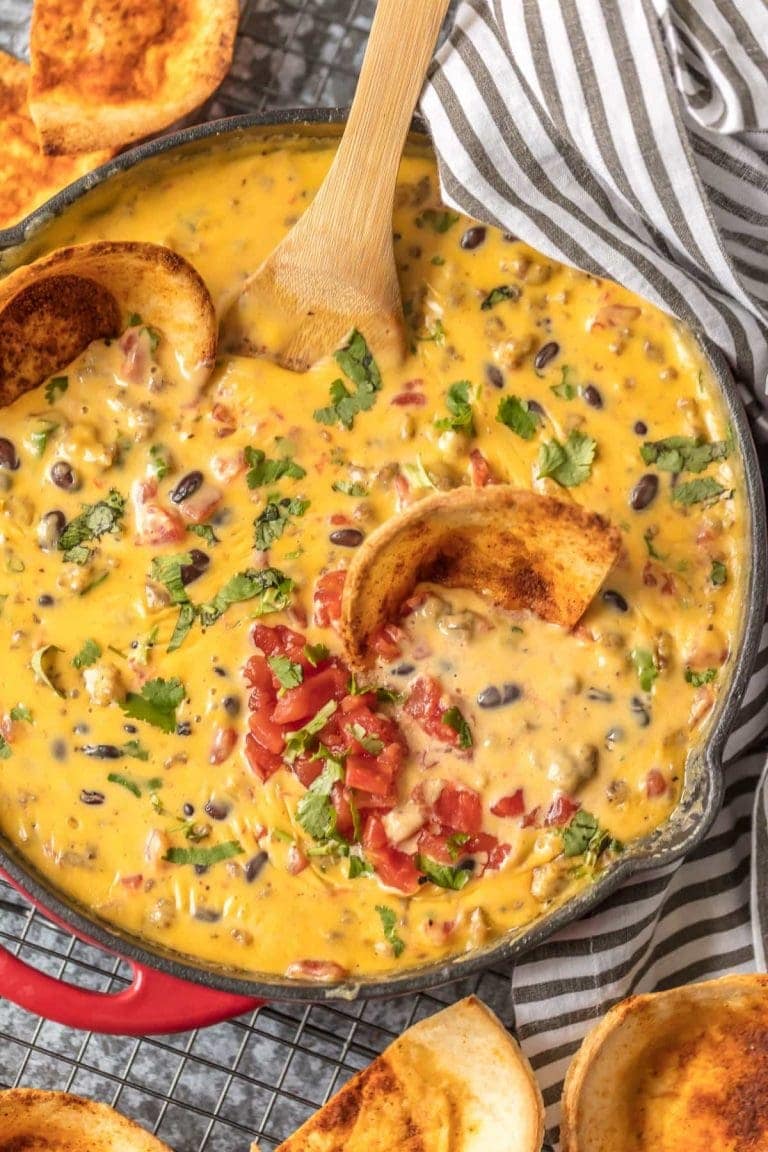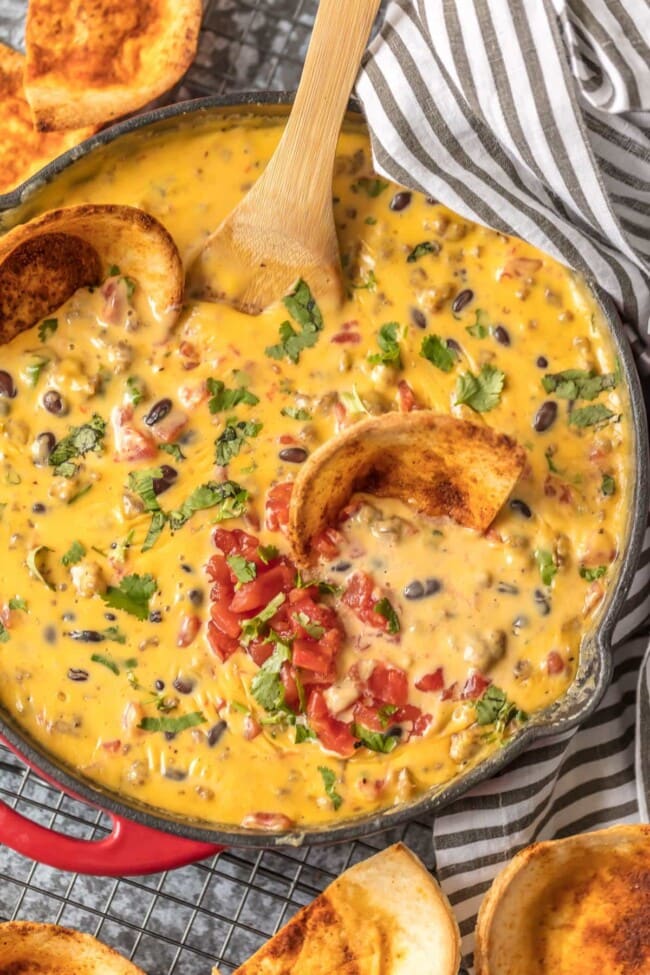 Game Day is covered!
101+ Super Bowl Appetizer Recipes
If its game day grub you crave, we have all the recipes you need to win big! Check out our easy Super Bowl recipes (or World Series, March Madness, National Championship, you get the idea!)
Game Day Guide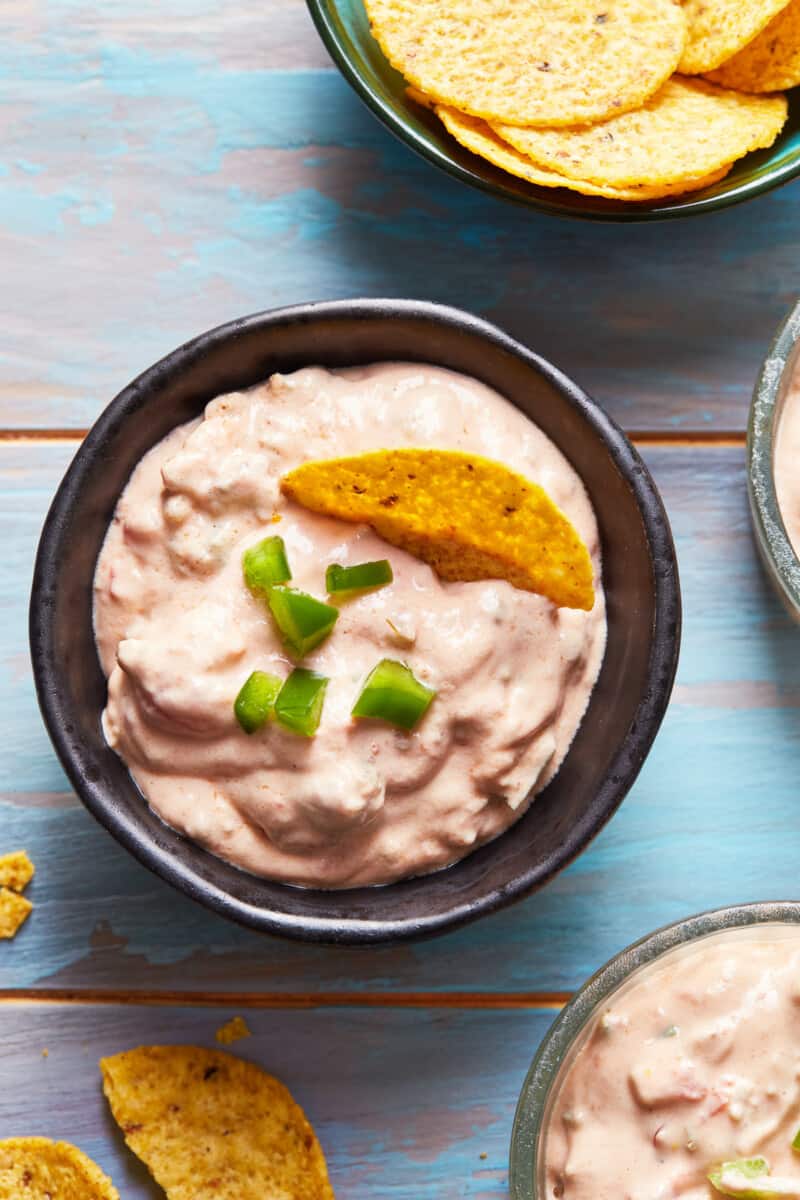 Can I make this sausage cream cheese dip on the stovetop?
If you don't have a slow cooker, you can make this on the stove instead. Use a large skillet with high sides. Cook sausage as instructed, then place all ingredients in the skillet and heat until warm and fully combined, stirring regularly.
How do I keep this dip warm for parties?
Crock pots have a "Warm" setting that is perfect for keeping your dip warm during parties. Just change the setting, keep the lid on, and stir every 30 minutes to keep it fresh. You can add warm dip to the serving bowl when you run out!
How long does sausage rotel dip last in the fridge?
Stored in an airtight container, this dip will last up to 5 days in the refrigerator.
Can I make this dip spicy?
To make this sausage cheese dip a little spicier, use all hot/spicy sausage instead of just half. Then add some chiles for an extra kick.
Serving Suggestions
No dip is complete without the perfect dippers! Luckily, you can serve just about anything with this crockpot sausage cream cheese dip. Serve with tortilla chips, crackers, veggie sticks, or crostini.
If you're making this dip for a party, you'll definitely want to serve it alongside some other appetizers too. Game day calls for chicken wings, meatball sliders, and chili.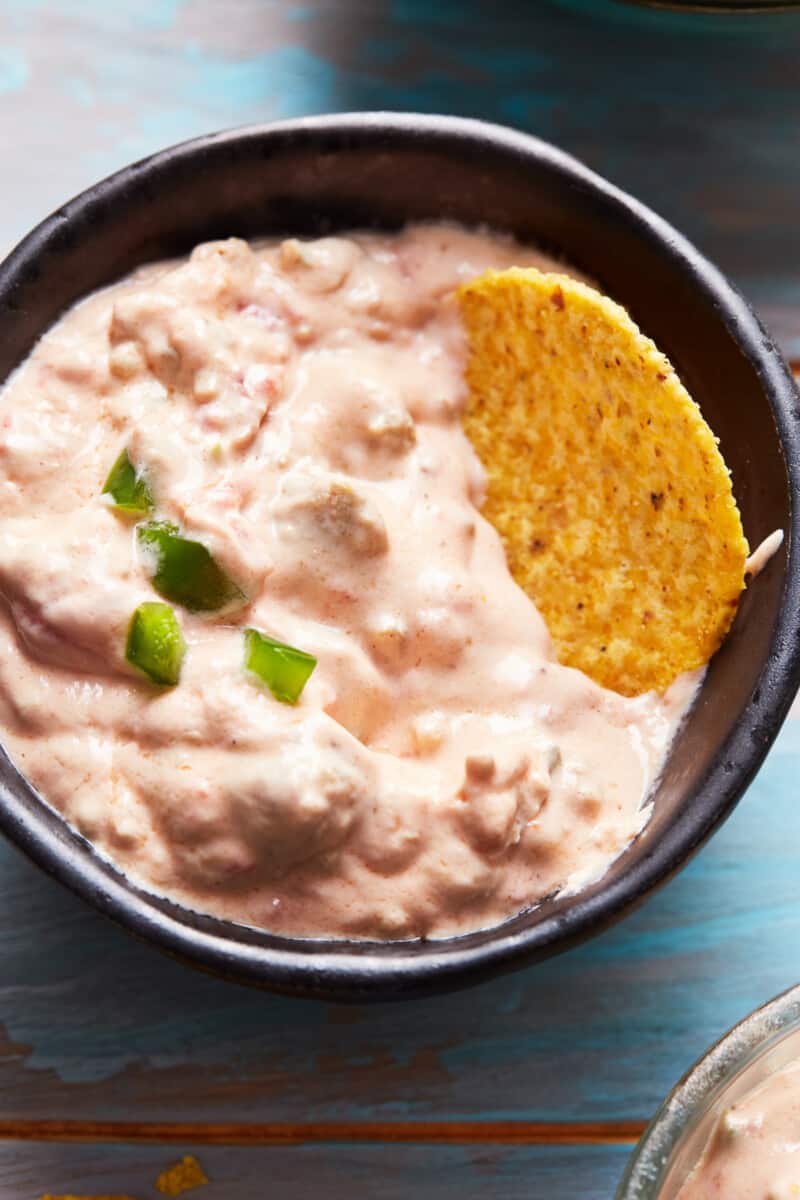 Tips!
Substitute turkey or chicken sausage if you prefer.
Add chili peppers for extra spiciness!
Stir regularly to make sure everything is fully melted and mixed together.
You can cook this dip on the stove top instead, if desired.
Keep leftovers in an airtight container and store in fridge.
Serve with crackers, chips, or veggies.
Can you freeze sausage cream cheese rotel dip?
Yes! You can freeze this sausage dip to keep leftovers a little longer. Let it cool completely, then place it in an airtight, freezer-safe container. Freeze for up to 3 months.
To thaw, set it on the counter for an hour, or in the fridge overnight. Then you can microwave, reheat on the stove, or warm in the crock pot.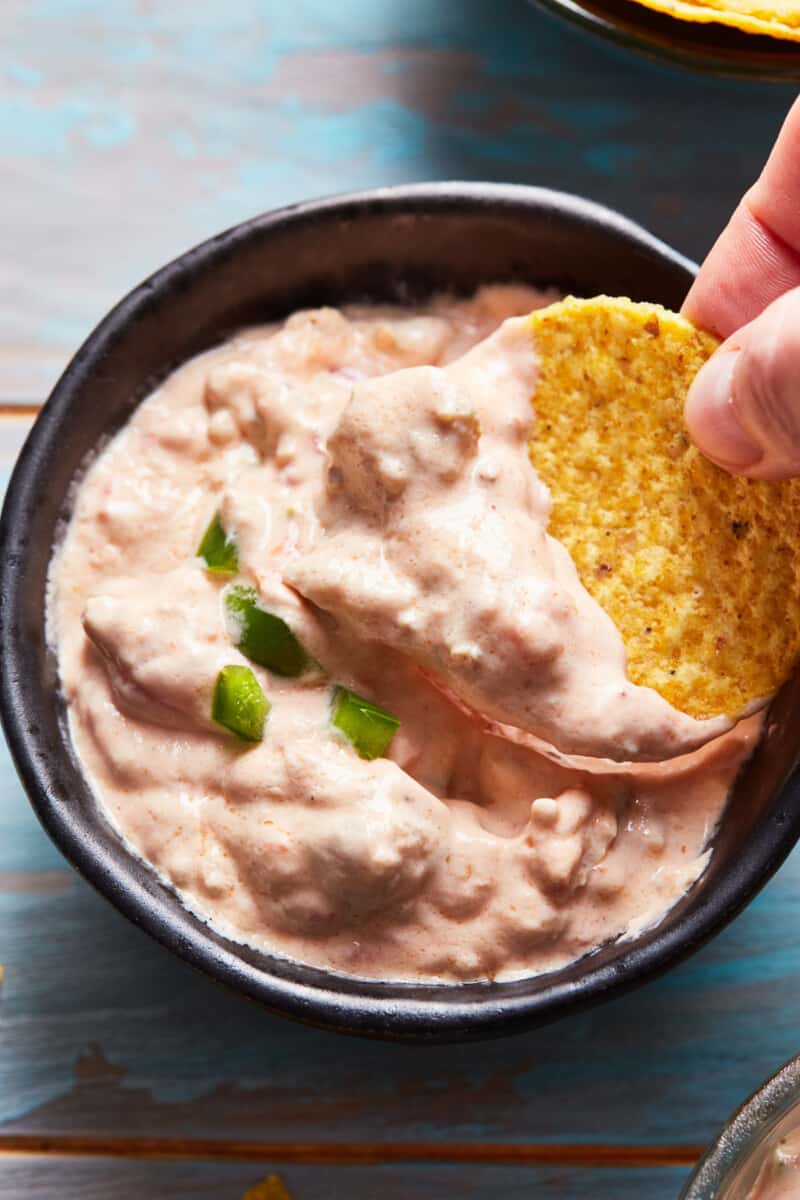 This crockpot sausage cream cheese dip recipe is a family favorite, and now it's about to be one of your favorites too. It's creamy, cheesy, and a little bit spicy. The perfect dip for game day or holidays, and so easy to make.
Thanks for sharing your amazing sausage dip recipe, Betty!
If you have tried this Crockpot Sausage Cheese Dip, I'd love to hear from you in the comments below!