Cozy, comforting and packed with flavor, this Beef Ragu is so satisfying! Chuck roast cooked low and slow in a rich tomato and red wine sauce – pure joy!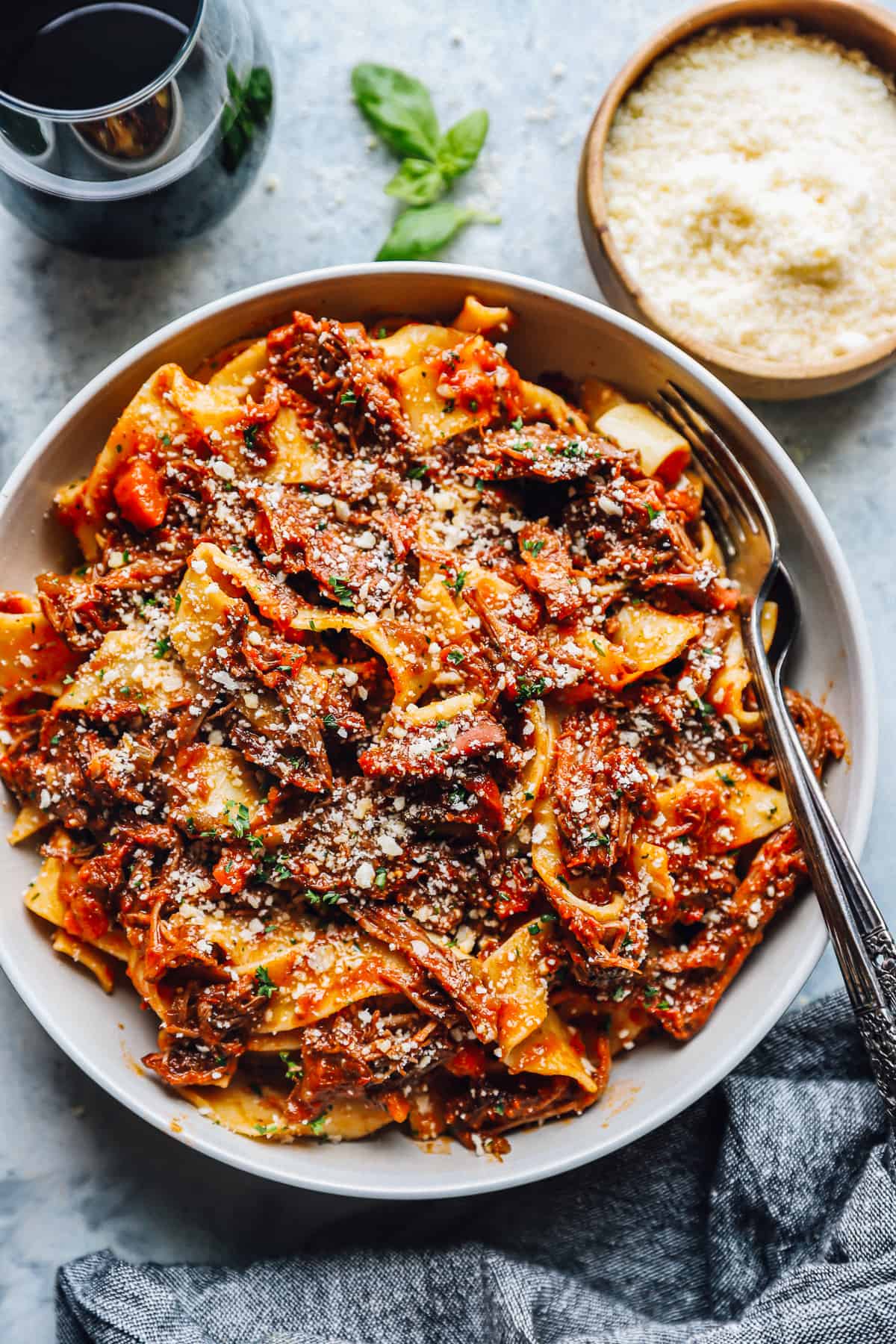 Ragu of Beef
Beef Ragu is a classic Italian dish that's loaded with goodies! Beef chuck roast is cooked slowly in a large pot, then smothered in a red wine sauce which has a wonderful depth of flavor.Serve with pasta for a super hearty meal, perfect for a filling weeknight or special occasion dinner!
Looking for more holiday recipes? Why not also try my Bacon Wrapped Turkey Breast and my Instant Pot Green Bean Casserole.
Why You'll Love this Braised Beef Ragu Recipe:
Tender Beef: The beef is cooked low and slow, so it's melt-in-your-mouth delicious!
Rich Sauce: This sauce is so tasty! Herbs, red wine, tomatoes, and veggies all cook together slowly, combining to create deep and satisfying flavors.
Great for Meal Prep: Perfect for meal planning, you can make this ragu ahead of time. It tastes even better as the flavors develop in the fridge.
This easy Beef Ragu serves up a thick and full-bodied meat sauce that the whole family will love!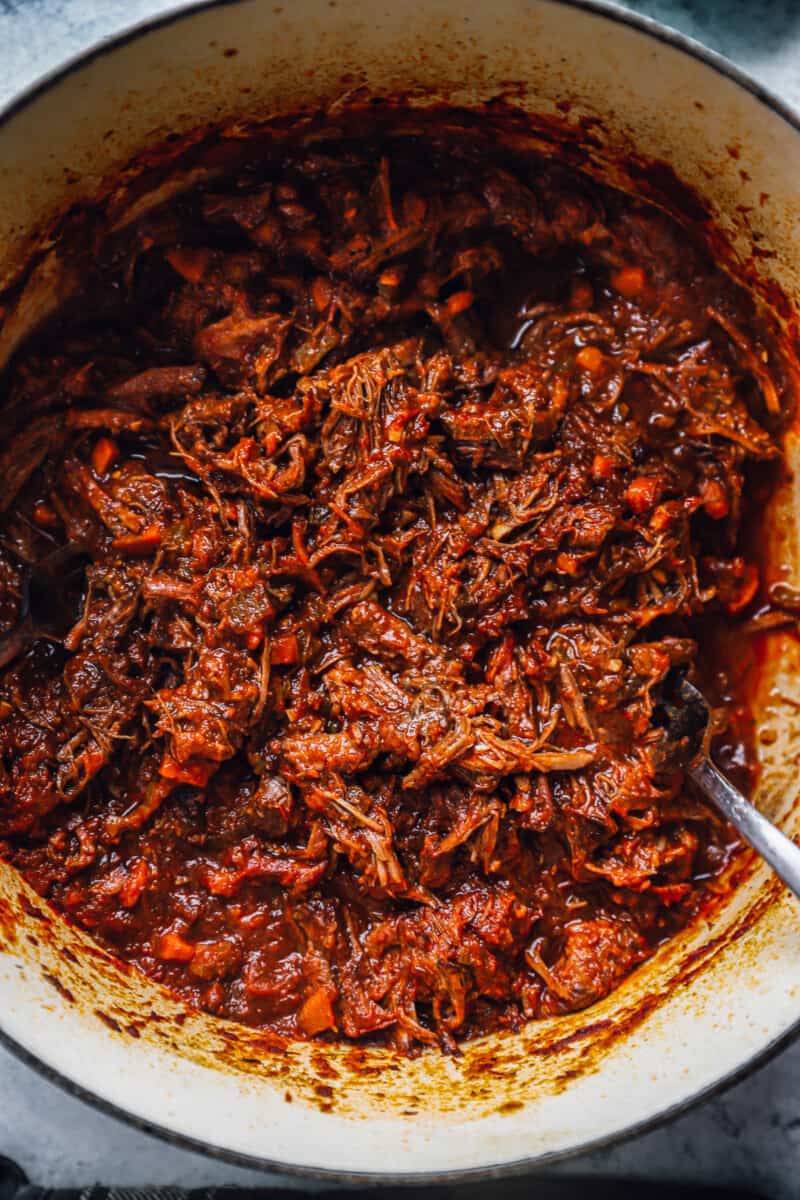 How to Make Beef Ragu
You can jump to the recipe card for full ingredients & instructions!
Sear the seasoned beef in a Dutch oven with oil.
Add in your veggies to the pot, followed by aromatics and then the red wine.
Finally add in your crushed tomatoes and beef broth.
Bring the pot to a boil and then simmer for 2.5-4 hours.
Shred the beef in the pot and simmer for another 20 mins.
Serve with pasta and enjoy!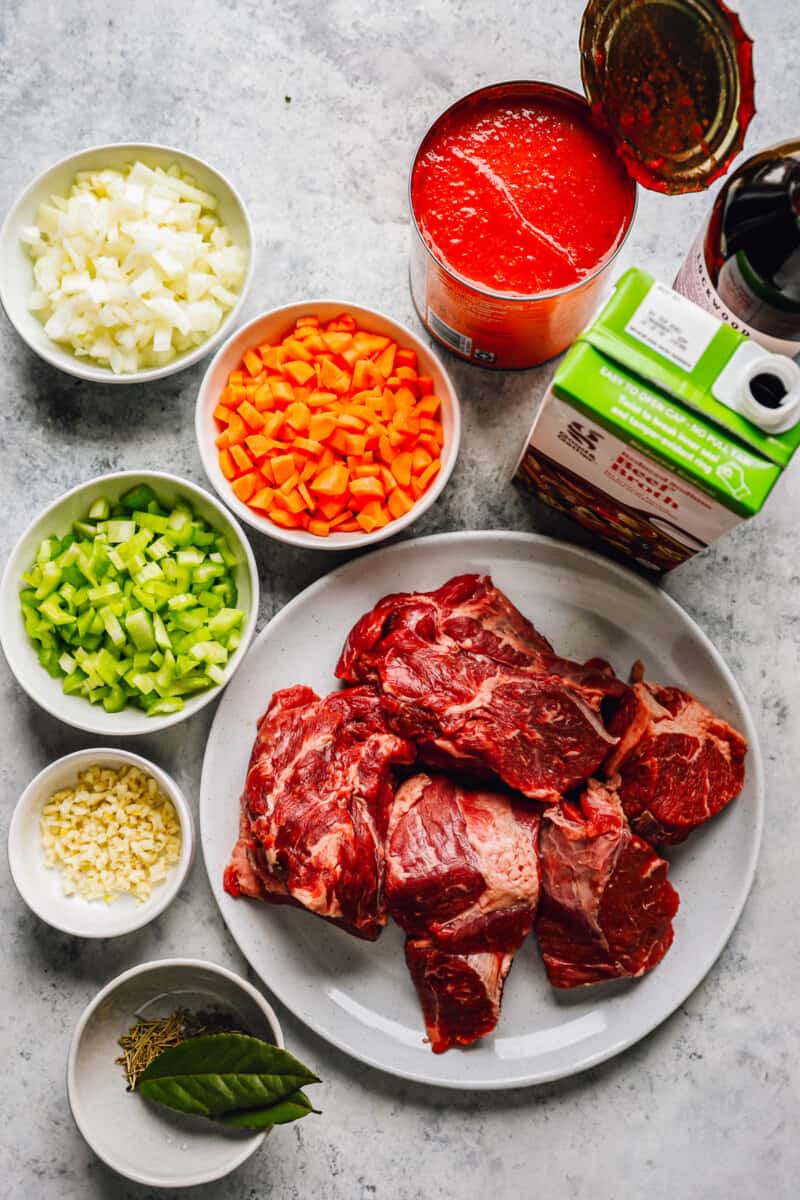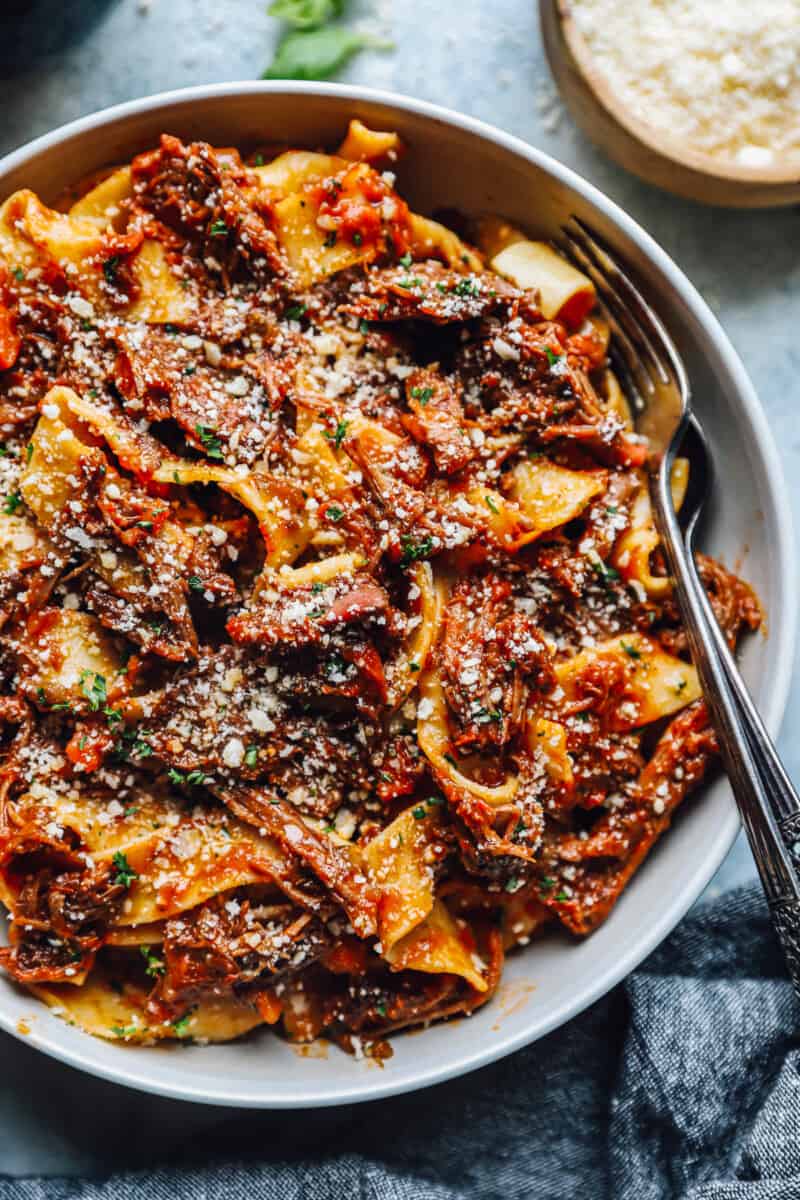 What is ragu?
Ragu is an Italian meat-based sauce served with pasta. It typically consists of veal, lamb, beef, or pork mixed with sofrito (carrots, celery, and onions) and tomato. It is cooked low and slow to produce a tender, savory sauce.
How is ragu different from bolognese?
Bolognese sauce is actually a variation of ragu. In Italy, it's called ragu alla bolognese. Traditionally, bolognese is made with a combination of beef and pork cooked with white wine and served over tagliatelle pasta. It usually also includes milk and nutmeg.
What is the best meat to use for beef ragu?
This recipe uses beef chuck roast, often also called blade roast. Other great cuts for ragu include beef brisket, beef shanks, or beef short ribs.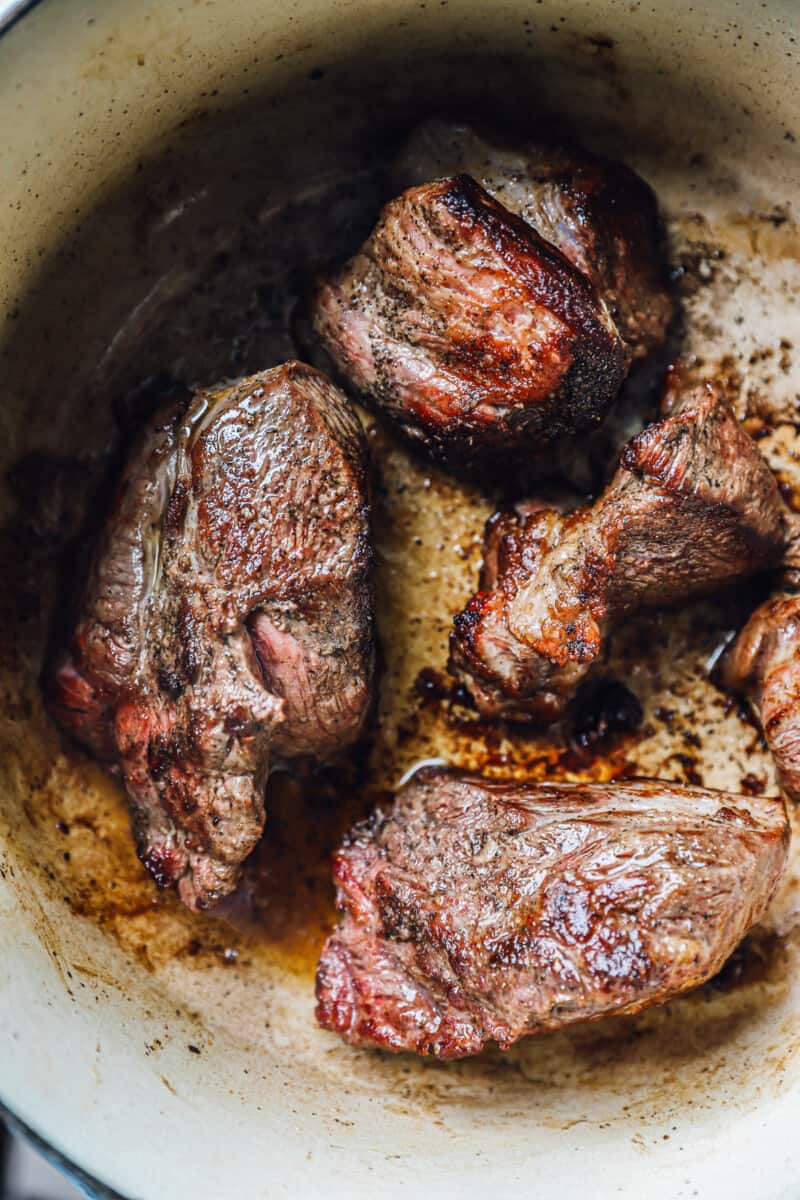 Serving Suggestions
This delicious pasta dish is a meal in its own right but you can certainly add sides to make this a real feast. Here are some favorites:
All whipped up in one pot, this easy and delicious beef ragu recipe is ideal for weeknights, weekends, or holidays!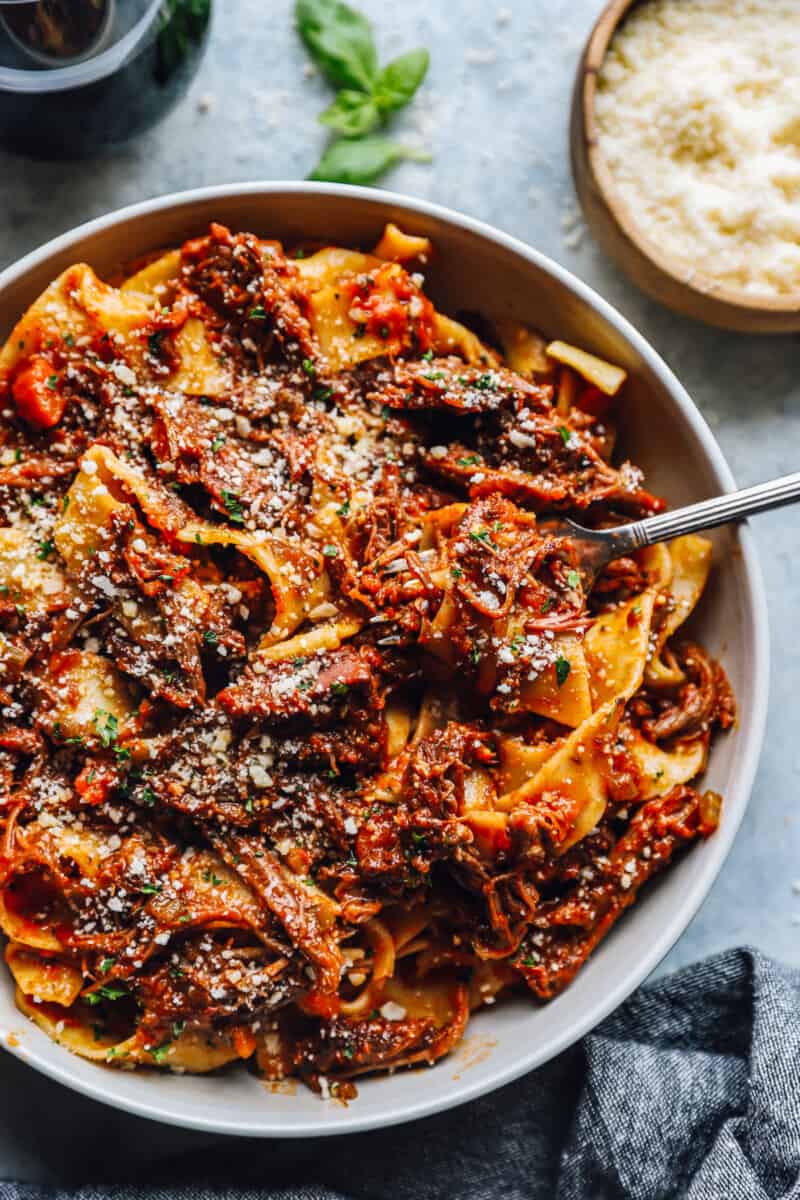 Make Ahead Instructions
Beef ragu is a great make-ahead recipe because many argue it is best to let the ragu cool to room temperature, then store it overnight in the refrigerator. This overnight chill in the refrigerator helps the flavors to develop, creating a richer tasting ragu.
Storage Instructions
Store leftover beef ragu in an airtight container in the refrigerator for up to 3 days. Gently reheat on the stovetop or in the microwave until simmering.
Freezing Instructions
Freeze leftover beef ragu in an airtight container for up to 4 months. Let ragu thaw in the refrigerator overnight before reheating.
Ragu Variations
Bolognese: Use ground beef, veal, lamb, pork, or a combination of any of those meats and add nutmeg and milk. Use white wine in place of the red. Serve over tagliatelle or in a lasagna.
Ragu di Prosciutto: Use prosciutto as the meat and add more extra-virgin olive oil. Omit the carrots and celery, and use white wine in place of the red. Serve over pappardelle or tagliatelle.
Ragu d'agnello: Use ground lamb as the meat. Omit the carrots, celery, and onion. Serve over tagliatelle.
Sugo di Carne: Use ground beef, pork, or a combination of both, optionally with porcini mushrooms. Serve with penne, rigatoni, farfalle, or fettuccini.
Amatriciana: Use guanciale (cured pork jowl) and diced tomatoes. Omit the carrots, celery, and onions. Add hot peppers, if desired, and toss together with either spaghetti or bucatini pasta.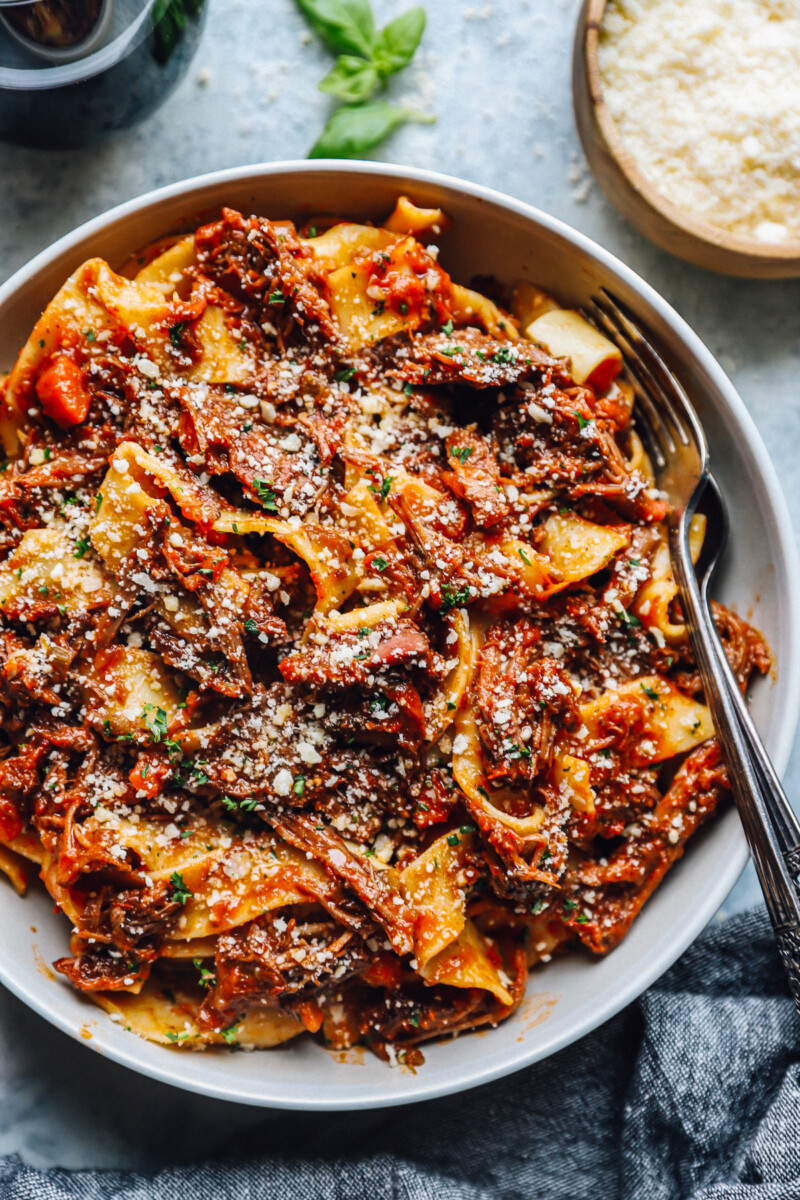 The rich and delicious flavors in the beef ragu come out of a low and slow cook, giving this beloved pasta dish an incredible taste. The beef is super tender and the whole dish comes together in a large pot or Dutch oven. Your friends and family will go gaga for this lip-smacking ragu!
If you make this recipe be sure to upload a photo in the comment section below or leave a rating. Enjoy! You can also jump to recipe.