Cheesy Garlic Bread is the perfect appetizer or side dish for any meal! This Texas Toast Garlic Bread is nice and thick, and covered in butter, cheese, and garlic. Yum! Garlic Cheese Bread is exactly what you need for BBQ, pasta, steak, or any meal you can think of.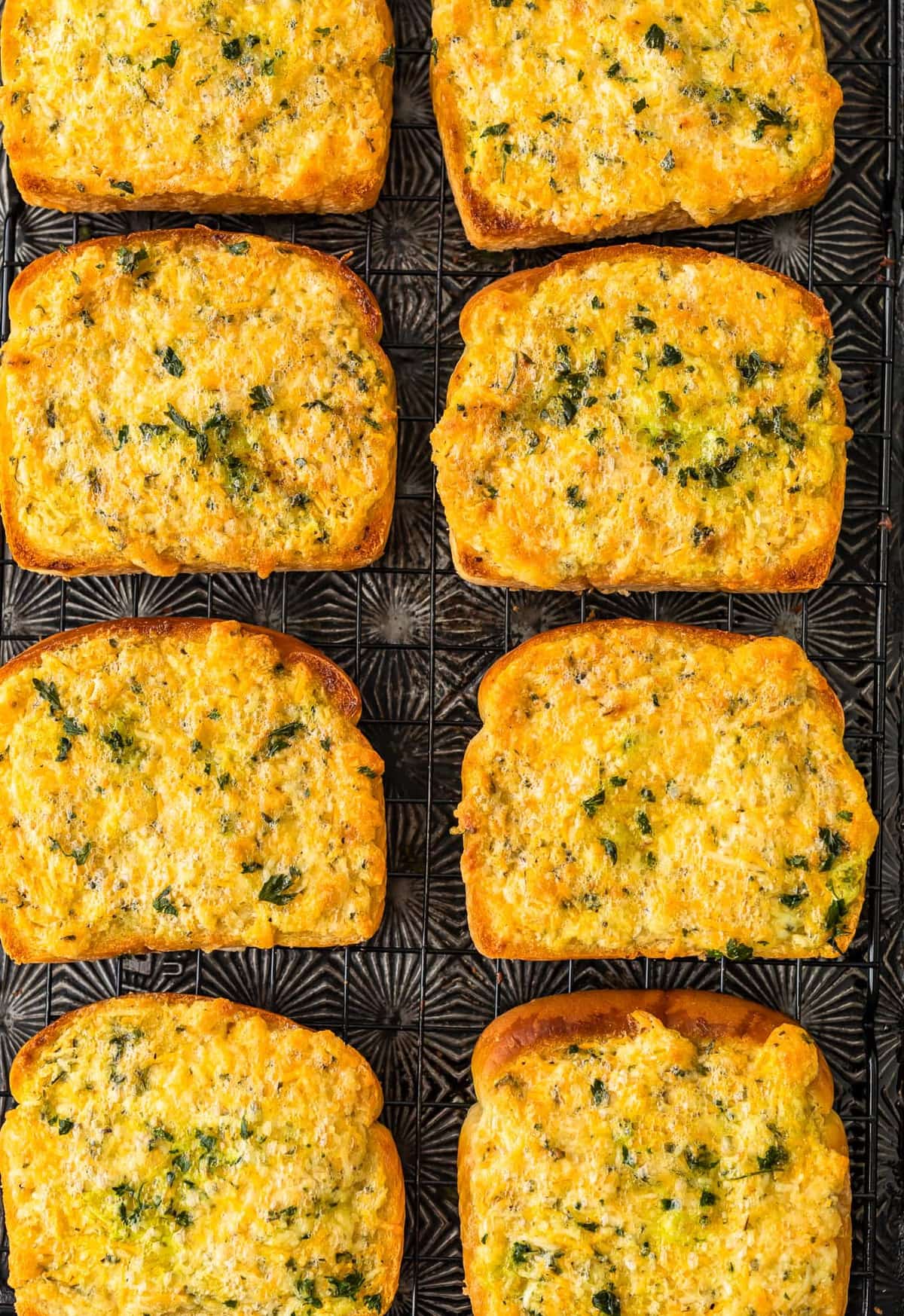 Cheesy Garlic Bread
This cheesy garlic bread makes one delicious side dish to serve with all your favorite meals. Just add cheese, butter, garlic, and a bit of seasoning for the most amazing flavor!
I absolutely love garlic bread of all kinds (probably because I just love garlic). But to take it up a notch, we're making it on nice thick slices of Texas Toast, and adding plenty of cheese, because cheese DEFINITELY makes everything better. There's no doubt about that!
With this Garlic Bread, we are using Gourmet Garden Chunky Garlic Paste, which takes the work out of using garlic! It stays fresh for 3 months, and is always ready to use. No slicing, chopping, or peeling required!
You can make this garlic cheese bread recipe in almost no time at all, so it's ready or any meal you make. This Texas toast garlic bread is MADE for BBQ, but don't forget to make it on pasta night, and make some up for that steak dinner too!
This Texas Toast Garlic Bread recipe is the perfect easy side dish. It's cheesy, garlicy, buttery, and oh so delicious!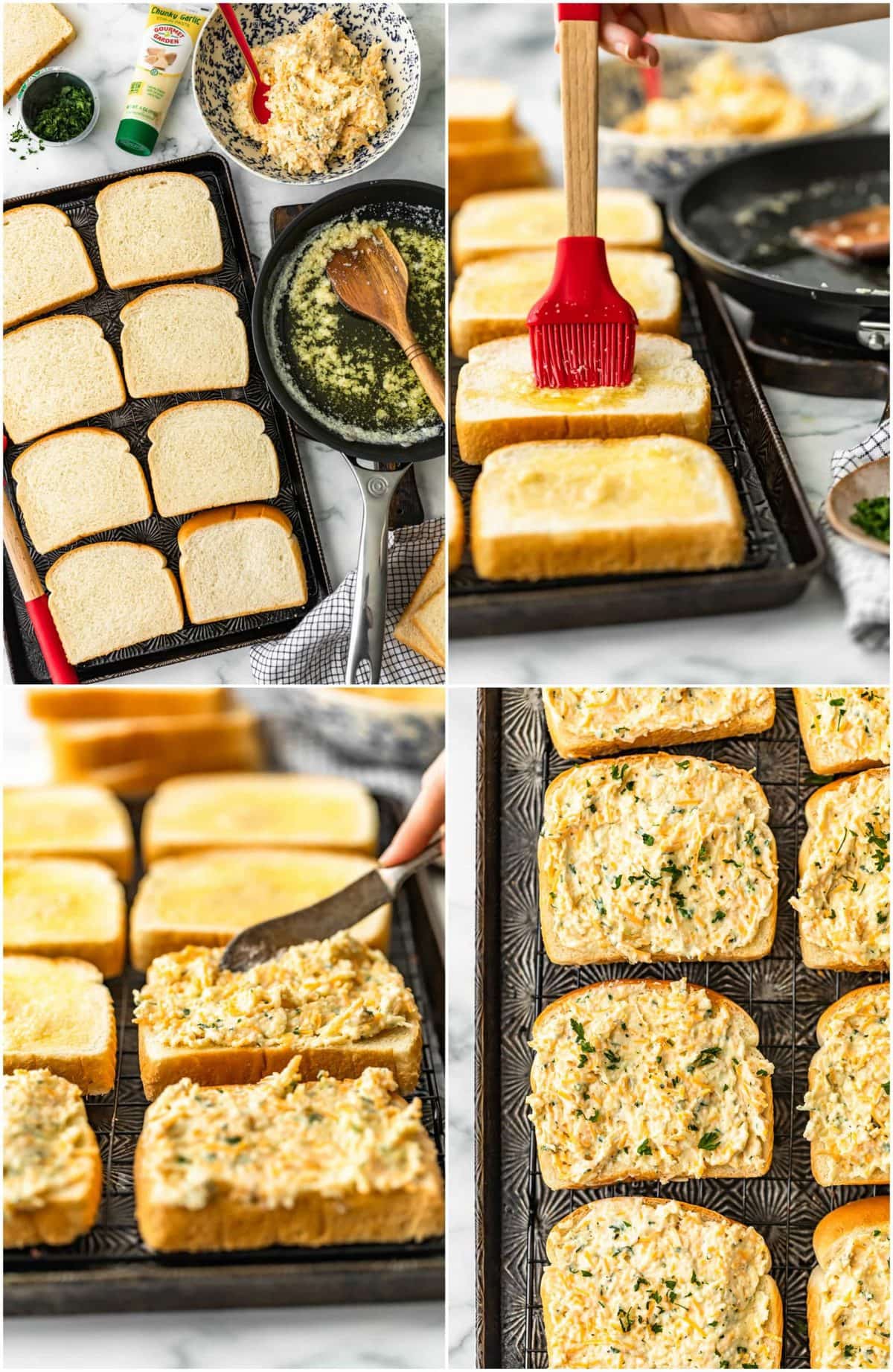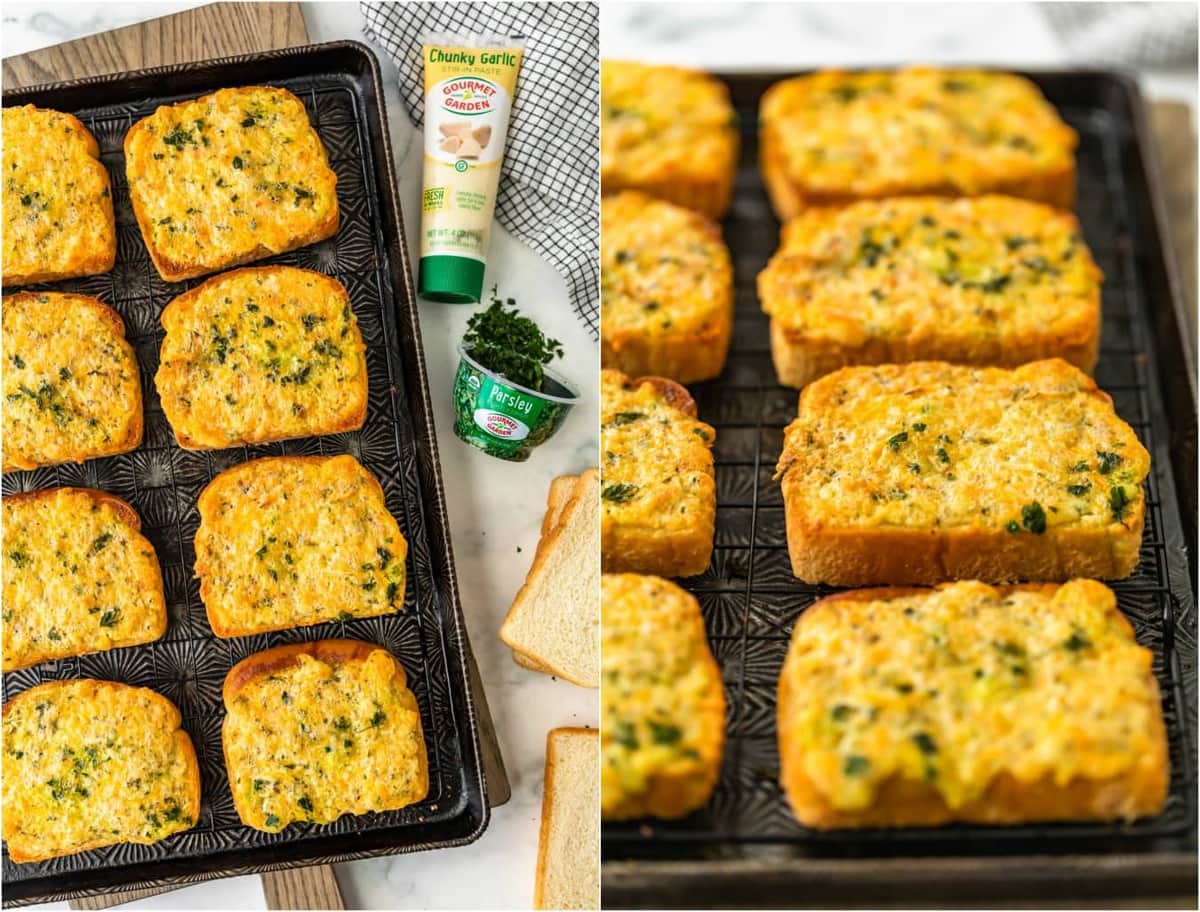 Texas Toast Garlic Bread
Of all the types of bread to use in a garlic cheese bread recipe, Texas Toast is definitely a front runner. Larger slices of bread mean more room for all that garlic and cheese!
If you don't know what Texas Toast is, you're missing out. It's basically just extra thick slices of bread, but most people know it and use it for buttery Texas Toast Garlic Bread. Adding cheese makes it even better, and you absolutely need to try it if you haven't yet.
I love this bread with BBQ dinners. Make up some BBQ ribs or BBQ brisket, add a side of potatoes, cook up some cheesy garlic bread, and you're in for a treat!
Texas Toast versus French Bread for Garlic Bread
I love traditional garlic bread made from a loaf of french bread, but I also REALLY love this Texas Toast Garlic Bread. Here are a couple reasons I love using toast for cheese bread instead of the same old same old long loaf of bread!
You can control how much bread you use. If you're serving 8 people, use 8 slices! No leftovers = no waste.
Better cheese/garlic to bread ratio. I want tons of cheese, butter, and garlic. 50/50 ratio to bread. Enough said!
Easy to make any night. Everyone has sliced bread around. If you don't have Texas Toast, use your favorite wheat or white bread. It's such a quick and easy side dish for literally any night of the week!
Using Garlic Paste makes things EASY. Thanks to Gourmet Garden Chunky Garlic Stir In Paste I don't have to chop, slice, or peel garlic. It's always ready to use and stays fresh in the fridge for 3 months! What could be easier?!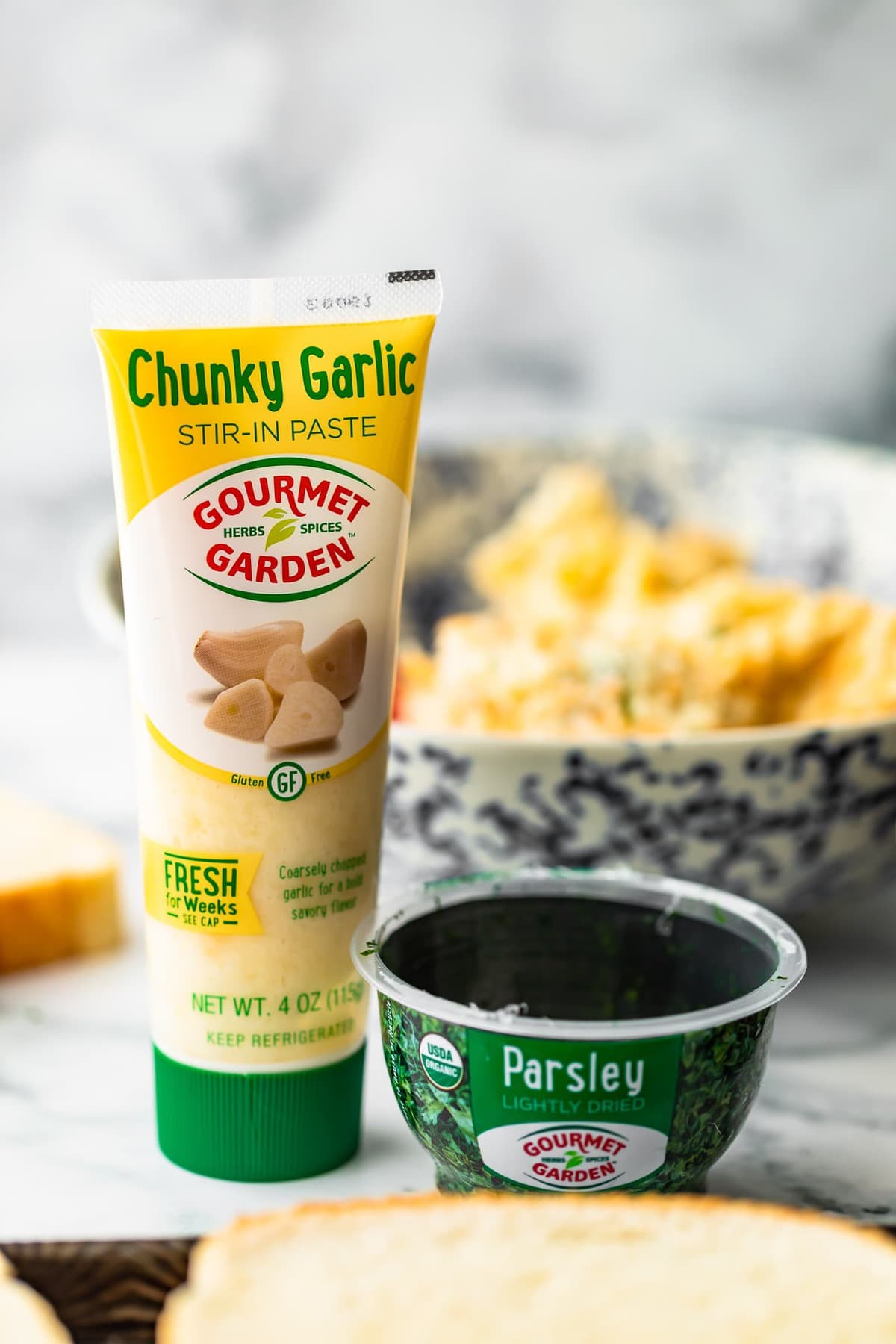 Four Weeks of Fresh
Easy Recipes are what I'm known for. I'm not known for being the ultimate entertainer with name cards and napkin rings for each guest, but I AM known for delicious meals that are fun, quick, and flavorful. I'm so excited to be working with Gourmet Garden this year to showcase their amazing herbs and spices, and show you exactly how they can make your life EASIER and even more DELICIOUS.
This stir in garlic paste is ready to use when you are…staying fresh for 3 months in the fridge. I don't have time to peel, slice, and chop garlic. When it's already in a paste, I'm more likely to eat fresh!
This is my 2nd recipe in a series of four…because Gourmet Garden products stay fresh for FOUR WEEKS, making cooking for your family (or yourself!) that much more simple. (Be sure to check out my first recipe using Gourmet Garden herbs, Creamy Garlic Shrimp!)
Gourmet Garden has a wide range of fresh lightly dried herbs and spices as well as amazing stir in pastes that are sure to take your recipes from drab to fab. I love the variety, love how they taste just as bright as freshly chopped herbs, and am especially in awe of their ability to stay fresh for FOUR WEEKS (the paste stays fresh for 3 MONTHS!!)
The other great thing about Gourmet Garden Lightly Dried Herbs versus fresh herbs is that they're already washed and chopped. I know Cookie Rookie Readers are just like me and love a good shortcut to greatness!
To our family, that means less trips to the grocery store, less food waste, less fretting over if I have the ingredients I need, and more flavor. More time with Henry. More time dreaming up recipes to show to you!
For this Texas Toast Garlic Bread, I used Gourmet Garden Stir in Chunky Garlic Paste and Lightly Dried Parsley. This is the type of recipe that you can decide to make ANY night of the week in MINUTES. Gourmet Garden products make sure you have the tools to do that without making an extra trip to the store!
Look for the Gourmet Garden products right in the produce section, next to the pre-cut produce and fresh herbs. Once at home, you need to store them in your refrigerator to keep them fresh.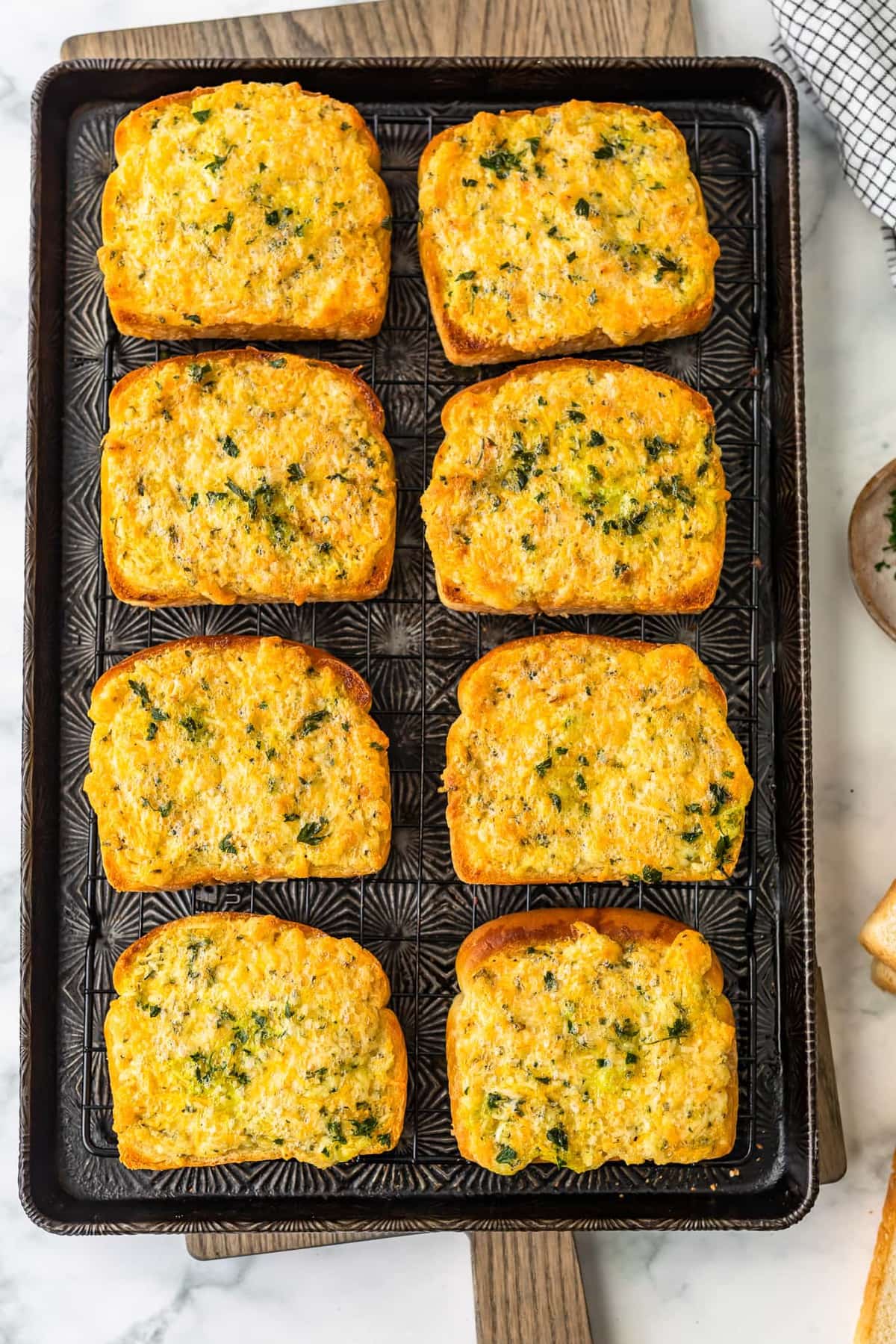 How to Make Garlic Cheese Bread
Based on the name of this dish, you probably know exactly what's in this recipe: garlic, cheese, bread, butter (all the best things). Enough said. You only need about 20 minutes to make this, which is perfect for easy dinners.
How to Make Texas Toast Garlic Bread:
In a mixing bowl, combine mayonnaise, cheddar jack cheese, and Parmesan. Stir until the mixture becomes smooth, pressing down to combine.
Then stir in the seasoning salt, pepper, and Gourmet Garden parsley. Place the mixture in the refrigerator.
Next, melt the butter in a skillet and stir in the Gourmet Garden Chunky Garlic Paste. Then let it saute 2-3 minutes.
Lay out 8 slices of Texas Toast on a baking sheet, and liberally brush the garlic butter mixture on each slice.
Spoon the mayo-cheese mixture over each slice and spread it out evenly.
Bake the bread for 10-12 minutes at 375°F, until it gets slightly golden brown and cheese melts. You can also broil for a few minutes to crisp things up even more.
And that's it! So easy to make this cheesy garlic bread recipe for all of your meals. Once you taste it, you'll definitely want to eat it every night!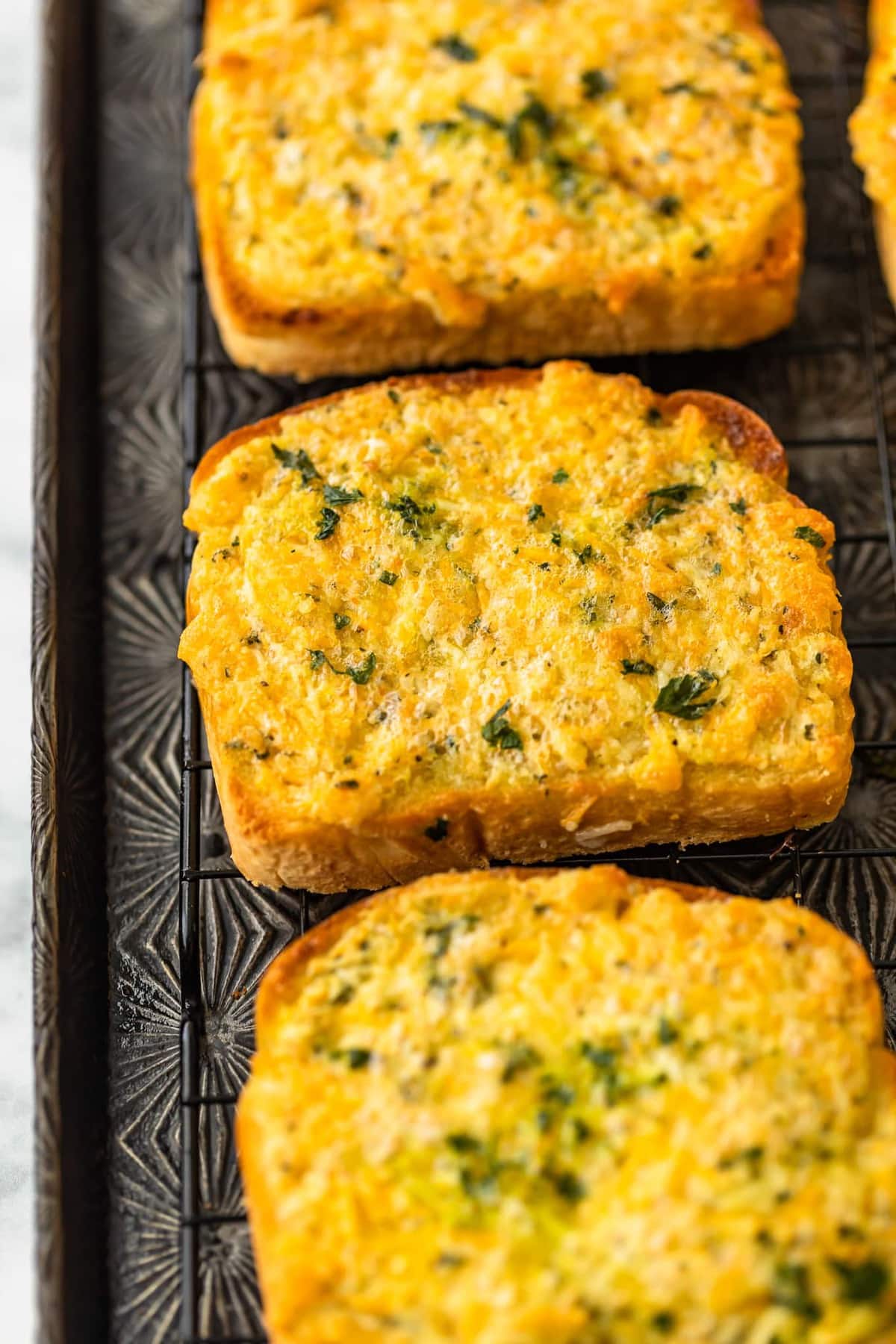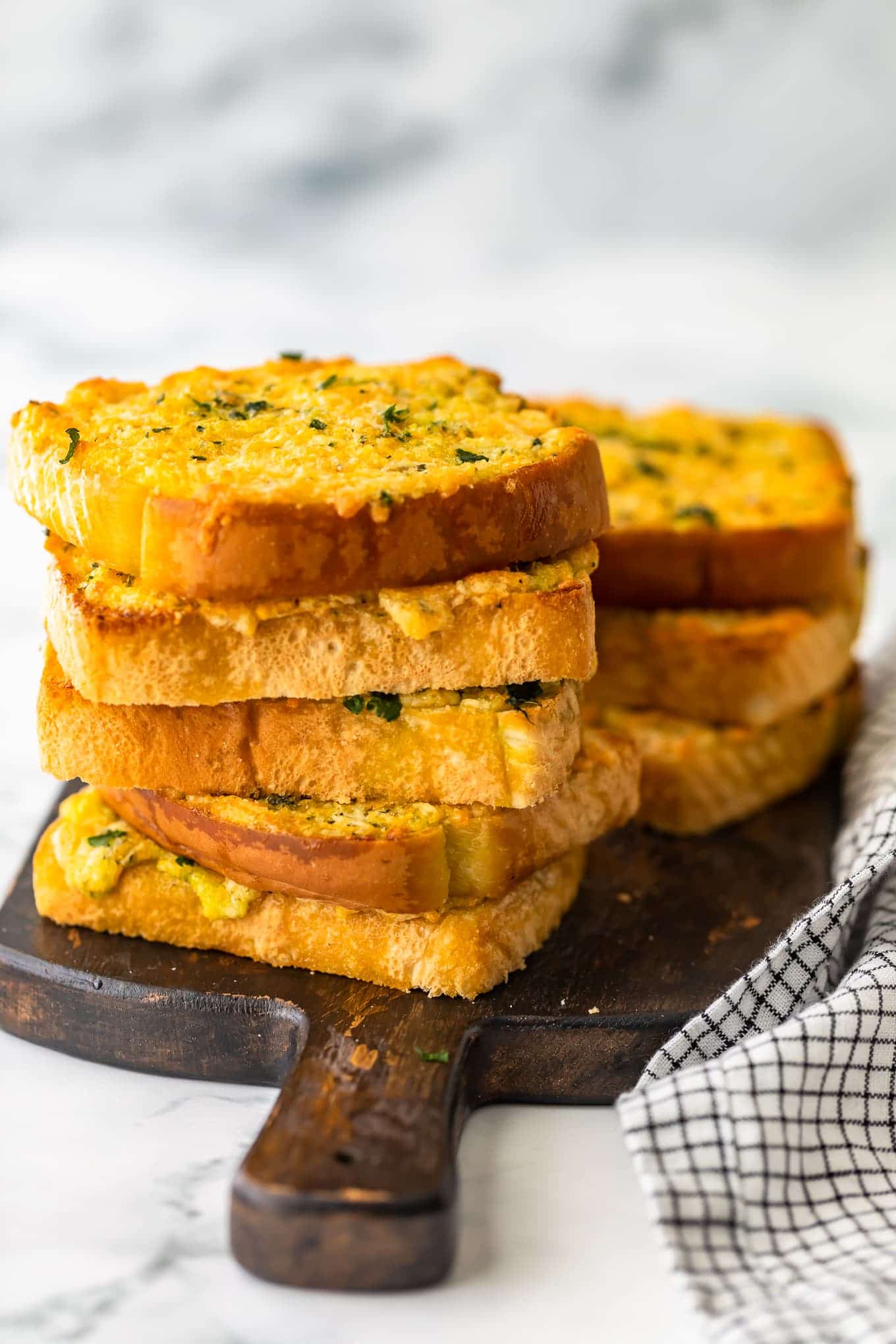 Easy Garlic Bread Recipes
Garlic bread comes in all shapes, sizes, and forms. It's just SO good, it would be a shame if there weren't more than one way to make it (or eat it). This cheesy texas toast garlic bread is amazing, but here are some other easy garlic bread inspired recipes for you to try too.
Easy Garlic Bread Recipes
Try these delicious garlic bread inspired recipes!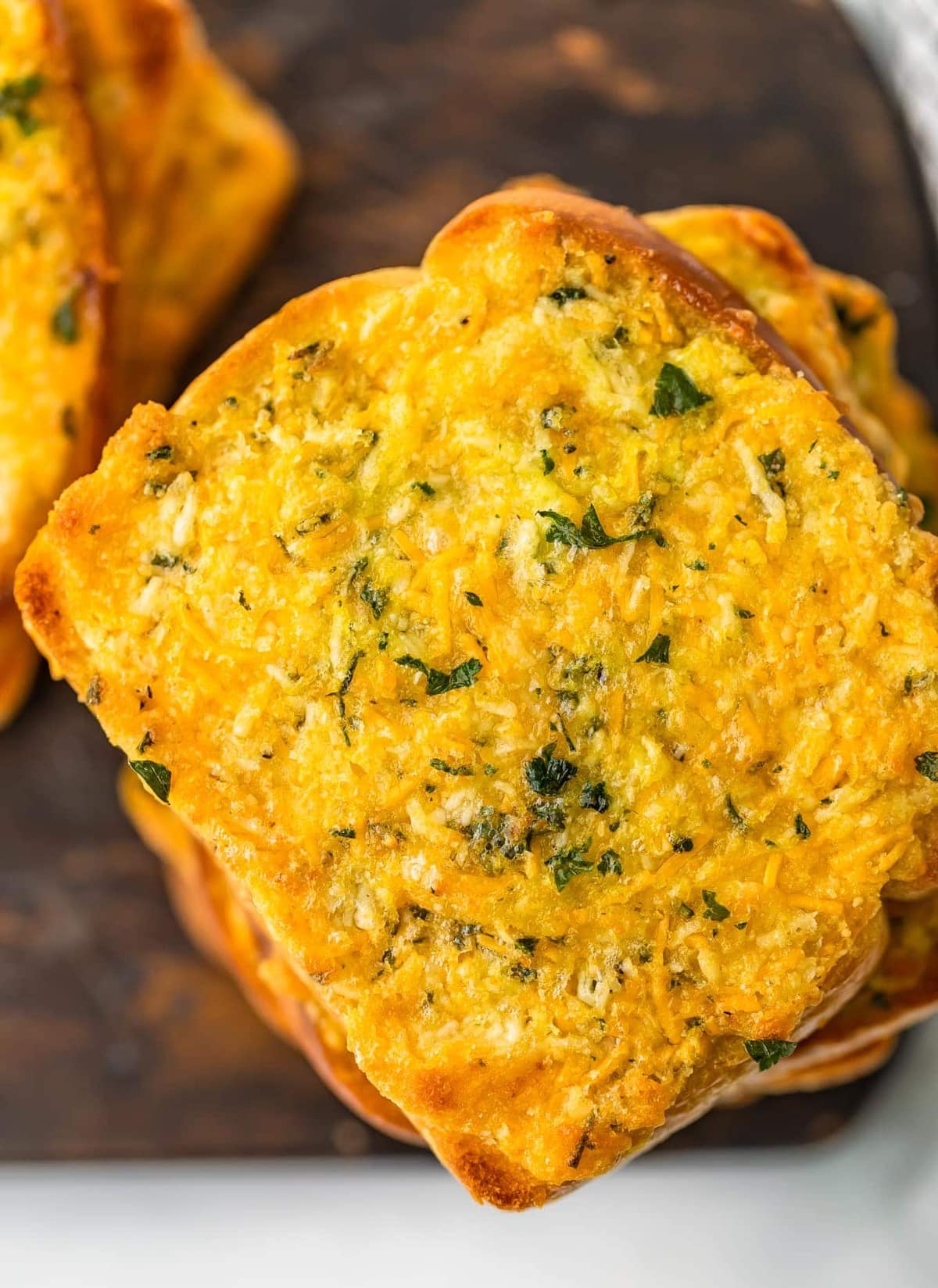 Be sure to add this Cheesy Texas Toast Garlic Bread to your next dinner. You won't regret it!
See the recipe card for details on how to make Cheesy Garlic Bread. Enjoy!
Try these other awesome bread recipes for the perfect appetizer or side: