Baked Spaghetti is an easy, cheesy, and cozy dinner any night of the week. This super simple comfort food recipe is something your whole family is sure to love!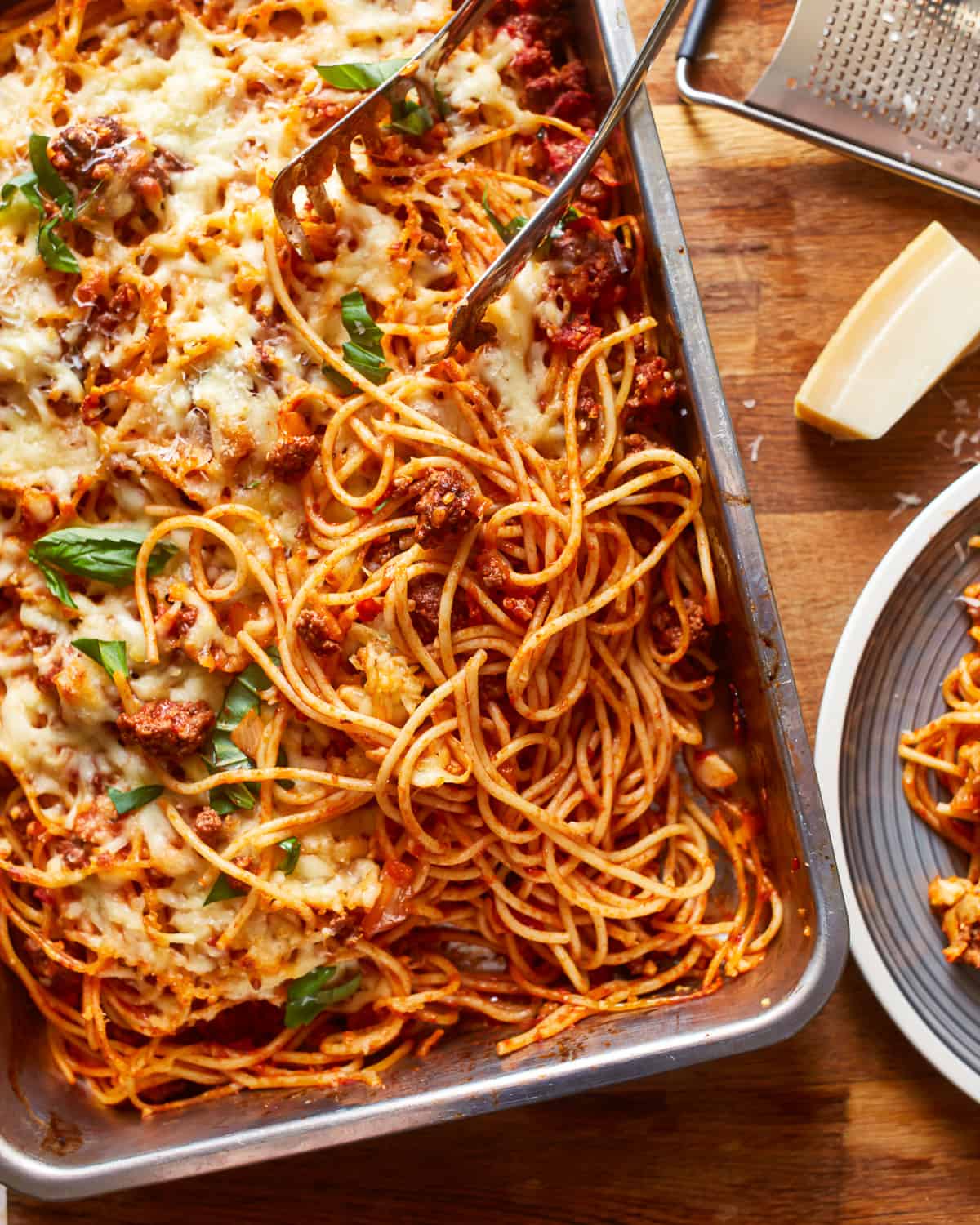 What's in this Baked Spaghetti Recipe?
Cheesy and easy are two of my favorite words when it comes to food, and I love anything that I can make in a pinch for dinner during a chaotic week. This is exactly the recipe I need during this busy season of life!
Spaghetti: I like to use spaghetti for this casserole, but you can use any kind of pasta you love!
Ground Chuck: A bit fattier and tastier than ground beef.
Olive Oil + Butter: Add richness and help the beef cook without burning.
Onion + Garlic: Add an earthy and sweet flavor.
Marinara Sauce: Use your favorite brand or make your own!
Fresh Basil: Adds a pop of color and classic Italian flavor.
Cheese: Mozzarella and Parmesan are classic choices.
Salt + Pepper: Enhance the flavor of this dish.
Pro Tip: Cook the noodles to al dente for best results. If the noodles are super soft before baking, they'll become pretty mushy and lack texture.
Variations on Spaghetti Casserole
You can swap out the ground chuck for regular ground beef, ground turkey, chicken, pork, or Italian sausage. Or make it vegetarian by skipping the meat altogether.
You can sneak some veggies into the sauce as well for extra nutrition– the kids won't even notice!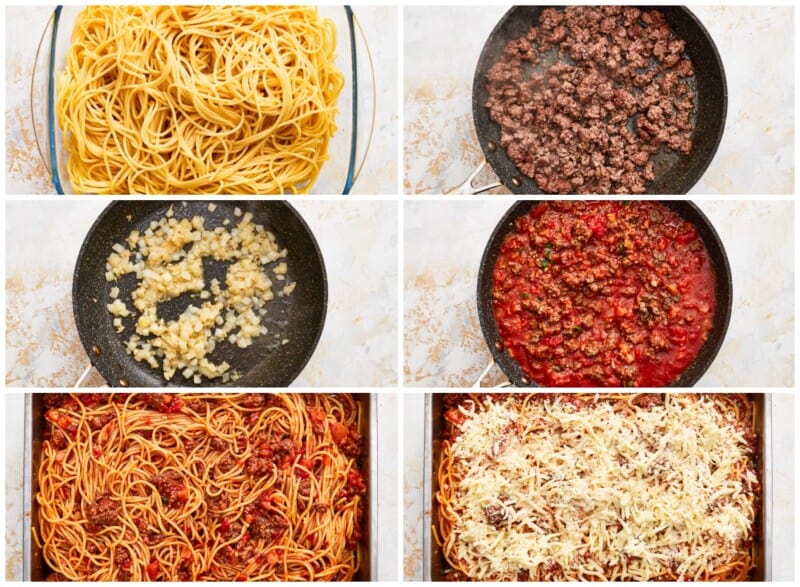 What's the point of baking spaghetti?
By baking this casserole, you get a crispy crust on top, adding a fun textural contrast!
Is baked spaghetti and lasagna the same?
Nope! Lasagna uses lasagna noodles and has a ricotta layer included.
Do you have to cook pasta before baking?
Yes. Cook the spaghetti to al dente, following the package instructions. Combine this cooked spaghetti with the sauce before baking.
Can I use a different kind of meat?
Definitely. Instead of ground beef, try ground chicken, turkey, or Italian sausage.
Do I cover baked spaghetti while it bakes?
I don't recommend it – if covered while in the oven, the noodles will steam instead of truly bake, so you'll end up with a pretty soggy baked spaghetti casserole.
How long is cooked spaghetti good for?
Cooked spaghetti will stay fresh for about 4 days when stored properly in the refrigerator.
What's the best way to freeze baked spaghetti?
Prepare it ahead of time (through step #8), place it in a freezer-safe dish with a tight fitting lid, and freeze for 2-3 months. To bake, let it thaw in the refrigerator, then place it in the oven as instructed to fully bake through.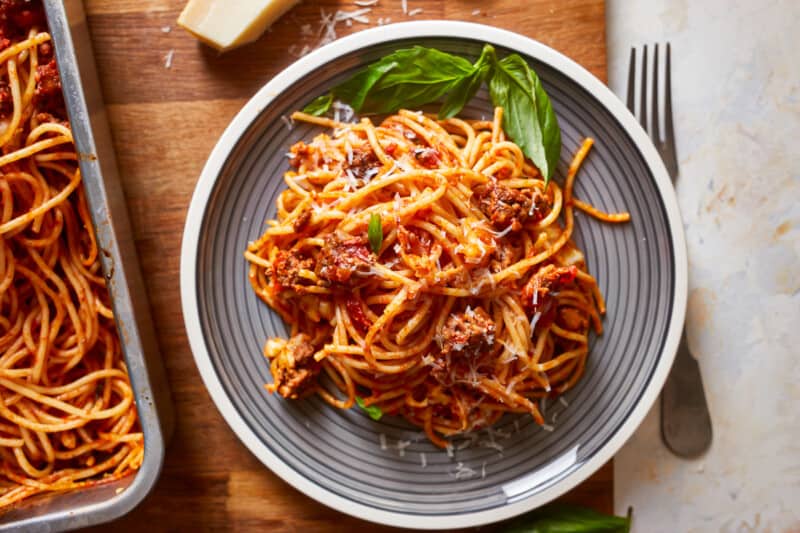 How to Store and Reheat
Store leftover baked spaghetti covered with aluminum foil in the refrigerator for up to 4 days. Reheat in a 350°F oven for 30-40 minutes, or until warmed through.
How to Freeze
Freeze this spaghetti bake tightly wrapped in 2 layers of plastic wrap and 1 layer of aluminum foil for up to 4 months. Reheat directly from frozen in a 350°F oven for about 1 hour.
Serving Suggestions
Complete a baked spaghetti dinner menu with a fresh Olive Garden salad or Caesar salad and freshly baked garlic bread. Finish off the night with homemade brownies or a skillet chocolate chip cookie!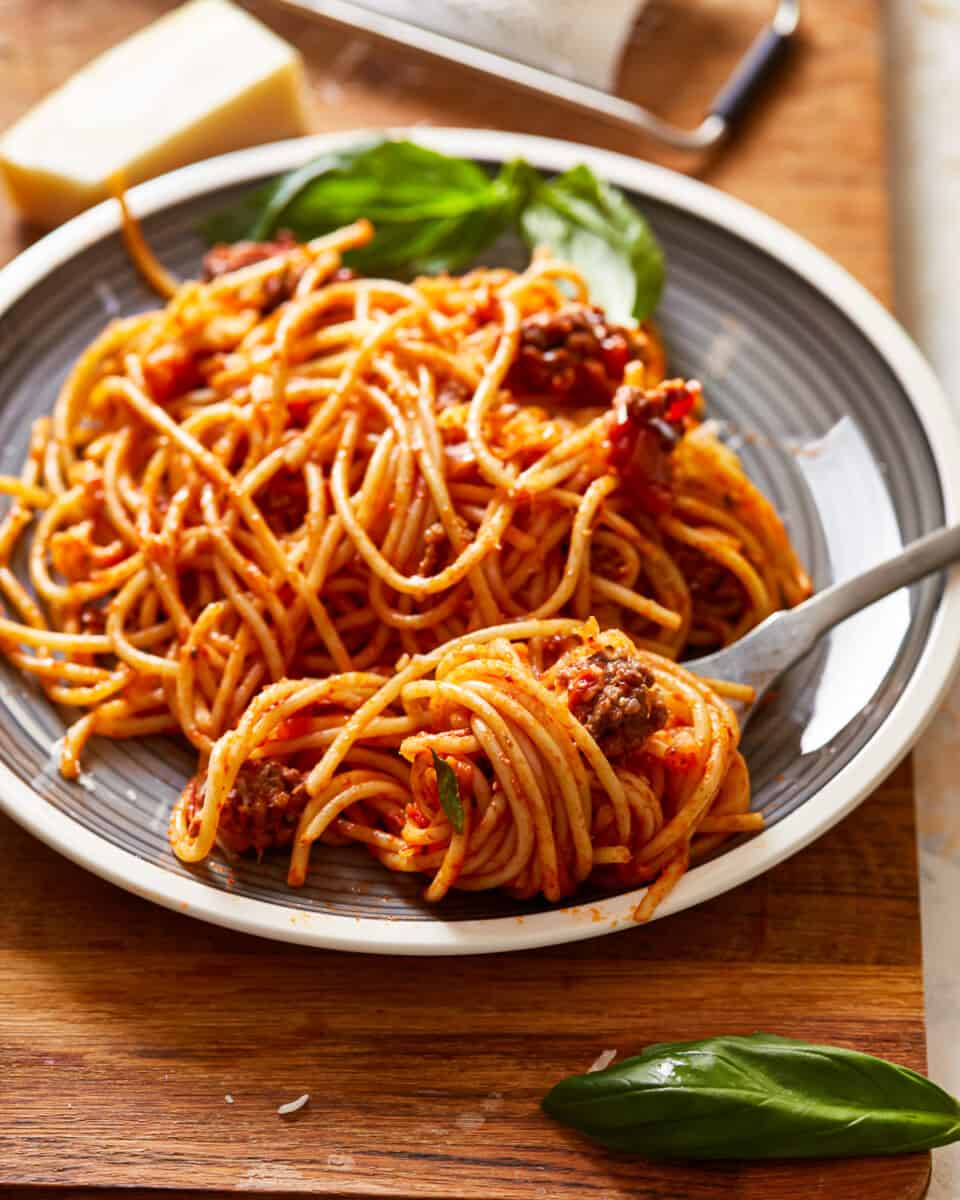 5-Star Review
"Fixed this last night & it made a ton. Sent part of it home with the cleaning lady & her family asked when I'd be making it again. Sooo good!! Even better this afternoon at lunch."
– Tillie
More Spaghetti Recipes We Love