Baked Spaghetti is a cheesy, tasty, easy dinner for any night of the week. This super easy comfort food recipe is something the whole family is sure to love!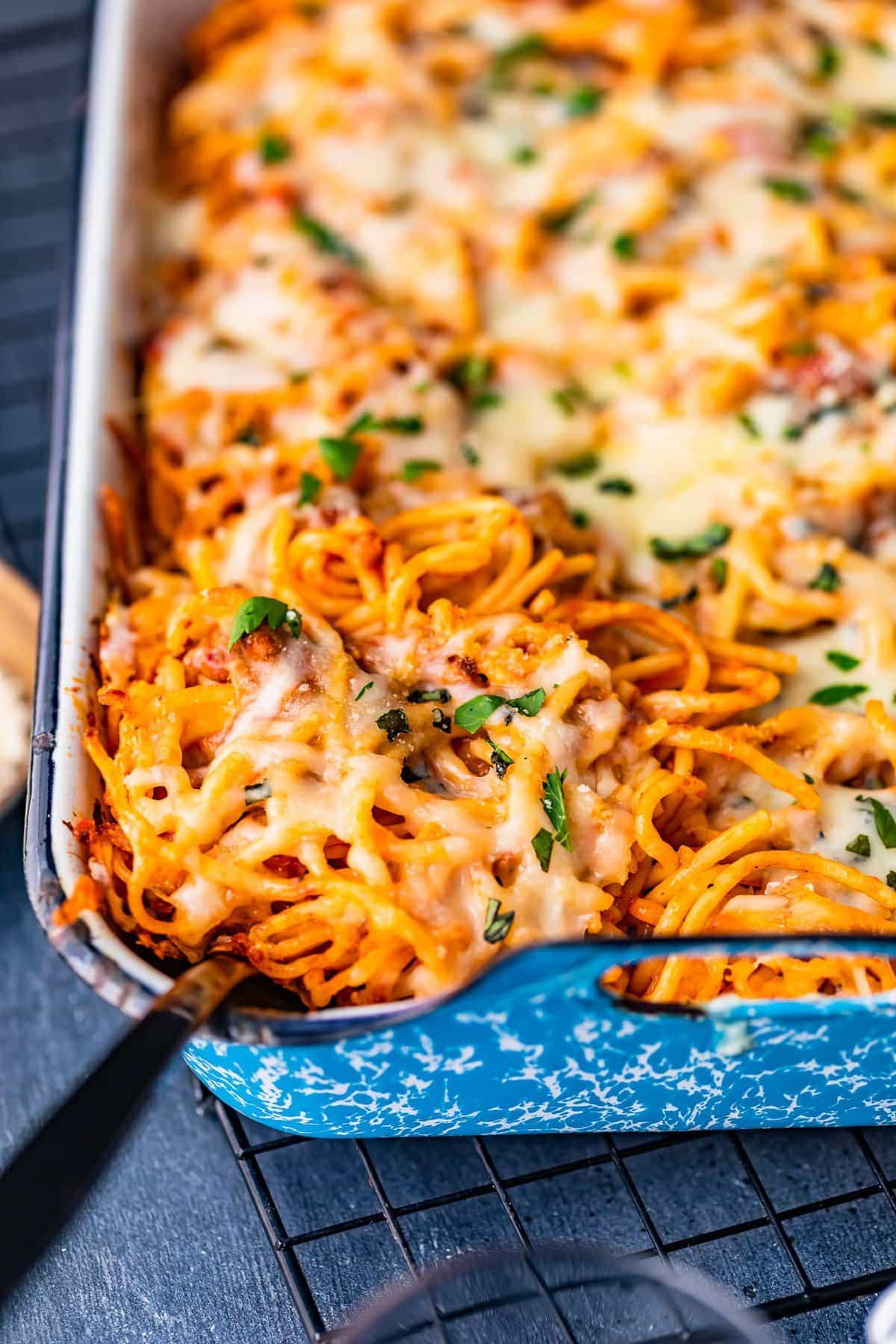 Baked Spaghetti Casserole
Need an easy dinner that everyone will love? I've got you covered with this super easy recipe!
This Baked Spaghetti Recipe is a lifesaver when it comes to dinner. Sure, regular old spaghetti is easy (and always delicious), but add extra cheese, bake it, and now you've got the PERFECT weeknight dinner.
This is such an easy meal to make for the family after work, and it's almost foolproof. Cook the spaghetti, make your sauce mixture, throw it all in a casserole dish, bake, and done. And you know what's even better than one easy dinner? An easy dinner that makes easy leftovers for another meal! It reheats really well, so you can even prepare this ahead of time if needed.
This simple recipe is a favorite around here, because you can never go wrong with cheesy pasta! Make some homemade garlic bread to go with it, and you've got the best Italian dinner ready for the family!
This CHEESY Spaghetti Casserole is an easy and delicious family dinner you can make any night of the week!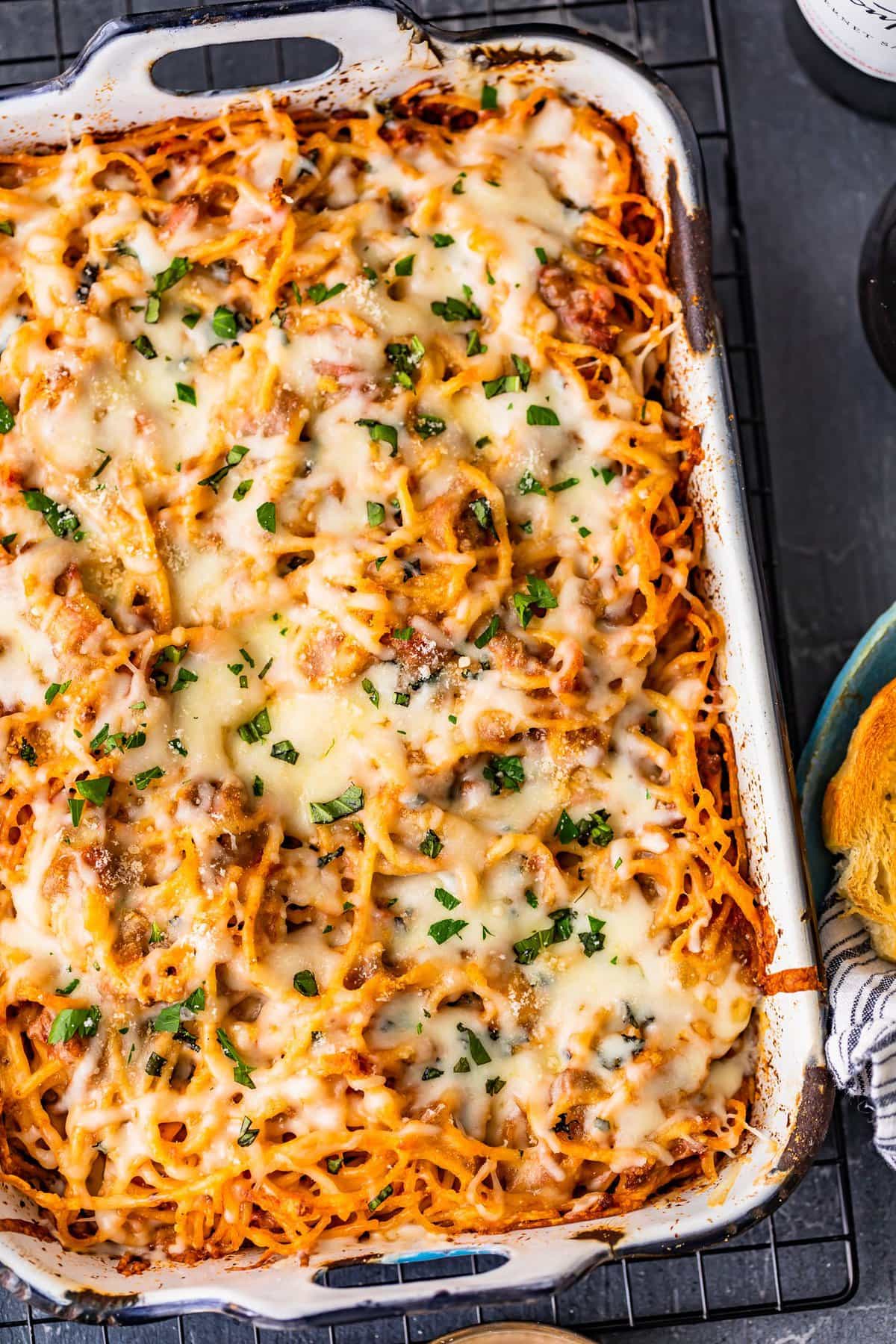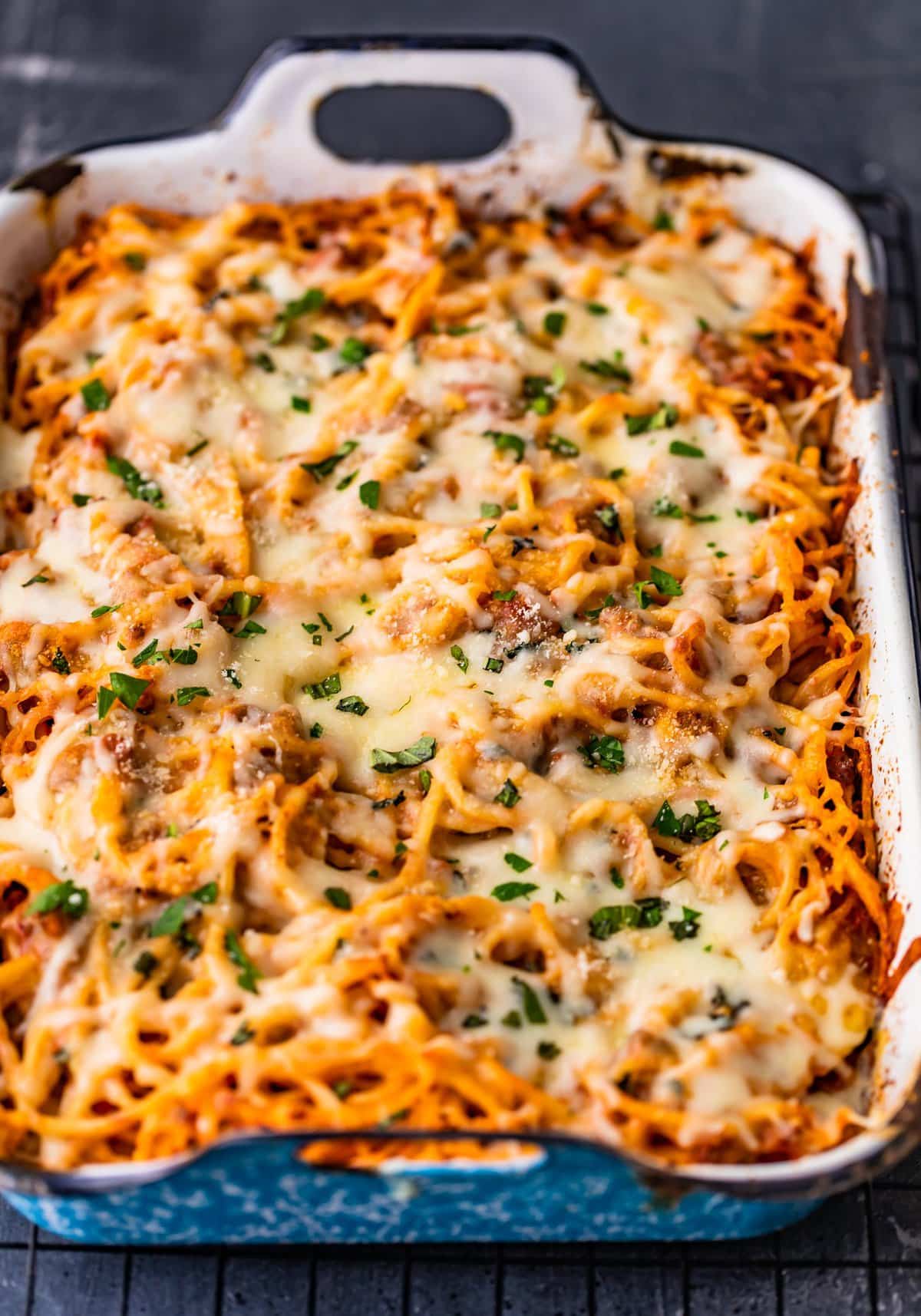 Family Favorite Comfort Food
Cheesy and easy are two of my favorite words when it comes to food, and I love anything that I can make in a pinch for dinner during a chaotic week. So this is exactly the kind of recipe I need. It takes less than an hour to make from start to finish, so you can quickly throw it together when you get home from work.
You can make your own marinara sauce to use in this recipe, or just buy a jar of it from the store to make things extra quick.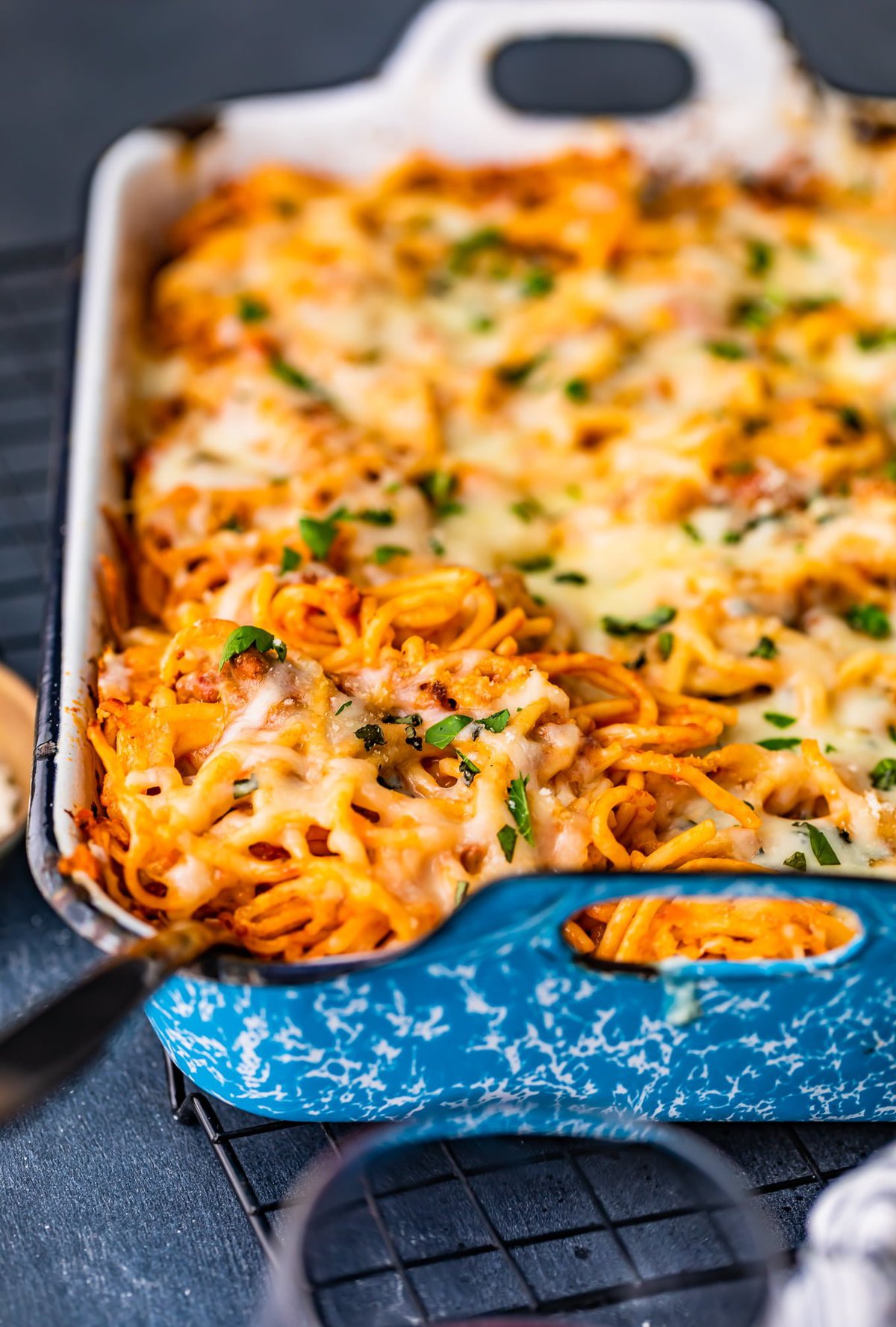 How to Make Baked Spaghetti
Start by cooking the spaghetti according to package instructions.
While the pasta boils, brown the ground beef in a skillet and break it up. Remove the beef and set it aside when it's done.
Add oil and butter to the same skillet, then cook onions about 4-5 minutes. Add in the garlic and cook about 30 seconds.
Next, add the browned beef back into the skillet, along with marinara sauce, basil, and Parmesan cheese. Mix everything to combine, then season with salt and pepper.
Once the spaghetti is cooked, add that into the skillet and stir to fully coat the pasta in the sauce mixture.
Now transfer everything into a baking dish, and sprinkle Parmesan and Mozzarella cheese on top.
Bake at 350°F for 20-30 minutes.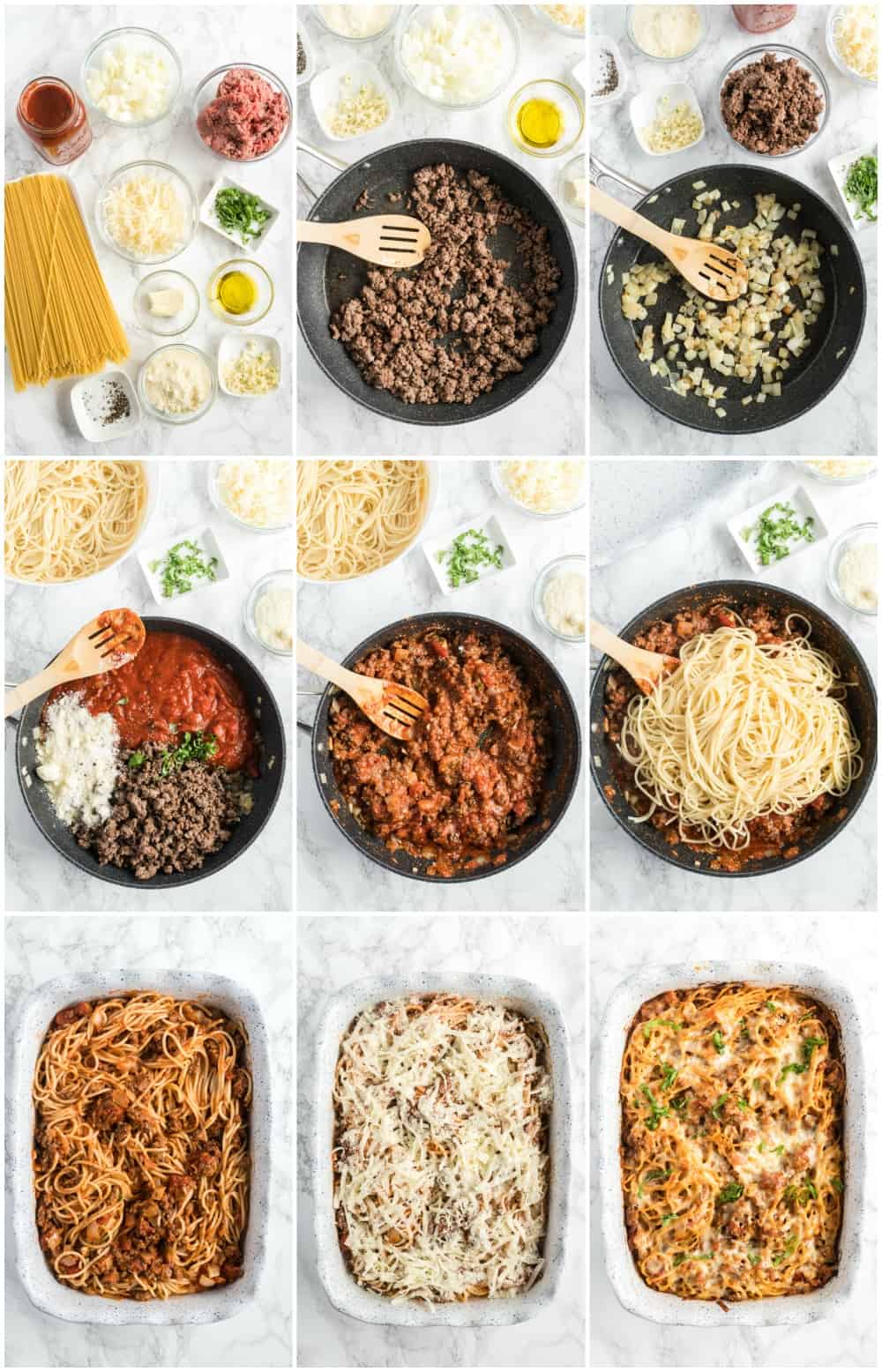 It comes out hot, cheesy, and absolutely delicious! This baked spaghetti keeps really well in the refrigerator, and reheats like a dream, which means it's great for leftovers too.
How to Freeze
Baked spaghetti makes the perfect freezer meal for families!
You can prepare it ahead of time, place it in a freezer-safe dish with a tight-fitting lid, and freeze for 2-3 months.
To reheat, let it thaw in the refrigerator, then place in the oven as instructed to heat through fully.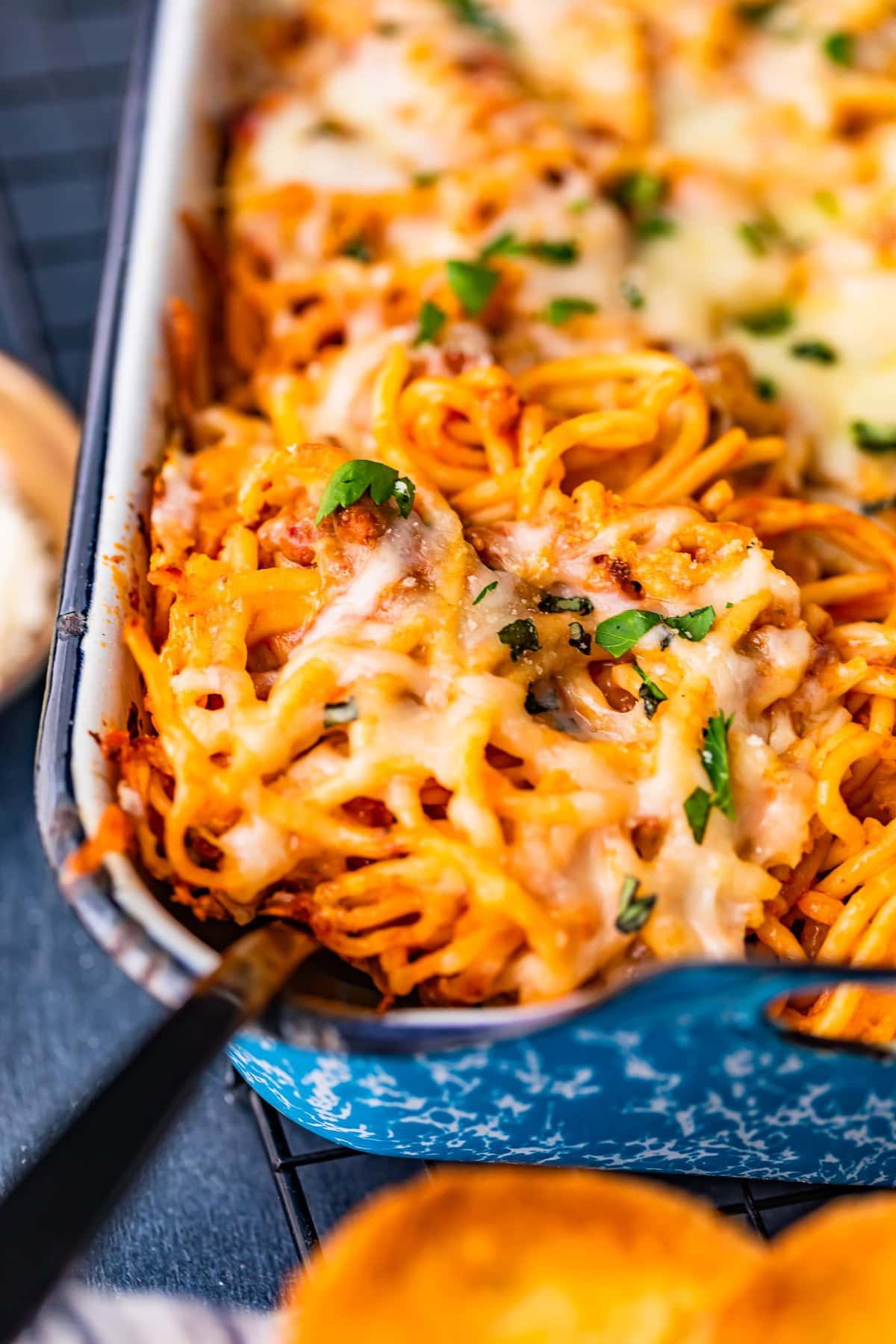 Make this cheesy baked pasta for dinner tonight and you'll have one happy family!
See the recipe card for details on how to make Baked Spaghetti. Enjoy!
Make sure you try these other delicious Italian recipes: