This focaccia recipe really is the best! It's much easier to make than you think with little prep time, and the toppings you can place on the focaccia is never ending! Perfect for an appetizer or side dish and great for sandwiches and paninis.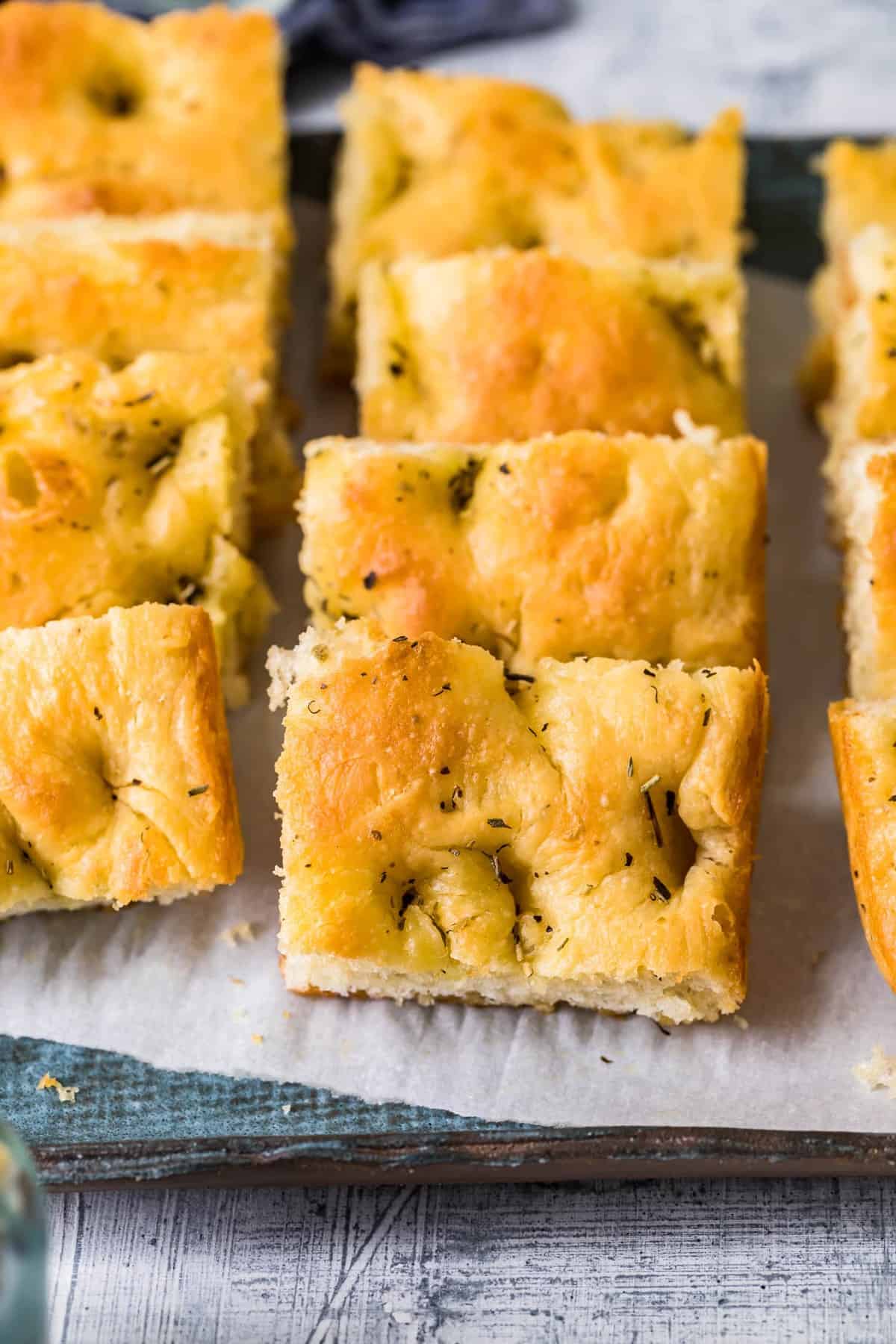 Focaccia is one of my favorite breads to make at home. It's really straight forward to make and is so packed full of flavor. There's nothing quite like the smell of freshly baked bread!
How to Make The Best Focaccia Recipe
Spray a 9×13-inch pan with nonstick spray. Pour 4 tablespoons really good extra virgin olive oil in the bottom of the pan. (*Note: The spray keeps the bread from sticking and the olive oil will give the bottom crust & sides great crunch and flavor.)

Combine hot water, 1¼ ounces olive oil, kosher salt, bread flour, instant yeast and ½ teaspoon Herbs de Provence in the bowl of an electric mixer fitted with the paddle attachment. Beat at low speed until most of the flour has incorporated, then turn the speed to medium-high. Beat for 1 minute.

Transfer the dough to the prepared pan. Rub your fingers with olive oil and use them to push the dough to the edges of the pan and to make indentations in the dough. Cover the pan with plastic wrap, place it in a warm, draft-free spot, and let it rise (double its height for 1 hour. The dough should be puffy but stable.

While the dough is rising, heat oven to 400°F.

After the dough has risen, brush the dough with 2 tablespoons melted butter and sprinkle the top, lightly and evenly, with flaked sea salt and the remaining 1 teaspoon Herbs de Provence. Once again, use your fingers to make indentations across the dough and from the surface of the dough to the bottom.

Bake 20 minutes.

Brush the top with the remaining 2 tablespoons of melted unsalted butter and very lightly sprinkle the top with flaked sea salt.

Rotate the pan front to back and bake another 15-20 minutes or until the bread is golden brown on the bottom and the top.

Transfer to a wire rack and cool for 5 minutes. After 5 minutes, turn the bread out of the pan onto the wire rack to finish cooling.

If there are leftovers from this focaccia recipe, store in an airtight container. Although, the Focaccia is still very good the next day when loosely wrapped in aluminum foil and reheated in a 350°F oven for about 10-15 minutes.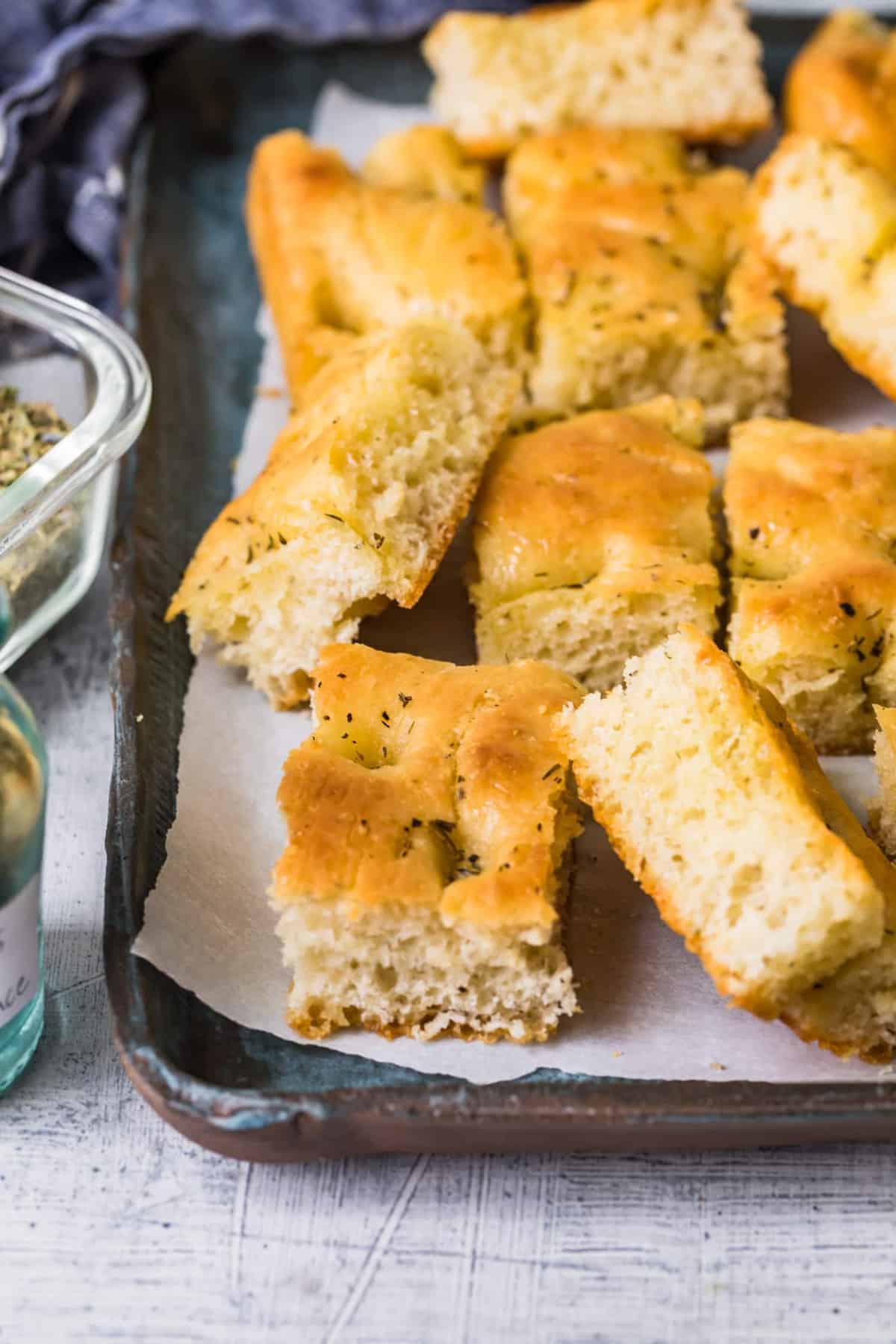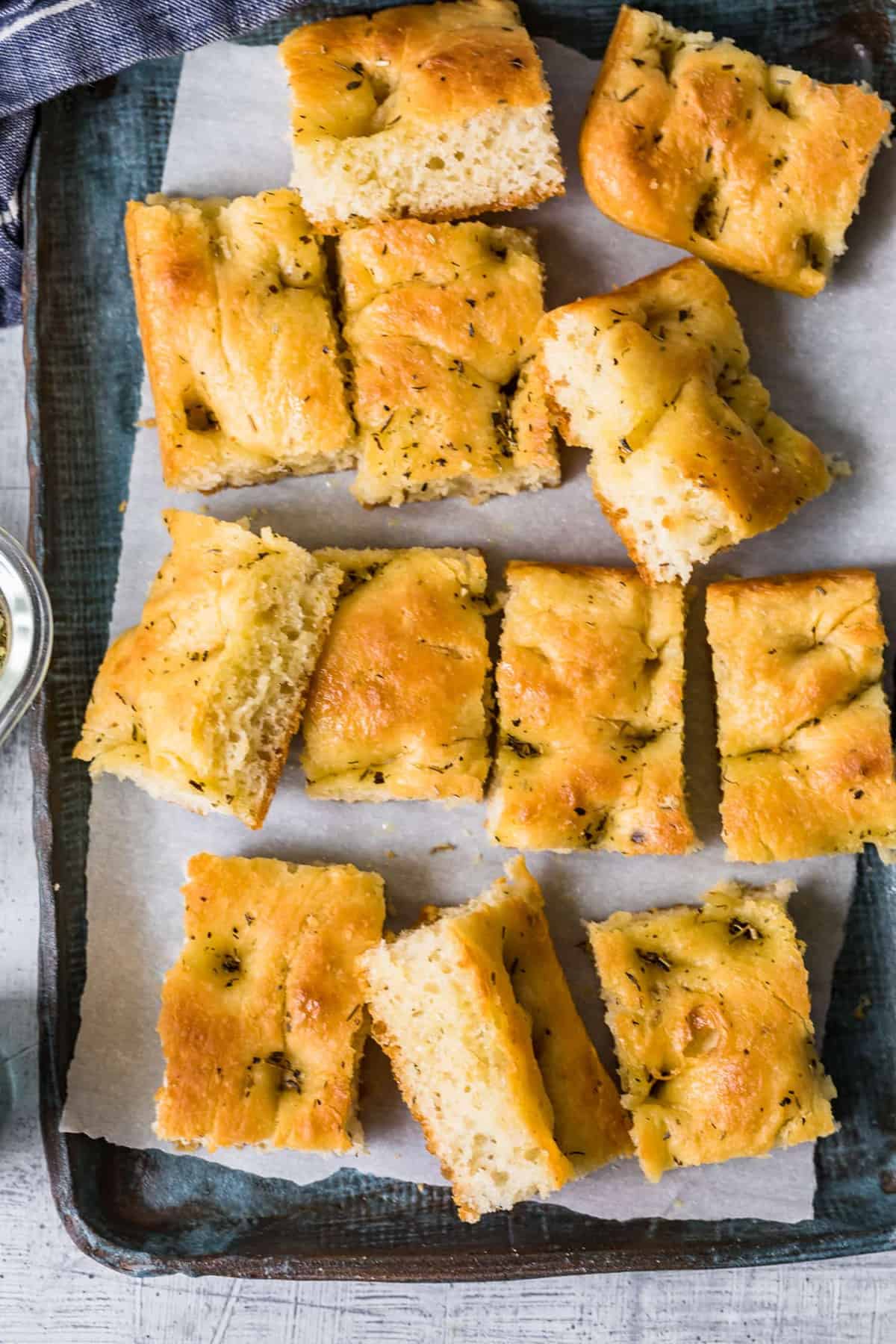 What is Focaccia?
Focaccia is a traditional Italian bread that has a similar texture to pizza dough. It is a flatbread that is oven-baked and it is very flavorful. It is made with bread flour which is high in gluten and brushed with a generous amount of olive oil.
How do you flavor the best focaccia bread recipe?
Foccacia will take on the flavor of the olive oil, so use a very good, deeply flavored olive oil. This is a basic focaccia recipe that is topped with salt and herbs de Provence, but you can use a variety of toppings for this recipe. Why not experiment and try:
cheeses
onions
cranberries
rosemary
sun-dried tomatoes
The list goes on and on!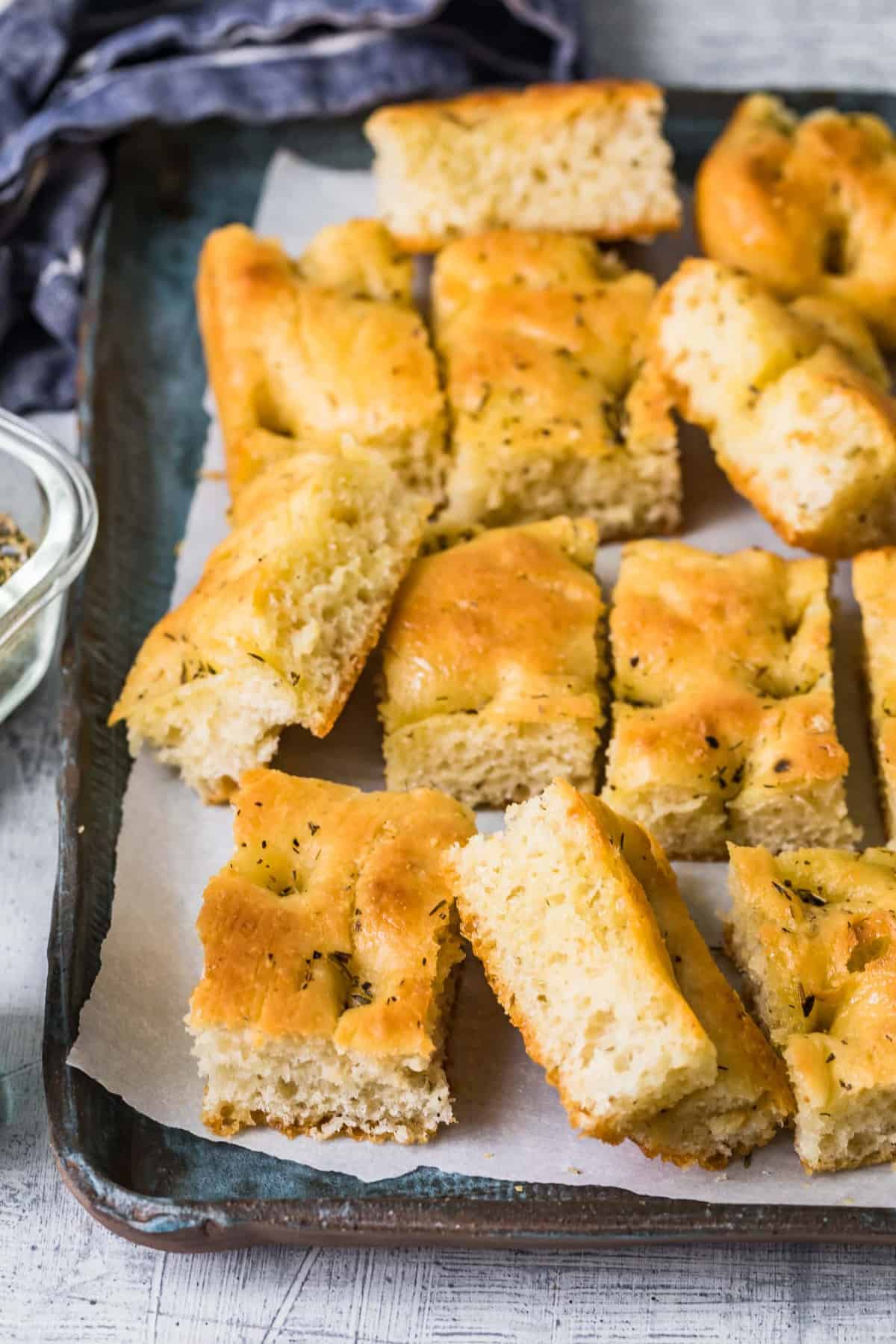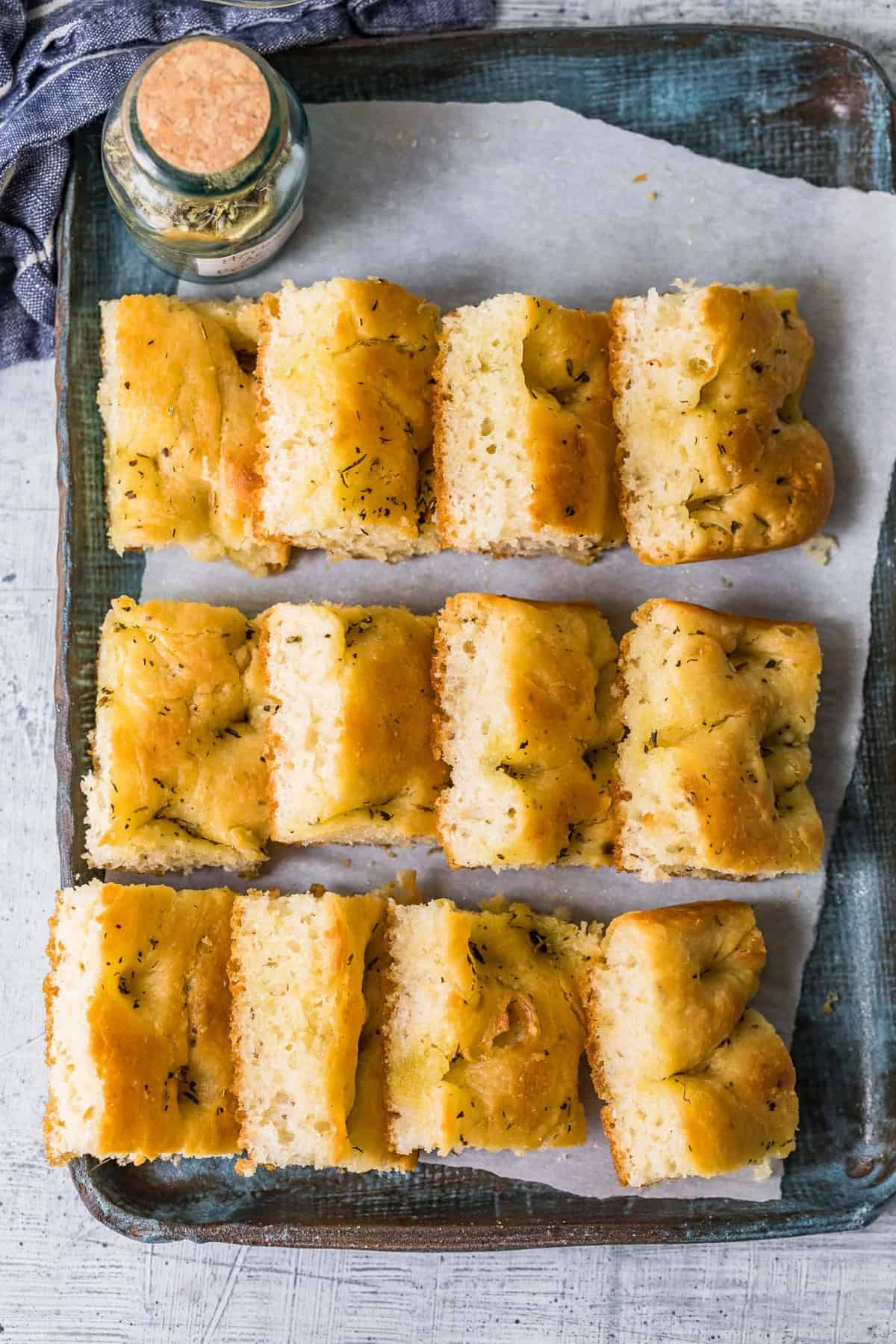 What do you serve with The Best Focaccia Bread?
This focaccia recipe is so flavorful and delicious, it's perfect as part of a bread basket appetizer served with some good quality olive oil, balsamic vinegar, and salt. It's a great sandwich bread too, simply cut a piece in half and fill with cheeses, meats, and salad – you can grill them too if you wish. This bread makes a great side for Italian soups and main courses, try pairing it with:
How long does focaccia bread keep fresh?
This bread is best served within a few hours of it coming out of the oven, the sooner the better! It will keep well in an airtight container at room temperature for two days, and you can reheat it in the oven to serve if you like. You can also freeze this focaccia recipe for up to a month.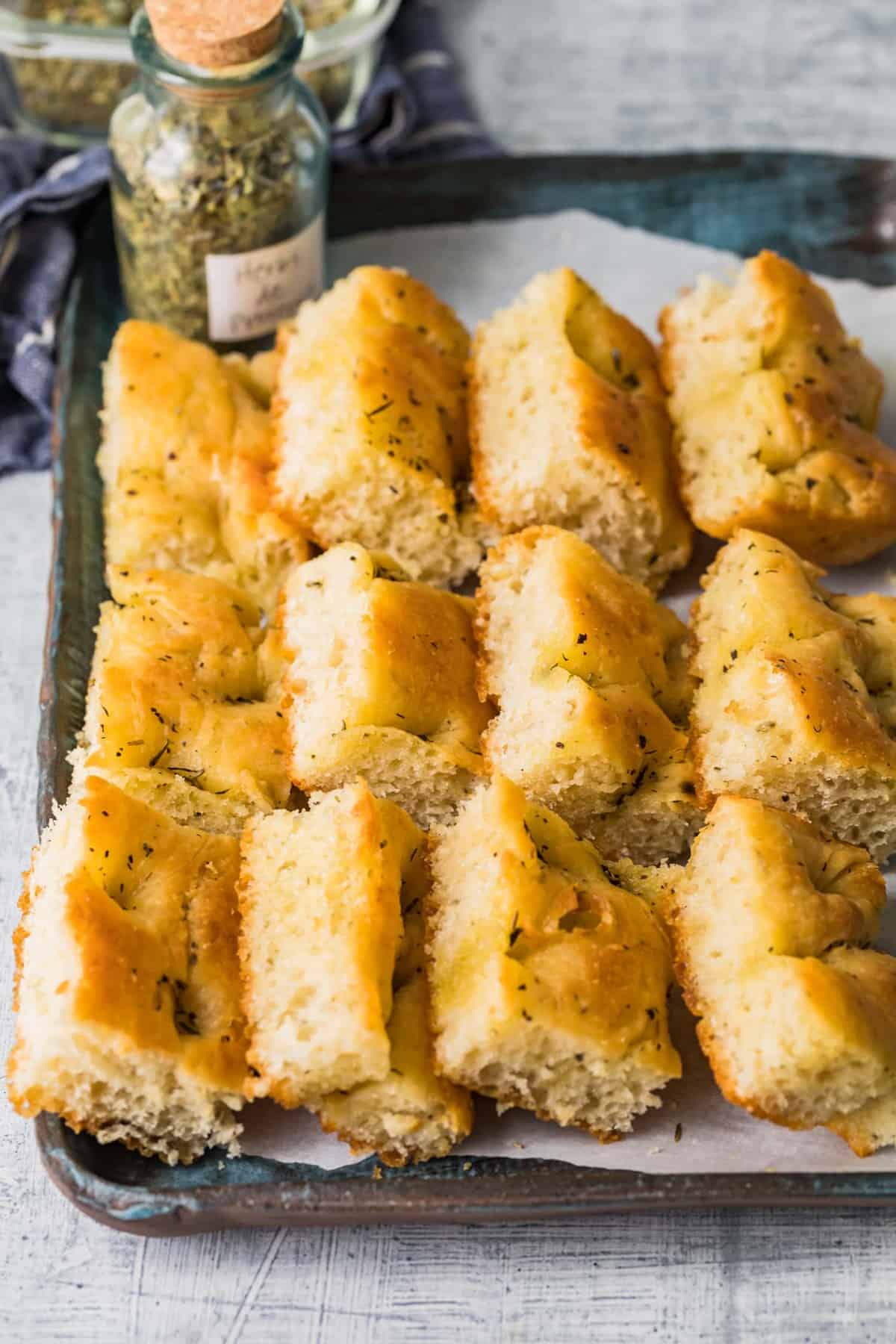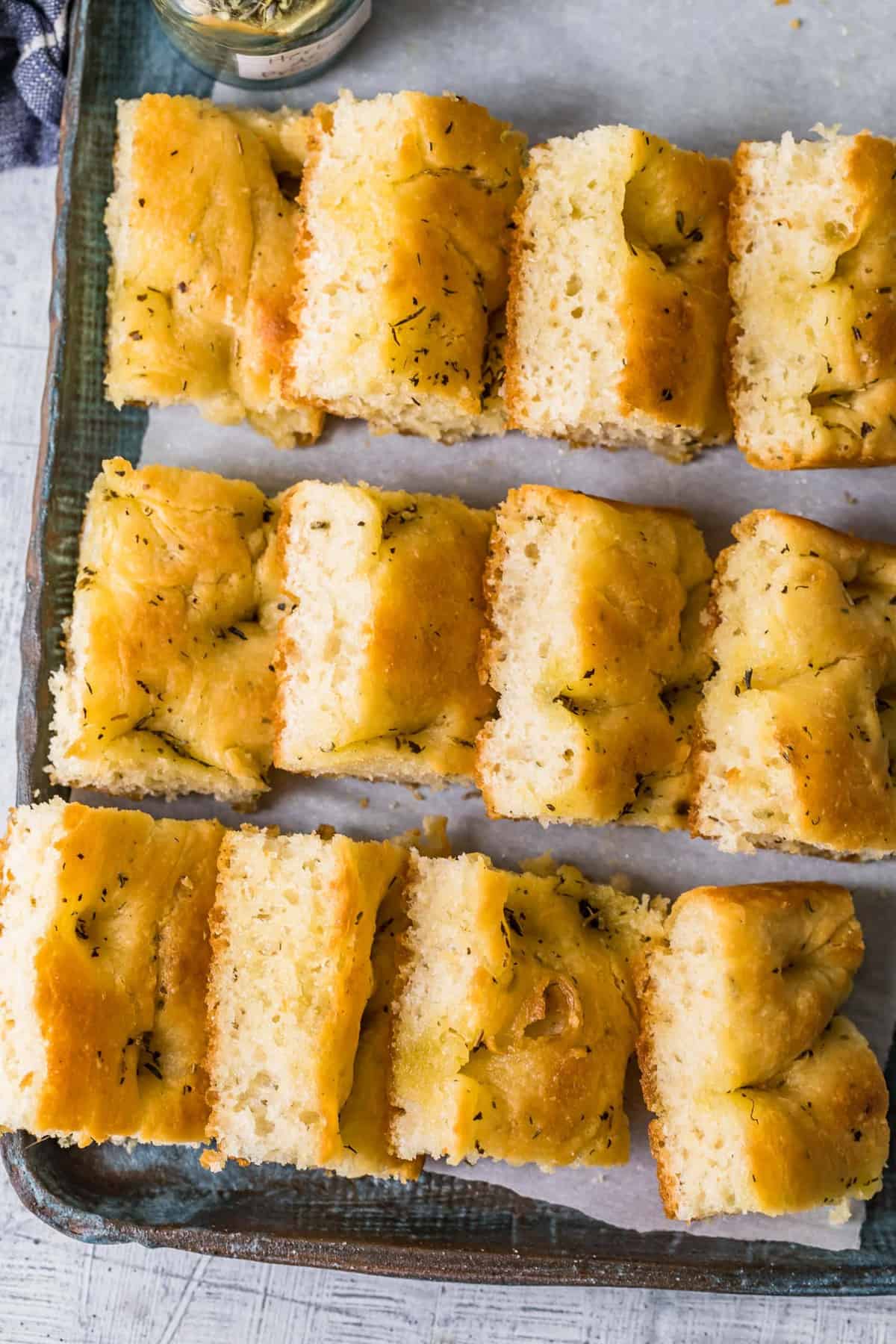 Top Tips to Make The Best Focaccia Recipe
Use the best quality olive oil for this recipe, one that has a rich flavor.
Be sure to let the dough rise for an hour.
If you don't have an electric mixer, you can mix the dough by hand.
Experiment with lots of different toppings to find your favorite!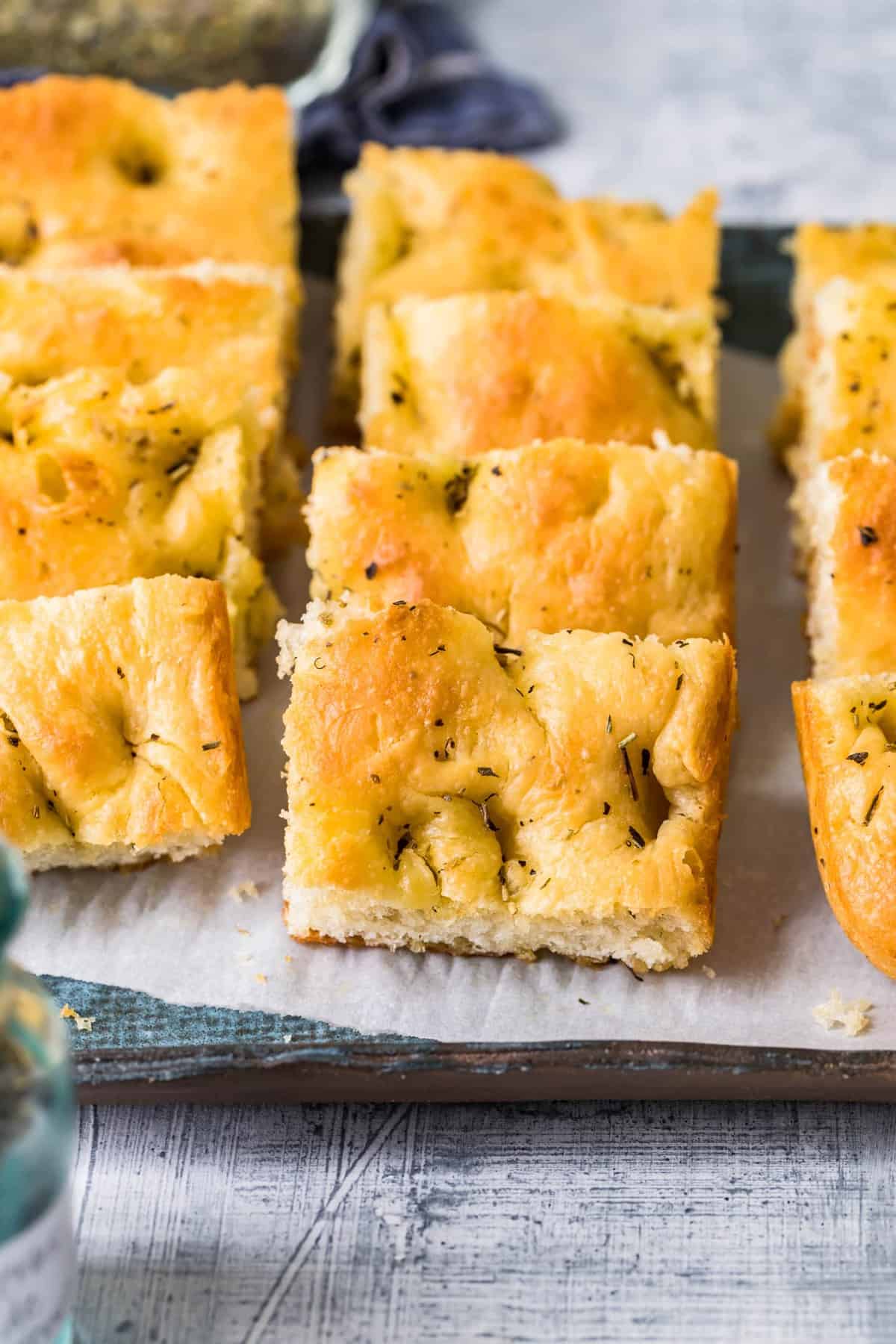 Be sure to check out these other delicious homemade bread recipes!