No Knead Bread is an easy way to make your sandwiches extra fresh and extra tasty! This easy homemade bread recipe is simple enough to make every week. It's perfect for sandwiches, toast, or anything else you need bread for!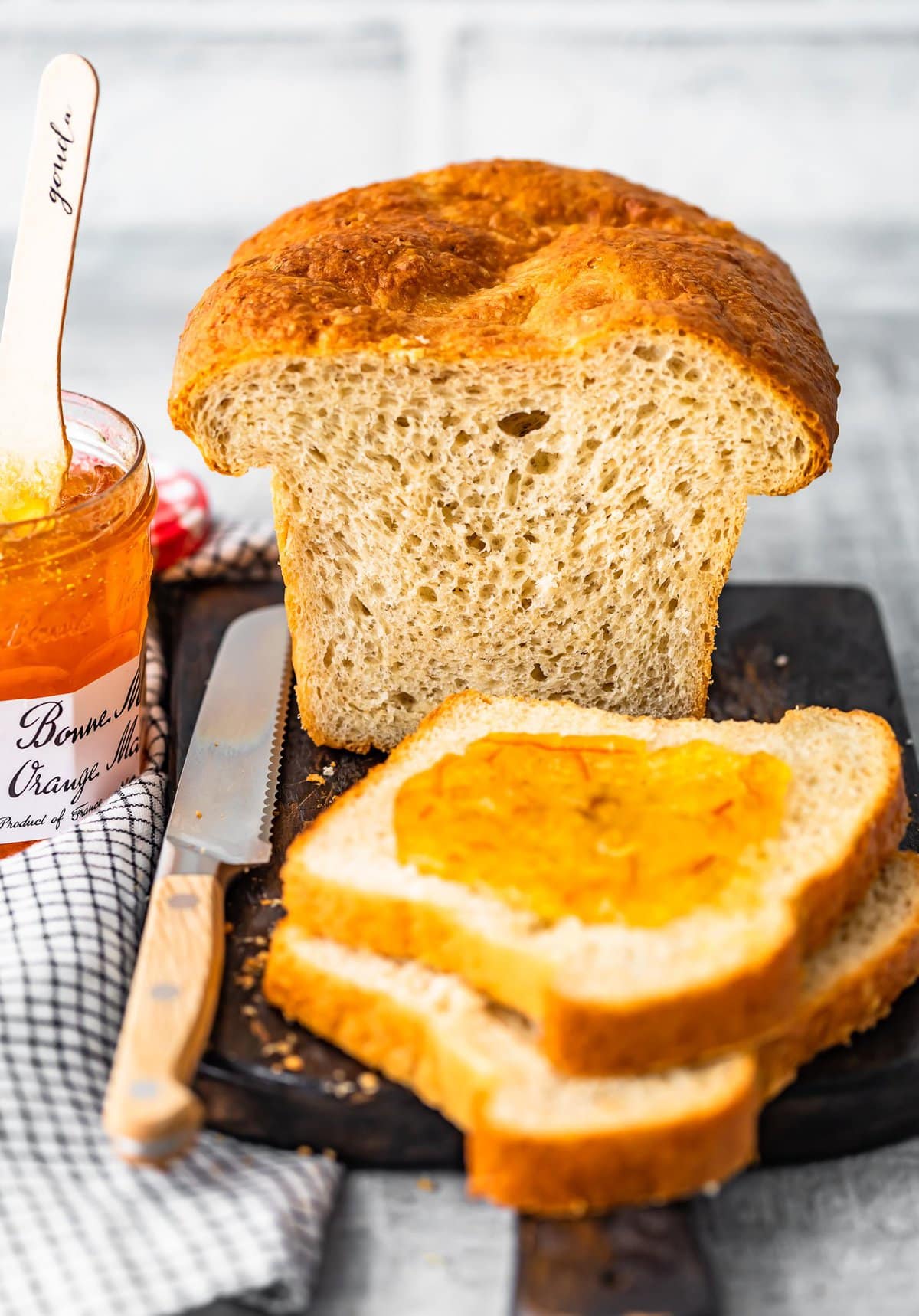 What's in this No Knead Bread Recipe?
No knead bread is the best way to make sure you have fresh, delicious bread for all your favorite sandwiches. Even better, it means you know what's in your bread (i.e. no preservatives or weird stuff), so you can feel good about eating it.
Bread Flour: Has a higher protein content than all-purpose flour, leading to a denser, chewier loaf.
Whole-Wheat Flour: This type of flour contains the germ and bran, which are rich in minerals and dietary fiber. It also adds a great nutty flavor to the bread.
Yeast: Helps the bread rise. You can use instant or rapid-rise yeast in this recipe, but not active dry yeast.
Water: Adds moisture to the bread.
Unsalted Butter: Enriches the bread, leading to a higher rise, a crisper crust, and a longer shelf life.
Honey: Adds a touch of sweetness to the bread and helps feed the yeast.
Kosher Salt: Enhances the natural flavor of the bread.
Egg: Helps the bread develop a shiny crust!
Pro Tip: You can make this bread with all bread flour (no whole-wheat). Start with less water and add gradually until you reach the desired consistency.
Variations on No-Knead Bread
This bread is so easy to change up! You can use different flours in place of the whole wheat, like spelt or einkorn flour. These flours will swap out one-to-one easily in this recipe. You can also add mix-ins, like raisins, herbs, or cheese!
For an even softer-textured bread, try swapping the water for whole milk!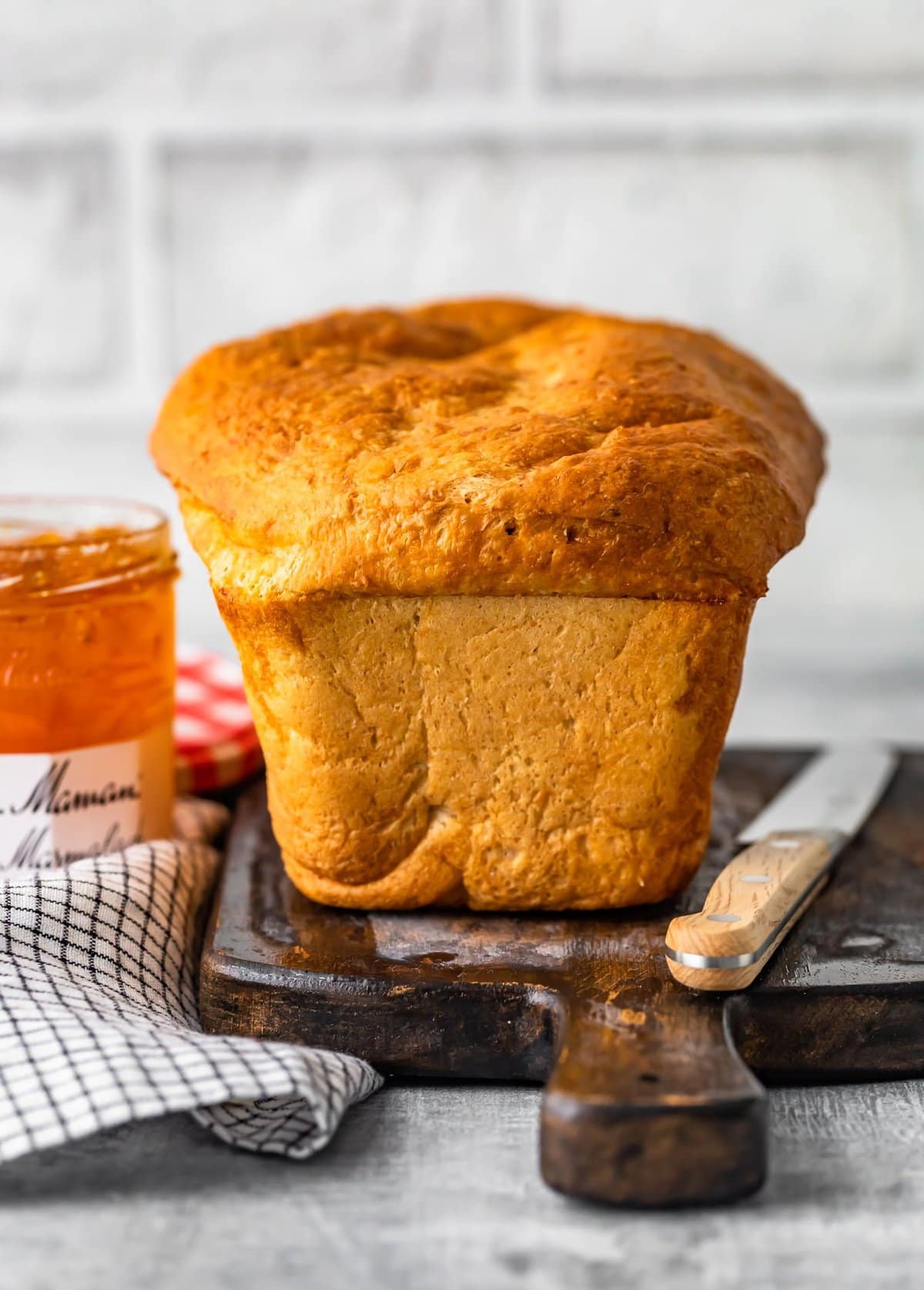 How is sandwich bread different from normal bread?
The only difference is in the shape. Sandwich bread is baked in a loaf pan, creating that signature squared bottom!
What is the point of no-knead bread?
This is a method where fermentation (or rise time) is used instead of kneading to form gluten. By using instant yeast, we are able to cut down the fermentation time, leading to a moist, chewy loaf in just about 2 hours!
Is no-knead bread as good as regular bread?
I sure think so! Bread can be intimidating to make, and removing complicated kneading from the equation made it a lot easier for me to nail this recipe!
What are the pros and cons of no-knead bread?
Generally speaking, no-knead bread is only a problem because of the space the dough takes up in the fridge. In this recipe, we skip the fridge, so I don't really think there are any cons. Beautiful bread in just 2 hours… what more could you want?!
Can I make this bread without a load pan?
Sure! It'll have a much more rustic shape and definitely won't rise as high, but you can bake it directly on a baking sheet.
What is the trick to getting bread out of the pan?
Grease the pan! Whether it's nonstick spray, oil, or butter, make sure to grease that sucker up well! Let the bread cool for 5-10 minutes, then invert it, and it should release easily from the pan. If it's sticking a bit, run a dull butter knife around the sides to release it from the pan.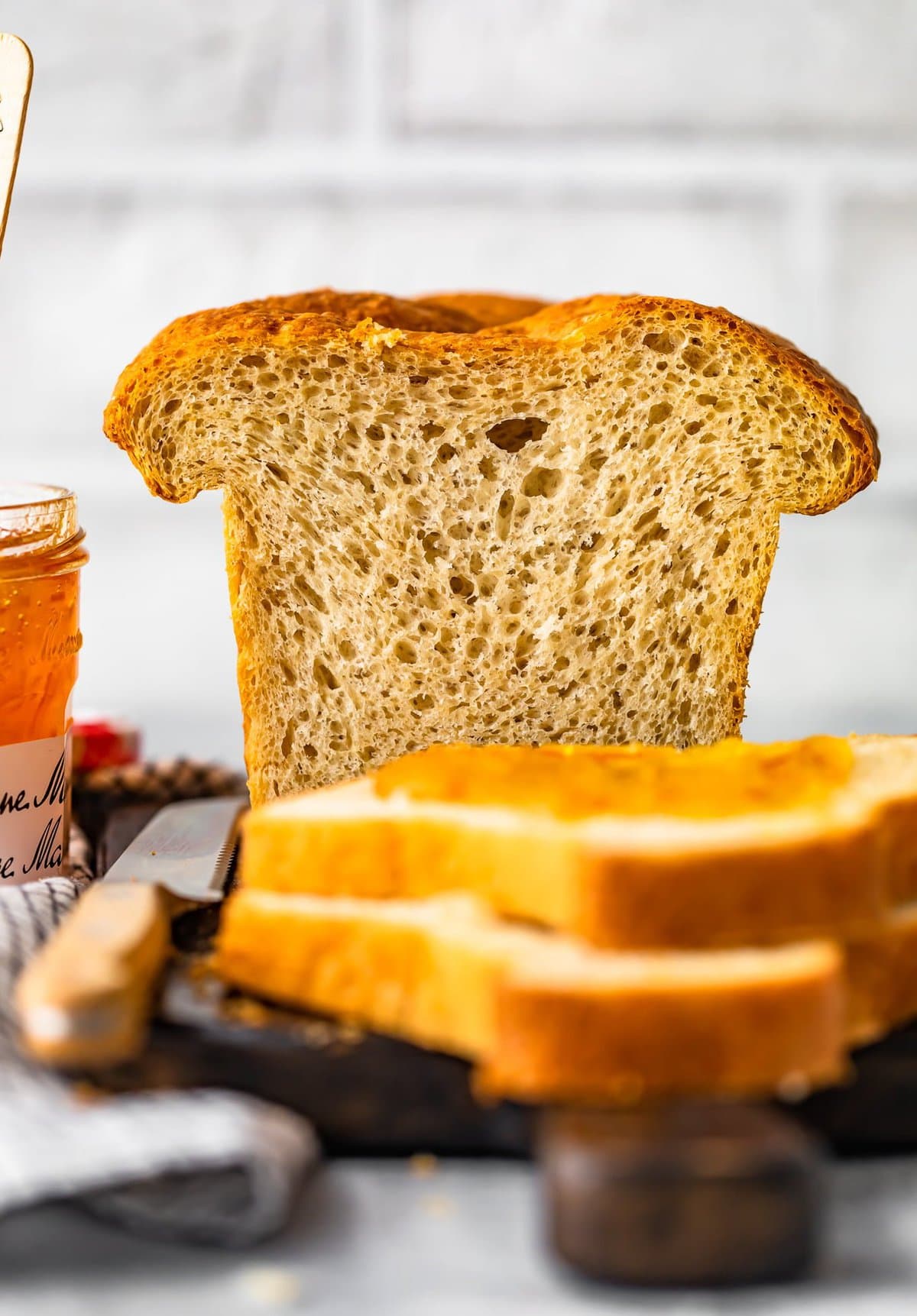 How to Store and Reheat
This no knead bread will keep at room temperature for 2 days, although it is best eaten the day of baking. Store it in an airtight container or Ziplock bag in a dry place. Enjoy this bread at room temperature, or toast slices in a toaster oven until they reach the desired level of brown.
How to Freeze
If you're not planning to eat the bread super quickly, you can slice it up and freeze it in a Ziplock bag for up to 1 month. Toast individual slices directly from frozen!
Serving Suggestions
Now that you've got the homemade bread, you can make all the tasty sandwiches! I love using this bread to make egg salad sandwiches, BLTs, chicken salad sandwiches, grilled cheese, patty melts, cucumber sandwiches, garlic butter sandwich skewers, or grilled chicken cordon bleu sandwiches.
It also works great for making garlic bread, Panzanella salad, french toast, bread pudding, or homemade stuffing! And if it's looking a bit stale, don't fret! You can still use it to make garlic croutons!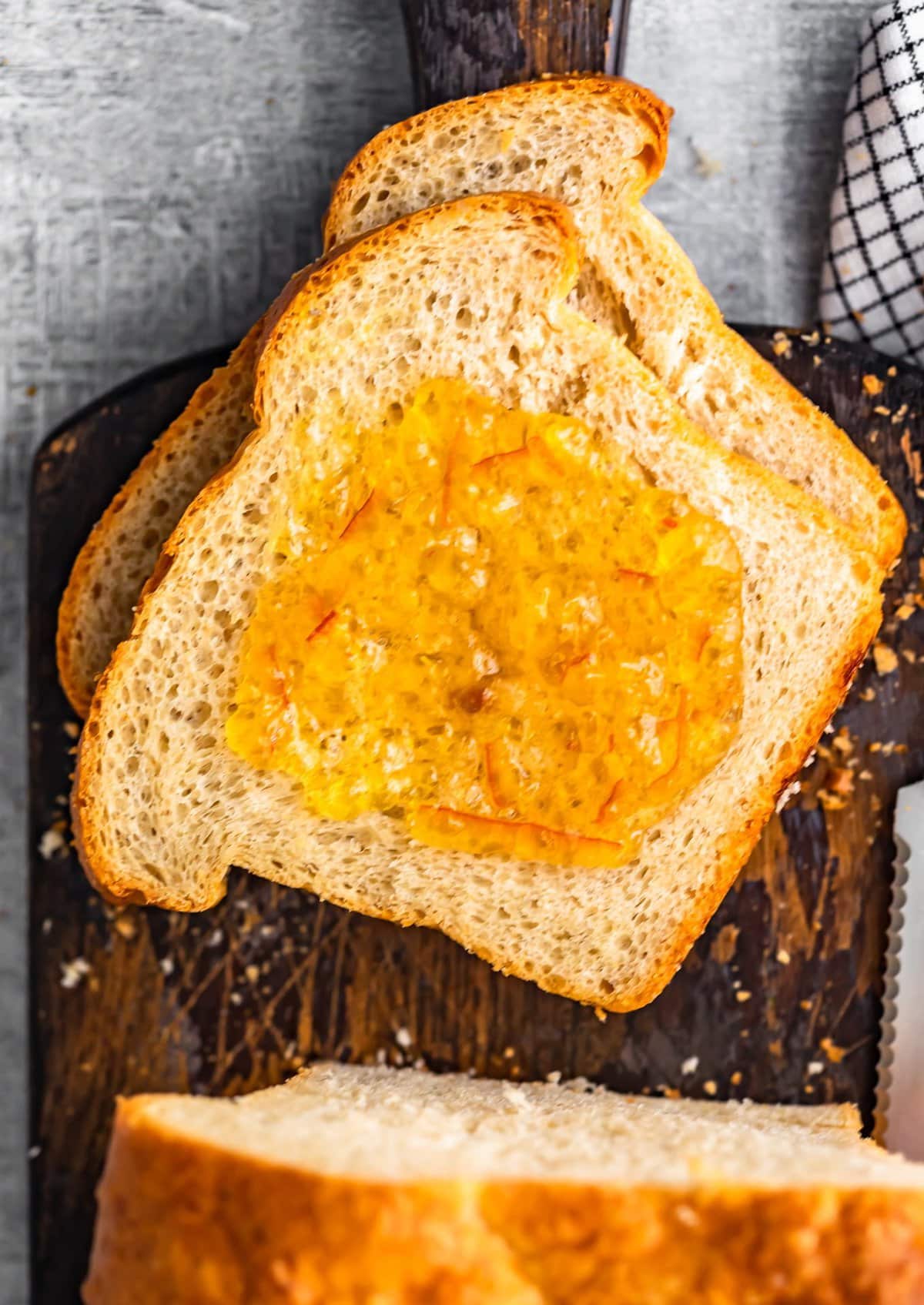 5-Star Review
"This turned out soo good! I may never buy bread again." – Aimee Shugarman
More Homemade Bread Recipes We Love