This creamy Pasta Primavera is made with cream cheese alfredo sauce and baked to perfection! This baked alfredo with fresh veggies is one of our favorite baked pasta dishes, and it's so easy. The perfect family friendly meal!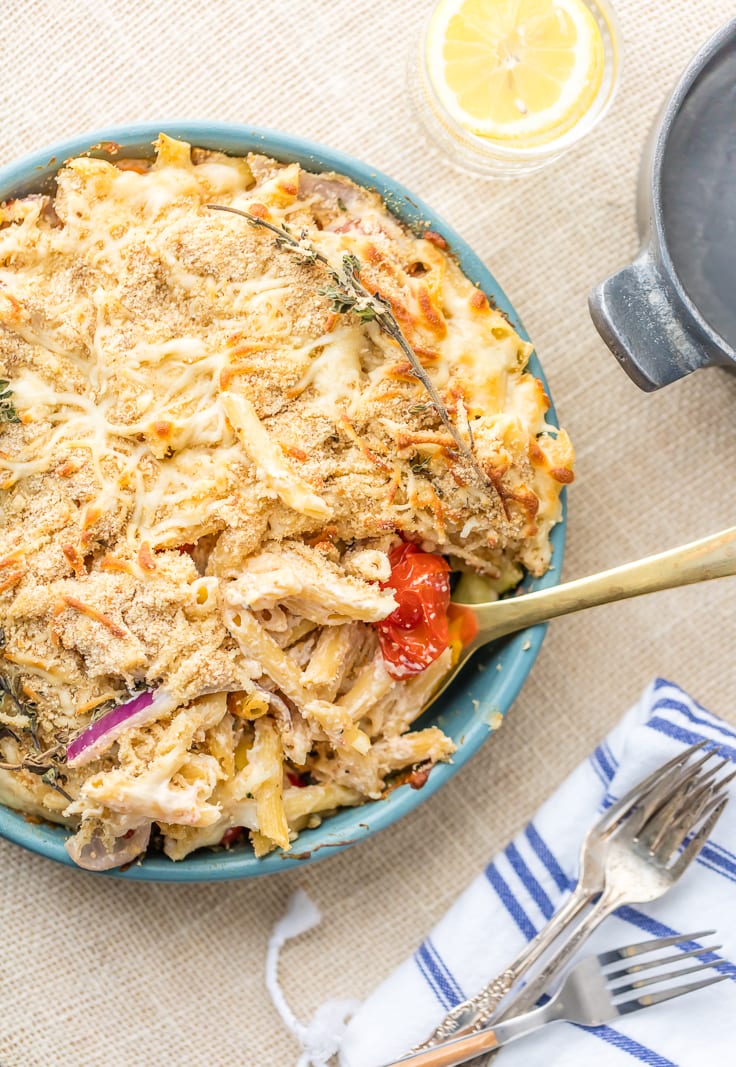 Creamy Pasta Primavera
This pasta primavera recipe is our absolute favorite. It's extra creamy with this amazing cream cheese alfredo sauce, and baked together with vegetables. Yum!
This recipe is one of our favorite baked pasta dishes! It's essential for those busy weeknights, those date nights in, and everything in between. Creamy Pasta Primavera is one of those staple recipes that will keep your family coming back for more, asking for it again and again. And you'll be more than happy to oblige!
The secret to this dish? It's that creamy cheese alfredo sauce! Pasta and vegetables is a classic combo, but making it super creamy with that alfredo is what really wins the game. Baking this pasta dish makes it extra easy to make, coming out like a casserole (my favorite easy dinners).
Customize this baked pasta primavera with your favorite veggies (or add meat for protein), and you're only minutes away from a delicious dinner everyone will LOVE and ask for again. Perfection!
Make this creamy baked pasta dish for an instant family favorite. Easy, creamy, and delicious!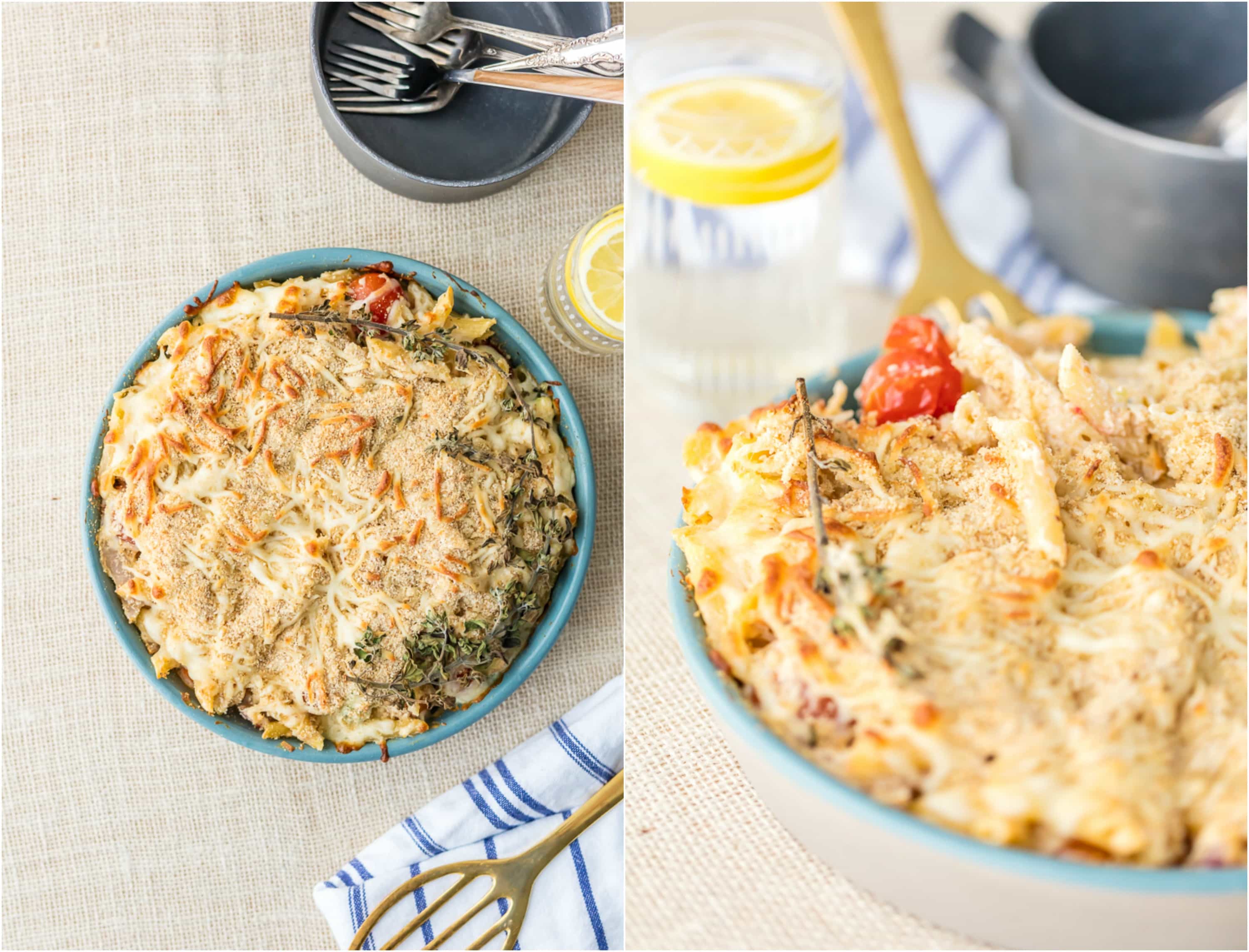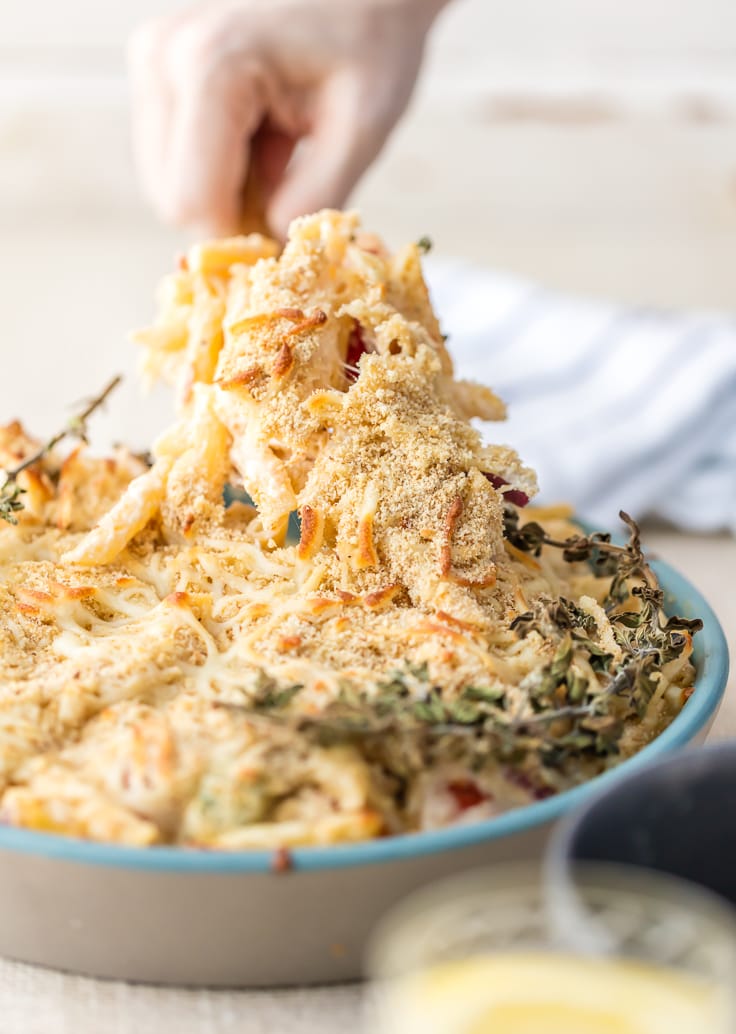 Why is it called pasta primavera?
In Italian, "primavera" means "springtime". In recipes (like this baked pasta), it refers to the use of fresh vegetables. The idea is to use whatever fresh veggies you have. So basically, pasta primavera is just pasta with vegetables.
Of course I turned it into a creamy baked version with a cream cheese pasta sauce…because why not?
What vegetables do you use in primavera pasta?
The great thing about this recipe is that you can use any vegetables you have, or use your favorites. Traditionally, it might have been served with "spring" vegetables, but we can switch it up. It's a great dish to encourage us to use in-season produce!
I used onions, summer squash, and tomatoes. But you could also use peas, asparagus, carrots, broccoli, peppers, or anything else you like.
Creamy Baked Alfredo
To me, there's no better comfort food than creamy pasta primavera. It fills the soul and the stomach! It's such a pretty dish, loaded with all the best vegetables and of course TONS of cheese. Oh and Cream Cheese Alfredo! Can you imagine a more inviting meal? Oh and did I mention that it's easy? SUPER EASY? Win win.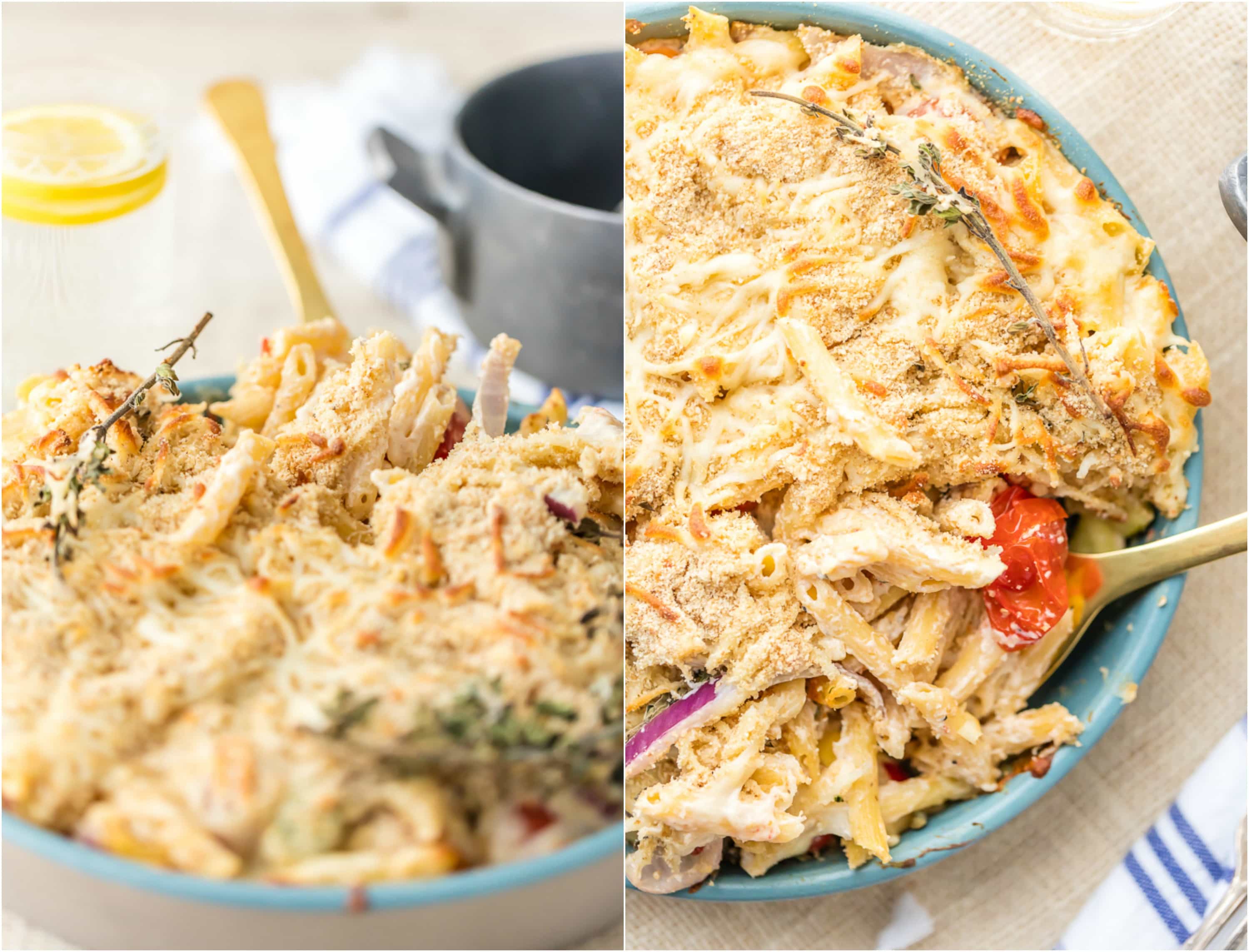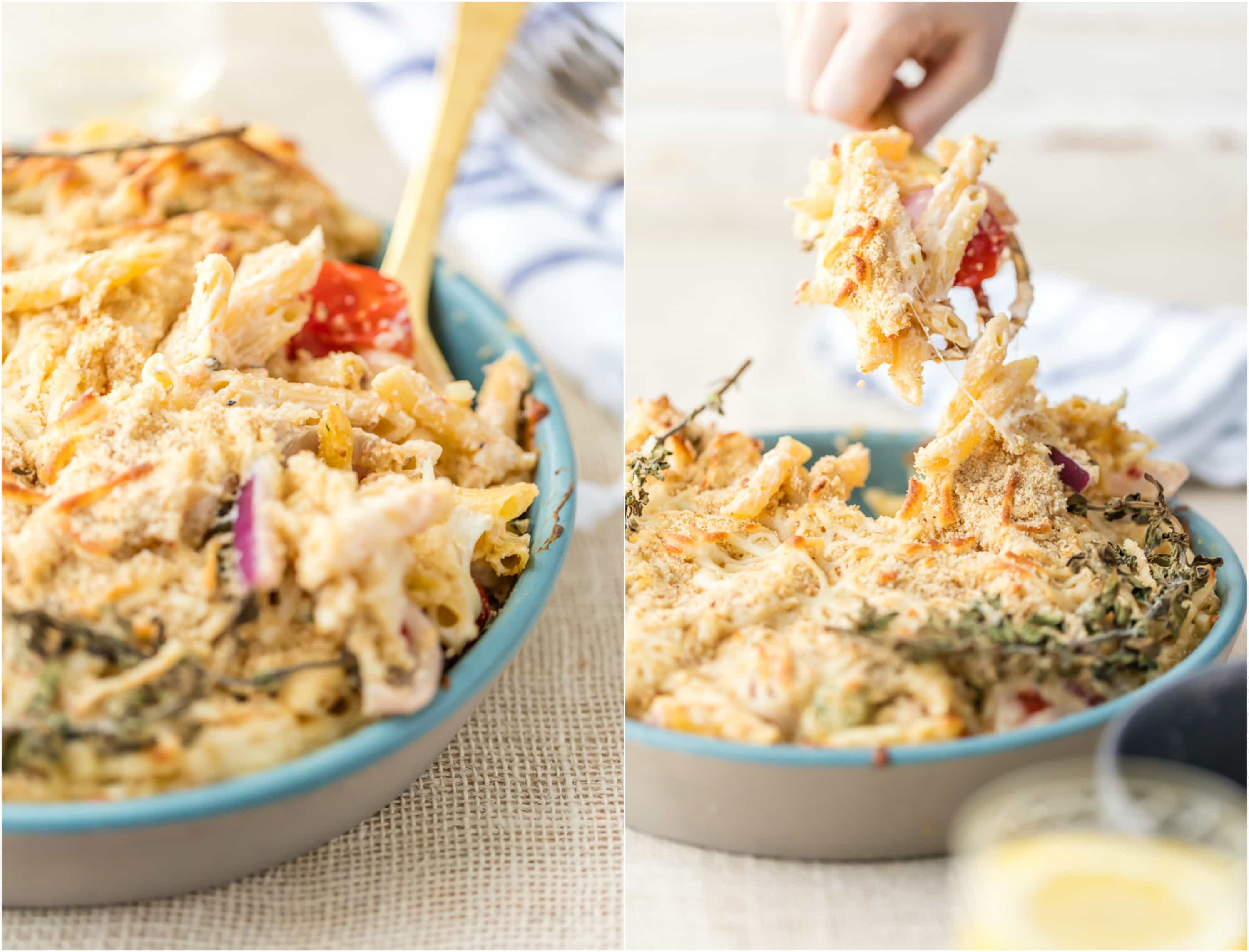 Cream Cheese Alfredo Sauce
I can't get enough of this Baked Pasta Primavera with Cream Cheese Alfredo. Maybe it's my spirit food? This sauce is just SO creamy, and it's really easy to make. It actually just makes a great sauce for any pasta dish, so you could actually make it for another dish too. You'll want to eat it ALL the time.
This sauce is made with butter, milk, flour, parmesan cheese, and of course CREAM CHEESE. All you have to do is heat and combine everything on the stove top, let it thicken up, and you're good to go.
How to Make Pasta Primavera with Alfredo Sauce
Preheat oven to 400°F and grease a 9×13 (or large round) baking dish.

In a large skillet, heat the oil over medium/high heat. Add the onion and garlic and cook until fragrant and translucent, about 3-4 minutes.

Add the squash and zucchini, seasoning with salt and pepper to taste. Saute until the veggies are soft and beginning to brown, about 6 minutes.

Add in the tomatoes and cook for just 2-3 minutes, until heated through but still retaining their shape.

Transfer all the veggies to a large bowl and stir in the cooked pasta. Set aside.

In a small saucepan, heat the butter over medium heat. Once melted, stir in the flour and cook, stirring, for 2 minutes. Slowly add in the milk and bring to a boil, then reduce immediately to a simmer. Stir often for 5 minutes or until thickened.

Add in the grated parmesan and the cream cheese and stir until fully combined. Season with salt and pepper to taste.

Pour the cream sauce into the bowl with the pasta, and stir to coat all the pasta and veggies.

Pour the pasta into the baking dish and sprinkle with the shredded mozzarella. Cover with the bread crumbs.

Bake for 15 minutes or until the entire dish is heated through and the bread crumbs are browned.
Can I add chicken to this baked pasta dish?
Yes! This is a vegetarian pasta dish, but you can easily add chicken or another protein if you prefer. I think chicken goes perfectly with the creamy alfredo. I'd recommend using shredded chicken, or cut it into cubes. Cook it before adding it into the pasta to bake.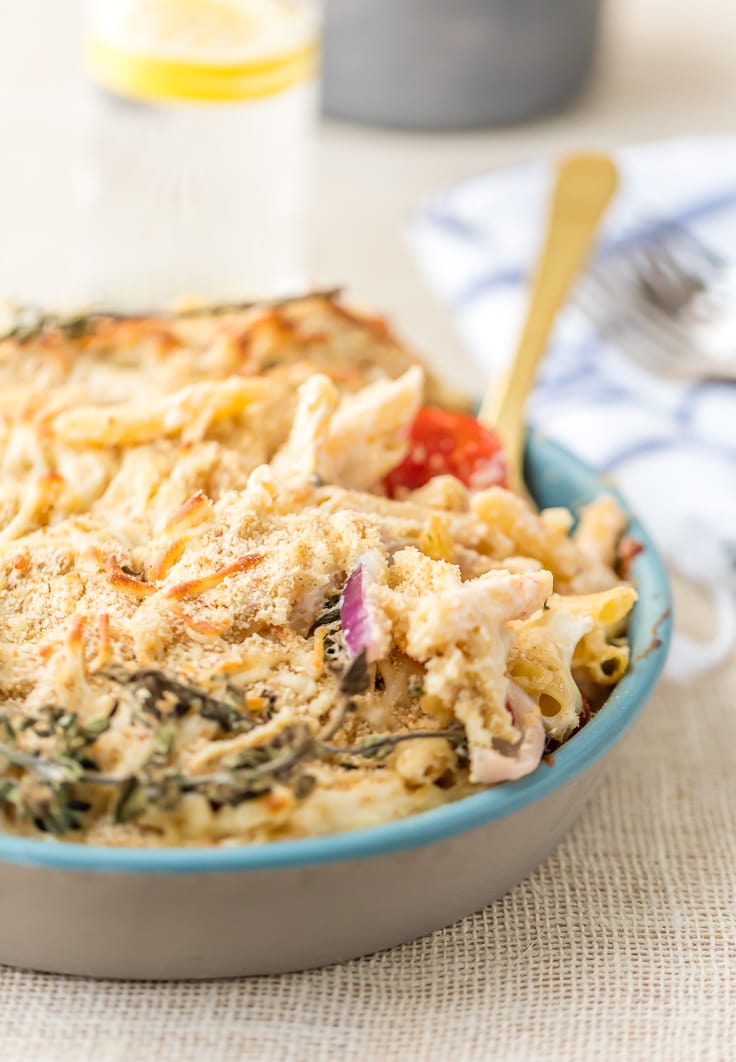 My family just loves this creamy pasta primavera, and I know yours will to! There's nothing NOT to love above pasta baked with alfredo sauce! It's so creamy, easy, and tasty.
See the recipe card for details on how to make Pasta Primavera with Cream Cheese Alfredo. Enjoy!
Be sure to try these other easy pasta dishes: