Baked Pasta Primavera is filled with vegetables and a cream cheese alfredo sauce, then baked to perfection! This cream cheese pasta recipe is one of our favorite baked pasta dishes, and it's so easy to make. It's the perfect family friendly meal!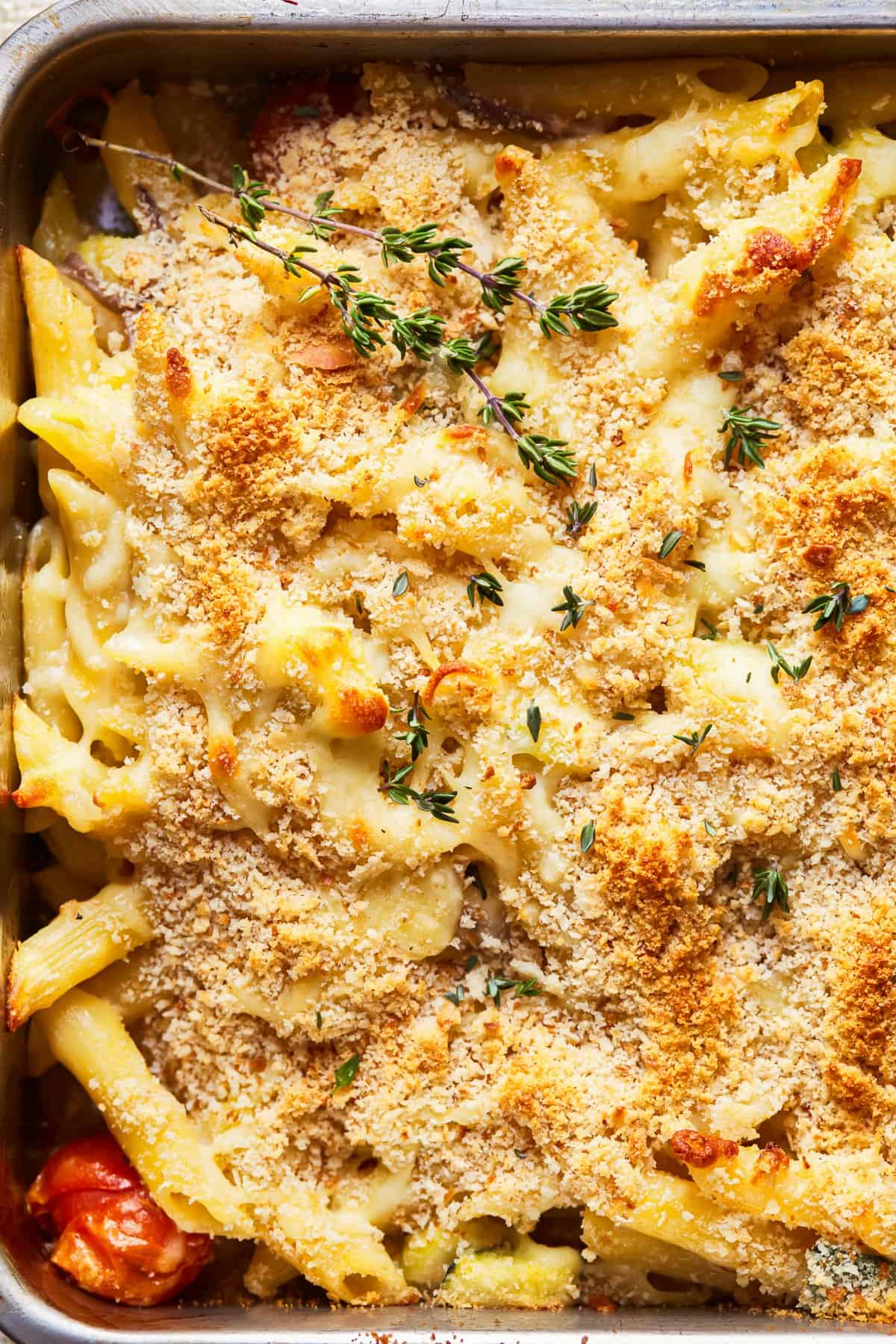 Creamy Pasta Primavera
Baked pasta primavera recipe is our absolute favorite. It's extra creamy thanks to this amazing cream cheese alfredo sauce, and baked together with tons of vegetables. Yum!
This recipe is one of our favorite baked pasta dishes! It's essential for those busy weeknights, those date nights at home, and everything in between. Creamy Pasta Primavera is one of those staple recipes that will keep your family coming back for more, asking for it again and again. And you'll be more than happy to oblige!
The secret to this dish? It's that cream cheese alfredo sauce! Pasta and vegetables is a classic combo, but making it super creamy with that alfredo is what really wins the game. Baking this pasta dish makes it extra easy to make, coming out like a casserole (my favorite easy dinners).
Why You'll Love this Cream Cheese Pasta Recipe:
CREAMY AND CHEESY: The cream cheese alfredo pasta sauce bakes into everything, and makes this dish amazingly cheesy and creamy!
EASY BAKED PASTA: Baked pasta primavera is such an easy recipe to make any night of the week. It's the ideal family dinner!
VEGGIE-FILLED: Beneath the baked cheese and creamy sauce is tons of fresh veggies, like summer squash, tomatoes, and onions.
Customize this creamy pasta primavera with your favorite veggies (or add chicken for protein), and you're only minutes away from a delicious dinner everyone will LOVE and ask for again. Perfection!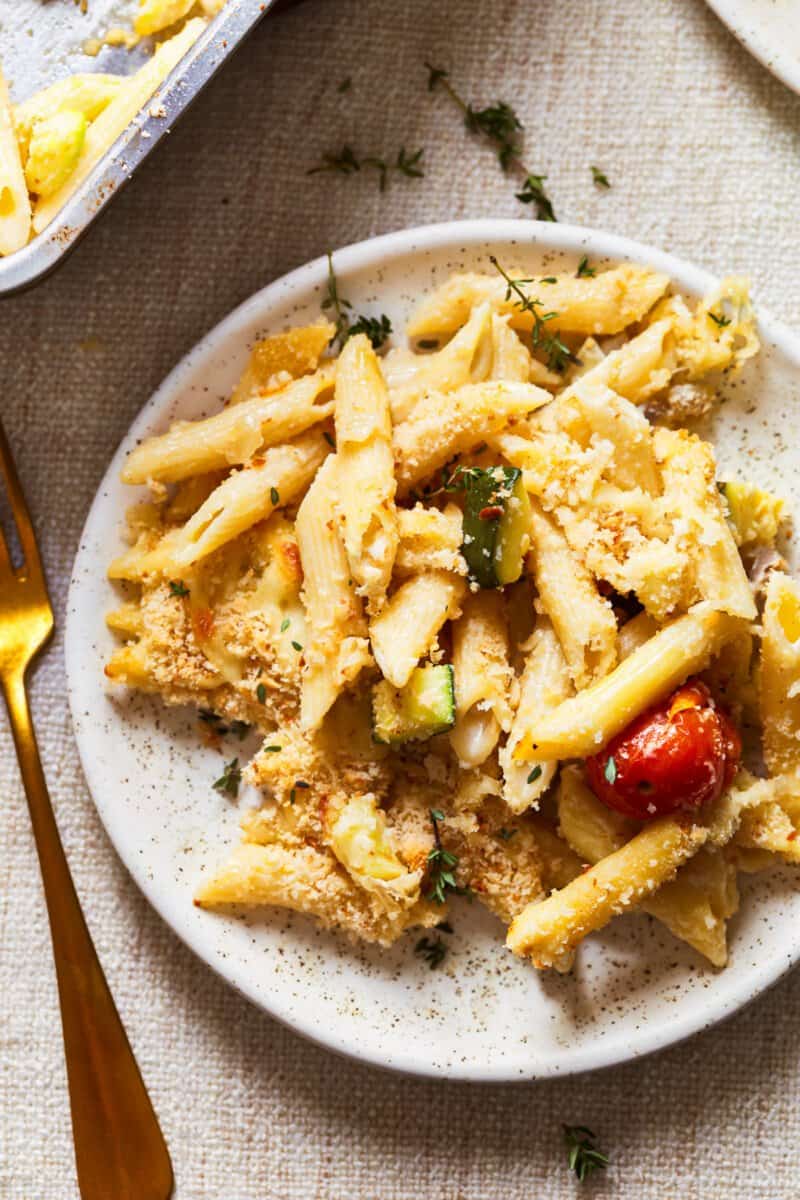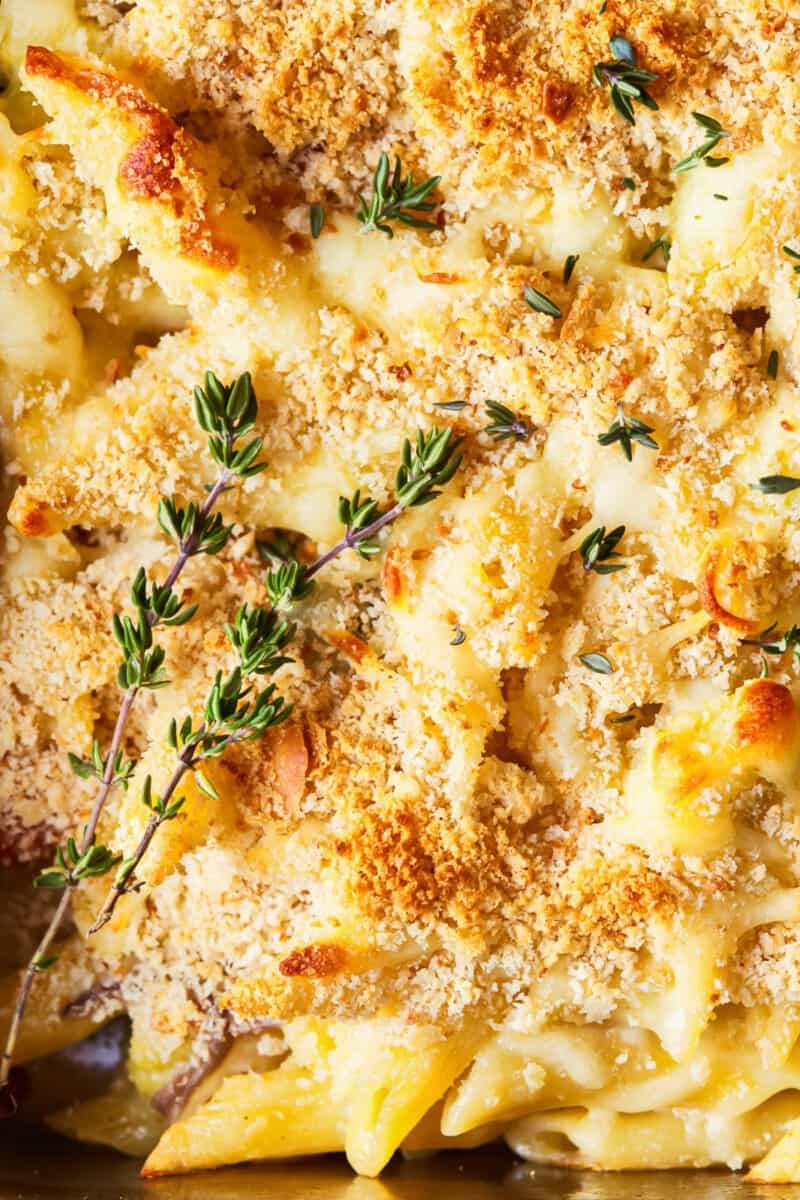 What is pasta primavera?
In Italian, "primavera" means "springtime". In recipes (like this baked pasta), it refers to the use of fresh vegetables. The idea is to use in-season vegetables, or whatever fresh veggies you have. So to put it simple, pasta primavera is just pasta with vegetables.
Of course I turned it into a creamy baked version with a cream cheese pasta sauce…because why not?
How to Make Baked Pasta Primavera with Cream Cheese Alfredo
Be sure to see the recipe card below for full ingredients & instructions!
Preheat the oven, cook the pasta (according to package instructions), and sauté all the vegetables in a skillet.
Combine cooked pasta and vegetables into a large bowl, and set aside.
In a saucepan, combine ingredients to make the alfredo sauce. Then stir in the cream cheese until fully melted and combined.
Pour the cream cheese sauce into the bowl of pasta and veggies, and stir to fully coat.
Pour this into the baking dish, and top with more cheese and breadcrumbs.
Bake until fully heated through, then serve hot and enjoy!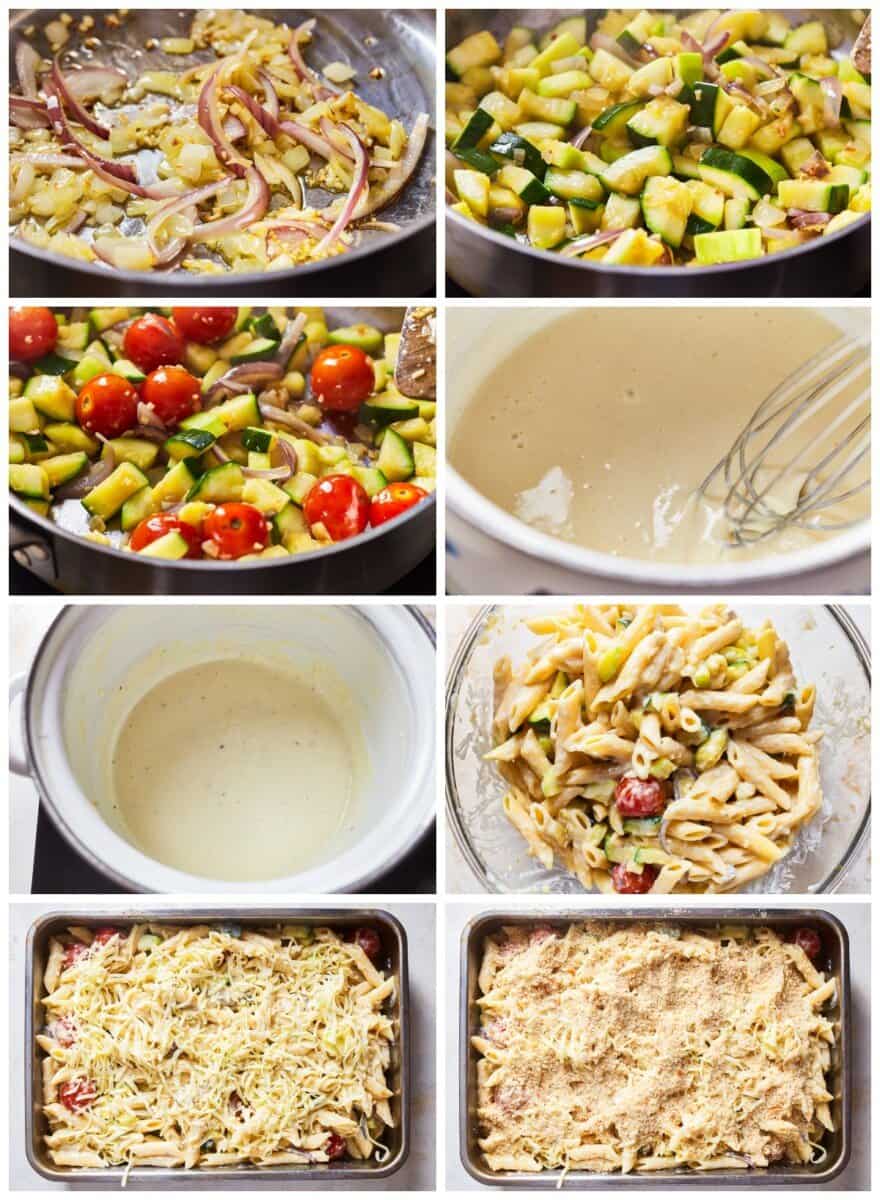 Creamy Baked Alfredo
To me, there's no better comfort food than creamy pasta primavera. It fills the soul and the stomach! It's such a pretty dish, loaded with all the best vegetables and TONS of cheese.
The cream cheese alfredo makes this pasta truly delicious! And the recipe makes enough to serve the whole family. Everyone will love it!
Can I make this ahead of time?
You can do all the prep for this baked pasta ahead of time, cover and refrigerate (unbaked), then bake when you're ready to serve. You'll just need to increase the cook time slightly to fully heat through.
Can you freeze cream cheese pasta?
Cream cheese generally does not freeze well, so I don't recommend freezing this baked pasta.
How can I tell when it's done baking?
Most of the ingredients are cooked before mixing everything together to bake. So the only thing you have to worry about is making sure the dish is fully heated through. Check the middle to see if it's hot/warmed to your liking.
Serving Suggestions
This creamy, cheesy, baked pasta primavera is packed full of vegetables, pasta, and cheese. That means it's pretty filling, so the only thing you'll need to add to dinner is some bread and salad!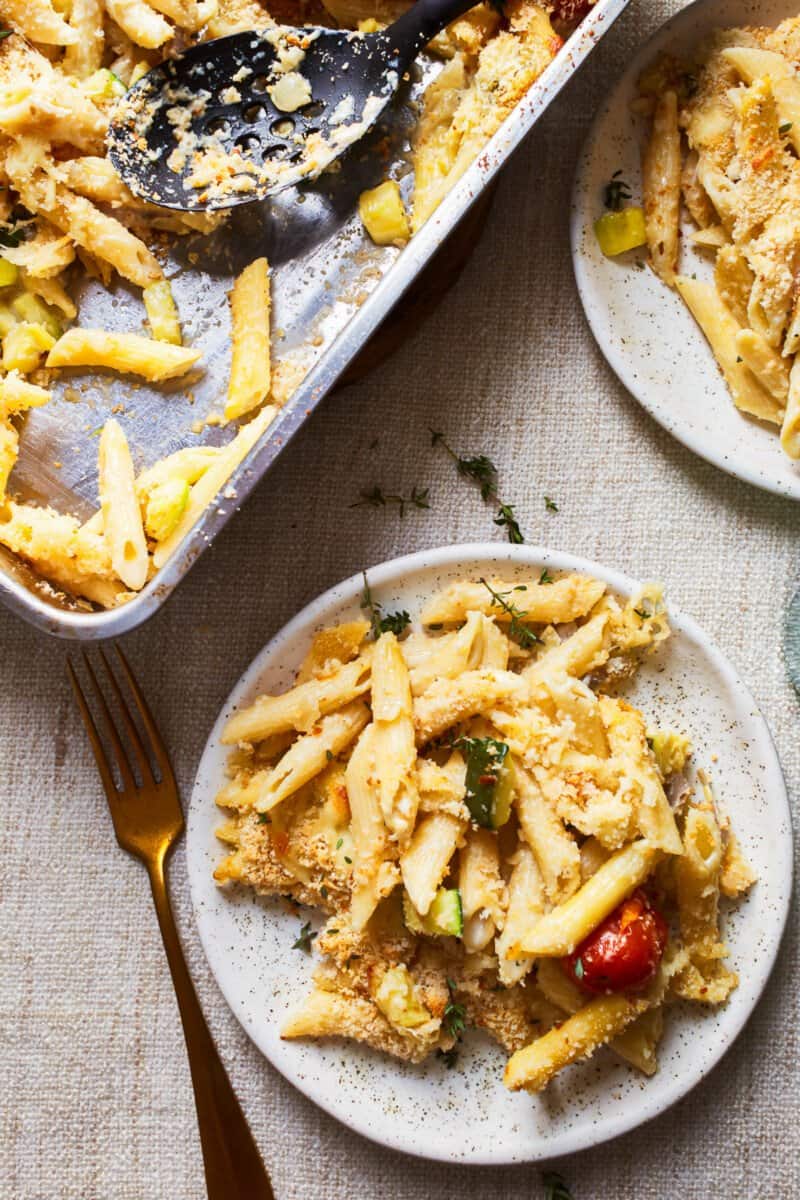 Tips!
Fully preheat your oven before baking for best results.
Use any large baking dish you have. A 9 x 13 or round casserole dish works well.
Be sure to cook the pasta prior to adding it to the baking dish.
Store leftovers in an airtight container, and keep it in the fridge for 4-5 days.
What vegetables do you use in primavera pasta?
The great thing about this creamy pasta primavera recipe is that you can use any vegetables you have on hand, or use your favorites. Traditionally, it might have been served with "spring" vegetables, but we can switch it up. It's a great time to use in-season produce!
I used onions, summer squash, and tomatoes. But you could also use peas, asparagus, carrots, broccoli, bell peppers, or anything else you like!
What is cream cheese alfredo sauce?
The cream cheese alfredo sauce is the star of this baked pasta! It's just SO creamy, and it's really easy to make.
This sauce is made with butter, milk, flour, parmesan cheese, and of course CREAM CHEESE. So basically like a traditional Alfredo, but with cream cheese added to thicken it up, and add an extra level of creaminess.
Can I add chicken to baked pasta primavera?
Yes! This recipe is a vegetarian-friendly pasta dish, but you can easily add chicken or another protein if you prefer.
I think chicken goes perfectly with the creamy alfredo. I recommend using shredded chicken, or cut it into cubes. Cook it before adding it into the pasta to bake.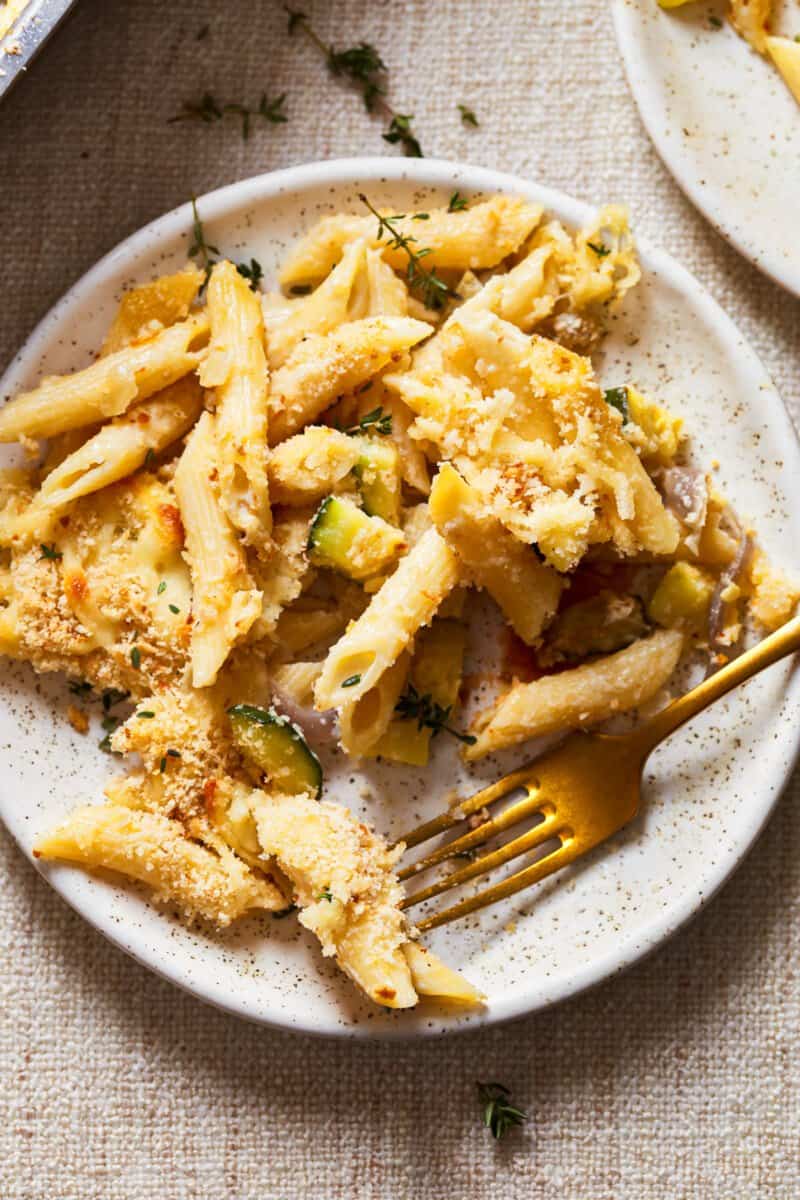 My family just loves this creamy pasta primavera, and I know yours will to! There's nothing NOT to love above pasta baked with cream cheese alfredo sauce. It's so creamy, easy, and tasty.
If you make this recipe be sure to upload a photo in the comment section below or leave a rating. Enjoy!