Hands up who likes brownies?! You are going to fall in love with these gluten-free brownies, this recipe is seriously the best! Good news for anyone who is sensitive to gluten, you can still enjoy fudgy, chewy brownies! Easy and quick to make, this simple recipe is so tasty – I can't wait for you to try it!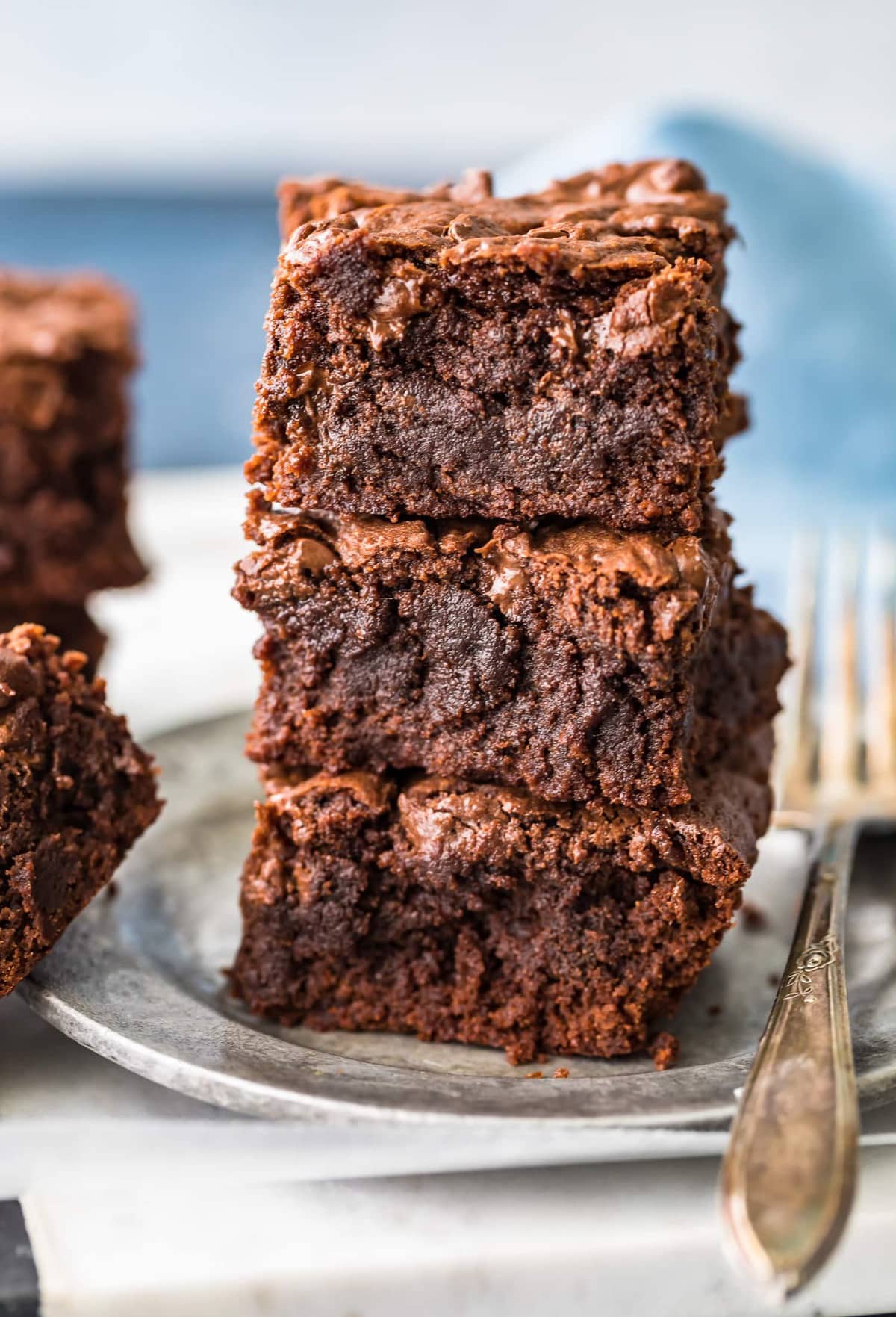 Guys, stop what you are doing – this is the best gluten-free brownies recipe you have tried! I can't tell you how much everyone enjoyed these! They are so easy to make, they are the perfect yummy chocolate treat!
My absolute favorite 4th of July staple is brownies. But I want everyone at our celebration to be able to enjoy my favorite dessert. Just because brownies are gluten free doesn't mean they have to be any less decadent than regular brownies.
These GF Brownies taste like GOURMET brownies from your local bakery…SO FUDGY and amazing…and they also just so happen to be without gluten. This way everyone at your party can enjoy!
How to make the Best Gluten Free Brownies Recipe
Adjust oven rack to middle position. Preheat oven to 325 degrees F.

Cover a 13×9-inch baking pan with two folded sheets of aluminum foil – the first sheet will go across one way and the second sheet should go the length of the over way and be perpendicular to the first sheet. Cut the foil long enough to hang over all edges by 3 inches. The foil will be used to lift the cooked brownies from the pan. Spray the foil-lined pan with nonstick cooking spray.

In a medium bowl, combine flour, salt and baking powder. Whisk well.

Melt butter in a large heatproof bowl. Add chopped chocolate and stir until completely smooth and incorporated. If necessary, gently heat the chocolate/butter mixture, on HIGH, in 10-second increments, until chocolate is melted. Stir often.

When chocolate mixture is smooth, gradually whisk in the sugar. Add eggs, one-at-a-time until thoroughly combined. Add vanilla and whisk again.

Add flour mixture in three additions. Fold gently with a rubber spatula after each addition, until batter is smooth and fully incorporated. Stir in the chocolate chips.

Transfer the batter to the prepared pan, spreading it into the corners and smoothing the surface.

Bake 30-35 minutes, or until a toothpick inserted into the center comes out with a few moist crumbs attached.

Transfer brownies to a cooling rack and cool to room temperature. Remove cooled brownies from the pan by lifting the foil overhang. Cut into 2-inch squares. Serve immediately or store, in an airtight container, at room temperature, up to 3 days.

Enjoy!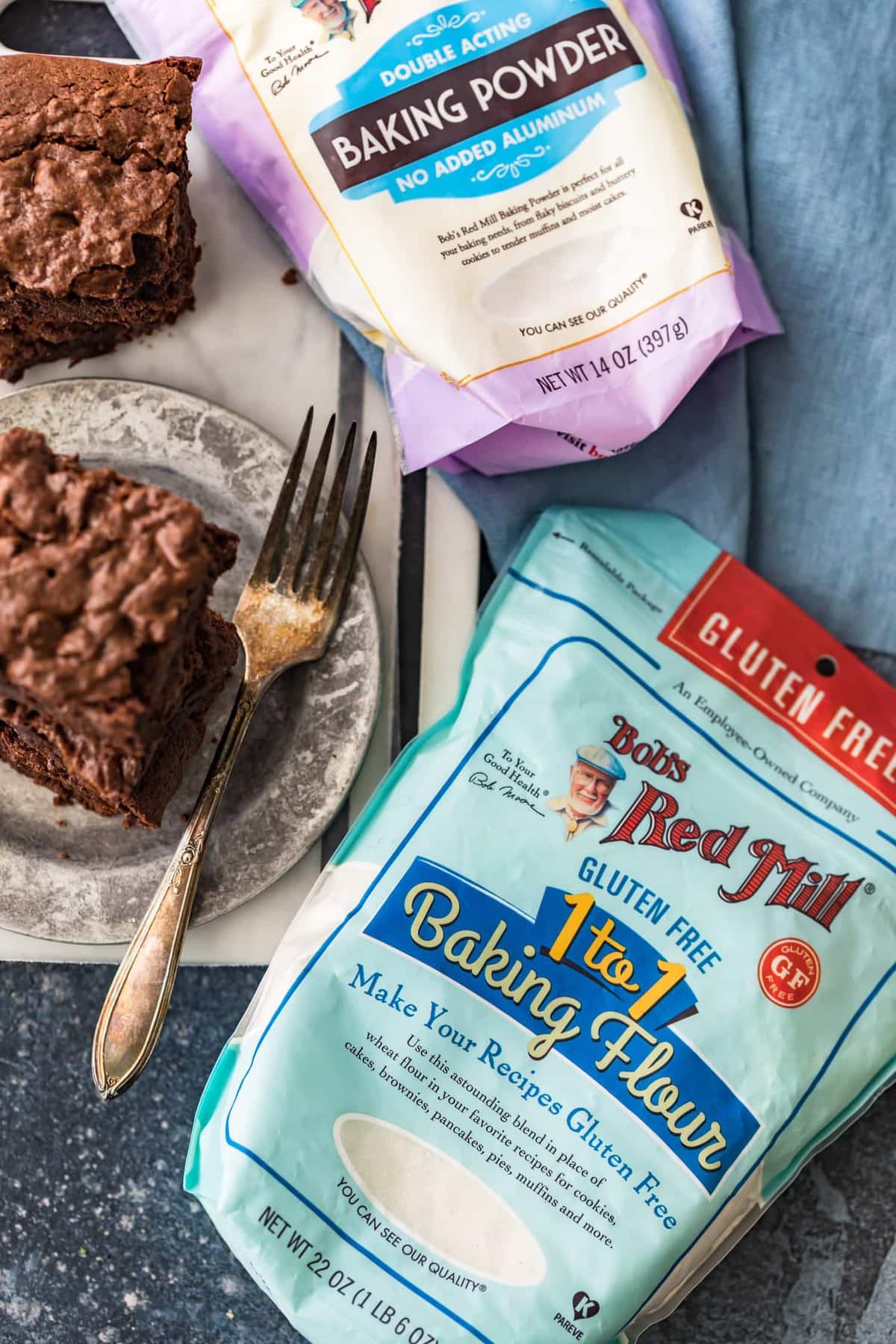 Gluten Free 1:1 Baking Flour
YOU GUYS. Bob's Red Mill Gluten Free Flour is an absolute must and will change your life, I guarantee it! I want to shout this from the rooftops. I can't stress this enough. Your baking DOES NOT HAVE TO TASTE DIFFERENT just because it's gluten free.
Thanks to Bob's Red Mill and their Gluten Free 1:1 Baking Flour, you can have your gluten free cake, and enjoy it too!
I'm obsessed with Bob's Red Mill…you know this. I've been working with them a few years and I'm just so proud of being associated with such a fabulous and quality company. My all-time favorite product is this Gluten Free Flour.
I recently took these brownies to a church BBQ and people raved about them. They could not believe they were gluten free. It's literally all thanks to Bob's!
Other Gluten Free Recipes featuring Bob's Red Mill Gluten Free Flour: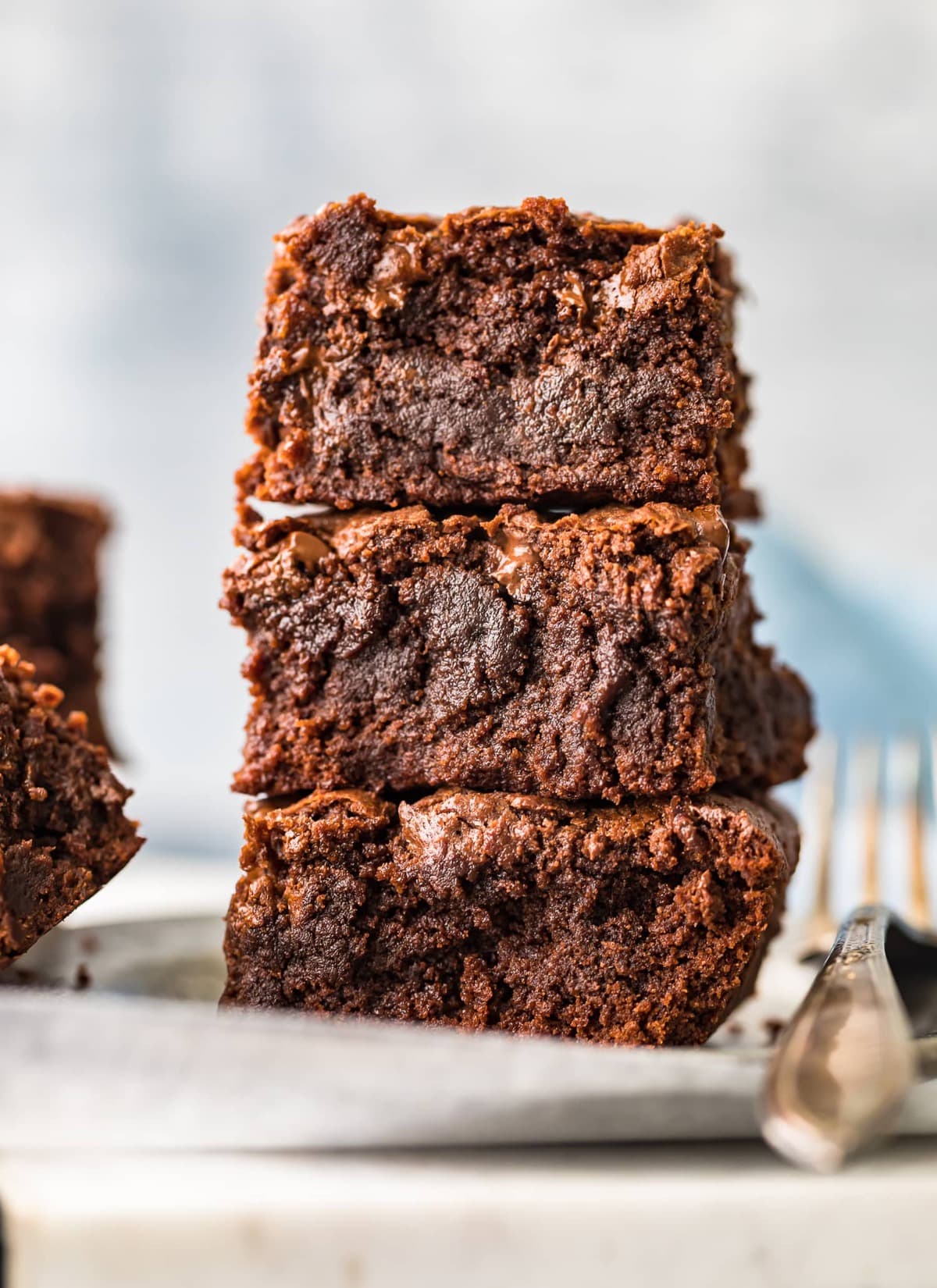 Do gluten-free brownies taste good?
Unfortunately for those that are sensitive to gluten, it can sometimes mean missing out on delicious baked goods, but with this recipe, you are in luck!
No one guessed that these were gluten free, in fact they went down such a storm that I have been ordered to make another batch immediately!
Can gluten-free brownies be frozen?
These brownies freeze really well, so make a huge batch for easy treats! Straight up freezing the brownies can affect their fudgy texture, so it's best to either pop the individual brownies in ziplock bags, or you can wrap the whole baking sheet in plastic wrap, then foil and put in a large freezer bag.
Uneaten brownies (if there is such a thing!) can be stored in an air tight container for about 3 days.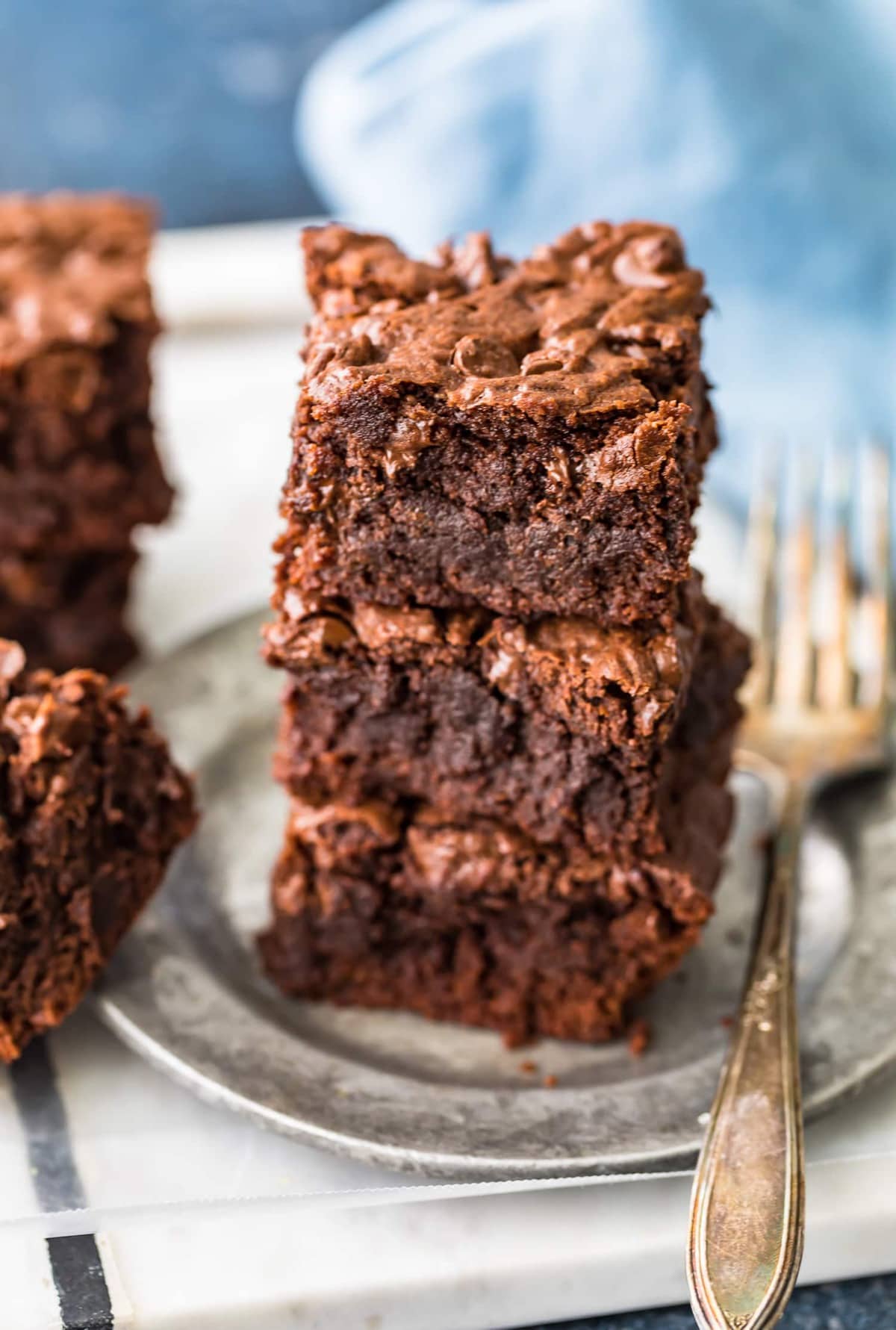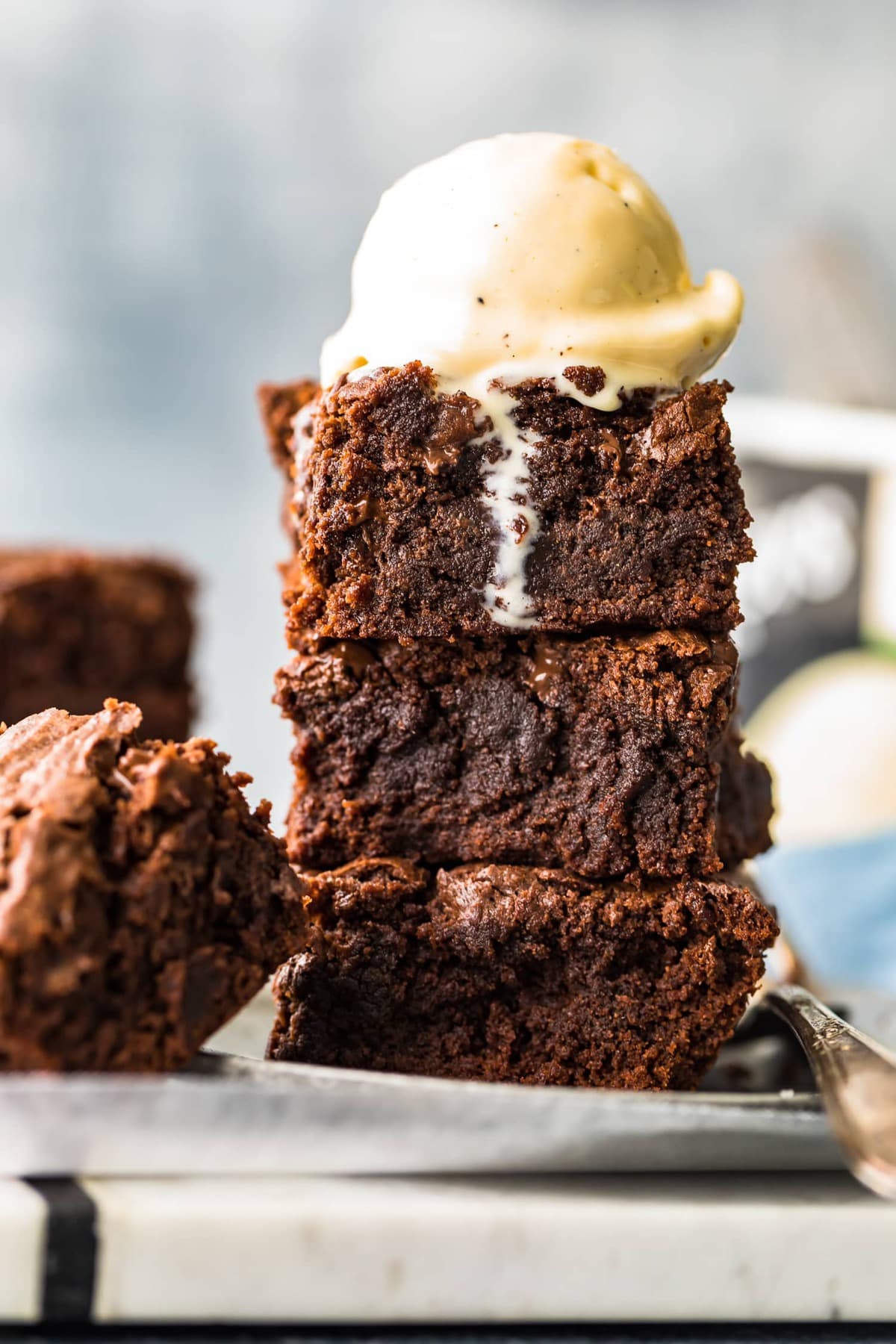 Can you sub gluten flour for regular?
If gluten isn't an issue for you (or the people you are feeding the brownies to!) you can sub in regular flour. The beauty of the gluten-free flour that I used is that it's a 1:1 ratio to all purpose flour, so it's an easy swap should you chose to make it. THANK YOU BOB'S RED MILL!!!
Top tips for making the Best Gluten Free Brownies Recipe
Be sure to pre-heat your oven.
Line your baking tray with foil that is longer than the tray so there is overhang for easy removal.
Do be patient and let the brownies cool to room temperature before cutting them.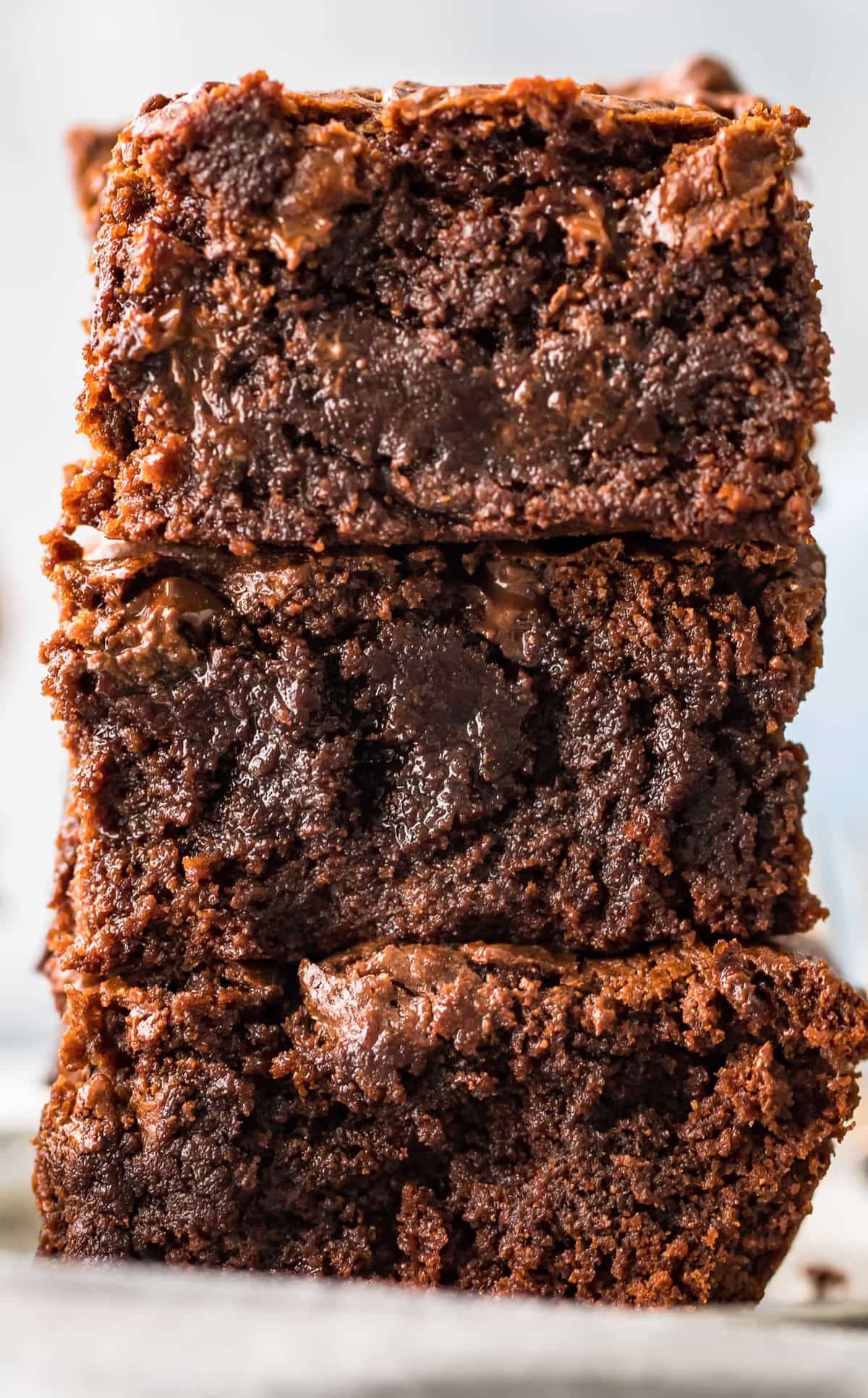 Be sure to check out these other yummy gluten-free baked goods!
Easy Churros Recipe with Chocolate Sauce (Gluten Free Churros!)
BEST Gluten Free Chocolate Chip Cookies Recipe (Soft and Chewy!)
Lemon Bars (Gluten Free Lemon Bar Recipe BEST EVER) VIDEO!
Chocolate Spritz Cookies Recipe (Gluten Free Spritz Cookies)