These Gluten Free Carrot Cake Bars are so moist and delicious, thanks to our secret ingredient. You'll never believe how simple and delicious this moist carrot cake recipe is! Try not to eat all the perfect carrot cake frosting before piling it on and serving it to your Easter guests. Best carrot Cake bars ever!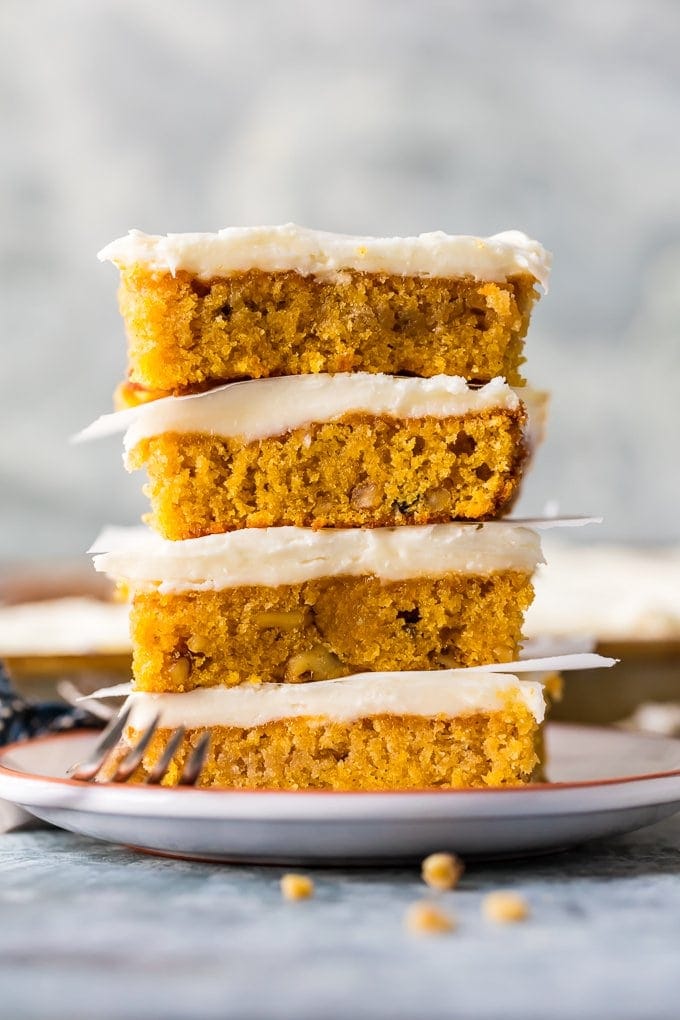 Gluten Free Carrot Cake Bars
There are so many things to love about these moist carrot cake bars. The fact that they're gluten free is just a small part of what makes them amazing!
These GLUTEN FREE carrot cake bars are an Easter favorite. All the flavor you love in an easy-to-eat bar, topped off with the best cream cheese carrot cake frosting…YUM!
I was going to make you wait to find out what we use to make this the most moist carrot cake recipe ever, but I guess I can't keep a secret. It's Carrot Baby Food! You'll have to trust me that it is amazing. I'm never looking back now that I know about this secret ingredient.
Every Easter dessert table needs a good carrot cake, and these gluten free bars are my new favorite dessert option. I'm always looking for the easiest way to make things, and this recipe is it!
I loaded our Carrot Cake Bars with chopped walnuts and cream cheese icing. I simply cannot get enough!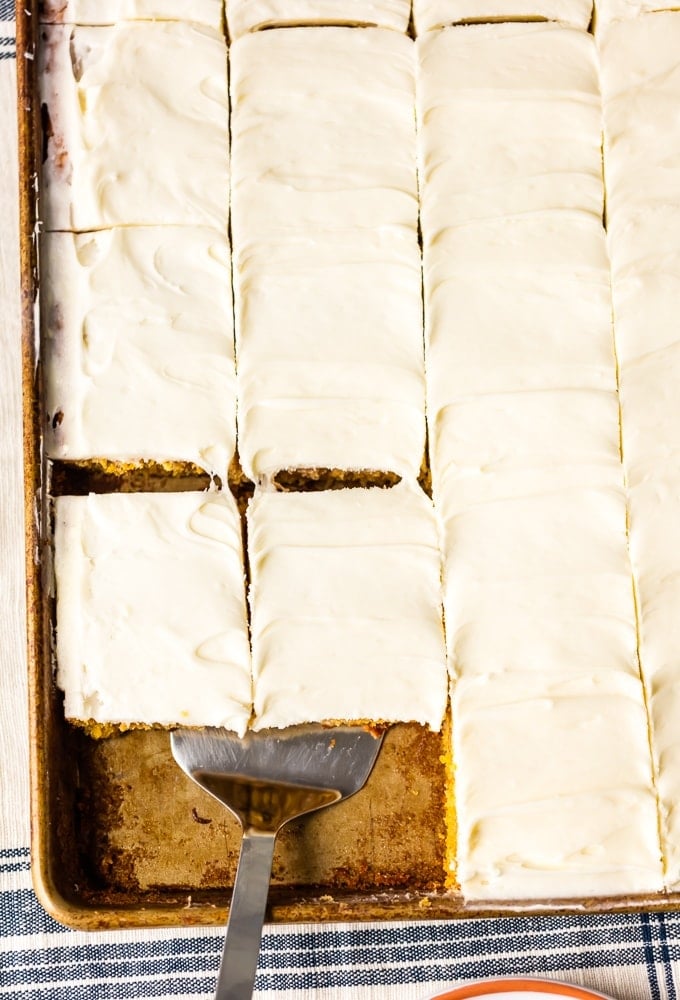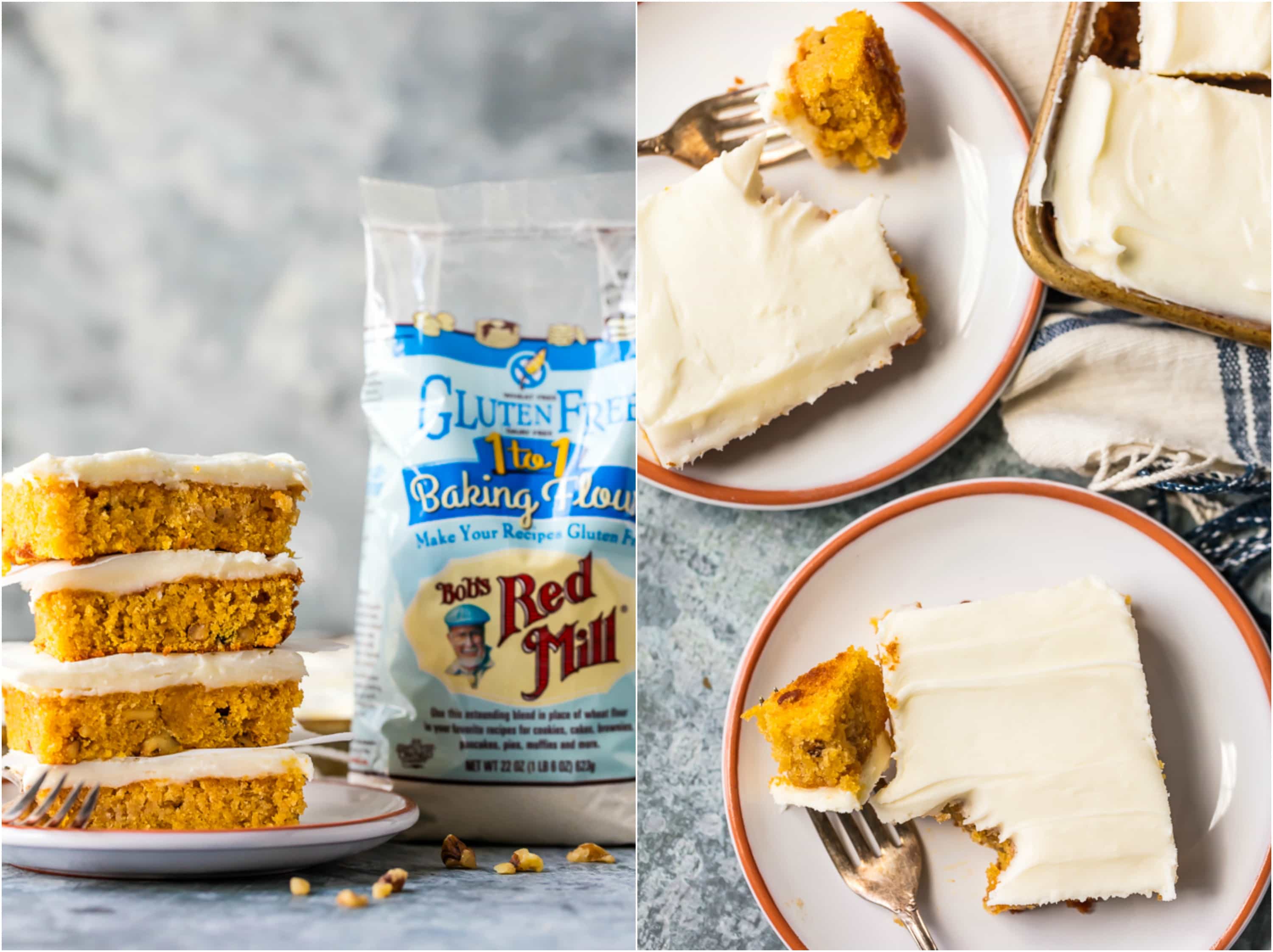 Gluten Free Carrot Cake Recipe
Making our favorite desserts into gluten-free desserts is surprisingly easy. These gluten free carrot cake bars are proof!
I'm obsessed because you don't have to change a recipe at all to make it work for your family. Bob's Red Mill 1:1 Gluten Free Baking Flour is such a quality ingredient. If you prefer regular all purpose flour, Bob's also has that. I go back and forth as to which is my favorite! You can't go wrong.
Don't you love a recipe that you can customize? Add in those walnuts, raisins, or whatever else you think your carrot cake bars are in dire need. Carrot shreds? Sure! I was just too lazy. Let's be honest!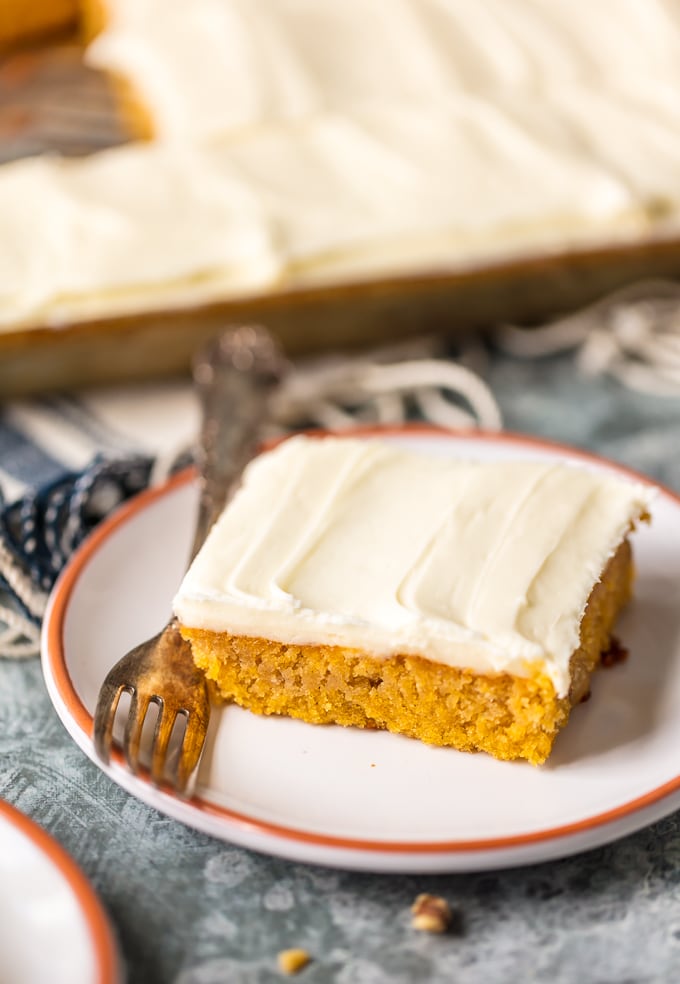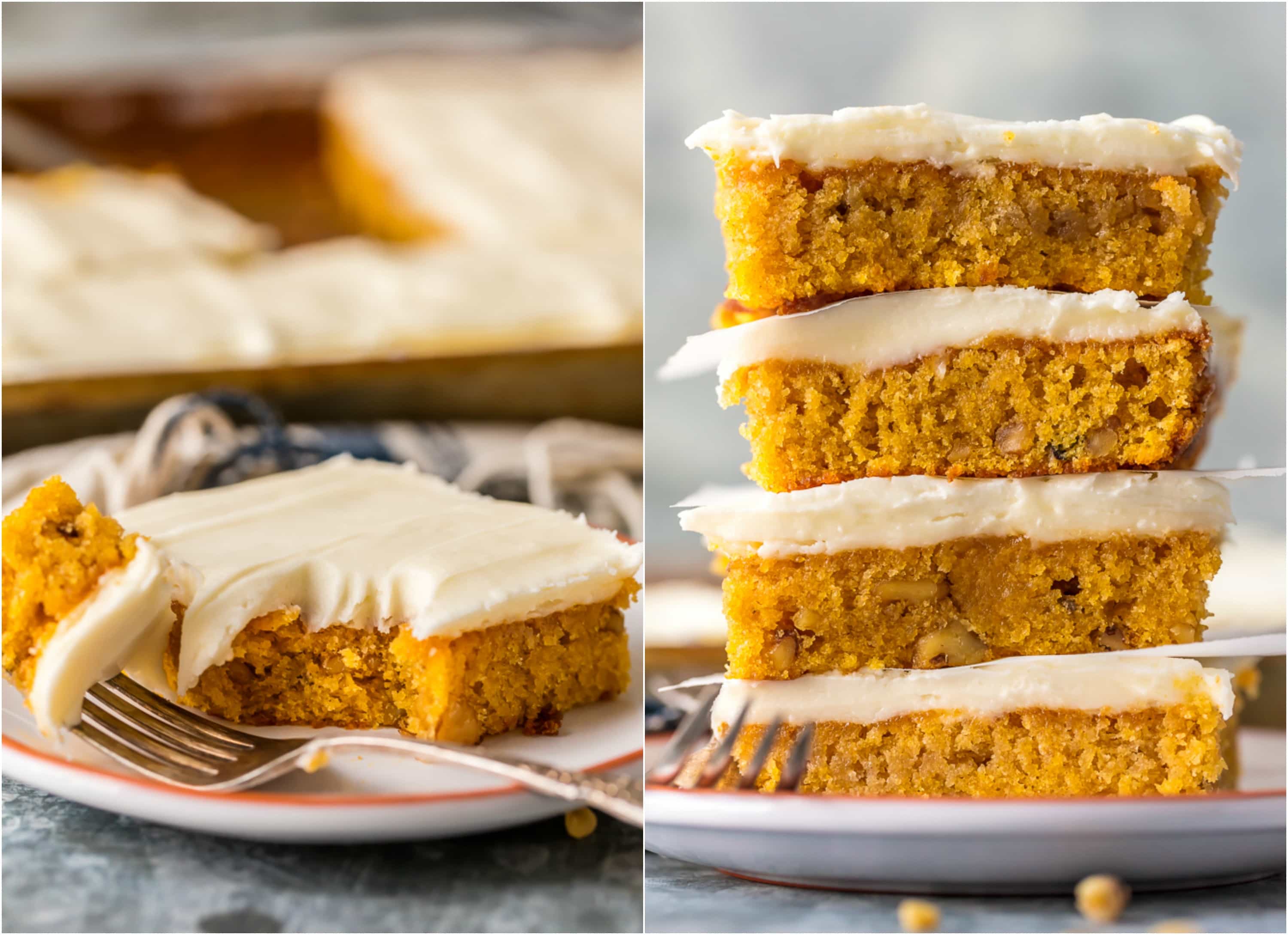 Homemade Carrot Cake Bars (Secret Ingredient)
Okay, I know I already gave away my secret, but let's really talk about it. We used carrot baby food to make these easy Carrot Cake Bars extra moist and flavorful.
It might sound strange to add baby food to your grown-up desserts, but it's good. Trust me. Look at the ingredients and you'll see carrot baby food is just CARROTS and WATER. They make this moist carrot sheet cake extra amazing (and easy), and that's never a bad thing!
Would you consider gluten free carrot cake bars healthy?
Well, maybe they were before I piled on the cream cheese carrot cake frosting. Listen, I used low-fat cream cheese, okay, what more can you ask for? What would carrot cake be without the cream cheese icing? I can't even fathom it!
How to Make Carrot Cake Bars
I told you this gluten free recipe was easy, and I wasn't lying. It's just a few simple steps, throw those bars in the oven, frost 'em, and serve 'em up!
Start by beating the eggs and oil, then combine the flour, salt, sugar, cinnamon, baking powder, and baking soda, and add that into the egg mixture.
Then mix in the carrot baby food and applesauce, and stir in walnuts.
Pour the mixture into a baking pan, then bake at 350°F for 20-25 minutes.
To make the frosting, beat cream cheese and butter until fluffy, then beat in the vanilla, and finally the confectioner's sugar.
Let the carrot cake bars cool, then frost them.
Be sure to watch the video to see how it's done!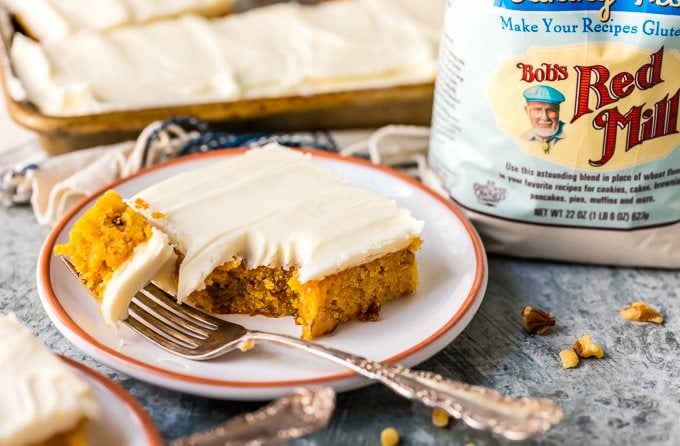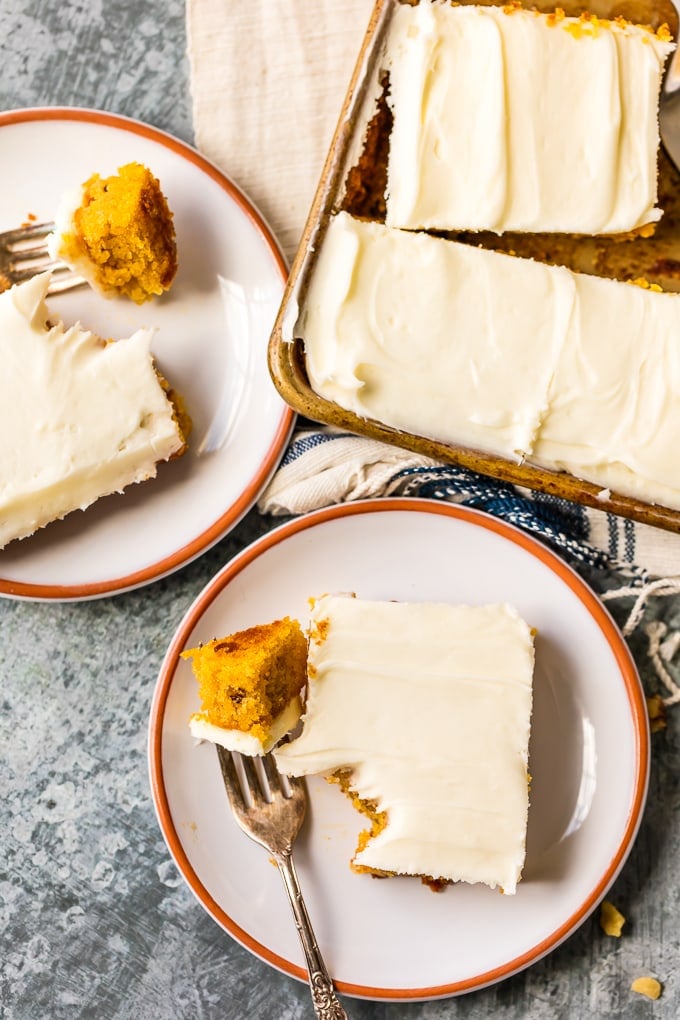 You'll definitely want these gluten free carrot cake bars on your dessert table ASAP. The ultimate Easter feast is much easier than you ever thought! And of course you need to try our easy Skillet Carrot Cake recipe too.
Watch How to Make Carrot Cake Bars or see the recipe card below for full details. Enjoy!
We have so many great dessert recipes for Easter and beyond that you need to try: