Spritz Cookies are a must make for Christmas. You'd never guess that these CHOCOLATE SPRITZ COOKIES are GLUTEN FREE! Utterly delicious, like little heavenly brownie bites. This Spritz Cookie Recipe is the ultimate EASY Christmas cookie recipe!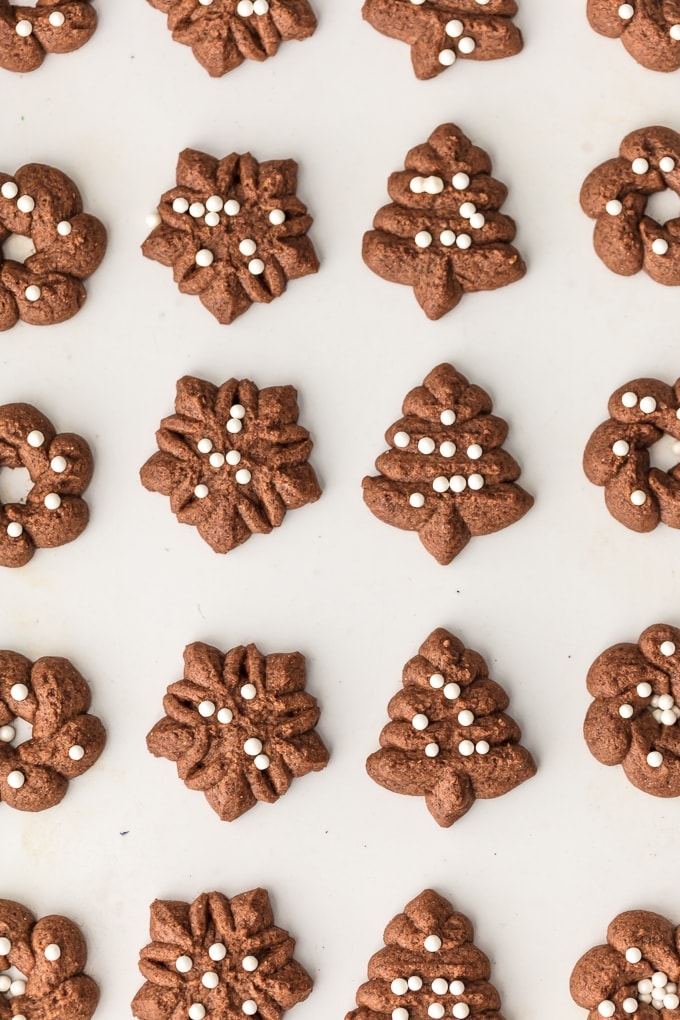 Spritz Cookies Recipe for the Holidays
This Spritz Cookie Recipe is perfect for the Holidays. You're going to love Chocolate Spritz Cookies!
After making these amazing Chocolate Spritz Cookies I have to say…I feel like a real holiday master. I've always loved Spritz Cookies because they are such a Christmas staple. Every holiday party has some version of Spritz Cookies.
I'm SO thrilled with how this Spritz Cookie recipe came out and I cannot believe how simple they were to make (practically foolproof!). Plus they're so chocolatey that you'll swear they're bites of brownie. AND guess what? WOOHOO, they're gluten-free! Is this the perfect Christmas cookie or what?
Spritz Cookies are a Holiday staple. Try this gluten free Chocolate Spritz Cookie Recipe!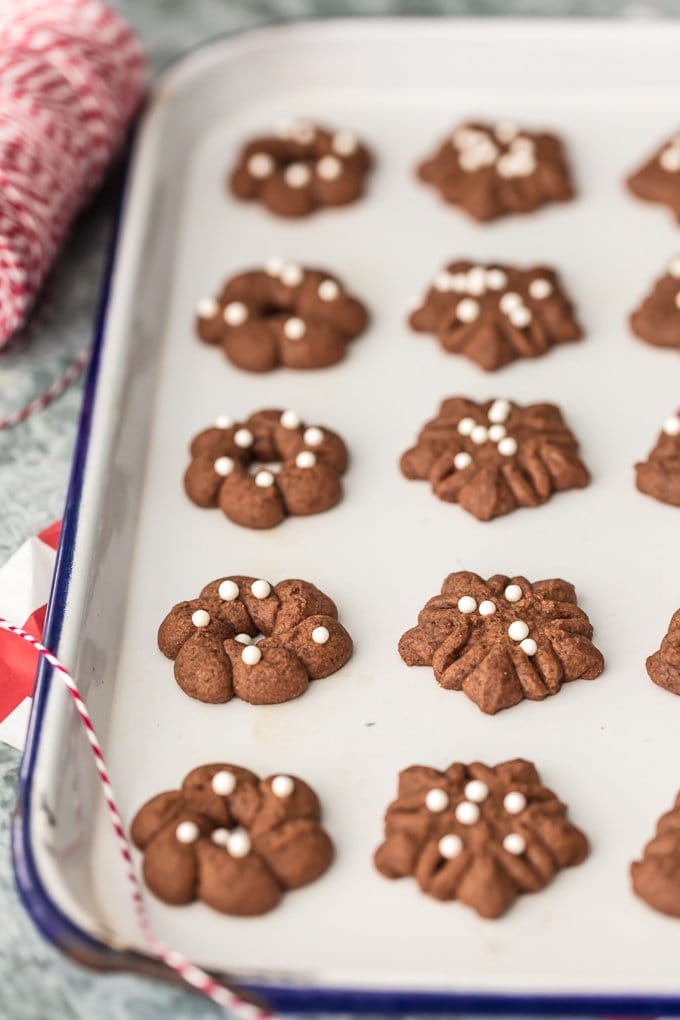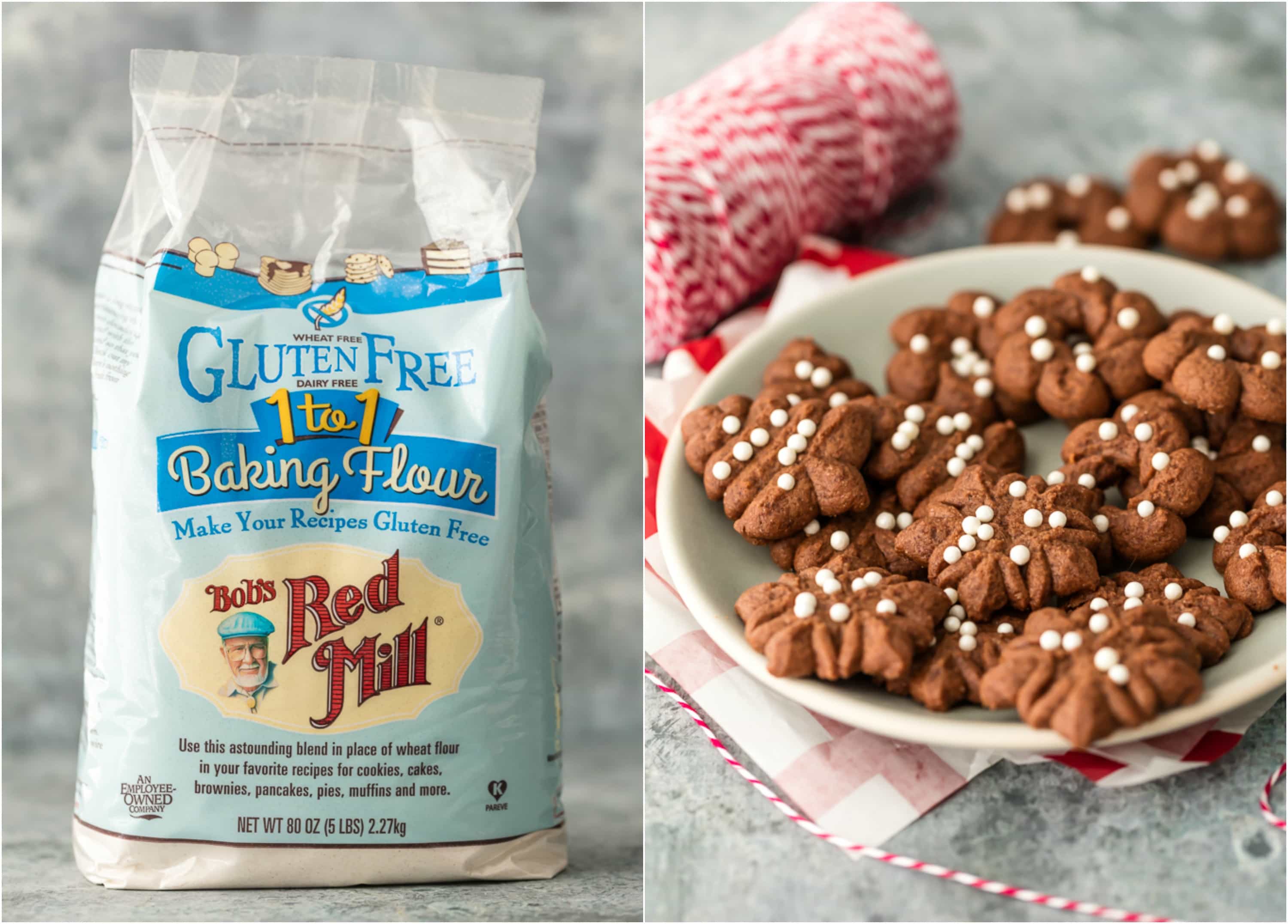 Gluten-Free Chocolate Cookie Recipe
Part of what makes these gluten-free Spritz Cookies oh so easy and perfect is Bob's Red Mill Gluten Free 1 to 1 Baking Flour. You heard that right, ONE TO ONE. No more adding in special ingredients to make gluten-free flours work with your favorite recipes. You can literally add this flour into any of your best bets just as you would all-purpose flour and bake away. Bob's Red Mill is amazing and making things way too simple for people like me.
Thank you Bob's Red Mill! I'm so honored to work with such an amazing company. If you haven't checked them out…now is the perfect time. Especially if you want to make this Chocolate Spritz Cookie Recipe!
Try these other easy gluten-free desserts!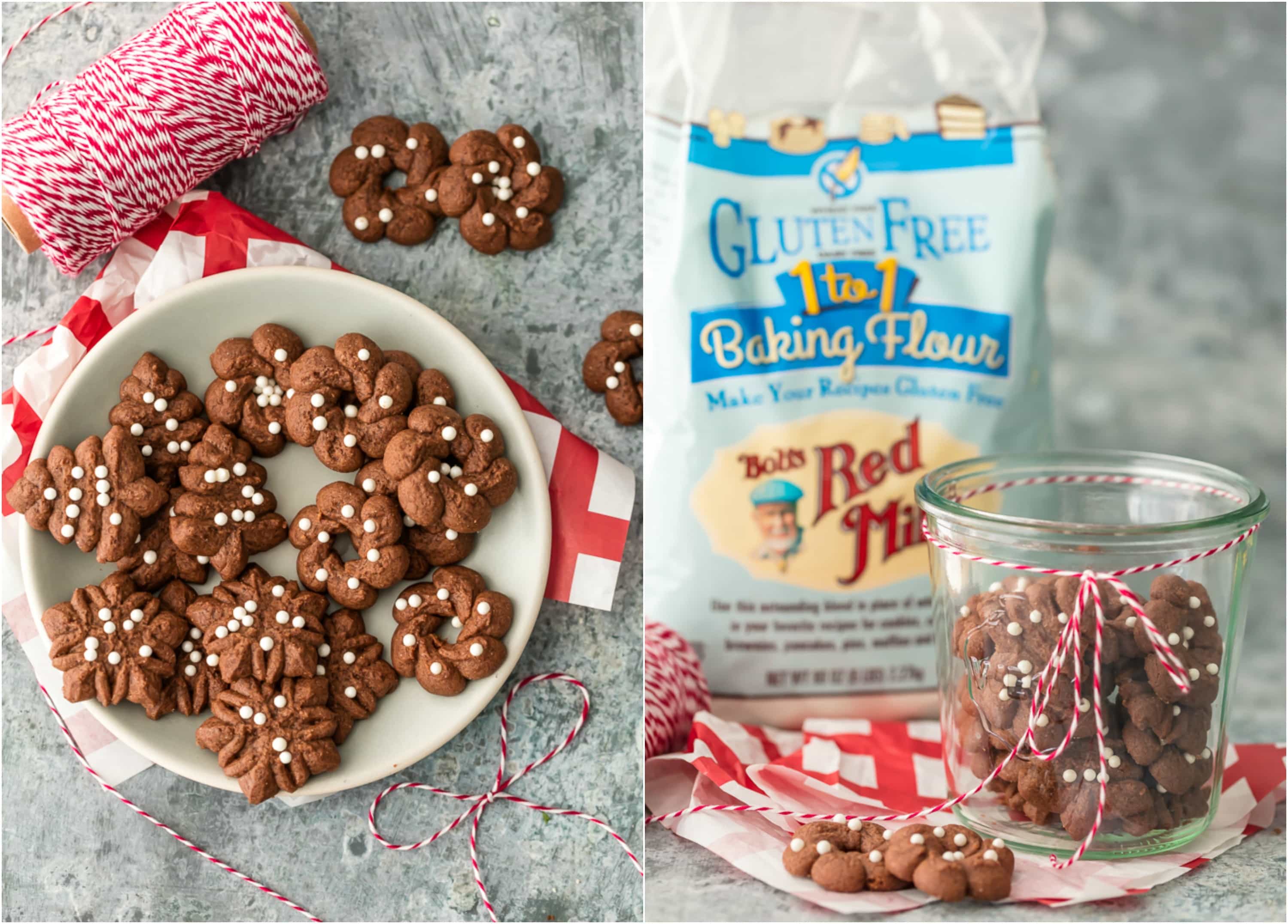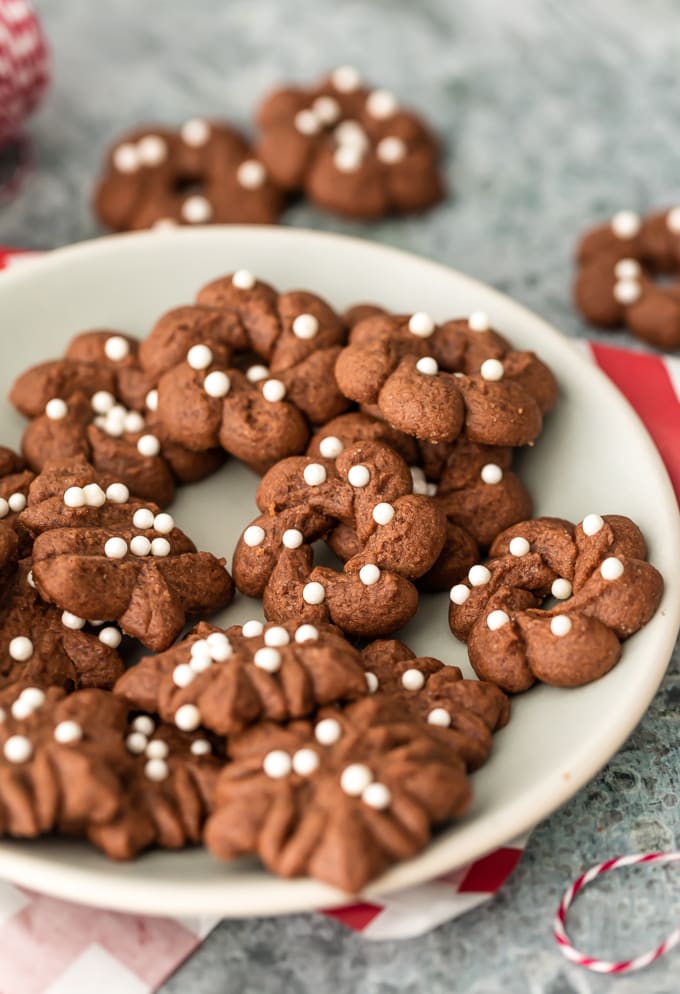 How to make Chocolate Spritz Cookies
To make these chocolate spritz cookies in the fun shapes, I used a cookie press. You can find them in so many places and they're very inexpensive. It's a must when making spritz cookies! I can't wait to get more shapes and sets. They're so fun and festive! HERE is the press that I used (I ALSO LINKED TO ALL TOOLS USED IN THE SHOP THIS POST SECTION BELOW, XO), but any small cookie press will work. I used the wreath, snowflake, and Christmas tree shapes for this spritz cookie recipe. Aren't they so cute! I love the size…makes me feel like I can eat 20 at a time. Is that so wrong?
How long do Spritz Cookies stay fresh?
In general, spritz cookies will stay fresh at room temperature for about 3 days. Store them in an airtight container to keep them fresh. To make them last longer, you can freeze them.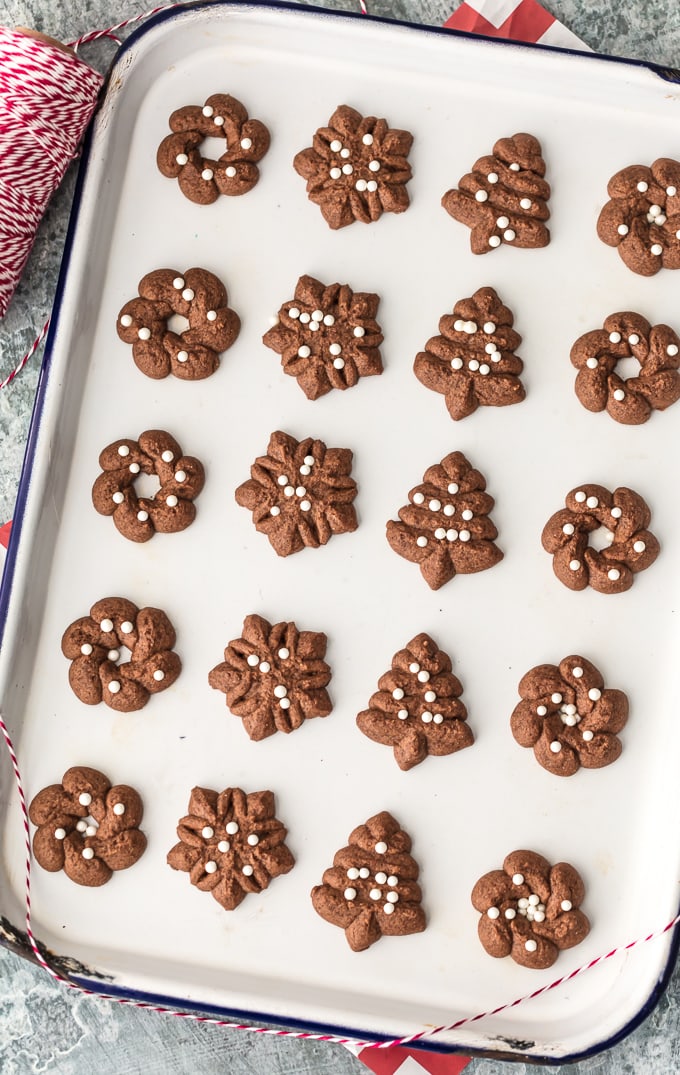 How to Freeze Chocolate Spritz Cookies:
You can freeze the dough before baking, or even freeze the completed cookies. Here's how:
To Freeze the Chocolate Spritz Cookie DOUGH:
Follow the steps in the recipe card below for making the Chocolate Spritz Dough. Follow through the step for pressing the cookies through the press into shapes.
Once the shapes are formed, place the cookies into a freezer-safe Ziplock bag and press as much air out as possible. Seal in the bag, and then place in ANOTHER bag to create a double layer of protection for freezing.
Store the dough in the freezer for up to 6 months (AWESOME!).
When ready to cook, you can cook from frozen, but add 2-3 minutes onto the cook time for the cookies.
To Freeze the COMPLETED Chocolate Spritz Cookies:
Prepare the cookies fully according to the instructions in the recipe card below.
Allow cookies to fully cool after baking. Do not skip this step!
Place the cookies in a rigid, airtight container for storing. Place the container into a freezer-safe Ziplock bag for extra protection.
Freeze for up to 3 months.
When ready to serve, allow to thaw AT ROOM TEMPERATURE for 2-3 hours before serving.
Enjoy!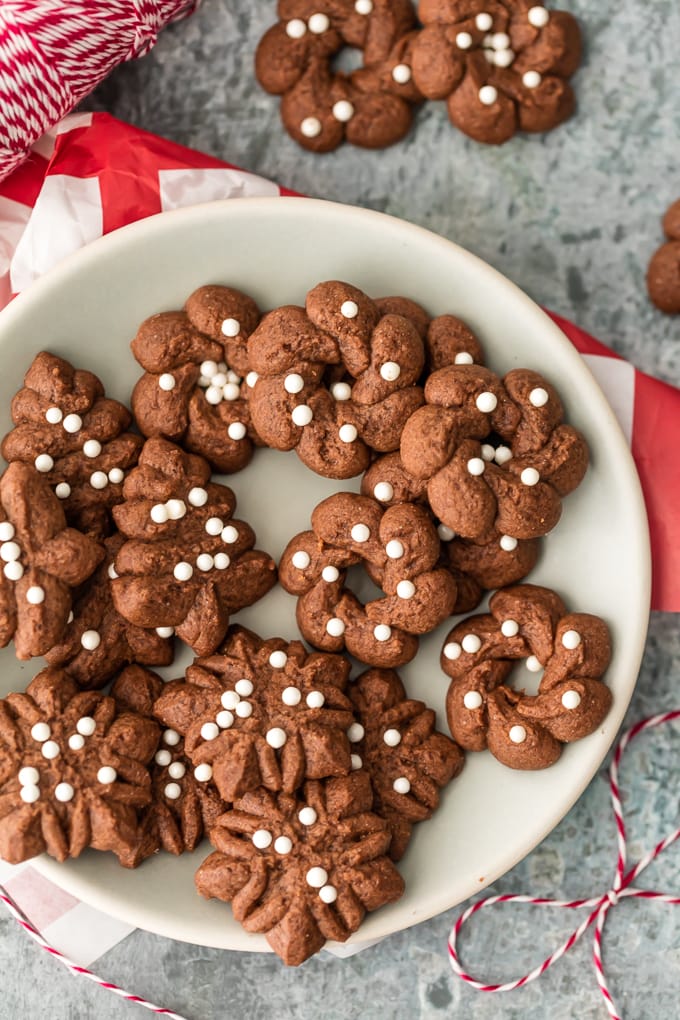 If you're looking for the ultimate holiday cookie, you've found it. This Gluten-Free Chocolate Spritz Cookie Recipe is an instant hit. One of your favorite classic holiday recipes.
See the recipe card below for full details on how to make this Chocolate Spritz Cookie Recipe for Christmas. Happy holidays!!
If you like this Spritz Cookie Recipe, try these other cookie recipes:
And find ALL of the best and easiest Christmas Cookies right here!