This Gluten Free Chocolate Chip Cookies recipe is super soft, moist, chewy, and delicious! Yes, you can make soft and chewy chocolate chip cookies without gluten, and boy are they good. Plus we added a special ingredient (it's cornstarch) to make them extra chewy.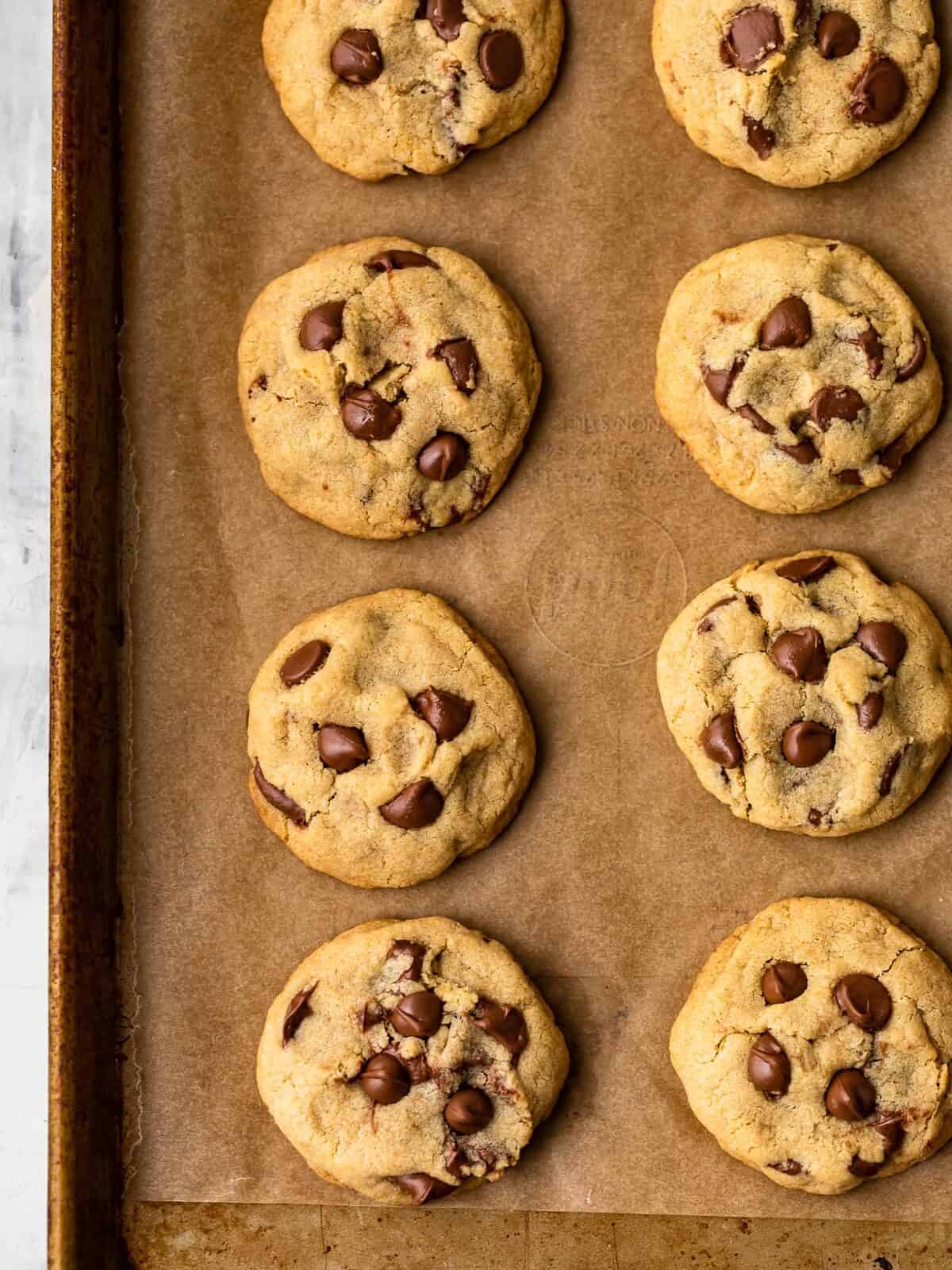 What's in this Gluten Free Chocolate Chip Cookie Recipe?
This gluten free chocolate chip cookies recipe is so good, you won't miss that pesky gluten. Bake the ultimate soft chocolate chip cookies with gluten-free flour and cornstarch!
Butter: Salted butter enhances the rich, chocolatey flavor of these cookies.
Sugar: A mixture of granulated and dark brown sugar gives these cookies a sweet, molasses-y flavor that'll keep you coming back for more.
Egg: Helps bind the dough together and makes these cookies rich.
Vanilla Extract: Adds that classic chocolate chip cookie flavor.
Gluten Free Flour: I'm so lucky to be working with Bob's Red Mill, which just happens to make my all-time favorite Gluten Free 1:1 Baking Flour.
Cornstarch: This is my secret ingredient! It thickens up the dough to create the softest, chewiest chocolate chip cookies you've ever tasted!
Baking Soda: Helps the dough to rise in the oven.
Kosher Salt: Just a sprinkle of coarse salt balances out the flavor of these cookies and keeps them from being too sweet.
Chocolate Chips: I used milk chocolate chips, but dark, semisweet, or a mixture of all three would also work.
Pro Tip: Because we're using 1:1 flour, you can easily make this insanely good recipe with regular all-purpose flour if you're not gluten free!
Variations on GF Chocolate Chip Cookies
These chocolate chip cookies are the perfect base to make all of your cookie dreams come true. Experiment with different mix-ins, like flavored baking chips, candied nuts, M&M's or chopped candy pieces, dried fruit, popcorn, potato chips… the sky's the limit! A gluten free version of my movie night cookies would be delish!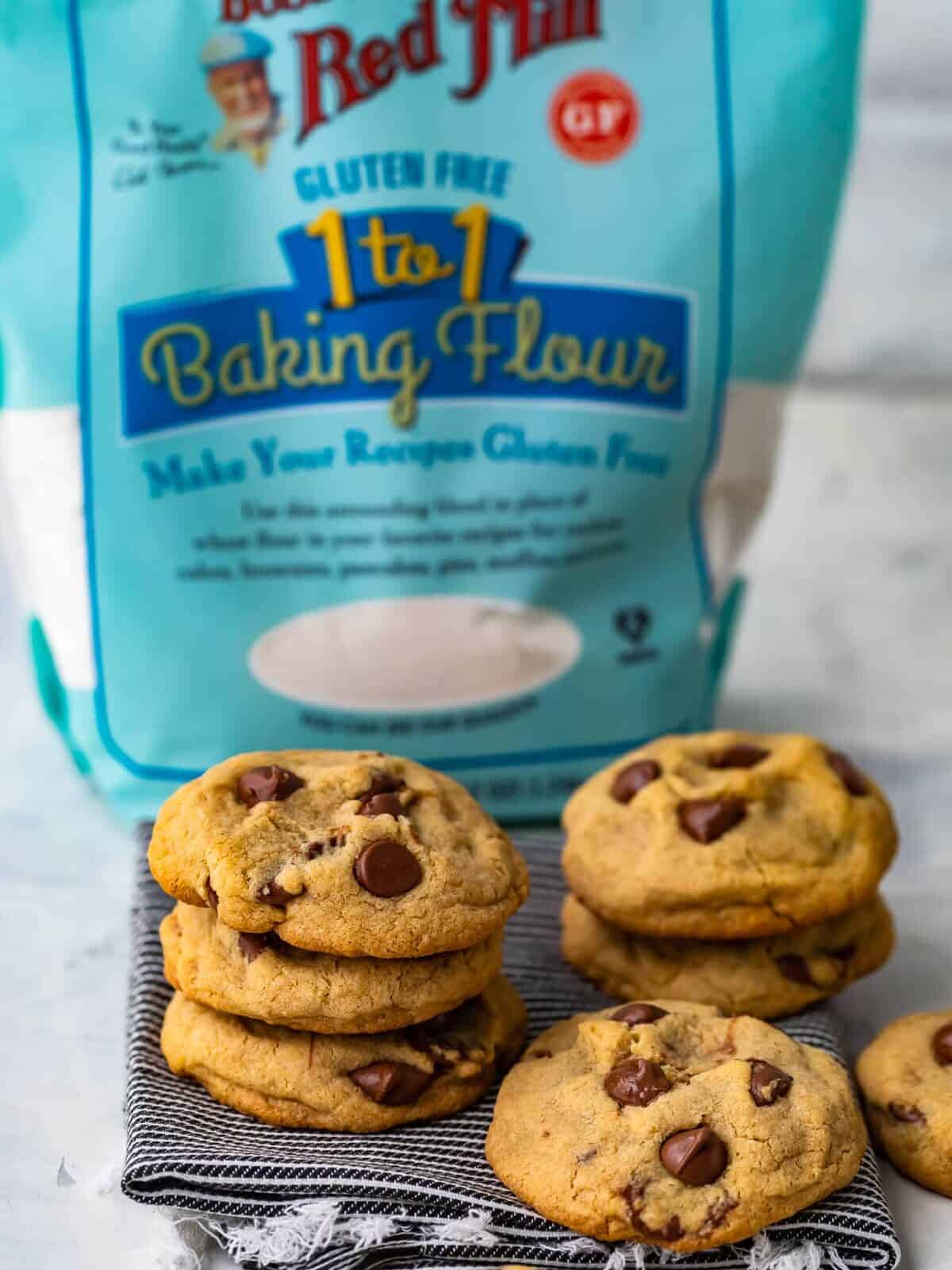 What holds gluten-free cookies together?
A combination of eggs and xanthan gum holds these cookies together. Fortunately for us, Bob's Red Mill's 1:1 flour already contains xanthan gum, so there's no need to add any!
Do gluten-free cookies need baking powder?
While baking powder is often prized in gluten free baking for its ability to create a soft and light texture, we've opted instead for a thick and chewy cookie, so there's no baking powder needed.
What does adding cornstarch do to cookies?
Cornstarch is generally used in recipes to help thicken things up. Chocolate chip cookies with cornstarch are going to be a bit thicker, which in turn makes them extra chewy. And while the outside gets nice and crispy, the inside will stay super soft. Another bonus: cornstarch is gluten-free, so it seems like a no-brainer to use it in these gluten-free cookies!
Can I make this recipe without eggs and dairy?
Yes! You can replace the butter with a vegan butter substitute and the egg with about 4 ounces of vegan cream cheese.
Should you refrigerate gluten free cookie dough before baking?
Chilling cookie dough before baking it is a great way to keep cookies from spreading out too thin. It can also change the texture of the cookies, and some people prefer to always do this when making cookies, but I don't think it's necessary. I prefer to bake my cookies as soon as possible, and using cornstarch lets me do that!
Why are my gluten free chocolate chip cookies flat?
If you followed my recipe exactly and your cookies are too flat, consider weighing your ingredients next time. Too little flour or too much butter could cause them to spread in the oven. You could also try chilling the dough to firm it up a bit more before baking.
Why are my gluten-free cookies dry?
The types of starches used in gluten-free flour blends absorb more moisture than traditional flour. I've added plenty of butter to make up for this, but if your dough seems overly dry, try adding a tablespoon or two of milk!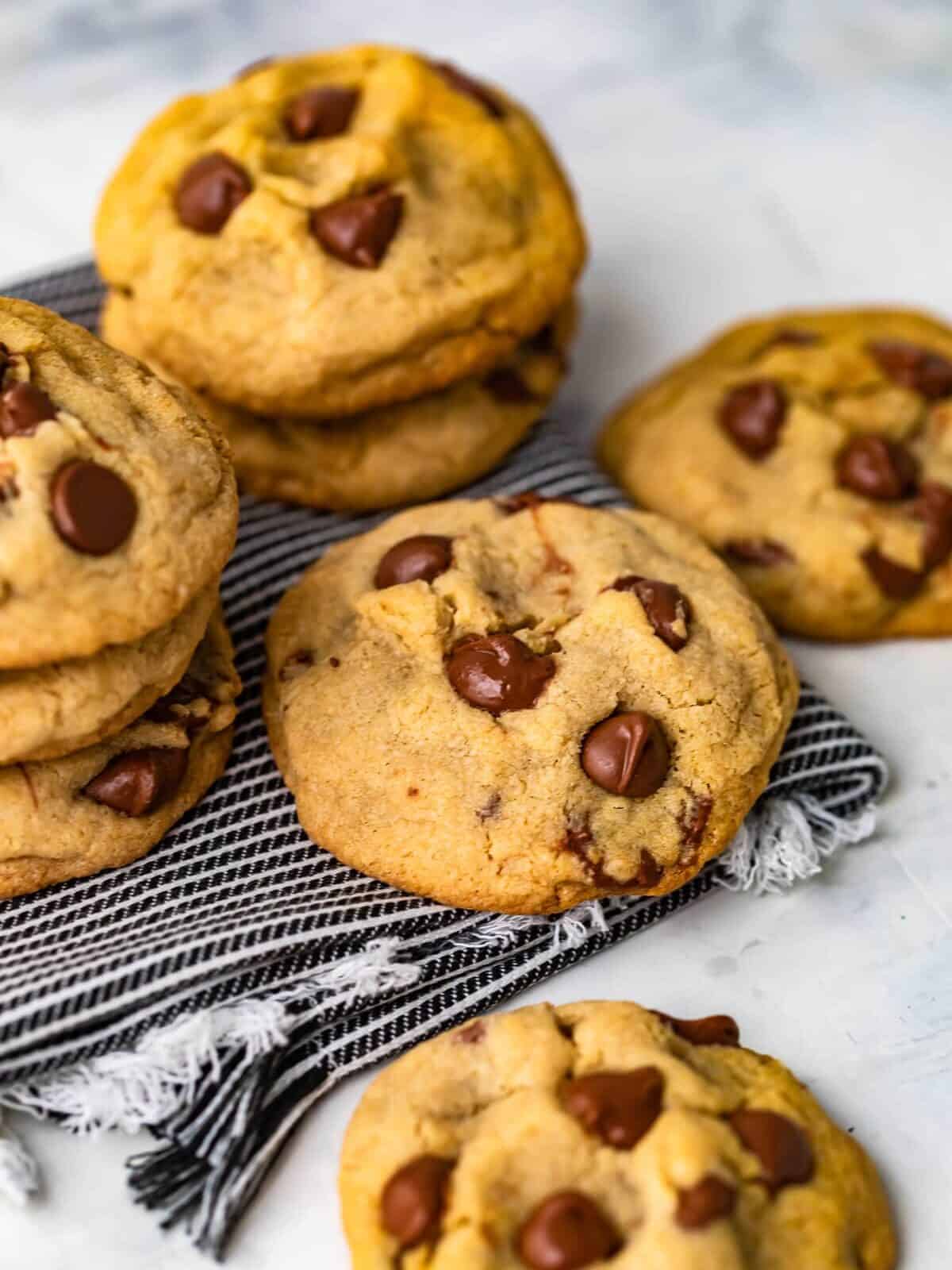 How to Store
Store these gluten free cookies in an airtight container or Ziplock bag at room temperature for up to 3 days or in the refrigerator for up to 5 days. A classic trick for storing baked goods is placing a slice of bread into the bag/container with them. The cookies will absorb moisture from the bread over time, so the bread will end up stale, but the cookies will stay soft.
How to Freeze
You can also freeze chocolate chip cookies after baking them if you want to store them for a longer period. They will keep well for up to 1 month in an airtight container, but who really wants to freeze them when you could eat them instead?
Serving Suggestions
Grab a big glass of milk, oat milk (using gluten free oats, of course!), cold brew, or chai tea, bake these soft and chewy chocolate chip cookies, and get ready to have your life changed.
These cookies also pair well with peanut butter fluff spread, cookies and cream butter (made with gluten free Oreos), chocolate fudge frosting, or a big scoop of red velvet ice cream. Yum!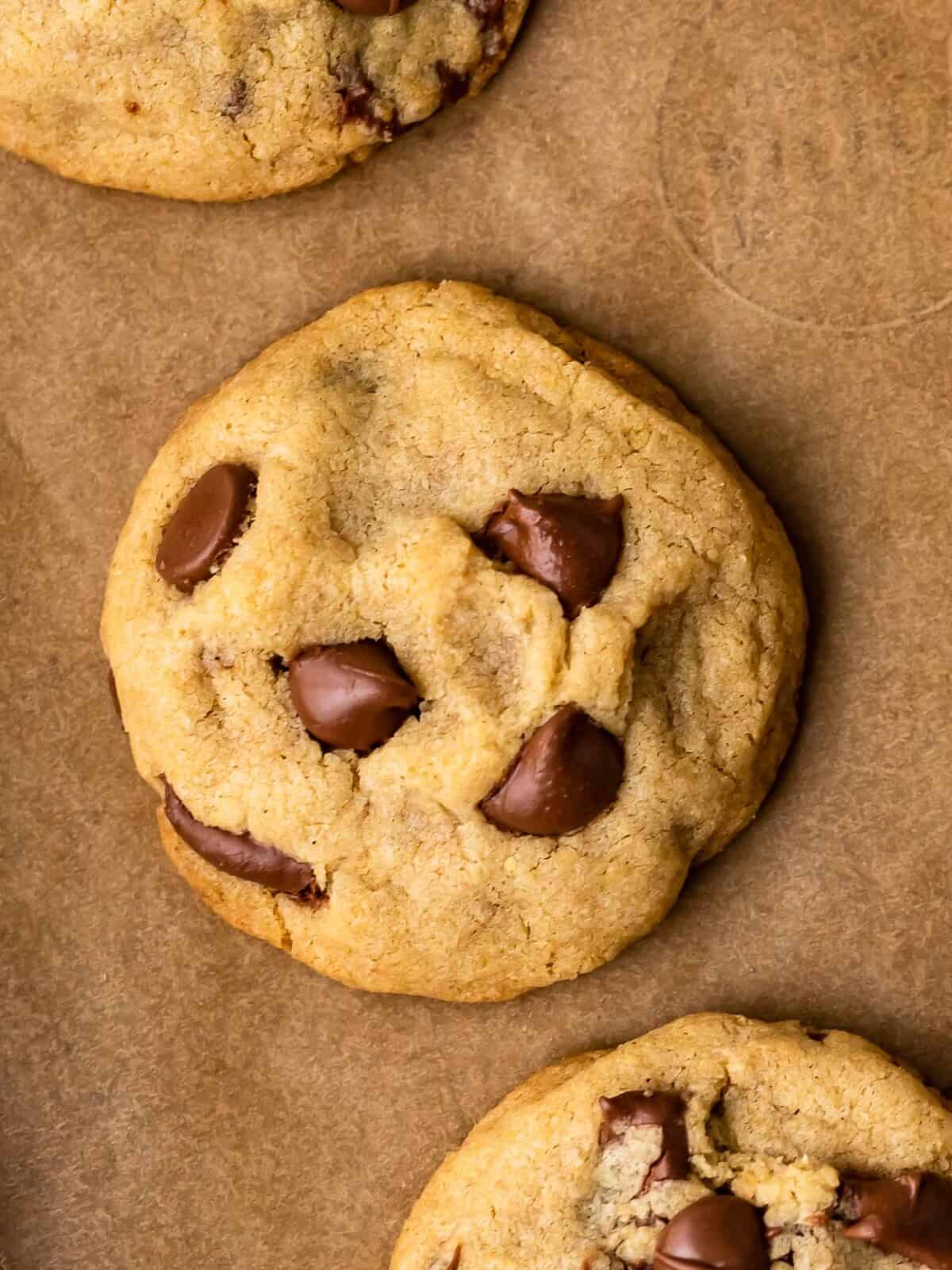 More Gluten Free Dessert Recipes We Love