Churros are one of the best treats ever, and this easy churros recipe means you can make them at home any time you want. Better yet, they're gluten free! Dip these fried cinnamon sugar snacks in chocolate sauce for the ultimate delight!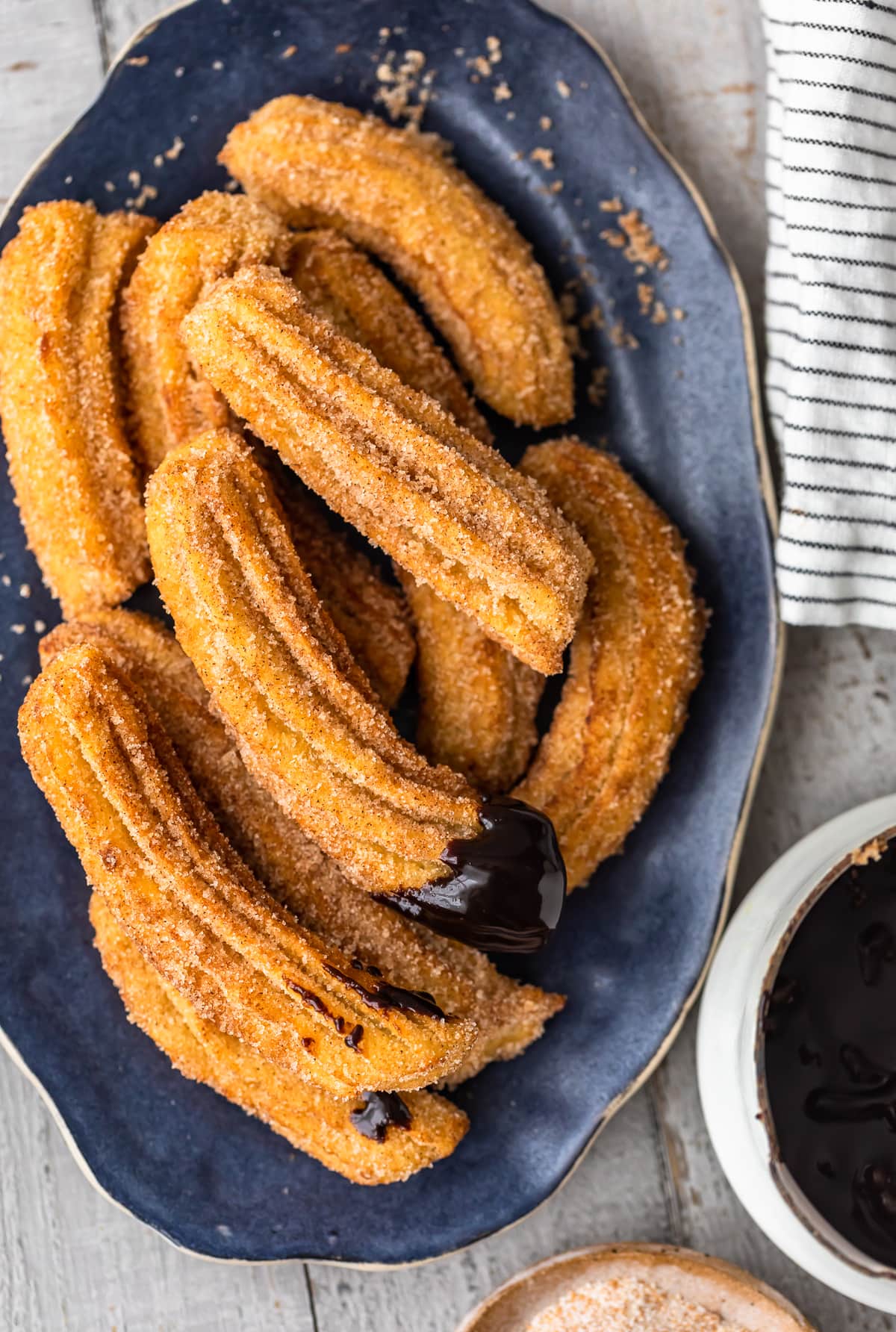 Easy Churros Recipe
Add a fun treat to any celebration with this easy churros recipe! Cinnamon, sugar, fried dough…do I need to go on?
Churros are a sweet and delicious treat, especially when dipped in chocolate sauce. They're perfect for a quick snack or a fun dessert. Basically they are just fried dough covered in sugar and cinnamon, and boy are they good!
This easy churros recipe is so simple. You can fry these up on the stove and have them ready for any occasion. I think they're just perfect for a Cinco de Mayo party, but I'd serve these any day of the year! They are welcome at birthday parties, game day, Taco Tuesday, or any other celebration you can think of.
Cinnamon sugar plus chocolate just makes sense, so don't forget to make the chocolate sauce to serve with your homemade churros. Yum! Everyone is going to eat these up! Oh, and did I mention they're gluten free?
These Gluten Free Churros with chocolate sauce are the sweetest snack!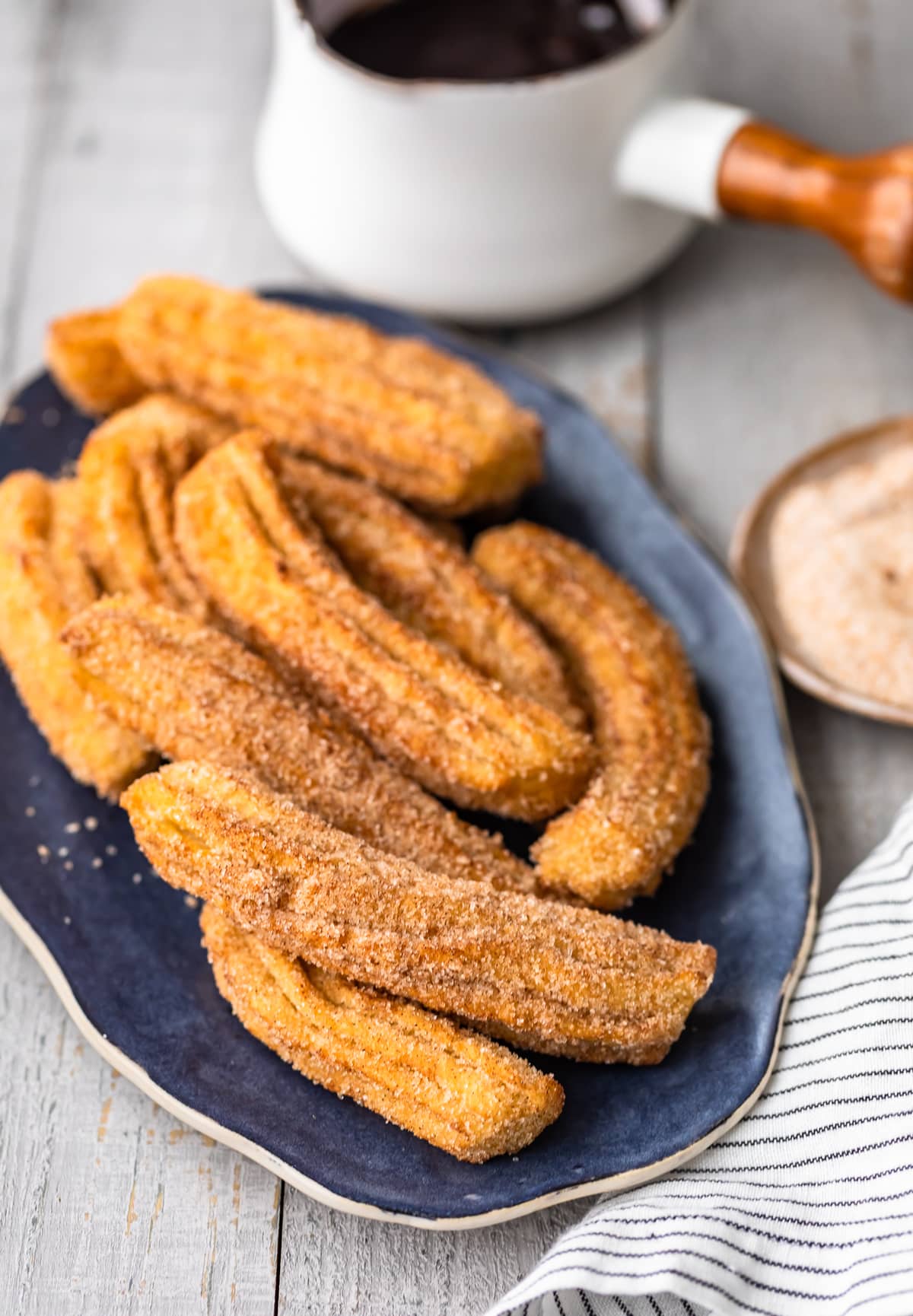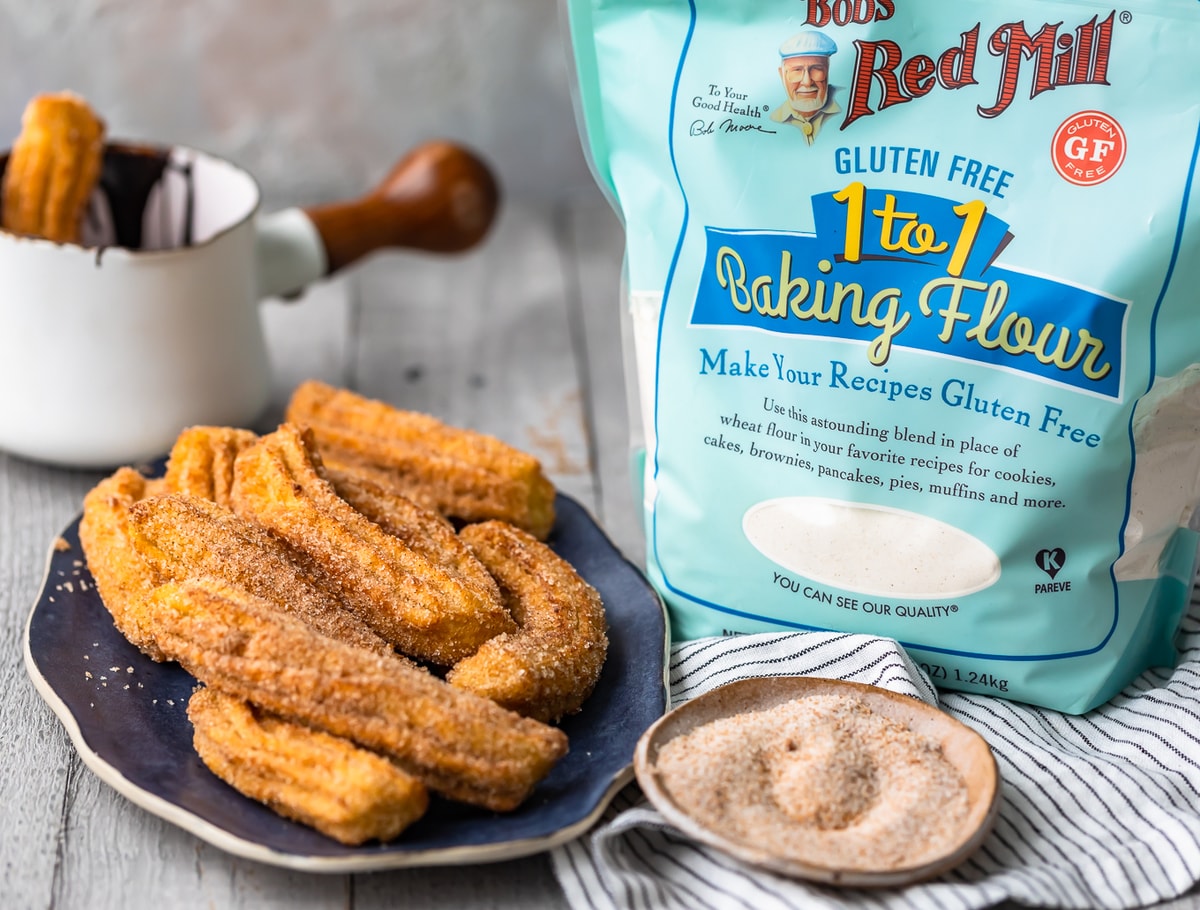 Gluten Free Churros
YOU GUYS…I'm back using my all-time favorite product for easily making favorite recipes Gluten Free, Bob's Red Mill 1:1 Gluten Free Baking Flour! I'm obsessed with this stuff because there's literally zero extra work. It's a 1:1 swap with traditional flour to make things super simple and gluten free!
If you suffer from a gluten free allergy or just prefer your recipes sans gluten, this flour is for you. These churros taste EXACTLY like every other churro recipe (well I mean, they're better than most) but thanks to Bob's Red Mill they have no gluten. HOORAY!
Try these other easy gluten free desserts!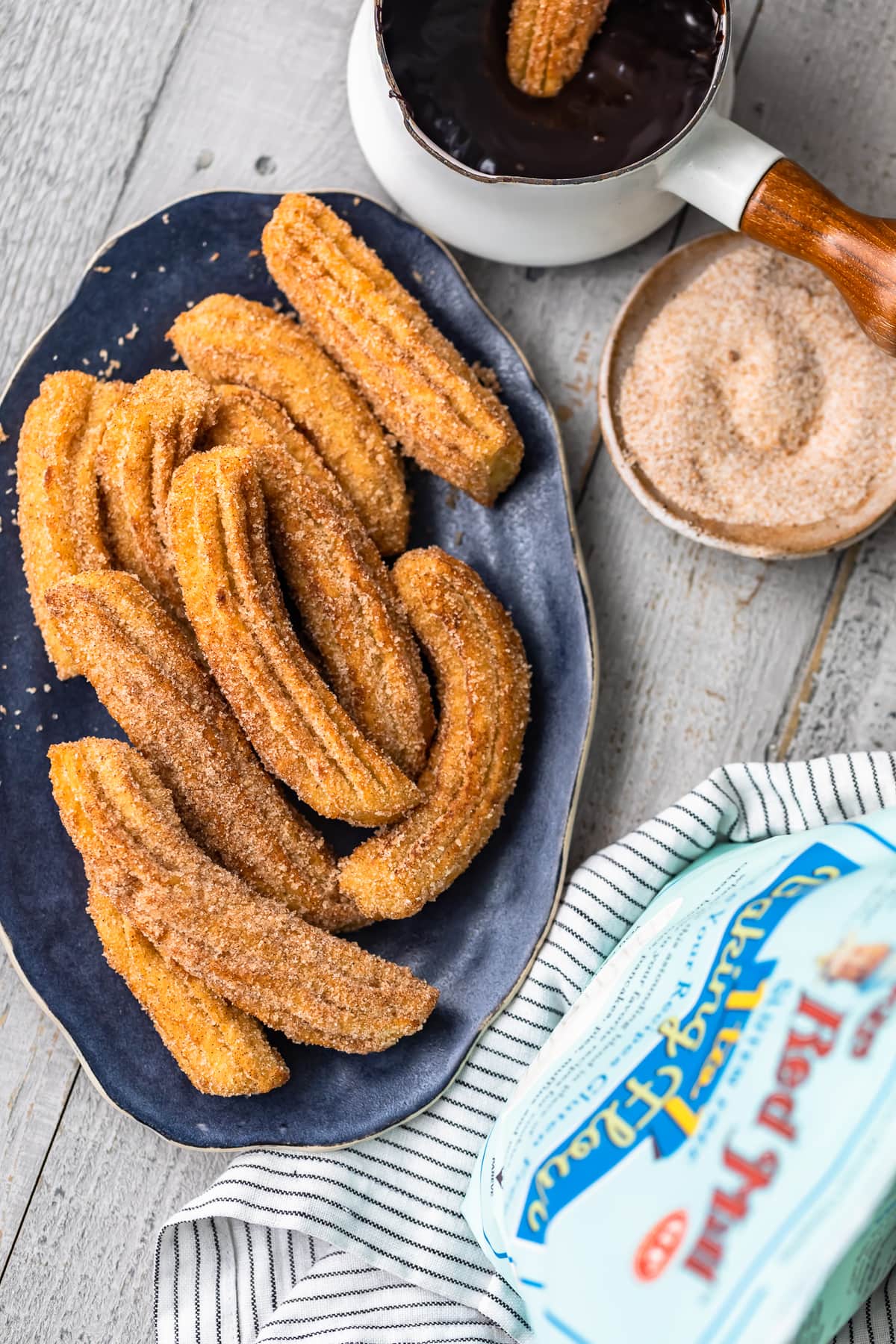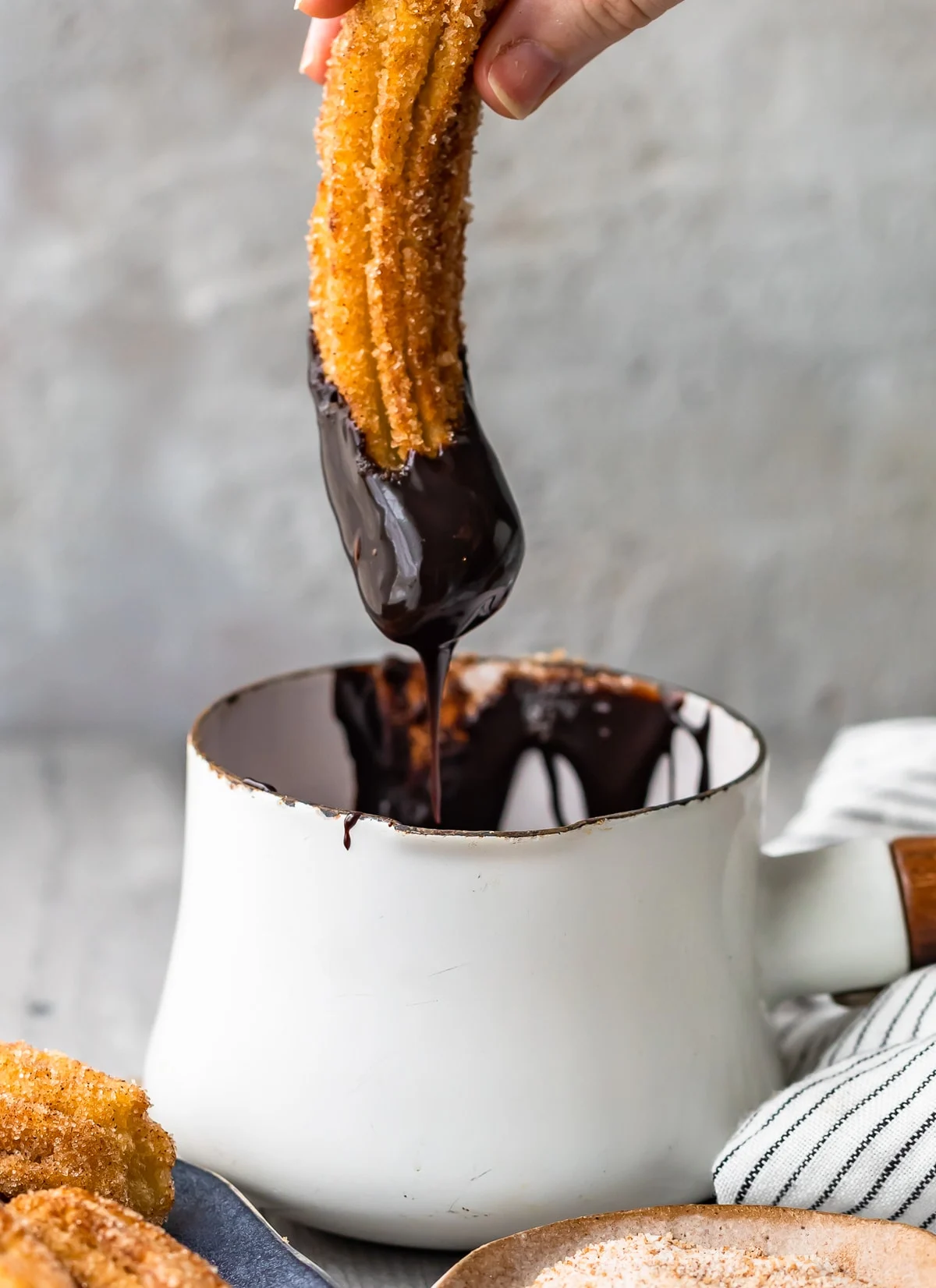 Homemade Churros with Chocolate Sauce
There's nothing better than a fresh, crispy, hot, fried churro covered in cinnamon and sugar. My mouth is watering just thinking about it!
Okay, there is one thing better…that's homemade churros dipped in chocolate! The warm chocolate sauce just makes them extra decadent and delicious. I love that I can make this easy churros recipe at home so I can eat this amazing snack any time I want!
Churros Ingredients
Sugar
Baking Flour (gluten free)
Butter
Cinnamon
Egg
Vanilla Extract
Salt
Water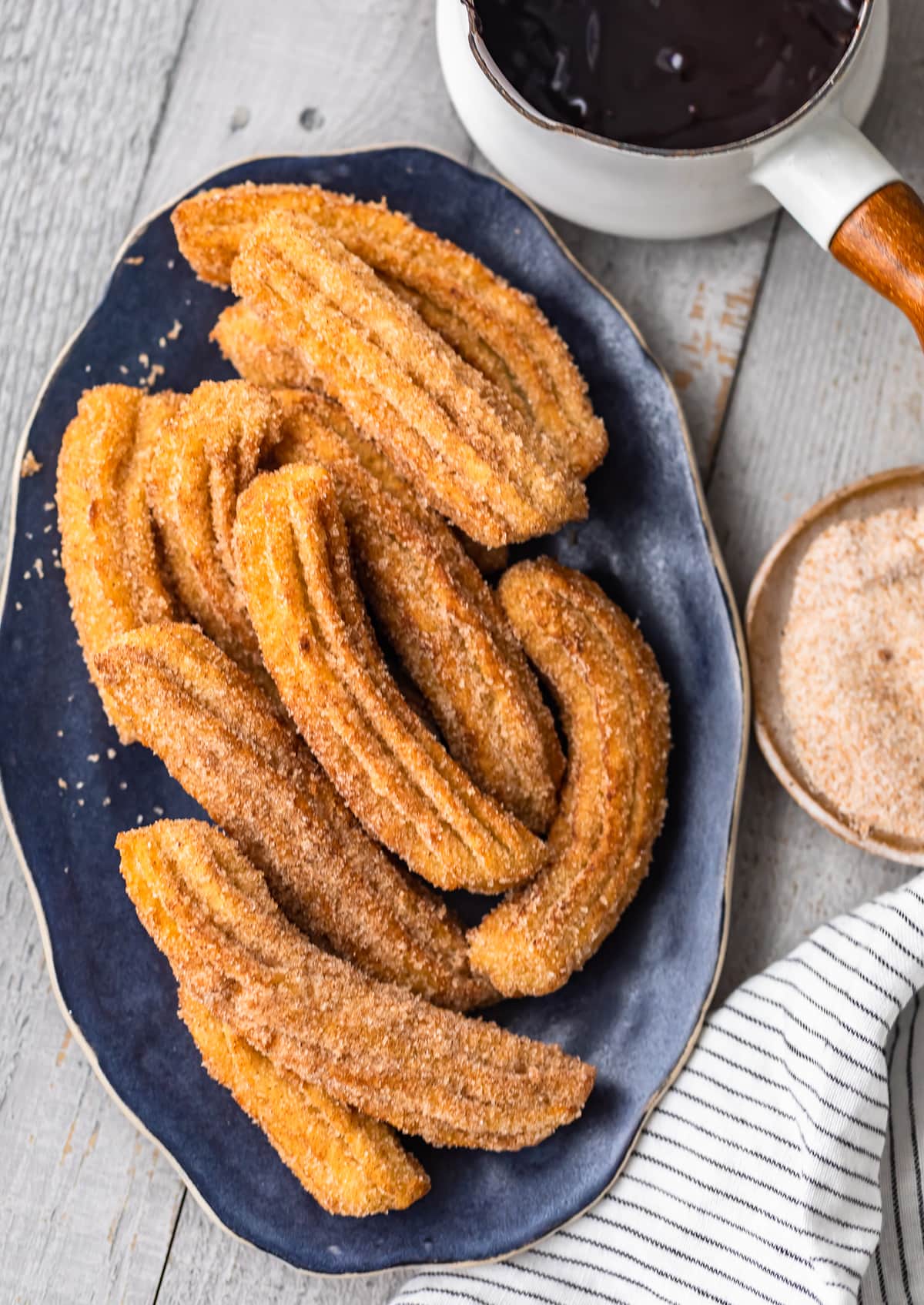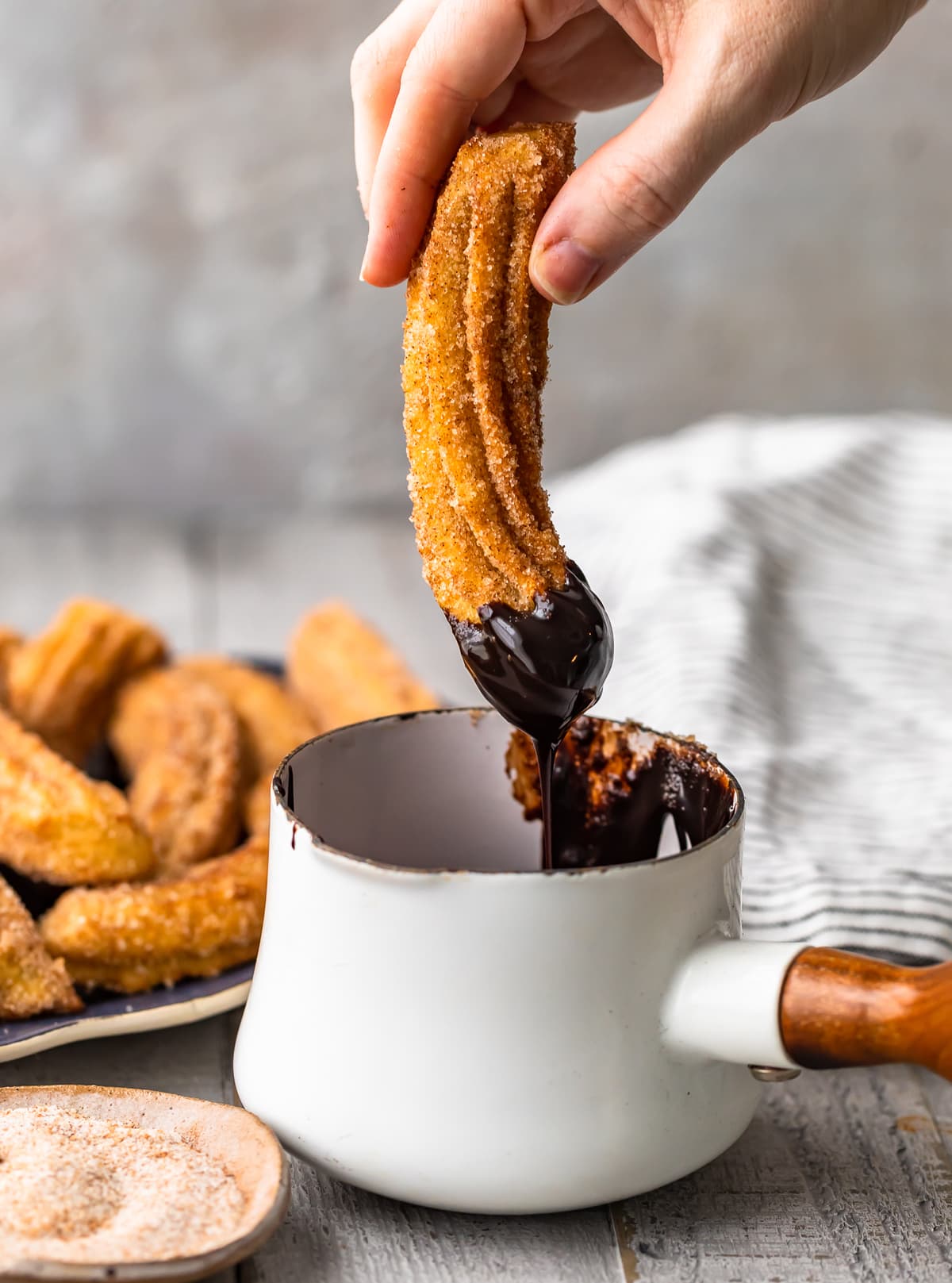 How to Make Churros – Step by Step
Making homemade churros is a lot easier than you would think. You just need a piping bag with a star tip to make the shape, and you can fry them up right on the stove top. They only take a few minutes to fry, and then they're ready to eat!
How to Make Churros with Chocolate Sauce:
Heat 1-2 inches of vegetable oil in a deep skillet.
In a large saucepan, combine water, butter, sugar, and salt. Bring mixture to a boil then reduce heat. Stir in the flour until fully combined, then turn off the heat.
Pour the mixture into a stand mixture and let it cool for a few minutes. Then add the egg and vanilla, and mix on high until smooth. When it's done, transfer it into a piping bag with star tip.
Combine cinnamon and sugar in a shallow bowl (to roll churros in later) and set aside.
Use a candy thermometer to check the temperature of the oil. When it reaches 375°F, you're ready to start frying.
Pipe a 5-6 inch length churro directly into the oil, using a knife to cut them from the tip of the piping bag. You should be able to fit about 3 at a time in the skillet.
Let them fry for 2-3 minutes on each side, flipping to make sure it's fried all around and golden brown.
Transfer them to a paper-towel lined plate to dry for 1 minute, then roll each one in the cinnamon sugar.
Repeat the process until all the batter is used up, and you'll have a plate full of churros!
To make the chocolate sauce, place chopped chocolate pieces in a bowl. Heat the heavy cream on the stove, then pour it into the bowl with the chocolate. Stir it until everything is fully melted and combined.
Dip those churros in the chocolate sauce and enjoy!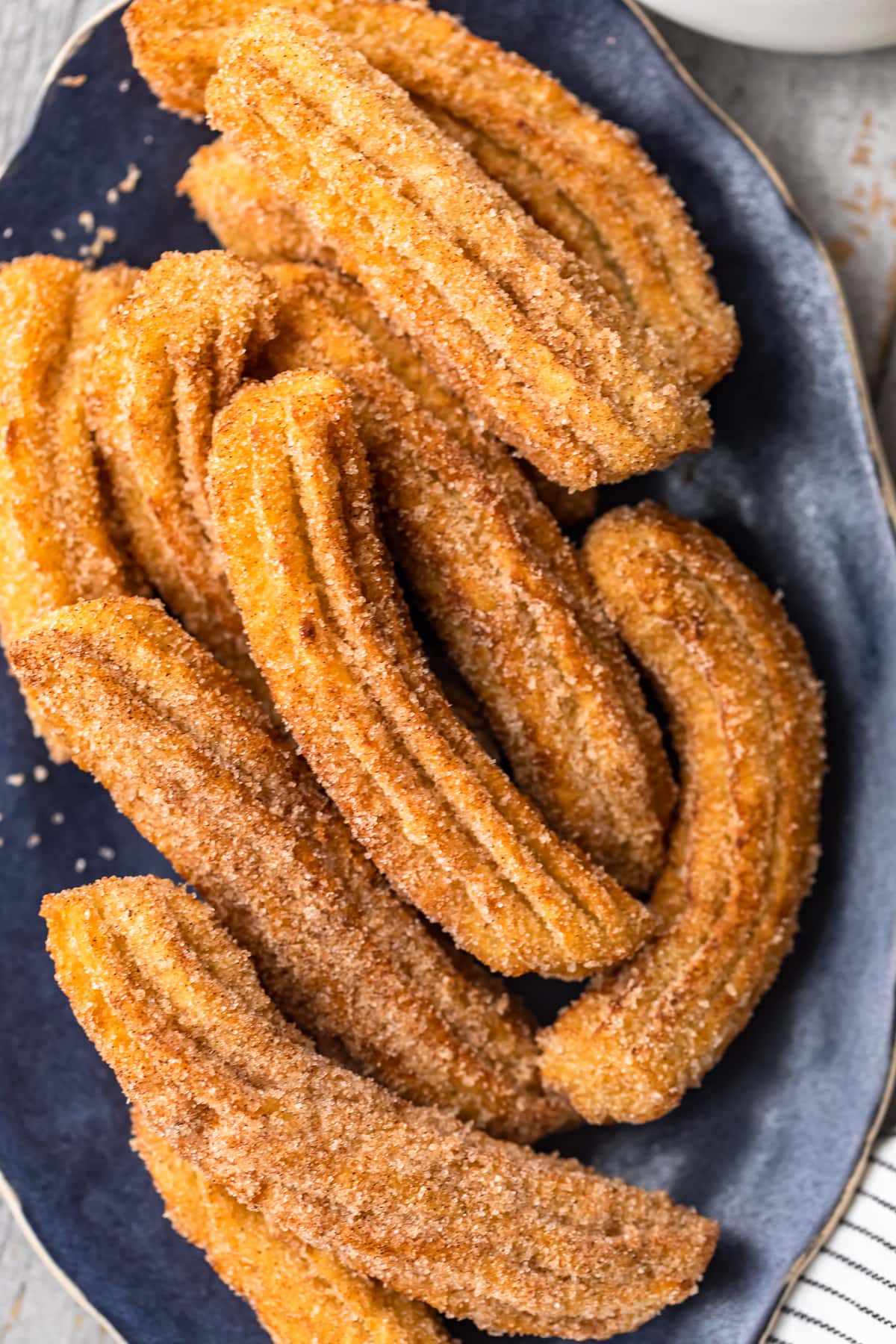 If you've never had churros before, then you're in for a real treat with this homemade recipe. And if you have had them before, then YOU'RE WELCOME for giving you a gluten free version that you can eat any time you want.
See the recipe card for details on how to make Churros at home. Enjoy!
Be sure to try out these other easy snacks and desserts: