Mexican Grilled Corn on the Cob is the perfect Summer side dish! We love to make this Mexican Corn on the Cob recipe and serve it all summer long. This Mexican Corn recipe is so easy, unique, flavorful and delicious! It's the perfect Mexican corn side dish for every occasion.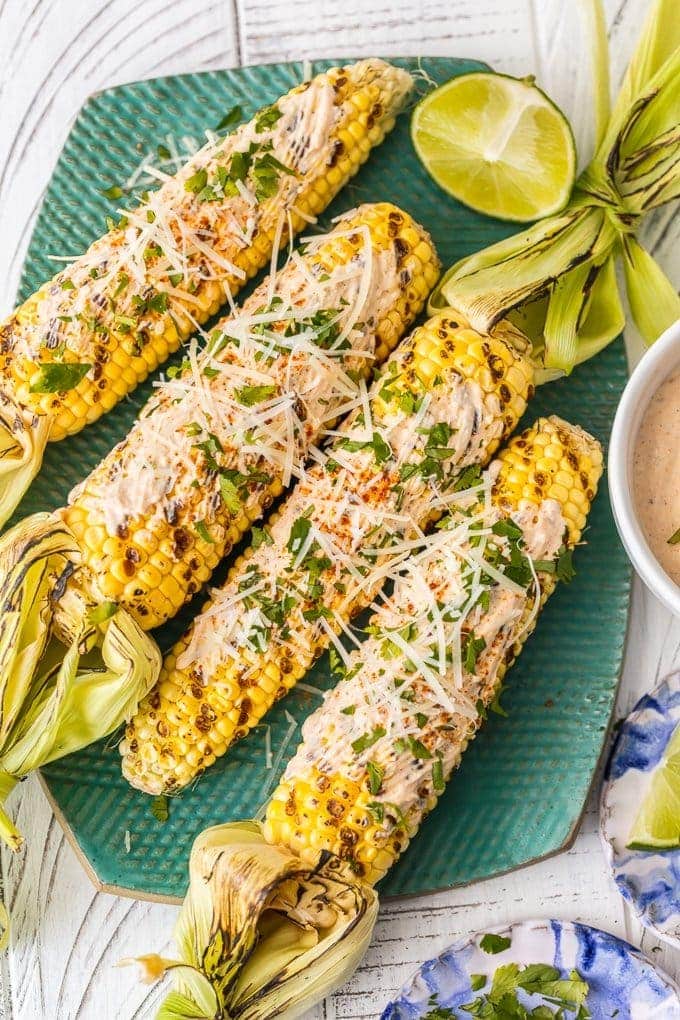 Mexican Grilled Corn Recipe
This Mexican Grilled Corn recipe is the perfect side dish for summer meals, Cinco de Mayo, and Taco Tuesday. So good and so easy to make!
If you haven't tried Mexican Grilled Corn before, then today is the day! It is one of our absolute favorite side dishes, perfect for pairing with dishes like Chicken Burgers, Baked Fried Chicken, or any Taco Night dinner!
This Mexican Corn on the Cob is loaded with flavor, but it's only about 100 calories per serving! That means it's super tasty AND a great healthy side dish to serve with any meal. Light, fresh, and flavorful is my favorite combo!
We smothered this grilled corn on the cob with a creamy and cheesy taco spiced sour cream mixture, and garnished with fresh cilantro and lime juice. Basically, the flavors of summer in my world. You're gonna love this Mexican Grilled Corn on the Cob!
Learn how to make Mexican corn on the cob with this super quick recipe!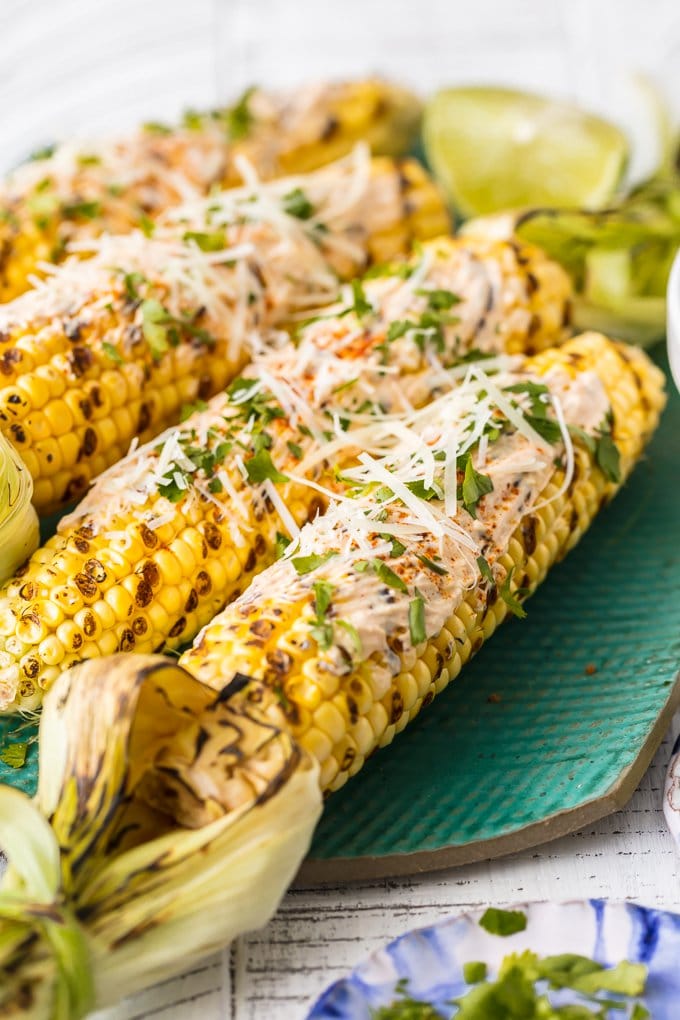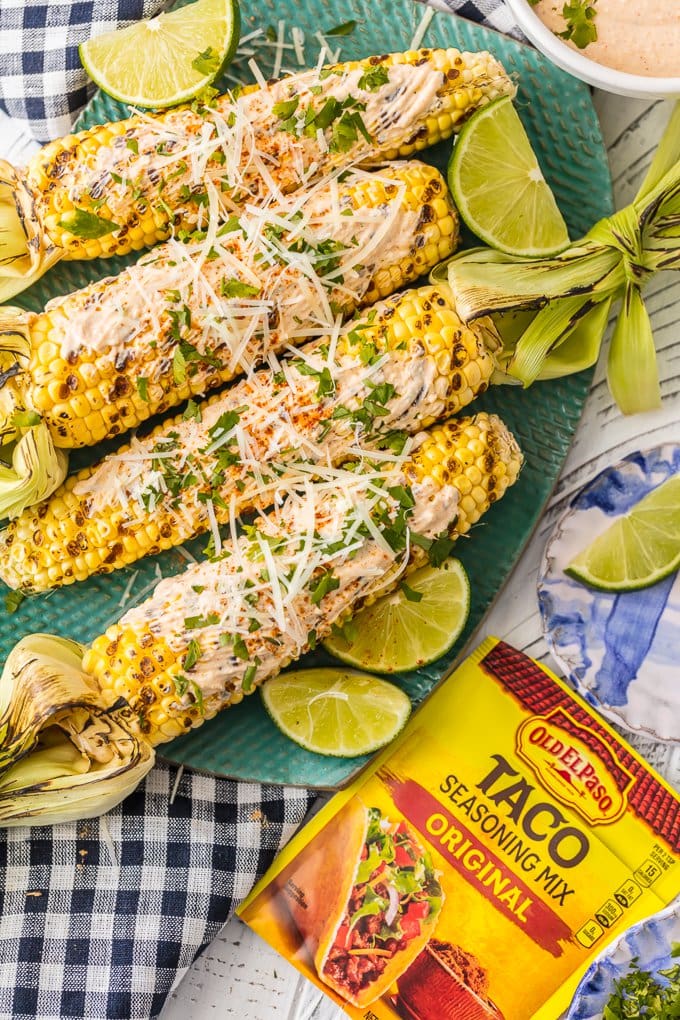 Grilled Mexican Corn Recipe
This Mexican Corn on the Cob would be nothing without the subtle taco seasoning mixed right into the creamy sour cream mixture.
Some of my favorite Tex Mex recipe that I've made include Baked Chicken Tacos, Enchilada Stuffed Peppers, and Cowboy Cheese Dip. This Mexican Grilled Corn is quickly becoming my go-to for an easy and unique side dish recipe!
How to Make Mexican Corn on the Cob
The good news about this grilled corn recipe? You only need 15 minutes! Yup, a delicious Mexican corn side dish ready in a flash. I love recipes like this for summer grilling season, because you can just throw it on while you're outside cooking or enjoying the weather.
Brush each ear of corn with olive oil, then place them on the grill. Cook for 10 minutes, turning often, just until the corn starts to brown.
While the corn grills, combine sour cream, Greek yogurt, parmesan cheese, taco seasoning, lime juice, and salt in a bowl.
When it's done grilling, brush the corn with the sour cream mixture, then sprinkle each ear with cilantro, shredded parmesan, and lime juice.
That's all there is to it!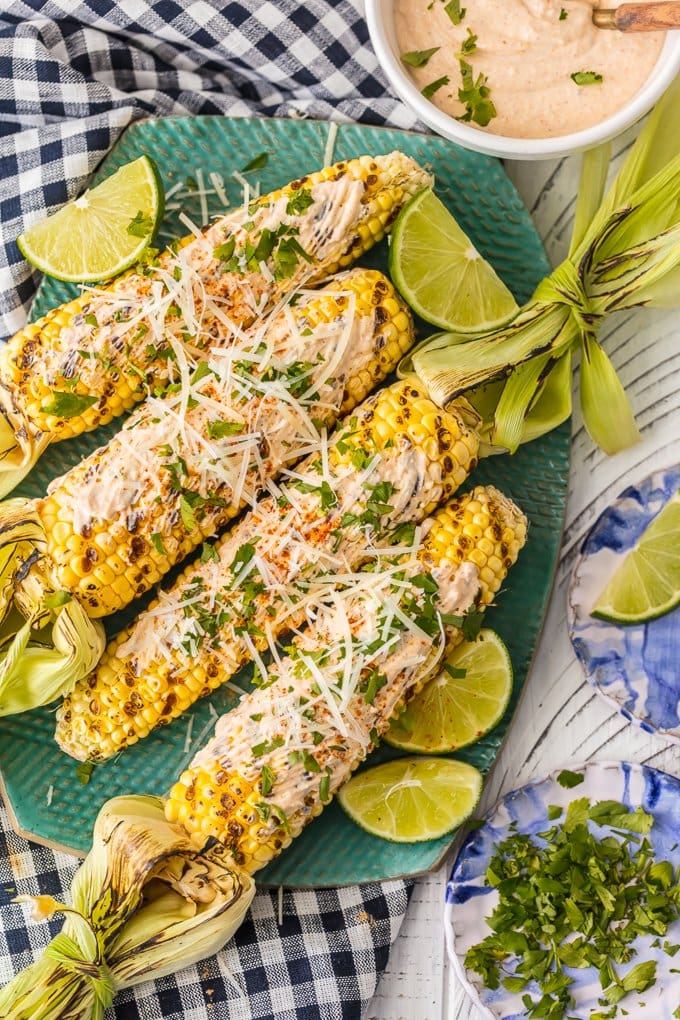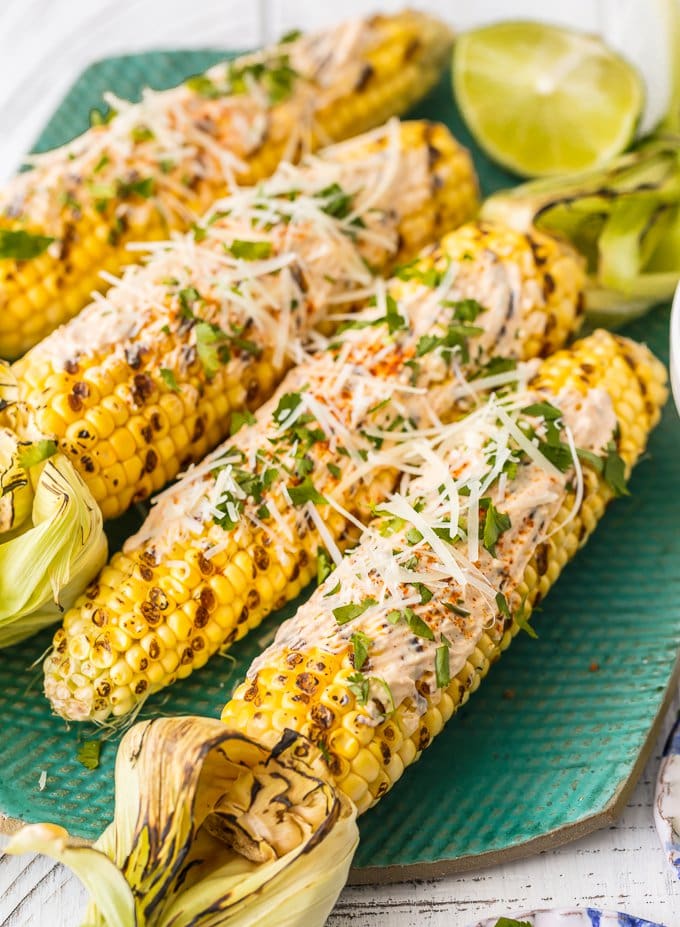 FAQ for grilling corn
How much corn is on the cob?
Each ear of corn yields approximately 3/4 cup corn kernels. It really is the perfect serving of corn! You can eat it straight off the cob or chop off the kernels (be careful!) and eat with a fork.
Can you use this Mexican Grilled Corn recipe for Mexican Street Corn?
Yes you can! Grill the corn as directed and then slice off the kernels and use it to make your favorite Mexican Street Corn dishes. I have a few recipes for you to try! Hot Mexican Street Corn Dip, or even Mexican Street Corn Salsa!
Best Mexican Street Corn Recipes
Use this Mexican Grilled Corn to make these tasty Mexican street corn recipes.
Is Mexican Corn on the Cob healthy?
Each serving of this Mexican Grilled Corn is just around 100 calories. We are using greek yogurt and light sour cream instead of mayo as some recipes use. Corn itself is not a food rich in nutrients, but this is certainly a light side dish that you can feel good about feeding your family.
When grilling corn on the cob do you remove the husks?
For this Mexican grilled corn recipe, I do remove the husks before grilling. That's because I just love the flavor that grilling brings to the corn.
However, you can leave the corn in the husks to grill if you prefer. This will help the corn to be extra moist and juicy. You can open up the husks and add some butter and then close them back up, grill, and then remove the silks and husks.
Some people prefer this method because of how it retains moisture, but I find I love the grill flavor too much to do it that way.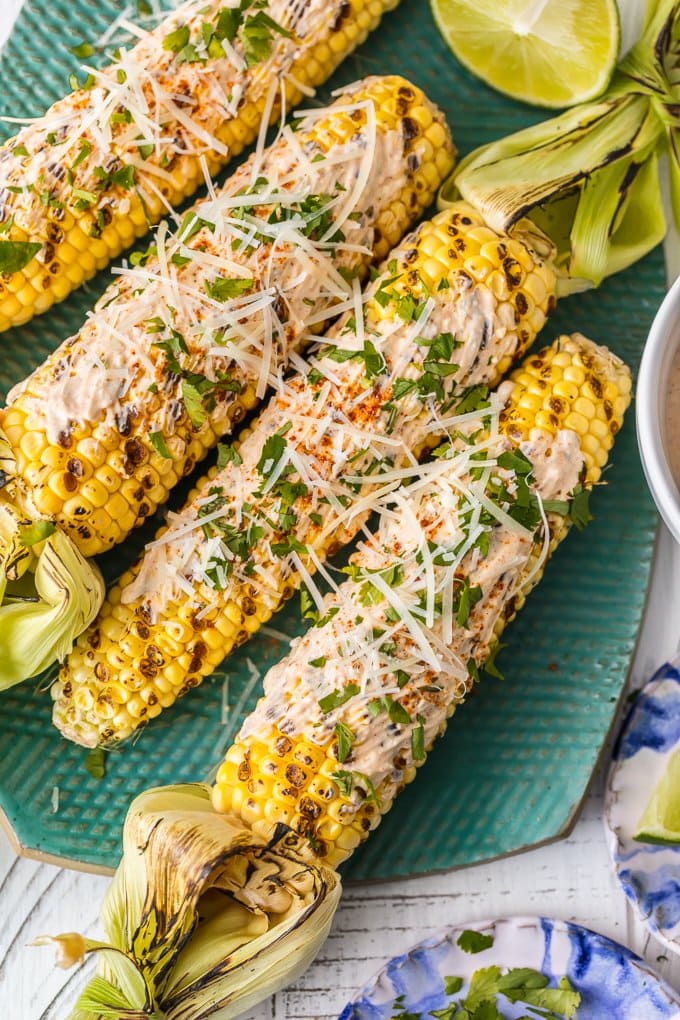 If you don't have time to grill your Mexican Corn, you can also cook your corn on the cob stovetop! We have a great recipe for how to cook corn on the cob that you should check out. So easy and fast! If you choose to boil your corn, just follow the instructions for the sour cream mixture and brush on once the corn is done cooking.
Watch the video and see the recipe card below for full details on How to make Mexican Corn on the Cob. Enjoy!
Serve Mexican Grilled Corn on the Cob with these other dishes: