Barbacoa beef has such a zesty, flavorful taste that will take traditional tacos to a new level. If you want to prepare a meal for Taco Tuesday or any other day of the week, these Barbacoa Tacos are a must-have.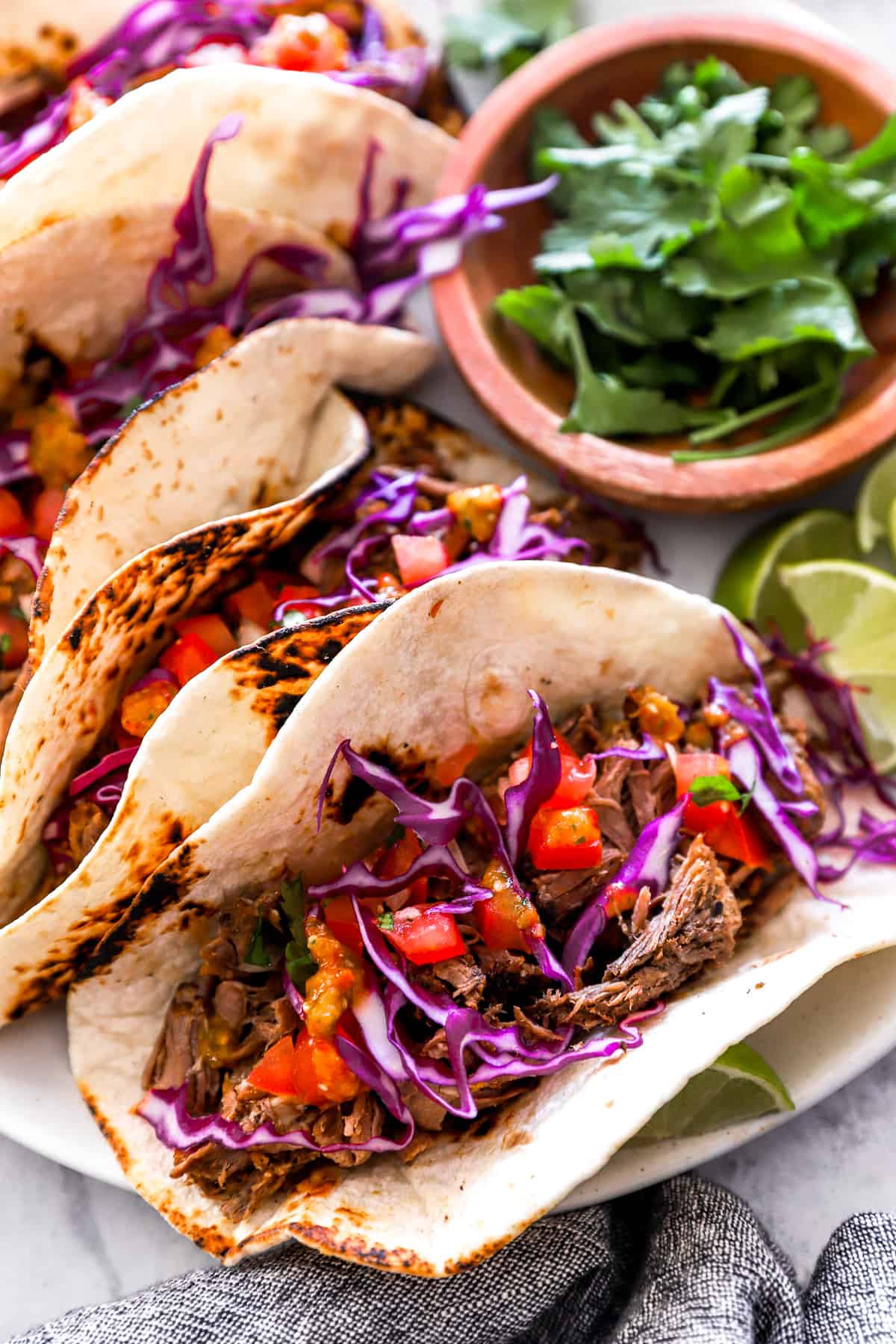 What's in a Barbacoa Taco?
Flavorful Barbacoa beef is piled onto tortillas along with pico de Gallo, red cabbage, and more. You can make this meal from scratch and impress your family with your culinary skills! Serve 'em up on Taco Tuesday, Cinco de Mayo, or any regular old day.
Barbacoa Meat: You'll need to cook up this barbacoa meat as the first step in this recipe!
Tortillas: I like flour tortillas, but corn or cassava flour tortillas will also work.
Red Cabbage: Adds a bit of crunch.
Limes: Adds acidity and zesty flavor to every component of this dish.
Cilantro: Adds fresh herbal flavor to every component of this dish. You can use parsley instead if you're not a fan.
Tomatoes: Form the base of the pico de gallo.
Onion: Adds earthy flavor and crunch to the pico de gallo and red tomatillo salsa.
Salt + Pepper: Enhances the flavors.
Tomatillos: Create the base for the red tomatillo salsa.
Garlic: Adds earthy flavor.
Chipotle Peppers in Adobo: Adds a bit of spice and smokiness to the red tomatillo salsa.
A1 Steak Sauce: Adds a bit of umami flavor to the salsa.
Pro Tip: You can use store-bought pico de gallo and salsa verde to save some time!
Barbacoa Taco Salad
If you want to make a taco salad, put everything in a crispy tortilla bowl! Ortega makes tortilla bowls that you can buy, bake, and stuff with your taco ingredients. Or top off the salad with tortilla strips to add to the crunch. And if you're looking for another way to serve the delicious beef, try these Barbacoa Burrito Bowls!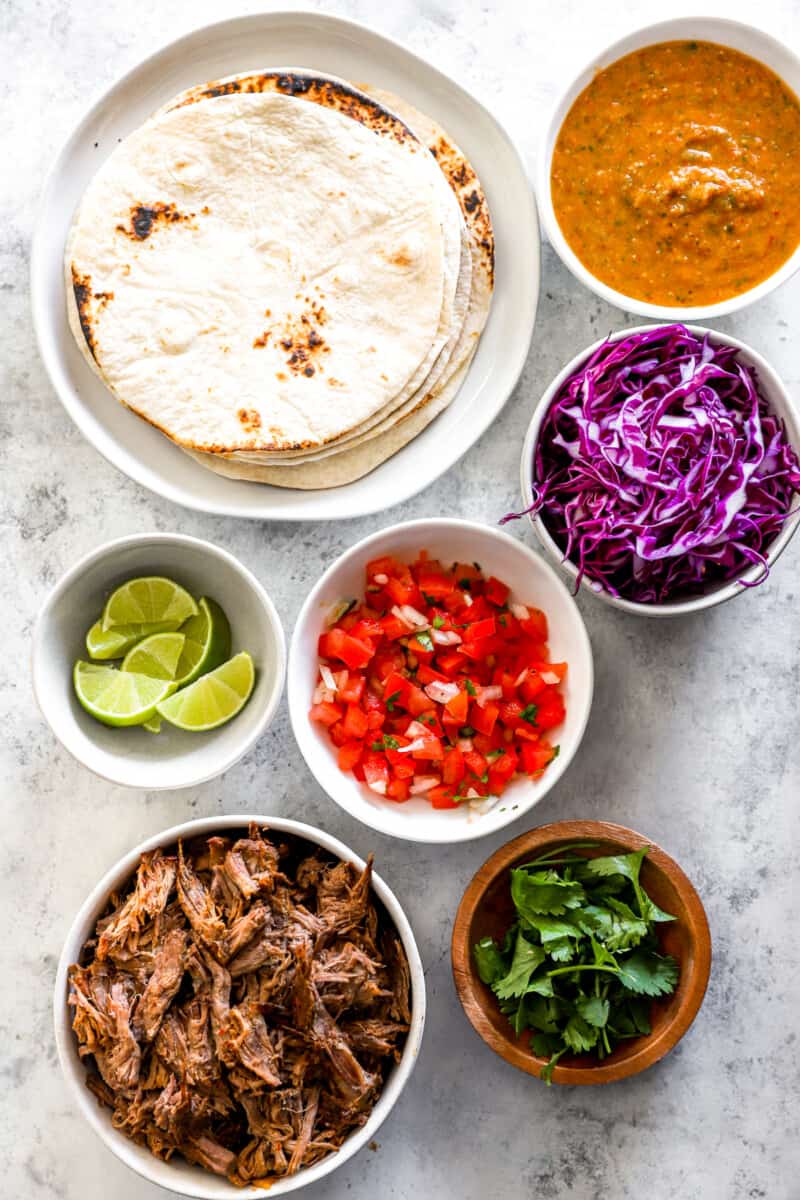 What recipe should I use for the barbacoa meat?
Use our easy crockpot Barbacoa recipe for the meat. Once you've made your meat, you can use it in this recipe.
Can I make these tacos with another kind of meat?
Definitely. Use what you like, whether it's pork, chicken, or even beef.
What kind of tortillas should I use?
Flour tortillas work well with the Barbacoa Tacos and taste amazing. However, if you prefer corn tortillas, feel free to use them instead of the flour tortillas.
Can I skip baking the tacos?
You can skip baking the tacos but then your tortillas will be soft. If you prefer a slight bit of crispiness, it's best to put them in the oven for a few minutes.
What other toppings can I add to Barbacoa tacos?
You can add guacamole, fresh avocado slices, jalapeno slices, and even diced purple onion to your tacos for added flavor in addition to the other toppings. Or try this mango salsa to add some sweetness!
Can I make these tacos ahead of time?
Yes. If you'd like to make the tacos ahead of time, simply store the ingredients in different containers and assemble the tacos on the spot when you're getting ready to eat them.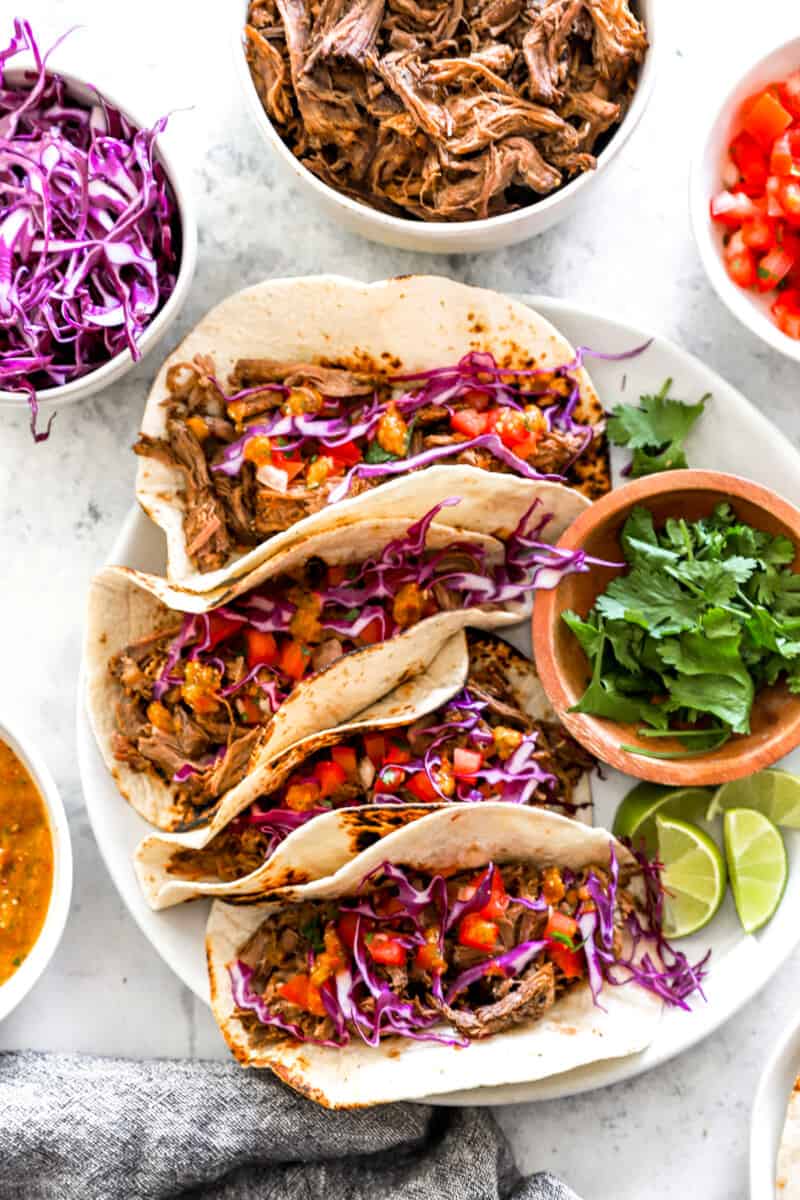 How to Store and Reheat Beef Barbacoa Tacos
Store the barbacoa beef, pico de gallo, and red tomatillo salsa in individual airtight containers in the refrigerator for up to 3 days. When ready to assemble, heat the beef in the microwave and continue with the recipe as instructed.
How to Freeze Slow Cooker Barbacoa Tacos
While I do not recommend freezing the fully-assembled tacos, you can freeze the barbacoa beef in an airtight container for up to 3 months. Let thaw overnight in the refrigerator before reheating and adding to tacos.
What to Serve with Mexican Barbacoa Tacos
There are so many options for serving these. Use the pico and tomatillo salsa included in the recipe card or any of your favorite salsa and toppings. Make it a meal by adding some cilantro lime rice, refried beans, or street corn on the side!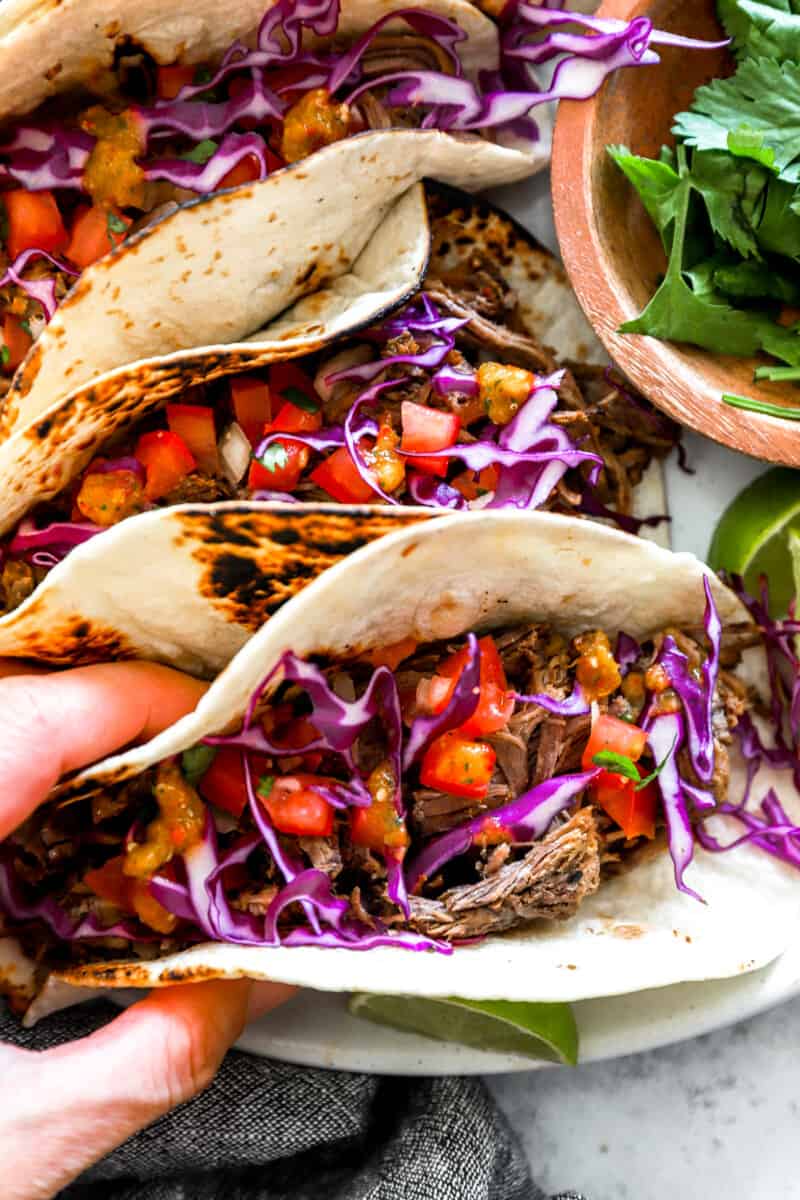 More Beef Taco Recipes We Love