Barbacoa beef has such a zesty, flavorful taste that will take traditional tacos to a new level. If you want to prepare a meal for Taco Tuesday or any other day of the week, these Barbacoa Tacos are a must-have.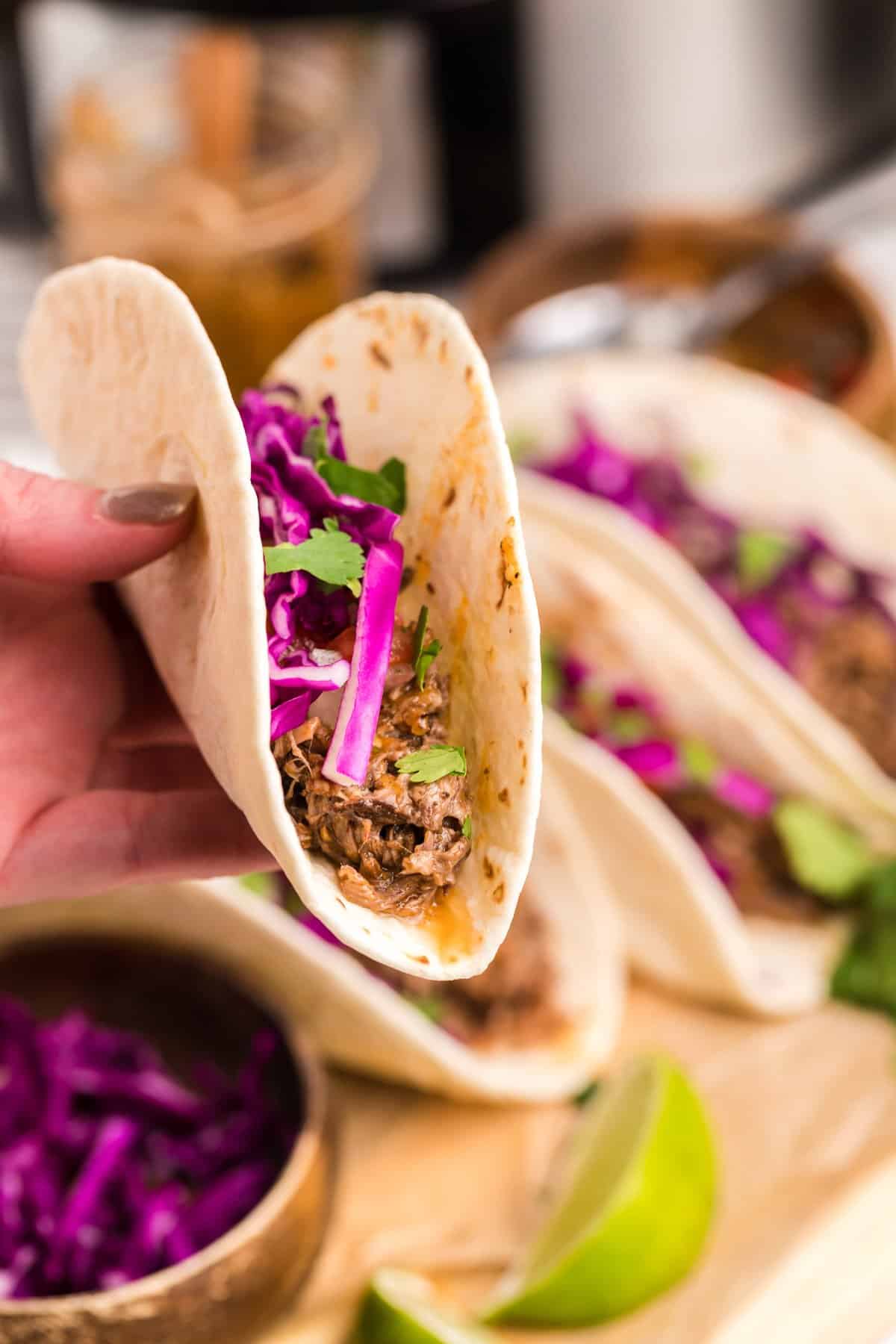 Barbacoa Beef Tacos
Do you love tacos? If you eat them weekly, give this recipe for Barbacoa Tacos a try!
Flavorful Barbacoa beef is piled onto tortillas along with pico de Gallo, red cabbage, and more. You can make this meal from scratch and impress your family with your culinary skills! Serve em up on Taco Tuesday, Cinco de Mayo, or any regular old day.
Why You'll Love this Beef Taco Recipe:
EASY: Take a break from the typical ground beef tacos for the moment and try them with barbacoa meat instead, which is absolutely delicious.
CUSTOMIZABLE: Customize these tacos to your liking using different toppings to add more flavor to them.
CONVENIENT: These street-style tacos are so delicious and convenient when hosting small gatherings with loved ones.
You'll love how well the pico de gallo pairs with the barbacoa meat. When added to the tortillas, everything blends so well together to create a delicious meal that you can enjoy for lunch or dinner.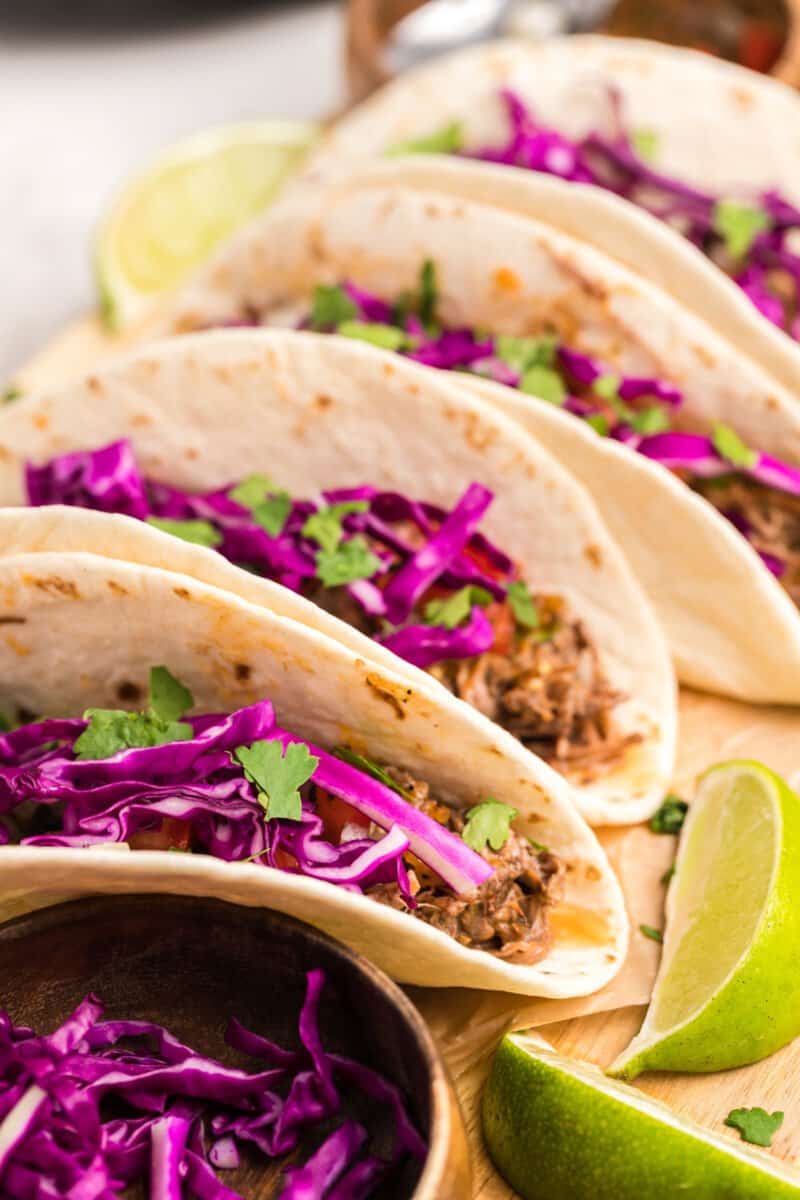 How to Make Barbacoa Tacos
You can jump to the recipe card for full ingredients & instructions!
Put your barbacoa meat in the slow cooker and use two cups to make the tacos.
Set your oven to 350 degrees F.
Place your meat on your tortilla before squeezing a lime over the meat.
Set the tortillas on a taco rack and bake for five minutes.
Add your fresh toppings, including the pico de gallo, cilantro, and more.
Recipe Notes
You can use prepared pico de Gallo if you don't feel like making it from scratch.
Although these tacos don't call for cheese, feel free to add some on top for a special touch.
If you don't want to use barbacoa meat, you can use other types of meat, including pulled chicken prepared the same way.
Squeeze fresh lime juice over your meat instead of bottled lime juice. The fresh juice tastes so much better.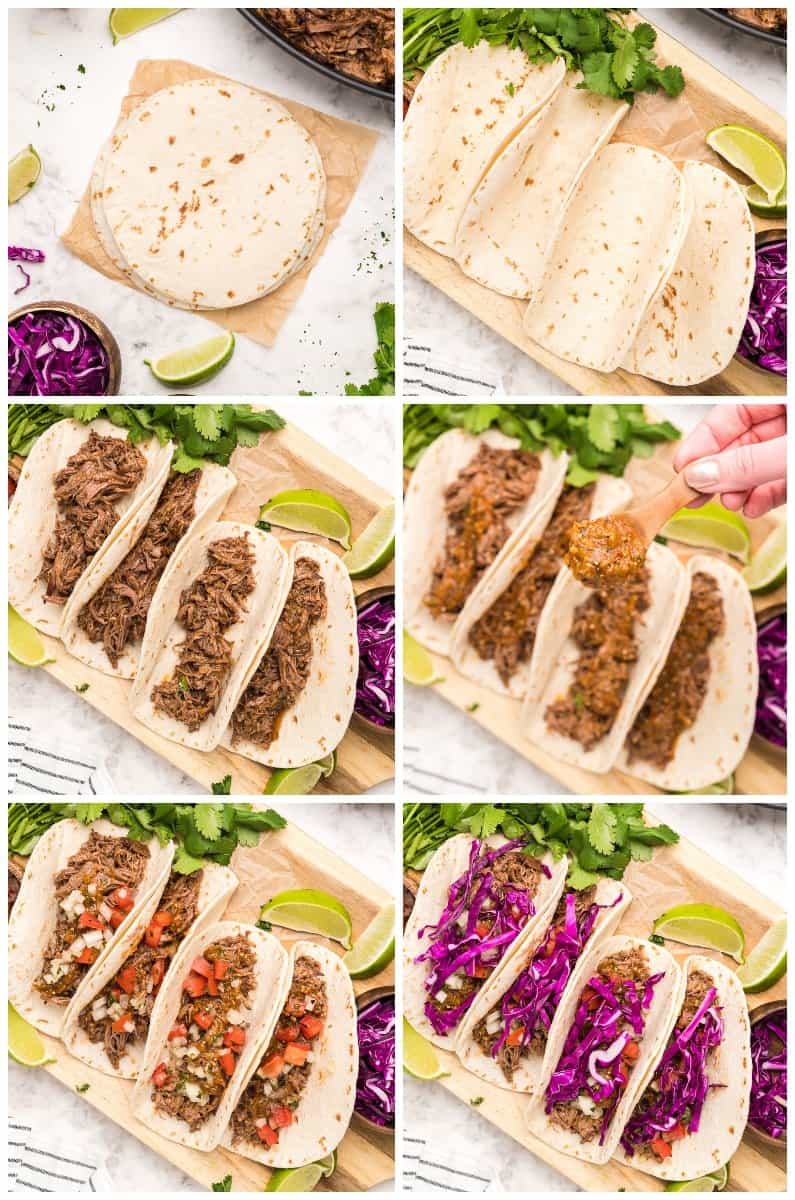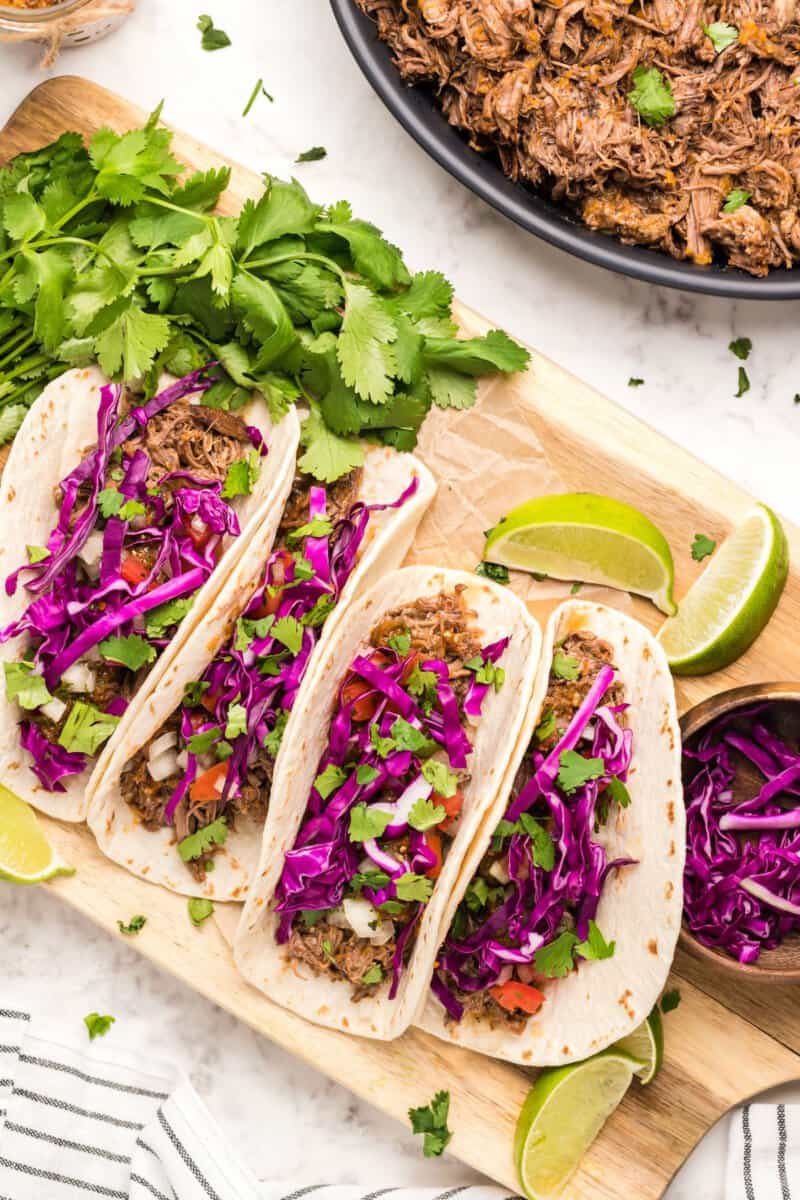 What recipe should I use for the barbacoa meat?
Use our easy crockpot Barbacoa recipe for the meat. Once you've made your meat, you can use it in this recipe.
Can I make these tacos with another kind of meat?
Definitely. Use what you like, whether it's pork, chicken, or even beef.
What kind of tortillas should I use?
Flour tortillas work well with the Barbacoa Tacos and taste amazing. However, if you prefer corn tortillas, feel free to use them instead of the flour tortillas.
Can I make these tacos ahead of time?
Yes. If you'd like to make the tacos ahead of time, simply store the ingredients in different containers and assemble the tacos on the spot when you're getting ready to eat them.
Serving Suggestions
There are so many options for serving these. Use the pico and tomatillo salsa included in the recipe card or any of your favorite salsa and toppings.
Make it a meal by adding some cilantro lime rice, refried beans, or street corn on the side!
Barbacoa Tacos are fun to prepare and even more enjoyable to consume. If you're looking for something different than what you're used to when making tacos, try this simple, stress-free recipe.
And if you're looking for another way to serve the delicious beef, try these Barbacoa Burrito Bowls!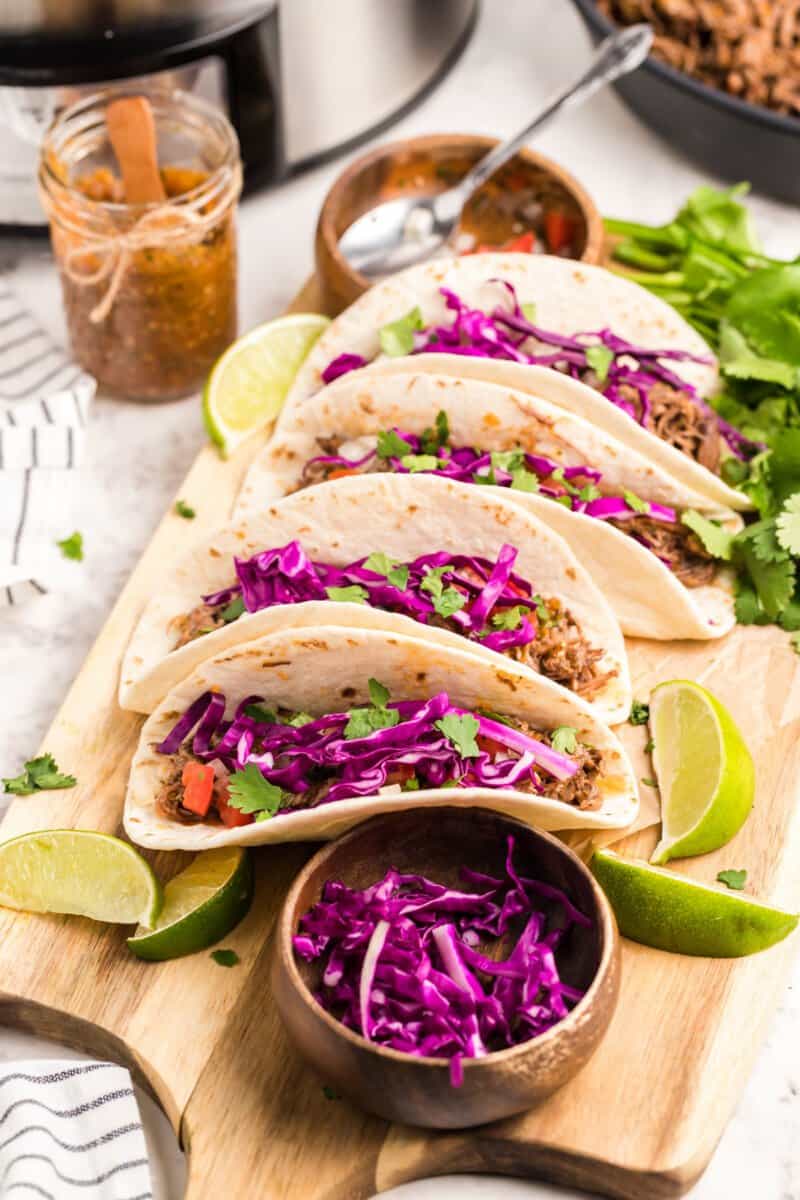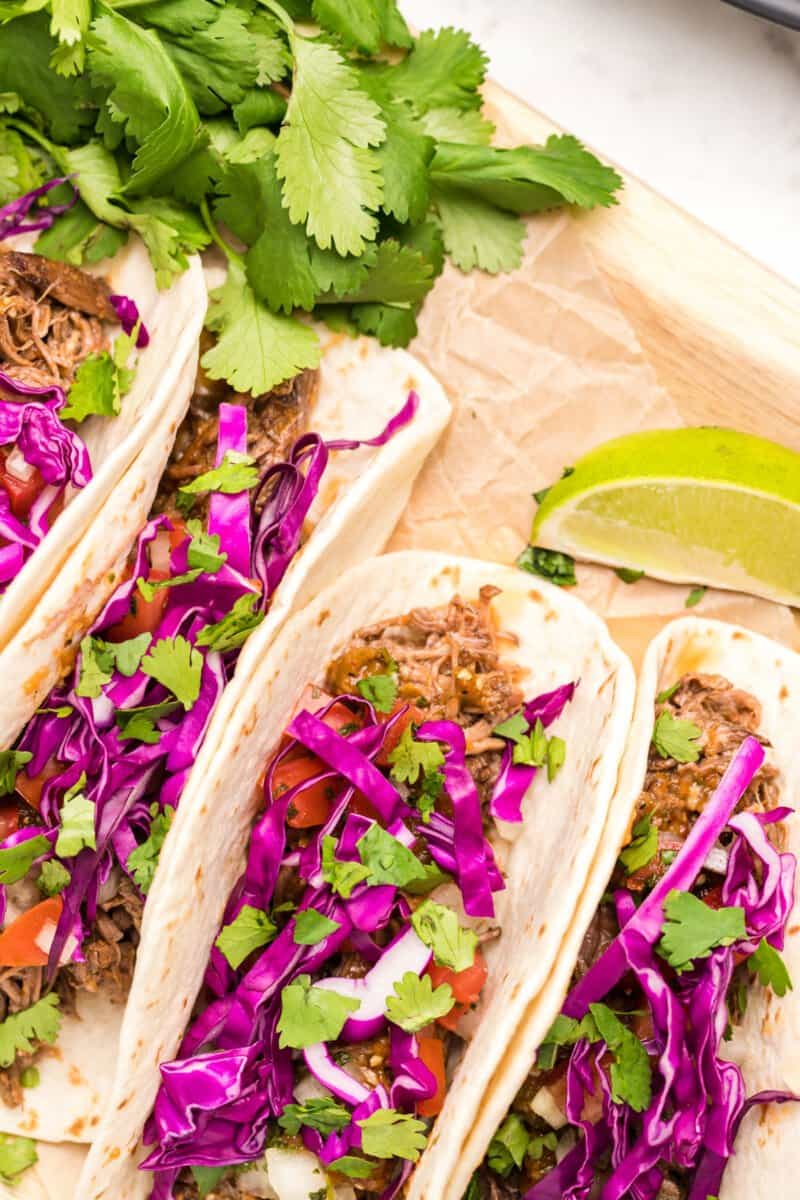 Tips!
Feel free to use hard taco shells instead of soft tortillas if you prefer.
You can find tomatillo salsa in your grocery store. So, if you can't find the ingredients to make it, don't hesitate to buy a pre-made bottle of it.
A light cilantro lime dressing would taste good on top of the meat of these tacos and is a great option.
Create customized tacos to your liking using barbacoa meat. These tacos will taste like they came straight from a food truck!
Can I skip baking the tacos?
You can skip baking the tacos but then your tortillas will be soft. If you prefer a slight bit of crispiness, it's best to put them in the oven for a few minutes.
What other toppings can I add to Barbacoa tacos?
You can add guacamole, fresh avocado slices, jalapeno slices, and even diced purple onion to your tacos for added flavor in addition to the other toppings. Or try this mango salsa to add some sweetness!
Can I make a taco salad instead?
Of course! If you want to make a taco salad, put everything in a crispy tortilla bowl! Ortega makes tortilla bowls that you can buy, bake, and stuff with your taco ingredients. Or top off the salad with tortilla strips to add the crunch.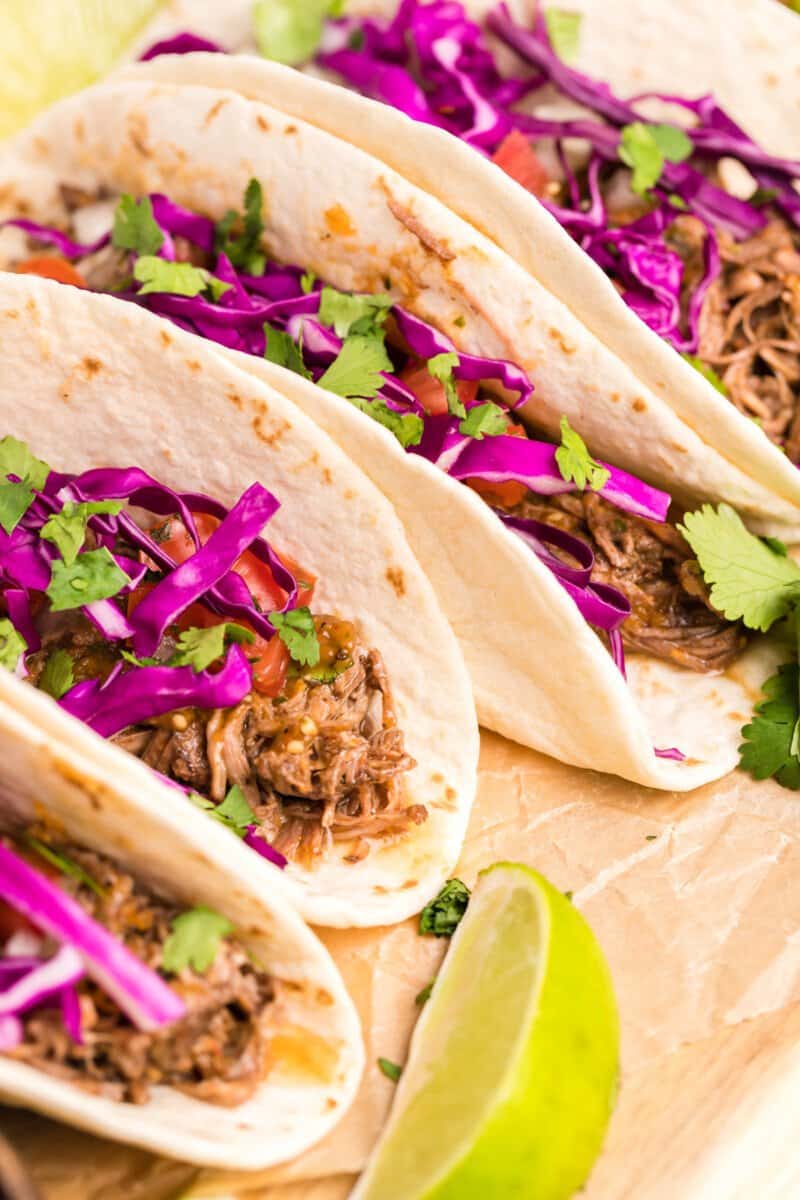 Barbacoa Tacos are absolutely delicious! If you love them, try these other quick, easy dinners loaded with flavor.
If you make this recipe be sure to upload a photo in the comment section below or leave a rating. Enjoy! You can also jump to recipe.