These Grilled Chicken Tacos are a great option for all upcoming Taco Tuesdays, thanks to warm tortillas, juicy chicken, and all your favorite toppings. Chicken breasts are marinaded in a chili lime marinade, then piled into tortillas with a fresh homemade slaw. Get ready to pair these with your favorite margaritas on Cinco de Mayo!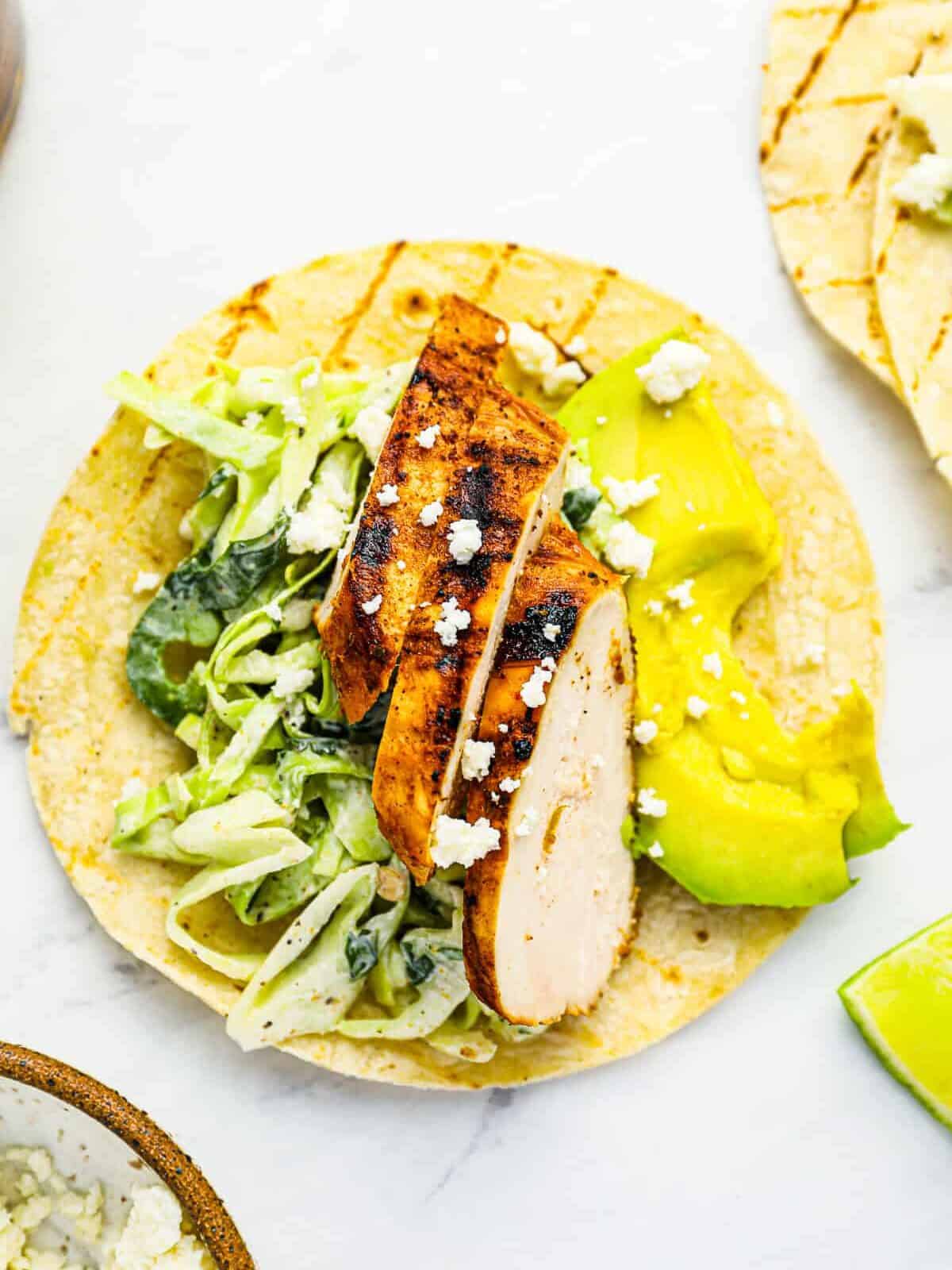 What's in this Grilled Chicken Taco Recipe?
A quick cook time, a handful of fresh ingredients, and boneless skinless chicken breasts make these chicken street tacos an easy weeknight dinner that'll satisfy the entire family. Who doesn't love a handheld dinner?
Chicken Breasts: We'll dunk these into a quick marinade while preparing the remaining ingredients.
Olive Oil: Extra virgin preferred.
Limes: Lime adds acidity and bright flavor to the chili lime marinade.
Chili Powder: This adds some heat to the marinade.
Cumin: Adds earthy richness.
Mexican Oregano: This adds another dimension of citrus flavor.
Salt + Black Pepper: Always!
Greek Yogurt: Creates a creamy texture for the slaw topping.
Green Cabbage: This is the base of the our slaw. You can use red cabbage for a bolder flavor.
Cilantro: All good tacos have fresh cilantro, but skip it if you hate it. You can use parsley too.
Green Onions: Adds refreshing bite.
Jalapeño: Adds some heat to the slaw.
Corn Tortillas: Warmed tortillas are a must. You can use flour if you prefer, but corn tortillas get a nice crispness.
Avocado: I love topping my tacos with avocado slices. It's fresh and creamy!
Queso Fresco: A classic for any street taco.
Variations on Easy Grilled Chicken Tacos
The beauty of taco night is that everyone can customize it to their own tastes.
For spicier grilled chicken tacos, add some crushed red pepper flakes or cayenne red pepper to the marinade.
Add a splash of orange juice to the marinade for an even bolder citrus flavor, or try swapping out the marinade entirely for a barbecue sauce to make barbecue chicken tacos.
Don't love corn tortillas? Flour, cassava flour, and half flour, half corn tortillas are all excellent options. You could even use these in lettuce wraps.
And, of course, have all your favorite taco toppings on the table! I love having lime wedges, sour cream, red onion, and pico de gallo on hand—just to name a few!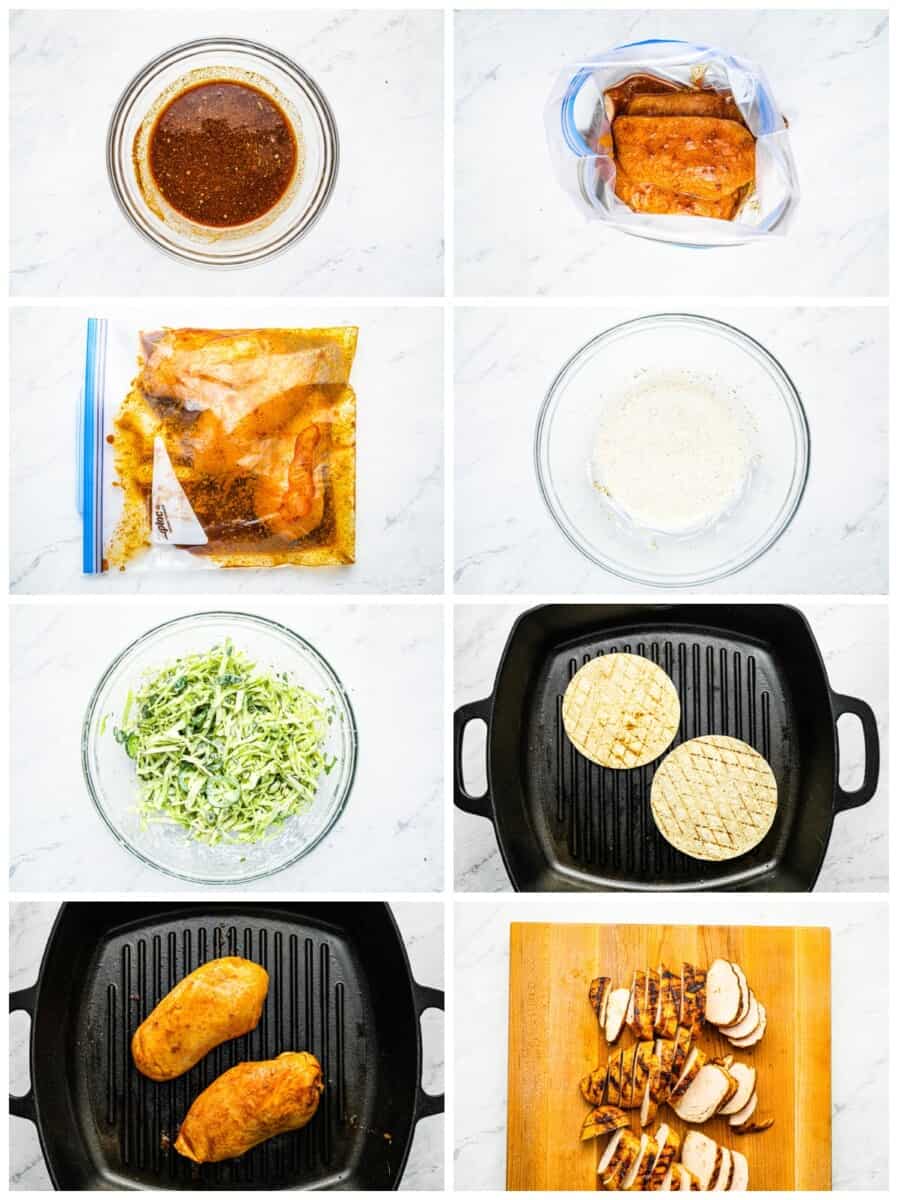 Are grilled chicken tacos healthy?
Yes! These chicken tacos are high in protein, potassium, fiber, vitamin A, vitamin C, calcium, and iron! They are a great addition to a balanced diet!
Is there a difference between oregano and Mexican oregano?
Yes! Mexican oregano is actually part of the verbena family, not the oregano family, and it has a citrusy flavor. If you can't find Mexican oregano, the best substitute is marjoram, not regular oregano!
What makes grilled chicken crunchy?
It's important to keep the heat from getting too high in order to render out the fat, creating crispy grilled chicken. Be sure to grill this chicken over medium-high heat!
How do you grill chicken without it being chewy?
To grill this chicken without allowing it to become chewy, we soak it in a rich marinade that infuses the meat with moisture! Be sure to cook the chicken to an internal temperature of 165°F to avoid drying it out.

Can I bake the chicken instead of grilling it?
Yes! Bake the chicken in a 425°F oven for about 25-30 minutes, or until 165°F internally. I recommend using a meat thermometer to check the temperature.

Are grilled chicken tacos gluten-free?
Yes, these tacos are naturally gluten-free. Just be sure to use certified gluten-free corn tortillas.
How many calories in a grilled chicken taco?
One grilled chicken taco has just 295 calories!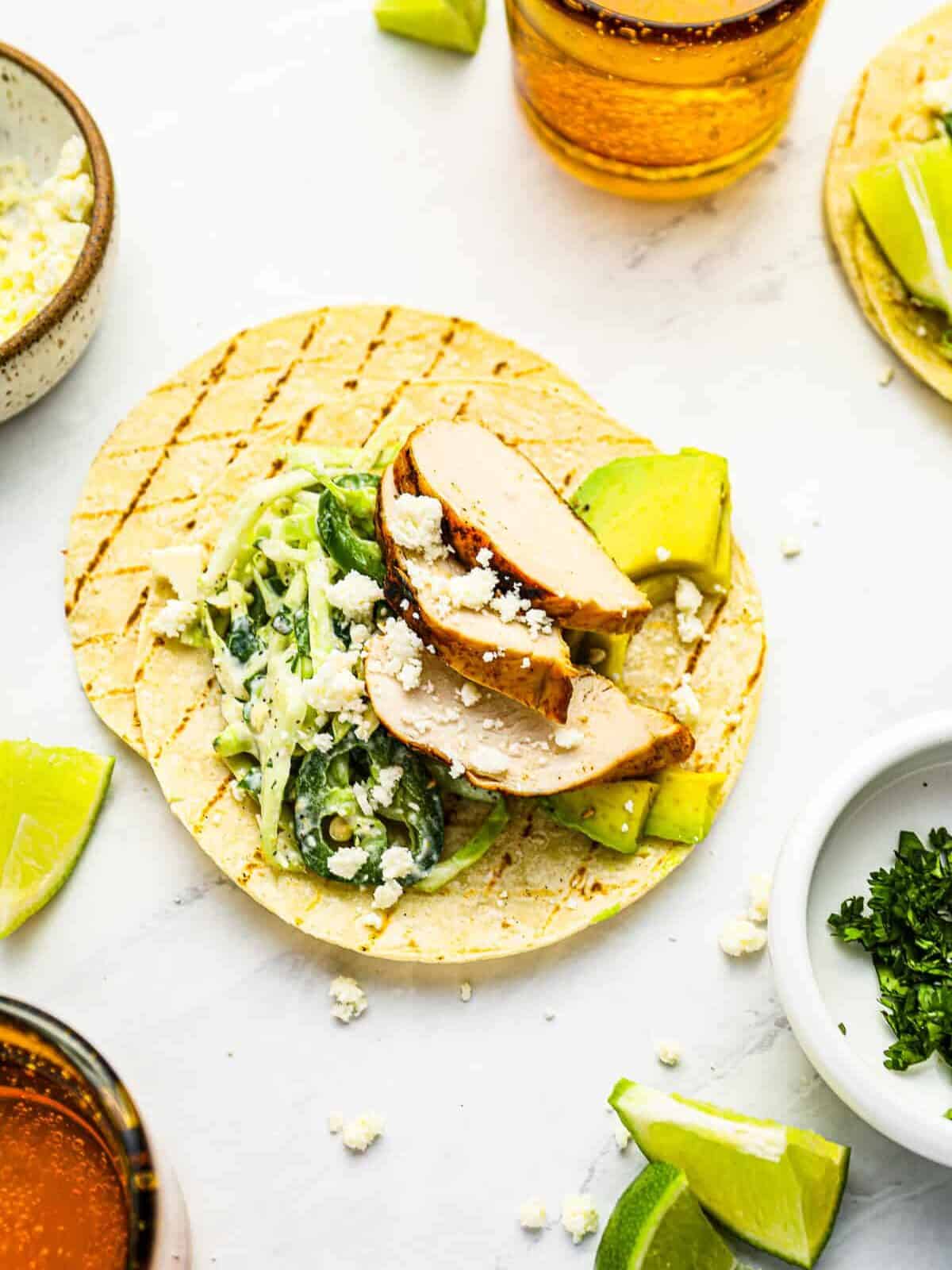 How to Store and Reheat Chili Lime Chicken Tacos
Store leftover grilled chicken tacos in an airtight container in the refrigerator for up to 3 days. I highly recommend storing the meat and tortillas separately and assembling the tacos after reheating the individual components.
Reheat the chicken in the microwave in 30-second increments until warmed through, and heat the tortillas as described in step 6 of the recipe!
How to Freeze the Best Grilled Chicken Tacos
Freeze grilled chili lime chicken in an airtight container or Ziplock bag for up to 3 months. Let thaw overnight in the refrigerator before reheating and assembling the tacos.
What to Serve with Grilled Chicken Tacos
These delicious chicken tacos are perfect for Cinco de Mayo! I recommend having tortilla chips on hand for homemade nachos or to dip into this Cheesy Refried Bean Dip. To fully embrace Taco Tuesday, I love having Mexican street corn and fresh guacamole on hand too! And of course, don't forget a some good margaritas.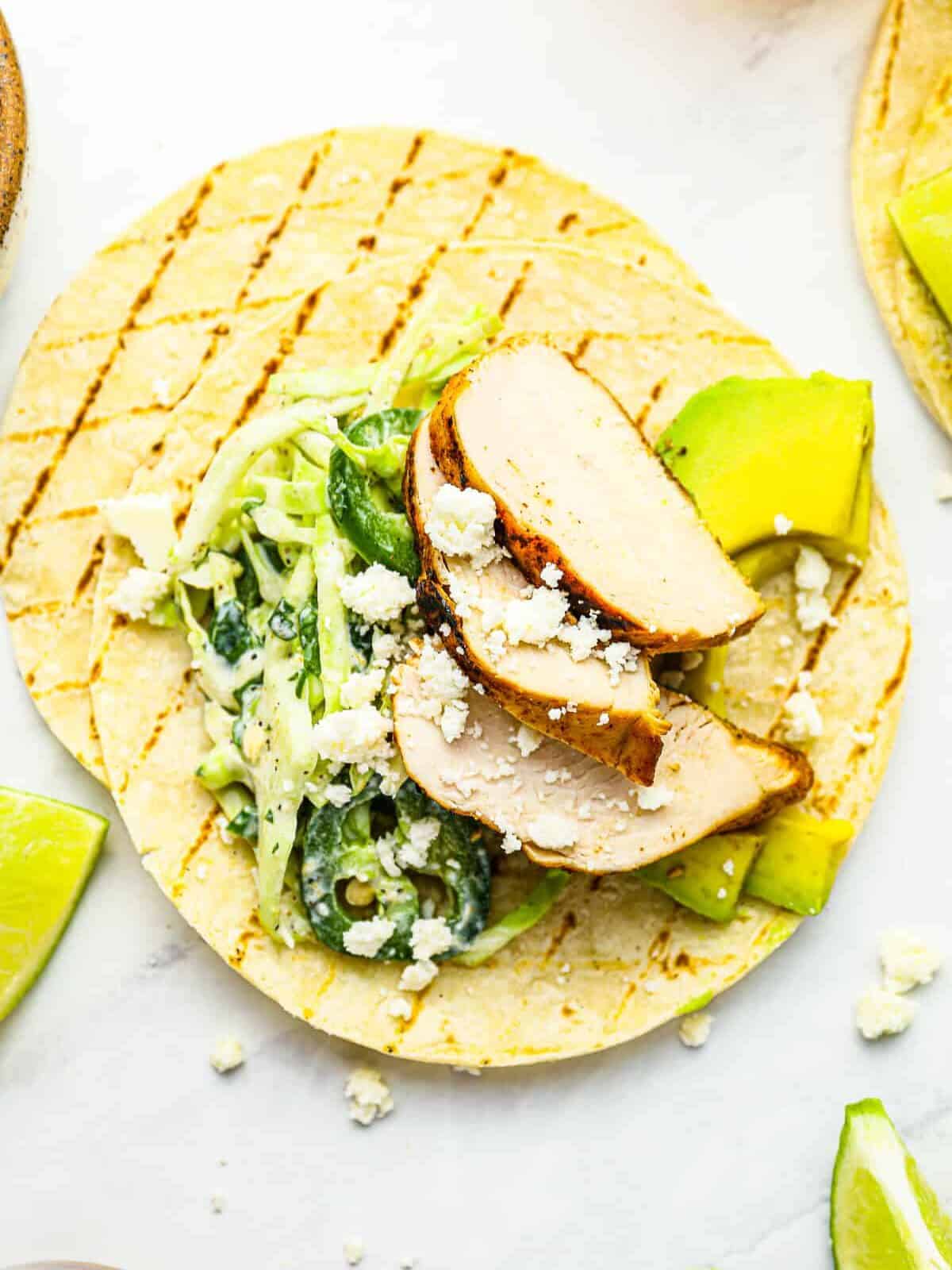 More Chicken Taco Recipes We Love