Tequila Lime SHEET PAN Chicken Nachos is a great recipe for feeding a crowd with delicious chicken nachos! This easy sheet pan recipe is delicious, and perfect for any occasion.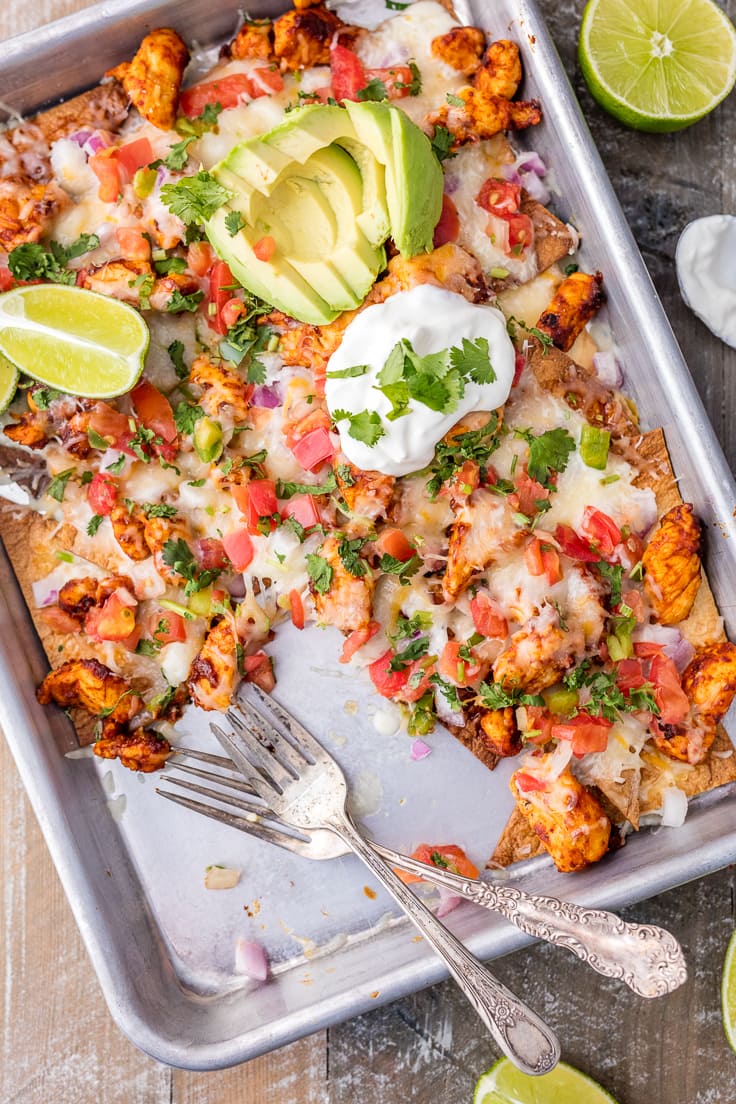 Can you tell that I have a serious Tex-Mex addiction? I can't get enough. These Tequila Lime Sheet Pan Chicken Nachos are saving me today. Saving me from thinking about business taxes and recipe fails. I woke up early today to try to be creative in the kitchen and was met with non-stop talk about getting Cookie Rookie taxes together and everything I tried to make was a total flop. SO…Sheet Pan Chicken Nachos.
They're a no fail recipe that makes me instantly happy. ALL THAT CHEESE. What's not to love?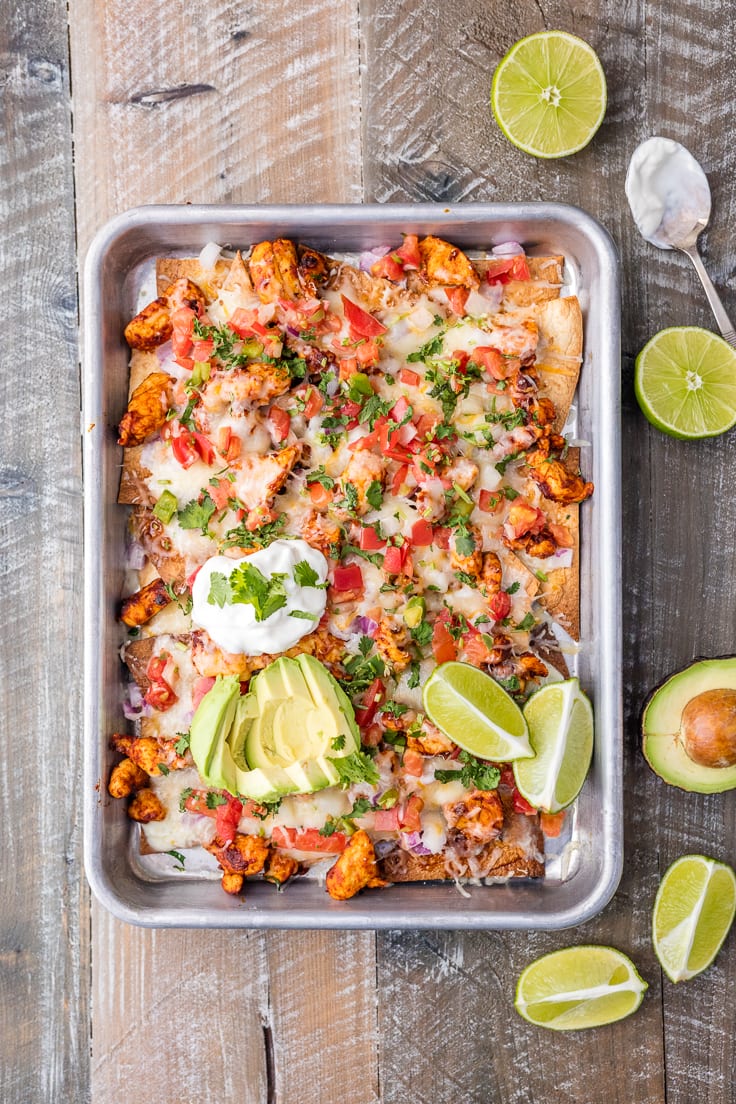 We have been making variations of these Sheet Pan Nachos for years, and they never fail me. They love me unconditionally. It's a great relationship. And they don't talk to me about taxes. Sheet pan meals are perfect for so many things like that. Especially sheet pan comfort food like sheet pan chicken nachos or sheet pan pizza. Yeah, they get me.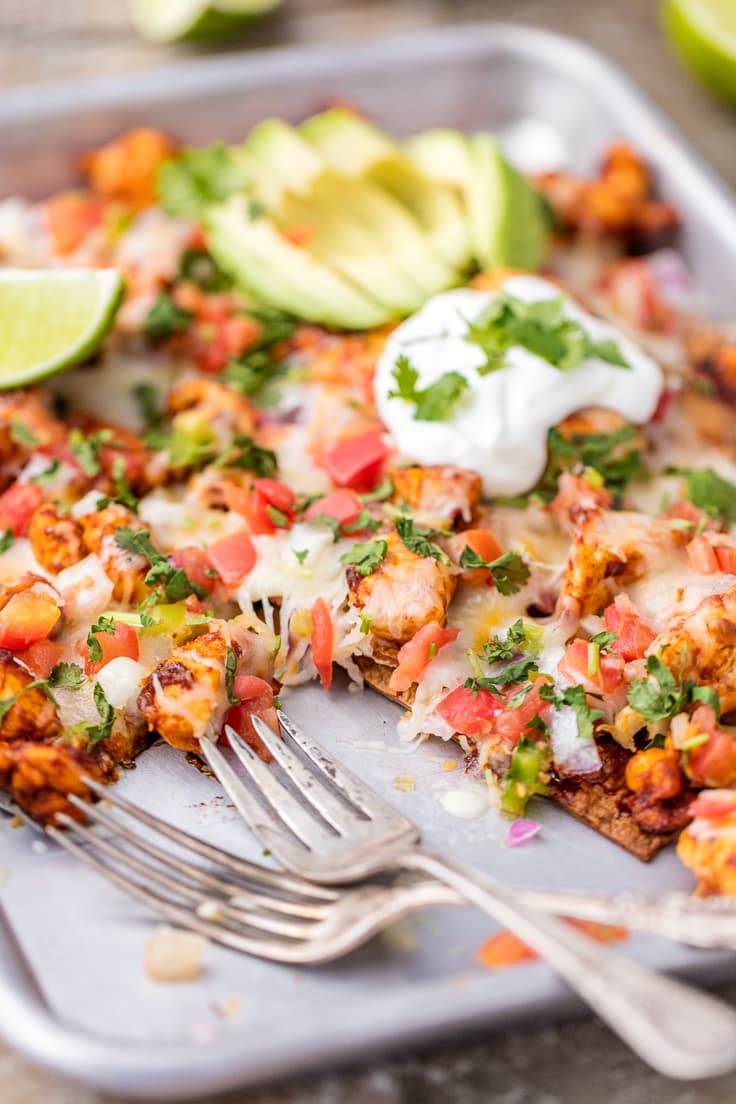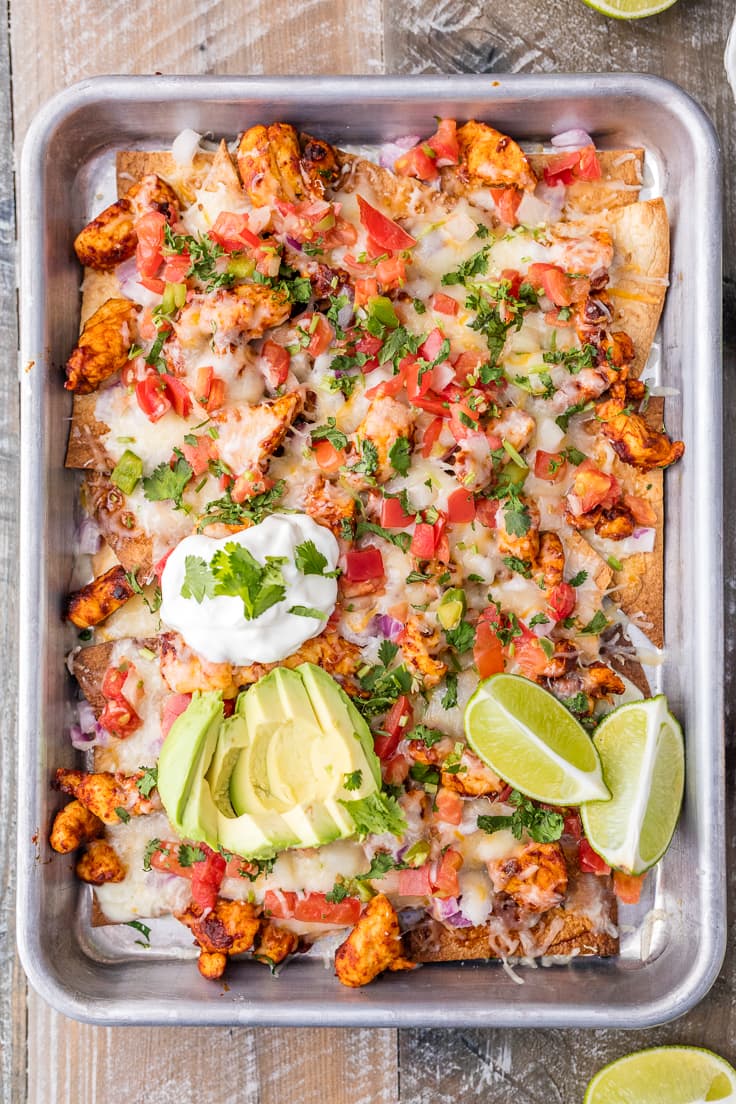 I made the chicken nachos tequila lime flavored by using the Tequila Lime Baked Tortillas recipe (made with my FAVE Old El Paso burrito tortillas; not sponsored, I just LOVE!) I posted yesterday. And of COURSE, these are drizzled with my FAVE Homemade White Queso that I posted Wednesday. I love when things come together like that!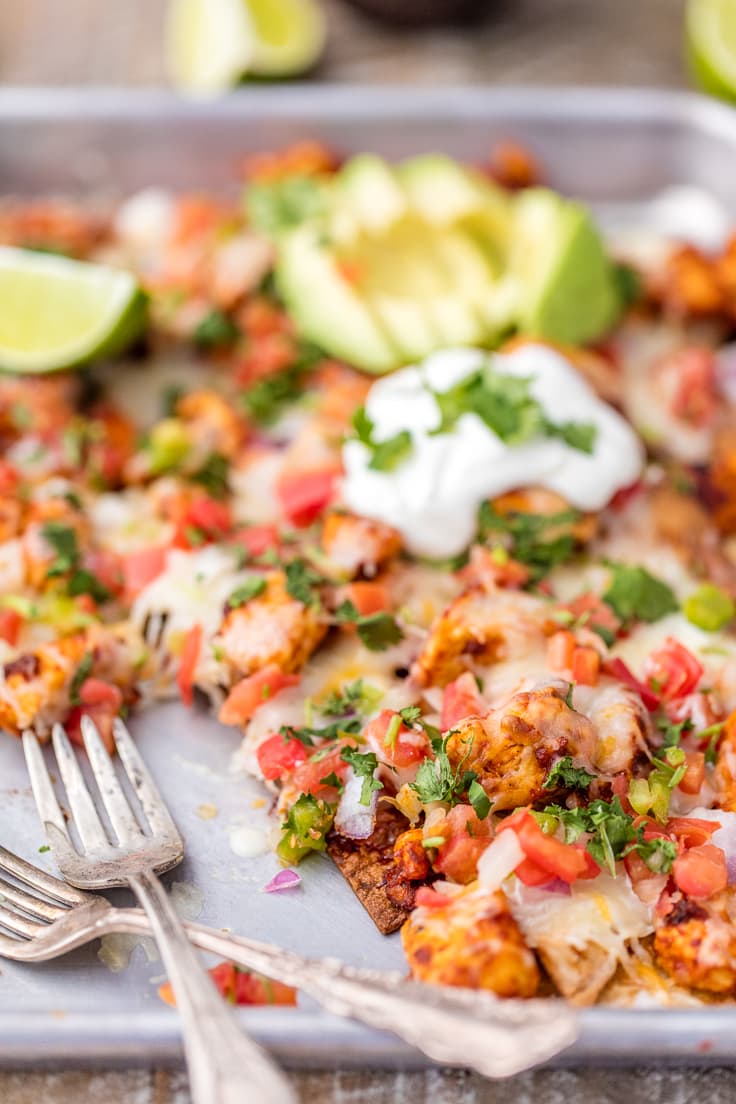 Enjoy these sheet pan chicken nachos!
If you need me, I'll be in the corner crying over failed recipes and tax bills. LOVE YOU ALL!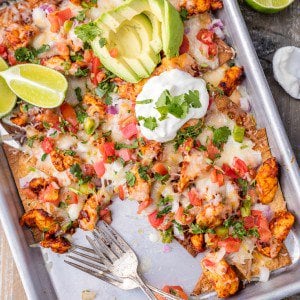 Tequila Lime Sheet Pan Chicken Nachos
Ingredients
32

ish Tequila Lime Baked Tortilla Chips (recipe HERE) (you can also use your favorite tortilla chips instead)

6

boneless skinless chicken tenders

cut into small strips

1

1 ounce packet taco seasoning (I'm partial to Old El Paso)

1

tablespoon

olive oil

1

tablespoon

tequila

1

tablespoon

lime juice

1/2

cup

chopped onion

1/4

cup

White Queso

store-bought or recipe HERE

2

cups

shredded Mexican blend cheese

1

cup

prepared pico de gallo

1/4

cup

fresh chopped cilantro

optional

Optional additional toppings: black beans

mexi-corn, jalapeños, refried beans, olives, or anything you love!

Garnish ideas: sour cream

avocado, guacamole, salsa, the list goes on and on!
Instructions
Preheat your oven to 350F

In a large skillet, heat your oil over medium/high heat

Add the chicken into the skillet and toss in the tequila, taco seasoning, and lime juice, Stir to combine. Cook the chicken until fully cooked; about 4-5 minutes. Set aside.

Lay the chips on a large sheet pan/cookie sheet sprayed with nonstick spray. Lay them pretty much in a single layer, only slightly overlapping. (I hate when chips get caught underneath and don't get any toppings!)

Arrange the chicken and onion over the chips.

Drizzle the chips and chicken with the white queso, a little goes a long way. You don't want everything to get soggy.

Sprinkle everything with the shredded cheese

Top with the pico and cilantro.

Bake for approximately 10-15 minutes, rotating halfway through. You want the cheese fully melted and the chips starting to turn brown on the edges.

Remove from the oven and top with all your favorites: sour cream, guac, salsa, the works!

Enjoy!
 DON'T FORGET THESE FAVORITE RECIPES IMPORTANT FOR MAKING THE BEST MEXICAN NIGHT!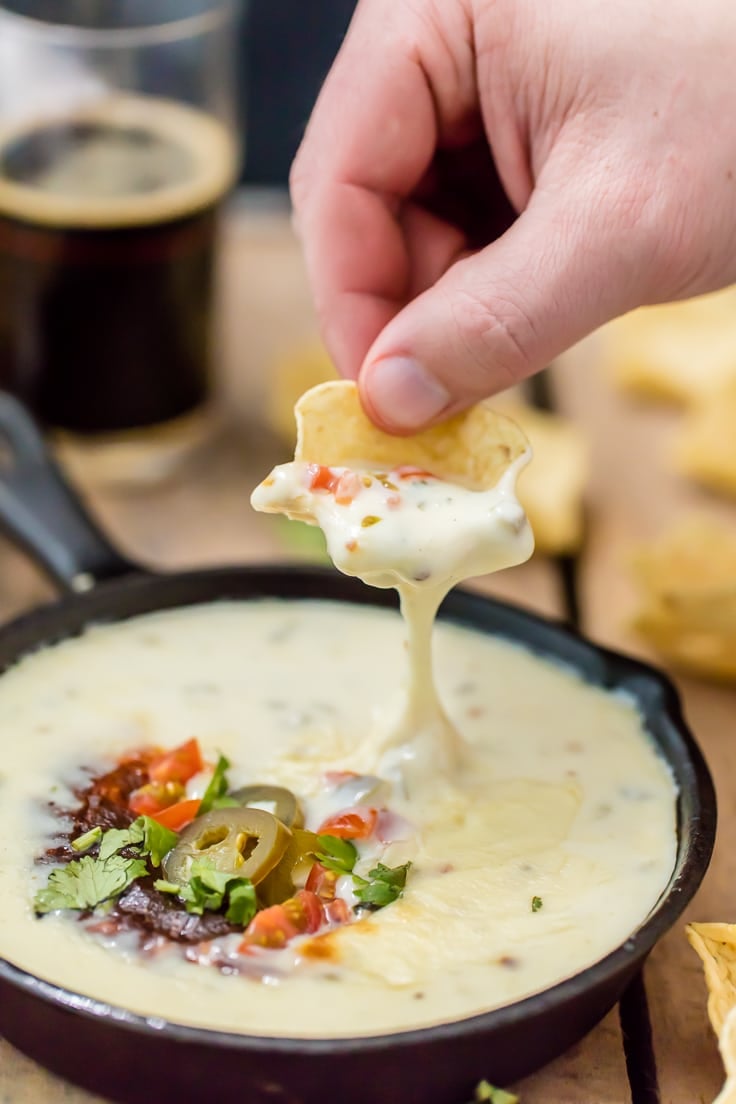 Tequila Lime Baked Tortilla Chips