Chicken Nachos are great for feeding a crowd! This Tequila Lime Baked Chicken Nachos recipe is just AMAZING! These easy sheet pan nachos are so delicious, and perfect for any occasion.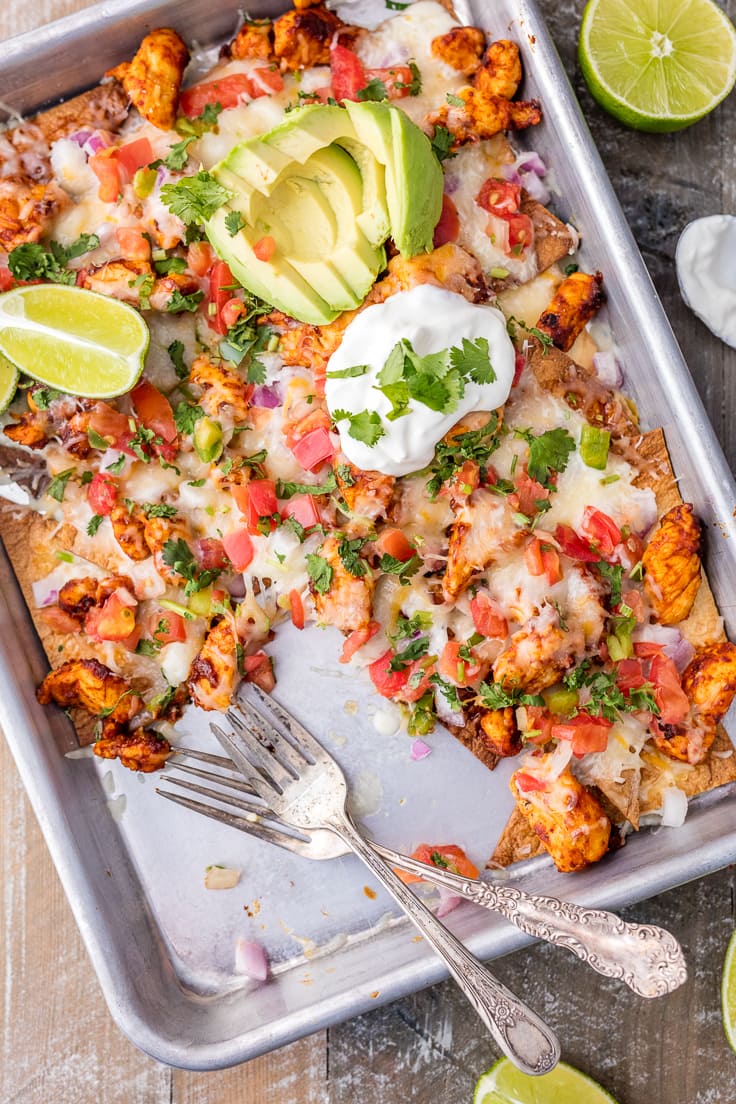 Chicken Nachos Recipe
This Tequila Lime Baked Chicken Nachos recipe is just DELICIOUS! Sheet pan nachos are easy to make and great for feeding a crowd.
Can you tell that I have a serious Tex-Mex addiction? I can't get enough. Whether it's tacos, nachos, dips, or anything else, I just never get tired of these flavors. These Tequila Lime Chicken Nachos fit in perfectly with my favorite type of food!
These sheet pan nachos are absolutely saving me today. Saving me from thinking about business taxes and recipe fails. I woke up early today to try to be creative in the kitchen, but instead was met with non-stop talk about getting Cookie Rookie taxes together.
Everything I tried to make turned into a total flop…except this amazing chicken nachos recipe! They're a no fail recipe that makes me instantly happy. ALL THAT CHEESE. What's not to love?
These sheet pan chicken nachos are perfect when you have a lot of people to feed. I love them for Cinco de Mayo parties, game day get togethers, or any time you need something simple and delicious.
These Baked Chicken Nachos are easy to make and totally delicious. What's not to love?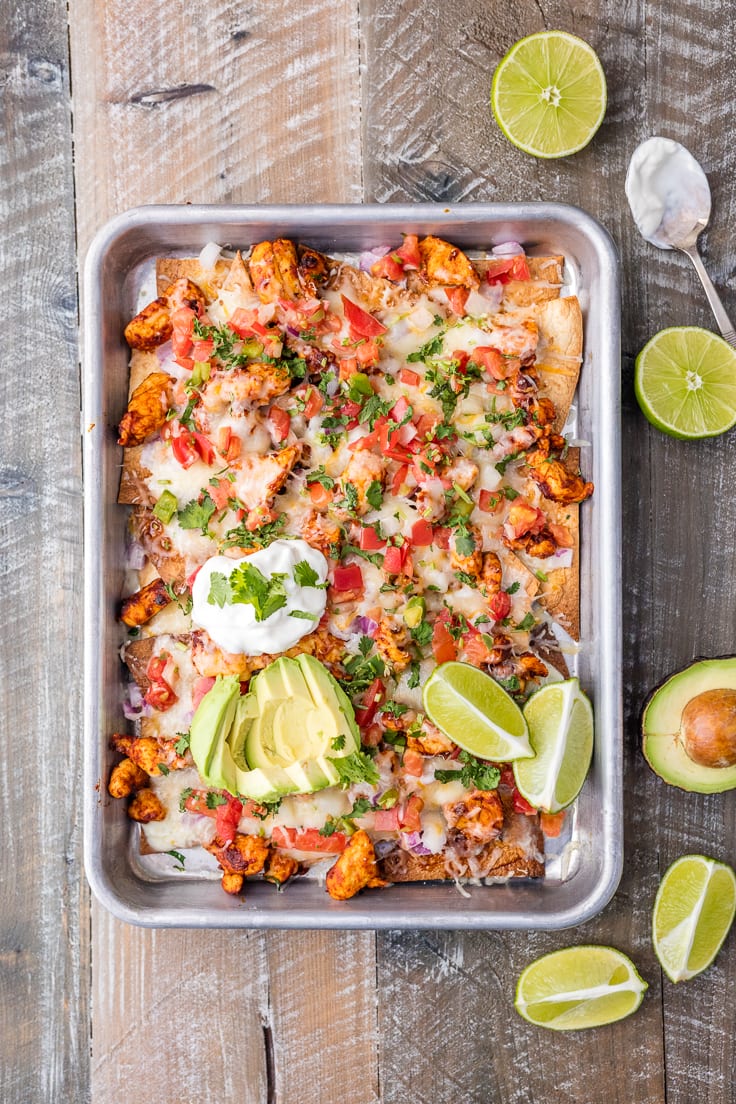 Baked Nachos Recipe with Homemade Chips
I made these baked chicken nachos with my homemade Tequila Lime Baked Tortilla Chips recipe. That's what gives them that amazing tequila lime flavor.
It adds so much to the overall taste of the nachos, so I highly recommend adding them into the mix. However, you can simply use regular tortilla chips, any store-bought variety, or substitute my Homemade Garlic Parmesan Tortilla Chips.
If you are going to use the homemade tortilla chips, you can either make them fresh just before preparing the nachos. Or you can make them ahead of time and save them in a resealable bag, so that they're ready to go when you make the nachos.
After the fresh tortilla chips and all the other amazing ingredients, these sheet pan nachos are topped off by drizzling my Homemade White Queso all over. SO GOOD. It really brings that final touch.
Chicken Nachos Ingredients:
And of course you can add any of your favorite toppings and garnishes to these sheet pan nachos. I love adding black beans, avocado slices, and sour cream, but there are so many other things you can add.
Here are a few more ideas: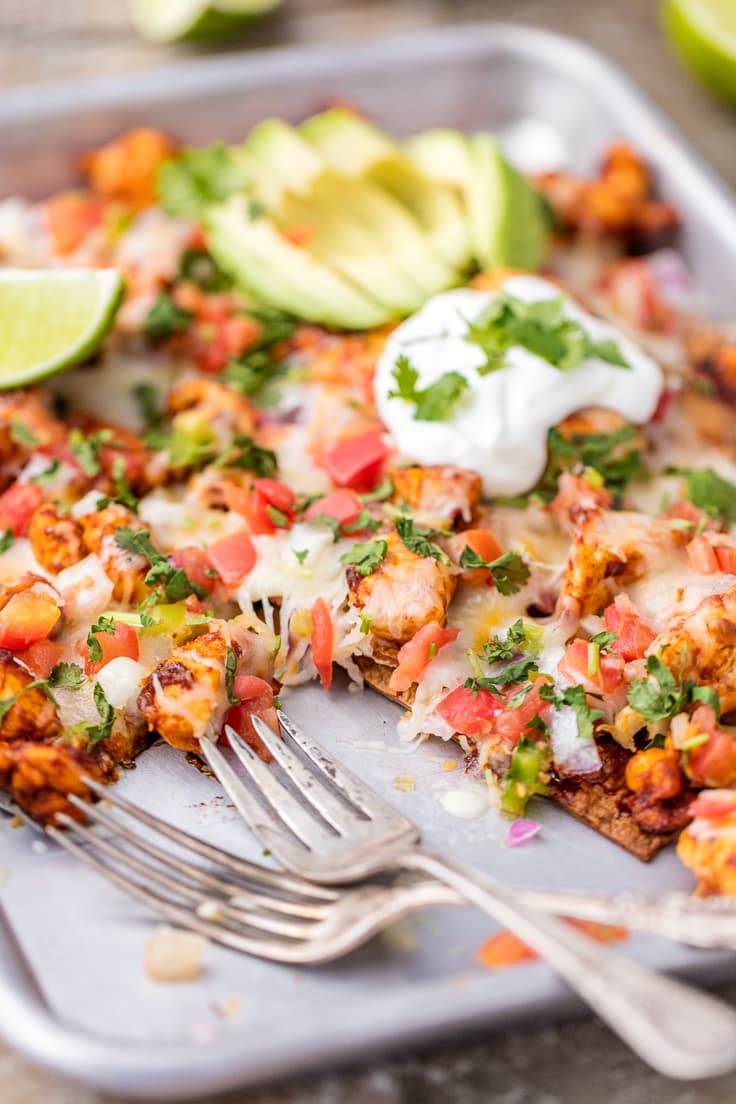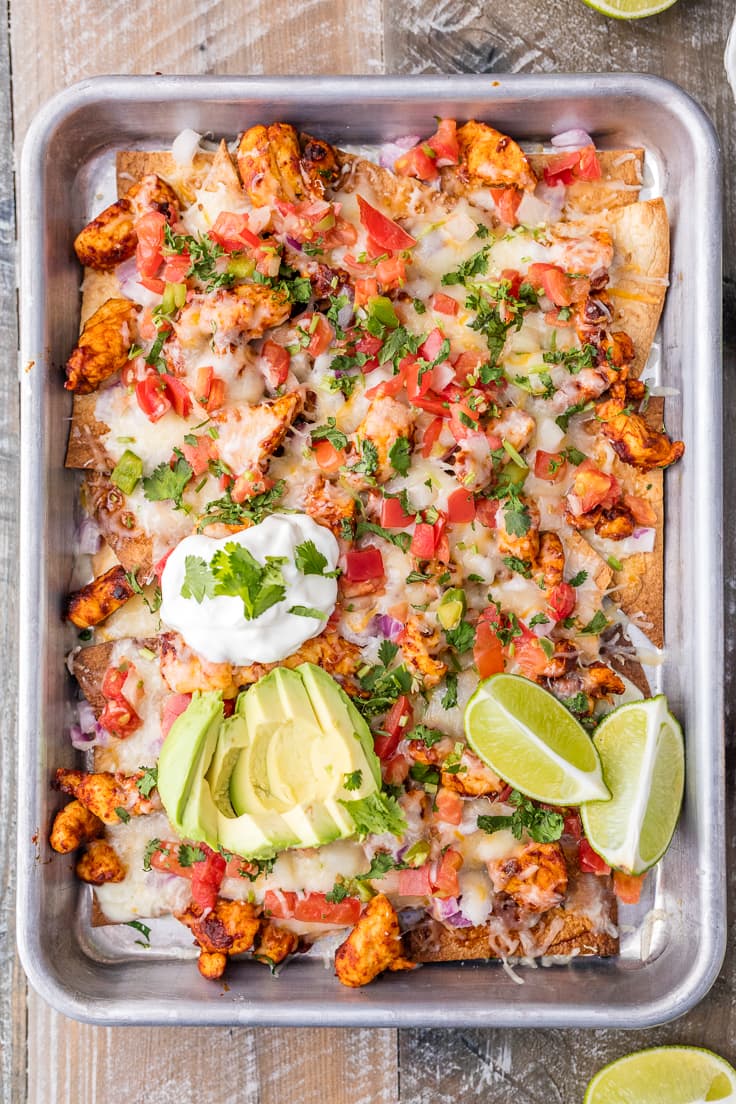 How to Make Chicken Nachos
We have been making variations of these Sheet Pan Nachos for years, and they never fail me. The beauty of a recipe like this is that there really is so much room for variation.
Follow the recipe and substitute your favorite ingredients and flavors to come up with your very own baked nachos. Of course, this chicken nachos recipe is a favorite, and I think you'll love them just as they are!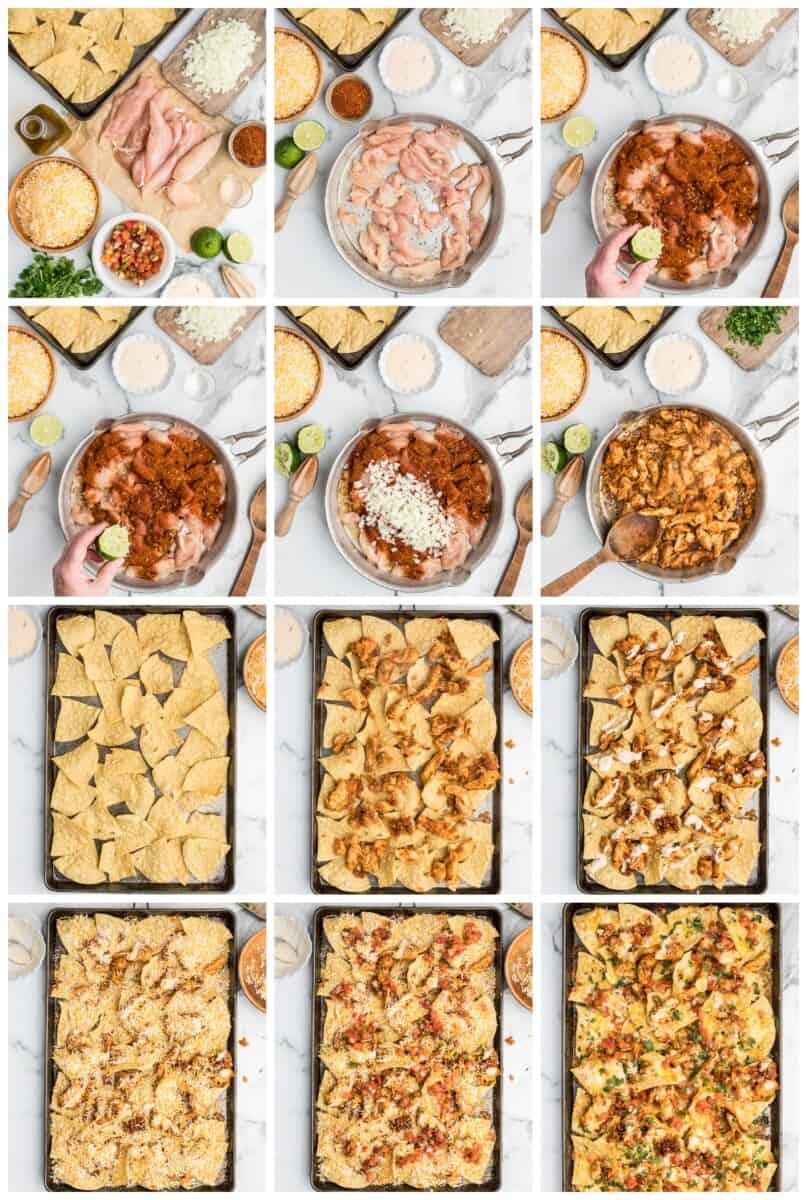 How to Make Chicken Nachos:
Place chicken in a skillet over medium-high heat. Then add in the tequila, taco seasoning, and lime juice, and cook about 4-5 minutes (or until chicken is cooked through).
Lay out the chips on a sheet pan in a single layer.
Place the chicken and onions on the chips, then drizzle with the queso. Sprinkle lots of shredded cheese over the nachos, then top with pico de gallo and cilantro.
Baked the nachos for 10-15 minutes at 350°F.
You can jump to the recipe card for full ingredients & instructions!
Take them out of the oven, and finish them off with your preferred toppings (guacamole, sour cream, salsa) and serve while hot!
Easy Sheet Pan Recipes
Sheet pan recipes are a life saver. They're easy to make, and they are perfect for parties. Any time you have a lot of people to feed, you just need to make A LOT of food quickly.
And it helps when it can all be made on one pan. These sheet pan nachos are a favorite for game day and other parties.
Here are some other favorite sheet pan recipes: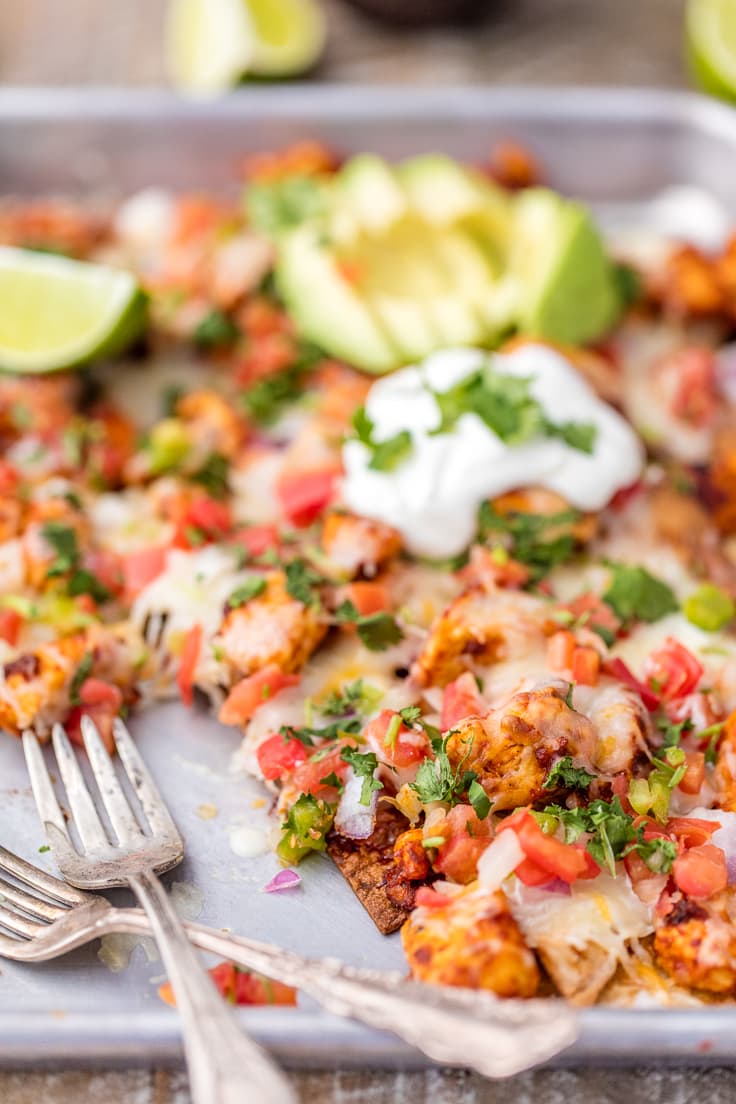 These Baked Chicken Nachos are just so good! Make them for parties, make them for holidays, make them for Cinco de Mayo, or just make them when you need a little pick me up and no other recipe seems to be working…trust me, they'll make you feel a lot better!
If you love this Chicken Nachos Recipe, check out some of our other Tex Mex faves!
If you make this recipe be sure to upload a photo in the comment section below or leave a rating. Enjoy! You can also jump to recipe.