Easy to make Beef Taquitos are here just in time for your Cinco de Mayo fiesta! Seasoned ground beef is mixed with an array of ingredients like cream cheese, sour cream, salsa, and flavorful pepper jack cheese, then rolled up in a soft flour tortilla before being baked to perfection.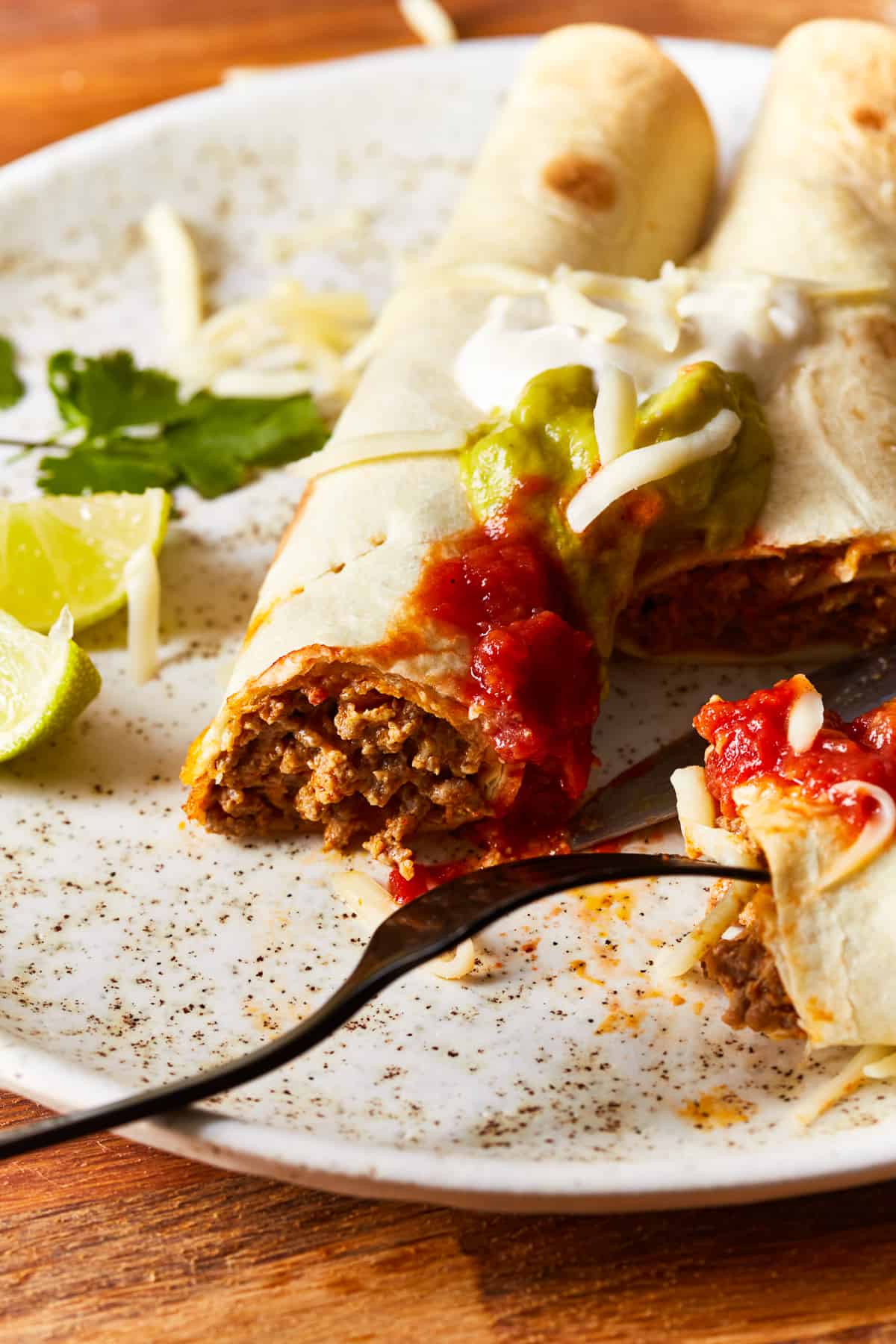 What's in Beef Flautas?
I really can't think of a better party food. These taquitos are perfectly portioned cheesy and beefy goodness all rolled up in a soft flour tortilla!
Ground Beef: I like to use 85% lean ground beef for my taquitos, but you could opt for leaner beef. You could also use leftover shredded beef or beef carnitas for a different texture. Ground chicken or pork would also work well!
Taco Seasoning: Chili, cumin, garlic, onion, oregano, paprika, and crushed red pepper create the rich, zesty flavor of taco seasoning. It's easy to buy a packet at the store, or you can make your own!
Cream Cheese: Rich, tangy cream cheese helps to bring the filling together.
Sour Cream: Tangy sour cream adds a delicious flavor and creates a creamy filling.
Salsa: Adds fresh, tomatoey flavor to these taquitos. Use your favorite brand of store-bought salsa, or make your own salsa to customize the heat level.
Cheese: Shredded pepper jack cheese is mild and buttery with a spicy kick from habañeros and jalapeños! For less spicy taquitos, opt for Monterey jack or Mexican cheese blend.
Tortillas: Classic taquitos are made with corn tortillas, while flautas are made with flour tortillas. You could use either in this recipe, but I prefer flour tortillas because they are less prone to breaking.
Pro Tip: For even more authentic taquitos, swap the sour cream for Mexican crema!
Spicy Beef Taquitos
These beef taquitos have a pretty good kick from the pepper jack cheese, but to up the spice level even more, try adding a pinch of cayenne pepper in with the taco seasoning, opt for a spicy salsa, and look for ghost pepper jack cheese!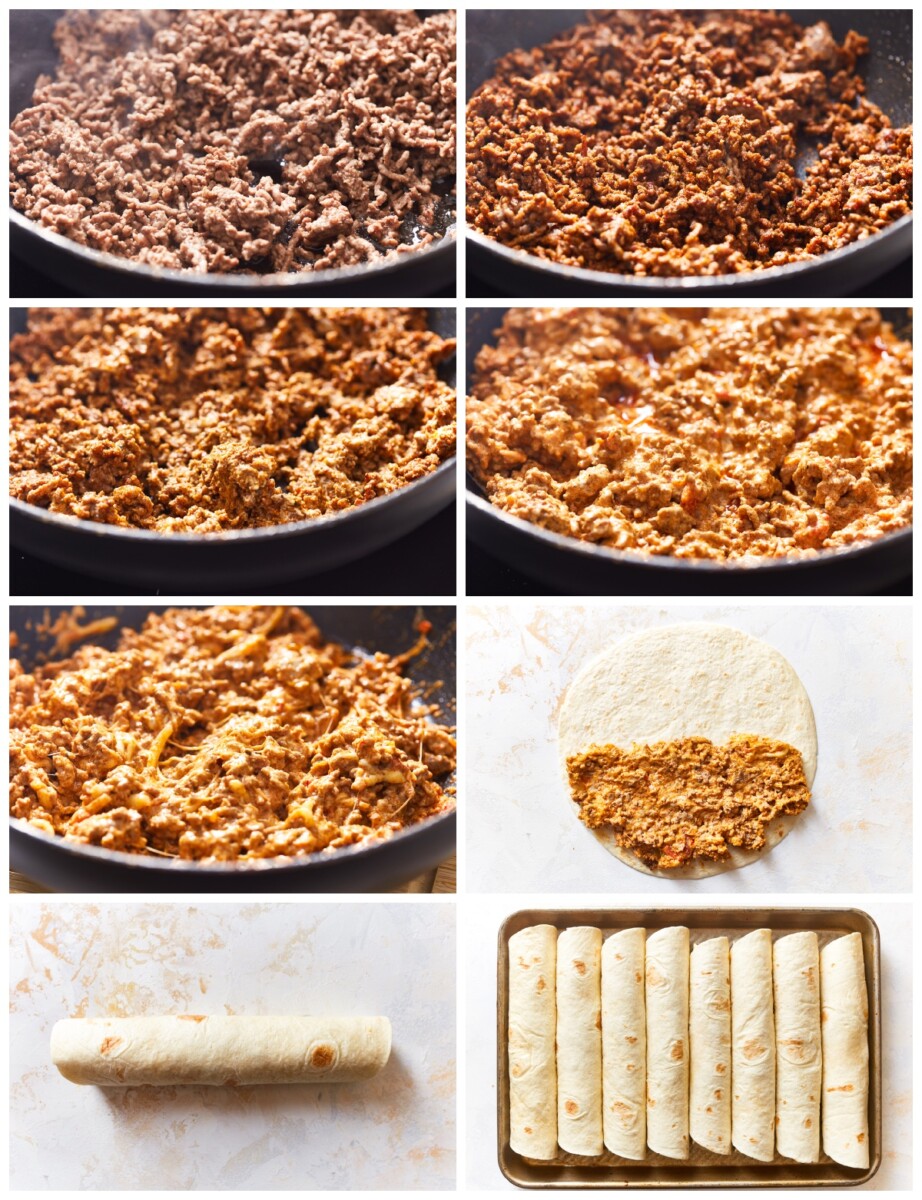 Can I use a different kind of meat?
Instead of ground beef, use ground chicken, turkey, pork, or a combination.
What kind of tortillas are best?
I used medium flour tortillas for this taquito recipe, but any kind will work! If your tortillas are smaller, you'll get more taquitos out of this recipe – they won't need as much filling.
What kind of salsa should I use?
Use your favorite store-bought or homemade red salsa for these taquitos. If you're looking for a homemade salsa to try, I love this blender salsa.
Why are my taquitos falling apart?
Make sure the taquitos are placed seam-side down on the baking sheet. This will keep the tortilla wrapped up and the filling inside while they bake.
What is the best way to reheat taquitos?
For best results, reheat these taquitos in the oven at 350°F until warmed through. This helps them stay crispy instead of soggy.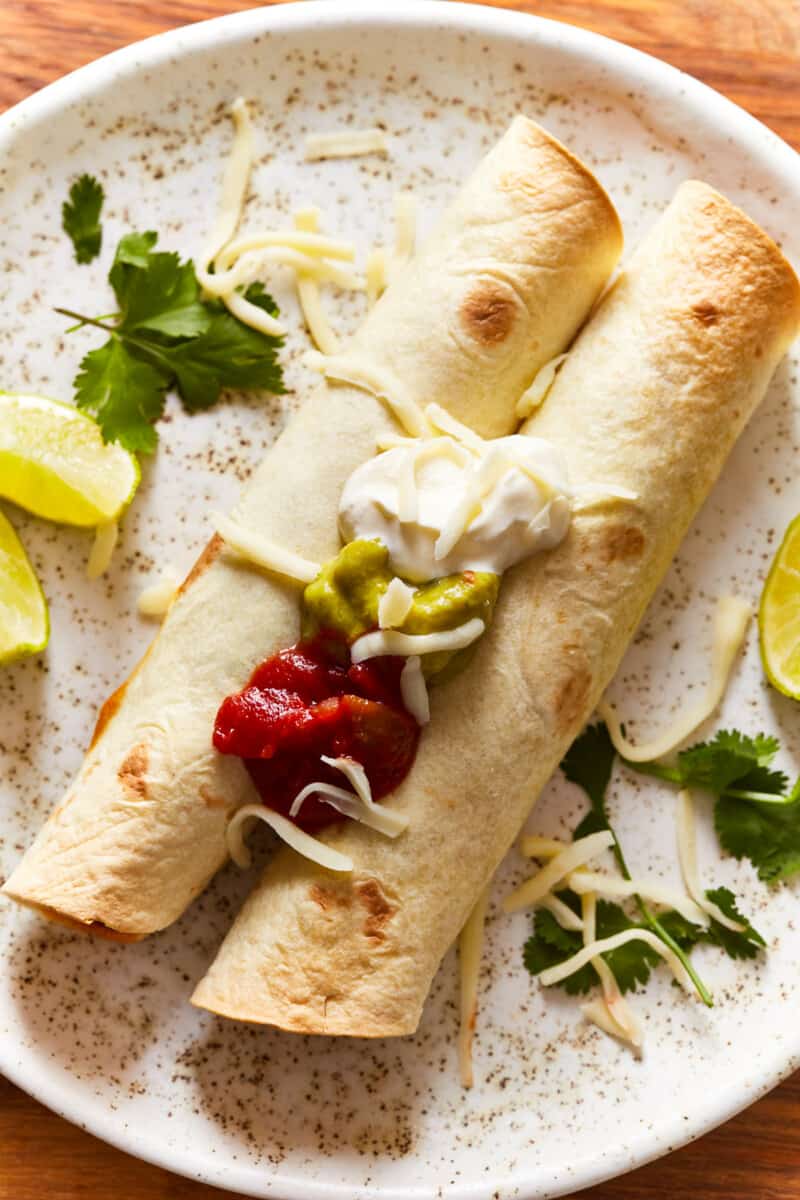 How to Store and Reheat Ground Beef Taquitos
Store leftover beef taquitos in an airtight container in the refrigerator for up to 3 days. Reheat in a 350°F oven for about 10 minutes, or until warmed through.
How to Freeze Ground Beef Flautas
Freeze beef taquitos individually wrapped in 2 layers of plastic wrap and 1 layer of aluminum foil for up to 2 months. Reheat directly from frozen, adding a few minutes to the bake time.
What to Serve with Homemade Beef Taquitos
Cheesy, beefy, warm, and flavorful beef taquitos are worth celebrating. This Cinco de Mayo, pair these taquitos with a tall Margarita to really get the party started! Top your taquitos with fresh guacamole, pico de gallo, sour cream, and shredded cheese, and serve them with a side of cilantro lime rice and refried beans!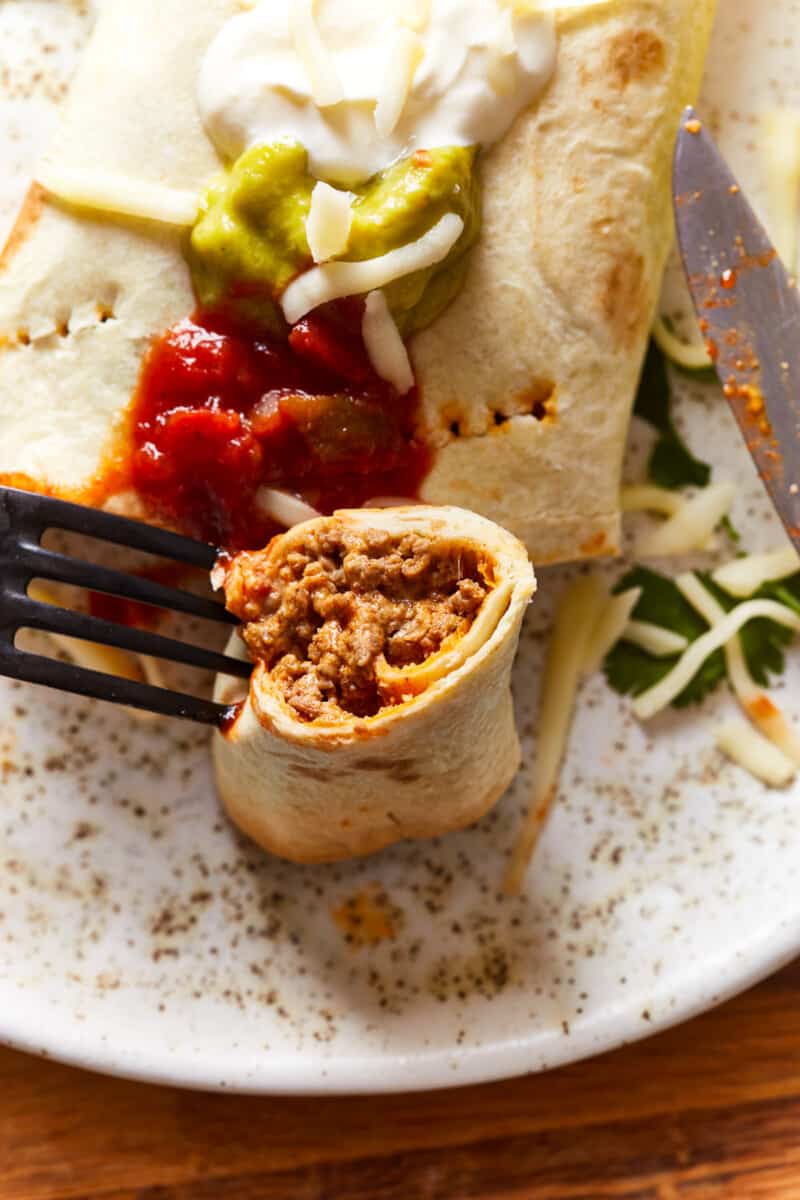 More Taquito Recipes We Love