This Charred Tomatillo Homemade Salsa Verde is simple to whip up in the blender and tastes absolutely delicious! Packed with kinds of goodies, like jalapenos, garlic, cilantro and lime, it's a party dip that delivers!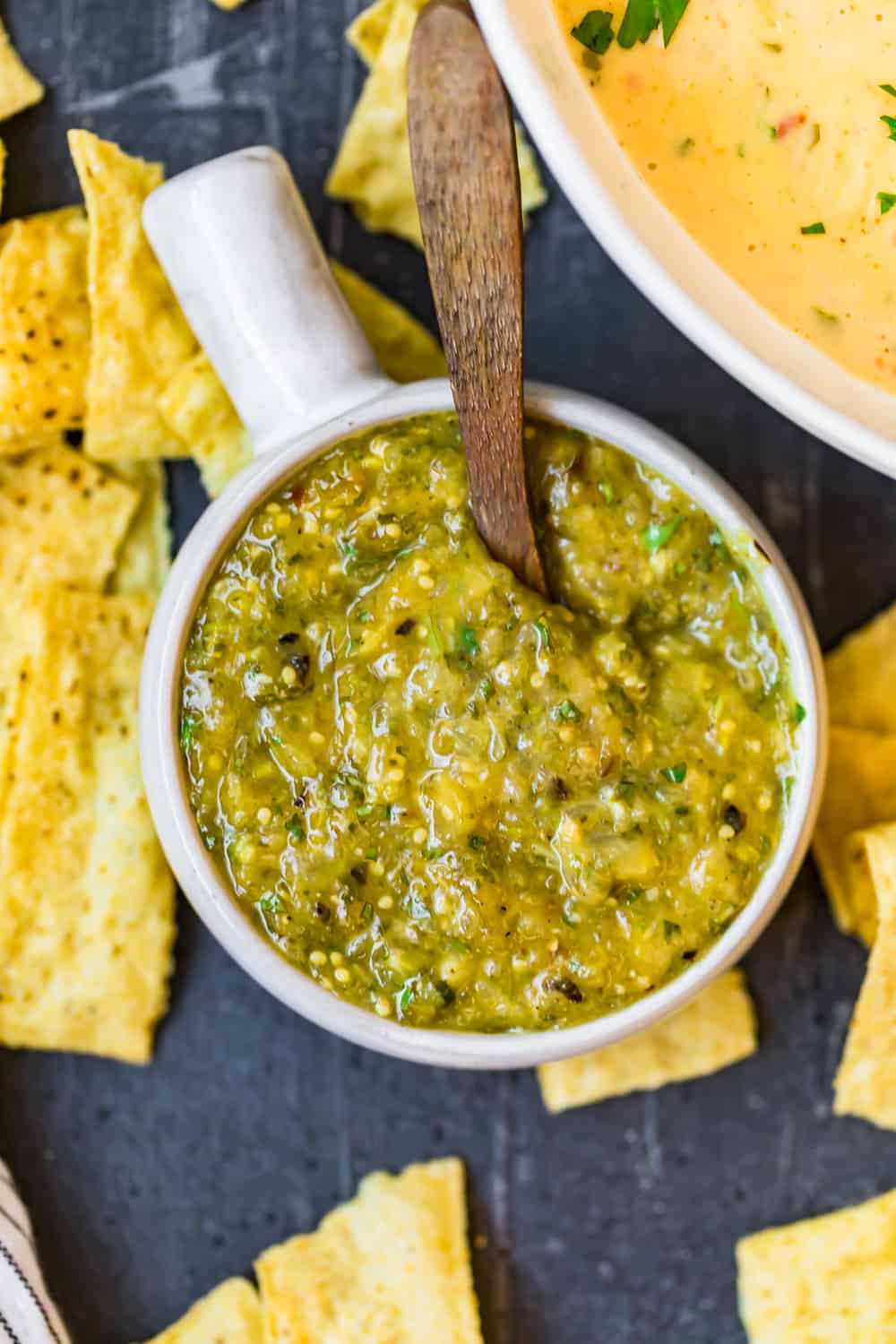 Enjoy a vibrant, delicious and addictive Homemade Salsa Verde. With the inclusion of smoky, charred tomatillos, this is a dip every tortilla chip wants to be dunked in!
I love the flavor of a green salsa for dishes like salsa verde chicken, Chile verde, and salsa verde enchiladas. Or simply to drizzle on top of tacos, like grilled chicken tacos or or carnitas.
How To Make Homemade Salsa Verde
Place garlic, tomatillos, onion, and chiles on the baking sheet and drizzle with olive oil, then broil the vegetables until the skins on the tomatillos have darkened and are partially charred.
Peel the garlic and scrape all the ingredients from the baking sheet to a blender. Add cilantro, sugar, broth, lime juice, kosher salt and black pepper. Purée to desired consistency
In a medium saucepan, heat the remaining oil and pour the tomatillo salsa into the pan, bring to a simmer then cook on low til the mix reduces.
Season to taste with additional sugar, salt, pepper and lime juice, if needed.
The salsa is even better when made the day before serving. Keep refrigerated, up to 1 week, in an airtight container.
Enjoy!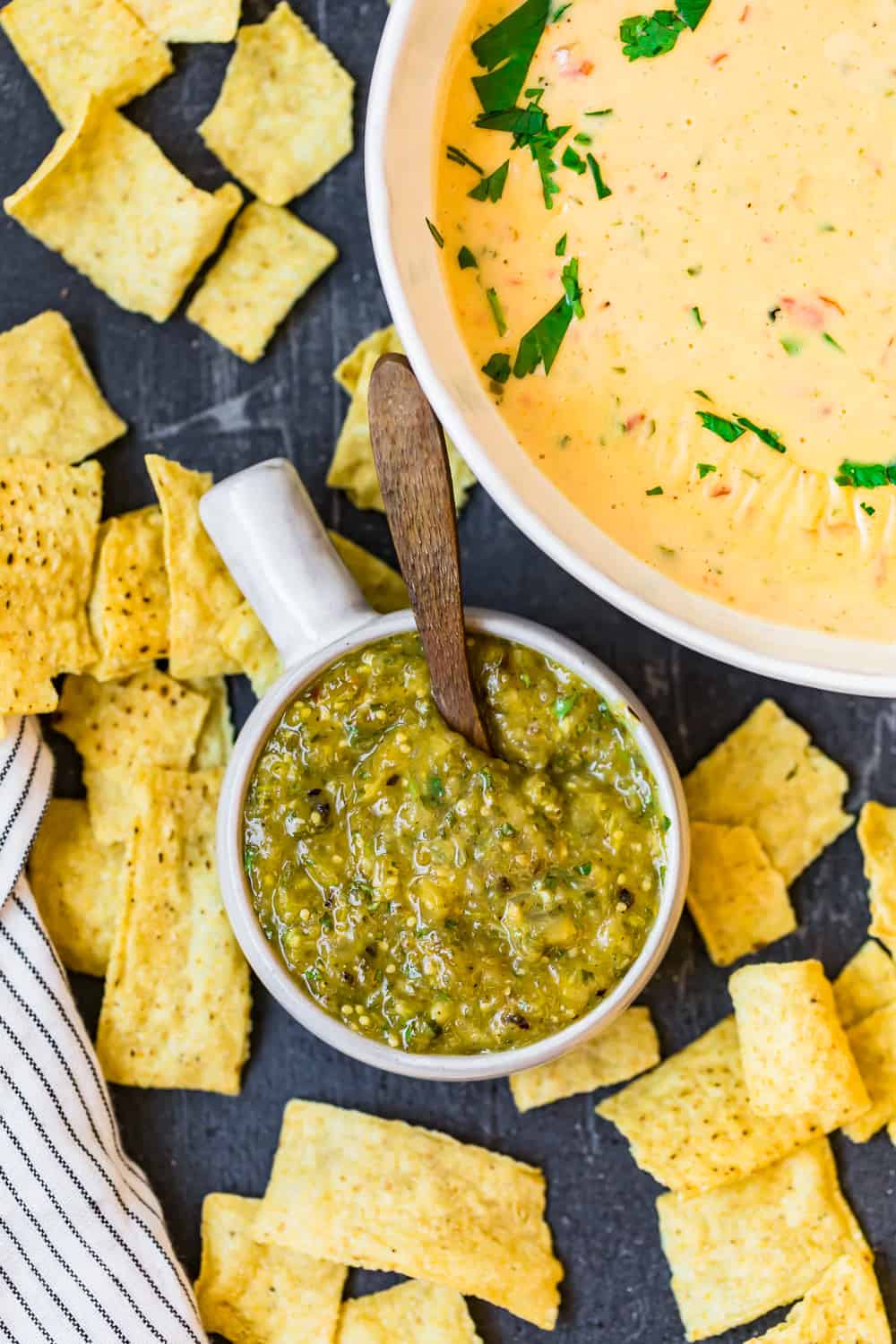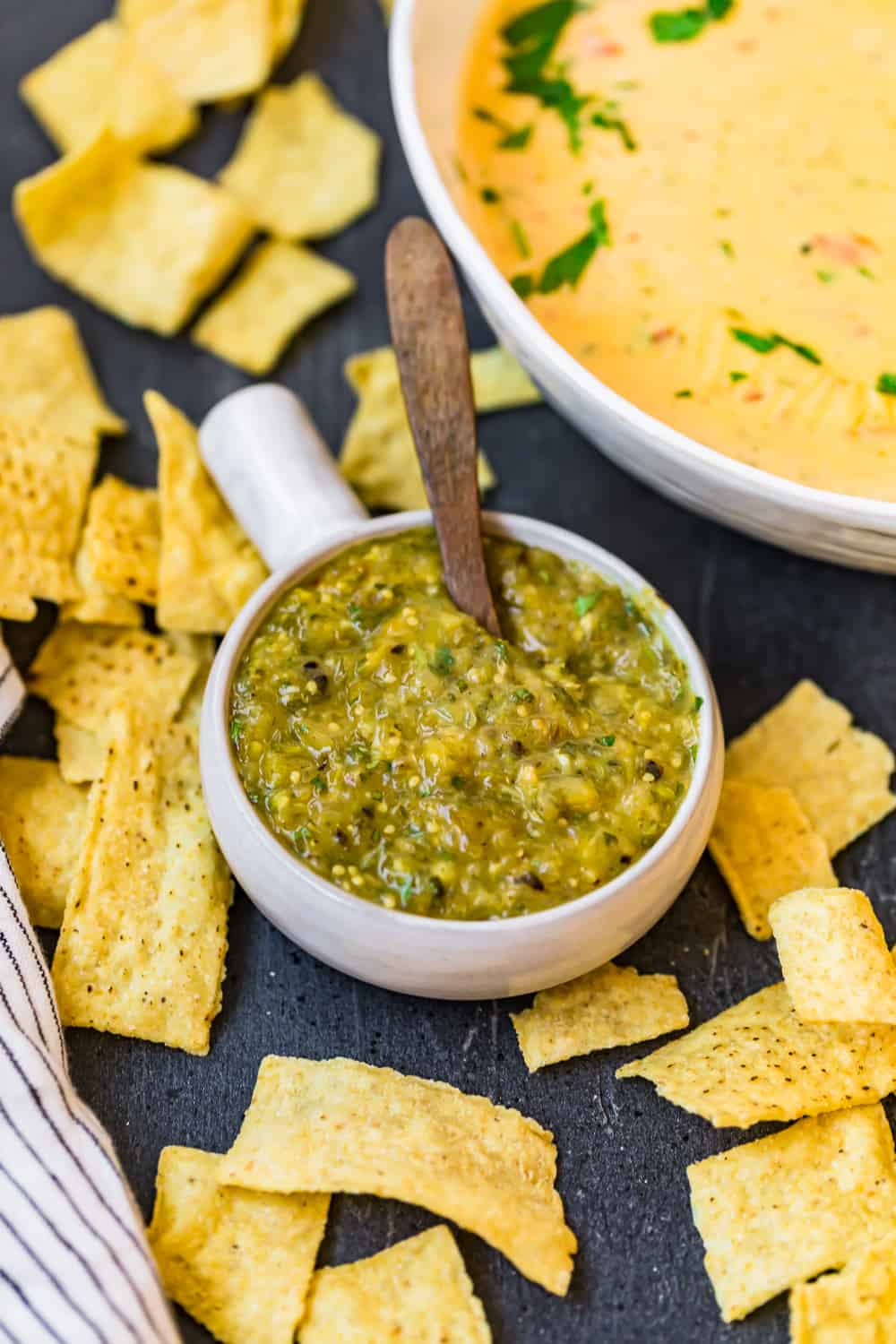 What's The Difference Between Salsa and Salsa Verde?
The main difference between regular salsa and salsa verde is that tomatillos are used instead of red tomatoes. Due to the tomatillos, salsa verde has a tangy, zesty flavor with the underlying tastes of hearty roasted green chiles and onions.
Does Salsa Verde Need To Be Refrigerated?
As long as it's covered and refrigerated, fresh homemade salsa has a shelf life of between four to six days. There are fewer preserving agent ingredients in a freshly made salsa, so the shelf-life is fast. But the plus side is homemade salsa verde is so much tastier than store bought!
Does Salsa Verde Freeze Well?
Yes, the good news is that salsa verde retains all its flavor, vitamins and minerals when you freeze it – but only if you wrap it properly. Use freezer-grade plastic bags and pour in the salsa so you can freeze it flat for easy storage, or use a sturdy, heavy plastic container with a tight-fitting lid.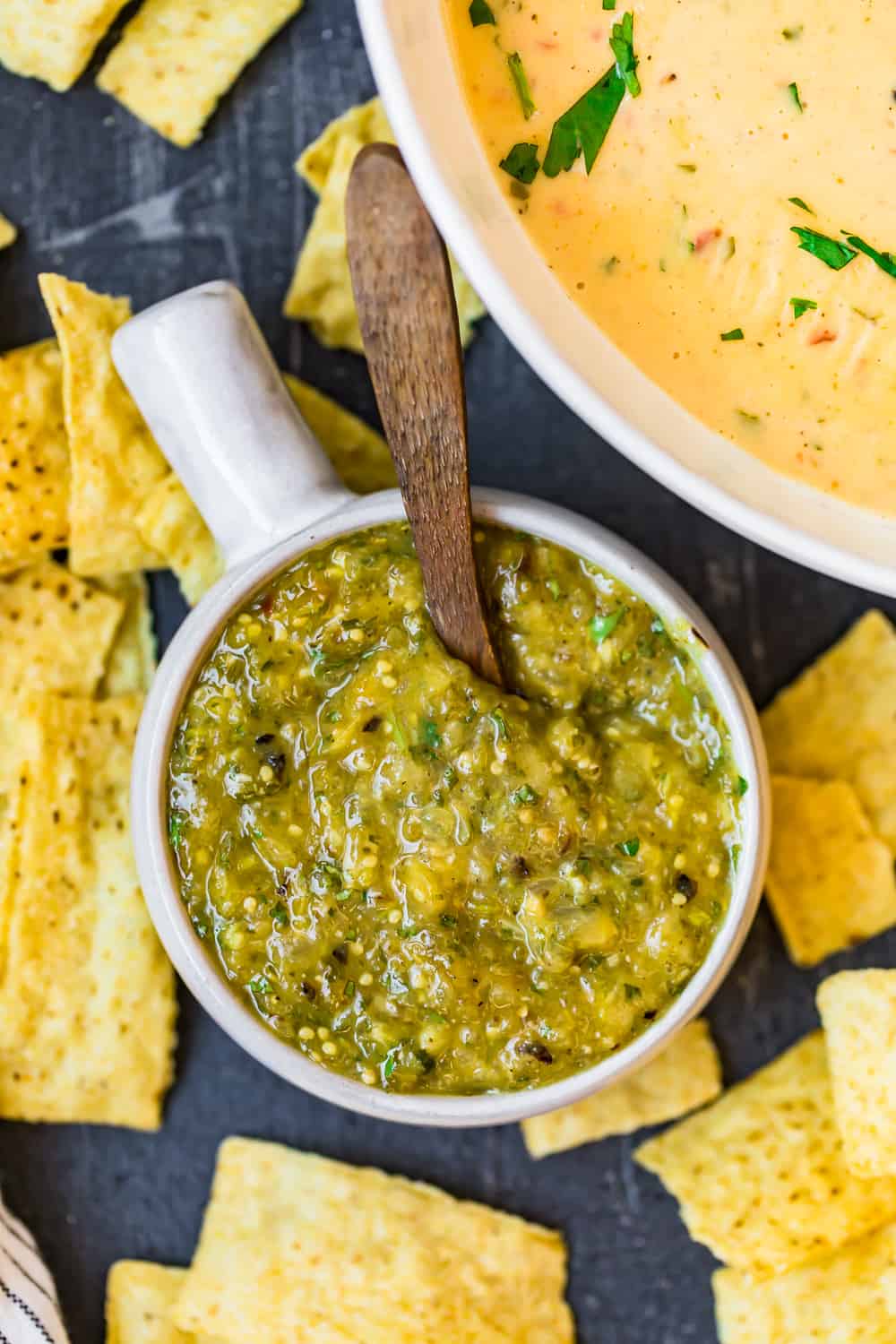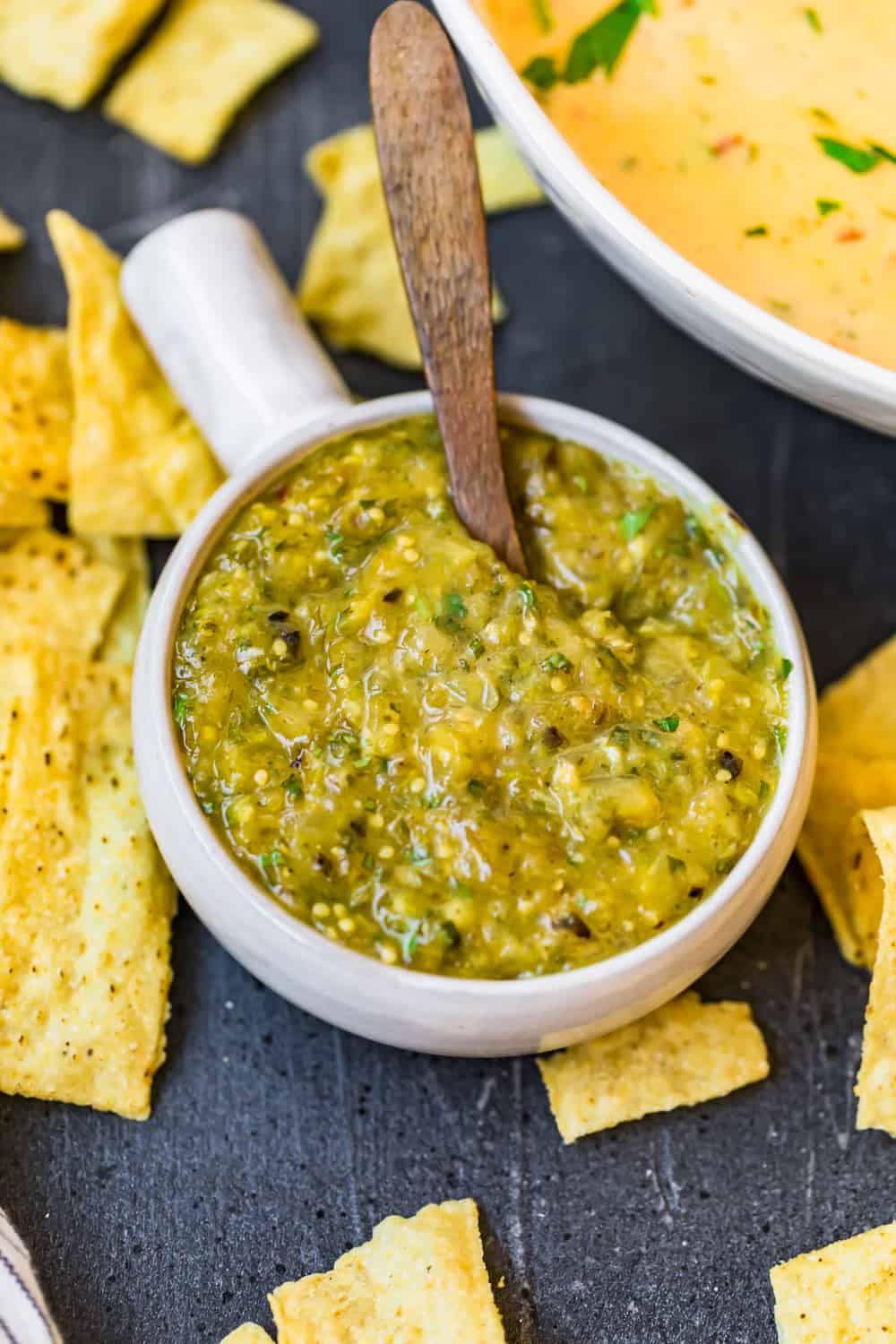 Top Tips For Homemade Salsa Verde
To make this salsa more spicy, you can add an extra serrano pepper or two. Or to make it less spicy, omit the serranos entirely (or use a jalapeño, which has slightly less heat). You can also always core chile peppers (remove the seeds) to reduce the heat.
If the salsa is too thick, feel free to add in 1/4 to 1/3 cup of water (or chicken/vegetable stock).
When shopping for your salsa verde, choose fresh tomatillos that are firm, bright green, and bulging from their husks. Tomatillos milperos, which are smaller and have purple skin and a sweeter flavor, can be used interchangeably with green tomatillos.
The salsa is even better made the day before serving. keep refrigerated.
More Salsa Recipes We Love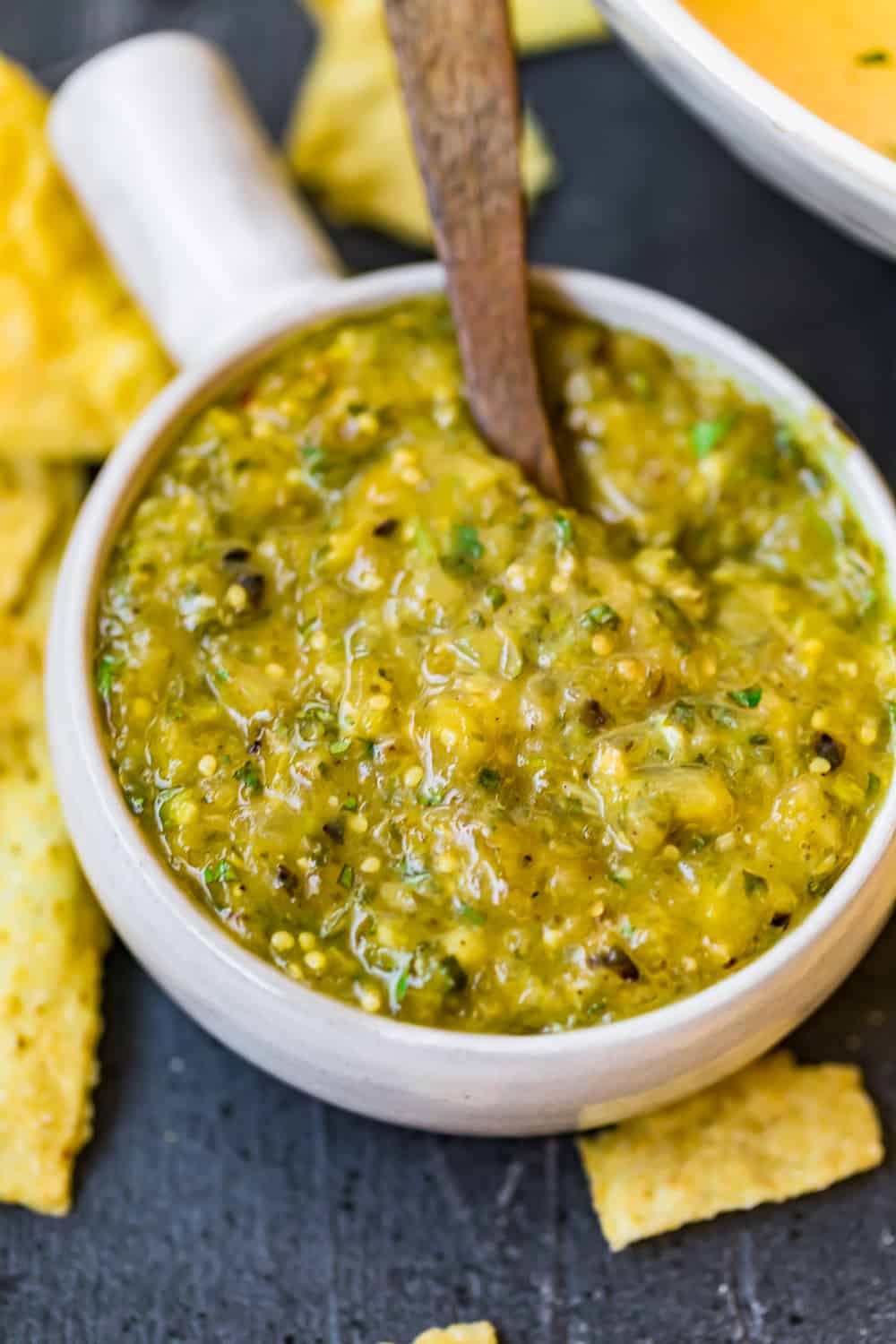 Check Out These Other Delicious Dips
If you've tried Homemade Salsa Verde dip, or have any other dips you love, I'd love to hear from you, please leave a comment below!