Cacio e Pepe translates directly to "cheese and pepper," which only begins to describe the delightful simplicity of this classic dish! Tender fusilli pasta is tossed with a homemade sauce that's creamy, cheesy, and speckled with plenty of coarsely ground black pepper.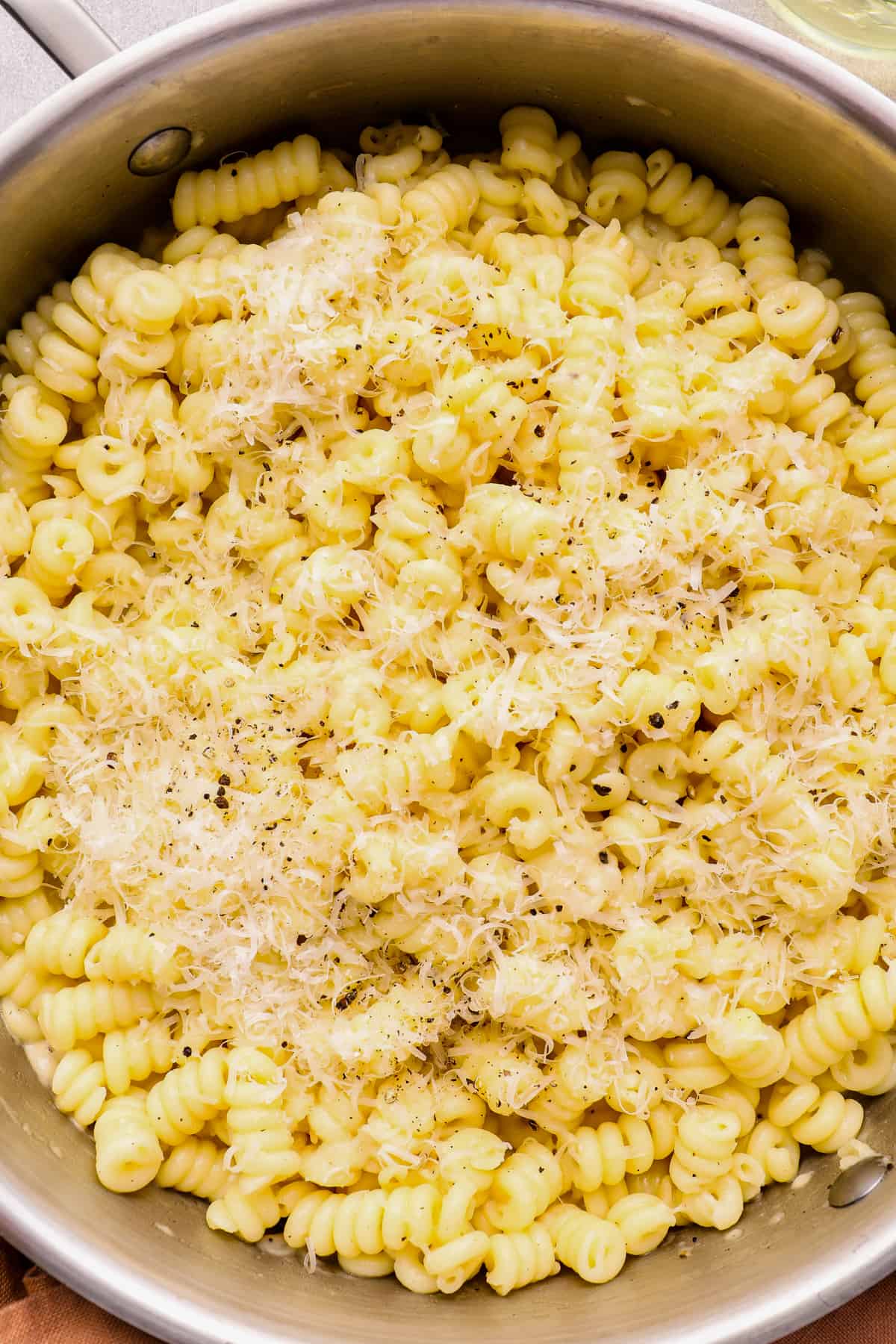 Best Cacio e Pepe
If you've ever had Cacio e Pepe at an Italian restaurant, you likely already know and love this timeless pasta dish! It's a pretty famous entree and the beauty of it lies within its simplicity. The signature peppery sauce is made with butter, parmesan cheese, pecorino Romano, and of course plenty of black pepper.
While you can easily find yourself spending upwards of twenty bucks a plate on this signature Italian entree at restaurants, you can make several portions of it at home for a fraction of the cost! Made with a short list of simple ingredients, you'll love whipping up this budget friendly recipe. Make sure to pair it with a glass of your favorite vino for a pretty perfect dinner!
Why You'll Love this Cacio e Pepe Recipe:
Simple: In an world filled with new and outlandish recipes, it's comforting to stick with the classics. This simple recipe is tried and true, no frills necessary.
Cheesy: Made with both freshly grated parmesan and pecorino romano, this pasta dinner is delightfully cheesy!
Easy: The Cacio e Pepe sauce requires a little attention, but it's so very easy to make!
Whether you use fusili (as in the recipe card), or opt for spaghetti or bucatini noodles, you're going to love every single forkful of this cheese and pepper pasta!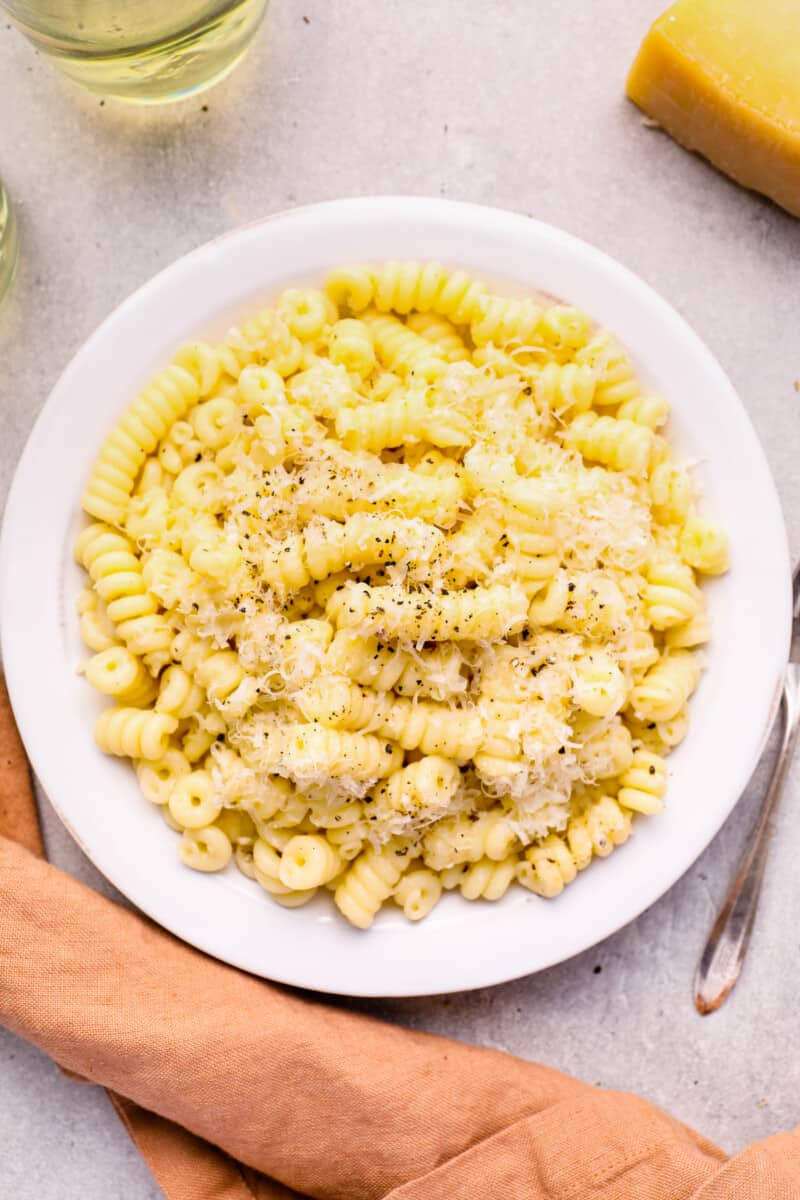 How to Make Cacio e Pepe
You can jump to the recipe card for full ingredients & instructions!
Boil the pasta, and reserve 1 cup of water before straining.
Melt the butter, then sauté the pepper.
Add the pasta water and bring to a boil.
Add the pasta and toss to coat.
Lower the heat and stir in the cheeses.
Recipe Notes
Pasta: Cacio e Pepe is traditionally made with bucatini or spaghetti, but you can use any pasta shape you like! I chose fusilli.
Butter: While it's not a traditional ingredient, it helps to bring out the flavor of the fresh pepper, and it makes the sauce creamier.
Pepper: Use freshly ground coarse black pepper for the best flavor. I don't recommend fine pre-ground pepper–it just won't taste as good!
Cheese: I'm using a mixture of Parmesan and Pecorino Romano for a blend of flavors, but you can use all of one or the other if you prefer.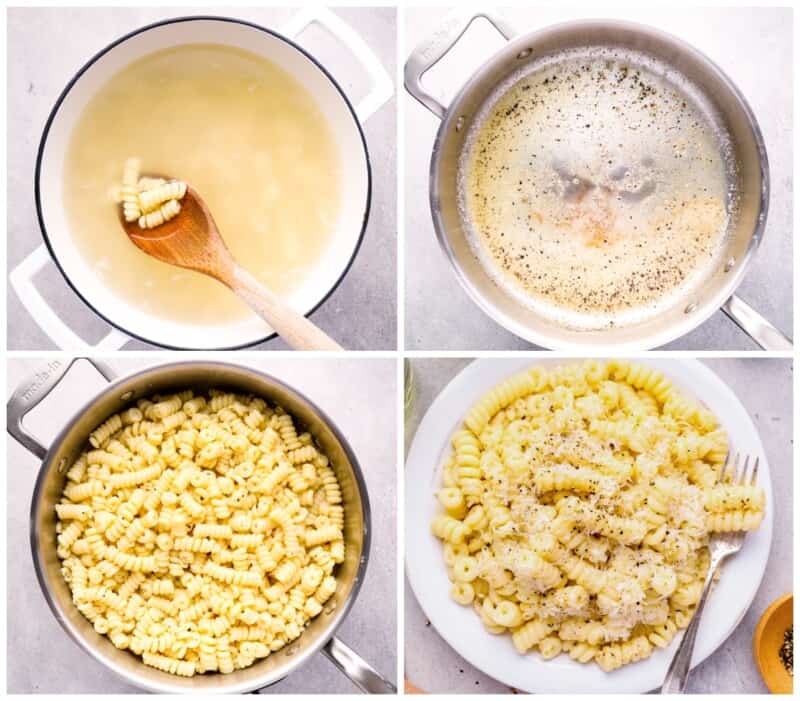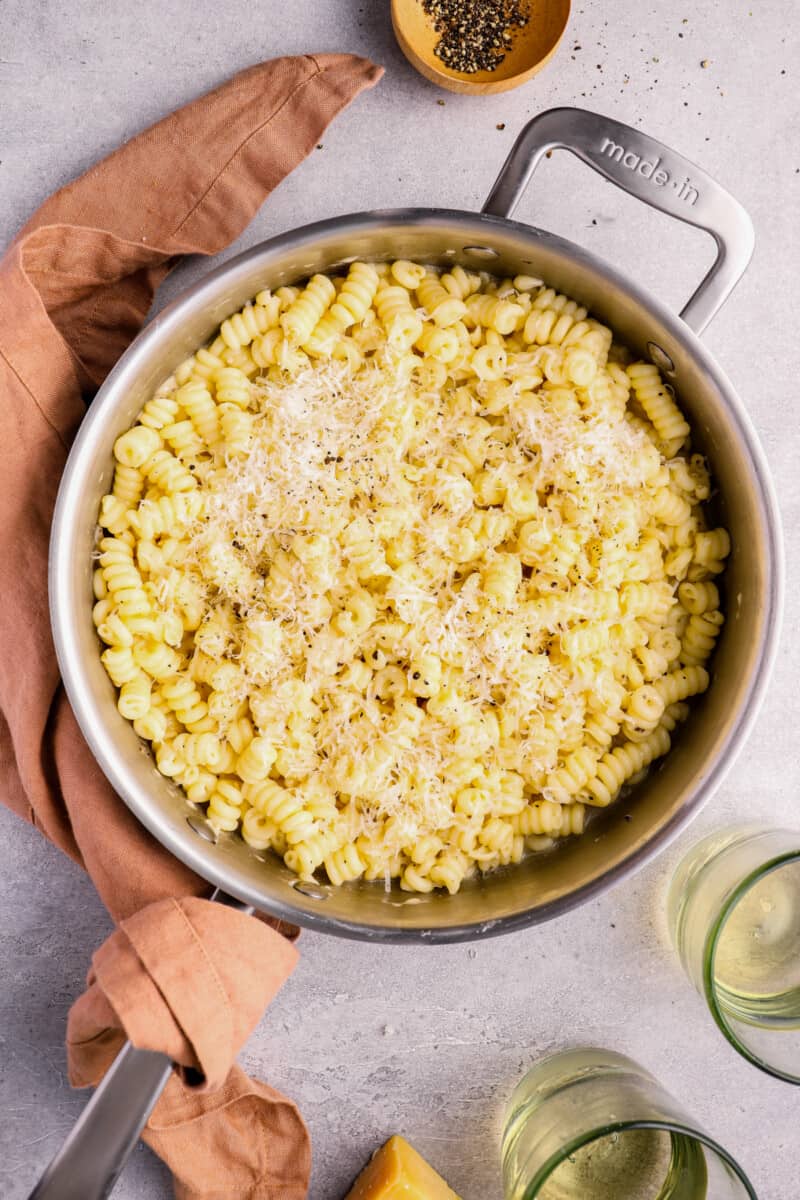 What is Cacio e Pepe?
Cacio e Pepe is a Roman pasta dish that consists of pasta, black pepper, and Pecorino Romano cheese. "Cacio e Pepe" translates to "cheese and pepper".
How do I pronounce cacio e pepe?
Cacio e Pepe is pronounced kaa-chee-ow-ee-peh-pay.
Is Cacio e Pepe similar to alfredo?
While the two dishes certainly look similar, they are in fact very different. Cacio e Pepe is an authentic Italian recipe, while alfredo sauce is an Italian-American recipe. The sauce for Cacio e Pepe is thickened mainly with the starch from pasta cooking water, whereas alfredo sauce is made with milk or cream, butter, and flour to create a significantly thicker roux. This roux mellows the flavor of the cheese, making for a less intensely cheesy sauce.
Why is my Cacio e Pepe clumpy?
The key to smooth, creamy Cacio e Pepe is to go low and slow. Too high of a heat will cause the proteins in the cheese to seize up, leading to a stringy, clumpy sauce. It's important to add enough starchy pasta water to insulate the cheese from being overheated in the hot pan. If you're really struggling, you can place the pasta, starchy water, butter, and pepper in a double boiler (a large bowl set over a pot of boiling water) to heat it more gently. Toss constantly to heat evenly!
What makes an authentic Cacio e Pepe recipe?
While we've come to think of it a general term for pasta with a peppery cheese sauce, the most authentic version of this dish uses spaghetti noodles, black pepper, and Pecorino Romano. In fact, in local dialect, "cacio" refers specifically to Pecorino Romano, which is a sheep's milk cheese produced in the region.
What does Cacio e Pepe taste like?
This pasta dish has a creamy texture, with a rich flavor that packs a punch. The Pecorino is sharp and tangy, while the black pepper adds a smoky kind of spiciness. It's simple, yet it really covers the whole palette.
For the best plate of Cacio e Pepe, be sure to top it off with a sprinkle of cracked black pepper and freshly-grated cheese!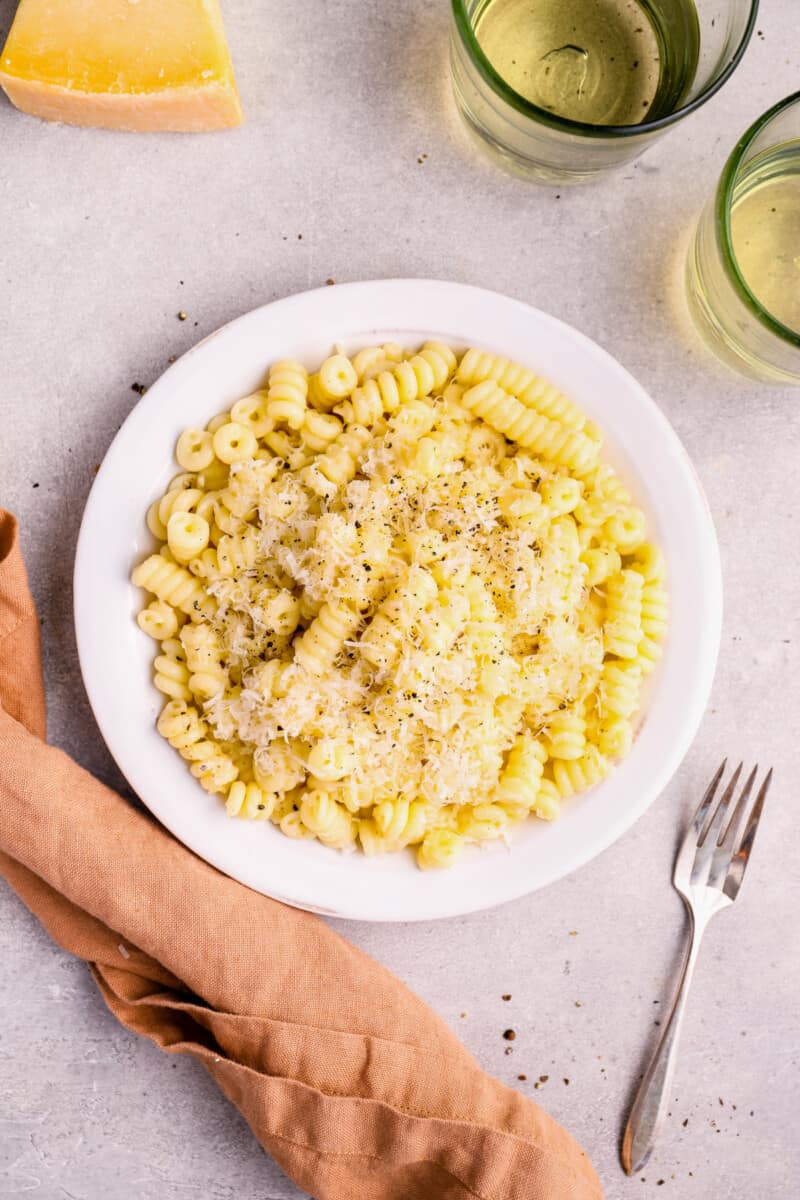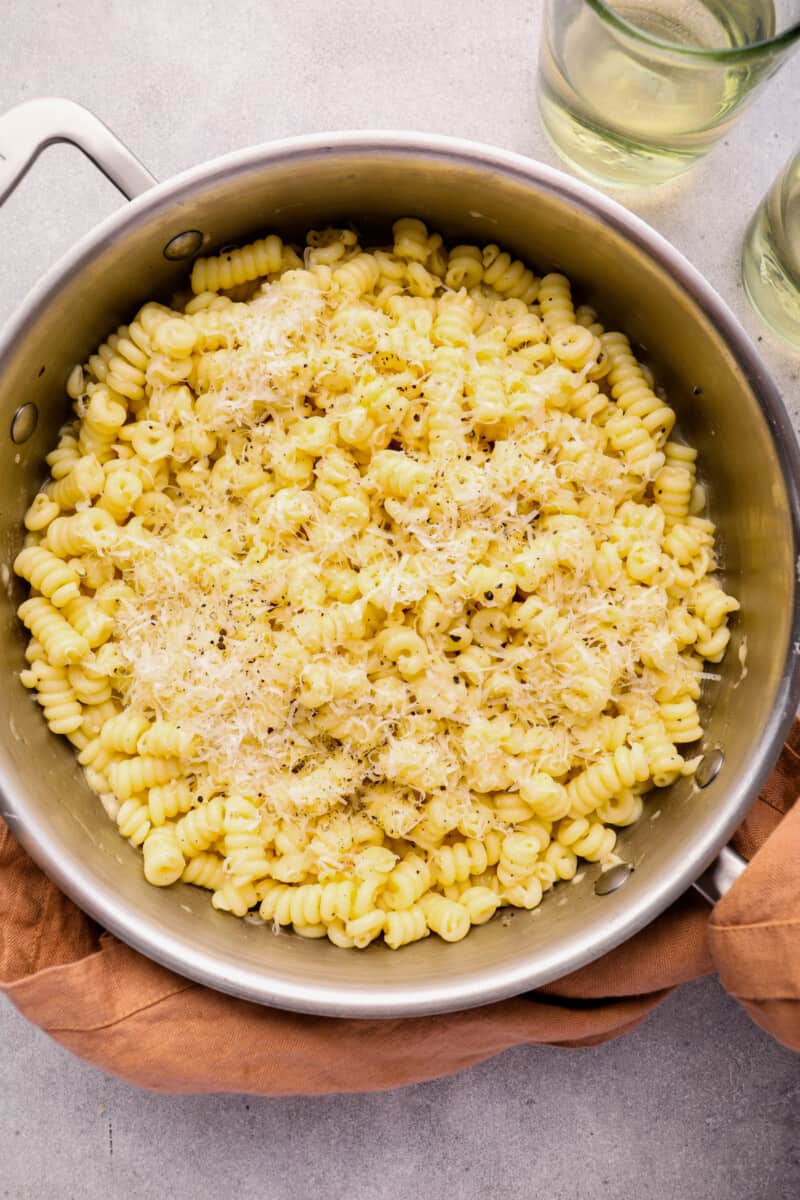 Storage Instructions
While I highly recommend enjoying cacio e pepe on the day it is made, you can store it in an airtight container in the refrigerator for up to 3 days. Reheat gently on the stovetop or in the microwave, adding a splash of water if needed to loosen up the sauce. I do not recommend freezing cacio e pepe.
Variations
You can use all Parmesan or all Pecorino Romano cheese if you prefer.
Make this recipe gluten free by using your favorite gluten-free pasta!
While I prefer unsalted butter, you can also use salted butter.
Make it spicier by adding a pinch of crushed red pepper flakes.
Add some texture by topping it with toasted breadcrumbs.
Grate some fresh lemon zest over top to lighten up the sauce.
Make It A Meal
While cacio e pepe is a delicious and filling meal all on its own, feel free to:
Toss in some steamed broccoli or peas for an extra boost of veggies.
Add protein in the form of sautéed or grilled chicken, shrimp, or pancetta.
Bake a side of pull apart cheese bread.
Mastering Cacio e Pepe
For best results, purchase wedges of cheese and grate them on a microplane or the smallest side of a box grater. You will need about 2 ounces of Parmesan and 1

¼

ounces of Pecorino.
Use freshly-ground black pepper for the best taste.
Toss the pasta and cheese with plenty of starchy pasta water to insulate the cheese and help it melt more easily.
To insulate the cheese even better, feel free to mix everything in a double boiler instead!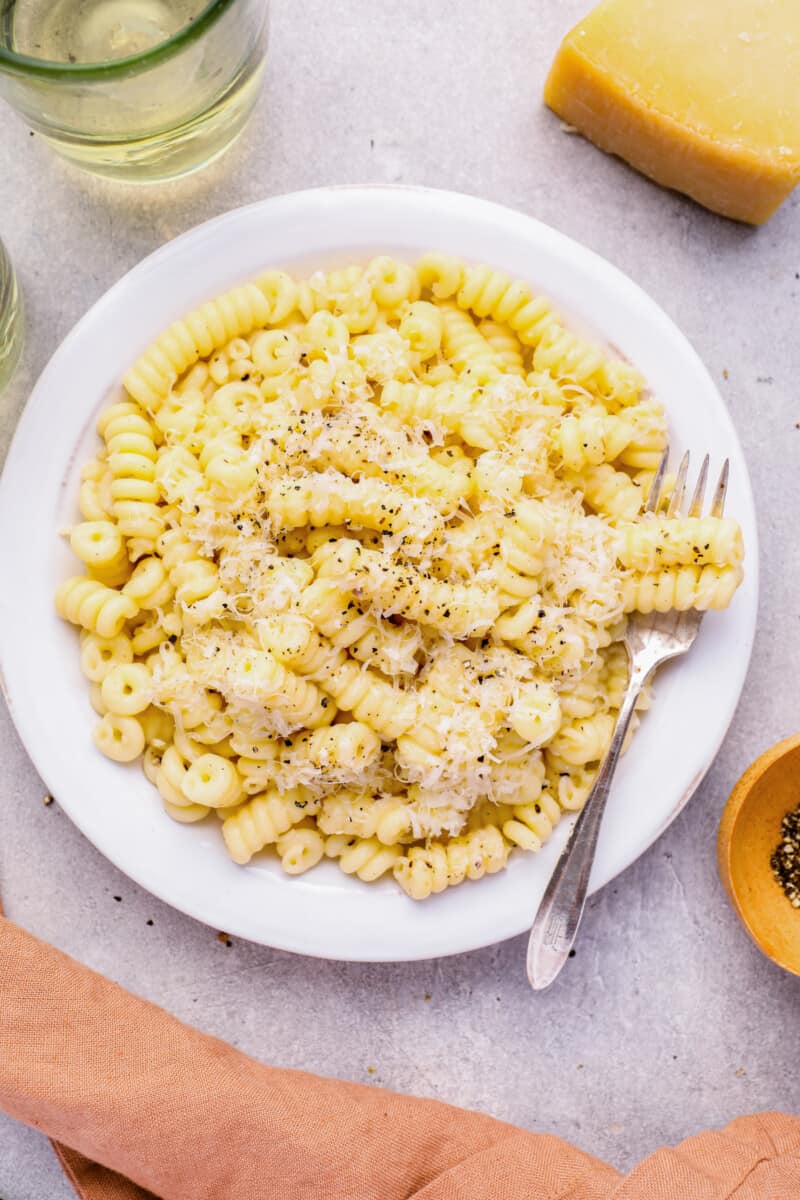 Cacio e Pepe is an easy to make pasta dinner that features bold black pepper and freshly grated cheese. It's creamy, cheesy, and always hits the spot!
If you make this recipe be sure to upload a photo in the comment section below or leave a rating. Enjoy! You can also jump to recipe.