A bed of romaine lettuce topped with juicy chicken breast, croutons and parmesan, and drizzled in a homemade dressing–this classic Chicken Caesar Salad is always a favorite! Simple to make and loaded with flavor and crunchy textures, it's perfect to serve for a tasty lunch.
What's in this Chicken Caesar Salad Recipe?
There are so many reasons why a chicken Caesar salad has been so popular for so many years. The creamy and tangy dressing, the crunchy croutons, and that juicy chicken breast… What's not to love?! It's time to make your lunchtimes tastier!
Greek Yogurt: A healthier alternative to mayonnaise, it provides creaminess and tanginess without as much fat.
Parmesan Cheese: Adds a salty and savory element to the salad, enhancing its overall flavor.
Lemon Juice: Provides brightness and tartness that cuts through the richness of the dressing.
Olive Oil: Makes the dressing smooth and rich.
Dijon Mustard: Adds a touch of spiciness and depth to the dressing. It also helps to emulsify the oil and vinegar.
White Wine Vinegar: Adds acidity and a touch of sweetness to the dressing.
Worcestershire Sauce: Adds a salty and umami flavor to the dressing.
Anchovy Paste: A classic ingredient and key element in Caesar dressing, it adds a rich, savory, and slightly briny taste.
Salt + Pepper: Enhance the overall flavor of the dressing.
Garlic: Adds an aromatic flavor to the dressing.
Romaine Lettuce: Serves as the salad's crisp and refreshing base. The leaves are sturdy and hold up well to the creamy dressing.
Cooked Chicken Breasts: Adds extra protein to the dish, turning this salad into a full meal.
Croutons: Add a satisfying crunch to the salad.
Pro Tip: Feel free to add your favorite veggies and toppings, such as chopped cucumbers, cherry tomatoes, or torn kale.
Variations on Caesar Salad with Chicken
You can really use any kind of chicken for this recipe! A classic Caesar salad usually has pan-seared or grilled chicken breasts, but I also love Instant Pot shredded chicken, air fryer chicken breast, crispy baked chicken fingers, baked chicken thighs, or oven-fried chicken breast.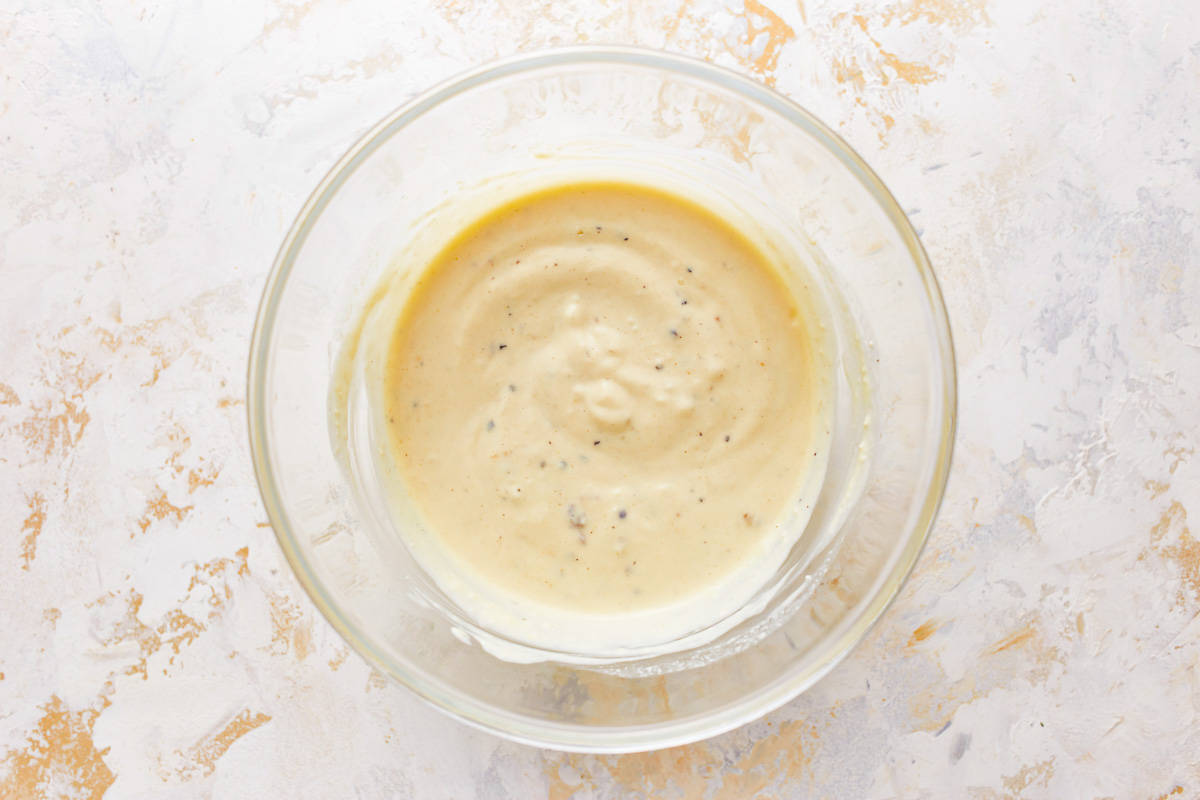 Is chicken Caesar salad healthy?
Although it is a salad, chicken Caesar salad is not necessarily healthy, as it is high in calories, fats, and sodium. Here, I've swapped in Greek yogurt in place of the traditional mayonnaise, which does make the dressing a little lighter than usual.
Is Caesar dressing healthier than ranch?
Ranch dressing tends to be higher in calories, but Caesar has more sodium and sugar.
How many calories are in chicken Caesar salad?
This recipe makes 4 servings that are 364 calories each.
What kind of chicken should I put on a Caesar salad?
This salad is great because it's so adaptable. I like to use rotisserie chicken in a rush, but you can use any leftover cooked chicken you have on hand!
Where can I find anchovy paste?
Anchovy paste is usually in the condiments section of the grocery store, but it can also sometimes be found in the canned goods section with the tinned fish.
Why is my Caesar salad soggy?
The acid in Caesar dressing can make the greens wilt more easily, so be sure to dress the salad just before serving!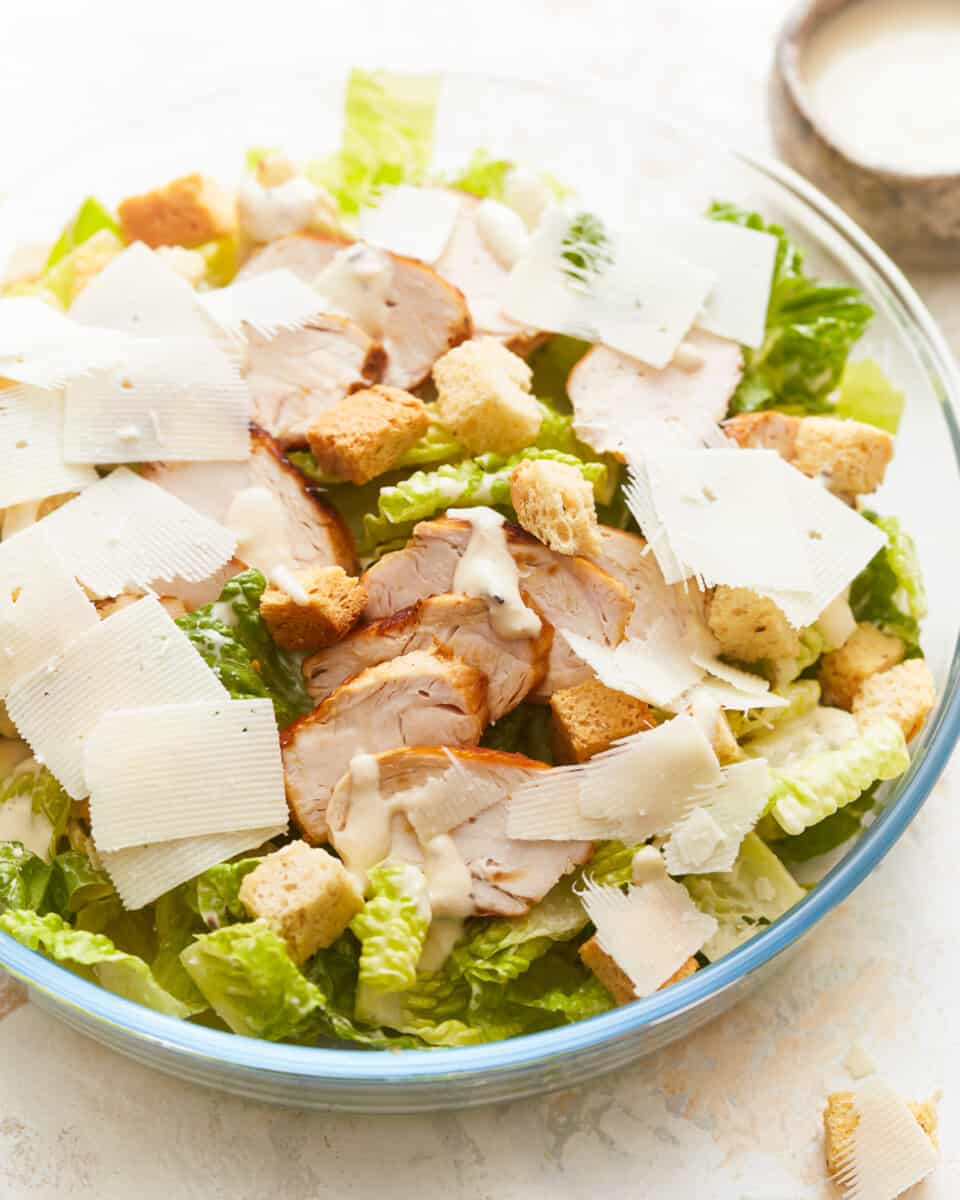 How to Store
While caesar salad is best enjoyed on the day it is made, it will keep well in an airtight container in the refrigerator for up to 1 day. Beyond that, it will begin to wilt and turn slimy.
I do not recommend freezing this salad, as the greens will turn soggy.
Serving Suggestions
This chicken Caesar salad recipe makes for a great little lunch or appetizer, but you can easily serve it up with favorite sides like Homemade Garlic Bread, Air Fryer Corn on the Cob, Crockpot Twice Baked Potatoes, or Cheddar Bay Biscuits.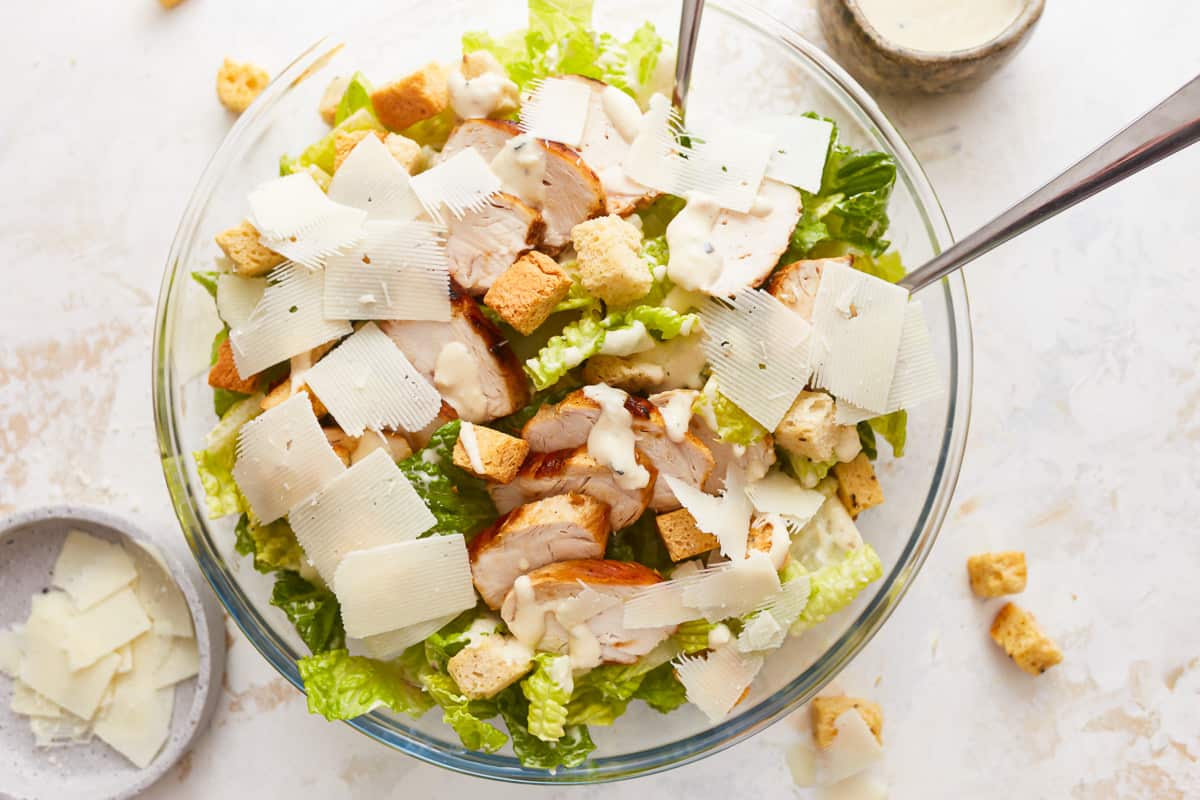 More Caesar Salad Recipes We Love