This easy chicken alfredo is a quick and easy weeknight meal that is on the table in less than 30 minutes. Made with just a handful of ingredients, this chicken pasta is made without cream yet is still wonderfully rich and creamy.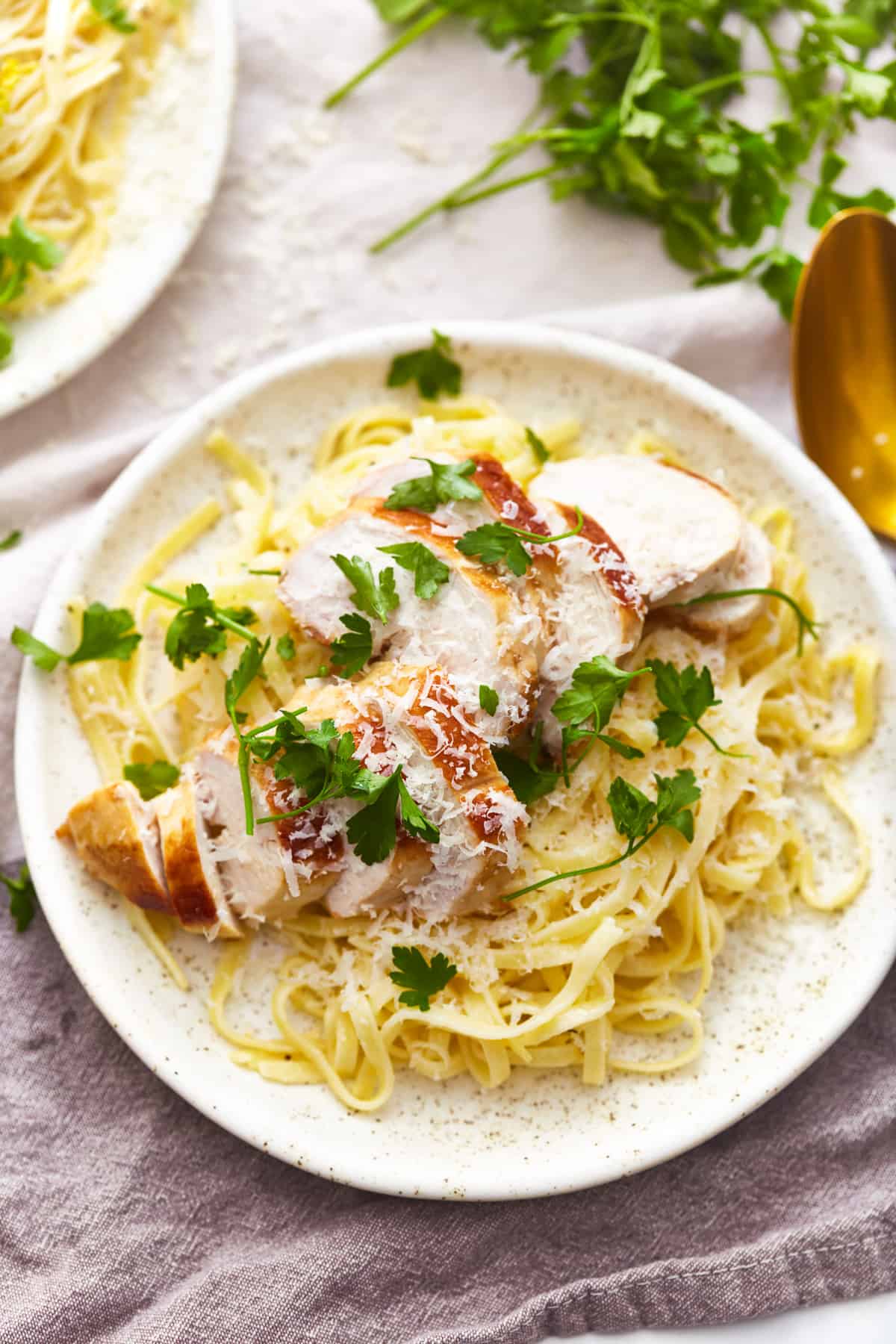 What's in this Chicken Alfredo Recipe?
Quick and easy to make, this chicken alfredo is a great addition to your weekly meal plan. It's made without any cream, yet still rich and flavorful!
Cooked Chicken Breasts: This recipe is a great way to use up leftover cooked chicken breasts. You can use sliced or cubed cooked chicken. You can also use cooked chicken thighs if you prefer.
Kosher Salt: Helps to season the pasta water, adding rich flavor to this dish.
Fettuccini: The best pasta noodle, in my opinion, for alfredo.
Pasta Cooking Water: Don't forget to reserve 2 cups of the water you cooked the pasta in before draining it. This is crucial to creating a creamy sauce.
Butter: Unsalted butter helps bump up the creaminess of this sauce.
Parmesan Cheese: Be sure to use good-quality, freshly-shredded Parmesan cheese for the best tasting sauce.
Black Pepper: An optional addition that helps elevate this dish.
Parsley: I love garnishing my pasta dishes with parsley for a pop of color.
Pro Tip: If you don't have leftover chicken on hand, sauté diced chicken breasts in a bit of butter and olive oil, then remove them from the pan before adding the pasta water.
Variations on Chicken Alfredo Pasta
You can change up the taste of this chicken alfredo by swapping out the Parmesan for Pecorino Romano or Asiago cheese. You can also swap out the cooked chicken for cooked steak or sausages. For a spicier take on chicken alfredo, add some crushed red pepper flakes into the cheese sauce.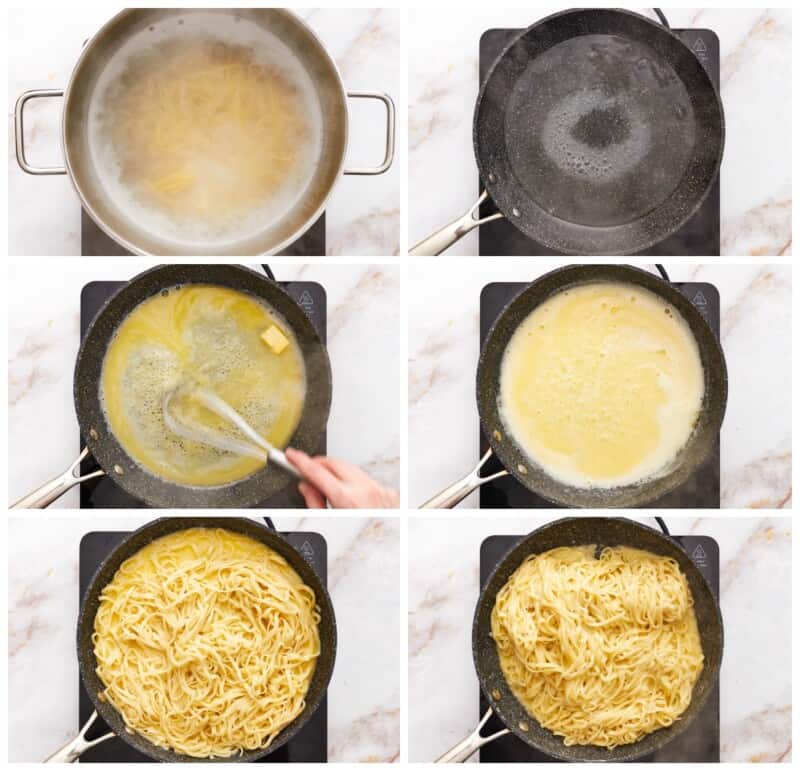 What's the best chicken to use in Chicken Alfredo?
You can use any chicken in this dish, just make sure that it is full cooked before adding it to the pasta. You can use pre-cooked cubed chicken from the store or cook your oven breast or thighs in the oven or on the skillet.
Is chicken alfredo creamy?
This easy chicken alfredo recipe doesn't use any cream, yet it is creamy, silky, and rich in flavor. The "cream" is developed by the emulsion of pasta water, butter, and Parmesan cheese – so be sure to remember to reserve that pasta water!
What's the best pasta to use for chicken alfredo?
I like to use fettuccini in this recipe – it is a fairly wide noodle so it catches all that amazing sauce. Any dried or fresh pasta will of course work, but I prefer to use a long pasta. Linguine and spaghetti will both work well.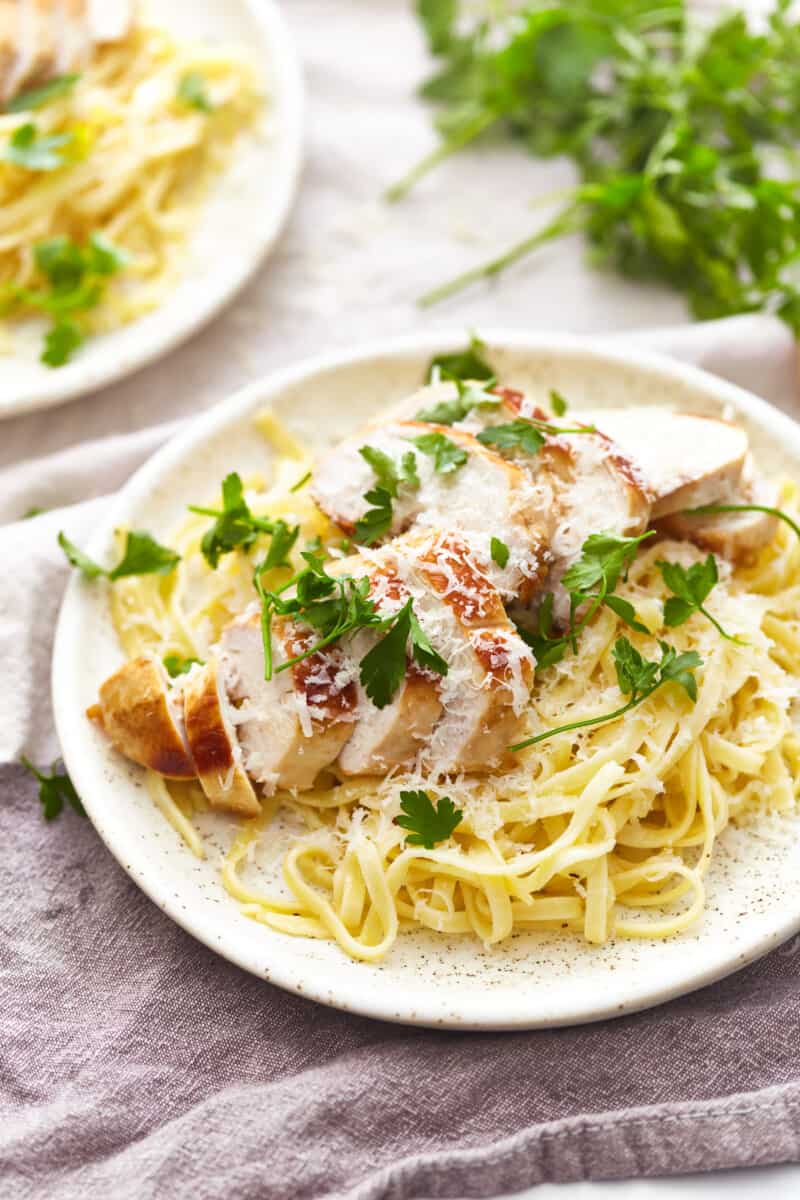 How to Store and Reheat this Easy Chicken Alfredo Recipe
Store leftover chicken alfredo in an airtight container in the refrigerator for up to 3 days. Reheat in the microwave in 30-second bursts until hot or in a skillet set over medium-low heat until warmed through.
What to Serve with Homemade Chicken Alfredo
Serve chicken alfredo with garlic bread or rosemary focaccia and an Italian salad. You could also serve it with a side of roasted veggies!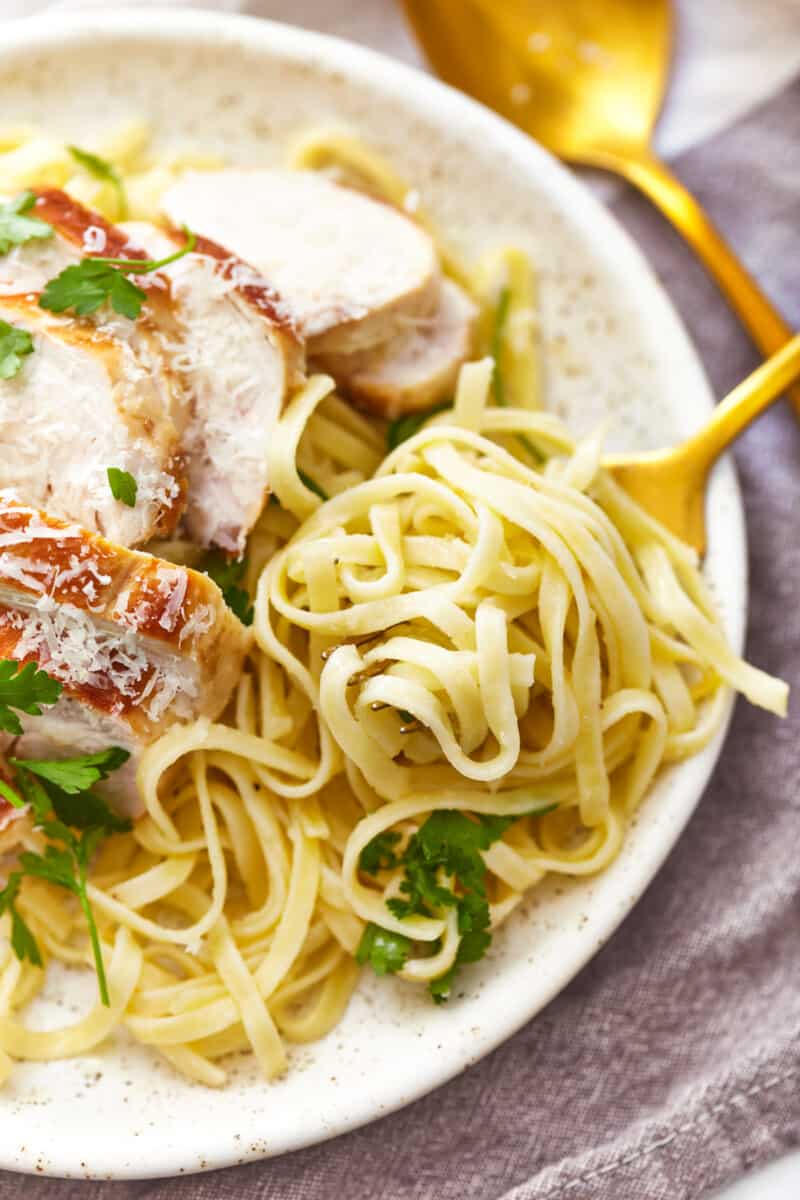 More Chicken Alfredo Recipes We Love