Chicken Alfredo Stuffed Shells are a creamy, cheesy twist on a classic Italian recipe! Jumbo pasta shells are stuffed with the best cheese and chicken mixture before being slathered with rich alfredo sauce and baked to perfection in just thirty minutes.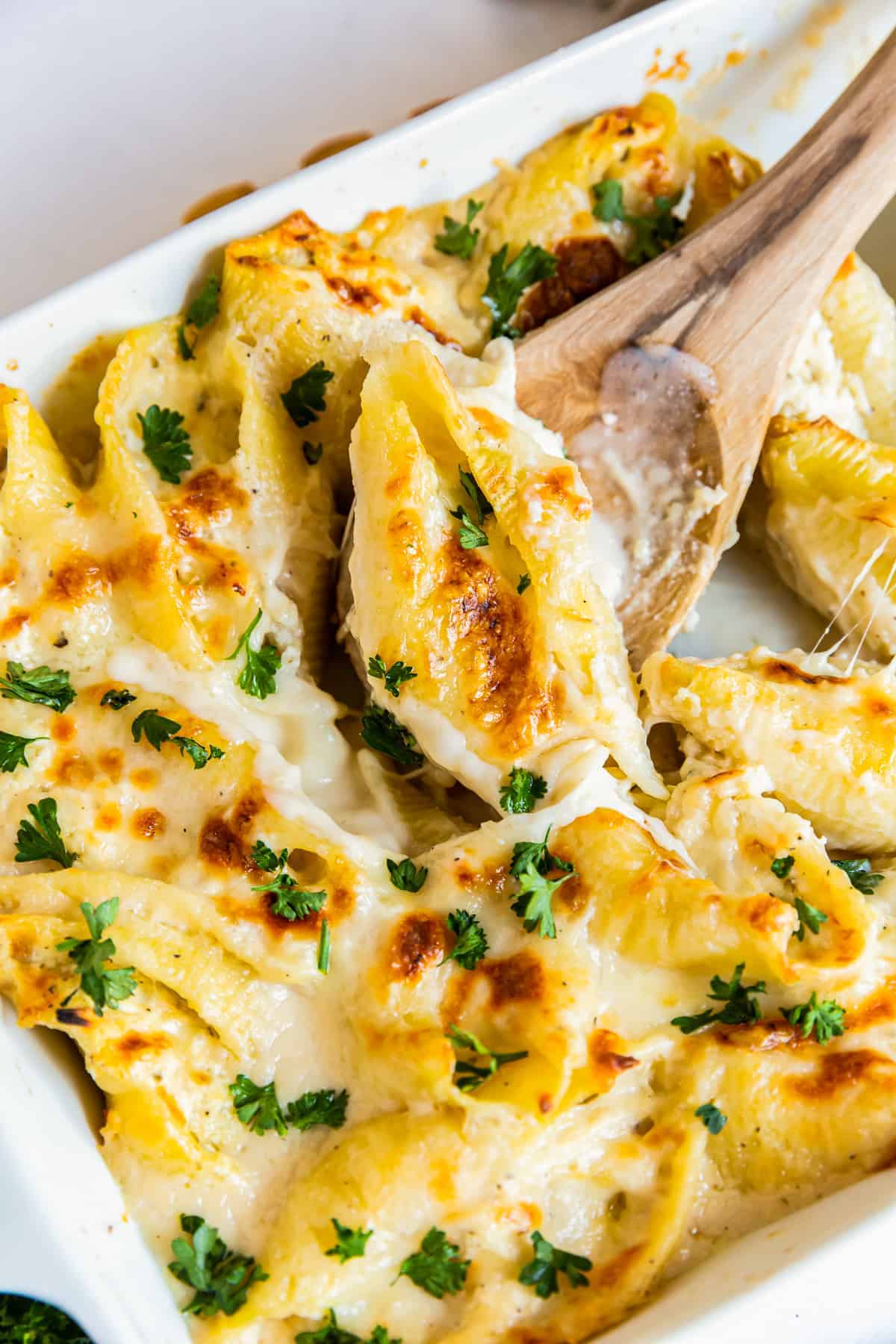 What's in Alfredo Stuffed Shells
These stuffed shells are made with inexpensive ingredients that you'll find in most Italian recipes.
Jumbo Pasta Shells: Any brand will work! Just make sure you're buying jumbo pasta shells so they're big enough, of course.
Egg: This acts as a binder for the filling.
Ricotta Cheese: Get the very best consistency and flavor when you use my homemade ricotta cheese!
Mozzarella Cheese: If you have any extra mozzarella cheese, use it to make cheesy baked tomatoes as a side dish (and thank me later)!
Parmesan Cheese: Freshly grating some parmesan cheese off the block will result in the best flavor and texture.
Sour Cream: For the best thick consistency, use sour cream with the full fat content, not low fat.
Italian Seasoning: I like using my homemade Italian seasoning for the best herbaceous flavor.
Salt and Pepper: Don't be too heavy handed with your salt! And as for the pepper, freshly cracked it best.
Chicken: Save some time by using a rotisserie chicken from the store that's already cooked for you.
Alfredo Sauce: While you can certainly use whatever store-bought jar you like best, homemade alfredo sauce really kicks things up a notch!
PRO TIP: The cooked pasta shells can tear easily. Make a couple extra pasta shells in case any do rip during the assembly process.
Can I add anything else to this recipe?
Yes – veggies! Both spinach or broccoli are fantastic in this easy stuffed shells recipe. Just mix in one cup of cooked, chopped spinach or broccoli with your other filling ingredients.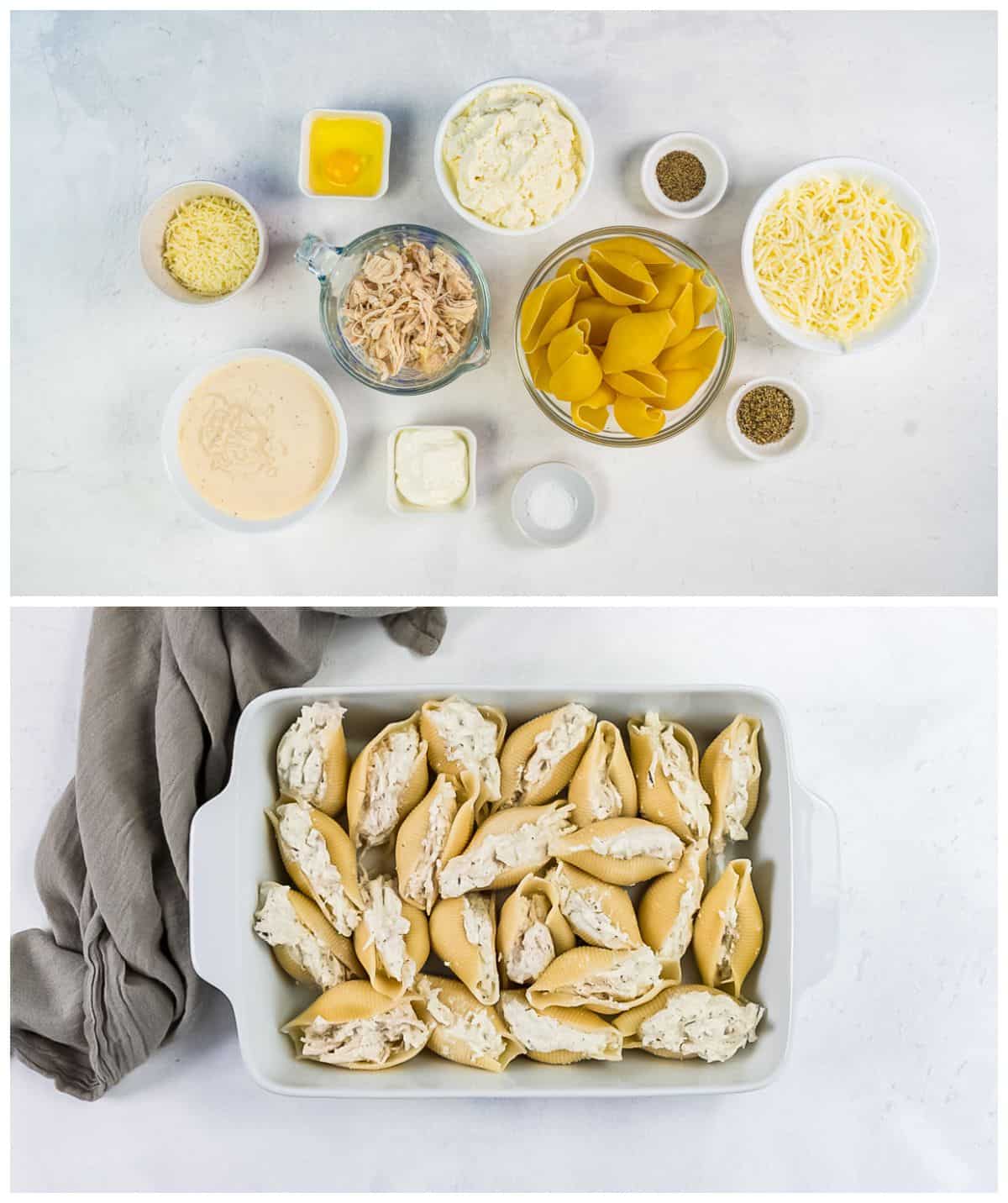 What are stuffed shells?
Stuffed shells are boiled large pasta shells that are filled with a cheese/vegetable/meat mixture and baked in the oven. This version is filled with a cheese and chicken mixture.
What kind of chicken should I use for stuffed shells?
I recommend using a rotisserie chicken from the store that's already cooked to save you some time. You can also use leftover cooked chicken that's in your fridge if you have some on hand!
Can I make stuffed shells ahead of time?
Yes. Prepare this recipe through step 5, cover tightly, and refrigerate for 24 hours before continuing with step 6.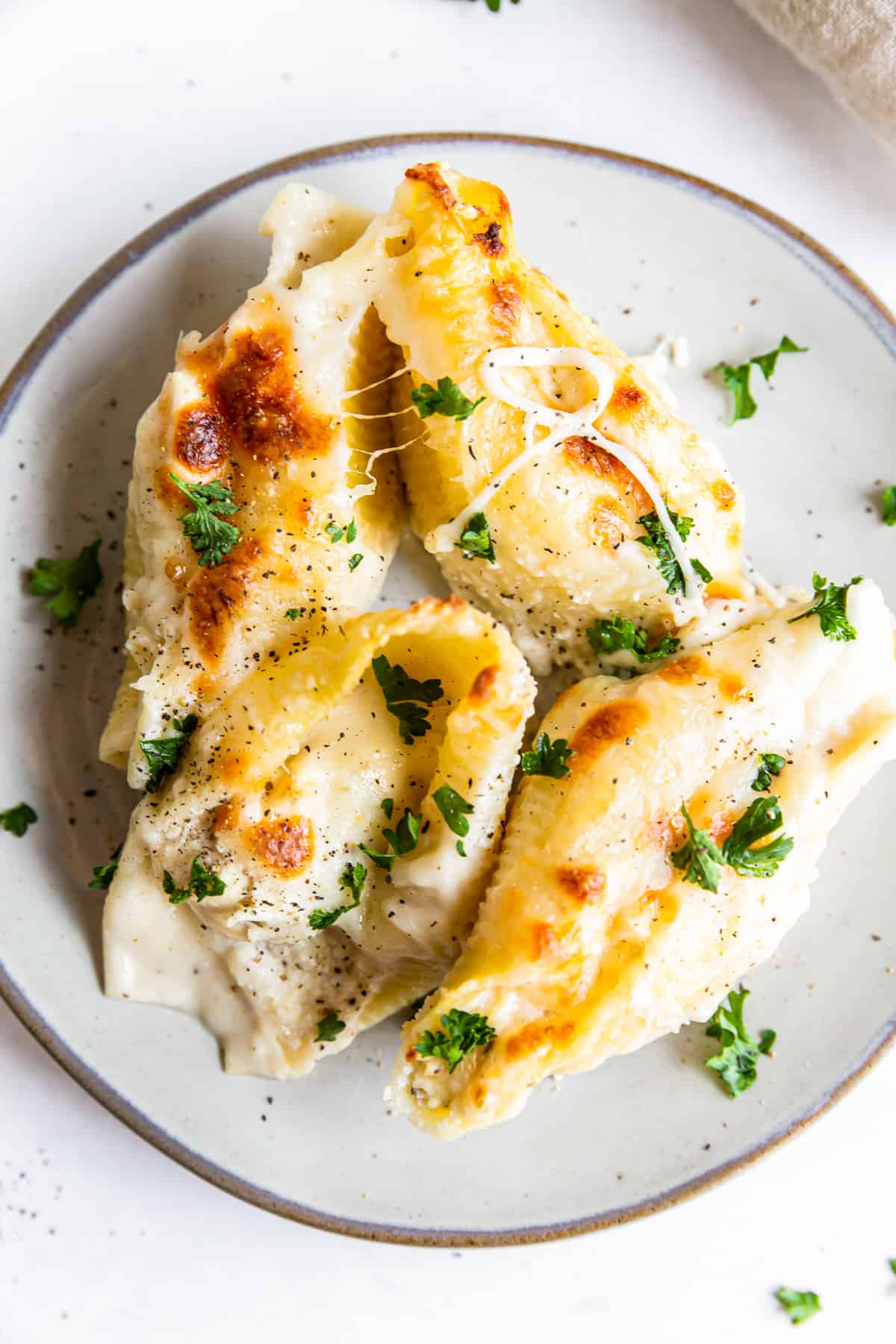 How to Store/Reheat
In an airtight container in the fridge, any leftover stuffed shells you have will stay good for about 2-3 days. Reheat your leftovers in the microwave in 30 second intervals until warmed through.
How to Freeze
Wrap portions of baked stuffed shells with plastic wrap, place into an airtight bag or container, and freeze for up to 2 months. Thaw in the refrigerator prior to reheating.
Serving Suggestions
Some of my favorite side dishes for this stuffed shells recipe includes garlic bread, lemon parmesan roasted broccoli and spinach salad!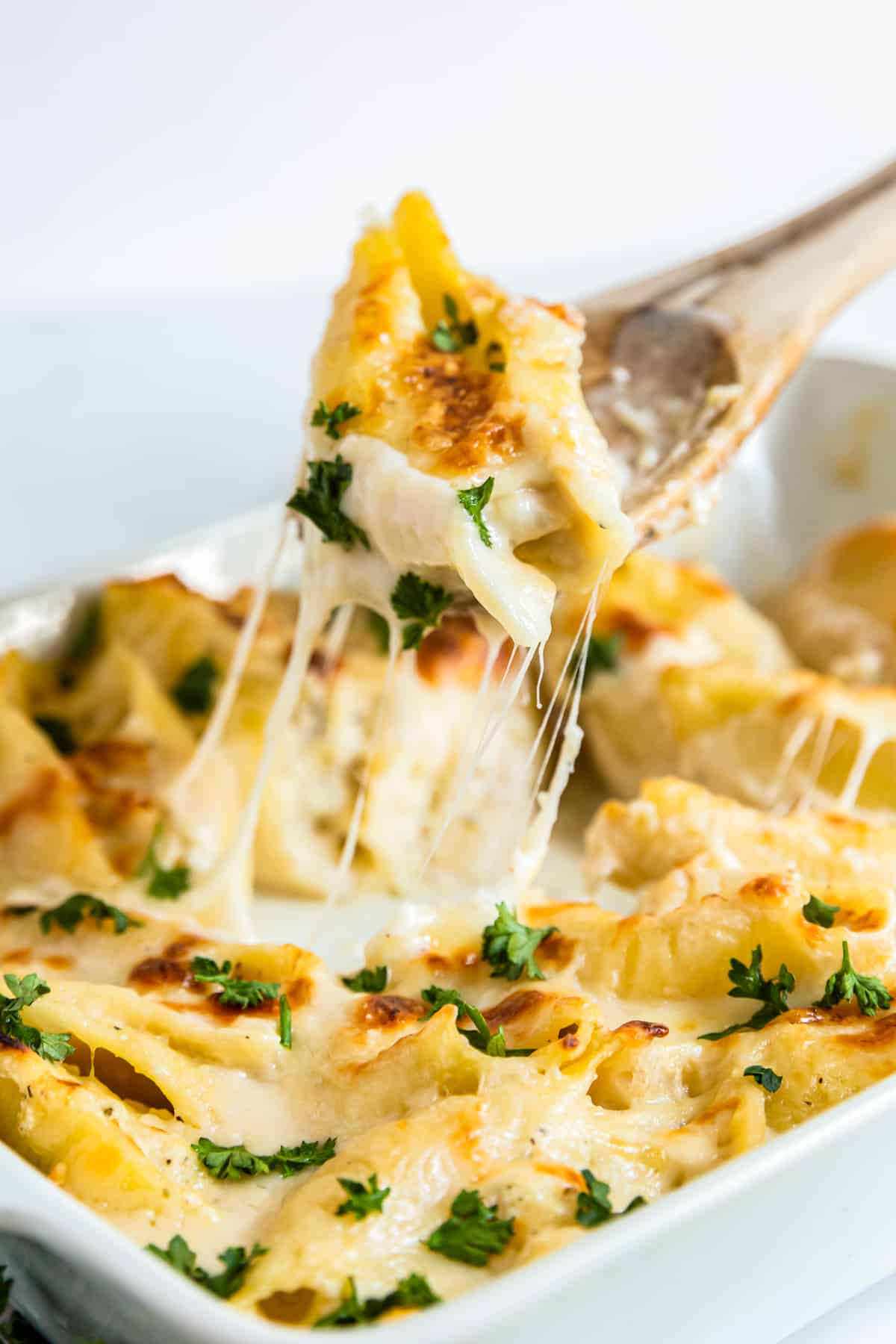 5-Star Review
"This is literally one of my favorite dishes. But be careful!! It's severely addictive!" – Kitty
More Baked Pasta Recipes We Love