Kiss the jarred sauce goodbye and make this incredibly easy and delicious Homemade Alfredo Sauce instead. It's an easy addition to some of your favorite types of pasta, including fettuccine, spaghetti, and penne!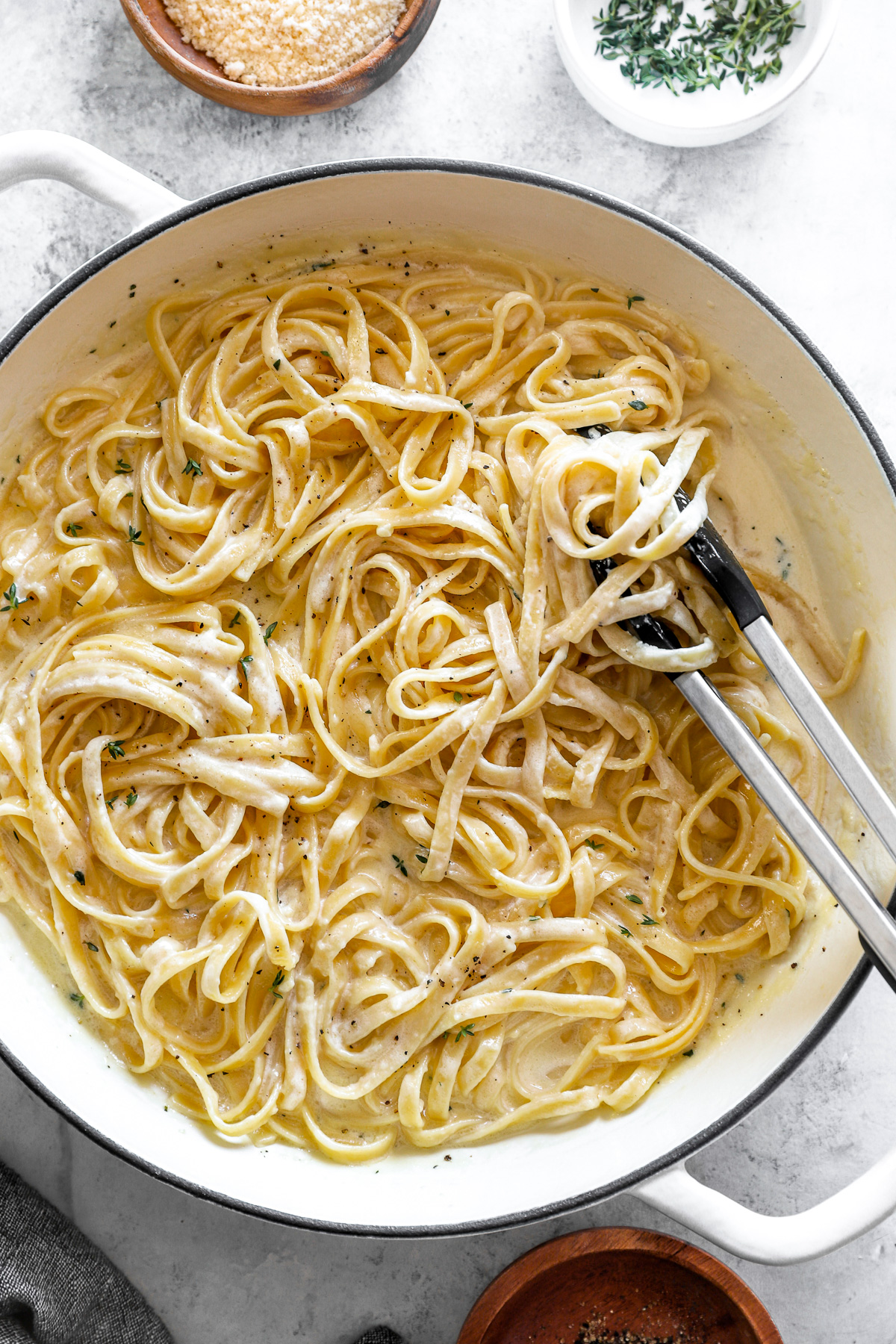 What's in this Alfredo Sauce Recipe?
Who knew it was so simple to make a delicious Homemade Alfredo Sauce for your favorite fettuccine alfredo? Use fresh ingredients to make something that tastes like it came straight out of a restaurant!
Butter: Make sure you're using unsalted butter. If it has salt in it, the sauce may taste a bit too salty to you.
Garlic: Feel free to use pre-minced garlic if you don't have fresh garlic cloves available to use for this recipe.
Heavy Cream: This the base of this classic creamy sauce. If you don't have heavy cream, you can make it using whole milk and full-fat butter.
Parmesan Cheese: It's best to use freshly grated Parmesan cheese because of the extra flavor it brings to the sauce compared to bottled Parmesan.
Salt + Pepper: Enhance the flavors of this sauce.
Pro Tip: Add red chili pepper flakes to the blend of seasonings if you'd like to add a slight bit of spice to your sauce.
Variations on Alfredo Sauce
You can easily change up this homemade Alfredo sauce to meet your needs. For a vegan Alfredo sauce, swap the butter, heavy cream, and Parmesan for vegan alternatives. Follow the same advice to make a dairy-free Alfredo sauce. Fortunately for those on the keto diet, this Alfredo sauce is already keto-friendly, so serve it up with your favorite keto noodles for keto Alfredo! For a light Alfredo sauce, swap the heavy cream for milk or half-and-half.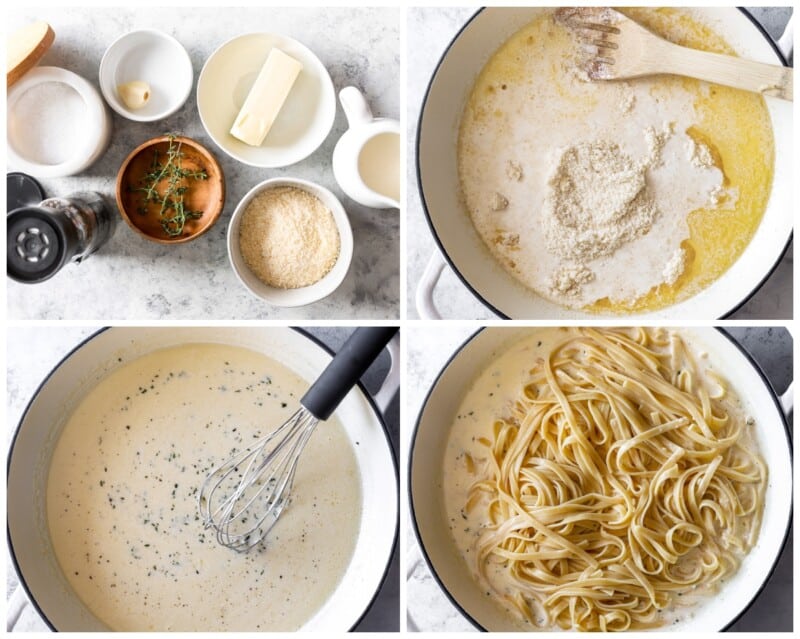 Is Alfredo sauce gluten free?
Yes, this Alfredo sauce is naturally gluten-free. Simply prepare some of your favorite gluten-free pasta, and you're good to go!
Why does the heavy cream need to be at room temperature?
If cold heavy cream is added, it may separate. Room temperature cream incorporates much more easily with the other warm ingredients.
Can you use a blend of cheeses?
Yes! Instead of 6.4 ounces of Parmesan cheese, use a combination of freshly grated Parmesan and Pecorino Romano cheeses. For the best-tasting sauce, use high-quality cheese and grate it yourself. Pre-shredded cheese doesn't melt as well and isn't a great option for Alfredo sauce.
How do you make the Alfredo sauce thinner?
To thin out the sauce, gradually add a couple tablespoons of warm water (or pasta water) after the cheese is mixed in.
Can you make Alfredo sauce with milk?
Yes! For a lighter Alfredo sauce, use whole milk or half-and-half instead of heavy cream.
How long does this sauce last?
Store any leftover Alfredo sauce in an airtight container in the refrigerator for up to 5 days. When ready to reheat, don't microwave the sauce! Instead, warm the sauce in a saucepan set over low heat.
Can you freeze Alfredo sauce?
I don't recommend it. Cream-based recipes don't typically thaw and reheat well.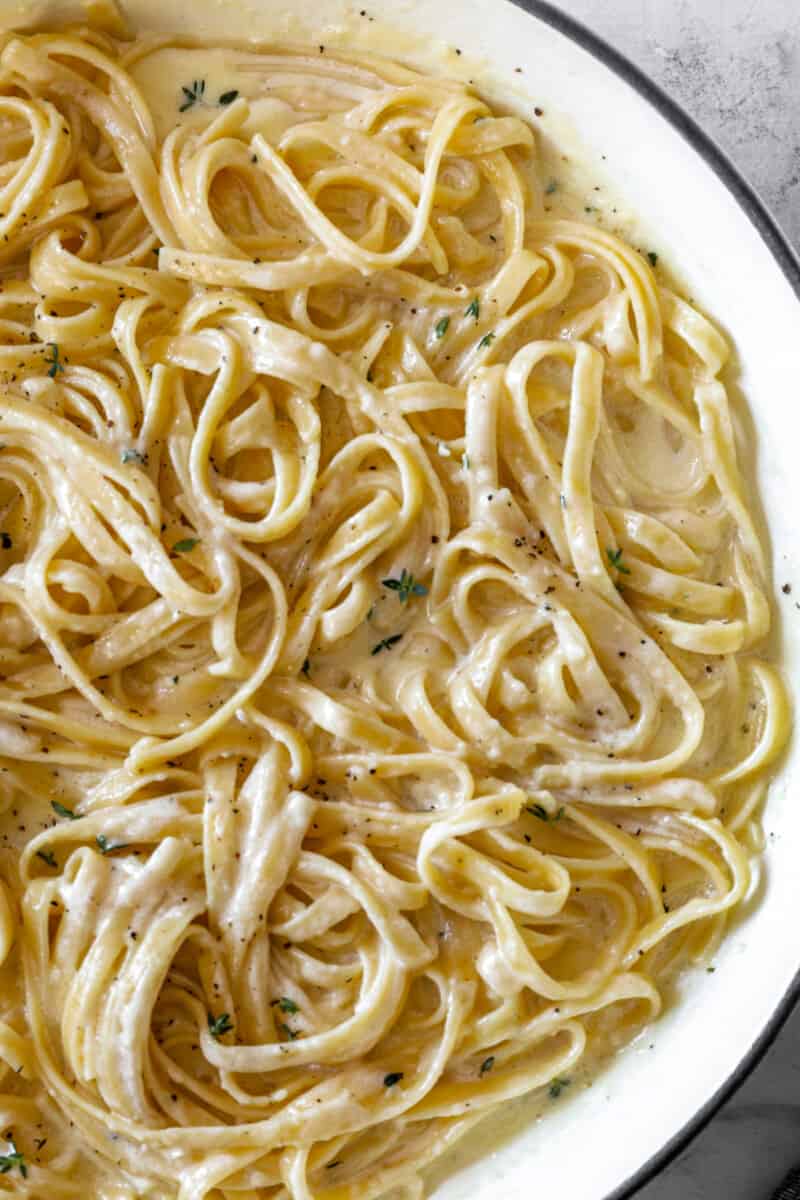 How to Store and Reheat
Store leftover Alfredo sauce in an airtight container in the refrigerator for up to 5 days. Reheat in a pot on the stovetop set over medium-low heat, stirring constantly, until warmed through. I do not recommend freezing this sauce.
What to Serve with Alfredo Sauce from Scratch
Of course you'll want to use this homemade alfredo sauce on fettuccine noodles and chicken alfredo, but you can use it in lots of other tasty Italian dishes too. Make chicken alfredo stuffed shells, chicken alfredo gnocchi bake, or chicken alfredo sandwiches.
Try making pasta from scratch for the freshest taste, then add diced chicken, steak, or sausage crumbles for a hearty meal.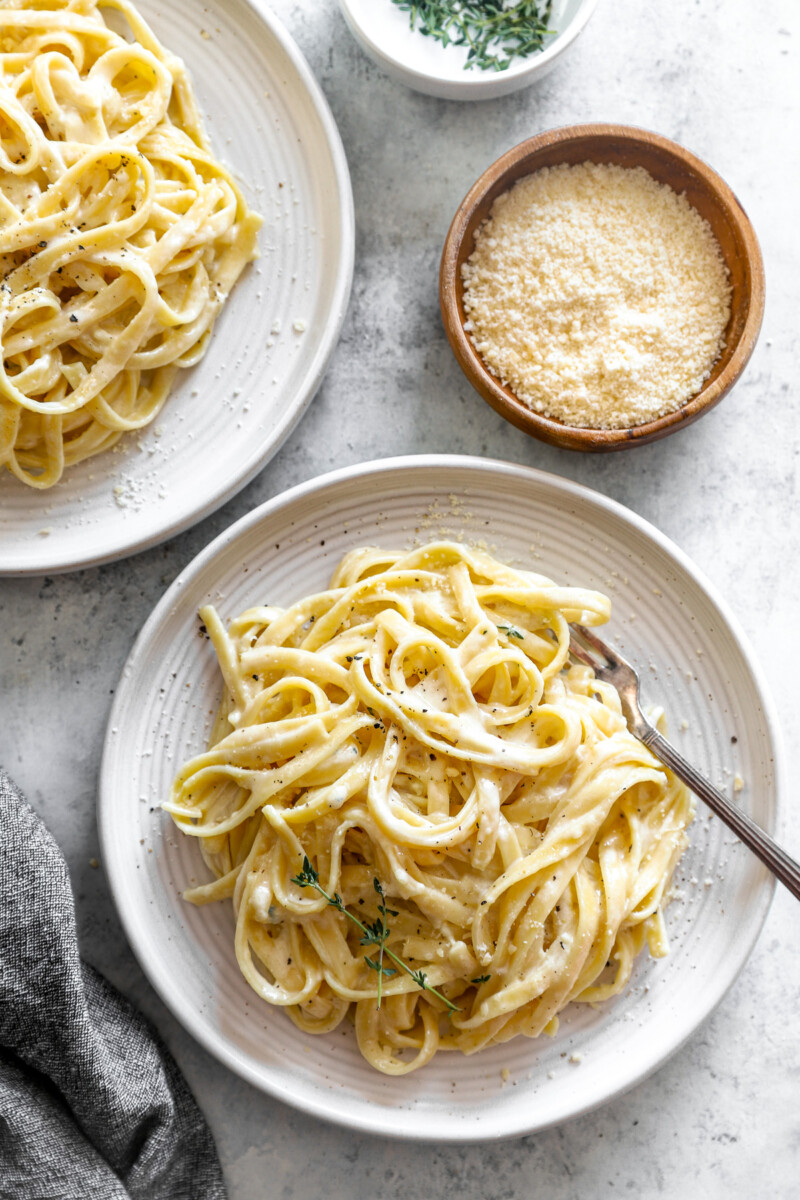 More Homemade Pasta Sauce Recipes We Love