Imagine biting into a sandwich cookie that tastes just like the actual cake. These Carrot Cake Sandwich Cookies are delicious on every level! These are very tender cookies that taste just like real carrot cake.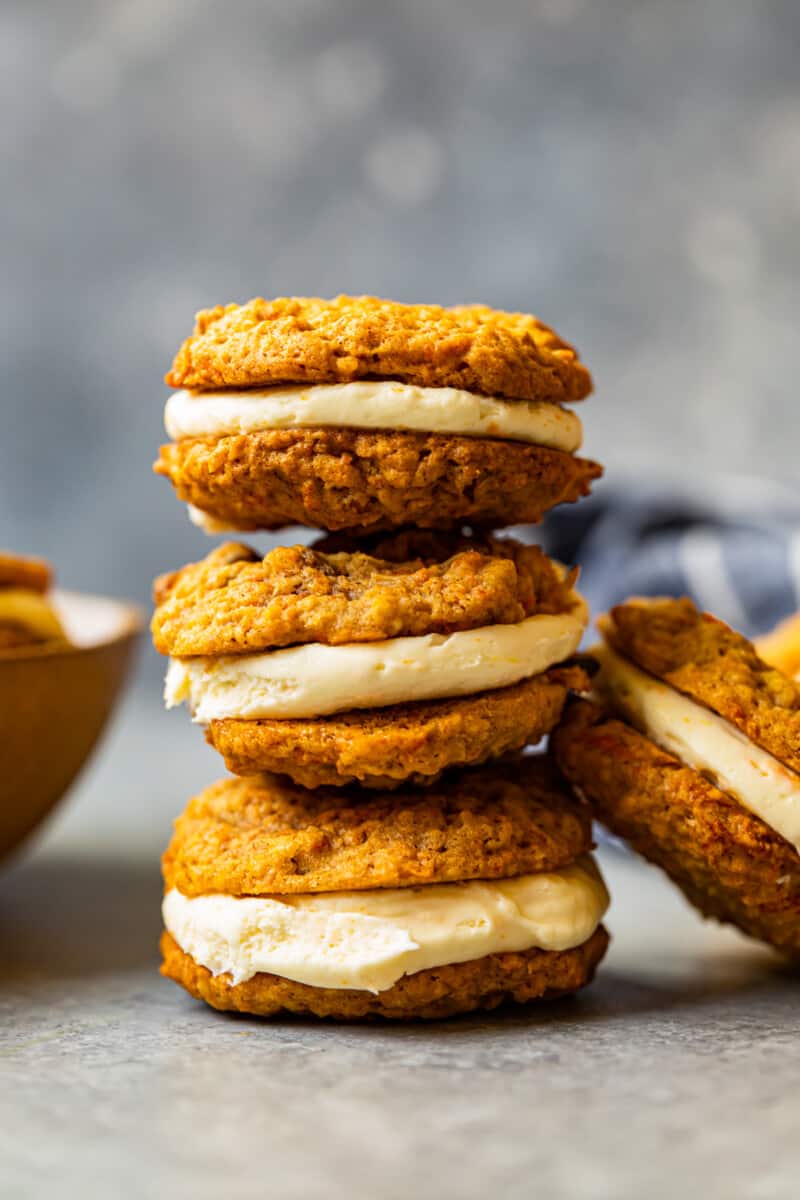 Easy Carrot Cake Sandwich Cookies
Enjoying flavors like shredded carrots, cinnamon, and cream cheese frosting is just the beginning. These cookies can be enjoyed by themselves or with a cream filled center. Both ways are super delicious! You can even crumble up these cookies and add them as a topping on your favorite ice cream.
Sometimes you want the carrot cake flavor, but you don't feel like making an entire carrot cake. Well, this is a recipe you can make in no time! It's a win-win because then you can get the carrot cake flavor you are looking for ASAP!
Why you'll love this Sandwich Cookie recipe:
EASY DESSERT: This recipe is simple to follow and can be a great way to involve the kids in the kitchen. Even beginners bakers will love this easy sandwich cookie recipe.
PORTABLE TREAT: You can take these cookies on the go with you! Bring them on a picnic or pack them in your lunch. This recipe also makes a great homemade Christmas gift!
FREEZER FRIENDLY: These Carrot Cake sandwiches are great because you can freeze them easily. Then you can enjoy a sandwich cookie anytime you want!
Making these Carrot Cake Sandwich Cookies for a gathering is always a good idea. People have been making carrot cakes since the early 1900s. Being able to take a classic carrot cake and make it portable makes these cookies even more awesome. This is one of my favorite Easter cookie recipes too!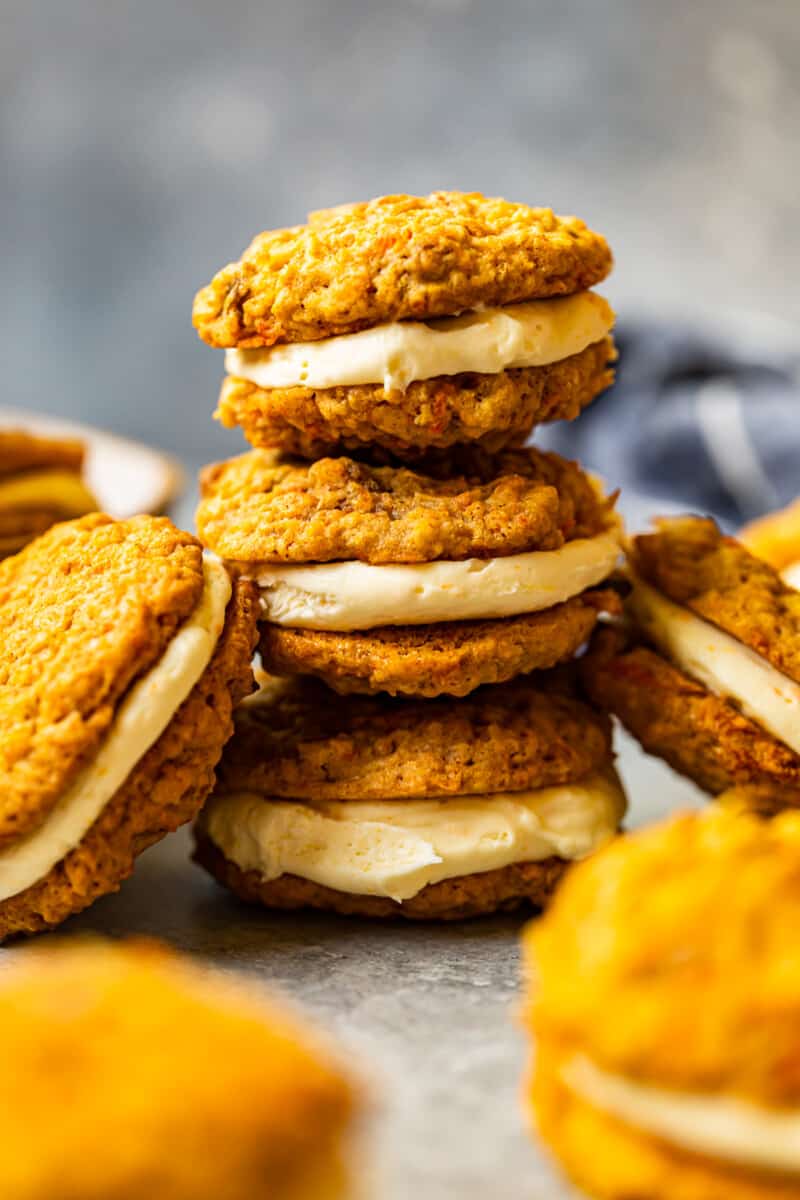 How to make Carrot Cake Sandwich Cookies with Cream Cheese Filling
You can jump to the recipe card for full ingredients & instructions!
Pulse the oats in a food processor until 1/2 the size.
Grate the carrots and remove excess water.
Cream the sugars, butter and oil in a stand mixer.
Add the salt and vanilla extract.
Add the eggs in, one at a time.
Mix in the flours, baking soda, baking powder and spices.
Mix in the coconut, raisins, pecans and grated carrots.
Place dough in the fridge for at least 30 minutes.
Bake for 12-15 minutes.
Cream together the cream cheese, butter, and powdered sugar.
Add in the sour cream, vanilla extract, ground ginger, salt, lemon juice, zest, and orange juice. Beat until smooth.
Spread 1 1/2 tablespoon of cream cheese filling on one cooled cookie and then place a second cookie over top.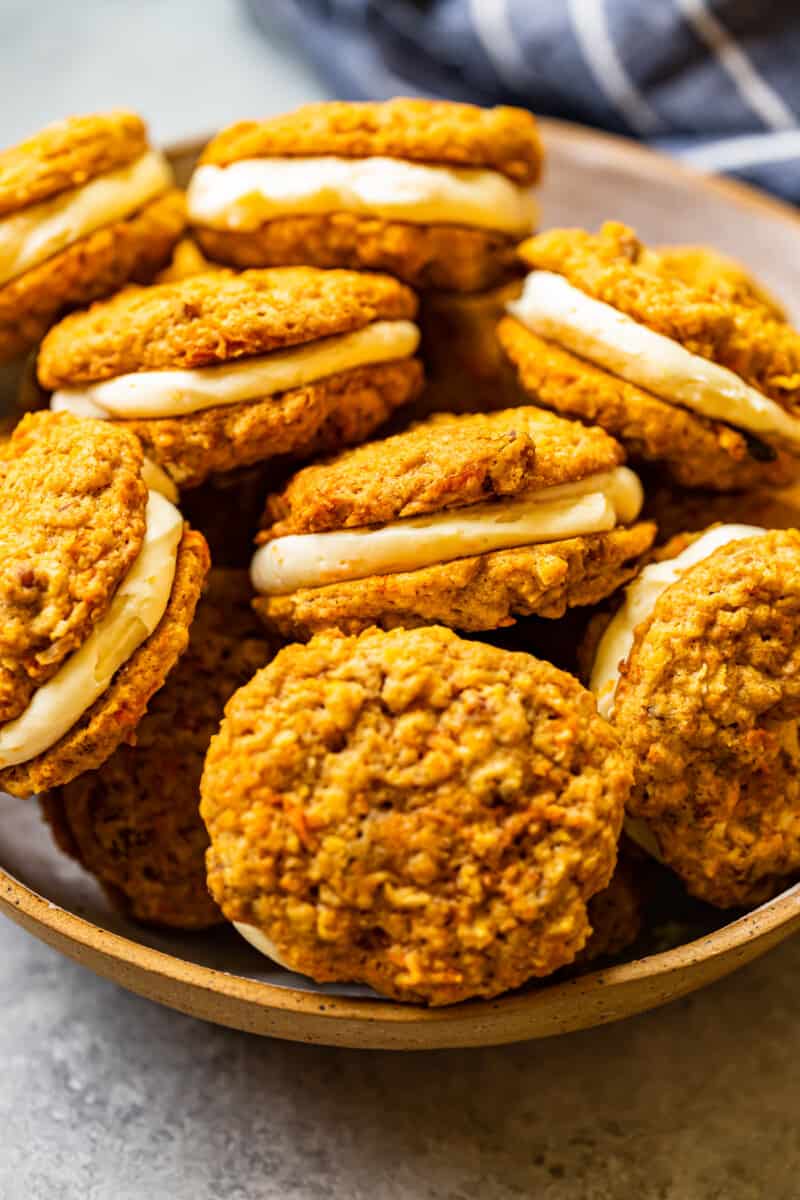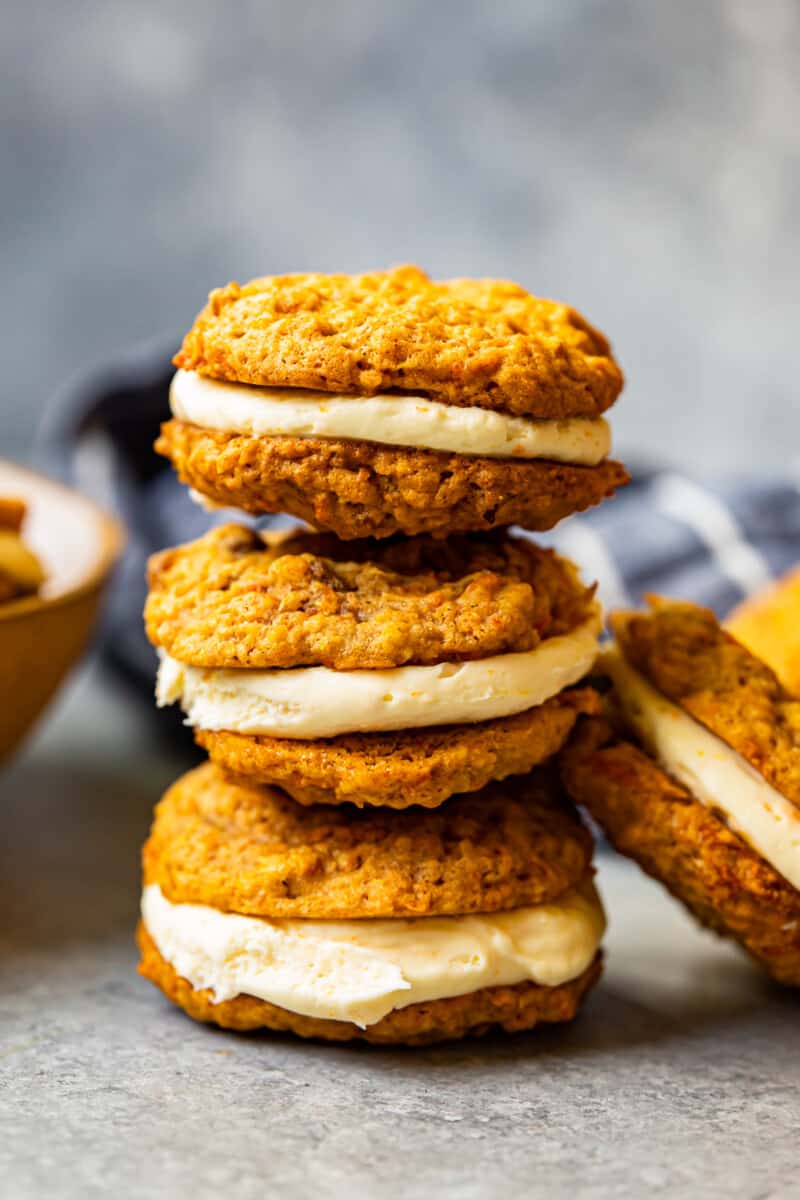 Can I make these as plain carrot cake cookies instead of sandwich cookies?
YES! The best part of this recipe is that it is versatile. You can add the frosting in the center if you'd like or eat them plain.
What is the best way to grate carrots for carrot cake cookies?
The best way to grate carrots for this recipe is to use regular carrots and a cheese grater. Use a cheese grater, but don't pack the carrots down too much as you grate them! Also, watch your fingers when you grate them.
What other add-ins would work well in this cookie recipe?
If you're making traditional carrot cake, sometimes walnuts are added. You could take these sandwich cookies to a whole new level by adding walnuts or any of your favorite nuts! Pecans or cashews would be a great addition. You can also add white chocolate chips too!
Can I make these cookies ahead of time?
The carrot cake cookies and cream cheese icing can be made up to 2 days ahead of assembling.
Can I freeze these sandwich cookies?
To freeze the assembled cookies, place the sandwich cookies on a cookie sheet with a little space between each until frozen solid. Once frozen, transfer to an airtight container or zip-top bag and freeze for up to 2 months.
The filling of these cookies is a cream cheese frosting and is delicious. You can add a big scoop of the frosting to one of the cooled cookies and then place another over top to create your sandwich.
You can then enjoy your homemade sandwich cookie as a snack, dessert or even with a cup of coffee in the morning.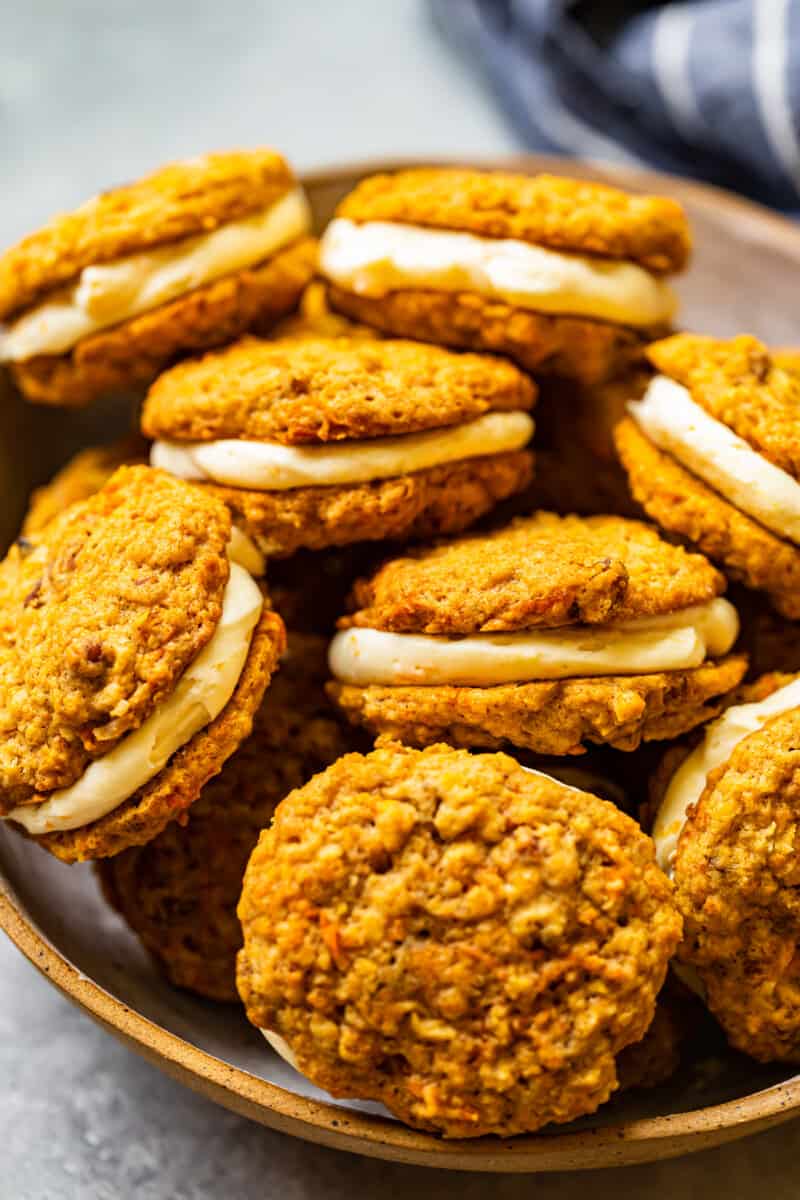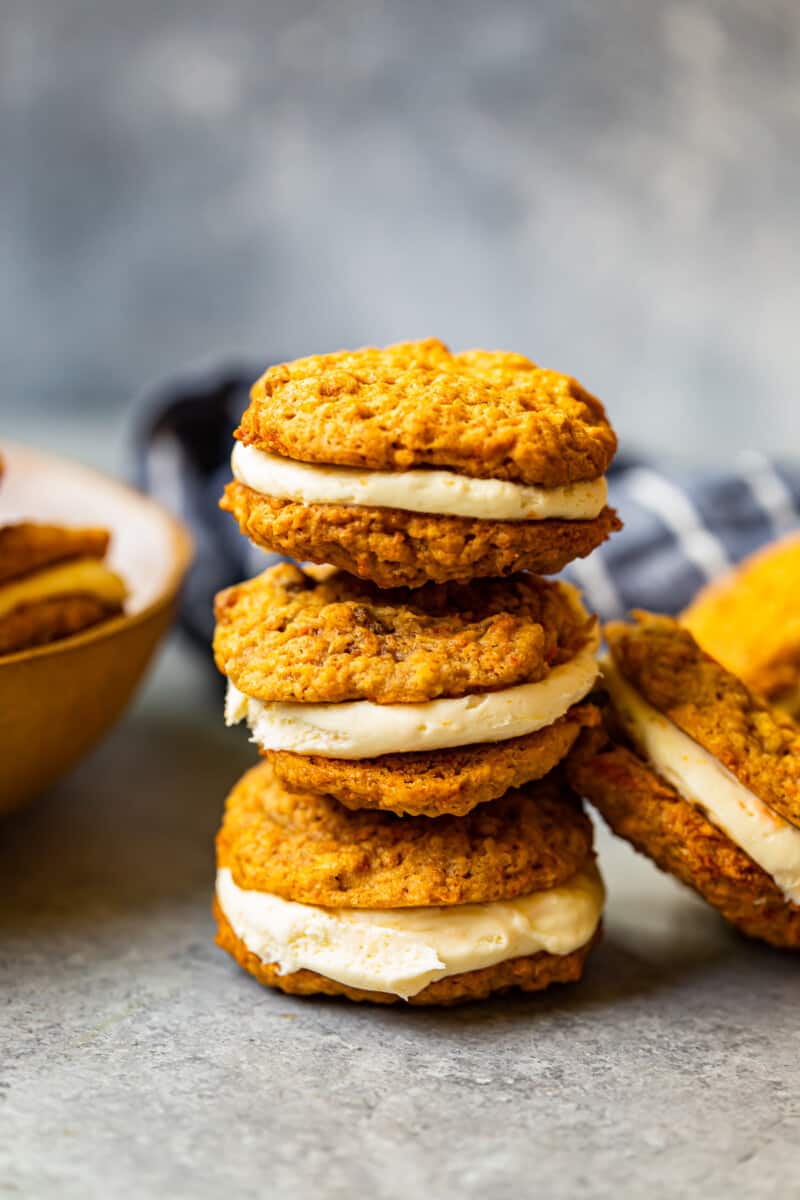 Tips!
You will want to use the pulse function on your food processor so that you don't over process the oats. You want them to be about 1/2 of the original size but not processed so much that they become flour.
Only old fashioned rolled oats will work in this recipe. Quick oats will not yield the same results in these cookies.
You can easily make a double batch of these cookies and freeze them for later.
The great thing about these cookies is that they are amazing with or without the frosting in the center. You can leave the cookies plain without frosting and enjoy them on their own. You can also crumble up a cookie and add it to your ice cream!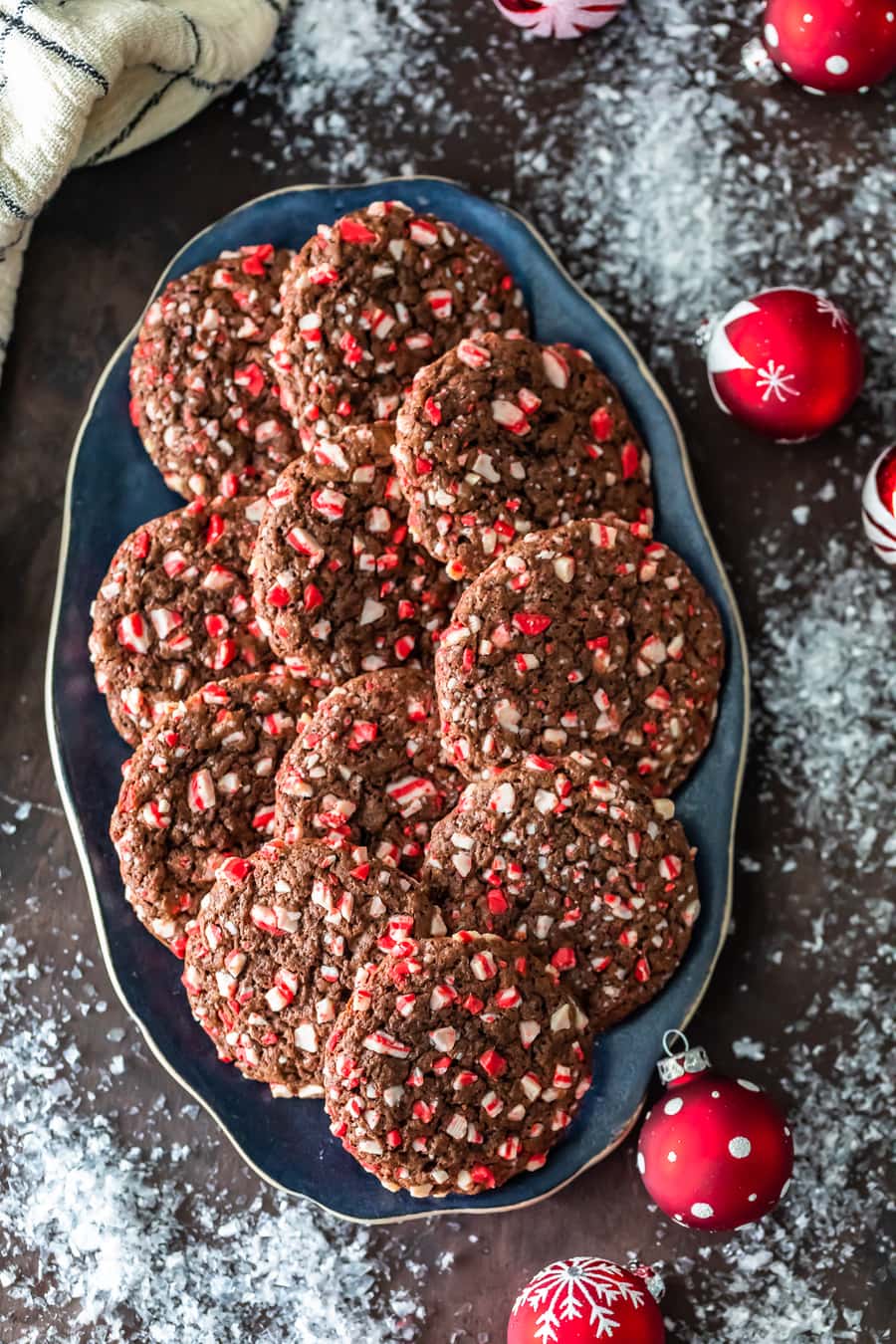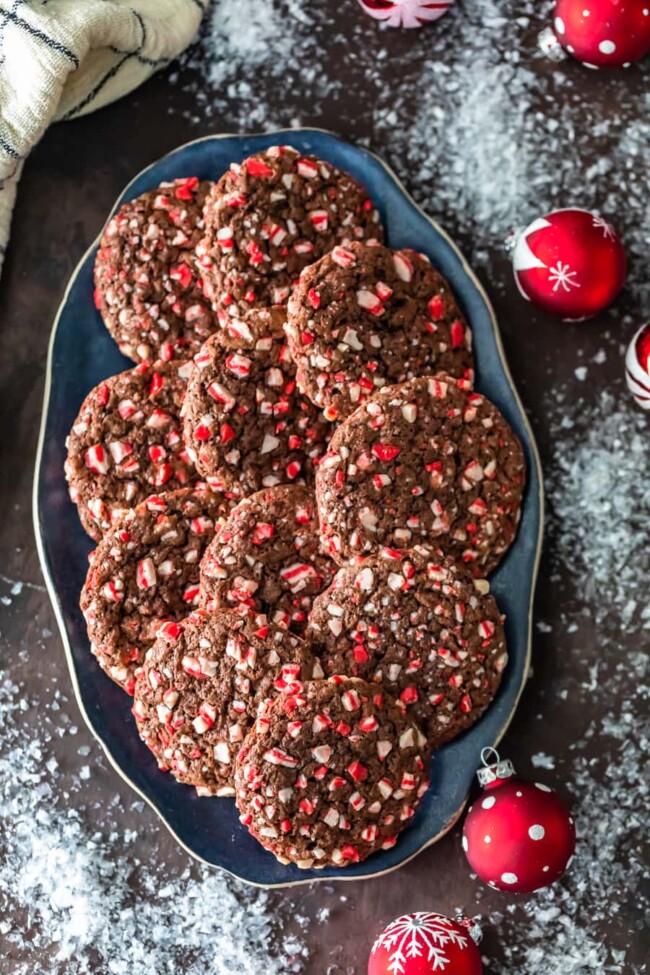 All the Holiday Cookies
25+ Favorite Christmas Cookies
Baking and Christmas go hand in hand. See our guide for our fave recipes + tips and tricks for perfect cookies.
See Guide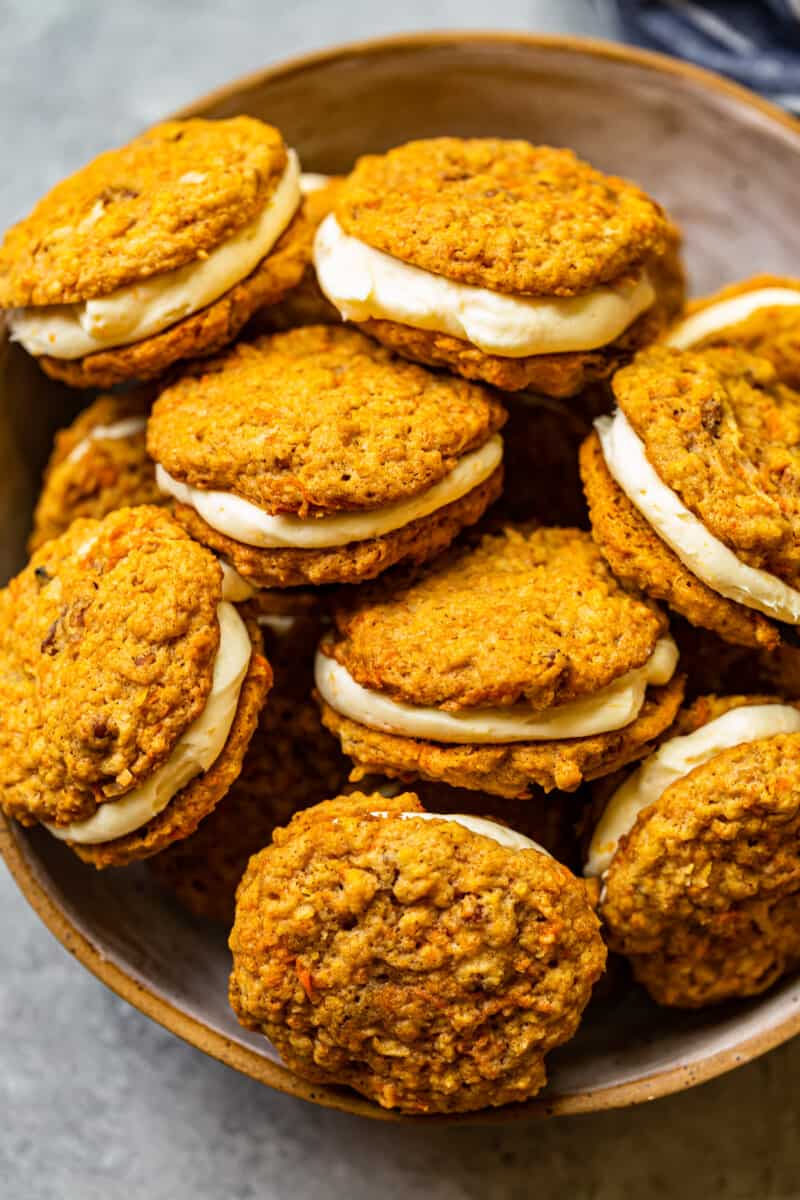 However you choose to enjoy these cookies, they are sure to be a hit. They make a great addition to your holiday gatherings but are also great anytime as a quick dessert.
Eat them with or without the frosting and enjoy the great flavors of classic carrot cake in cookie form!
If you make this recipe be sure to upload a photo in the comment section below or leave a rating. Enjoy! You can also jump to recipe.