Easter Spritz Cookies are as gorgeous as they are scrumptious! Homemade spritz cookies are rich, buttery, and feature a delicious mix of almond and vanilla flavors, with colorful sprinkles to celebrate Spring.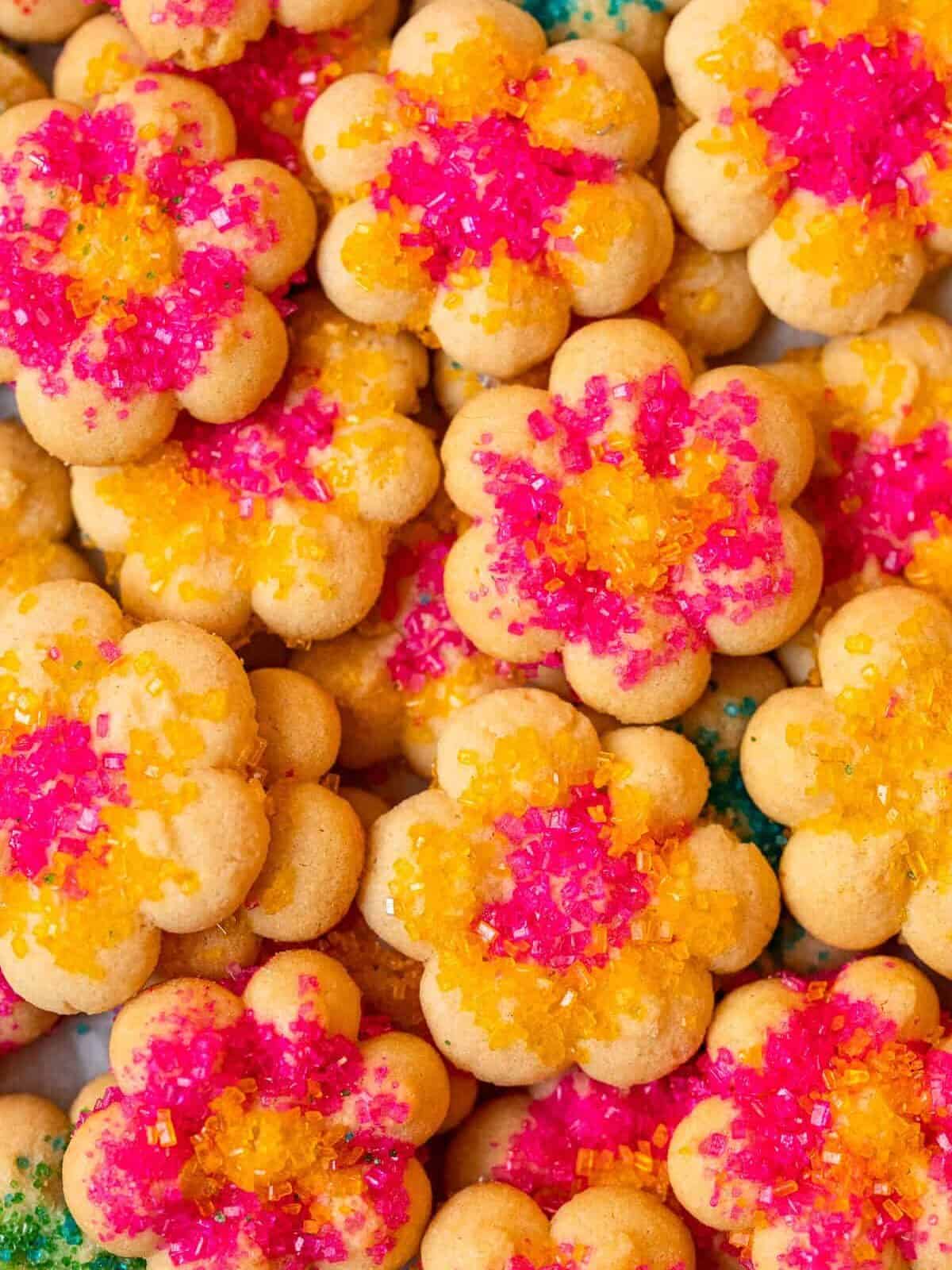 What's in Spritz Cookies?
Classic Spritz cookies are a lot like shortbread cookies, but with an added egg for stability. Did you know that the word "spritz" comes from the German word "spritzen", which means "to squirt?" This refers to the use of a cookie press to "squirt" the dough out into shapes!
Butter: Unsalted and room temperature. Don't forget to leave your butter on the counter for a while to soften prior to making your cookie dough.
Sugar: Just plain granulated white sugar is what you need here, nothing fancy!
Kosher Salt: This helps to enhance the other flavors.
Egg Yolks: These also need to be room temperature, not cold.
Pure Vanilla Extract: In a recipe like this where the quality of every ingredient really matters, it's vital to use pure vanilla extract and not imitation.
Almond Extract: Measure this with great care. Almond extract can be overpowering if too much is added.
All-Purpose Flour: I don't recommend using any other type of flour.
For decorating: I used a mix of colorful sprinkles and sanding sugars. Simple and easy to use, but so pretty!
Pro tip: Use the best quality ingredients available to you. These Easter spritz cookies are simple and rely on the flavors of the butter, eggs, flour, and extracts. So the higher quality ingredients you use, the better they will taste.
Do I have to decorate these Easter spritz cookies?
Each spritz cookie is topped with a cornucopia of colored sprinkles and sanding sugar which is what gives them their fun, vibrant appearance. This makes them feel extra festive for Easter Sunday celebrations! But feel free to leave them plain, as these classic buttery cookies will taste amazing either way.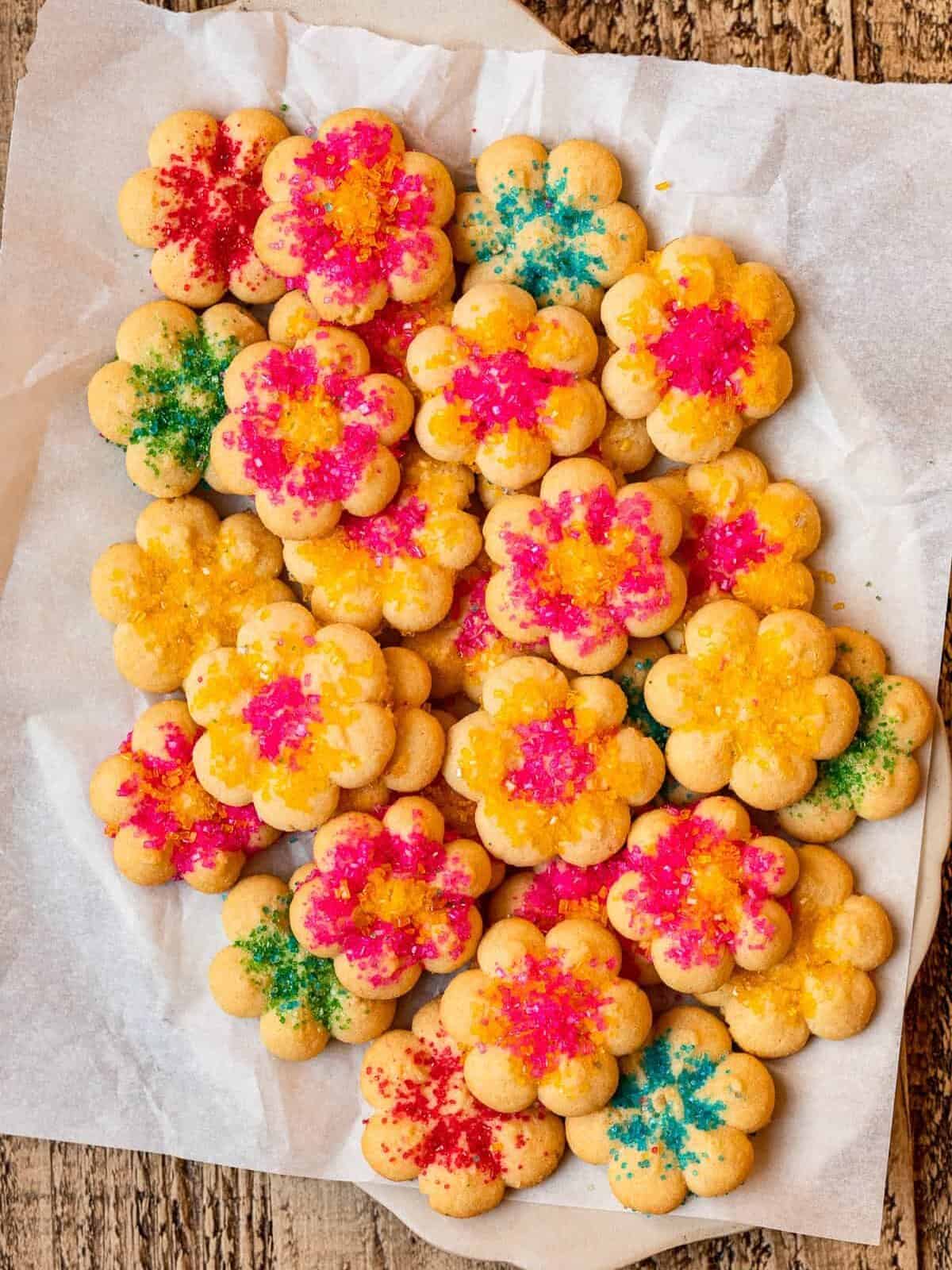 Why won't my spritz cookies stick to the pan?
In order to stick to the cookie sheet, the spritz cookie dough must be warm enough to be tacky to the touch. A cold cookie sheet will adhere to the room temperature dough best, so pop a couple in the freezer while you're making the dough.
What should I do if I don't have a cookie press?
Using the cookie press you can easily form this cookie dough into the most gorgeous and colorful shapes! But don't worry, you can still make spritz cookies without one. If you don't have a cookie press, you can use a pastry bag fitted with a ½-inch open star tip and add a little milk to the cookie dough to make it pipeable.
How else can I decorate Easter cookies?
These cookies are fun to dust with sanding sugar or sprinkles, but you can also decorate them with an Easter-colored M&M candy pressed into the center of each cookie, or you can use food coloring to make pastel-colored doughs. Divide the dough into 2-4 equal portions and color each portion with 2-3 drops of food coloring.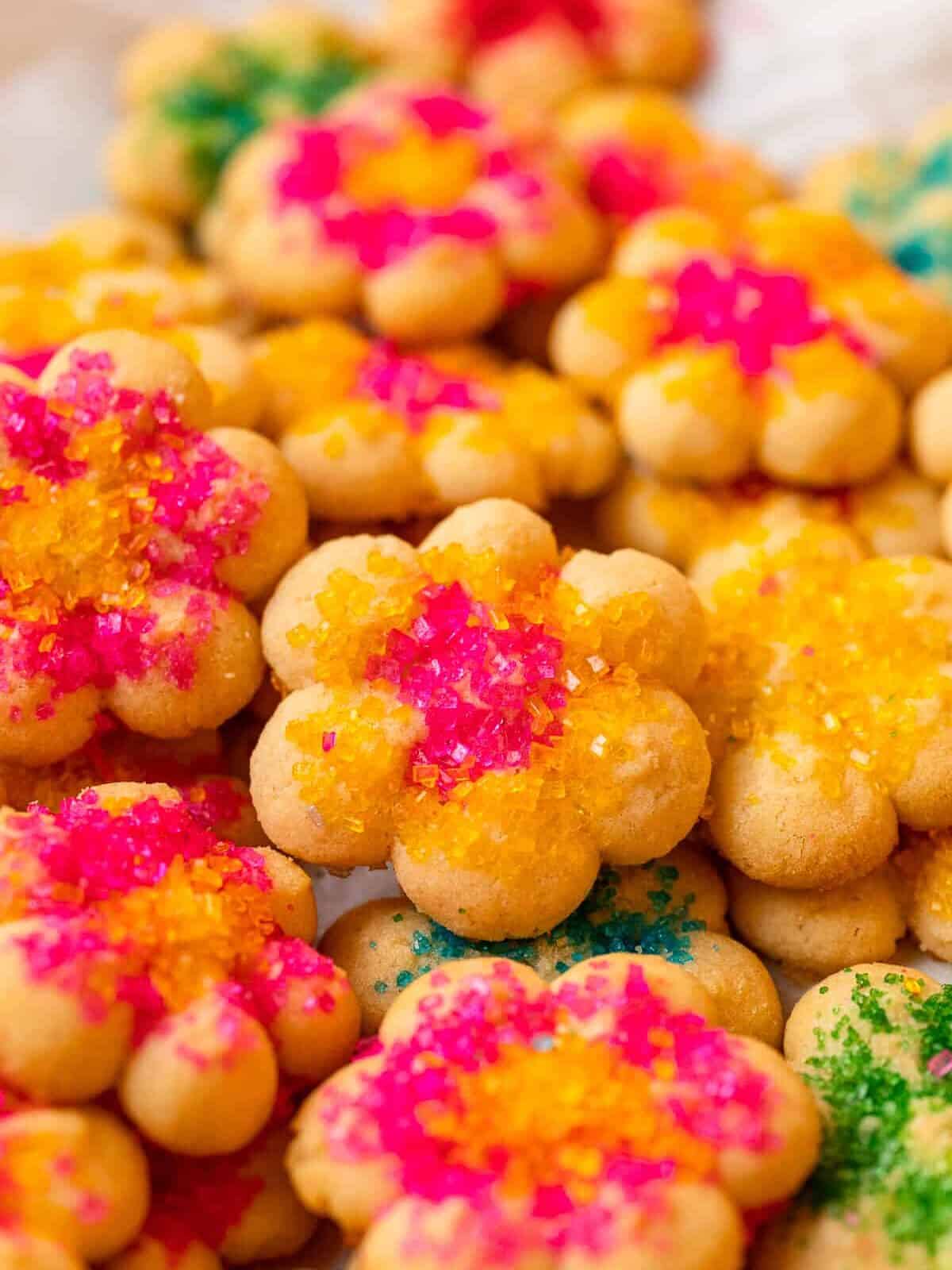 How to Store Spritz Cookies
Store baked spritz cookies in an airtight container at room temperature for up to 3 days, or in the refrigerator for up to 5 days.
How to Freeze Classic Spritz Cookies
Freeze Easter spritz cookies in a single layer on a baking sheet for 1 hour, then transfer to an airtight container or Ziplock bag for up to 1 month. Allow cookies to thaw at room temperature before enjoying.
What to Serve with Easter Spritz Cookies
These cookies taste delicious with our favorite cup of tea or coffee, or a glass of creamy oat milk. You can also serve these along with some homemade lemon curd.
Once your have your Easter cookies sorted, round out your holiday feast with bunny-approved recipes like Instant Pot honey baked ham, loaded deviled eggs, and the very best homemade rolls!