Baked Chicken Tenders are SO CRISPY, so flavorful, and so delicious. These Cheddar Bacon Ranch Chicken Strips are a new favorite for game day! They're coated in ranch, cheese, and bacon, and oven baked to perfection.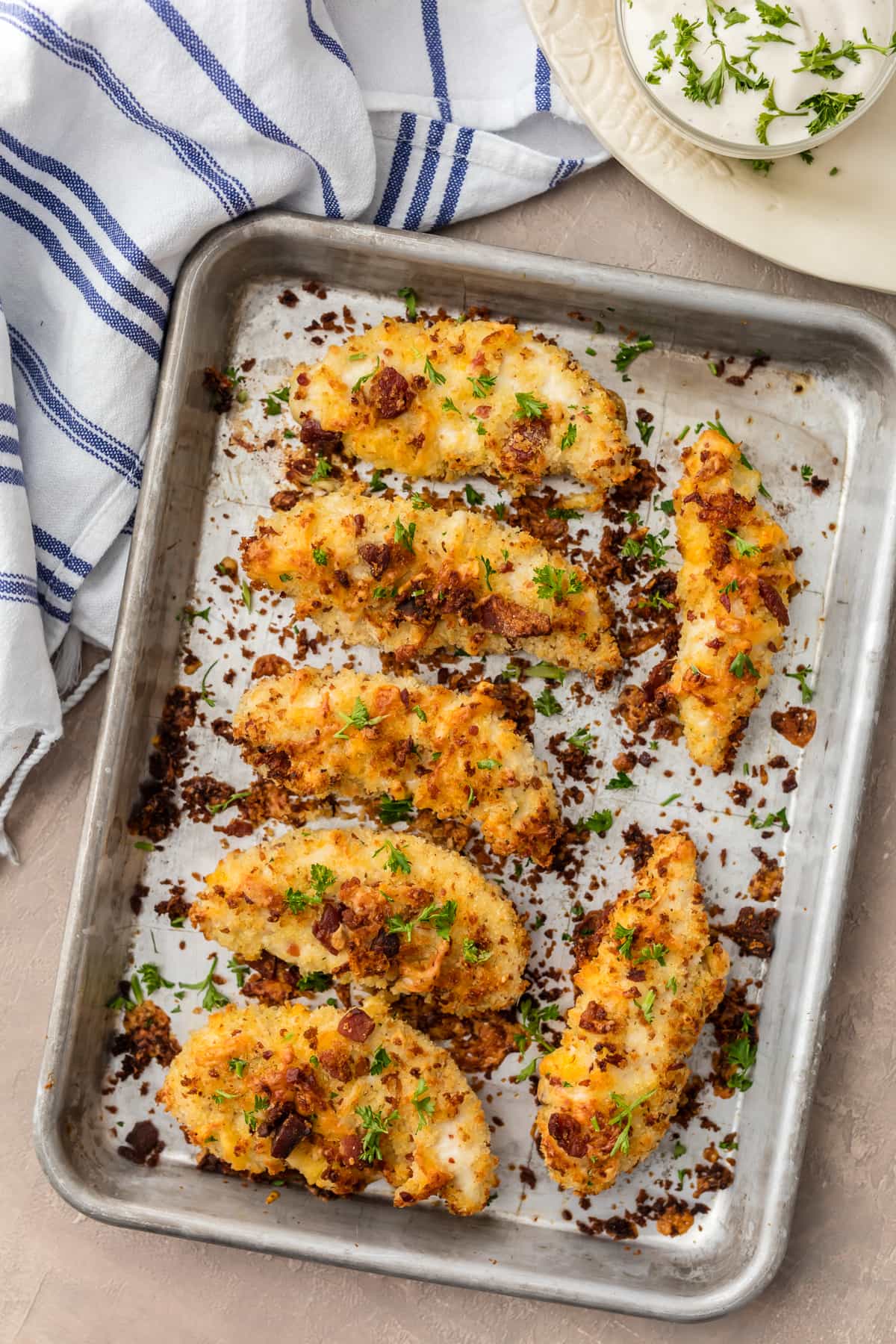 Baked Chicken Tenders Recipe
Baked Chicken Tenders are the perfect game day snack. These Cheddar Bacon Ranch Chicken Strips are so flavorful and so simple to make!
I am SO EXCITED about this Cheddar Bacon Ranch Baked Chicken Tenders recipe! I love food, so there's not much I won't try or enjoy, but Pat is a different story. Dude is PICKY and it's a constant struggle at our house. I can think something is bomb and he will get home and give it the side eye and burst my bubble.
But I'm happy to say that these crispy, oven baked chicken tenders were a huge hit not only with me, but also with Pat! Not only did he eat every last one in sight, but he requested I make them again the next day. I was on cloud nine and more than happy to oblige. This baked chicken strips made with bacon, cheddar, ranch, and panko breadcrumbs are SO good, I will gladly eat them again and again.
This ranch chicken recipe is SO easy, so flavorful, and it is shockingly crispy for being BAKED AND NOT FRIED! Are you ready for the perfect baked chicken strips? Get excited! These are going to be the perfect Super Bowl food!
Cheddar Bacon Ranch Chicken Strips are a must make. This oven baked chicken tenders recipe will be your go-to for game day, and EVERYONE will love them!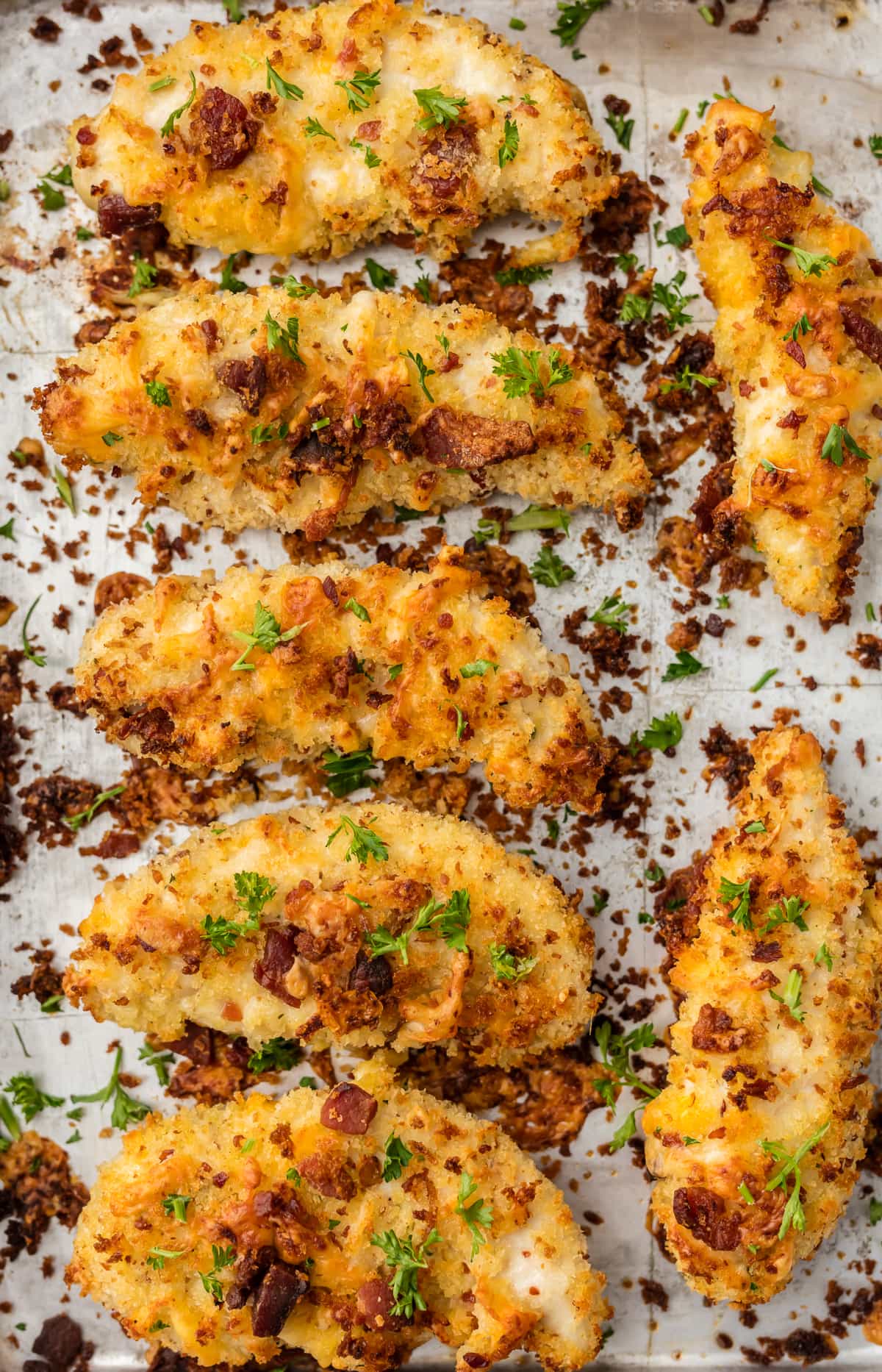 Oven Baked Chicken Tenders
We love to bake chicken around here! In fact, our Baked Fried Chicken is one of our all-time favorite Chicken Breast Recipes! You don't have to deep fry chicken strips to make them crispy! This oven baked chicken tenders recipe is super flavorful AND has the perfect crunch thanks to the panko breadcrumbs. Baking chicken tenders is a no-brainer when you want something delicious and a little bit healthier than what you might find at a restaurant. This recipe is so easy, plus the Cheddar Bacon Ranch flavor combo is beyond tasty!
Check out our full Baked Chicken Guide for more EASY baked chicken recipes!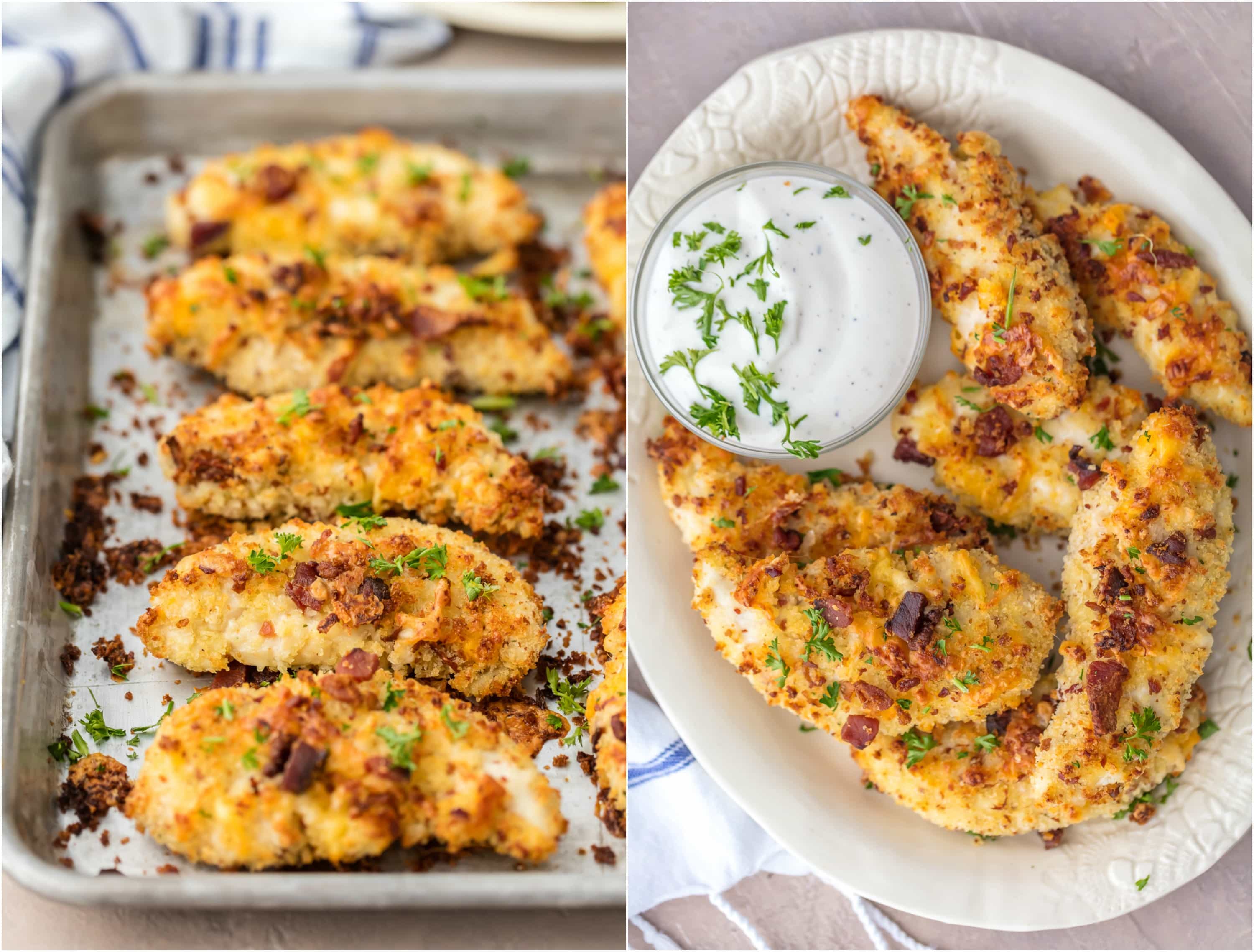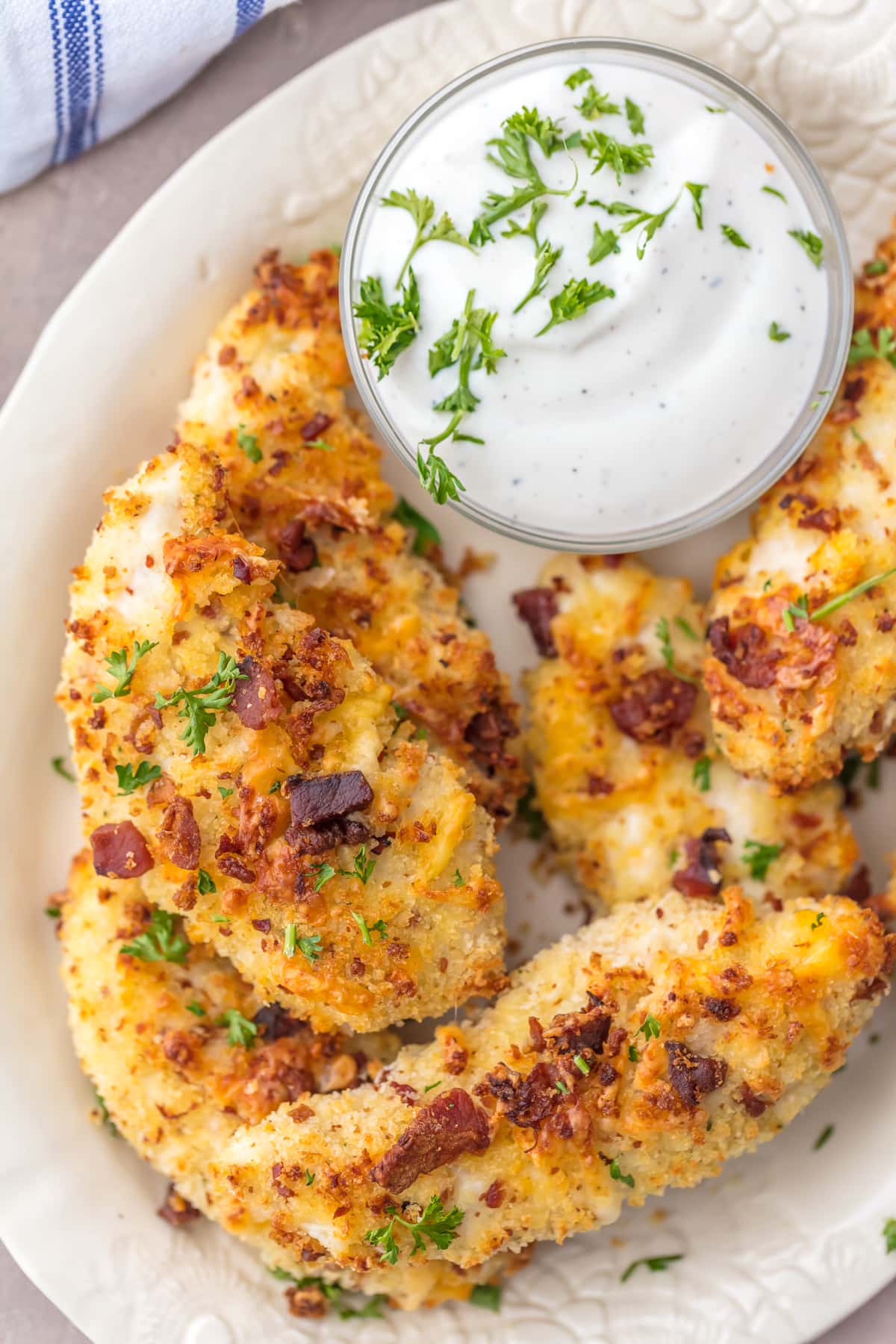 How long to bake chicken tenders?
Baking chicken tenders doesn't take much effort or time. Once they're prepared, bake chicken tenders at 400°F for about 15-20 minutes. Tip: If you want them extra crispy, put on the broiler for a few minutes to add some crunch.
How to Make Cheddar Bacon Ranch Chicken Tenders
These Crispy Cheddar Bacon Ranch Chicken Strips have all of my favorite flavors in one bite. How can you go wrong with cheese, bacon, and ranch all in one recipe?! This oven baked chicken tenders recipe is MADE for tailgating heaven, trust me!
How to Make Baked Chicken Tenders:
Combine flour and ranch seasoning in a small bowl.
Whisk egg lightly in another small bowl.
Combine by shaking bacon, shredded cheese, & panko breadcrumbs in a Ziploc bag.
Dip each chicken tender in the flour/ranch mixture, then dip in the egg, then place in the bag with the breadcrumb mixture.
When all chicken tenders are prepared and in the bag, seal and shake it up to fully coat each chicken tender with breadcrumbs.
Place them on a baking sheet, and bake 15-20 minutes at 400°F, turning each chicken strip once.
Serve the baked chicken tenders with ranch or another favorite dipping sauce!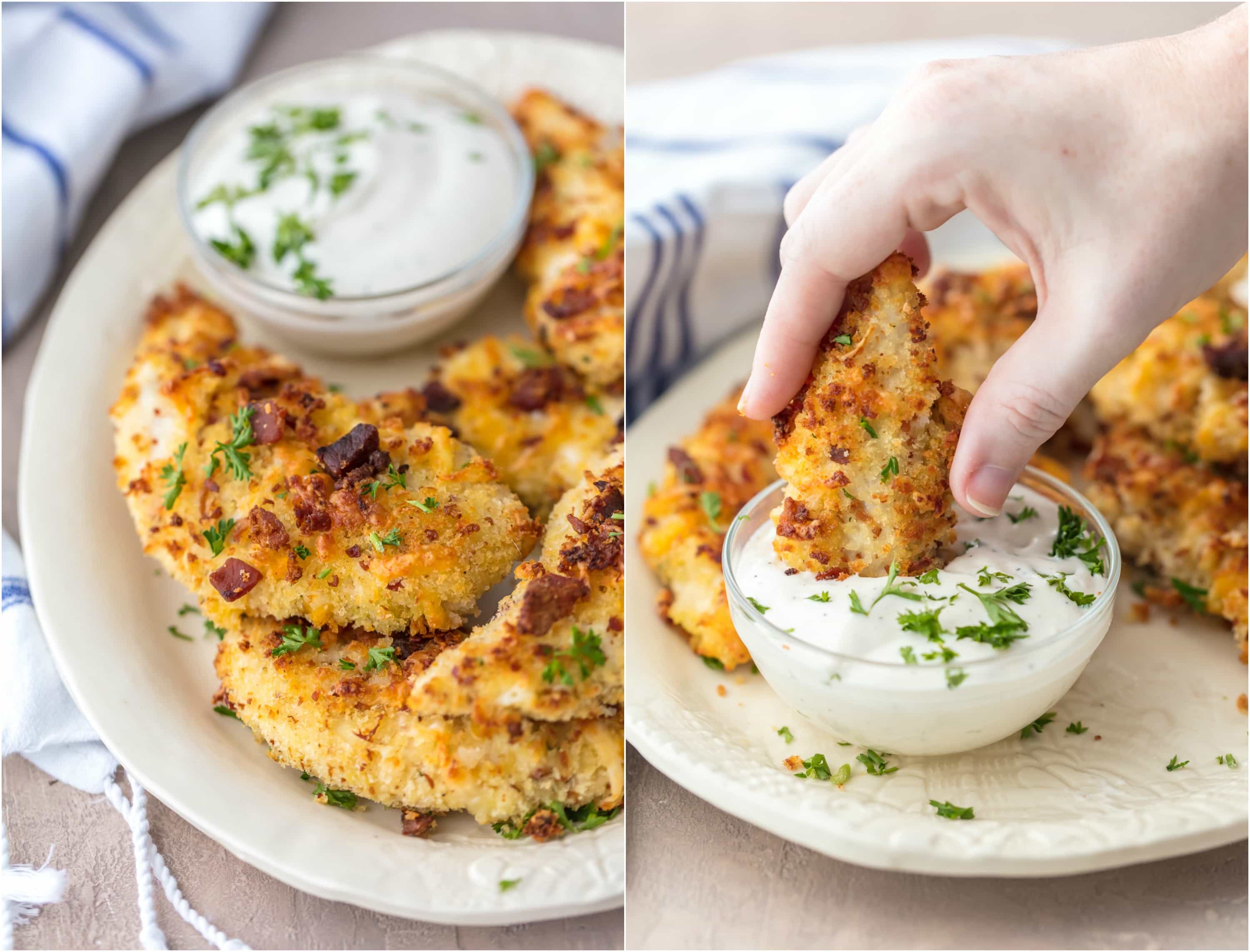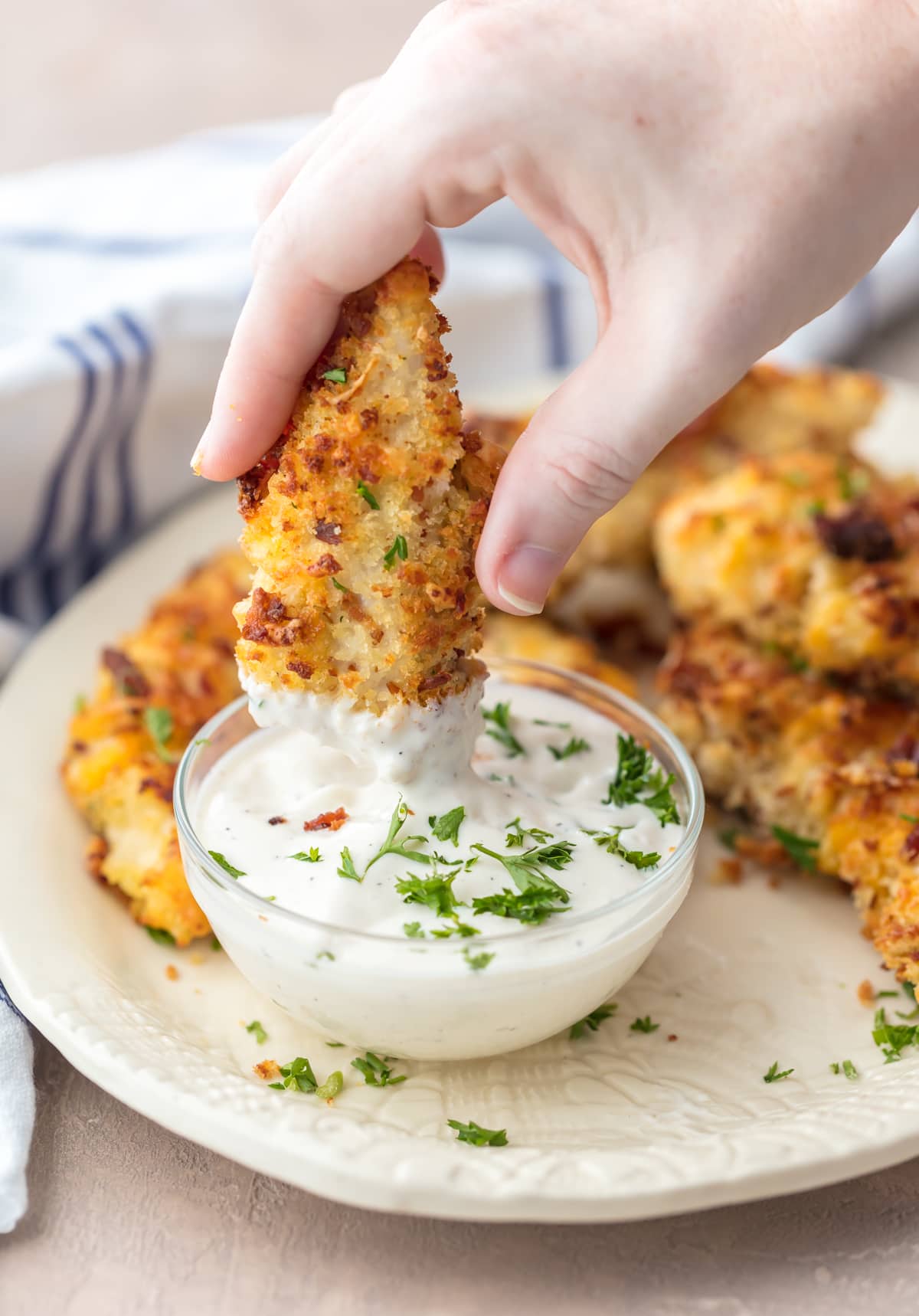 I hope you love these Cheddar Bacon Ranch Baked Chicken Tenders as much as Pat!! Who am I kidding, I know you will! For more holiday entertaining tips and recipes, be sure to check out www.walmart.com/holidayfavorites and get your recipe hack on!
Watch the Video and See the recipe card for details on how to make Cheddar Bacon Ranch Baked Chicken Tenders. Enjoy!
If you like this cheddar bacon ranch chicken recipe, try these other baked chicken recipes too: