Baked Ranch Chicken with Bacon (Chicken Bacon Ranch) is one of my favorite Chicken Breast Recipes containing ONLY 5 INGREDIENTS – read more on this easy and delicious meal!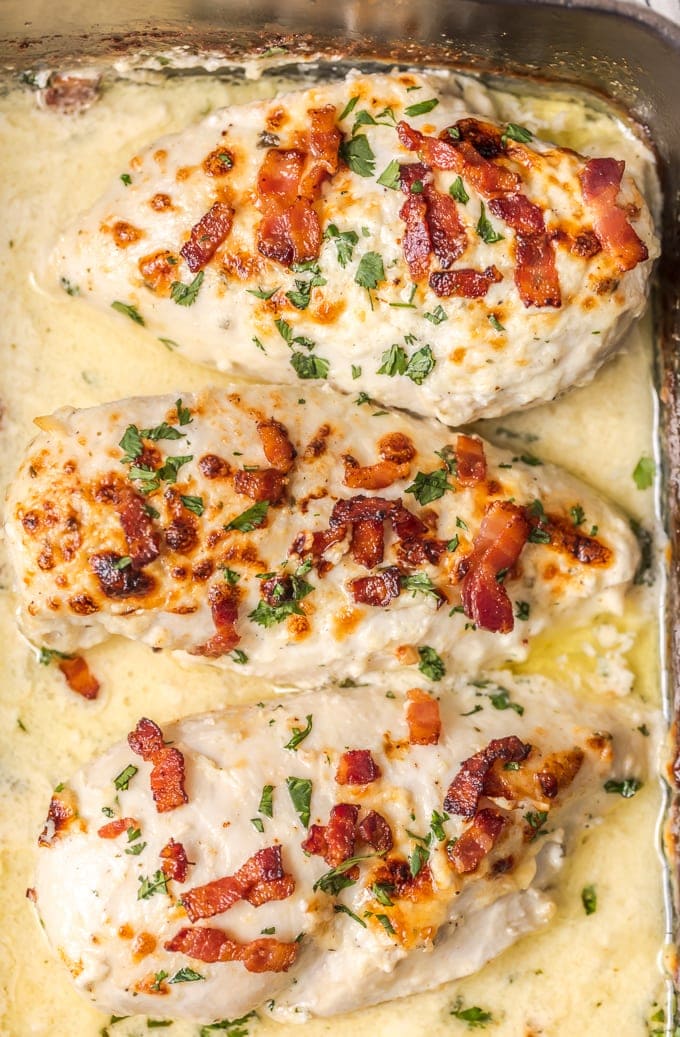 Ranch Chicken Recipe with Bacon
This Ranch Baked Chicken with Bacon is the type of easy recipe I built this site on. It's perfect every time, loved by all, and oh so simple!
All hail the Baked Bacon Ranch Chicken! You guys made yourselves loud and clear when I posted our 4 Ingredient Creamy Caesar Chicken.
It quickly rose to one of the most popular recipes on The Cookie Rookie within weeks of when I published. I knew I had to think of some other easy options that were similar but with different flavors, and this Ranch Baked Chicken with Bacon was formed!
Just like the Caesar Chicken and Southwest Baked Chicken, this Bacon Ranch Chicken is a Melt in Your Mouth favorite with only a handful of ingredients and SO much flavor.
You cannot make this wrong…I promise you you'll look like a 5 star chef with minimal effort! That's my job.
Ranch Baked Chicken will be your family's new favorite weeknight meal. This recipe will be requested again and again. I guarantee it!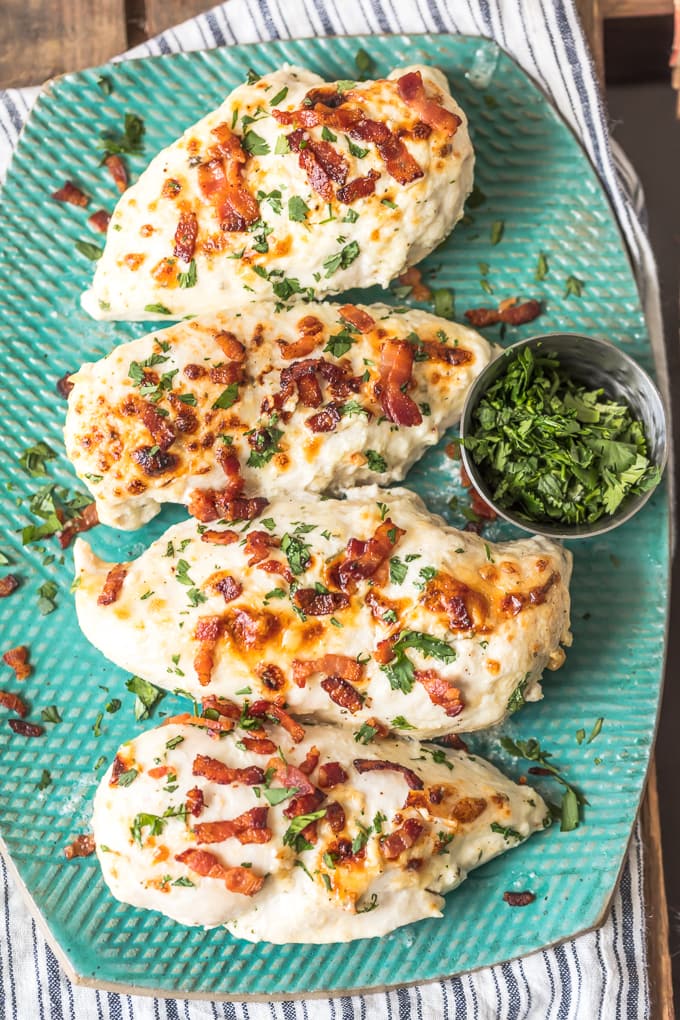 Baked Ranch Chicken with Bacon
Baked Ranch Chicken with Bacon is a classic and EASY weeknight meal.
I love that this Bacon Ranch Chicken is the type of meal that everyone will love. It's one of my favorite 30 minute meals! Everyone from my Dad down to my 1 year old son devoured their portions and asked for seconds.
IF there's any leftover after dinner, it reheats like a dream for lunch the next day or even supper the following night. There's no way to have a bad day when you know this Ranch Chicken is waiting for you.
I love that so many people have told me they love to make our Creamy Caesar Chicken for dinner parties. It's fool-proof and so versatile; loved by all.
Don't tell anyone, but I actually think I prefer this Baked Bacon Ranch Chicken. The flavors are so simple, yet so classic. You're gonna love it!
Check out our Baked Chicken Guide for more EASY baked chicken recipes!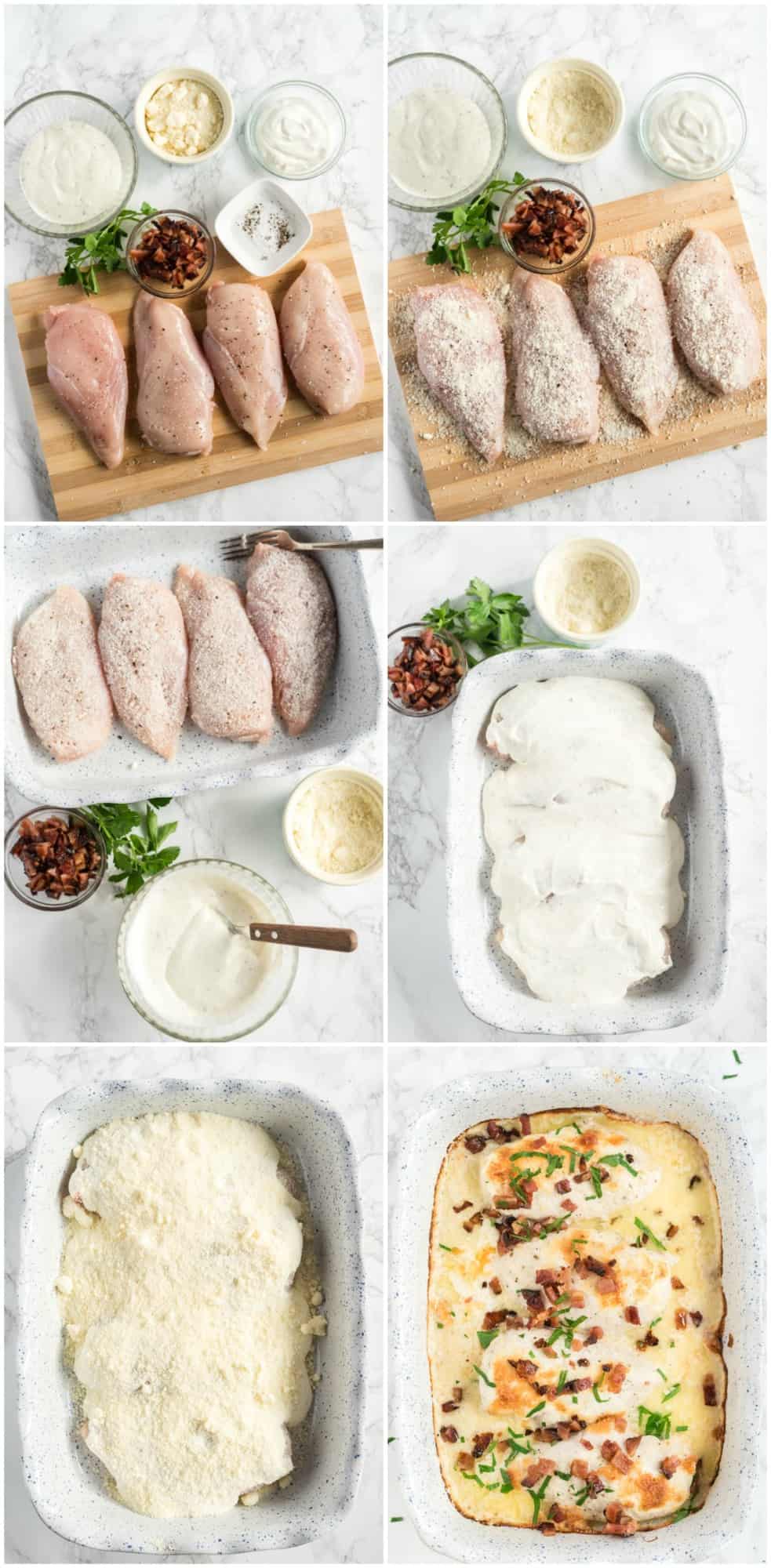 Serving Suggestions
This baked chicken pairs beautifully with so many side dishes, from a simple Caesar Salad to Easy Roasted Vegetables or Steamed Rice. Here are some other sides we love to serve with this Ranch Chicken: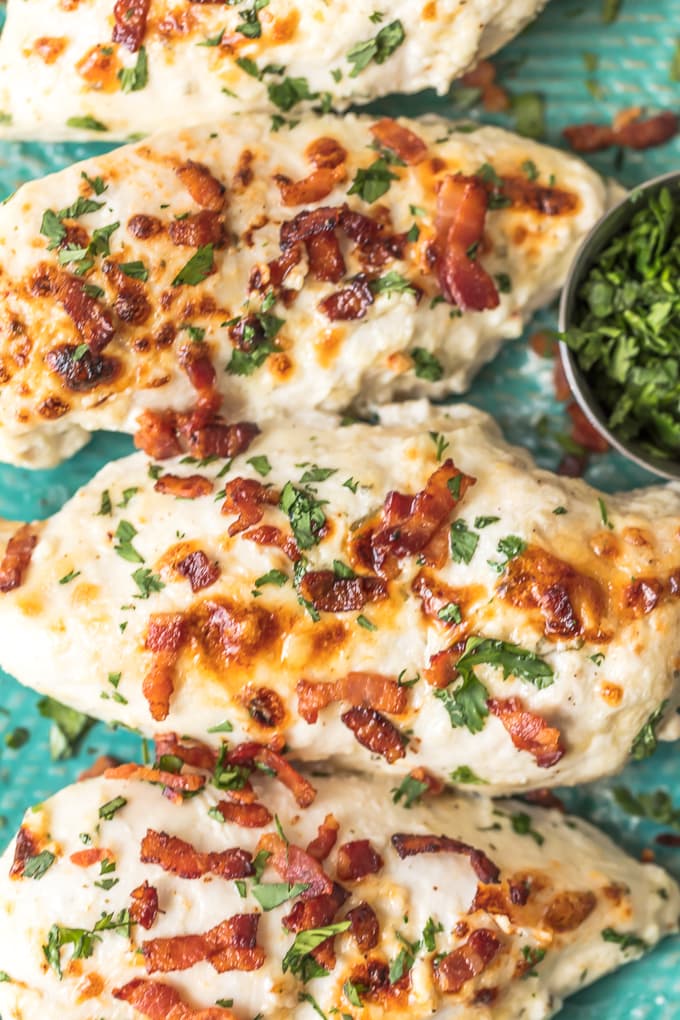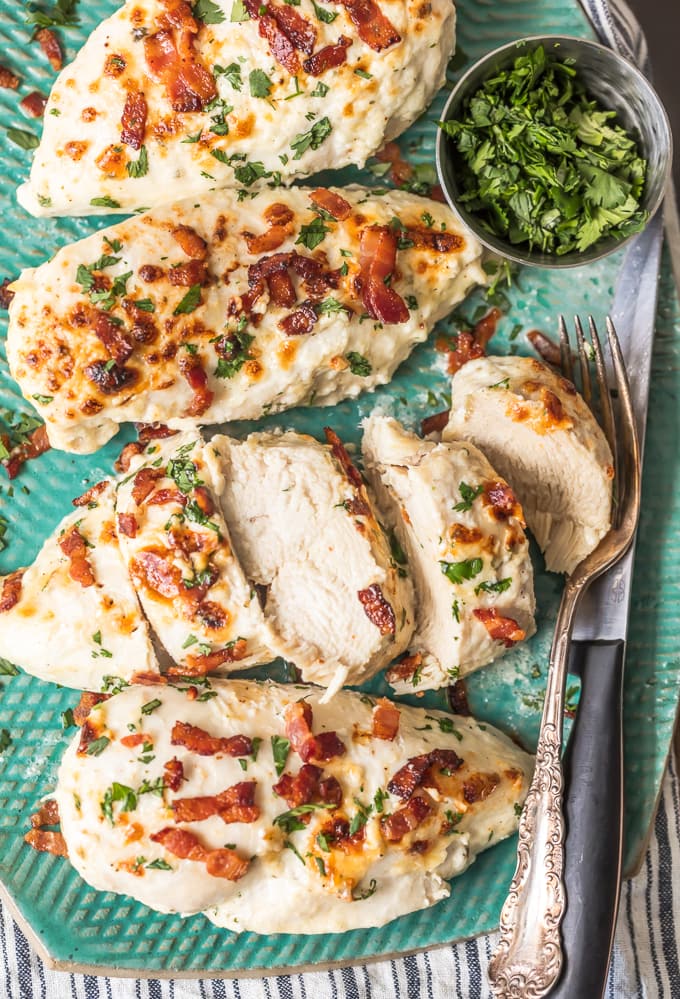 How long does it take to make Chicken Bacon Ranch?
It should take about 20-30 minutes for this chicken to be cooked through. You'll know chicken is done when it's juices run clear when poked with a sharp knife and it's no longer pink.
I'm always careful to make sure my chicken is fully cooked, but I also am very careful to not overcook. No one likes dry chicken!!
This recipe is fool-proof because of the sour cream sauce that covers as it cooks. Ranch and sour cream cover the chicken to keep it moist while it cooks. That's why it's fool proof! You cannot mess up this recipe.
What is the temperature for cooking chicken in the oven?
We chose to cook this recipe at 375°F. I like that temperature for ensuring the chicken stays tender while it cooks. You'll see all kinds of variations online, and none are wrong, this is just our preference!
What is the internal temperature for Baked Chicken Breast?
The FDA is very clear that chicken should be cooked to 165°F.I always recommend people buy a quality quick digital meat thermometer to keep in the kitchen.
It's one of my most used items in the kitchen! I like this one because it actually lists internal temps for different types of meat right on the thermometer, and it's reasonably priced. WIN!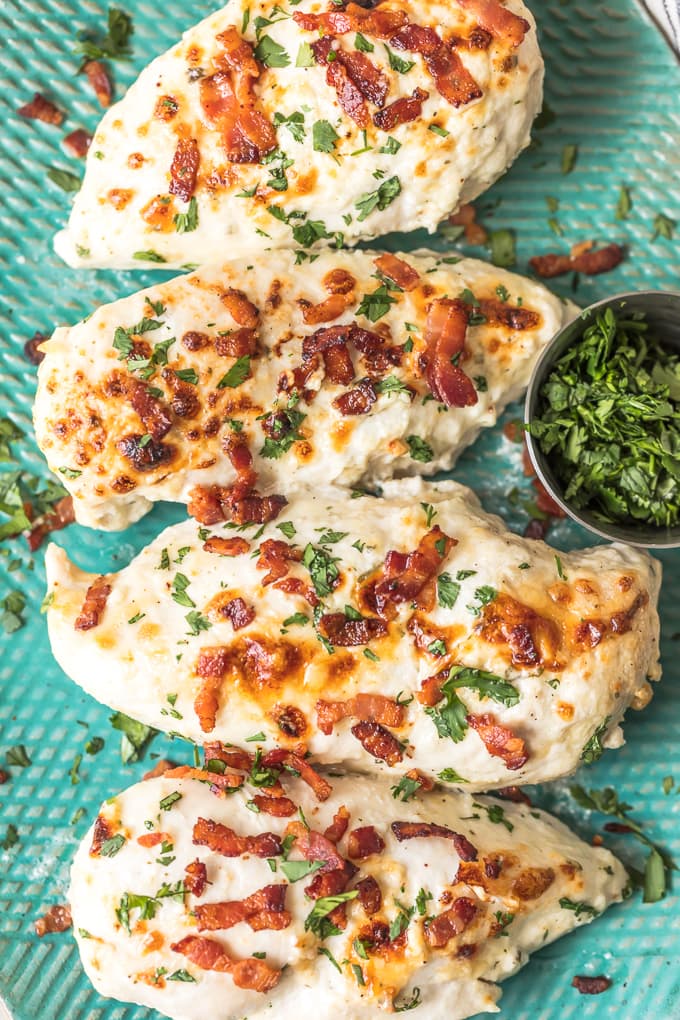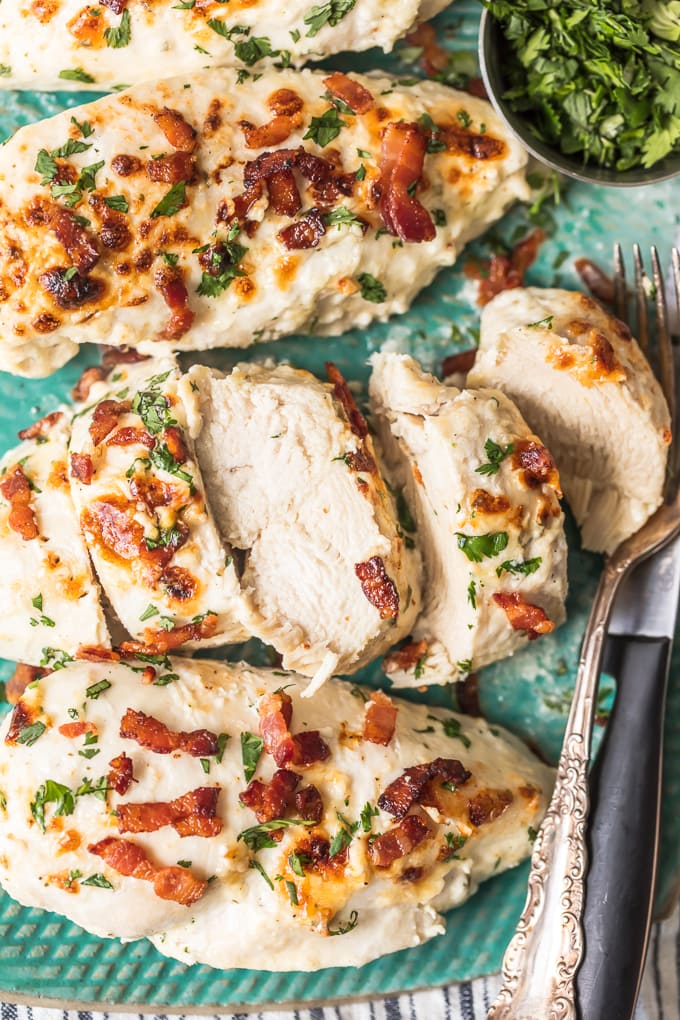 What kind of Ranch Dressing did you use for this recipe?
I always use a thick and creamy ranch dressing when I make this recipe. You really can't go wrong with just picking your family's favorite.
This time we used our own Homemade Ranch Recipe but if you want to use store bought, that's okay too! Just pick a creamy option and go with it!
Are there any ways to make this healthier?
Yes! Here are a few tips to make this baked chicken recipe healthier:
Make your own creamy ranch (linked above) to cut calories. Homemade always makes things a little bit better for you.
Or make a low cal ranch dip by using powdered ranch seasoning and greek yogurt.
You can also use lite sour cream or even greek yogurt in the sauce.
If you are really committed to health, you can skip the bacon completely for a delicious ranch chicken recipe. (But of course I recommend you leave the bacon just where it is!)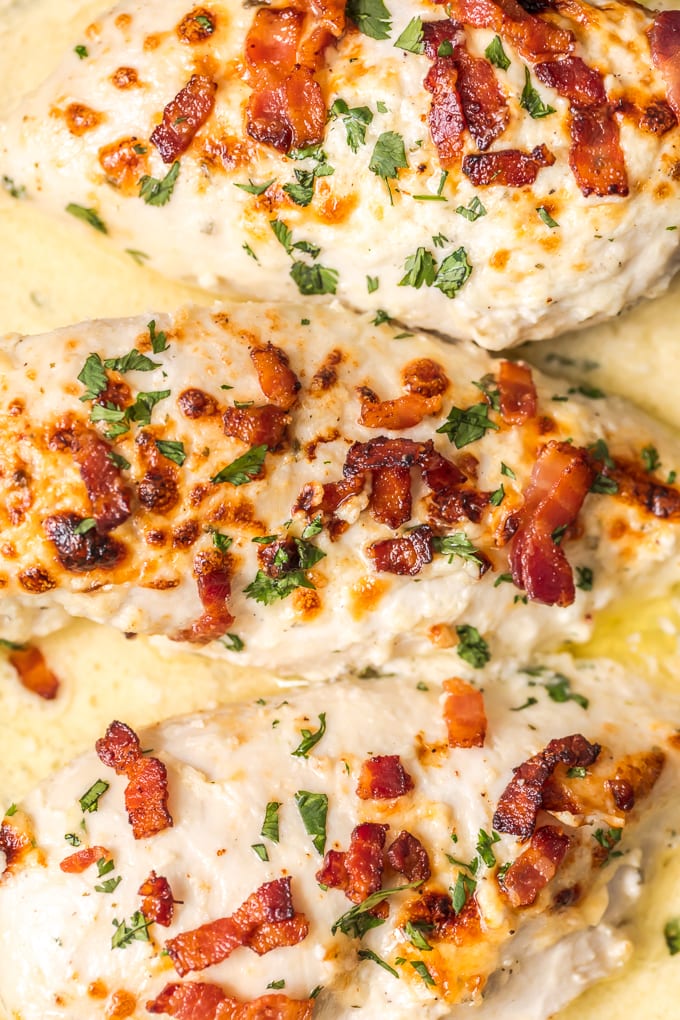 If you're craving more Chicken Recipes, we've got you covered!
If you make this recipe be sure to upload a photo in the comment section below or leave a rating. Enjoy!