Baked Chicken Nuggets are a must make for any busy family. These BAKED EXTRA CRISPY PARMESAN CHICKEN NUGGETS will blow your mind and become an instant family favorite. Made healthier by baking instead of frying, you'll never miss the grease. Kids and adults will be requesting these flavorful Homemade Chicken Nuggets again and again!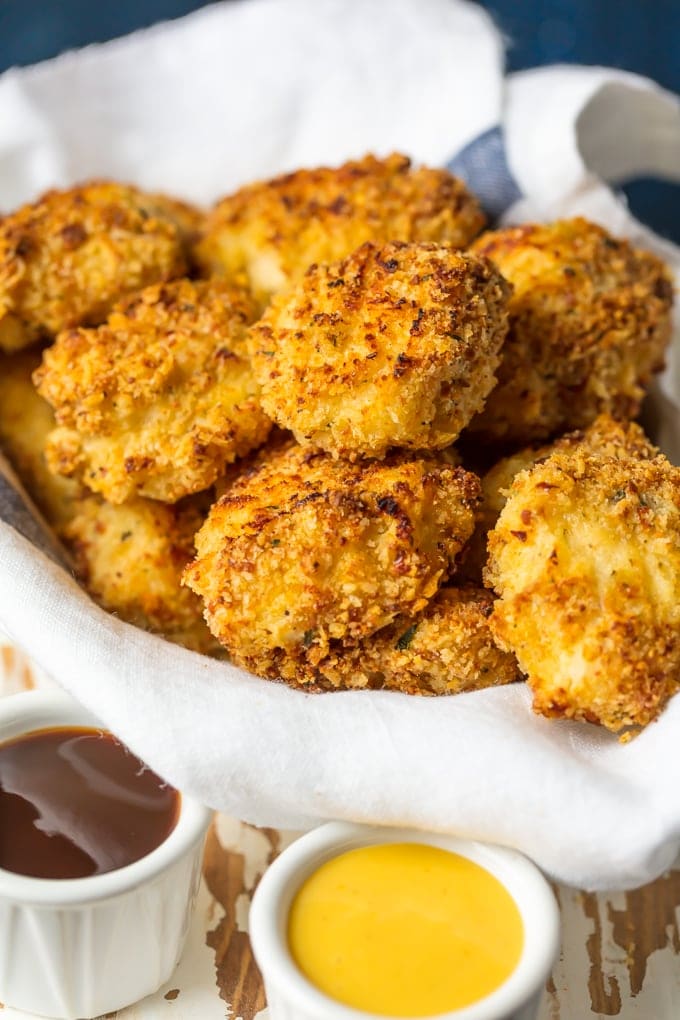 Crispy Baked Chicken Nuggets Recipe
If you're like me, you want it all. You want to be able to eat crispy, cheesy, perfect chicken nuggets without all the guilt of frying the perfect crust (BY THE WAY…if you want your chicken fried….DO NOT feel guilty. Just do it. No shame in your game!) let alone the mess of all that grease.
Enter these Baked Extra Crispy Parmesan Chicken Nuggets. They're healthy(er) than the alternative, coated in the most flavorful and juicy cheesy crust, and so crave worthy for kids and adults alike.
I'm OBSESSED with these Baked Chicken Nuggets and could eat about a 20 pack if they were sold at McDonalds.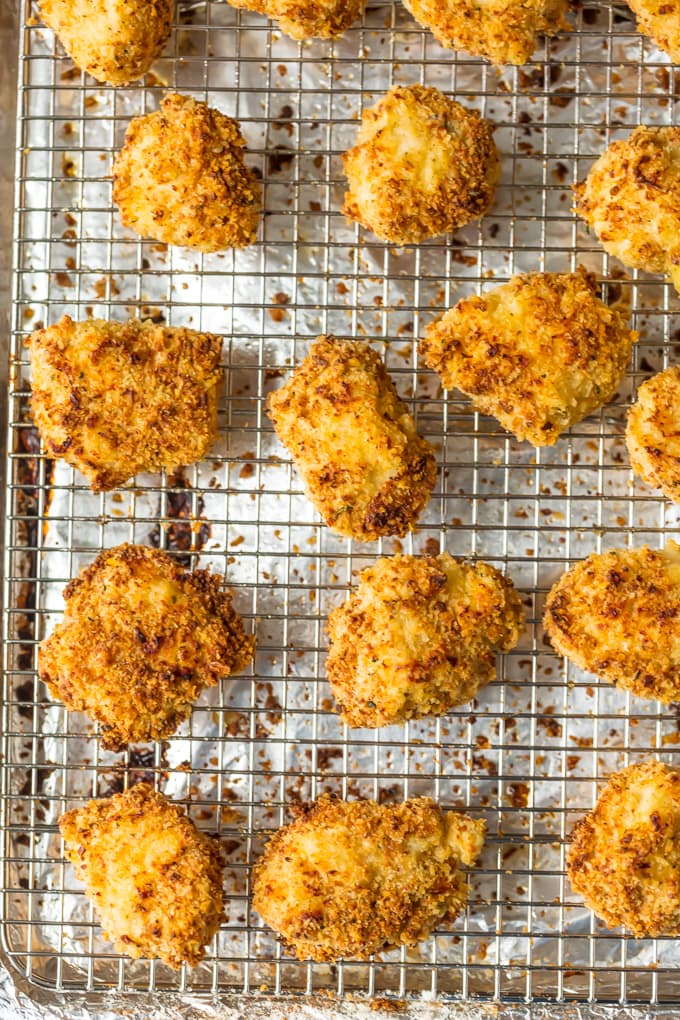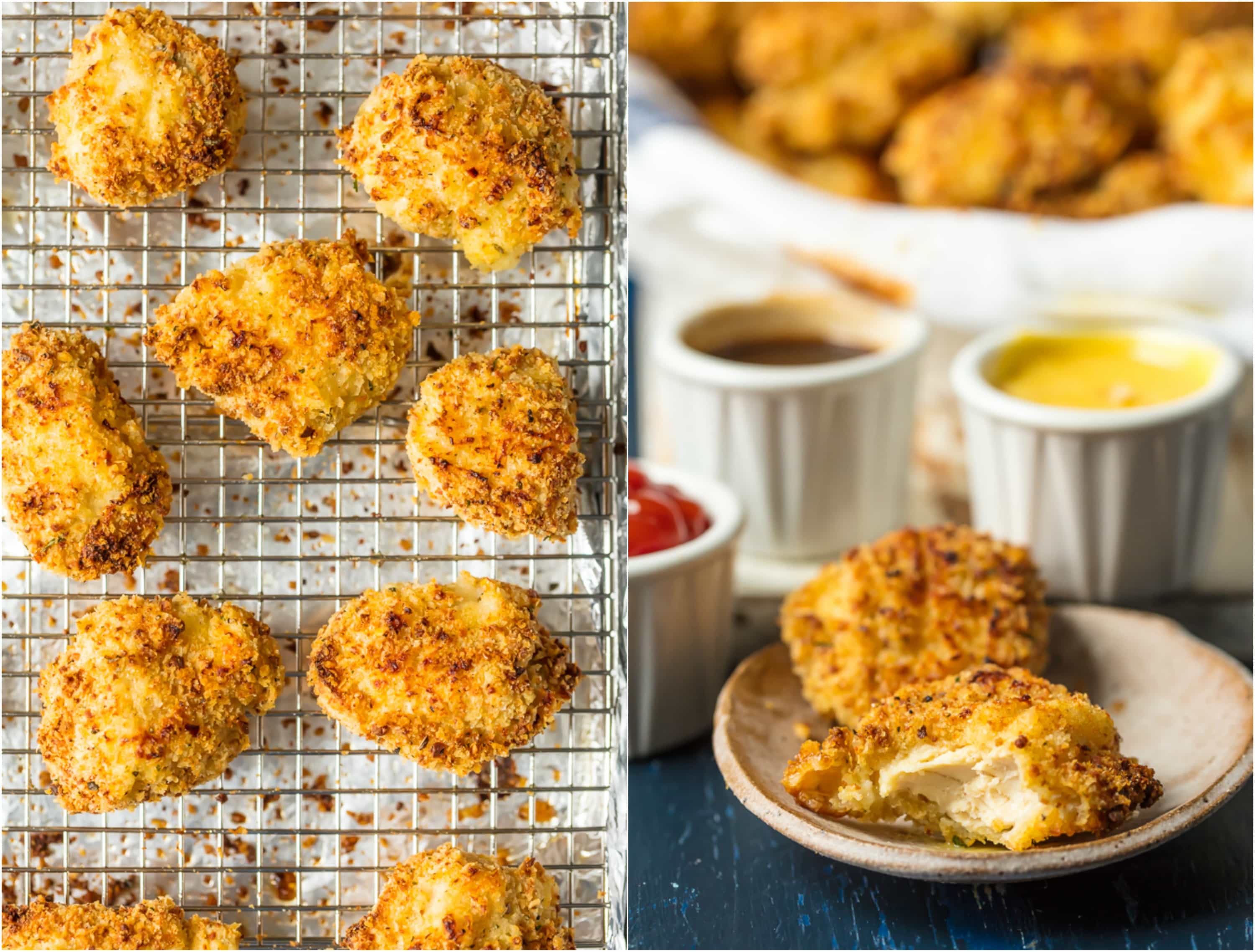 Dipping Sauces for Baked Chicken Nuggets?
I'm the kind of nugget eater that lines up ALL the dipping sauces and goes to town. I need sweet and sour, honey mustard, bbq, ketchup, buffalo sauce…all of them. Each nugget needs multiple dips in multiple sauces. Is that so wrong? I am well aware sauces are where all the calories like and I do not care. Flavor baby.
If you're going to make homemade chicken nuggets instead of buying them at your local McDonalds, you should make the sauces as well! We have some of our favorite homemade dipping sauces, or these from around the web are also awesome. Zaxby's Copycat Dipping Sauce, and Creamy Sriracha Dipping Sauce.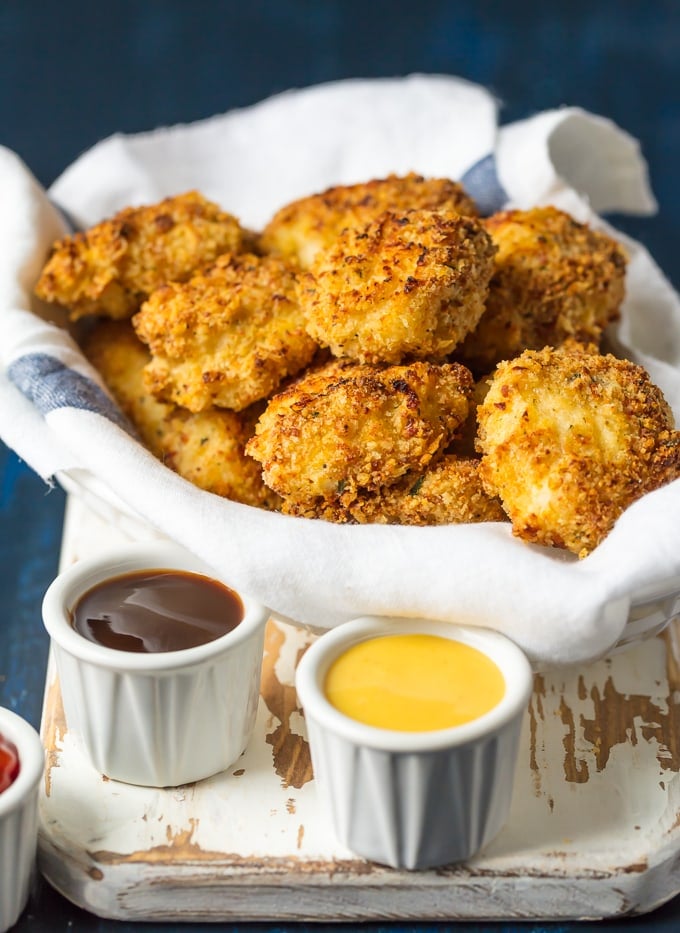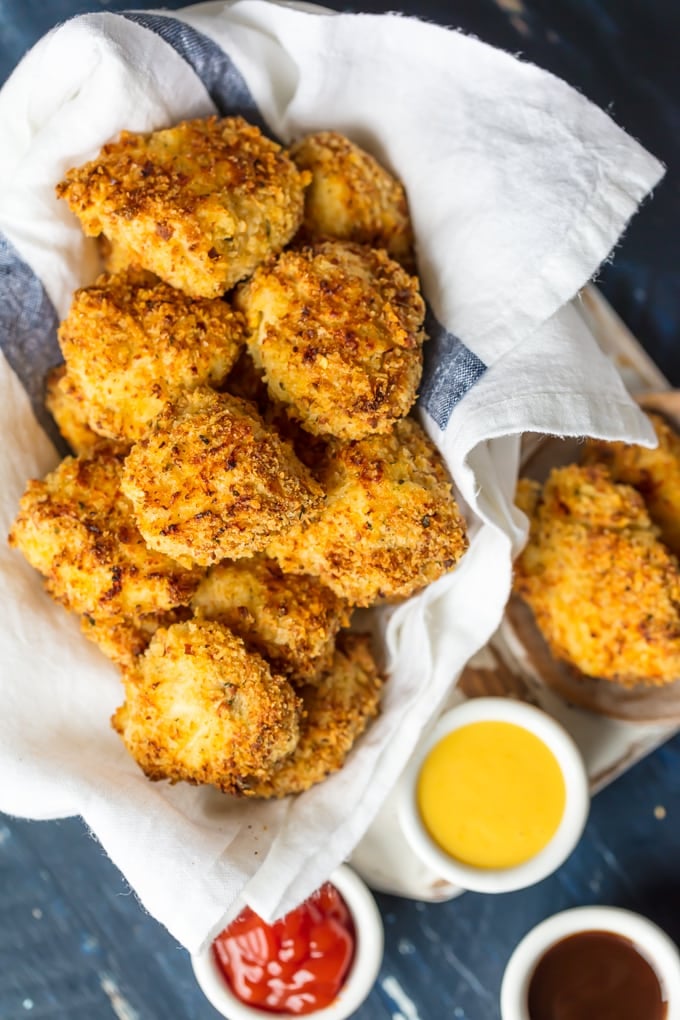 How long do you cook Baked Chicken Nuggets in the oven?
We cook our Baked Chicken Nuggets for 20-30 minutes in a 400F oven. We ask that you flip them half way through to ensure both sides are equally crispy.
Are Crispy Parmesan Chicken Nuggets good for you?
Any kind of chicken coated with breading won't be the absolute healthiest meal, but we have made these Parmesan Chicken Nuggets significantly better for you by baking instead of frying. Cutting on fat and calories but not on flavor. See the nutritional data below to see if these fit into your daily goals.
What are some good healthy side dishes to serve with Homemade Chicken Nuggets?
So many amazing side dishes would be perfect for serve with these Homemade Chicken Nuggets! We recommend our Shoestring Fries, Favorite Brussels Sprouts, or Crock Pot Potatoes. Be sure to check out all of our side dishes and find the perfect pairing for these Baked Chicken Nuggets!

Henry (our 1 year old) absolutely LOVED these Homemade Chicken Nuggets! It was such a win win to feed him something that we loved to eat as well. I think that's the key to feeding children…working on healthier recipes that everyone can love so you're not making two meals every evening. Nothing wrong with loving the kid food you guys!
Be sure to check out all of our favorite Kid Friendly Recipes. I hope you and your family can't get enough of these Baked Nuggets! I have a feeling you'll be making them again and again. I know we will!
See full details on How to Make Baked Chicken Nuggets below. Enjoy!