Chicken Nuggets are a must for any busy family, but this go-to dinner just get BETTER. This baked chicken nuggets recipe will blow your mind with how easy and tasty it is. Baking instead of frying means it's a healthy chicken nuggets option your kids will love. Kids and adults will be requesting these Homemade Chicken Nuggets again and again!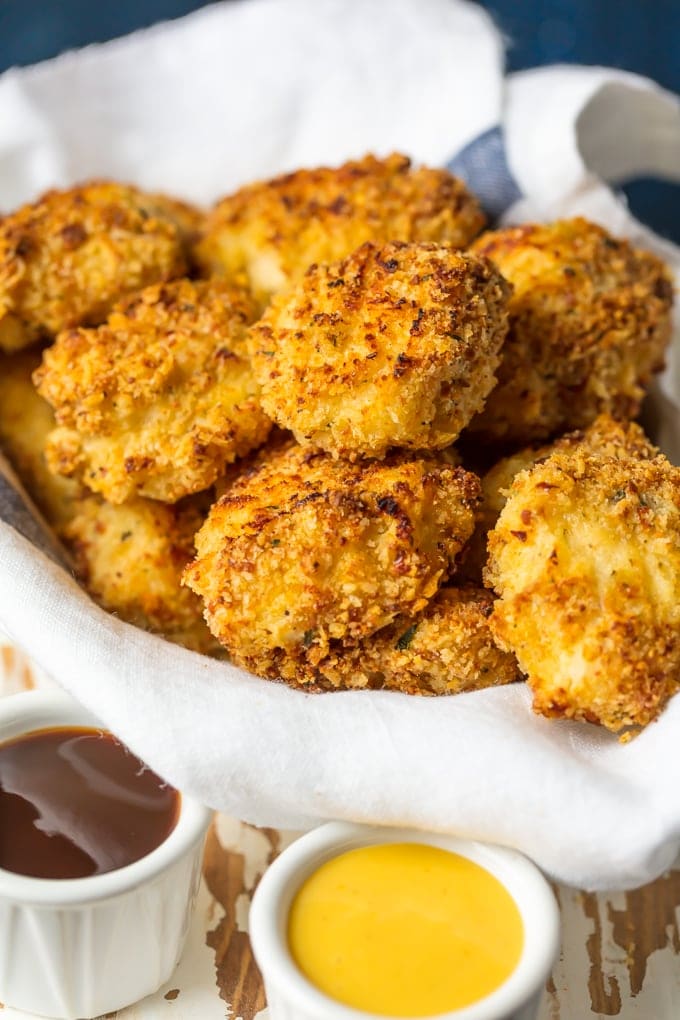 Baked Chicken Nuggets Recipe
Kids LOVE chicken nuggets, and now you can give them exactly what they want with this healthier, homemade, baked chicken nuggets recipe!
If you're like me, you want it all. You want to be able to eat crispy chicken nuggets without running to the drive thru. You want to feed your kids something they'll love that's also healthy (or at least kind of healthy). You want to make a great dinner, but you want it to be easy…
Enter this extra crispy, slightly cheesy, Baked Chicken Nuggets recipe!
These homemade chicken nuggets are so much healthier than the fast food alternative, and they're unbelievably delicious! They're coated in a parmesan cheese crust to add some extra flavor. You won't believe how crave worthy these healthy chicken nuggets are (for kids and adults alike!).
I'm OBSESSED with these Baked Chicken Nuggets–I would eat a full 20 pack if they were sold at Mc Donald's.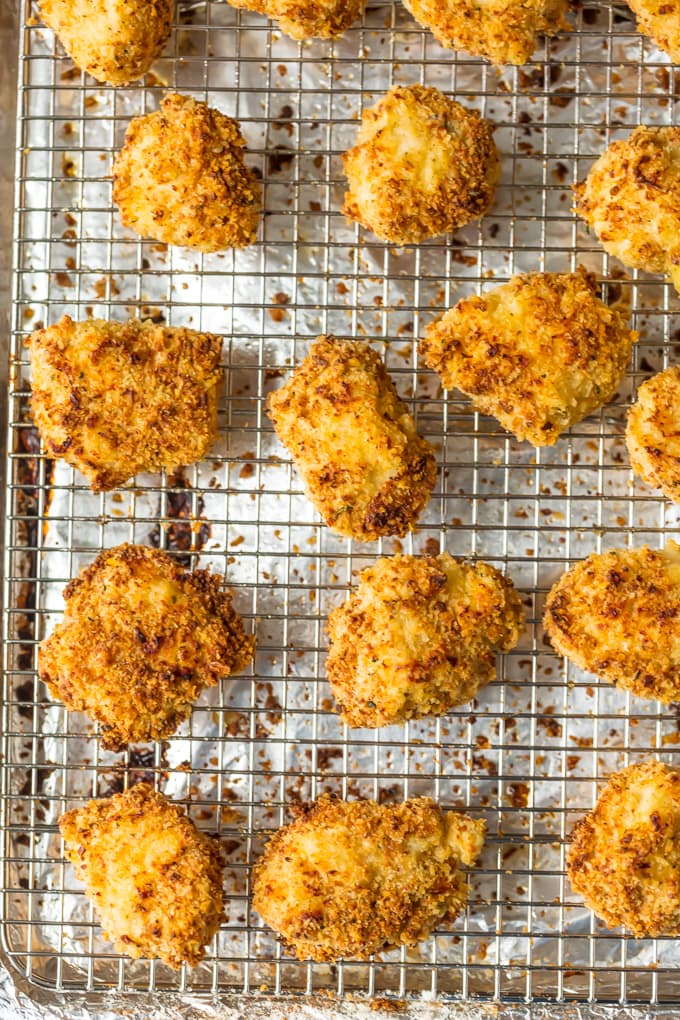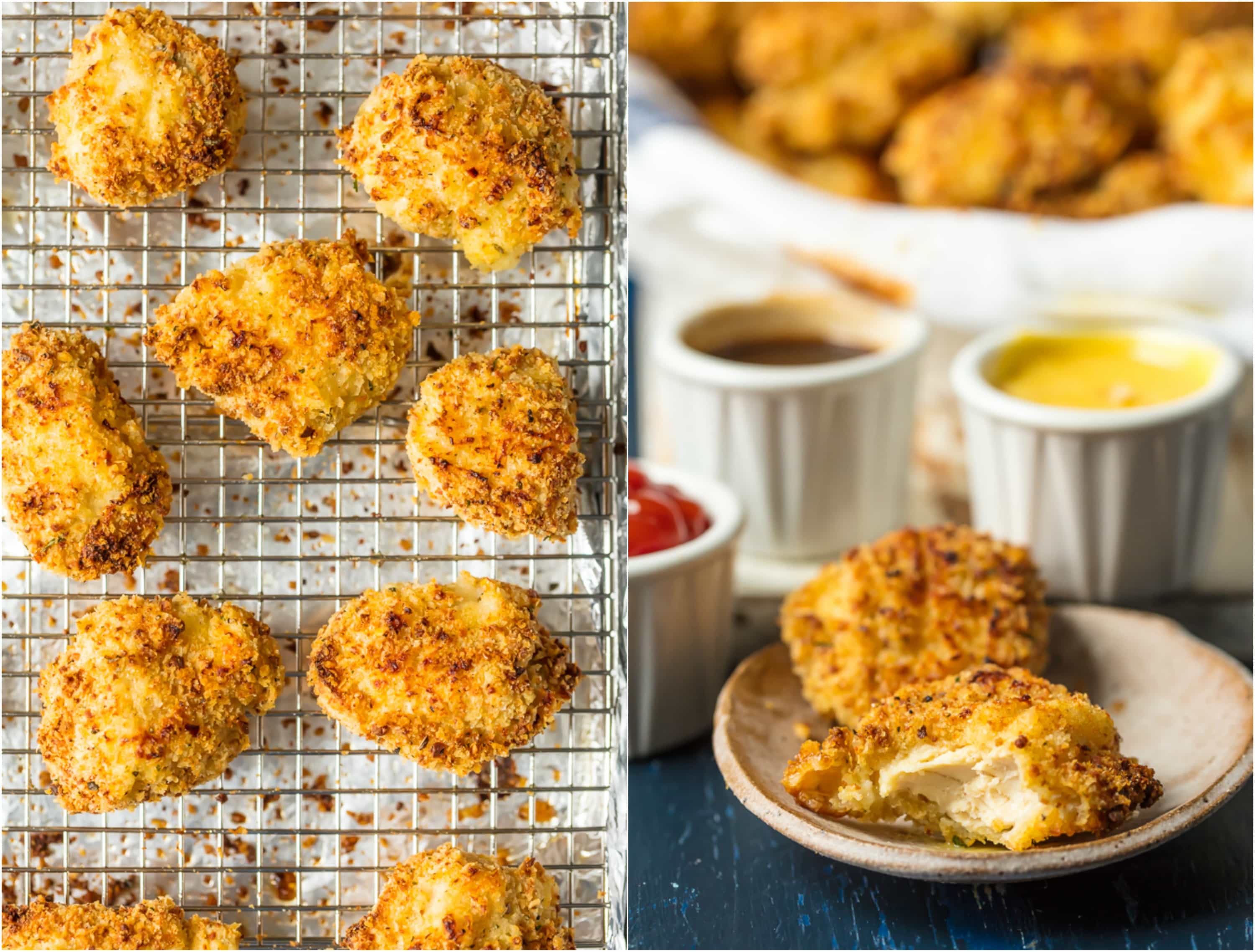 Homemade Chicken Nuggets
Gone are the days when you'd have to rush to the drive thru or throw something frozen onto a pan just to get something your kids will eat. These Homemade Chicken Nuggets have really changed everything!
Trust me, I'm not against doing either of those things (both are really handy options for busy nights), but it feels so good being able to make something fun and delicious at home that tastes better. This baked chicken nuggets recipe is like a gift from the heavens, because your kids will be begging to eat these every night, and it's EASY to make.
Best Dipping Sauces for Chicken Nuggets
I'm the kind of nugget eater that lines up ALL the dipping sauces and then goes to town. I need sweet and sour, honey mustard, bbq, ketchup, buffalo sauce…all of them. Each nugget needs multiple dips in multiple sauces. Is that so wrong? I am well aware sauces are where all the calories live, but I do not care. We need extra flavor baby!
Don't get me wrong, the flavor of these baked chicken nuggets is good enough, but I'll never give up my dips!
If you're going to make homemade nuggets instead of buying them at your local Mc Donald's, you gotta make the sauces as well!
We have some of our favorite homemade dipping sauces: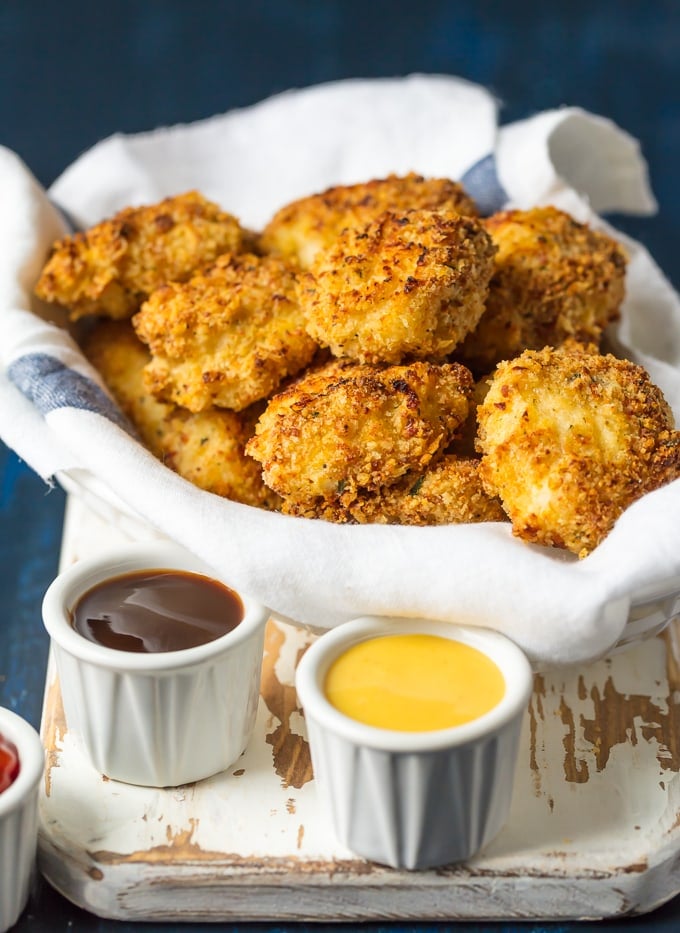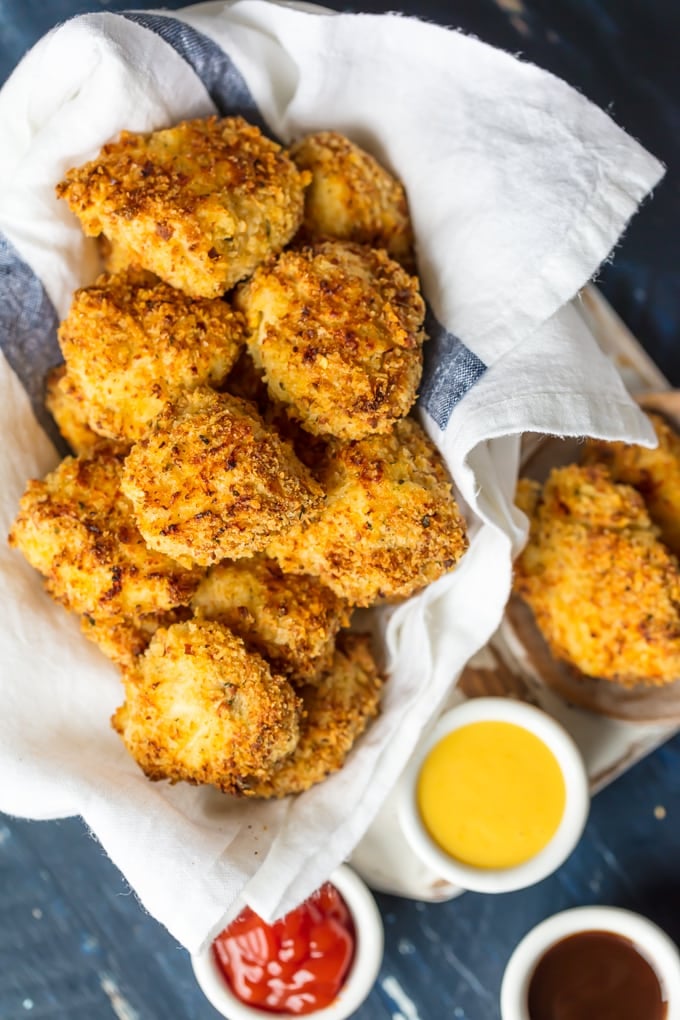 How long do you bake chicken nuggets in the oven?
We cook our Baked Chicken Nuggets for 20-30 minutes in a 400°F oven. Be sure to flip them half way through to ensure both sides are equally crispy.
Are crispy parmesan chicken nuggets good for you?
Any kind of chicken coated with breading won't be the absolute healthiest meal, but we have made these Homemade Chicken Nuggets significantly better for you (compared to fried and fast food versions) by baking instead of frying. Cutting out extra fat and calories, without sacrificing flavor.
See the nutritional data on the recipe card below to see if these fit into your daily goals.
What are some healthy sides to serve with chicken nuggets?
So many amazing side dishes would be perfect for serve with this Homemade Baked Chicken Nuggets recipe!
We recommend our Shoestring Fries, Favorite Brussels Sprouts, or Crock Pot Potatoes.
Be sure to check out all of our side dishes and find the perfect pairing for these healthier Chicken Nuggets!

Kid-Friendly Chicken Nuggets (Baked at Home)
Henry (our 1 year old) absolutely LOVED these Homemade Chicken Nuggets! It was such a win win to feed him something that we loved to eat as well. I think that's the key to feeding children: working on healthier recipes that everyone can love so you're not making two meals every evening. Nothing wrong with loving the kid-friendly food you guys!
See full details on How to Make Baked Chicken Nuggets below. Enjoy!