Oven Fried Chicken is one of our all time favorite recipes! It's so healthy, juicy, flavorful, and CRISPY! You would never guess this chicken is oven baked and not fried. The spice rub tastes just like your favorite KFC. SO MUCH FLAVOR! This baked fried chicken breast recipe is one of our favorites to make year round.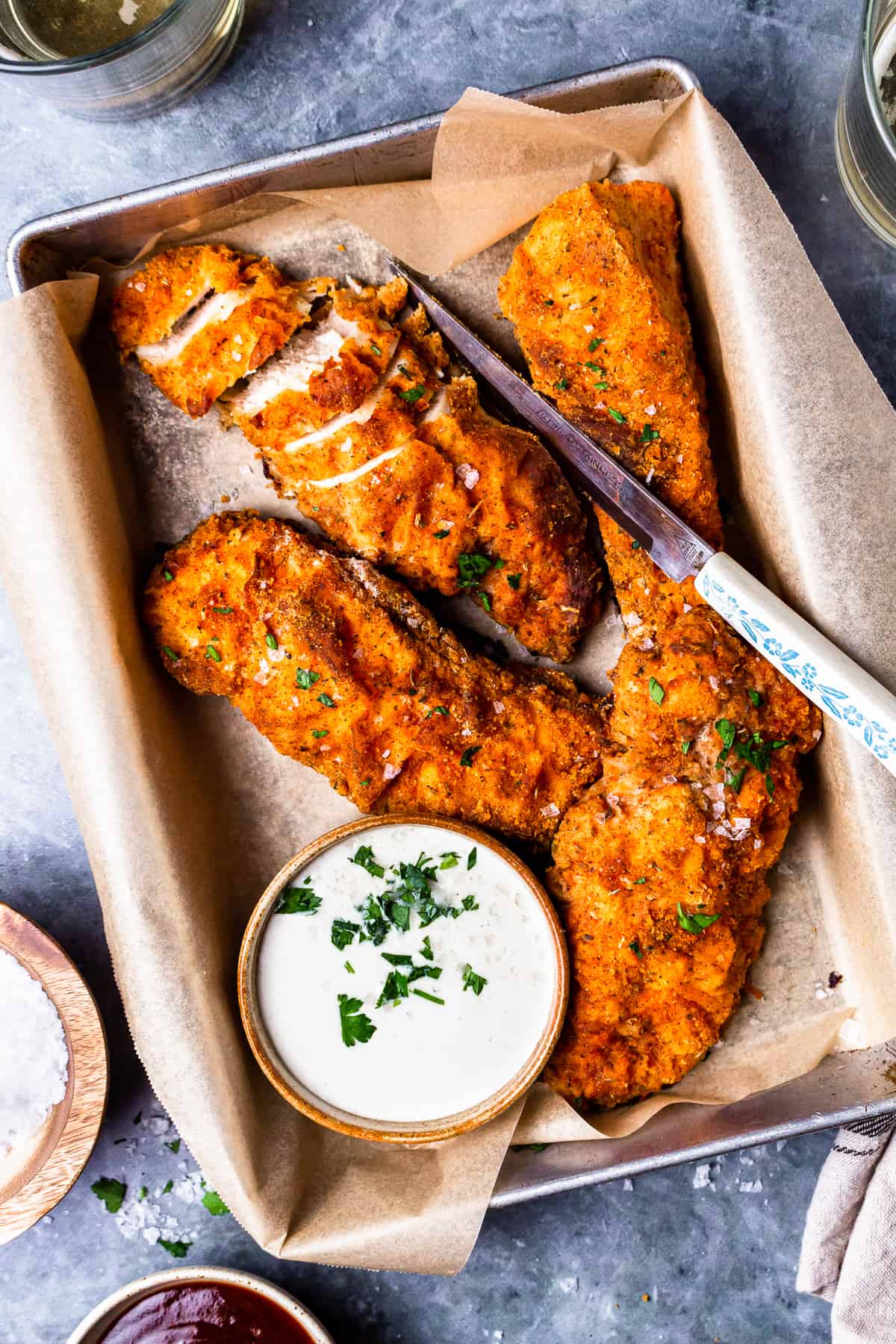 Oven Fried Chicken
Oven Fried Chicken is the perfect kind of recipe for our family, and one of our favorite easy dinner recipes!
In order to call a recipe a true family favorite, it has to be easy AND delicious. I've found that my favorite meals are those with the simplest ingredients, easiest prep, and best flavors. This crispy breaded and baked chicken breast fits the bill!
Sometimes the simple meals are simply the best, and this baked fried chicken breast recipe proves my point. It tastes just like picking up your favorite fried chicken, but it's homemade and healthier!
This oven fried chicken comes out of the oven SO crispy, you won't believe it! Just like our Buttermilk Fried Chicken, but baked instead of fried.
Why You'll Love this Baked Breaded Chicken Recipe:
QUICK AND EASY: Making healthy fried chicken at home is so much quicker and easier than you might think. Easy enough to make any night of the week!
BAKED NOT FRIED: This crispy breaded chicken is baked instead of fried, for a healthier and lighter version of a classic.
FAMILY FAVORITE: The whole family will love this recipe. Even the kids will love it! It'll be their favorite dinner of the week, something you all will look forward to seeing on the table again and again.
Making this oven fried chicken along with the best side dishes (mashed potatoes, biscuits, yum!) will have everyone thinking you ran down the street and picked up a KFC Fried Chicken dinner. But you secretly made a healthy baked version instead!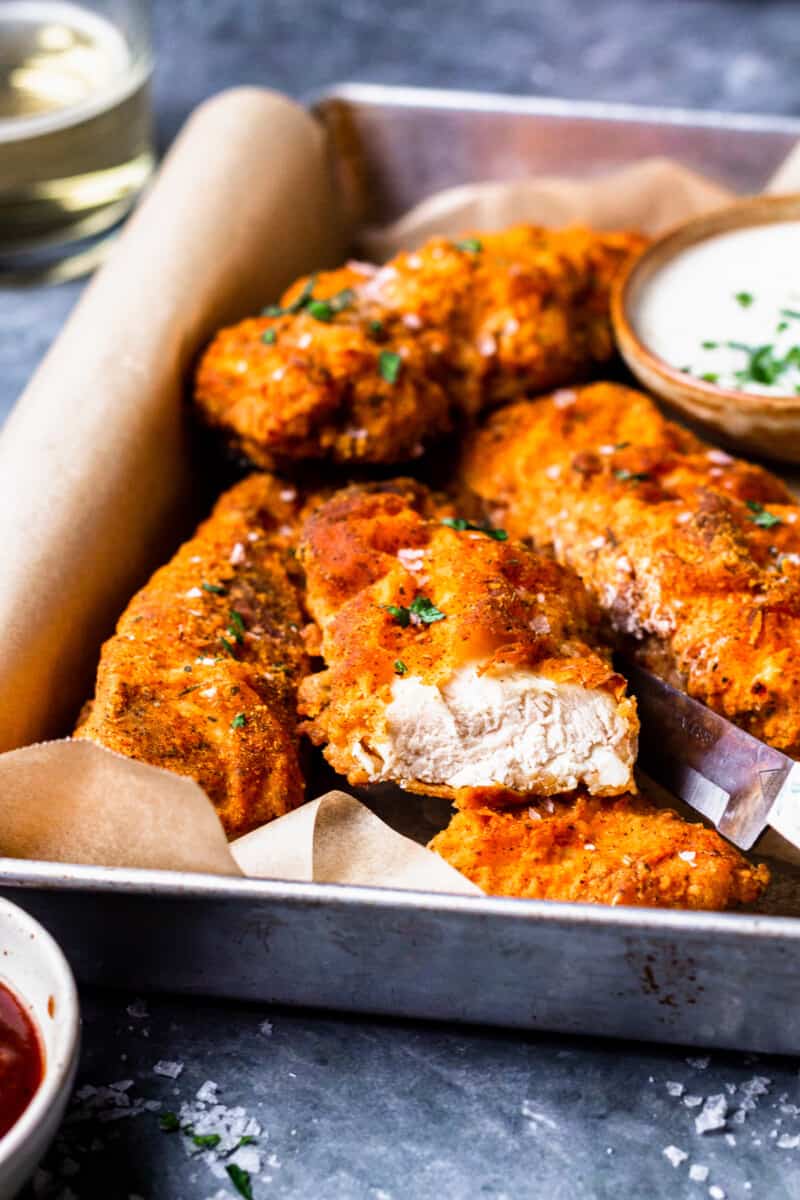 Oven Fried Chicken Recipe
This baked fried chicken has quickly become a reader favorite around here. I'm not surprised, because it's truly delicious.
This dish is my kind of healthy! For me, healthy is all about making simple substitutes and tweaks to favorite dishes. This crispy baked fried chicken is the perfect example!
Instead of deep frying chicken, we're baking it in the oven with a flavorful flour coating that turns crispy. Trust me, it's just as good as the real thing, with less calories, less grease, but all the flavor!
Ingredients
Chicken: We use skinless, boneless chicken breast for this fried chicken recipe.
Buttermilk: Buttermilk will be used as a marinade for the chicken.
Flour: Use all-purpose flour to coat the chicken.
Seasoning: We use a mix of paprika, all-purpose seasoning, and salt and pepper.
Butter: Butter is melted and spread on the bottom of the baking pan.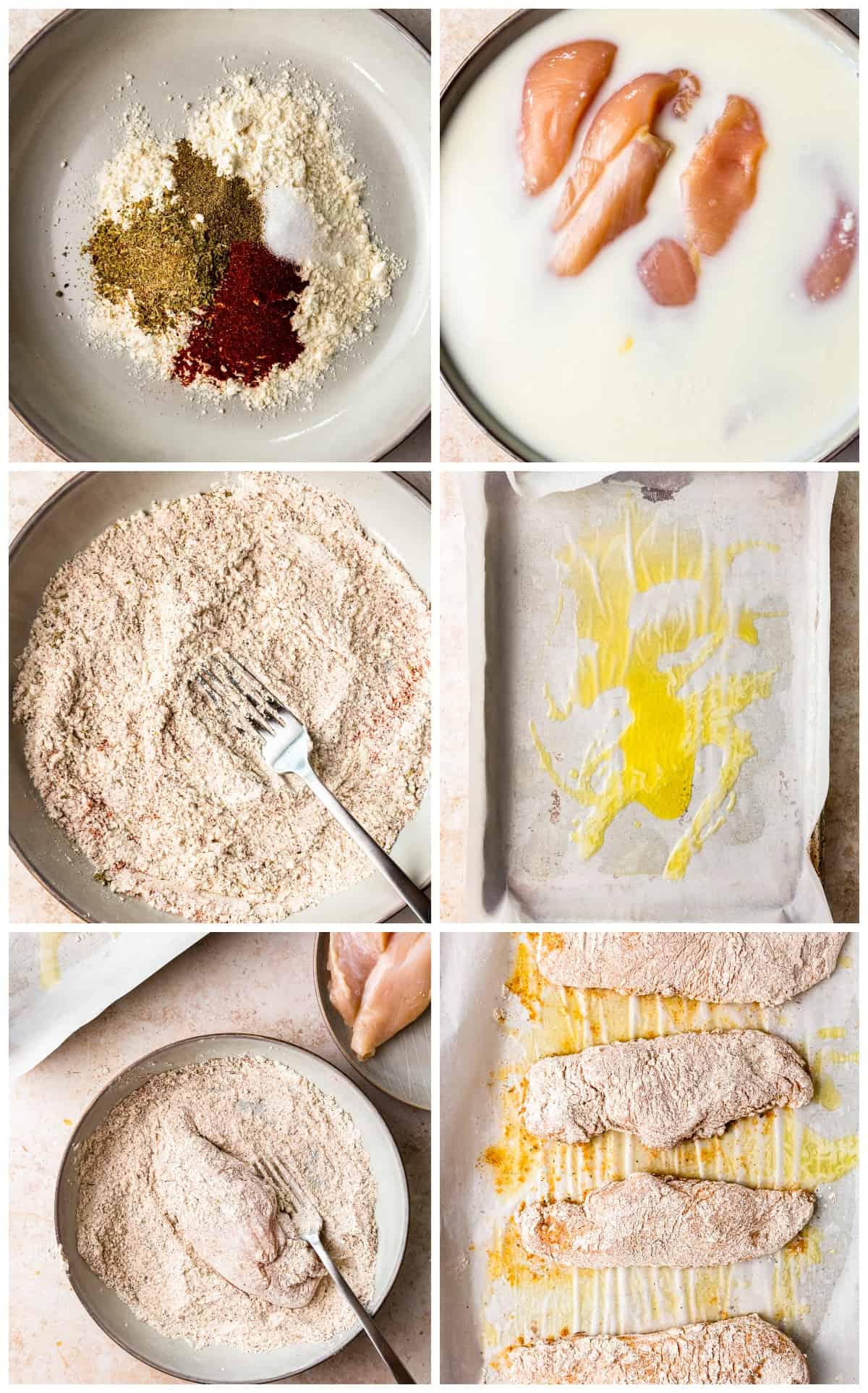 How to Make Oven Fried Chicken
As you can see in the step-by-step recipe photos below, this healthy fried chicken breast is pretty straightforward.
Be sure to see the recipe card below for full ingredients & instructions!
Cut chicken breasts into 4 portions.
Marinate chicken in milk for 20 minutes.
Mix together the breading mixture.
Coat the baking pan with parchment and melted butter.
Dip chicken in the flour/breading mixture.
Bake chicken at 400°F for 35-40 minutes.
That's all there is to it! Watch the video to see the step by step recipe in action. Check below for the printable recipe card with full instructions and ingredient list.
Is Oven Fried Chicken Healthy?
Believe it or not, YES! With this baked chicken breast recipe, you get the flavor and texture of fried chicken, with significantly less calories.
Baking is healthier than frying because you avoid all that excess oil, which adds a lot of fat and calories. Deep frying tends to leave you with a lot of grease, and you can definitely feel it after dinner is done.
So using chicken breast, some breading, and then baking, makes a lighter version that still tastes delicious!
I have loved learning the lighter side of cooking. This is such an easy way to lighten up a true classic (try our Buttermilk Fried Chicken if you want the real deal). All the comforts of home, in a slimmed down version. Another favorite variation of this recipe is our Oven Fried Parmesan Crusted Chicken.
This oven fried chicken breast is SO EASY, healthy(er), and yummy. The outside is nice and crispy, while the inside stays juicy. What more can you ask for?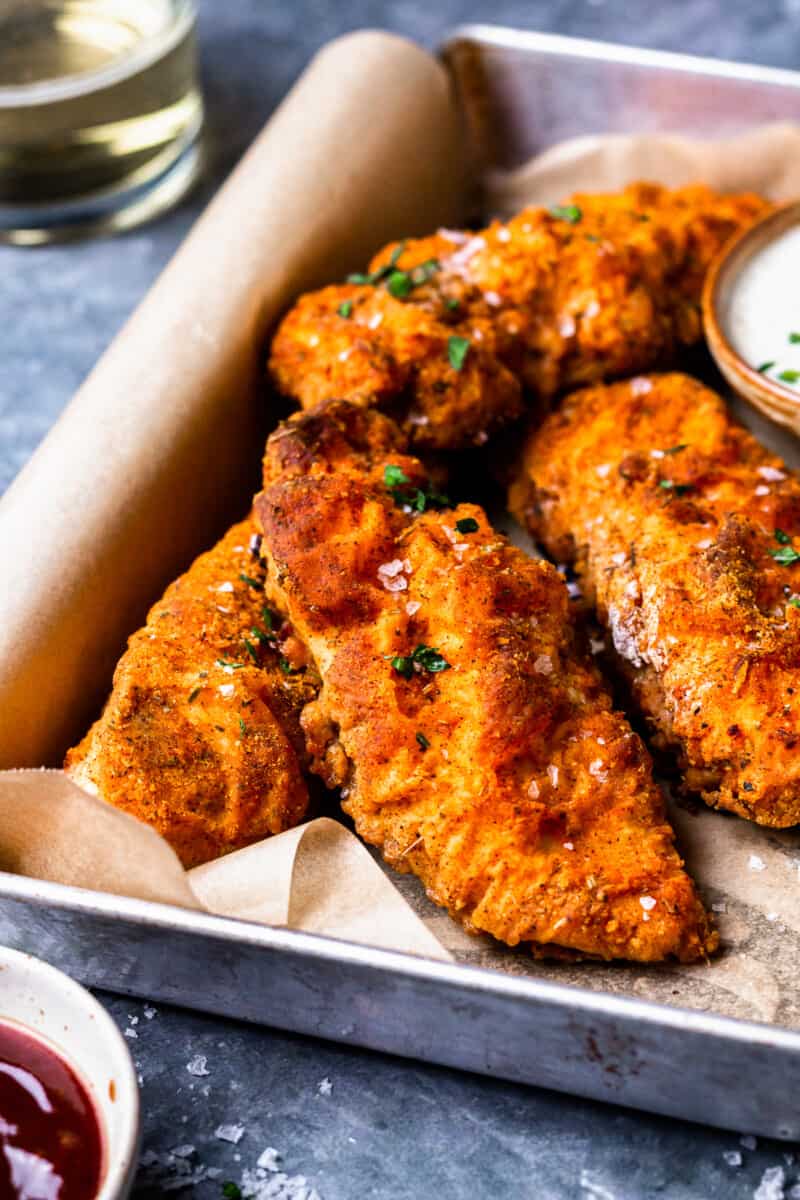 Tips!
Use a large bowl or dish to marinate. You want to make sure the chicken is fully submerged.
You only need 20 minutes to marinate, but you can let it soak longer if it's more convenient for you. Keep it in the fridge if needed.
Make sure your oven is fully pre-heated before putting the chicken in.
Place a layer of parchment paper on a 9×13 baking sheet, and then spread the melted butter on top of the paper.
Be sure to flip the chicken over halfway through baking for best results.
This baked fried chicken is best served right from the oven. But if you want to save leftovers, place them in an airtight container in the fridge, for up to 4 days. Reheat in the oven (it won't be quite as crispy though).
If you want to make a larger amount of chicken, just be sure you don't overcrowd the baking pan. You might want to use two pans, and rotate them during the baking time.
Most people think you need to deep fry to get that super crispy coating. Sure, you won't have the same thick layers when baking, but you can get a really nice layer of flavorful, crispy breading on your oven fried chicken.
Check below for some tips on keeping your chicken crispy!
Serving Suggestions
Fried chicken should always be served up with all the fixins! Make a healthier fried chicken dinner at home for the family, with all these favorites sides. It's comfort food, but better!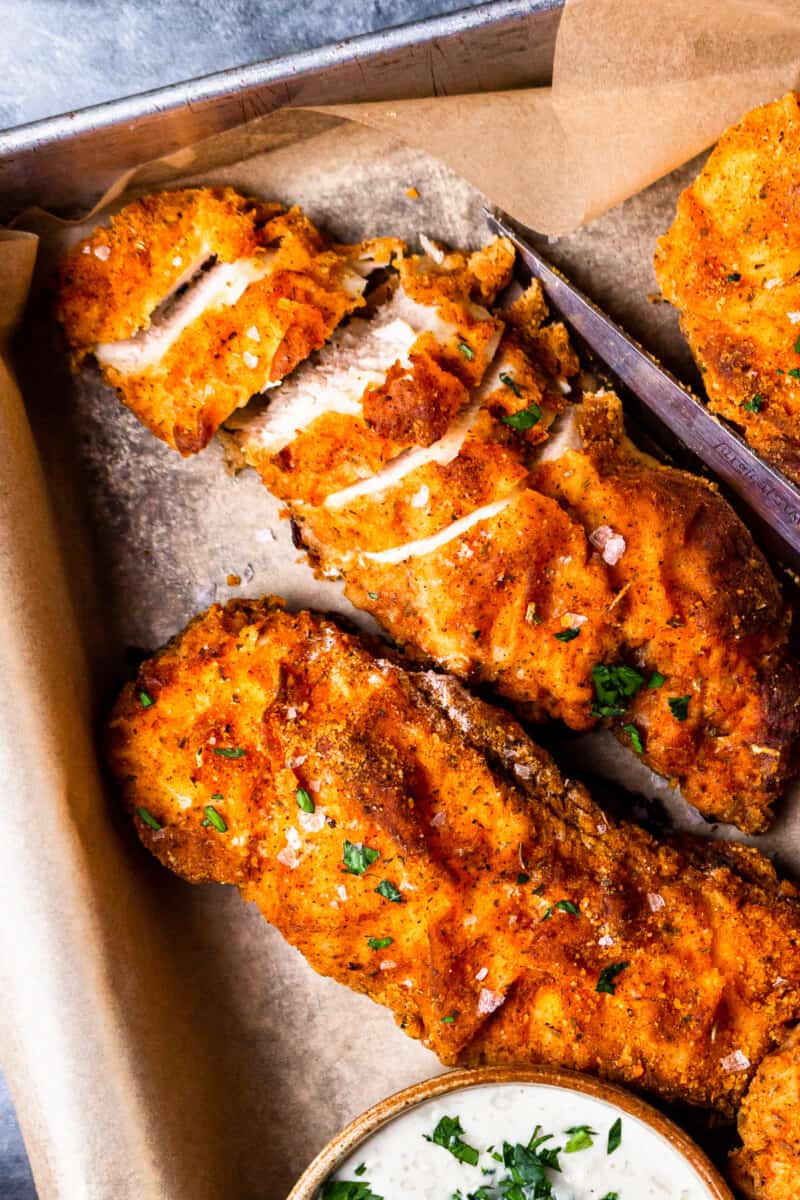 What kind of chicken should I use for this recipe?
I used boneless, skinless chicken breast, cut in half. This is great for everyday dinners since it's a lean cut of chicken.
Can I use thighs or drumsticks for this recipe instead?
Absolutely! If you prefer thighs, drumsticks, or wings, you can use those pieces too. Just coat them and bake as directed. If you use bone-in pieces, you will need to increase the baking time. Be sure the internal temp reaches 165F.
How do you coat fried chicken?
This method is known as dredging, and it's really simple. After marinating the chicken in buttermilk, dip all sides in the flour mixture to coat.
Why do you marinate chicken in buttermilk before frying?
Letting the chicken breast marinate in buttermilk helps break down enzymes so that the meat becomes more tender. It's common practice to soak chicken in milk when making Southern-fried chicken, although sometimes it's marinated overnight. 20 minutes is enough for this quick and easy recipe! The milk also helps the flour mixture to stick.
How long do you bake fried chicken?
Bake fried chicken in the oven for 35-40 minutes at 400F. Flip it over halfway through cooking time.
Can you put floured chicken in the oven?
Yes! Even when baking instead of frying, you still want to do the flour coating and all the spices to create a delicious crispy skin on your chicken.
What is all-purpose seasoning?
This seasoning blend typically contains salt, pepper, garlic and onion powder, and other things like parsley and paprika. It's a delicious savory spice blend that works great for chicken!
Baked Fried Chicken Year Round
This oven fried chicken recipe is so versatile and is a great dish to keep in the dinner rotation. I think it would be a fabulous base for Chicken Piccata, Chicken Marsala, and especially Chicken Parmesan.
I might just have to try all three! Isn't it wonderful when lightened up recipes turn out as flavorful as the original ones? Those are the recipes to hold on to and pass down for generations.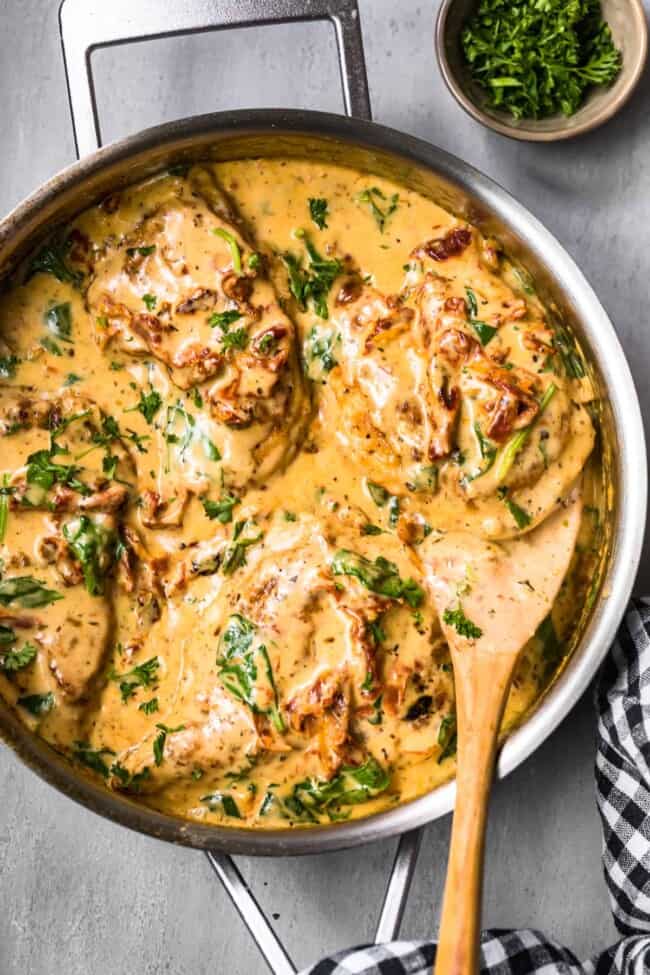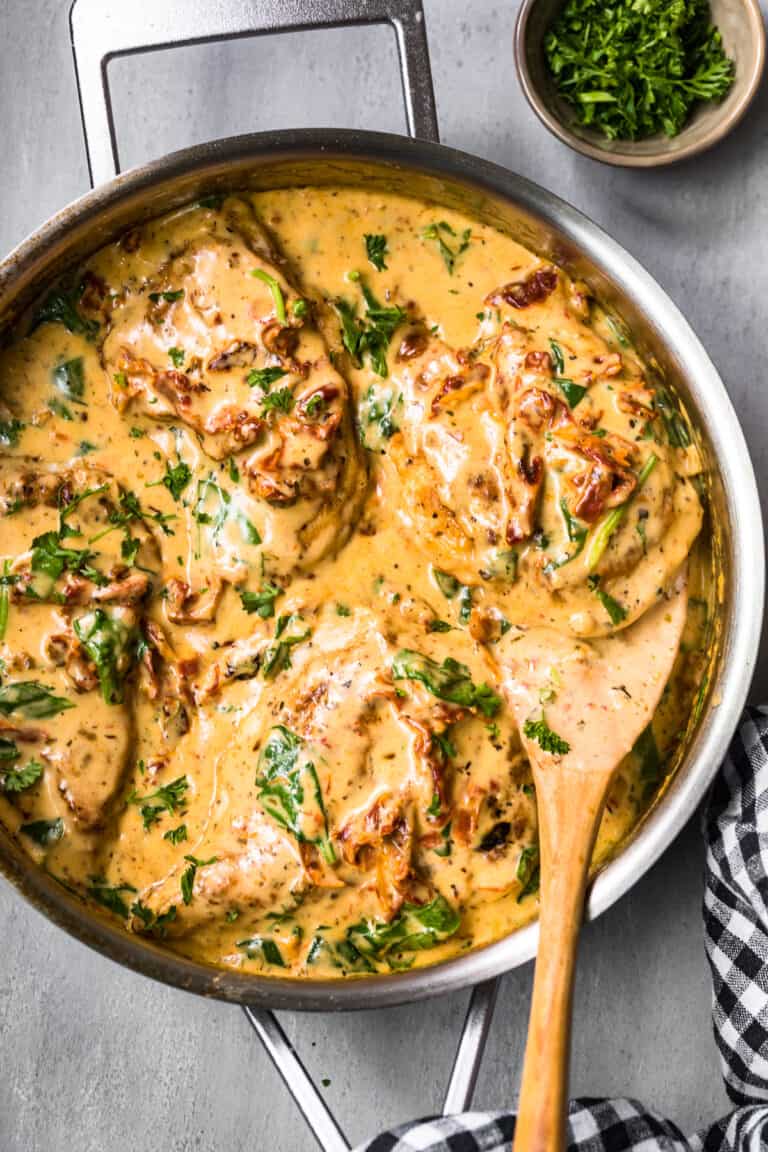 Winner Winner Chicken Dinner
72+ Easy Chicken Recipes
See our Chicken Guide for ALL the best chicken recipes plus tips and tricks for juicy chicken every time.
Easy Chicken Recipes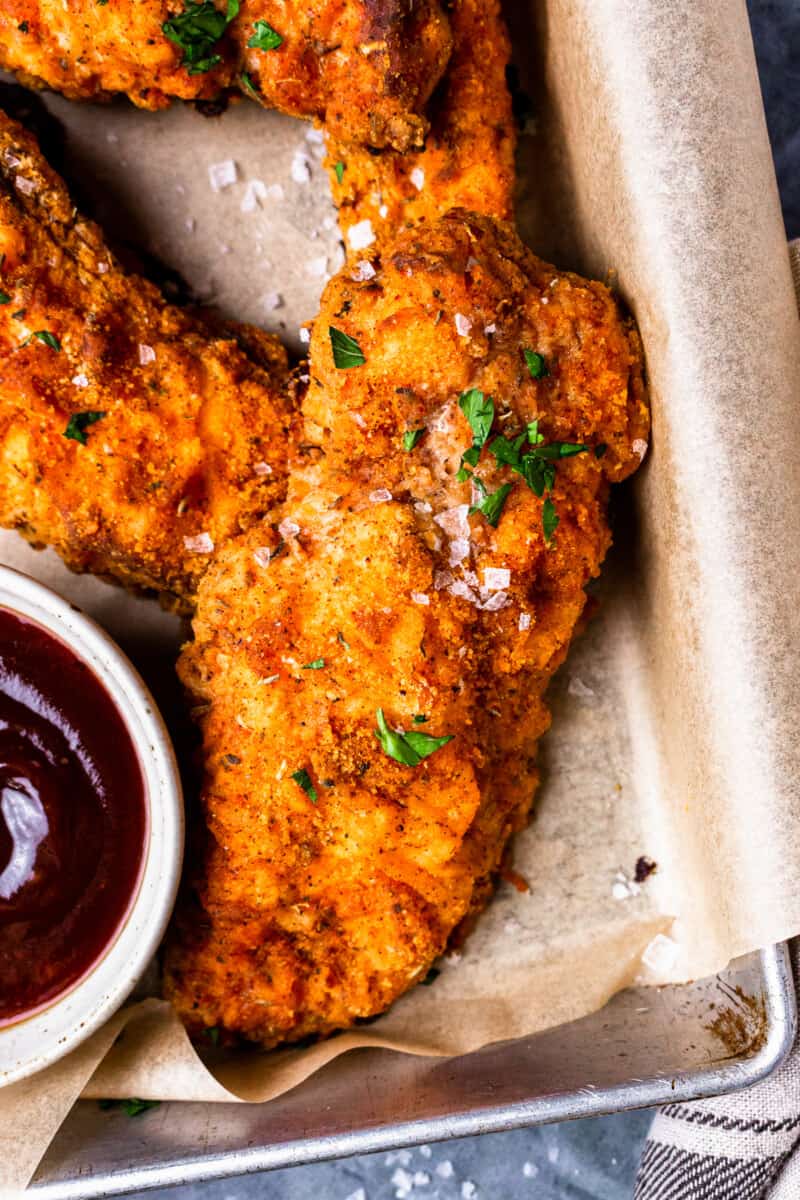 How do you make baked chicken crispy?
Making fried chicken in the oven means you get the best of both worlds! The breaded coating crisps up so nicely when baked. You'll still get that crunch you love when you bite into it, it just won't be quite as thick as if you deep fried it.
Here are some tips to making crispy baked chicken!
Remove excess moisture from the buttermilk marinade by patting the chicken dry.
Leave room between pieces of chicken on the baking pan. This allows air to circulate on all sides, which will help it cook evenly AND make the skin crispier.
Spreading melted butter on the bottom of the pan ads flavor and also helps the skin to get nice and crispy when baked.
Flip the chicken over half-way through cooking time. Again, this allows the heat to hit all sides directly, so no part stays soft.
What is the internal temperature of fried chicken?
Chicken breast should always reach an internal temperature of 165°F before consuming.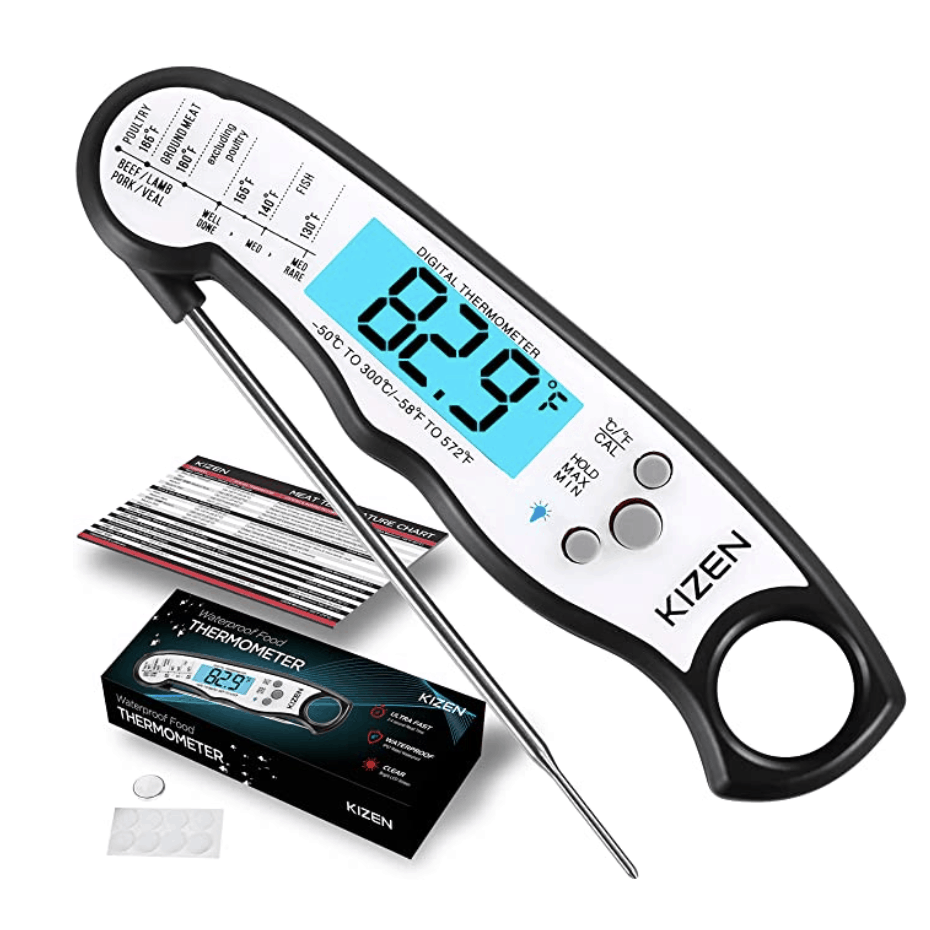 The Best meat thermometer!
I love using this meat thermometer for making sure the meat is at 165 degrees! Easy for beginners & totally worth the $10 cost!
It's always good to check with a meat thermometer when you're about to take them out of the oven! You don't want to undercook chicken, so it's always good to keep a meat thermometer on hand.
See our Meat Temperature Chart for more info!
This crispy oven fried chicken is just one of many delicious chicken breast recipes. Be sure to try all of these favorites and let us know what you think!
If you make this recipe be sure to upload a photo in the comment section below or leave a rating. Enjoy!