Oven Fried Chicken is one of our all time favorite Baked Fried Chicken Breast Recipes! It's so healthy, juicy, flavorful, and CRISPY! You would never guess this recipe is oven baked and not fried. The spice rub is just like your favorite KFC. SO MUCH FLAVOR! This is one of our favorites to make year round.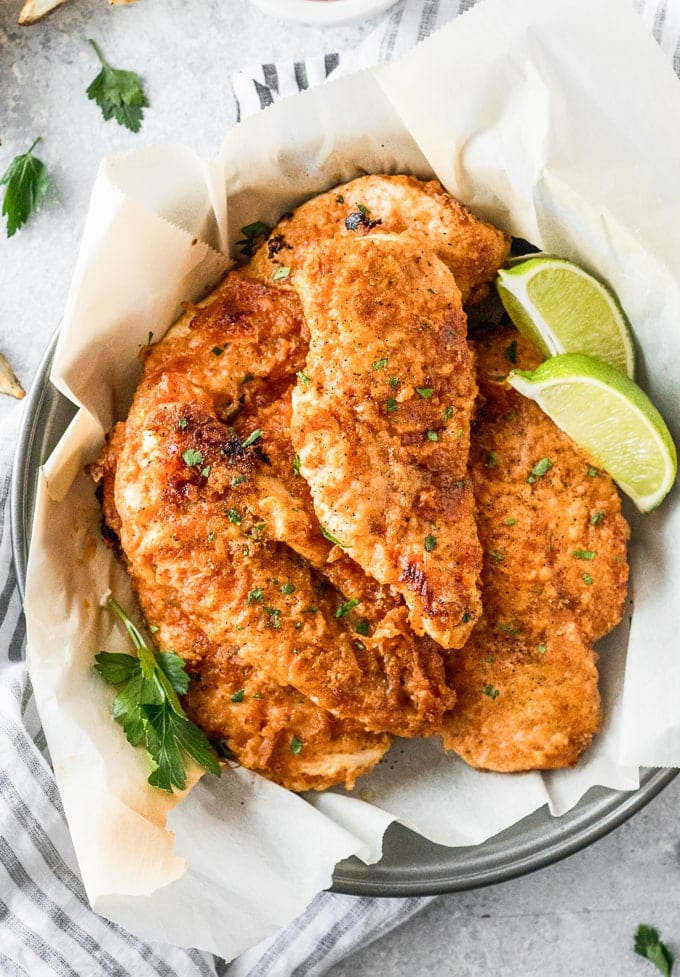 The Crispiest Baked Fried Chicken
Oven Fried Chicken is the perfect kind of recipe for our family and one of our favorite easy recipes! I have a running theme on The Cookie Rookie. Simple and delicious. On this journey to learn how to cook, I've found that my very favorite meals are those with the simplest ingredients, easiest prep, and brightest flavors.
I'm always looking for recipes that are made in a flash, and cleaned up even faster!! Sometimes the simple meals are simply the best.
This is my newest recipe to prove my point. This recipe is so quick, so easy, and so delicious!
You'll swear that you ran down the street and got KFC Fried Chicken, but really you made secretly healthy version instead. WINNING!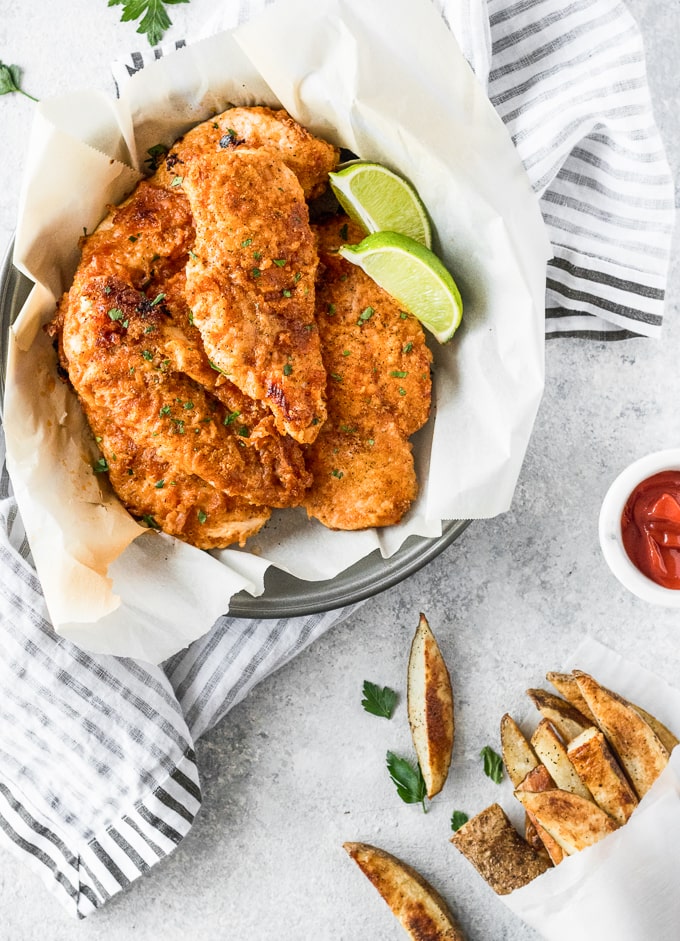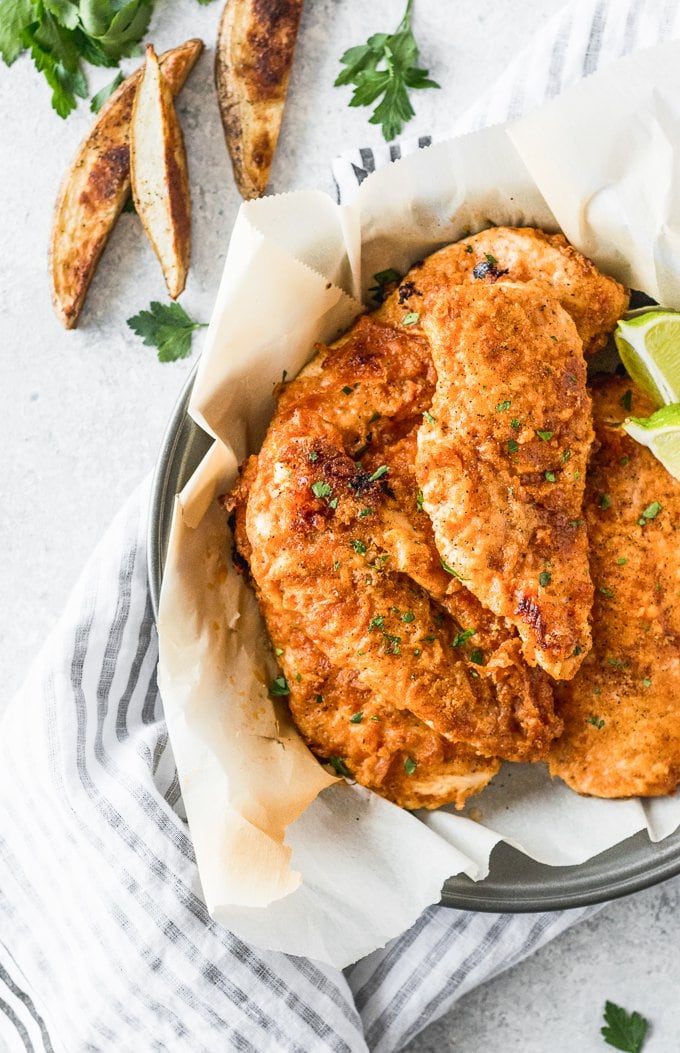 A healthier alternative to frying
I've been attempting to cook healthier meals for the past couple months. As I've said before, Pat and I kind of fell off the diet train after the wedding. We had been good for SO long; after it was done we pigged out on cheese and chocolate for a couple months.
Lately I have realized that summer is here and swimsuit season is upon us. We're back! This Baked Fried Chicken Breast has got us back in the spirit. Some of our other favorite healthy recipes are Salmon with Avocado Salsa, Enchilada Stuffed Peppers, and Healthy Crockpot Tortilla Soup.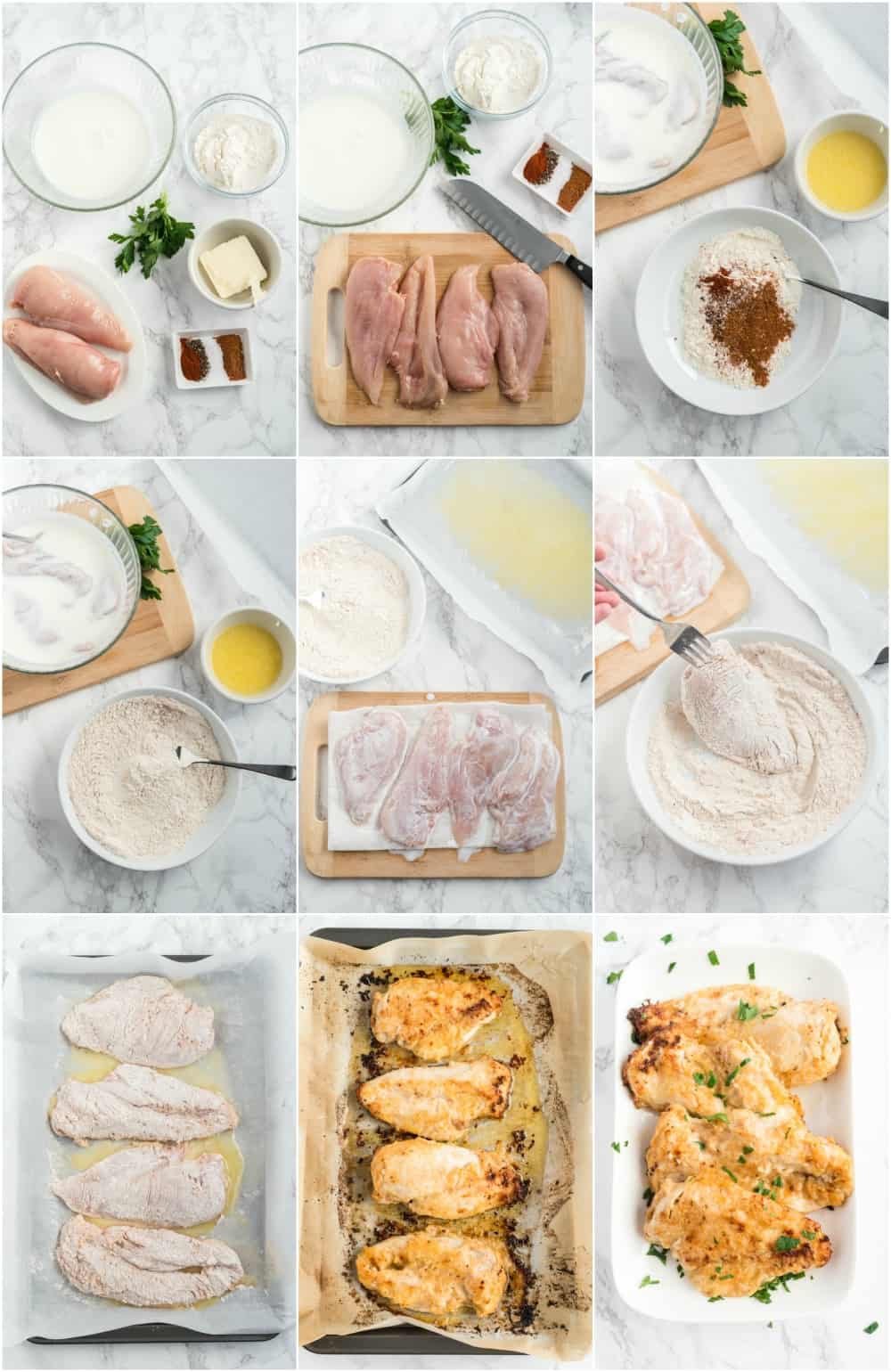 Can Chicken Baked in the Oven Really be Crispy?
YES! I have loved learning the lighter side of cooking. I'm not going to shout from the rooftops that I cook only healthy recipes, but it really is nice to find healthy options for still bringing family favorites to the table. This is such an easy way to lighten up a true classic, Buttermilk Fried Chicken. All the comforts of home, in a slimmed down version.
Another favorite variation of this recipe is our Oven Fried Parmesan Crusted Chicken. OBSESSED.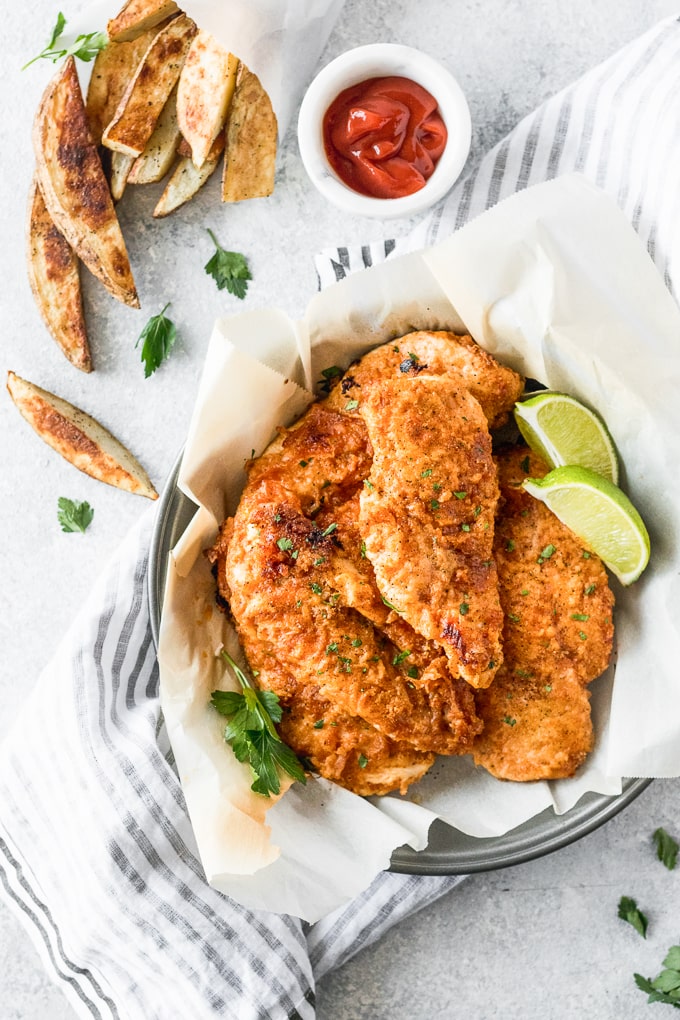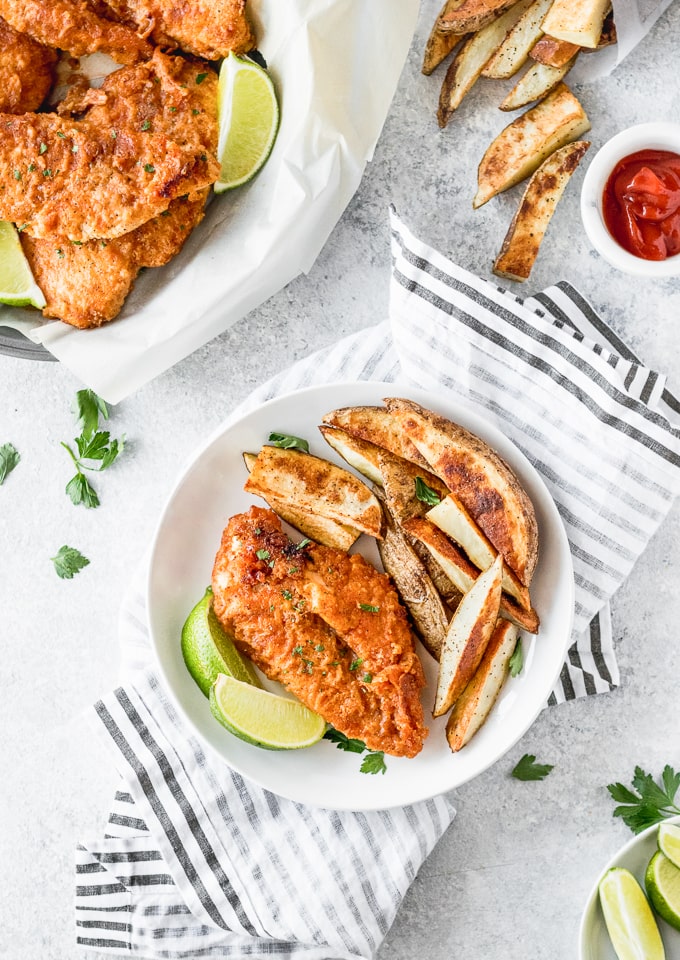 Baked Chicken you can make Year Round
This recipe is so versatile and is a great must-have recipe to have on hand. I think it would be a fabulous base for Chicken Piccata, Chicken Marsala, and especially Chicken Parmesan.
I might just have to try all three! Isn't it wonderful when lightened up recipes turn out as flavorful as the sinful ones? Those are the recipes to hold on to and pass down for generations.
Top Tips for making crispy baked chicken
This Oven Fried Chicken Breast is SO EASY, healthy(er), and yummy. The step by step instructions on the video really show just how simple and fool-proof this recipe is. You guys better give it a try and let me know how you like it!! The outside is crispy and the inside is juicy. What more can you ask for from baked fried chicken?!
FREE CHICKEN E-BOOK

The Cookie Rookie is practically famous for amazing Chicken Recipes, mostly due to this recipe. We have so many other chicken favorites that I hope you check out, and even have a FREE EBOOK for subscribers (click to find out more). I'm here for all your easy chicken recipes needs!

How to Make Oven Baked Fried Chicken
Can you put floured chicken in the oven?
Of course you can! Complete honesty…the skin does come out crispy from the oven but its not as thick as the crispy skin on truly fried chicken. You still want to do the flour coating and all the spices to create a delicious crispy skin on your chicken.
What is the internal temperature when it's done?
Chicken should read 165F internal temperature when they're ready to eat. It's always good to check with a meat thermometer when you're about to take them out of the oven! You don't want to undercook chicken, dangerous! Always good to keep a meat thermometer on hand. See our Meat Temperature Guide for more info!
Do you have other baked and not fried Chicken Breast Recipes you love?
OH YES! I love the versatility of baking chicken instead of frying. I have all kinds of ideas for you!
We have an entire guide to the Best Baked Chicken Recipes, but here are some favorites:
So many amazing options when baking instead of frying! Chicken Recipes for the win!
Watch the video and see the recipe card below for full details on how to make this recipe.