This easy baked fried chicken breast recipe is seasoned and breaded, then baked until crispy. It's so easy to make this simple baked chicken recipe in the oven, and it comes out better than fried (and it's healthier too). Serve it for dinner tonight, or any night of the week!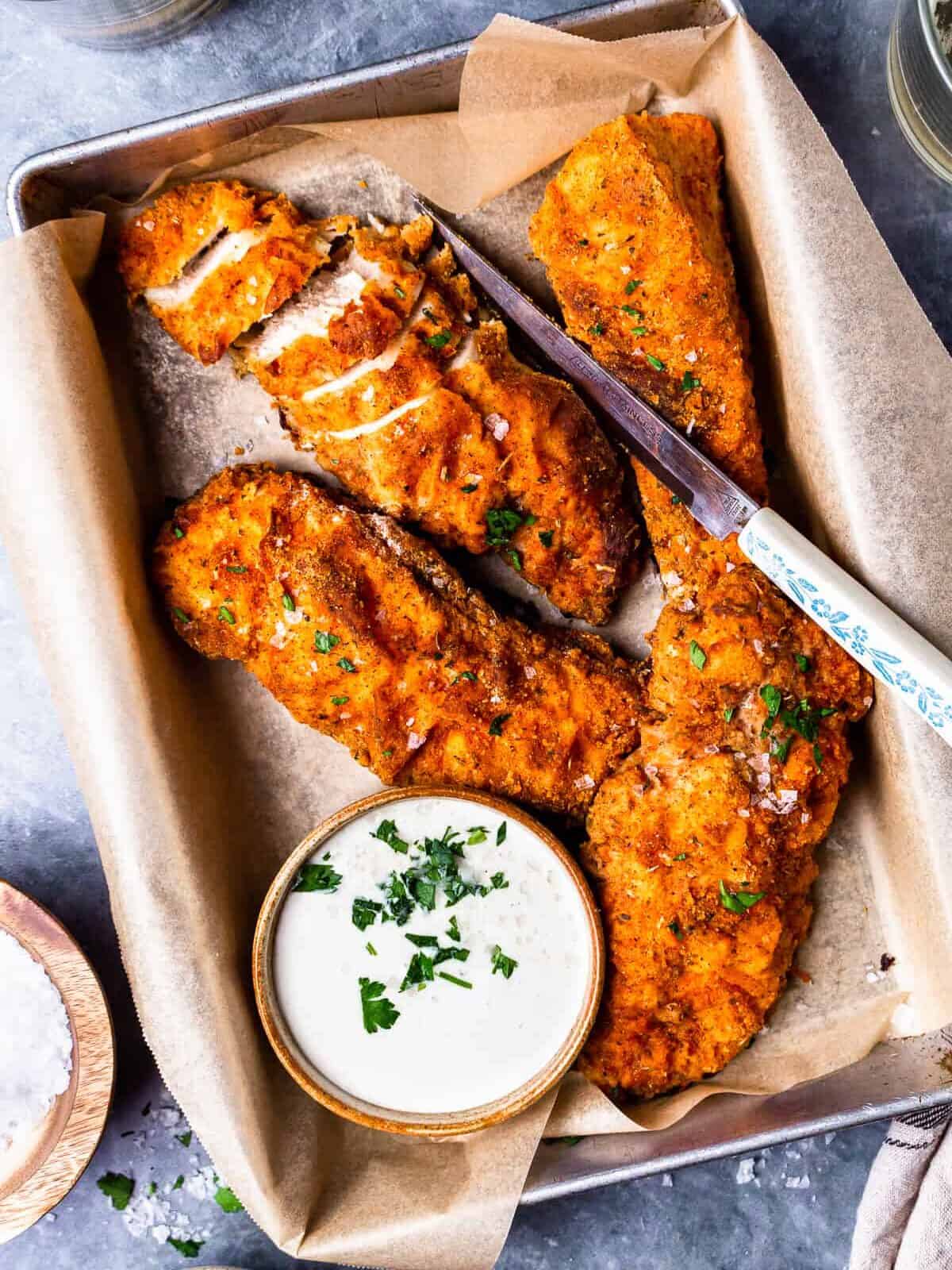 What's in this Easy Baked Fried Chicken Breast recipe?
You only need a handful of simple ingredients to make this easy, crispy, flavorful oven fried chicken.
Chicken: Use skinless, boneless chicken breast for this oven baked recipe.
Buttermilk: Soak chicken in buttermilk before breading and baking. The acidity tenderizes the meat and creates the crispy texture we want. This is the secret ingredient to crispy fried chicken!
Flour: Use all-purpose flour to coat and bread the chicken.
Seasoning: We use a mix of paprika (adds that delicious hint of heat), all-purpose seasoning, and salt and pepper.
Butter: Butter is melted and spread on the bottom of the baking pan to help crisp up the breading.
Tip!
If you don't have buttermilk, you can make your own! Measure 3 cups of milk, then remove 3 tablespoons and mix in 3 tablespoons of lemon juice or white vinegar (this adds acidity). Let this mixture sit for 5 minutes before using in the recipe.
Can I make oven fried chicken with thighs or drumsticks instead?
Absolutely! If you want to make oven fried chicken with thighs, drumsticks, or wings, you can use those pieces too. Just coat them and bake as directed. If you use bone-in pieces, you will need to increase the baking time. Be sure the internal temp reaches 165°F.
If you are using a variety of pieces, check the breasts and take them out as soon as they're ready. They'll dry out the fastest, whereas thighs will need a bit longer to cook.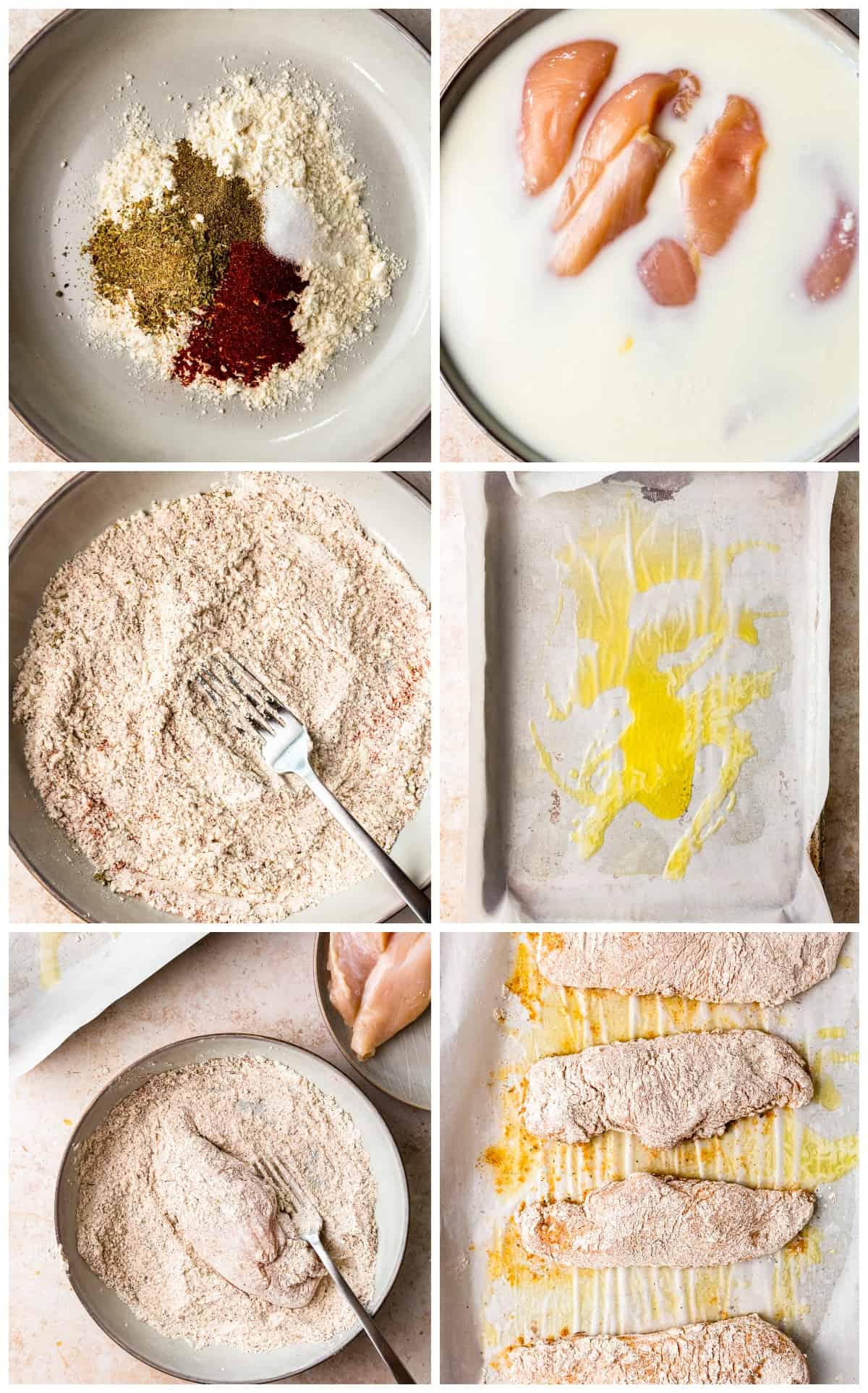 How do you coat breaded chicken when cooking in the oven?
After marinating the chicken in buttermilk, coat all sides in the seasoned flour mixture. The buttermilk should help the flour stick.
Why do you marinate chicken in buttermilk before baking?
Marinating the chicken breast in buttermilk helps break down enzymes so that the meat becomes more tender. It's common practice to soak chicken in milk when making Southern-fried chicken, although sometimes it's marinated overnight. 20 minutes is enough for this quick and easy recipe! The milk also helps the flour mixture to stick.
How long do you bake chicken breast in the oven?
Bake chicken breast in the oven for 35-40 minutes at 400°F to make it crispy. Flip it over halfway through cooking time.
Can you put floured chicken in the oven?
Yes! Even when baking instead of frying, you still want to do the flour breading and all the spices to create a delicious crispy skin on your chicken.
What is all-purpose seasoning?
This seasoning blend typically contains salt, pepper, garlic and onion powder, and other things like parsley and paprika. It's a delicious savory spice blend that works great for chicken!
How do you make chicken breast crispy in the oven?
1. Remove excess moisture from the buttermilk marinade by patting the chicken dry. 2. Leave room between pieces of chicken on the baking pan. 3. Spread melted butter on the bottom of the pan. 4. Flip the chicken over halfway through cooking time.
What is the internal temperature for chicken breast?
Chicken breast should always reach an internal temperature of 165°F before consuming.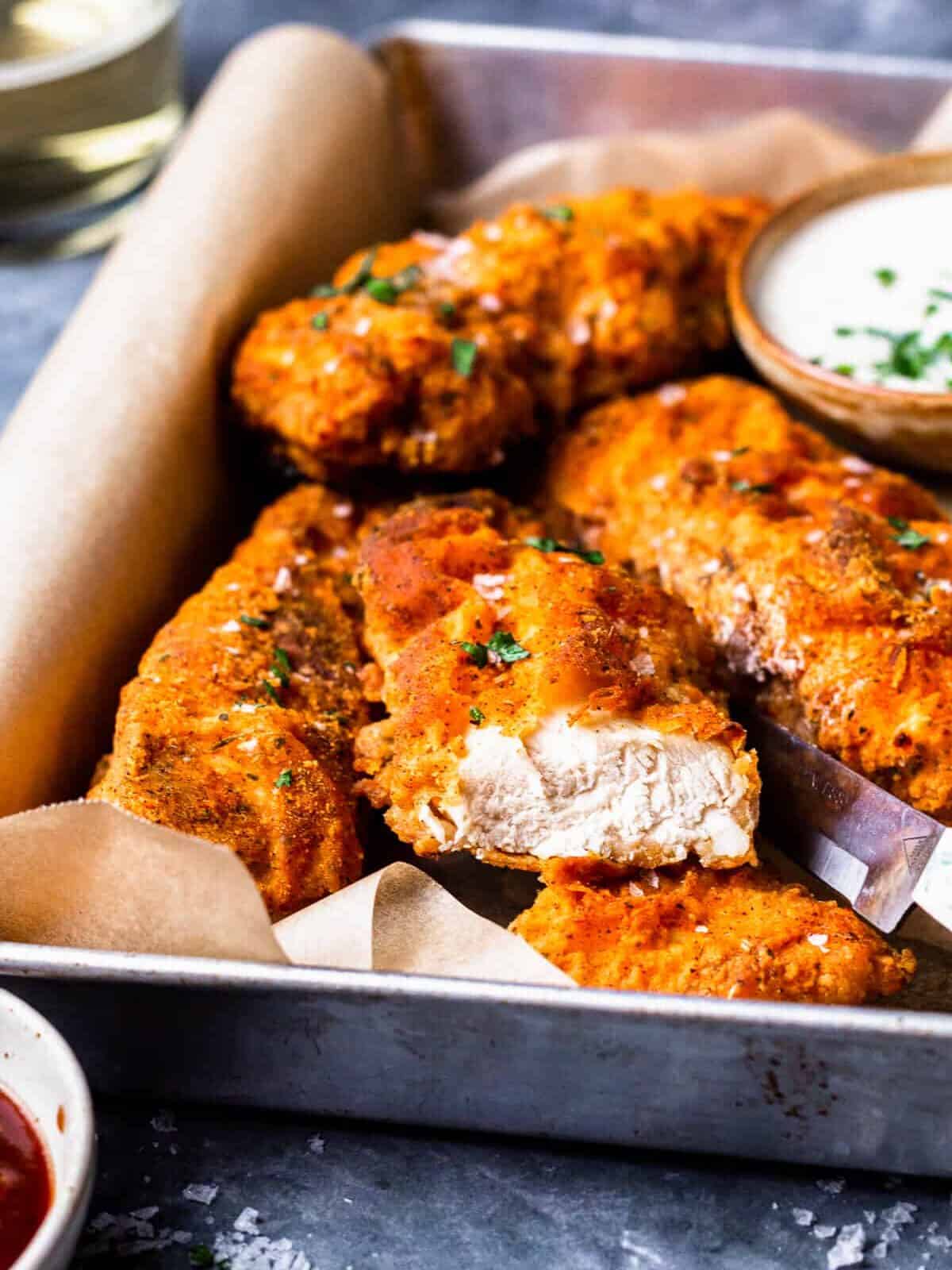 How to Store and Reheat
Store leftovers in an airtight container or resealable bag, and keep in the refrigerator up to 3 days.
I recommend wrapping each piece in foil, or layering pieces with paper towels to soak up any moisture that might collect in the fridge. This will help to keep the breading nice and crispy.
To reheat, place pieces in the oven at 350F until fully cooked through.
How to Freeze Baked Chicken Breast
To freeze, wrap pieces of chicken in foil, then place in a freezer-safe, resealable bag. Freeze up to 3 months. Thaw in the fridge before reheating.
What to Serve with Crispy Chicken Breast
This easy chicken breast recipe goes with any and all of your favorite side dishes. If you want a classic fried chicken kind of dinner, make these potato wedges or some creamy mashed potatoes. This corn casserole and creamed green beans make great sides too.
And don't forget these homemade buttermilk biscuits, served with honey butter. It'll be the whole family's favorite meal!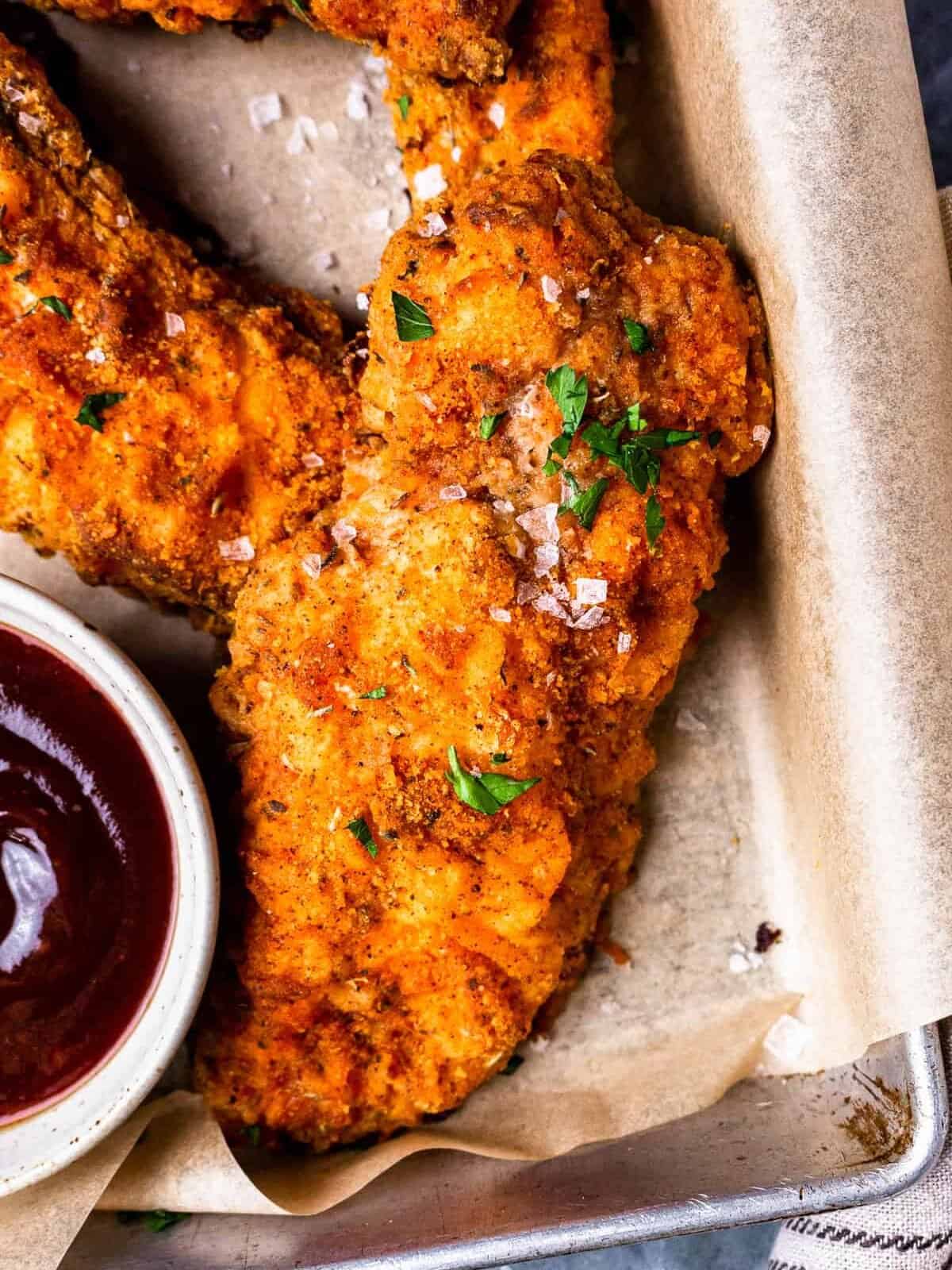 Looking for more crispy chicken recipes? You'll love this Air Fryer Fried Chicken, and this copycat KFC recipe!
If you make this recipe be sure to upload a photo in the comment section below or leave a rating. Enjoy! You can also jump to recipe.