This cauliflower au gratin recipe is the perfect cheesy side dish for the holidays. Deliciously creamy, this vegetable side dish is topped with herbed breadcrumbs for a crunchy topping.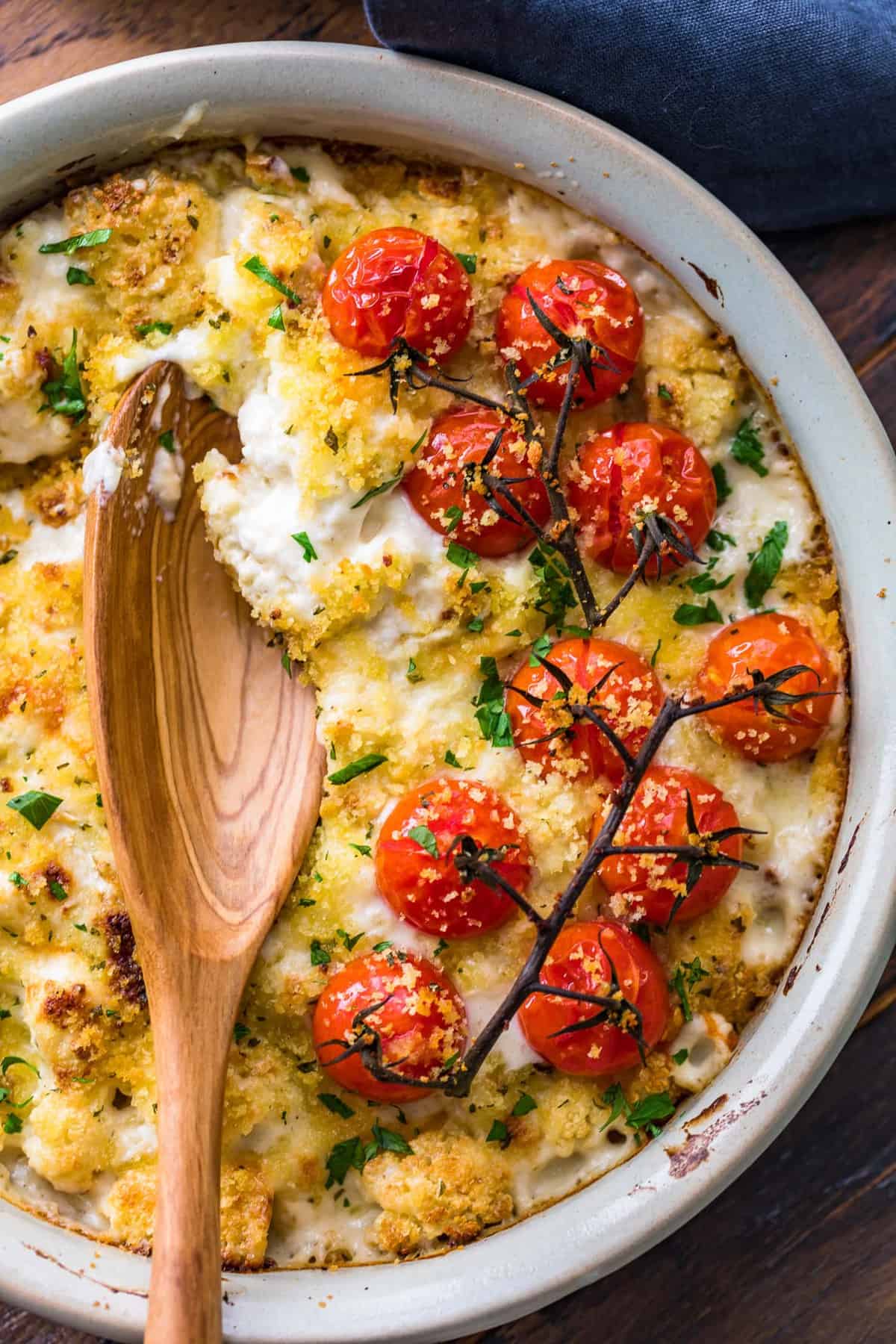 When it comes to side dishes for Thanksgiving and Christmas, there just has to be one that is incredibly cheesy, and that's what I'm bringing you today! This is not just any side dish, and believe me when I tell you, this is a real crowd pleaser!
How To Make This Cheesy Cauliflower Au Gratin Recipe
FOR THE HERBED BREADCRUMB MIXTURE:
Tear the bread into fourths and place bread, 1 tablespoon grated Parmesan, 2 tablespoons Gruyere and dried herbs in a food processor fitted with the metal blade. Pulse 4-6 times until coarse crumbs form. Drizzle in the olive oil and pulse 2-3 more times or until the breadcrumbs are coated; set aside.
FOR THE CAULIFLOWER AU GRATIN:
Heat oven to 400°F and adjust the oven rack to middle position. Line a rimmed baking sheet with foil, and spray the foil with nonstick cooking spray. Spray an 8x11x2-inch baking dish with nonstick cooking spray; set aside.

Place the cauliflower florets on the prepared rimmed baking sheet and drizzle with 2 tablespoons olive oil; mix to coat. Cook the cauliflower at 400°F until lightly browned and tender or 15-20 minutes, turning after 10 minutes. When tender, remove from the oven and set aside.

While the cauliflower cooks, melt 2 tablespoons butter in medium-sized saucepan over low heat. Sprinkle the butter with flour and stir continuously for 2 minutes.

Pour hot milk over the butter-flour mixture, whisking continuously, until the mixture boils and thickens (1-2 minutes).

Remove the mixture from the heat, and add (while whisking constantly) ½ teaspoon kosher salt, black pepper, nutmeg, ½ cup grated Gruyere and Parmesan. Whisk until smooth.

Pour 1/3 sauce over the bottom of the prepared baking dish and layer the roasted cauliflower, evenly, over the sauce. Spread the remaining cheese sauce evenly over the cauliflower.

Set the tomato vines (or tomatoes) over the cauliflower/cheese mixture, and evenly sprinkle the breadcrumb mixture over the top. Drizzle the remaining 2 tablespoons melted butter over the top.

Bake at 400°F, 25-30, minutes or until bubbly and golden brown on top.

Serve the cauliflower gratin immediately or at room temperature.

Enjoy!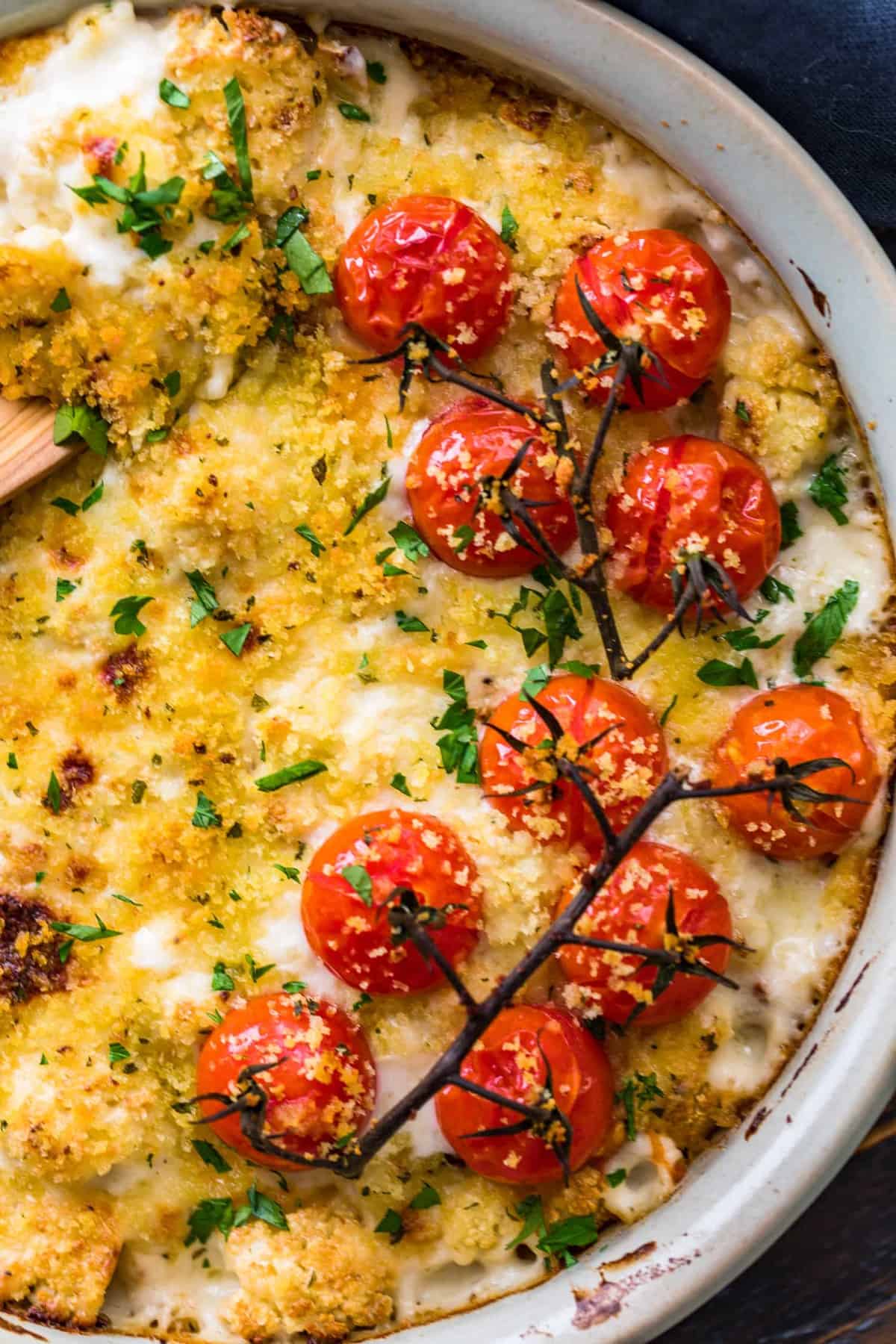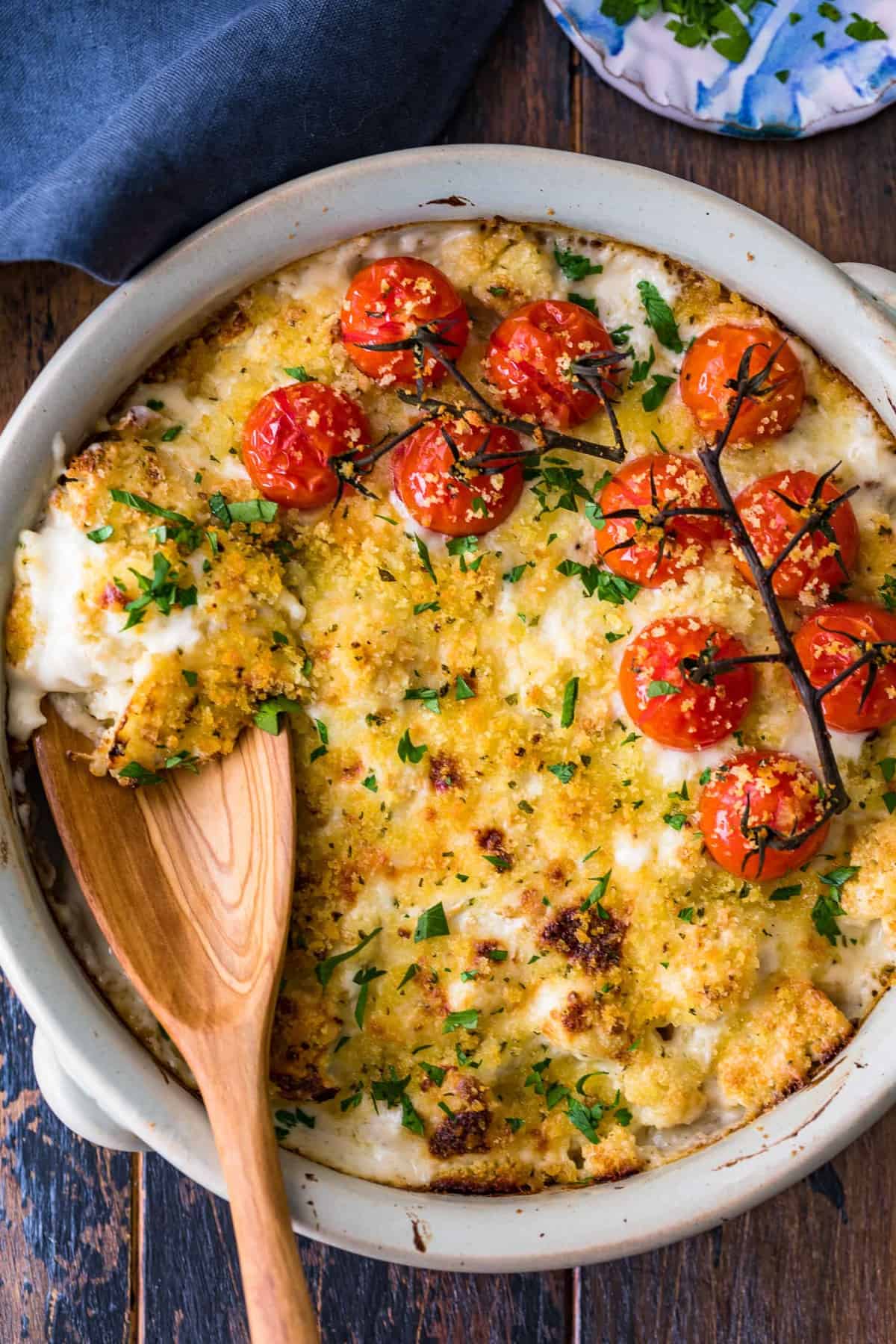 What is a gratin?
Gratin's originated in France, and in simple terms it is an ingredient (in this case cauliflower) which is topped with breadcrumbs and cheese and baked in a shallow dish. They are creamy side dishes that are served to the table in the dish that they are baked in.
What do you serve with cauliflower gratin?
Gratin isn't just for the holidays! This vegetable side dish takes around 45 minutes to make, so it can easily accompany a weeknight meal. It's great with fish, ribs, beef and chicken. Try it with: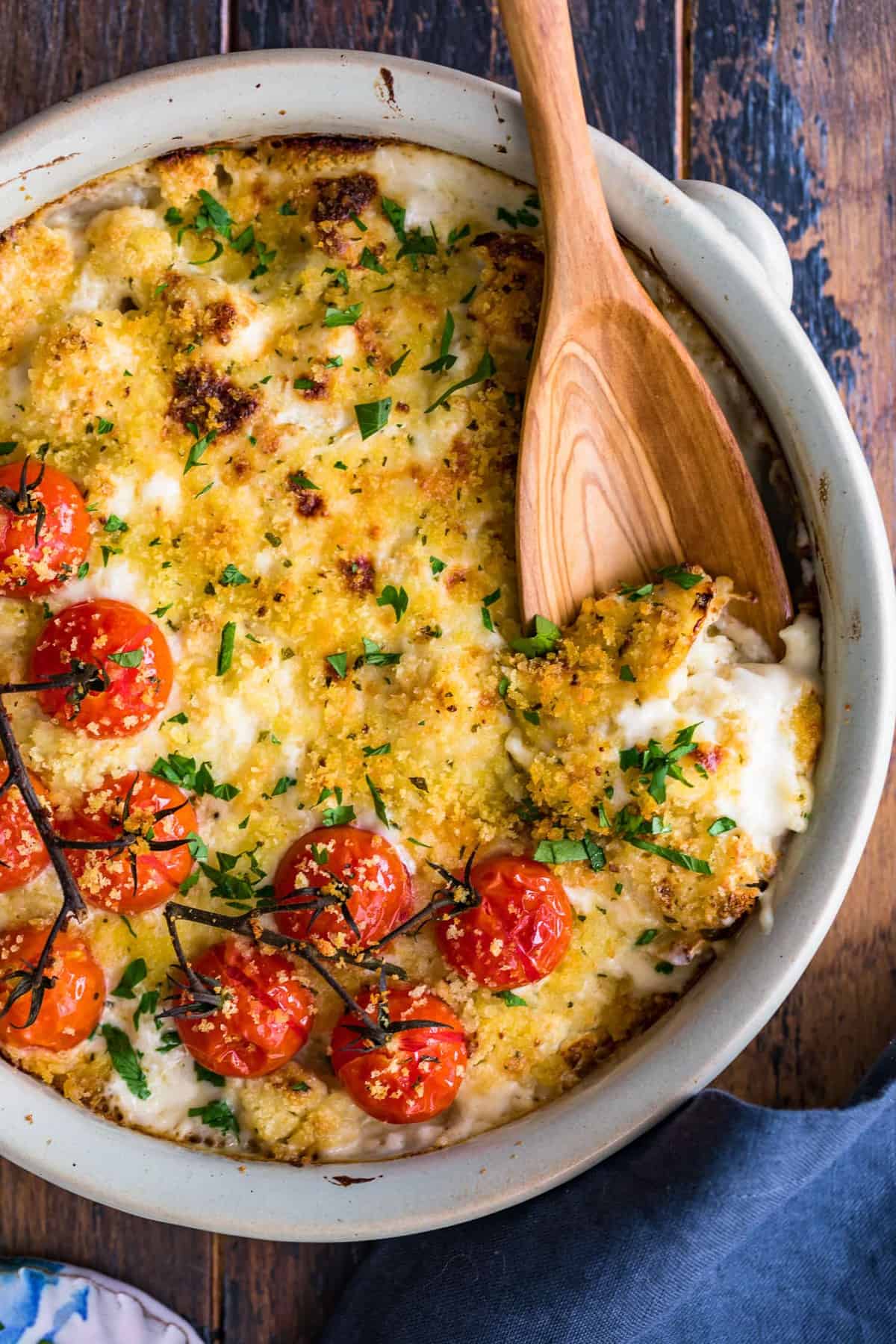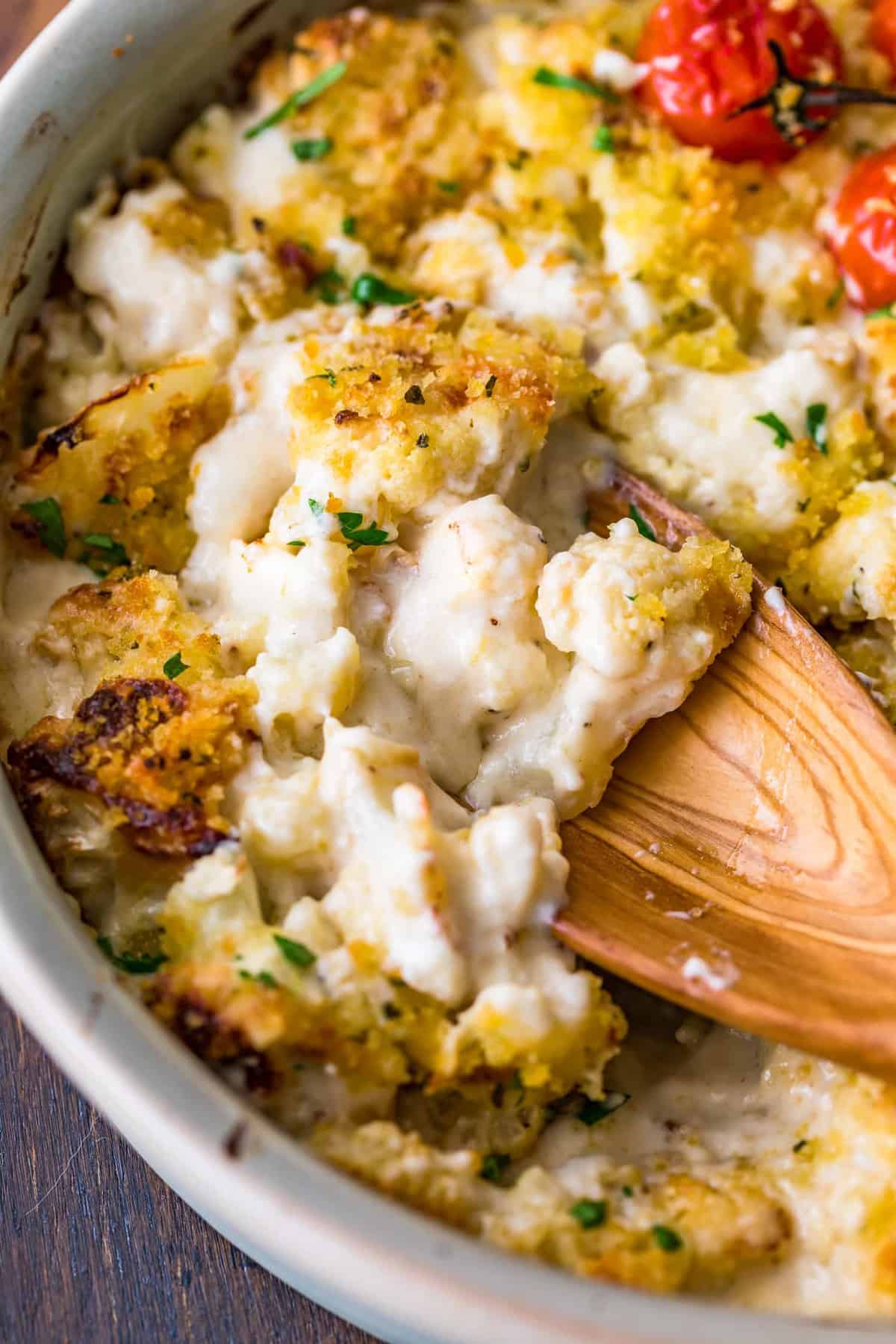 Can This Cauliflower Gratin Be Made In Advance?
A gratin makes for a great holiday dish as it can be prepped a day in advance. Prepare the whole dish, then cover tightly in plastic wrap and store in the fridge. You can then cook it the next day before serving. It is best served immediately after cooking, but any leftovers can be kept covered and reheated.
Top Tips To Make This Cheesy Cauliflower Gratin Recipe
It's best to use stale bread for the topping.
Cut the cauliflower into even pieces so that it cooks evenly.
Bake in a pre-heated oven for the best results.
You can prpeare the gratin a day ahead of tie and store any leftovers in an airtight container in the fridge.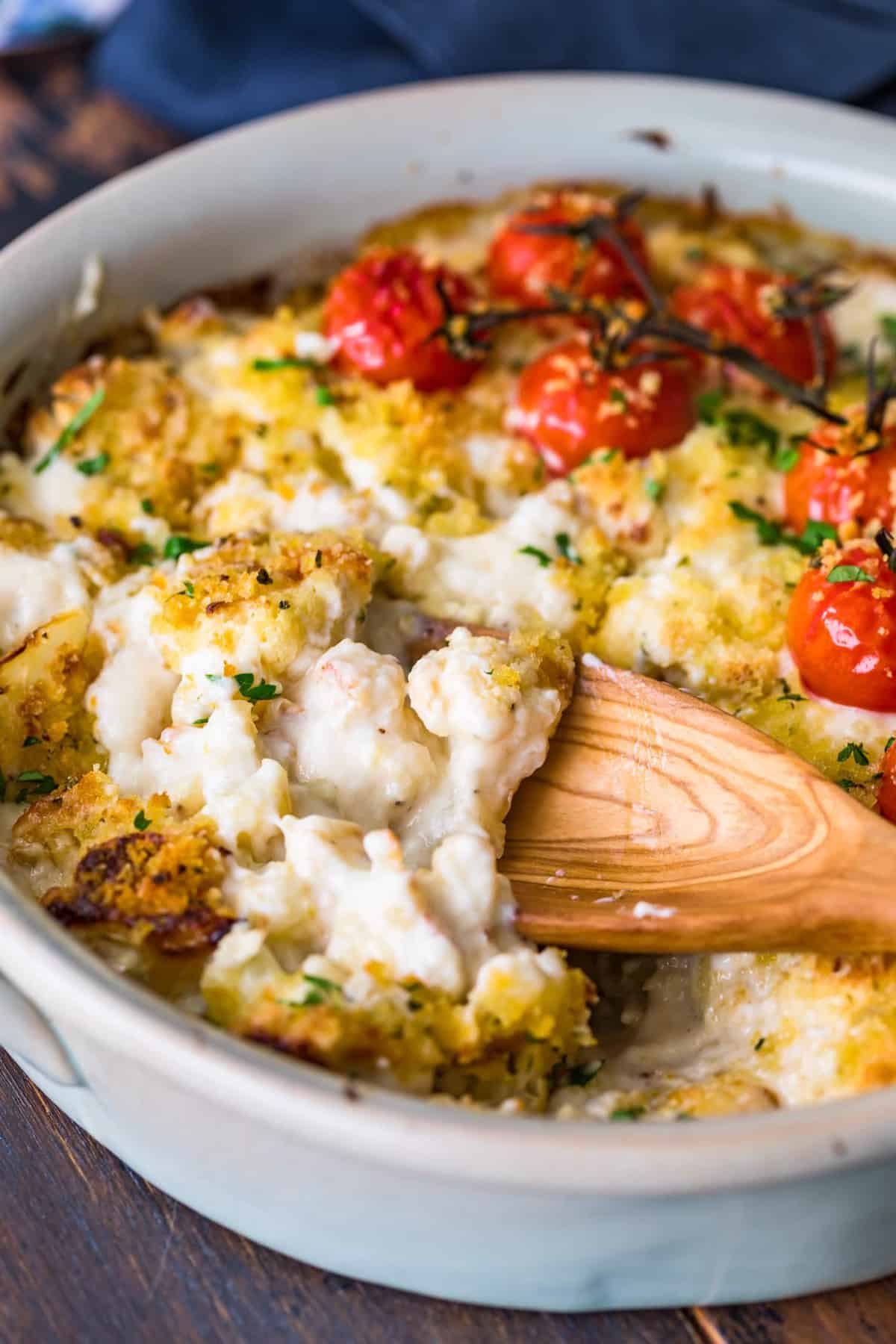 Friendsgiving
We decided to partner with two of our FAVORITE bloggers to come up with a fun Friendsgiving menu using this Gratin Recipe! I hope you'll also check out their amazing recipes. I cannot wait to try them myself!
Best Green Bean Casserole from A Couple Cooks: This healthy spin on the most classic Thanksgiving side dish (of all time) is just simply to die for. Made with fresh green beans, real mushrooms, parmesan cheese, sour cream, and more; what's not to love!
Pecan Pie Cobbler from Well Plated: YOU HEARD THAT RIGHT!!! Doesn't that just sound amazingly delicious? I kinda want to face-plant right in!
Click on either image to check out the recipes. Happy Friendsgiving!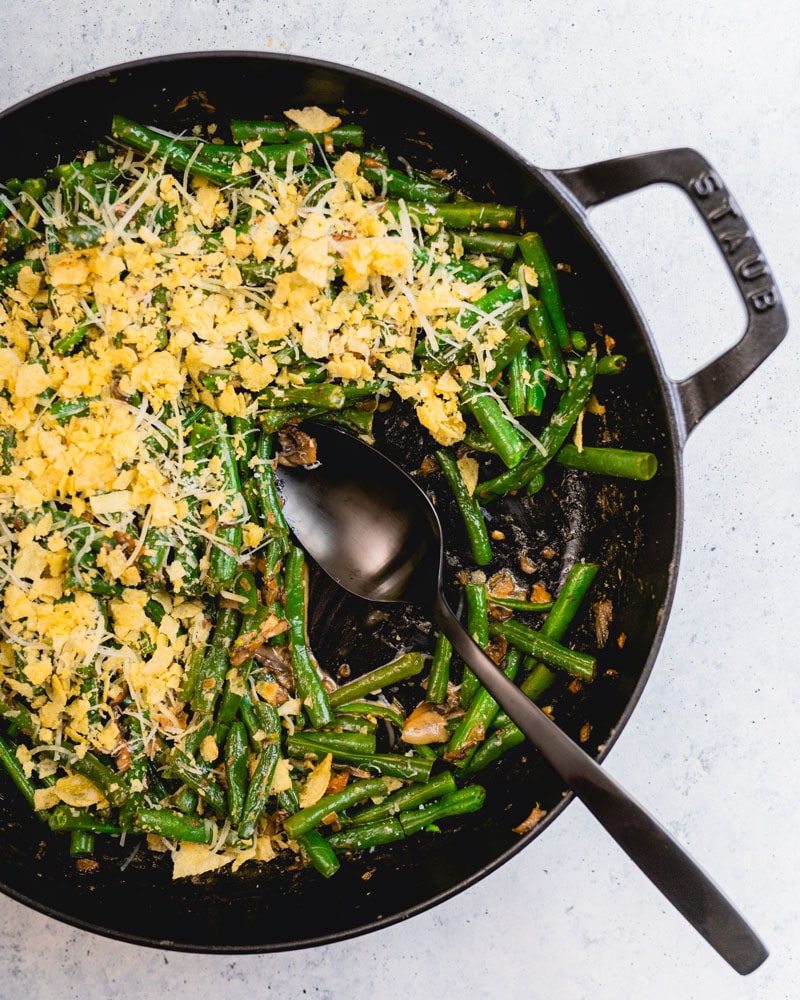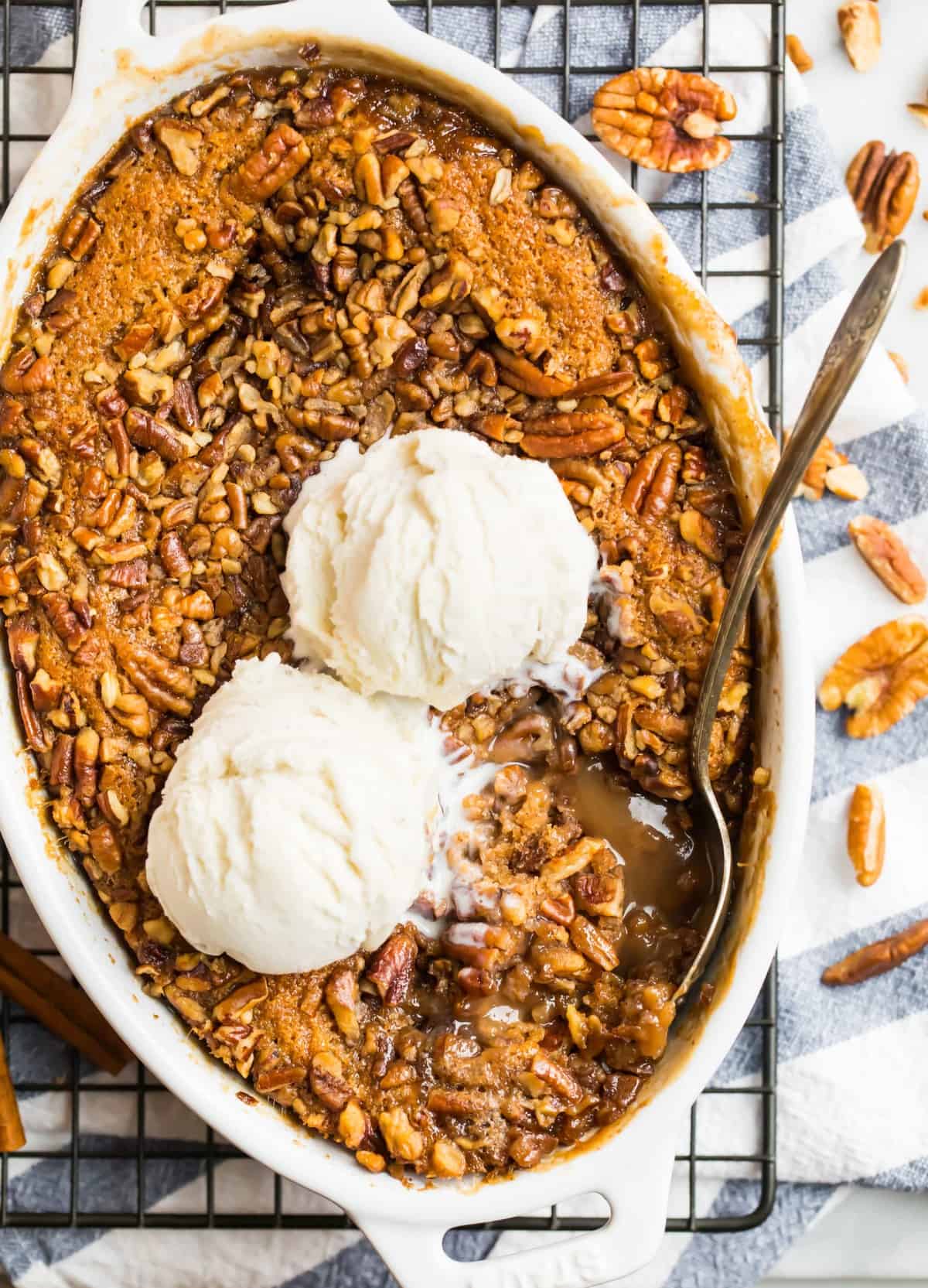 For more cheesy side dish recipes: