This delicious Zucchini Au Gratin Recipe is a great rice based side dish that's perfect to serve throughout the holidays. This amazing zucchini casserole is deliciously cheesy and can be made ahead of time.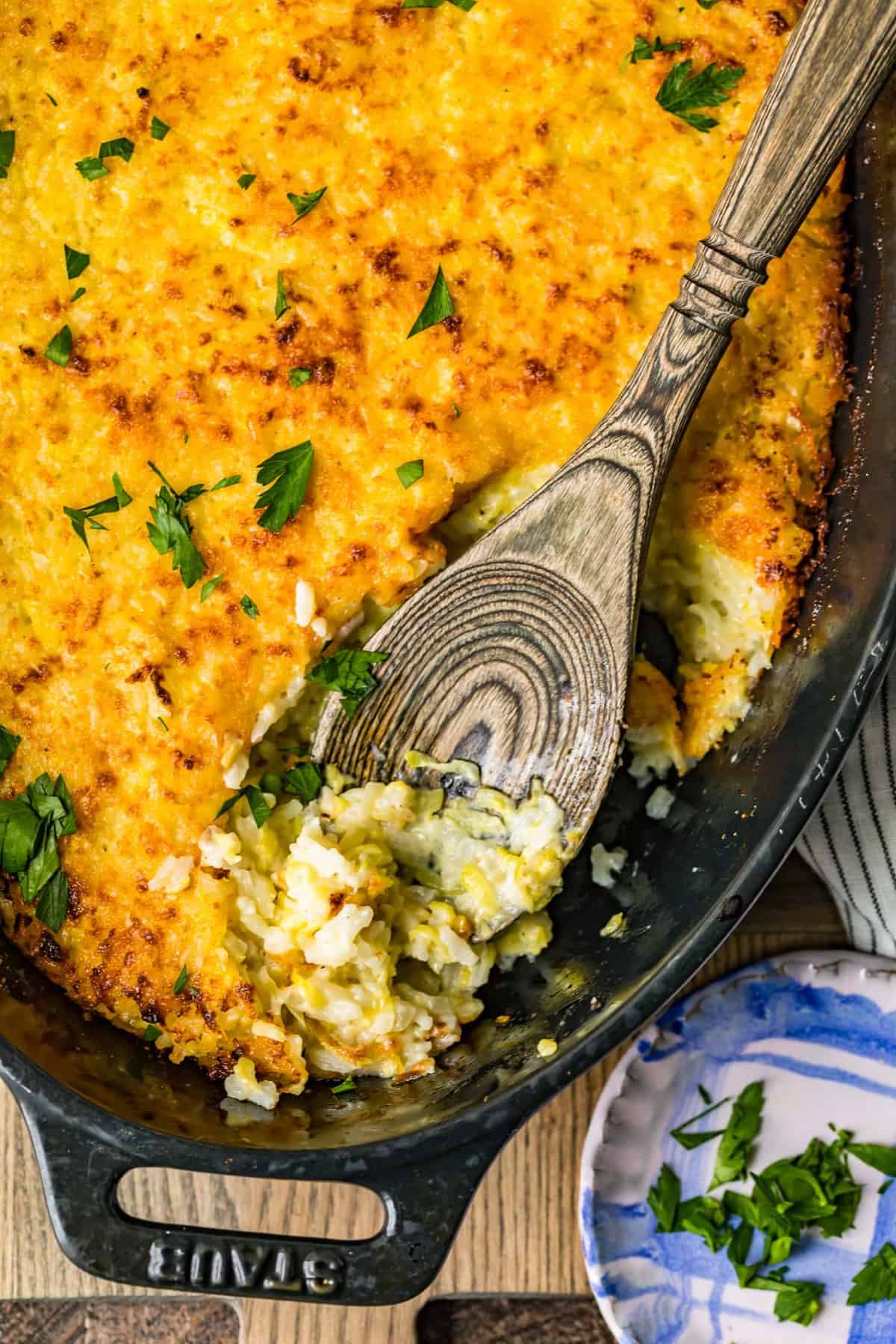 Holiday meals are all about the side dishes for me! You can have so much fun with them and get really inventive! This zucchini gratin is everything a side dish should be – comforting, cheesy and packed full of flavor. This has to make an appearance on your table this year!
How To Make This Zucchini Au Gratin Recipe (Cheesy Zucchini Tian)
It looks like a lot of instructions, but this dish only takes 20 minutes to prep!
Spray a large (8-10 casserole dish with nonstick cooking spray.

Heat oven to 400°F and position oven rack to upper third position.
TO PREP THE ZUCCHINI FOR THE GRATIN:
Cut off the stem and tip from each zucchini. Gently scrub the zucchini and peel, if desired (important if using larger, tougher zucchini). *See note.

If available, use a food processor to grate the zucchini. If a food processor isn't available, rub the zucchini against the coarse side of a grater. Place the grated zucchini in a large colander set over a large bowl. Sprinkle 1-teaspoon kosher salt over the zucchini and toss together until mixed thoroughly. Allow the squash to drain at least 10 minutes (or even overnight (covered). Line a large baking sheet with 3 layers of paper towels. Remove the colander from the bowl and squeeze the grated zucchini, one handful at-a-time, over the bowl with the reserved zucchini juice. Place the squeezed zucchini on the prepared baking sheet and repeat until excess juice has been drained from all the zucchini. Cover the zucchini with 2 layers of paper towels and press down; set the zucchini aside until ready to cook.

While the zucchini rests, cook the rice according to package directions EXCEPT cook the rice 5 minutes less than directed. Remove the rice from the heat and stir.

While the rice cooks, heat a large skillet over medium-low heat and add 3 tablespoons oil. When the oil is hot, add the diced onion and cook 8-10 minutes or until tender, translucent and beginning to brown lightly.

Add the minced garlic and, while stirring, cook an additional 30 seconds.

Add the dried zucchini and mix well. Cook 5-6 minutes or until the zucchini is almost tender.

Sprinkle the zucchini with the flour and mix well. Cook (and sti2 more minutes. Remove from the heat.

Heat the milk and 1 cup reserved zucchini juice in the microwave (or stovetojust until warm. Add the milk/juice to the zucchini mixture and stir until incorporated.

Set the pan over medium-low heat and add the par-cooked rice. Stir and cook about 5 minutes or until most of the excess liquid has reduced. Watch closely so it doesn't scorch.

Remove from the heat and add ¾ cup grated Parmesan cheese. Stir well and season to taste with kosher salt & freshly ground black pepper, if needed.

Transfer zucchini/rice mixture to prepared dish, sprinkle evenly with reserved ¼ cup grated Parmesan and drizzle with olive oil.

Bake 30-40 minutes at 400°F or until bubbly throughout and top is golden brown. (If the casserole looks heated through and bubbly, but the top is still somewhat pale, set the oven to broil and cook another 2-3 minutes. Watch very closely until the zucchini gratin is golden brown and gorgeous on top.

Enjoy!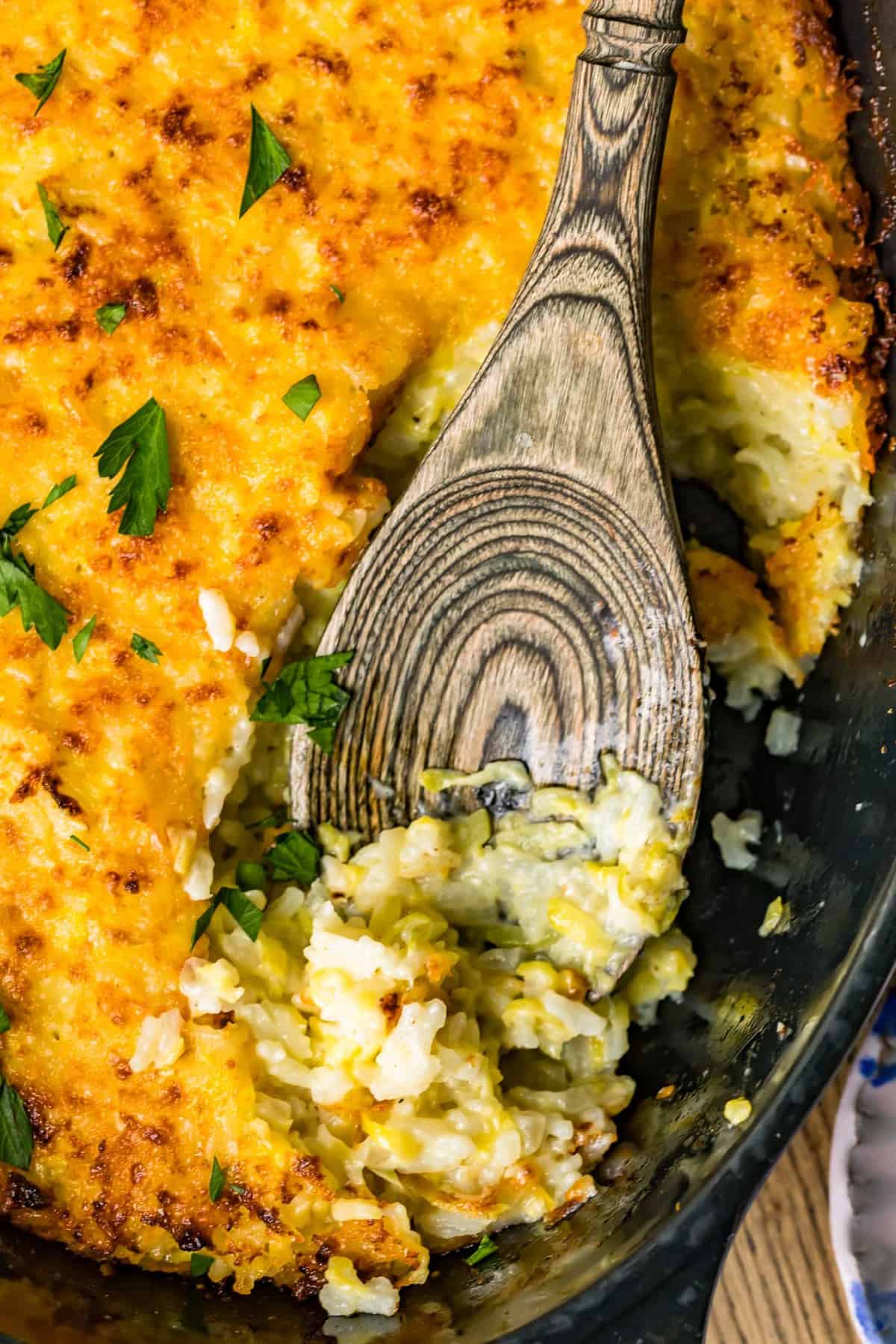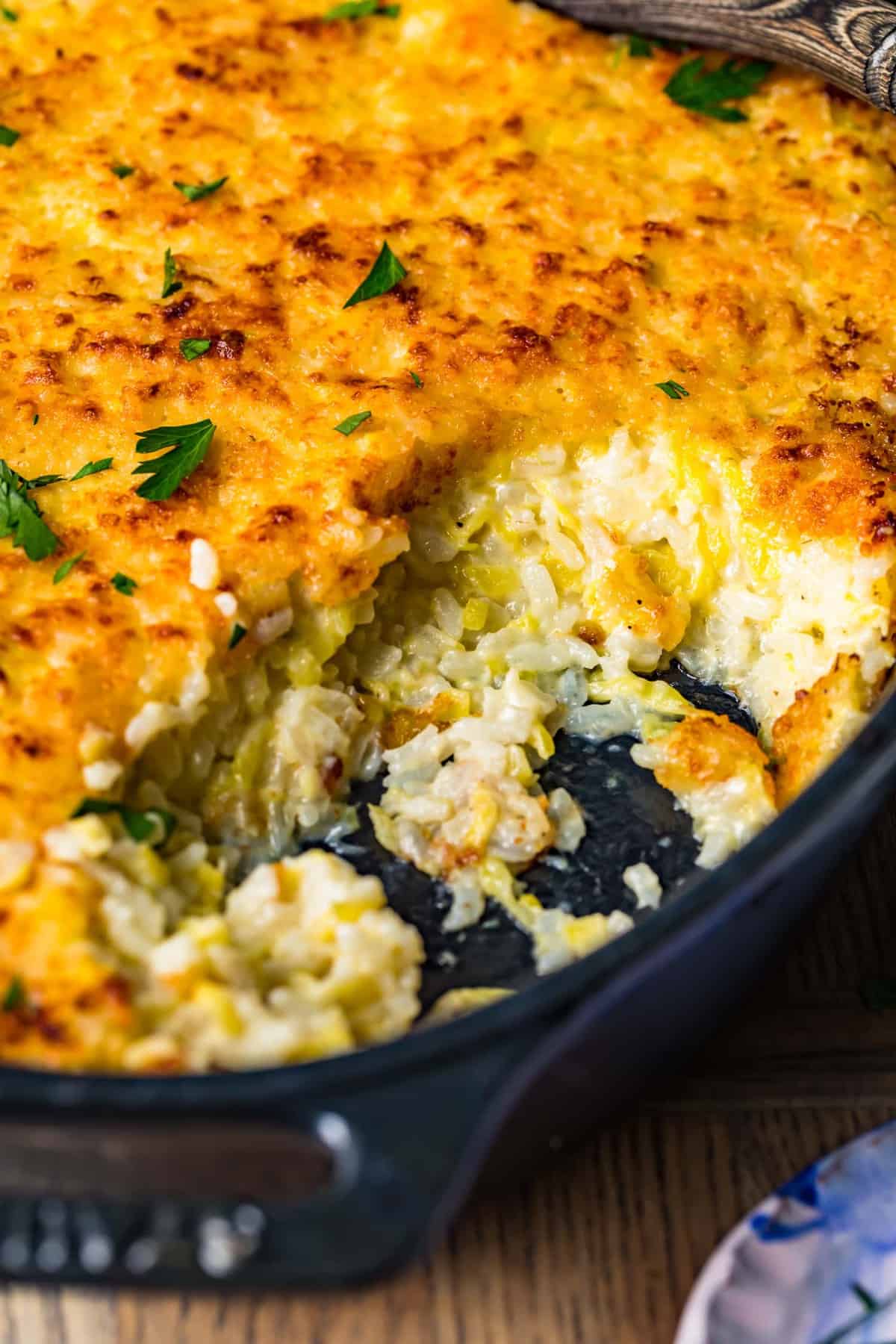 What To Serve With Zucchini Gratin?
This heart and comforting side dish is great to serve with all of your favorite holiday meals. I like to serve it straight in the dish to the table so everyone can help themselves. Serve it up with:
What Is A Tian?
This zucchini gratin is cooked in a tian, an earthenware baking dish that is used to cook and serve. If you don't have an authentic French tian, you can use an ovenproof casserole dish or oven safe glass dish.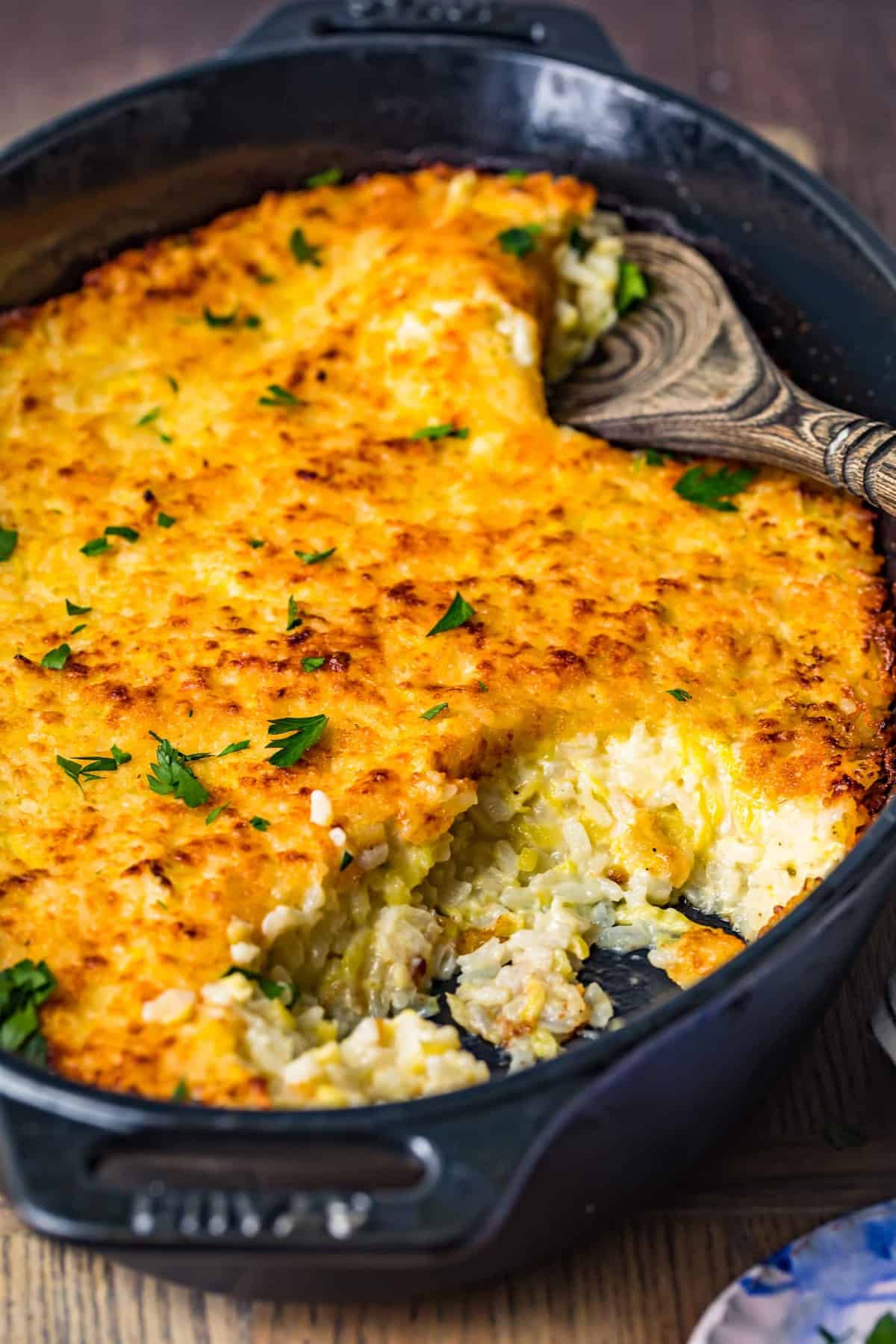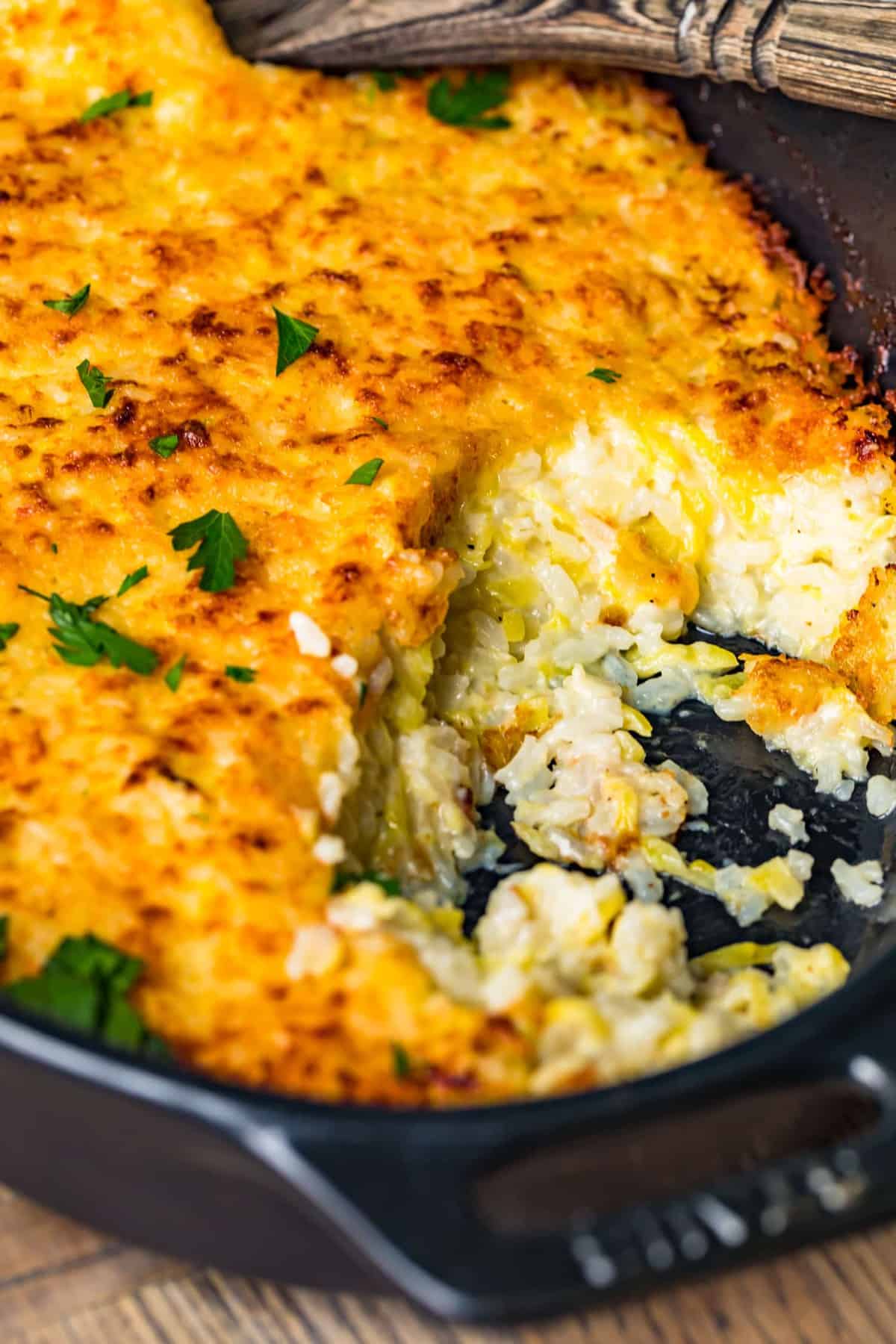 Is Zucchini Gratin Healthy?
Let's be honest, the holidays aren't really the time to be thinking about being healthy ha ha! This dish however, is a great way to get some extra veggies into your meal and I like to serve up a veggie gratin rather than a potato one. One generous serving is under 300 calories and you are getting a good amount of vitamins and minerals from those yummy zucchini.
Top Tips To Make Zucchini Gratin
Be sure to grease the dish before adding the ingredients for easy removal.
You can build the dish ahead of time and then keep it covered in the fridge until you are ready to cook it. Alternatively, you can cook it ahead of time and reheat it in the oven when you are ready to serve.
Really squeeze the liquid out of your zucchini so you don't have a runny gratin.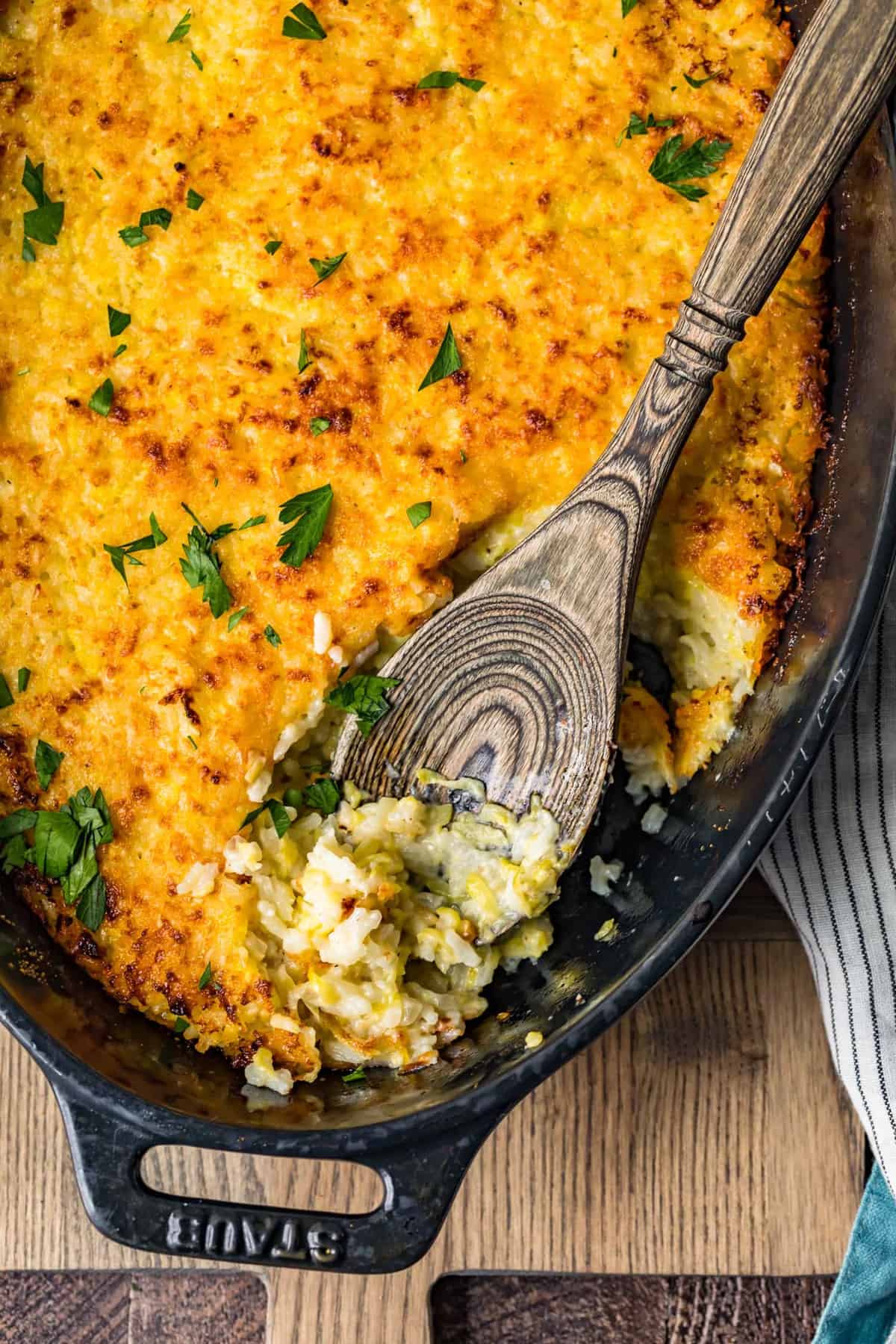 Be Sure To Check Out These Other Delicious Zucchini Recipes!