Garlic Butter Salmon is a simple and healthy dish you'll want to be making all summer long! This easy grilled salmon recipe is one of the best and most flavorful. The garlic lemon butter salmon is so light and tasty, and it is just perfect paired with our grilled lemon butter asparagus! We made this Grilled Salmon SUPER EASY by using I Can't Believe It's Not Butter!® for both adding buttery goodness and also making sure that grill doesn't stick. Genius!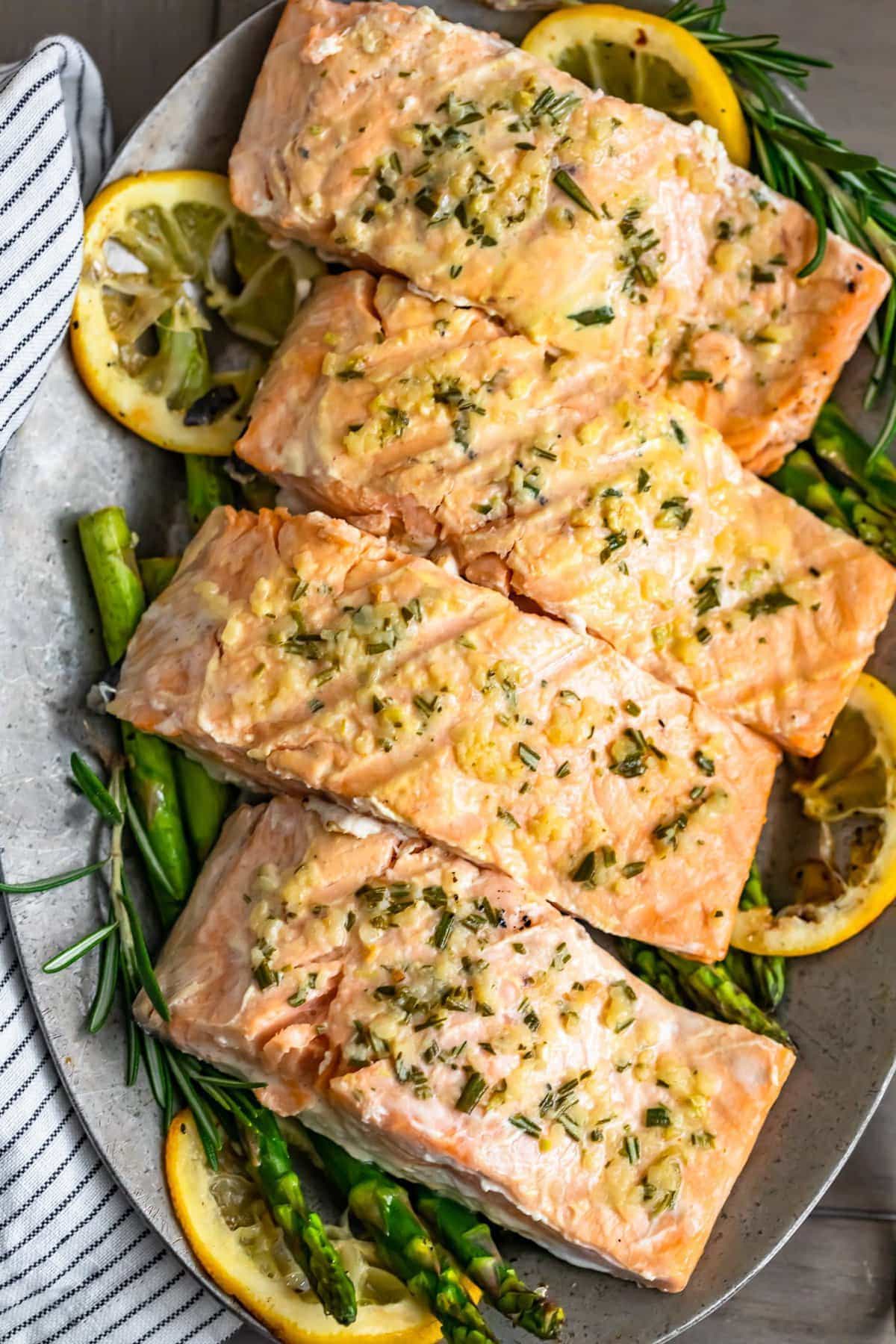 Garlic Butter Salmon
Looking for an easy grilled salmon recipe to make this summer? Then you're going to love this delicious Garlic Butter Salmon!
With summer on the horizon, I am so ready to start grilling. But warm weather also means I'm trying to eat healthy and as many fresh foods as possible. The perfect thing for that is a grilled salmon recipe!
Salmon is healthy, delicious, and easy to make, so it's the best thing for this time of year. I'm making this amazing Garlic Butter Salmon, with a mix of rosemary, garlic, lemon juice, and a special buttery ingredient. It takes about 15 minutes to make this dish, and you can serve it with our favorite lemon butter grilled asparagus recipe for a full meal.
I can't wait to start grilling every night, and this Garlic Lemon Butter Salmon is a great place to start! Thank goodness for I Can't Believe It's Not Butter!®, making this recipe even simpler (and more delicious) than it would have been otherwise!
Get the grill out and make this healthy, delicious Garlic Butter Salmon for dinner!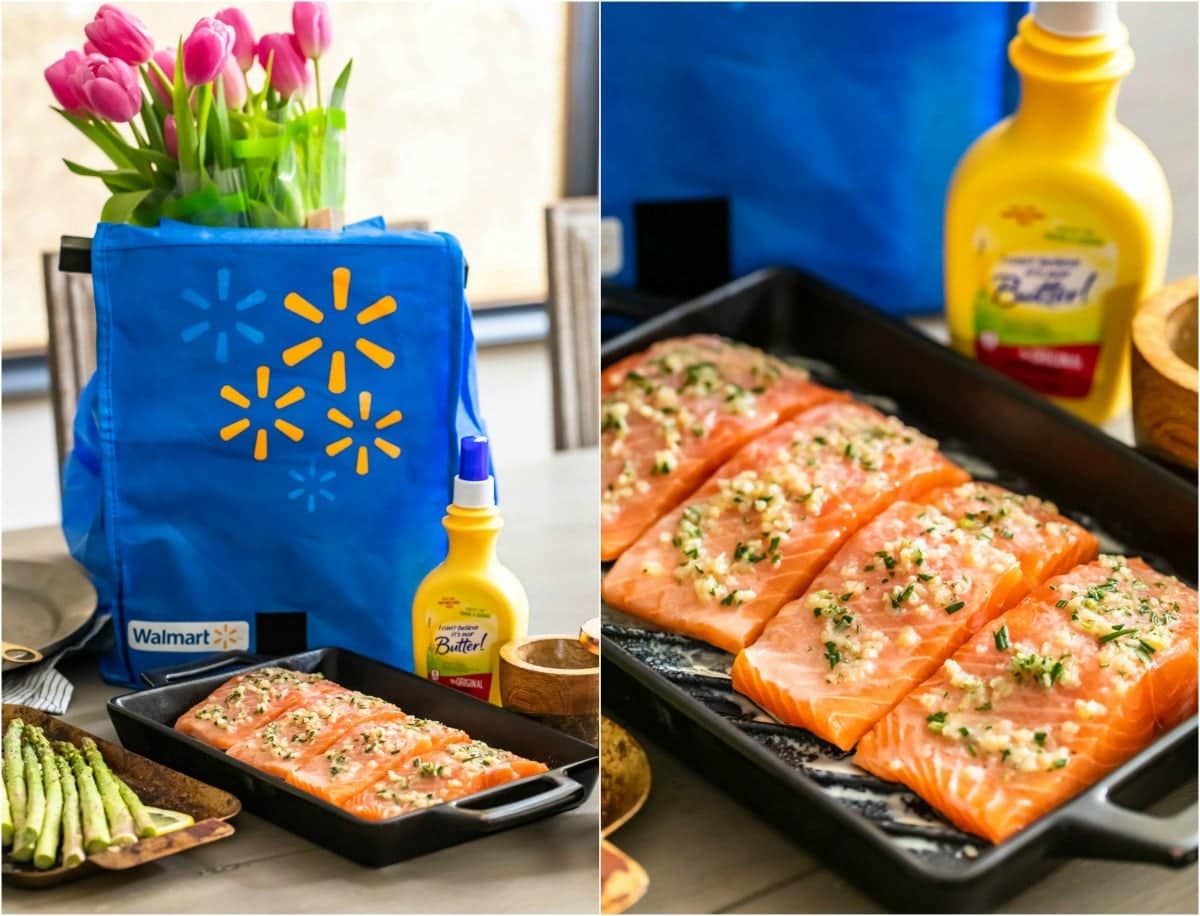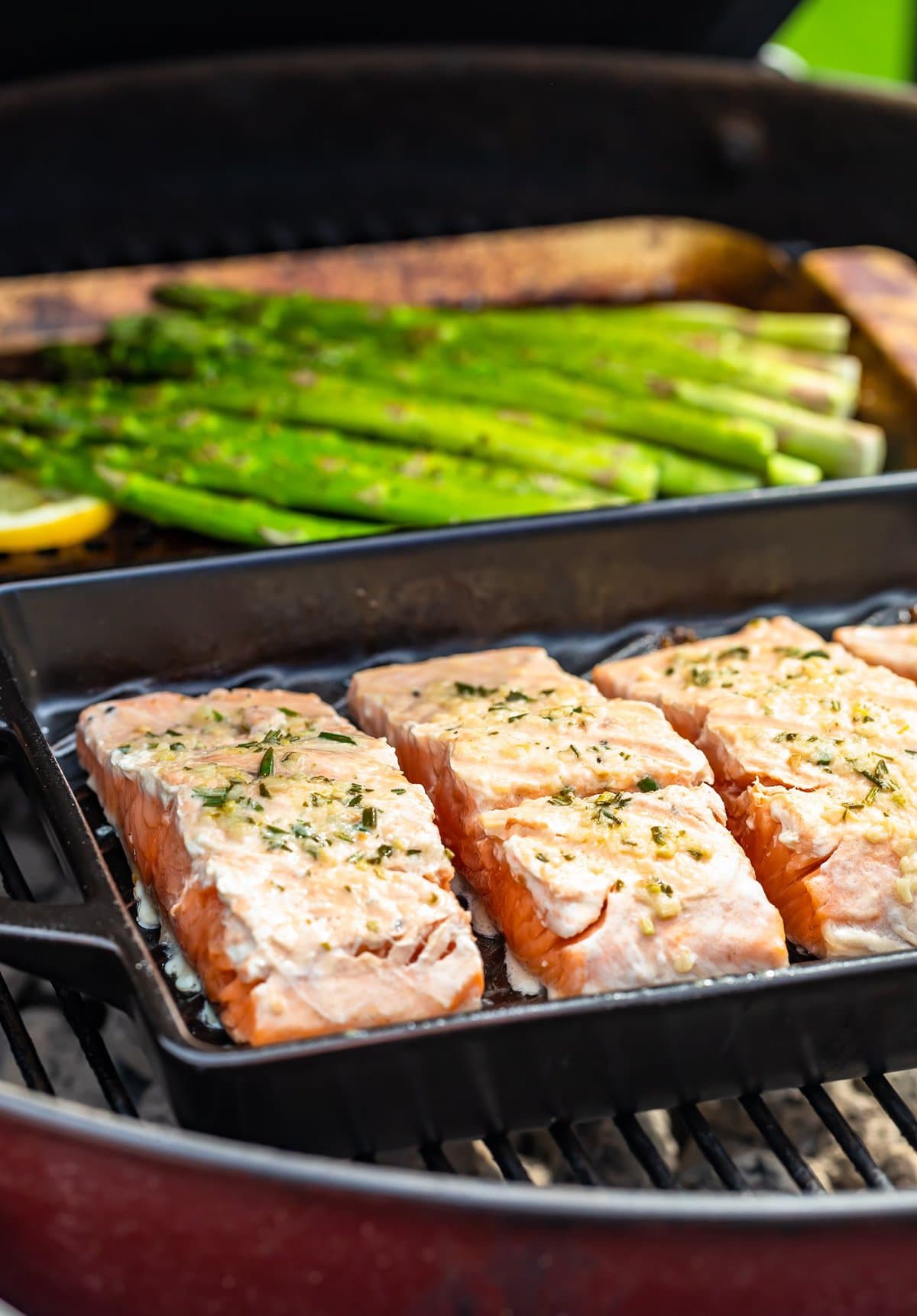 Easy Grilled Salmon with I Can't Believe It's Not Butter!
To give this Salmon that buttery goodness we LOVE while also keeping things better for you, I used I Can't Believe It's Not Butter! Original Spray. I'm OBSESSED with this spray. It's so easy, delicious, and versatile. For outdoor grilling, its simply perfect for both spraying the grill/grill pan and also adding so much flavor and goodness to your recipe!
I Can't Believe It's Not Butter! is one of my favorite ways to add the flavor of butter to recipes without the calories or fat. I Can't Believe It's Not Butter! has:
Virtually 0 Calories! (Only 5 calories per 7 pumps)
0 grams of fat per serving
0 cholesterol
0 sodium
0 trans fat
100% buttery taste (is it cliché to say I can't believe it?!)
I especially love that this compact bottle leads to zero clean up and is so easy to use. That's right up my alley. Just in time for Summer. I'm so excited!
You can find it at your local Walmart in the Butter/Margarine aisle.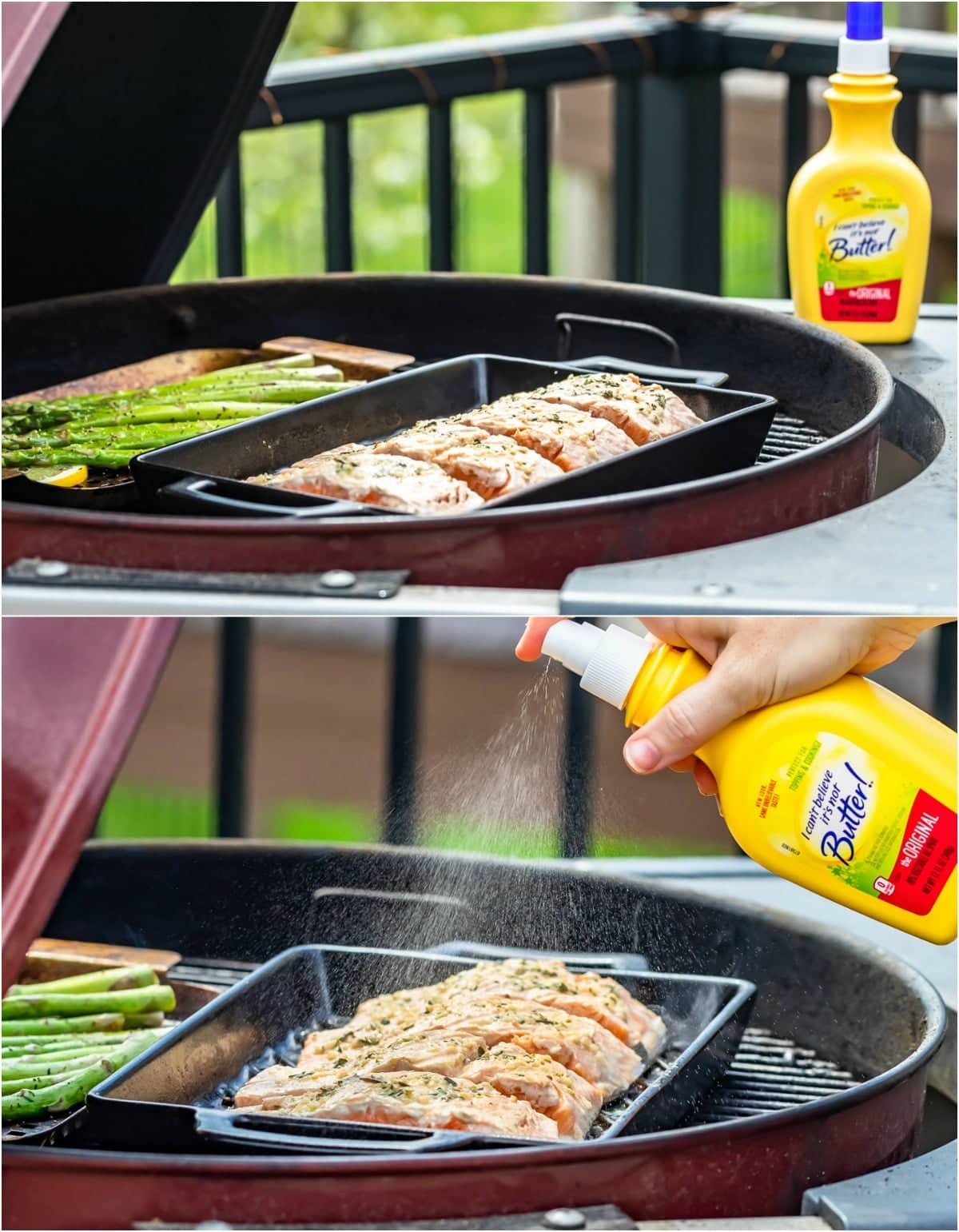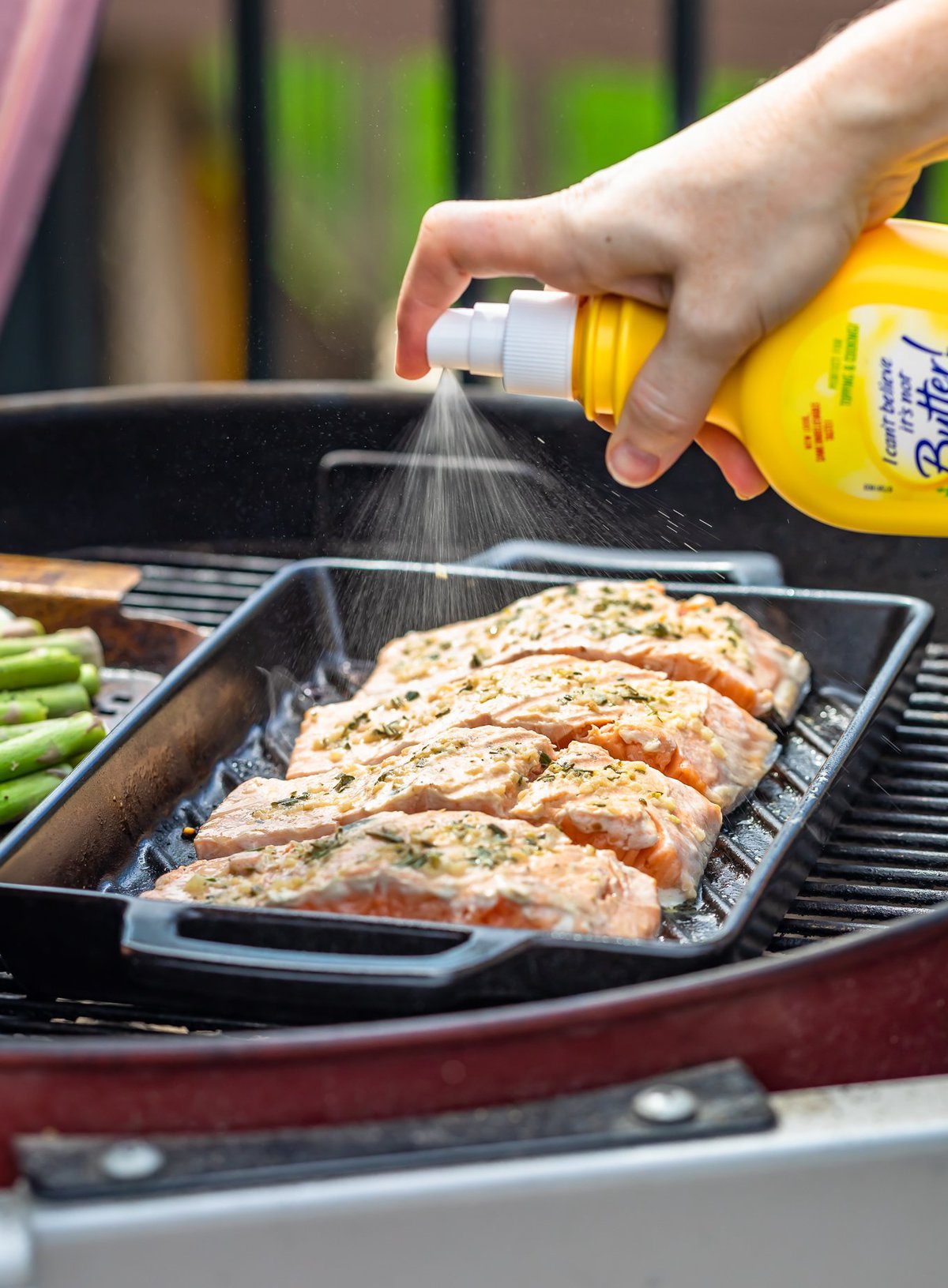 How to Make Garlic Butter Salmon on the Grill
Grilled salmon is so easy to make, which is just one of the reasons I love it so much! This Garlic Butter Salmon only needs a few minutes of prep, and then a few minutes on the grill. A healthy meal in less than 30 minutes! Serve it with grilled asparagus or your favorite side dish to finish it off.
How to Make Garlic Lemon Butter Salmon:
Preheat the grill and spray plenty of I Can't Believe It's Not Butter! Original Spray onto the grill pan.
Combine garlic, lemon juice, rosemary, salt and pepper. Crush the garlic and rosemary into the lemon juice to create a paste. I like using a mortar & pestle to do this, but you could also use a small bowl and a glass to crush the garlic.
Spread the garlic paste over the salmon filets, then let them sit in the fridge for about 20 minutes.
After that, spray each filet with the I Can't Believe It's Not Butter! Spray, then flip and spray the other side as you place them on the grill pan.
Grill salmon (covered) for 4-5 minutes.
Flip the filets, spray again, and grill another 6-8 minutes.
Remove salmon from the grill once fully cooked and flaky.
How long does it take to grill salmon?
For this grilled garlic butter salmon, the total cook time will be about 10-14 minutes.
What temperature should I cook salmon to?
Grilled salmon should be cooked to an internal temperature of 145°F before consuming. Use an instant read thermometer to check the internal temperature at the thickest part of the filet. Salmon cooks quickly, so keep an eye on it.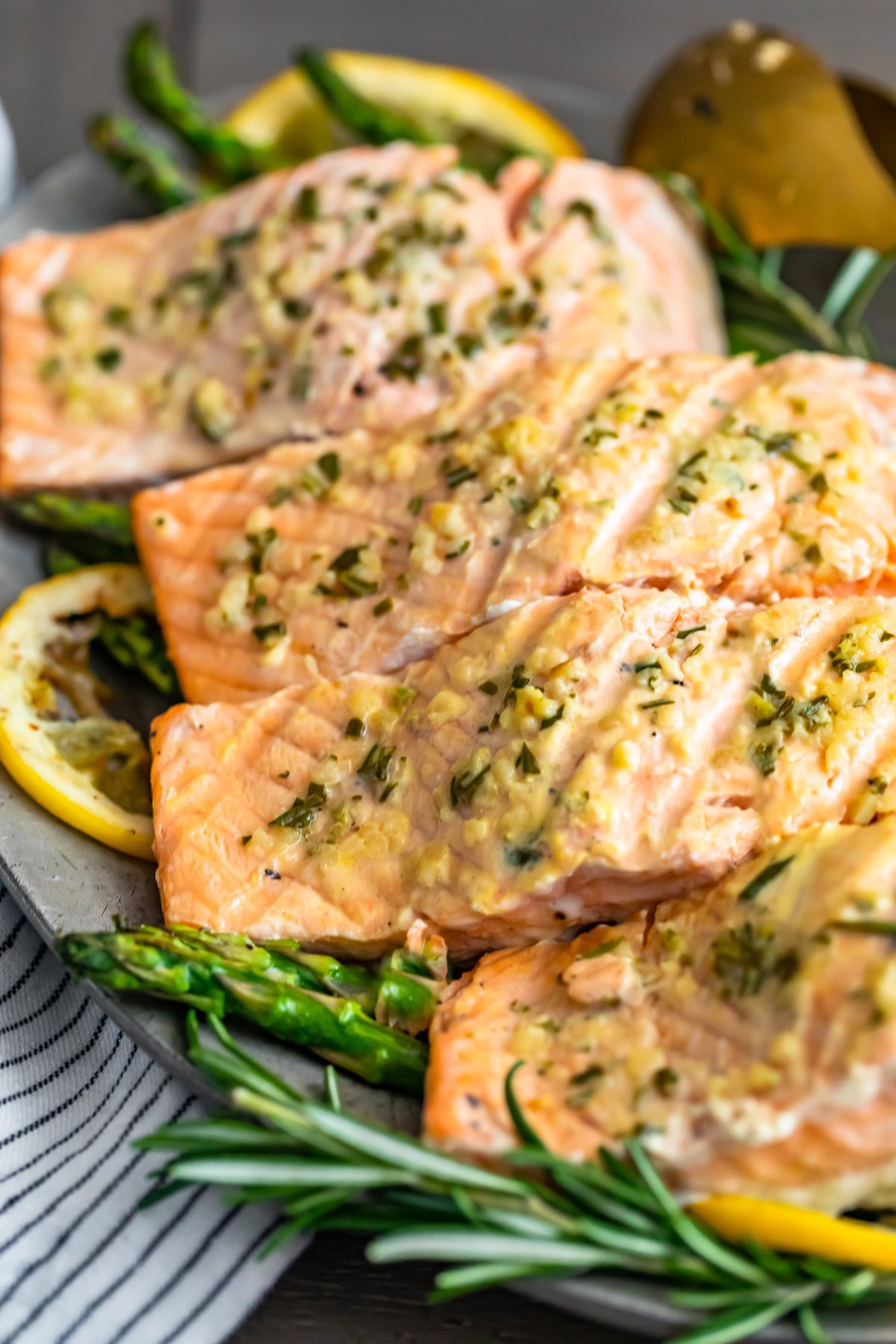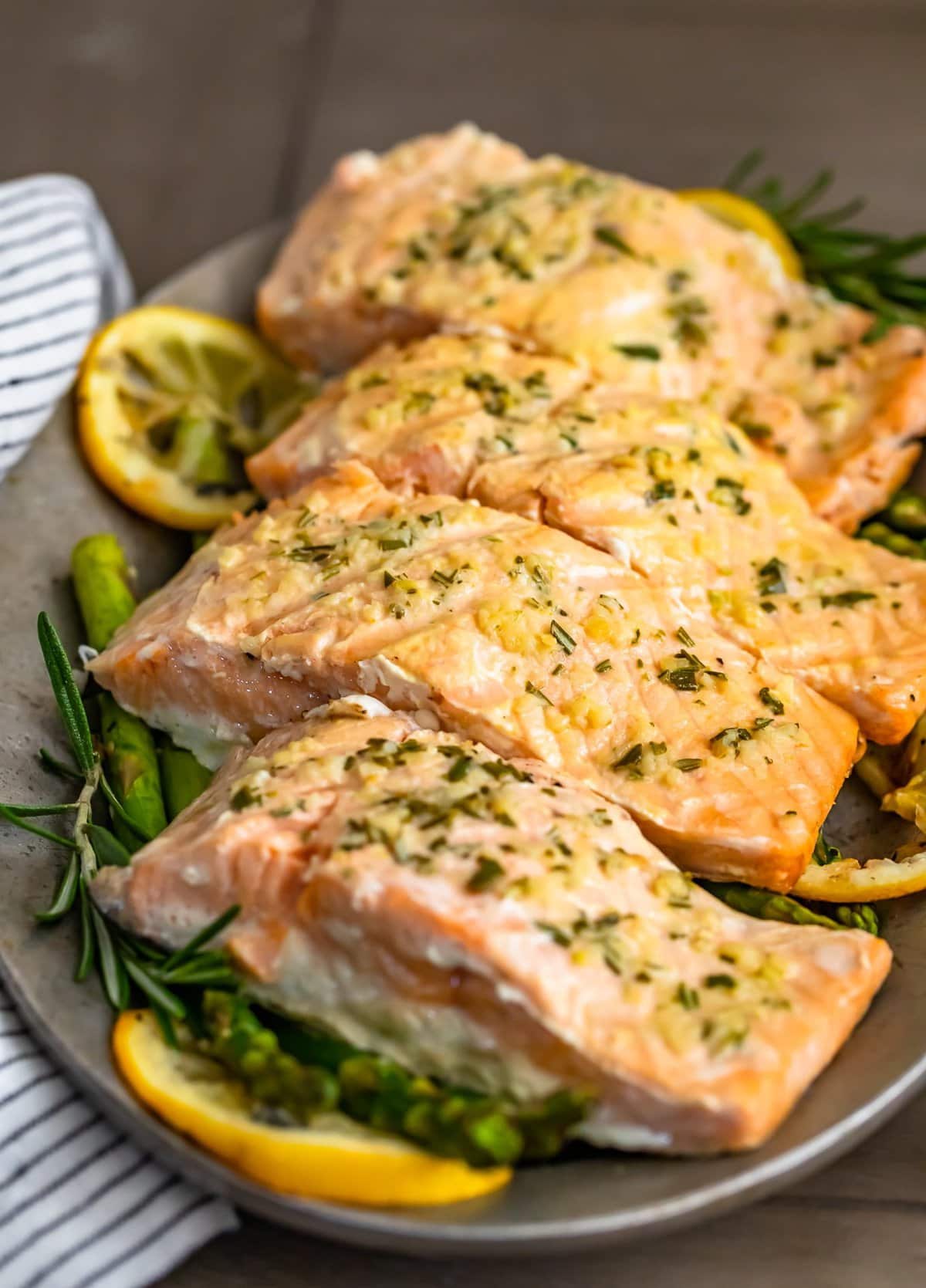 Easy Grilled Salmon Recipe
Grilled salmon is such a great thing to make during the summer season. It's light and healthy, super flavorful, and quick to cook. When you get home from work in the evenings, it's so easy to throw some salmon filets on the grill and have them ready to eat in no time.
After you try this garlic butter salmon, be sure to try some Grilled Salmon with Peach Salsa or Grilled Salmon with Avocado Salsa.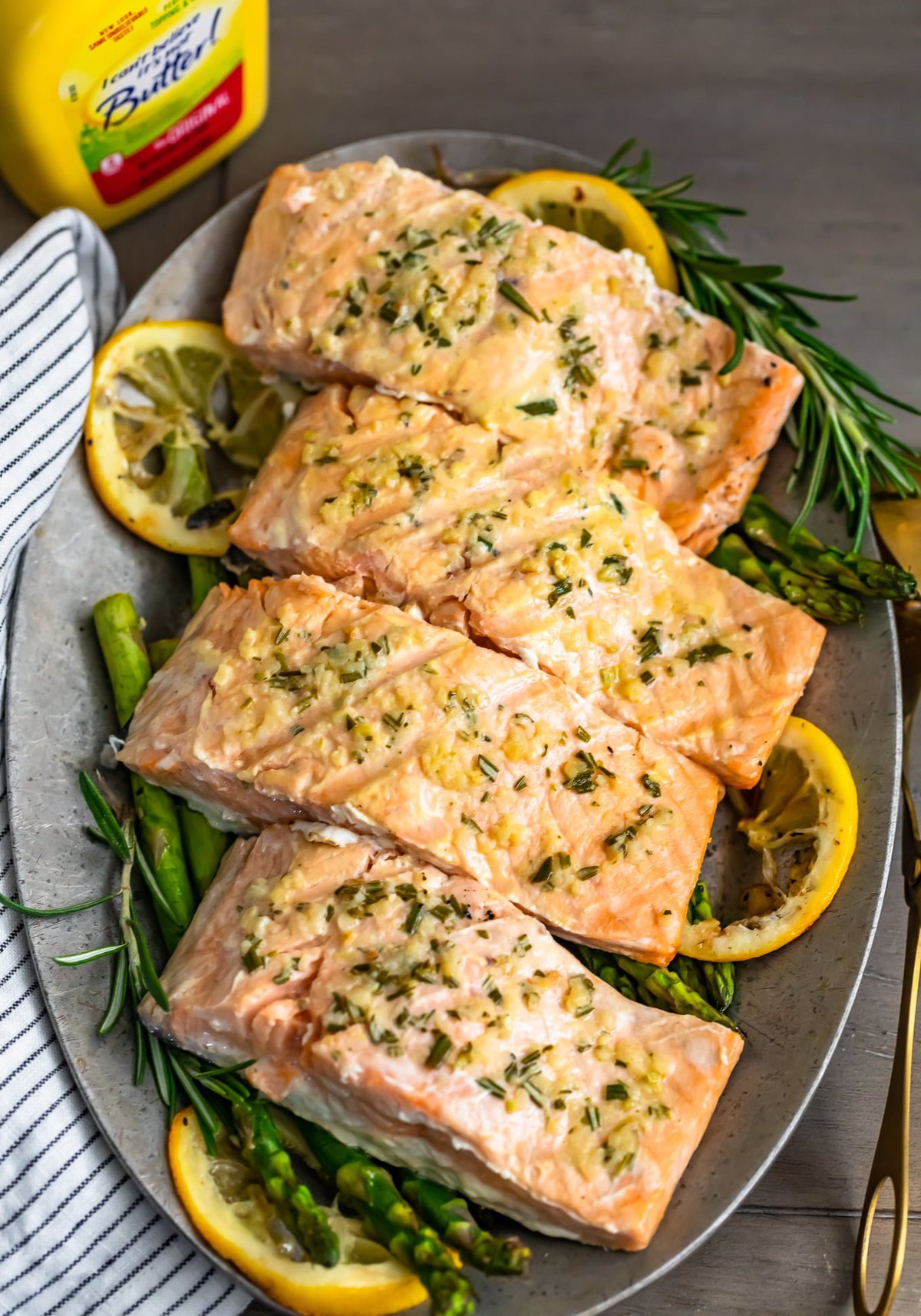 Start grilling season early with this super easy and delicious Garlic Butter Salmon. You're just going to love it, I know it! Click HERE for your $1 coupon or click HERE to find out where to buy ICBINB at a Walmart near you! xoxo