This crispy baked zucchini recipe is an easy vegetable side dish that's ready in just fifteen minutes! Deliciously crunchy and cheesy, and a great lower carb alternative to fries. Made with simple ingredients.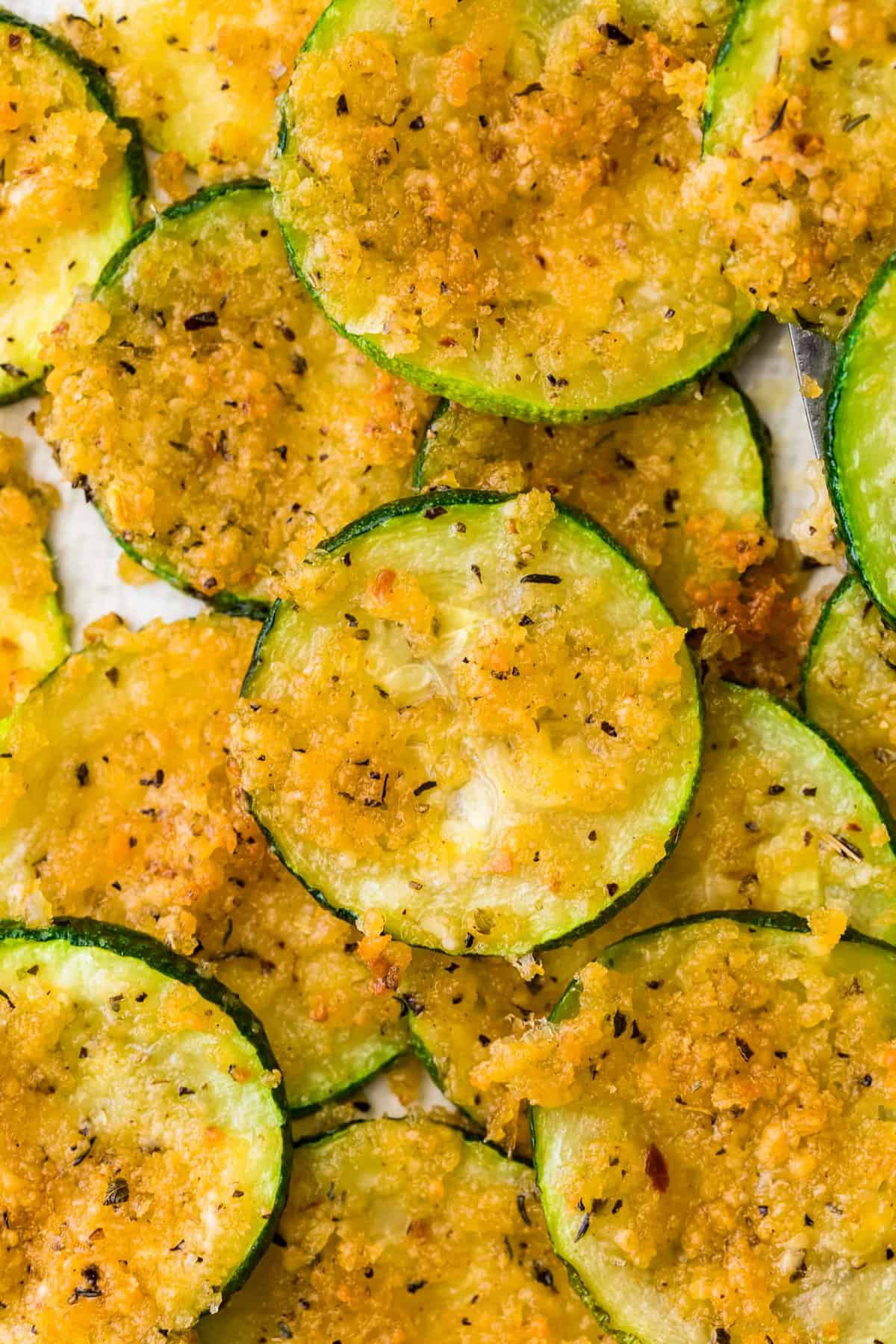 I think you guys are going to love this zucchini recipe! It's so quick and easy to make and wonderfully crispy and cheesy! It's a great alternative veggie side dish – I've been enjoying them with so many meals! They're great for snacking too!
How to Make This Crispy Baked Zucchini Recipe
Be sure to see the recipe card below for full ingredients & instructions!
Preheat oven to 425F
Add zucchini slices to a large bowl.

In a medium bowl, combine olive oil, salt, pepper, Italian Seasoning, panko, and parmesan. Stir to fully combine.

Add the parmesan mixture to the bowl with the zucchini and toss to fully coat the zucchini. You might add a bit more olive oil if needed.

Place coated zucchini on a large baking sheet.

Bake for 4-5 minutes, then switch oven to broil.
Broil for 3-4 minutes or until bread crumbs are toasted and cheese is melty.
Enjoy!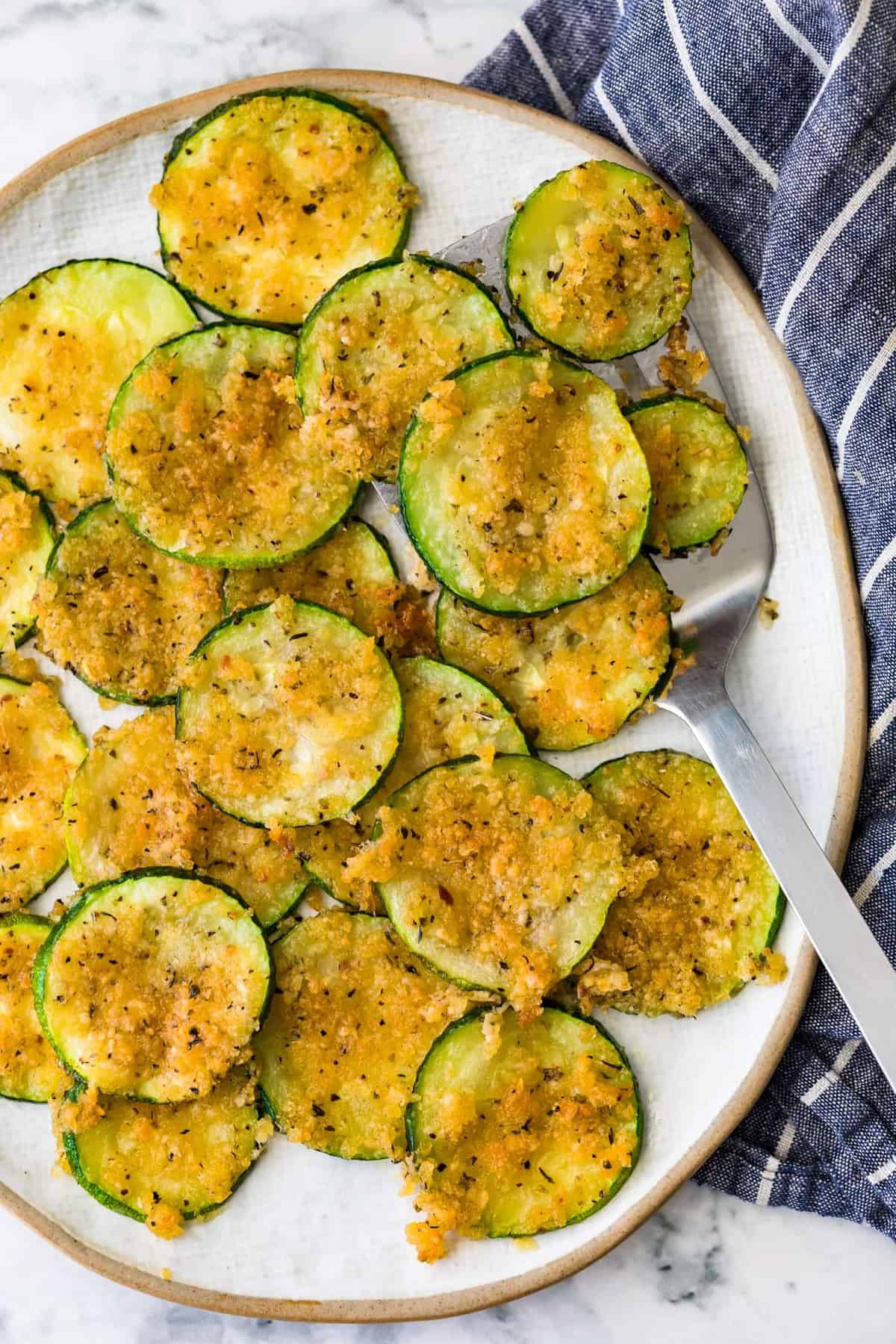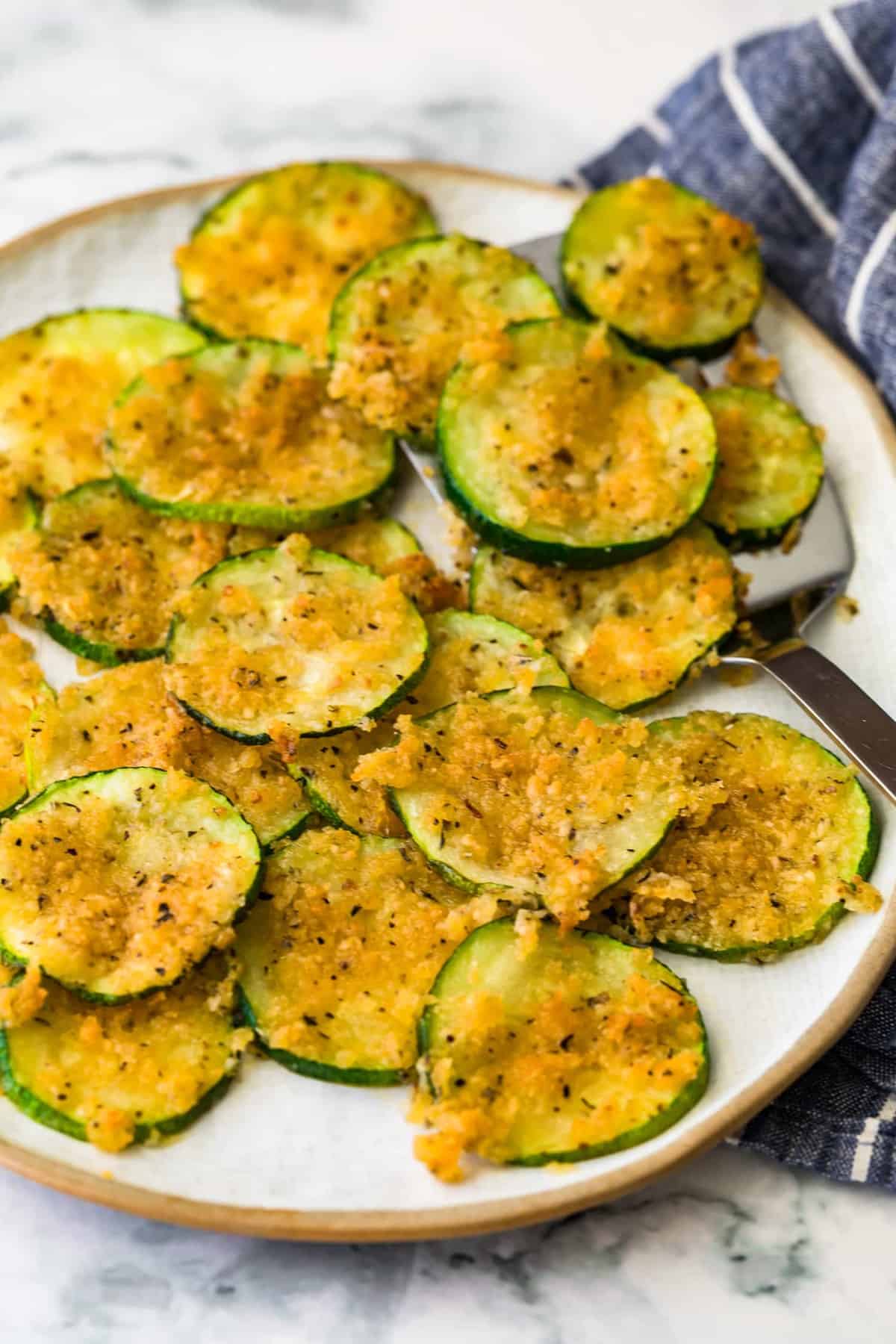 What do you serve with Crispy Baked Zucchini?
These zucchini rounds are a great alternative to fries and are a great side to serve as part of an easy weeknight meal or a more elaborate celebratory meal like Thanksgiving and Christmas. If you are looking for some inspiration, be sure to check out these dinner ideas:
They will also work really well as a snack, just serve them up with some ranch, blue cheese or Buffalo Chicken Dip.
Is this a healthy side dish?
This easy crispy baked zucchini recipe is low in calories, at around 130 per serving and is also low in carbs, sugar and salt. Zucchini is a great source of vitamins and minerals like B6, C, K, folate and potassium as well as containing antioxidants. This side is a great way of getting in an extra portion of veg into your diet!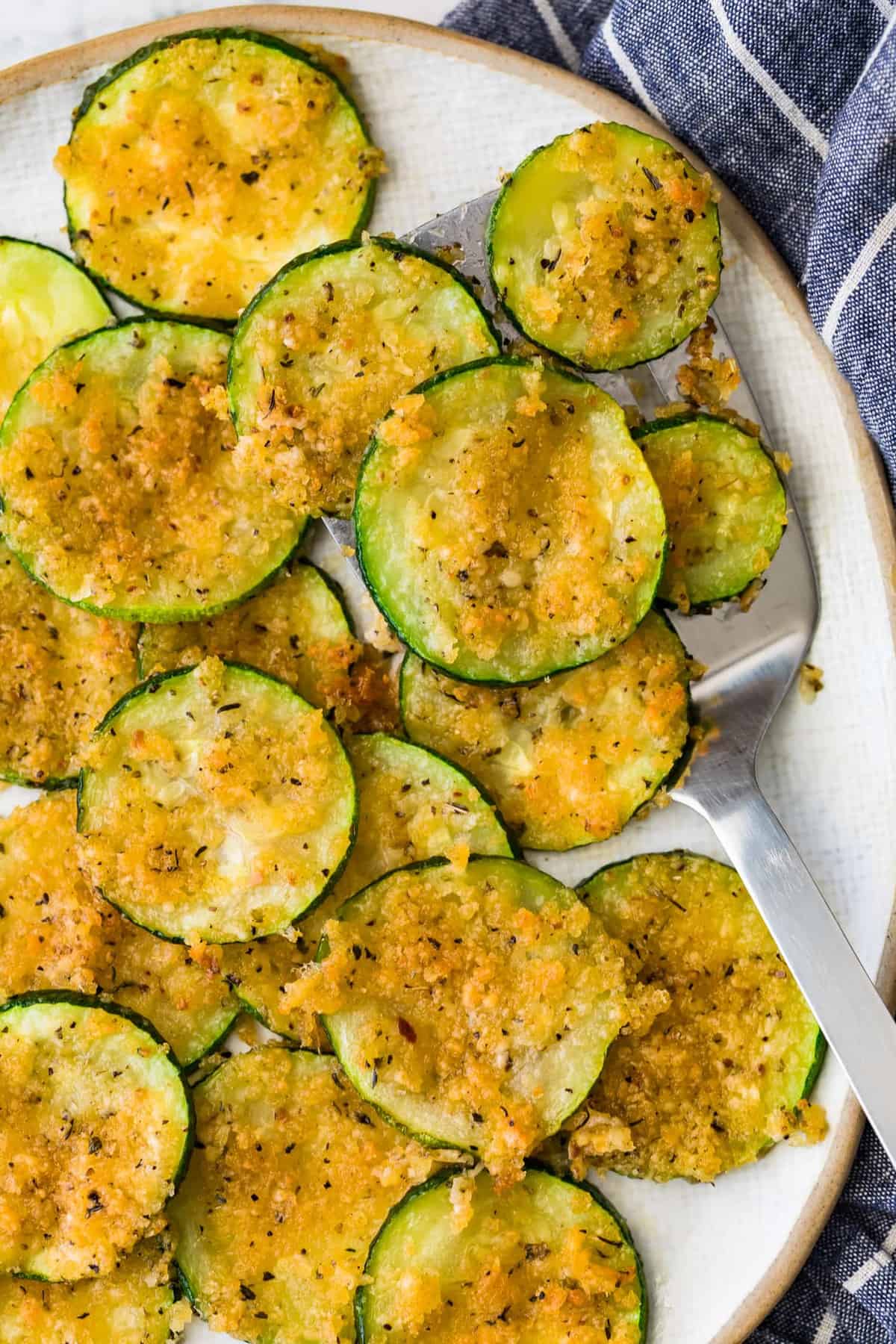 How do you keep zucchini from going soggy?
Zucchini contains a lot of water, so sometimes when used in dishes it can become soggy and make the whole dish quite watery. This zucchini is oven baked so the heat draws out any excess moisture, leaving you with perfectly crispy zucchini.
Top Tips for Making This Crispy Baked Zucchini Recipe
Slice the zucchinis no bigger than 1/2 inch.
Use panko breadcrumbs rather than fine to get the zucchini nice and crispy.
The baked zucchini should be served immediately, straight out of the oven.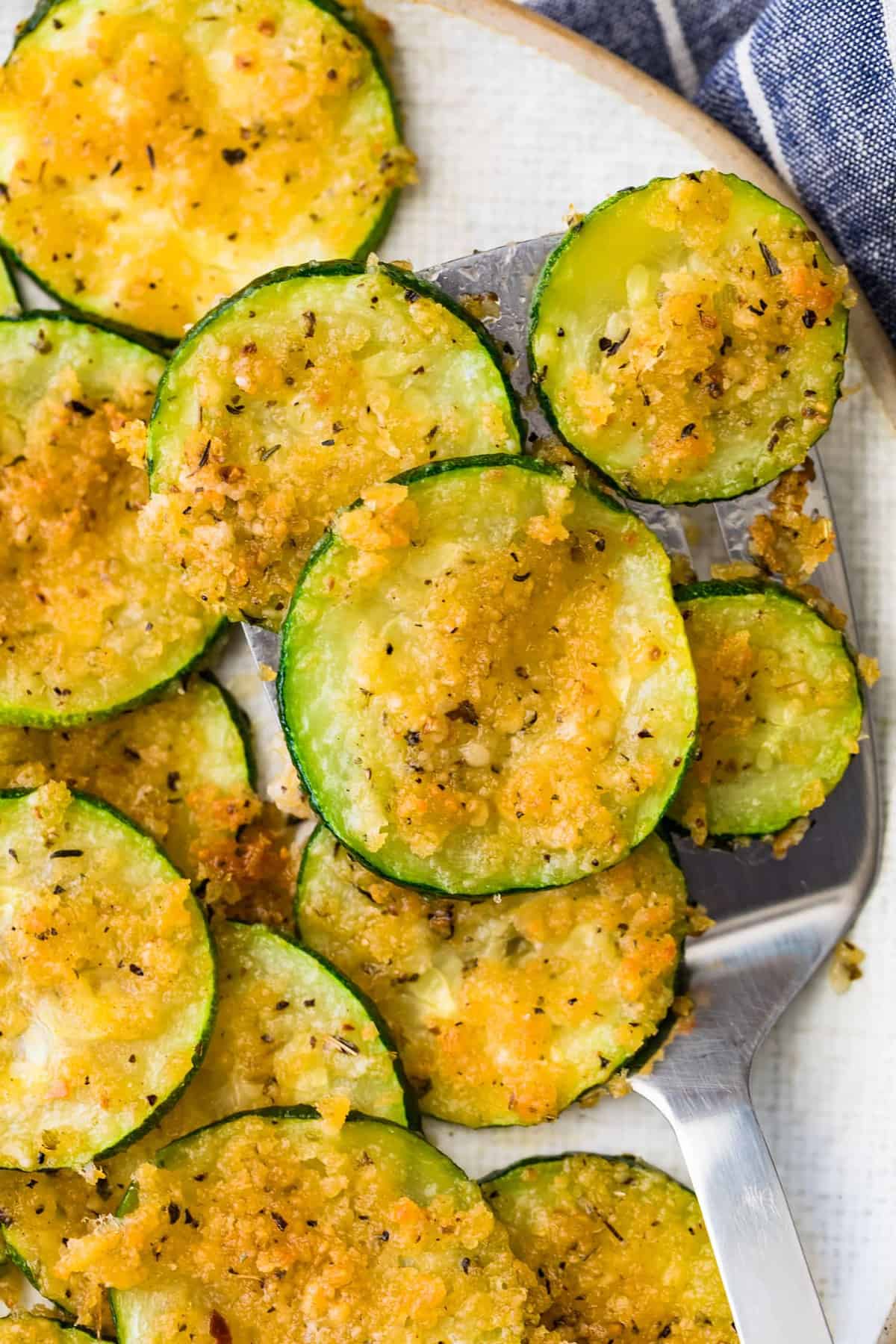 Be sure to check out these other easy and delicious side dishes!
If you make this recipe be sure to upload a photo in the comment section below or leave a rating. Enjoy!