Cheesy prosciutto wrapped chicken will wow your dinner guests, but is so easy to make! The chicken is so tender and juicy with melted cheese oozing out – my favorite!
cheese. chicken. prosciutto. these are a few of my FAVORITE things. and in my still limited repertoire this is one of my favorite things to make. its pretty easy but looks very intricate. i love fooling people into thinking i worked harder than i actually did!!! this was the first meal i made for my brother and sister in law…and they were impressed. it even prompted my brother to exclaim 'everybody who thinks becky made a good meal raise your hand!'. this is a time-honored family tradition that all the of fabulous cooks of previous generations enjoyed…but i had never heard it about myself. very proud moment! :)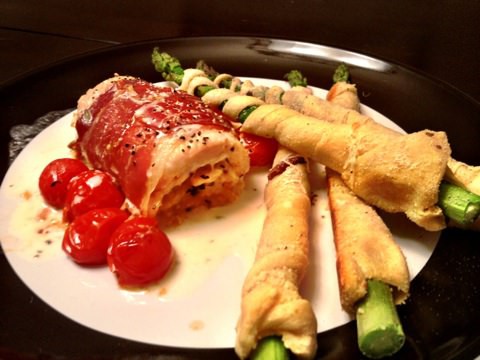 this recipe is fit for a formal dinner OR for watching dexter from the couch on a sunday night (how i chose to serve it). so here's what you'll need:

so sunday dinner rolled around and i wanted to make this for my boyfriend. i had everything ready…very detailed and laid out perfectly. it all looked so pretty on the counter. BUT…i forgot to defrost the chicken. OF COURSE. this is the kind of stuff i pull on a regular basis. this is why i'm learning to cook. so for all of you other beginners out there…DEFROST YOUR CHICKEN IN TIME TO MAKE THIS! ha. we tried to defrost it in the microwave…it was semi successful. i ended up having to start over. ohhh well.
first you want to pound your chicken breasts into thinner filets (so you can roll them later). it's a good idea to put the chicken in-between parchment paper or seran wrap while pounding. don't get too carried away, but i would say you want the filets to be about a half inch thick. you could also cut each filet down the center length wise to make them thinner.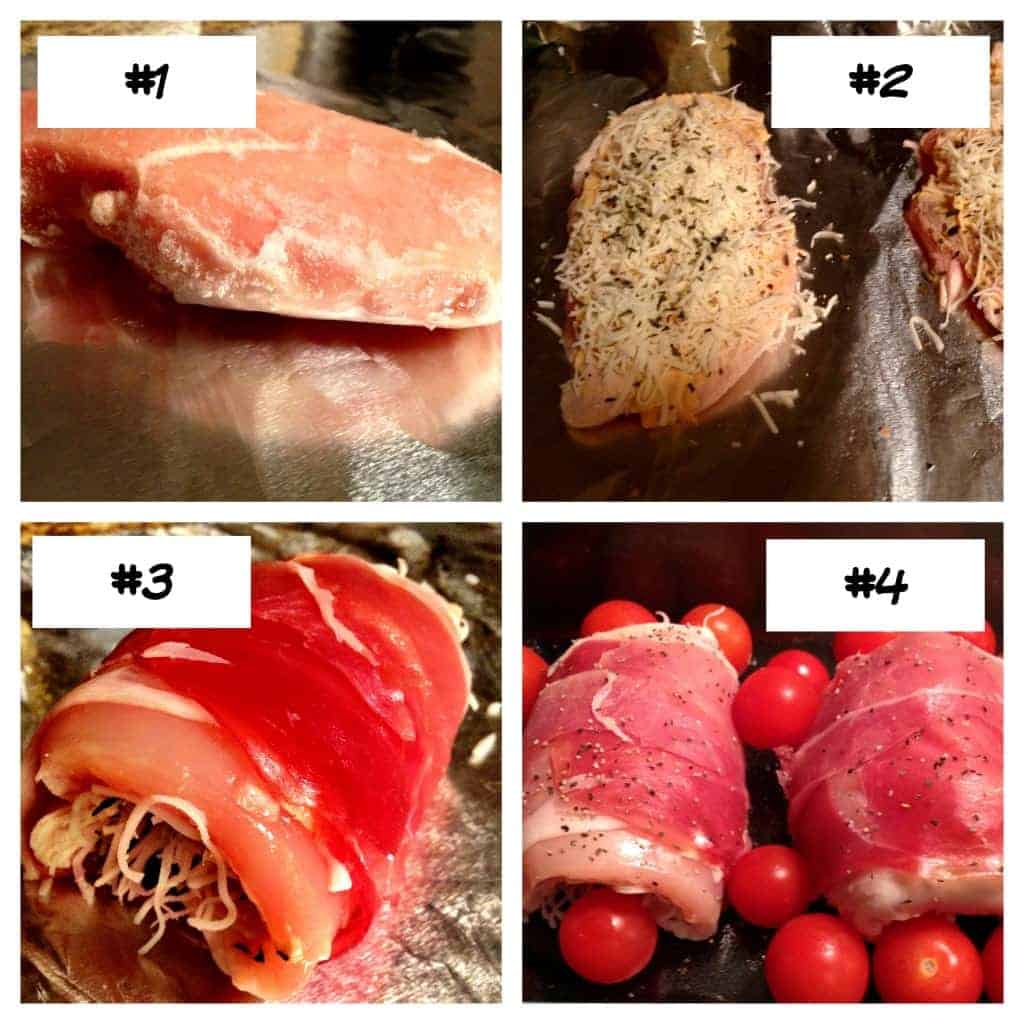 pre-heat your oven to 350F. then you can get the chicken ready while it heats. (#1) is the frozen chicken breast. after you have them pounded down (#2) spread the chicken with a thick layer of whatever spreadable cheese you choose. boursin is great. this time i used the laughing cow cheese; mozzarella and sun-dried tomato. its low fat and FANTASTIC. there are lots of varieties of flavors and i'm pretty sure every one would be tasty. i also put some shredded mozzarella cheese and herbs on the chicken as well. just pile it on. the cheesier the better. after you're satisfied with the cheesiness…roll the chicken, making sure the ends are on the bottom. wrap the chicken rolls in one to two slices of prosciutto (#3) MMMM. now you're ready to place the rolls in your baking dish (be sure to grease or spray the dish), place roma tomatoes around the chicken. as many as you want. (#4) i love tomatoes. cook for 40-50 minutes or until the chicken is cooked through. (i'm bad at this. you can cut into the chicken and make sure that it is white all the way through)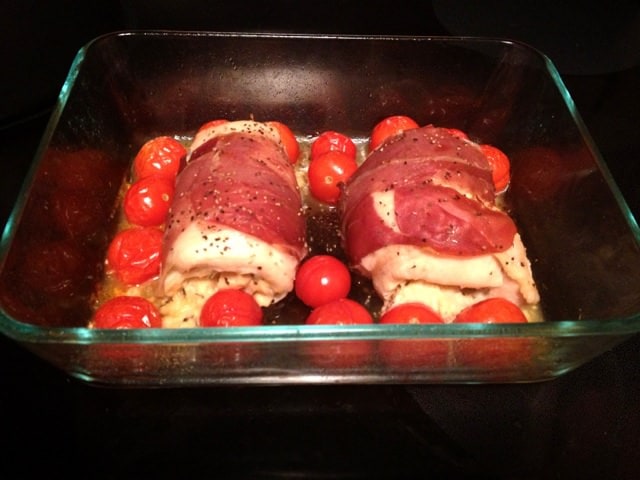 i love how the cheeses and the tomato juices are all around. SO YUMMY. if you want to…you can mix the juices in a separate pan with the whipping cream and white wine. i like to add a little more boursin as well. simmer in the pan while whipping for a couple of minutes to make a delicious sauce.
and its that easy folks. that easy. you're ready to serve your very classy and impressive meal now. this chicken is great with asparagus or with rice OR with pasta. oh the possibilities!!!