This easy Marry Me Chicken recipe is made with sun-dried tomatoes and a super creamy sauce. Cook everything up in one pan then pair it with pasta, veggies, or any of your easy dinner favorites!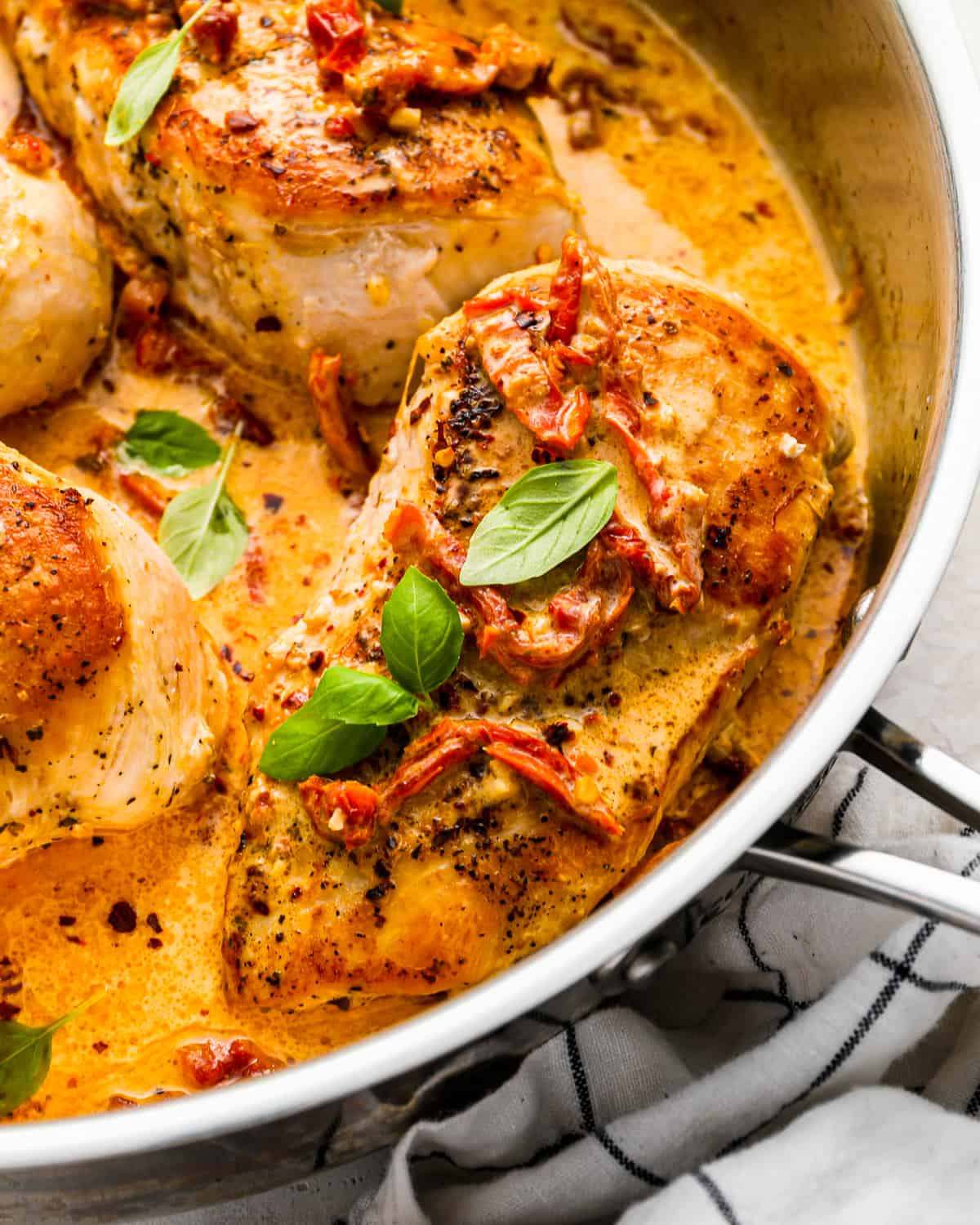 What's in this Marry Me Chicken Recipe?
In less than an hour, turn these simple ingredients into a dish that'll turn your next date night into the best night of your life!
Chicken: We're using boneless, skinless breasts here, but thighs will also work.
Seasonings: Salt, pepper, and Italian seasoning enhance the natural flavor of the chicken.
Oil + Butter: Add great flavor and help the chicken cook without burning.
Garlic: Adds an earthy flavor and a pungent aroma.
Red Pepper Flakes: Add just a hint of spice!
Chicken Broth: Forms the base of the sauce, enhancing the chicken flavor.
Heavy Cream: Makes the sauce creamy.
Sun-Dried Tomatoes: Add a burst of concentrated sweet and tangy tomato flavor.
Cheese: Freshly grated Parmesan cheese adds a nutty and salty flavor and enhances the creaminess of the dish.
Pro Tip: Omit the red pepper flakes for a spice-free dish.
Variations on Sun Dried Tomato Chicken
There are so many ways to change up the flavor of creamy marry me chicken! Try adding the juice and zest of a lemon to the sauce for a bright and citrusy twist. Or give it a Mediterranean spin by adding Kalamata olives and feta cheese. Make the dish spicier by adding more red pepper flakes or a sprinkle of cayenne pepper.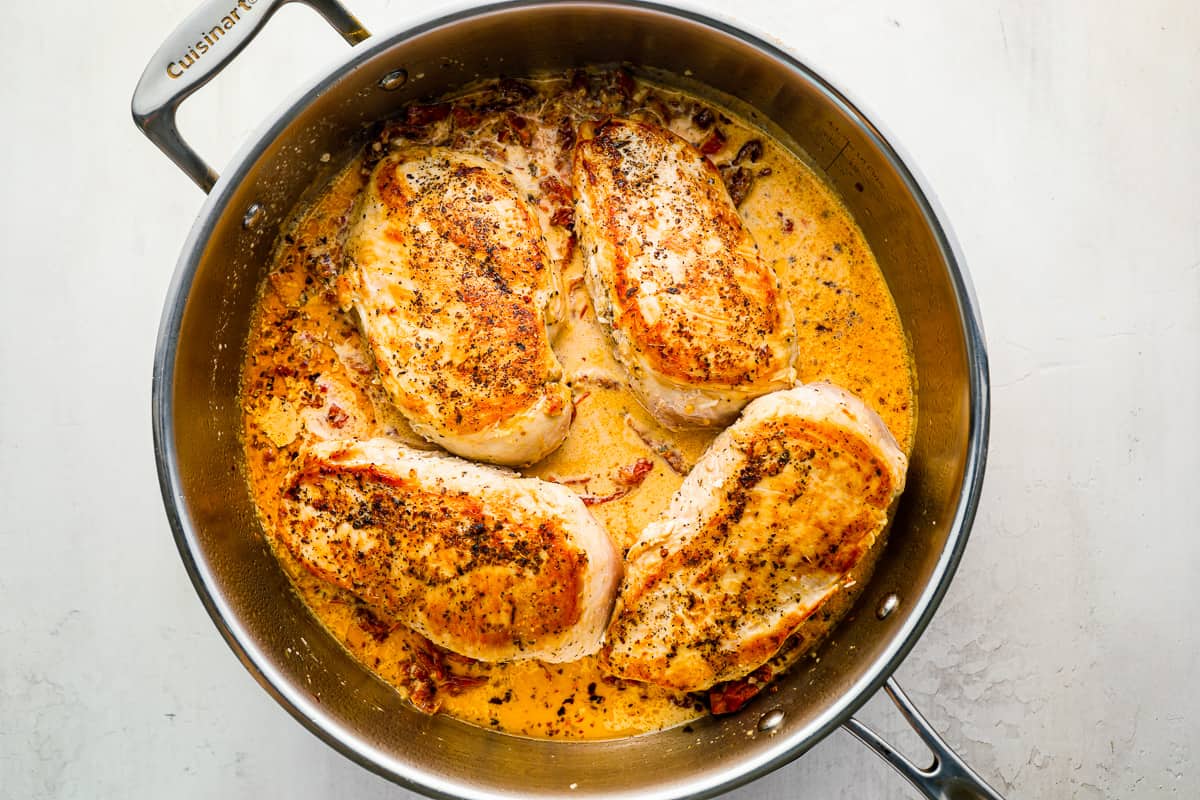 What is marry me chicken made of?
Marry me chicken is a luscious combinaton of sun-dried tomatoes, cream, and Parmesan cheese spooned over seared chicken breasts.
Why is it called marry me chicken?
This recipe gets its name because it's so good, whoever you're serving it to will want to marry you!
What can I use instead of heavy cream?
You can use sour cream in place of the heavy cream as an easy swap. If you're looking for a lighter option, try using half-and-half.
Can I use a different type of cheese in the recipe?
Sure! Asiago, Pecorino Romano, or mozzarella cheese are all great substitutes for Parmesan.
How do I know when the chicken is cooked through?
Properly cooked chicken should be opaque with no pink inside. It should register 165°F on an instant-read thermometer.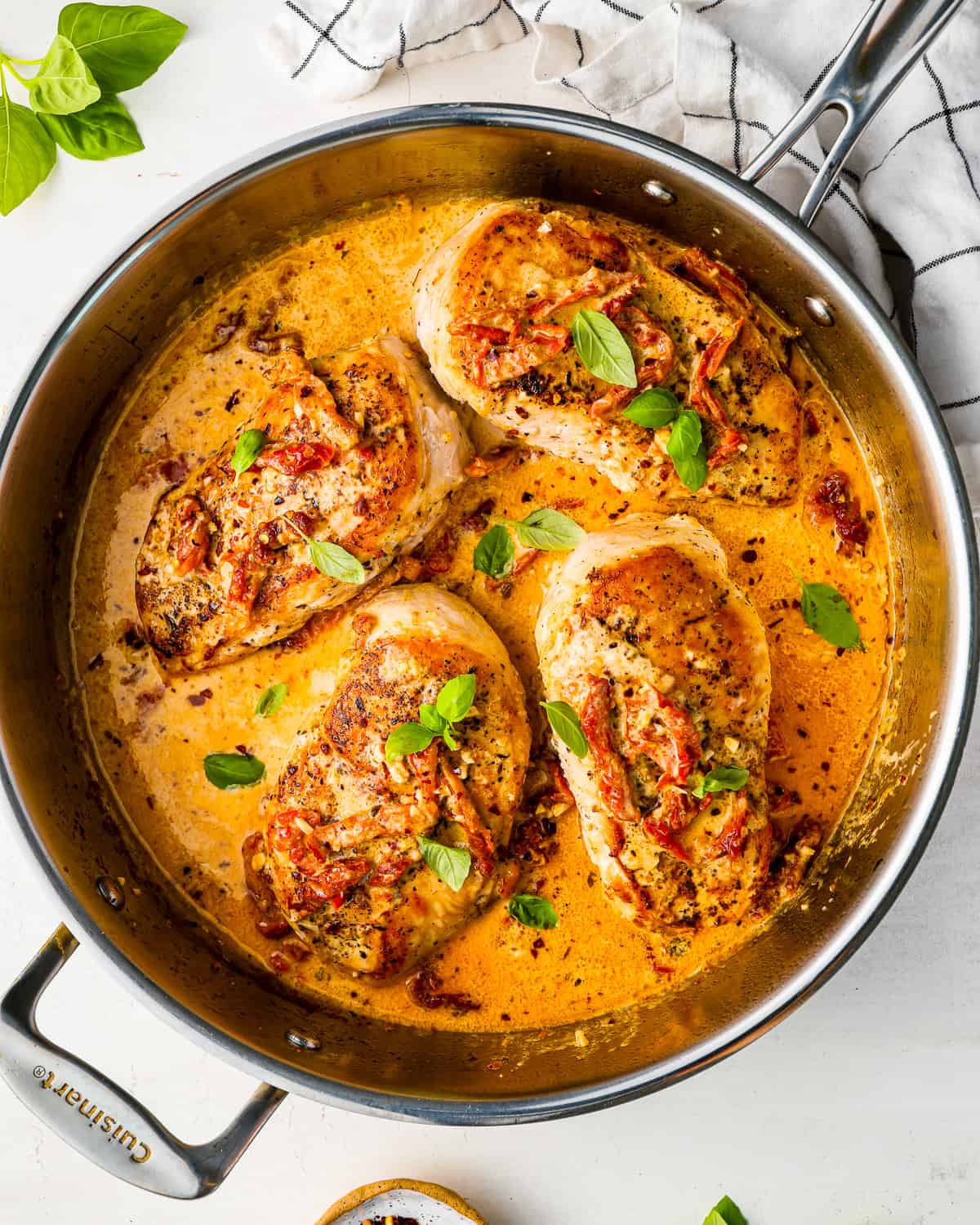 How to Store and Reheat
Store leftover marry me chicken in an airtight container in the refrigerator for up to 3 days. Reheat covered in a 350°F oven for 15-20 minutes, or in an oiled skillet set over medium-low heat until warmed through.
I do not recommend freezing this recipe, as the cream sauce tends to separate and become gritty once thawed.
Serving Suggestions
Serve this rich, creamy sun dried tomato chicken with homemade pasta, basmati rice, or oven-baked risotto. Add a side of oven-roasted asparagus for a complete meal!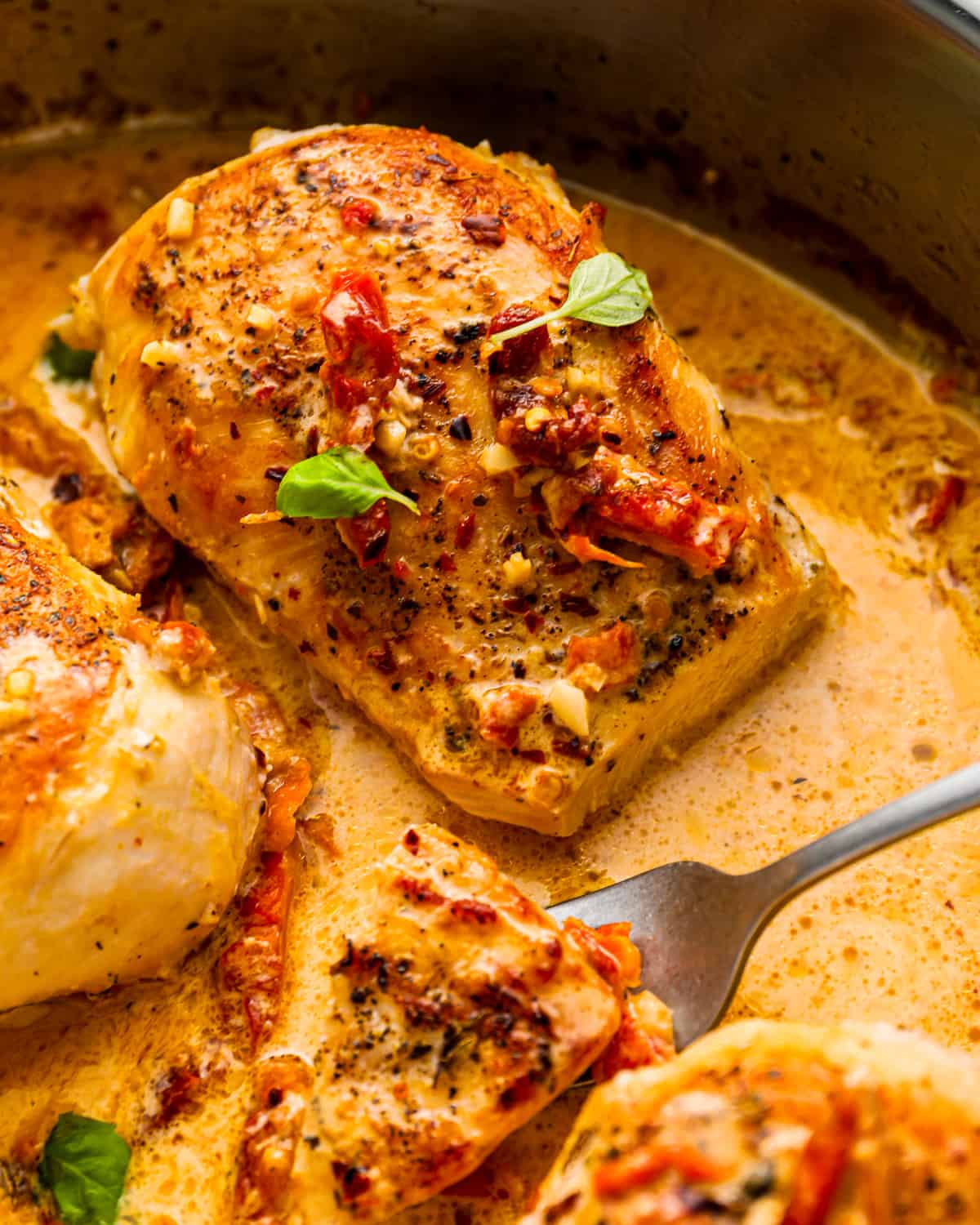 More Italian Chicken Recipes We Love
Our Best Chicken Recipes