This Basil Chicken recipe with cream sauce has always been one of my favorite recipes. This dish has a creamy tomato basil sauce made with heavy cream and cheese that is just to die for! Easy breaded chicken, tomatoes, fresh herbs, and more make up this fool-proof skillet chicken recipe.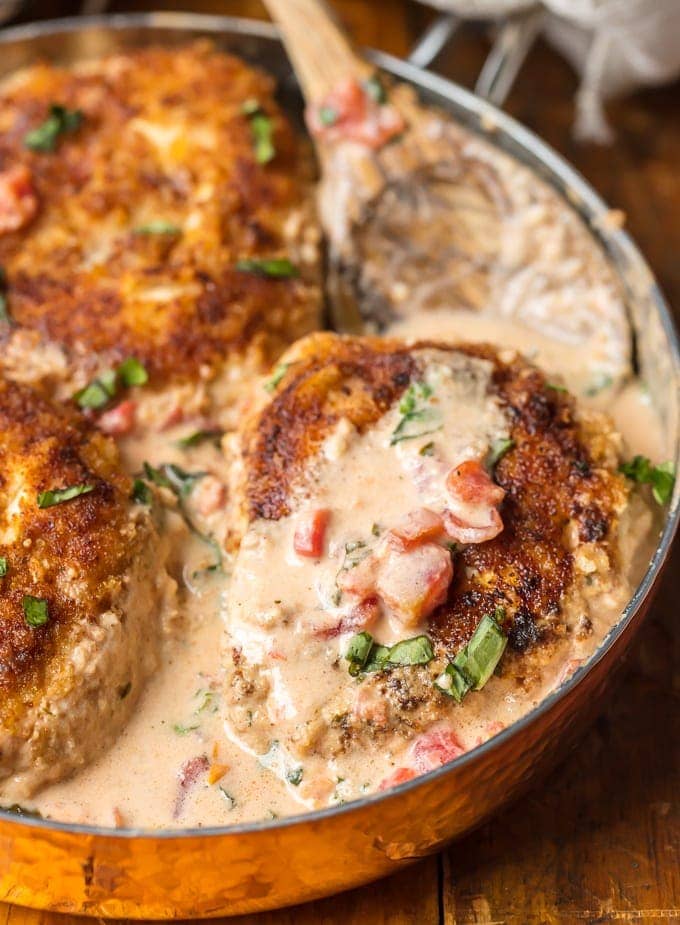 Basil Chicken Recipe
This creamy basil chicken skillet was one of the first recipes I made when I started learning to cook. It gave me so much confidence because it's SO delicious and so fool-proof.
I'm always looking for easy chicken recipes to make for dinner, and I certainly have a lot of them! But this chicken with cream sauce has proven to stand up to the test of time.
I was instantly in love with this dish when I first made it, and it seems all of you have loved it too!
The fact that this basil chicken recipe is made in ONE PAN blew my mind and gave me confidence that I too could cook amazing (yet EASY) meals for friends and family.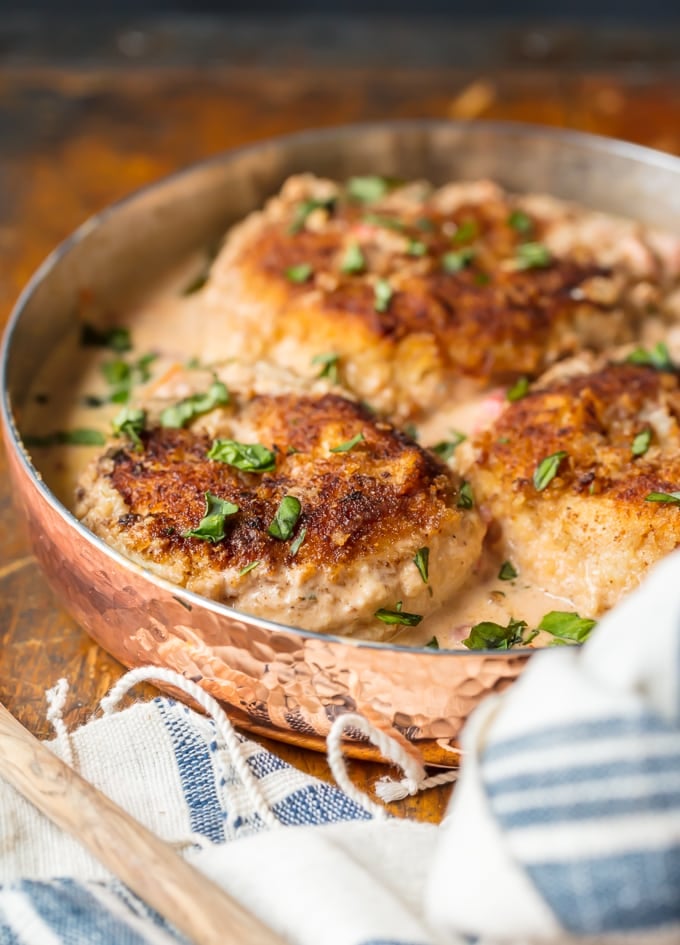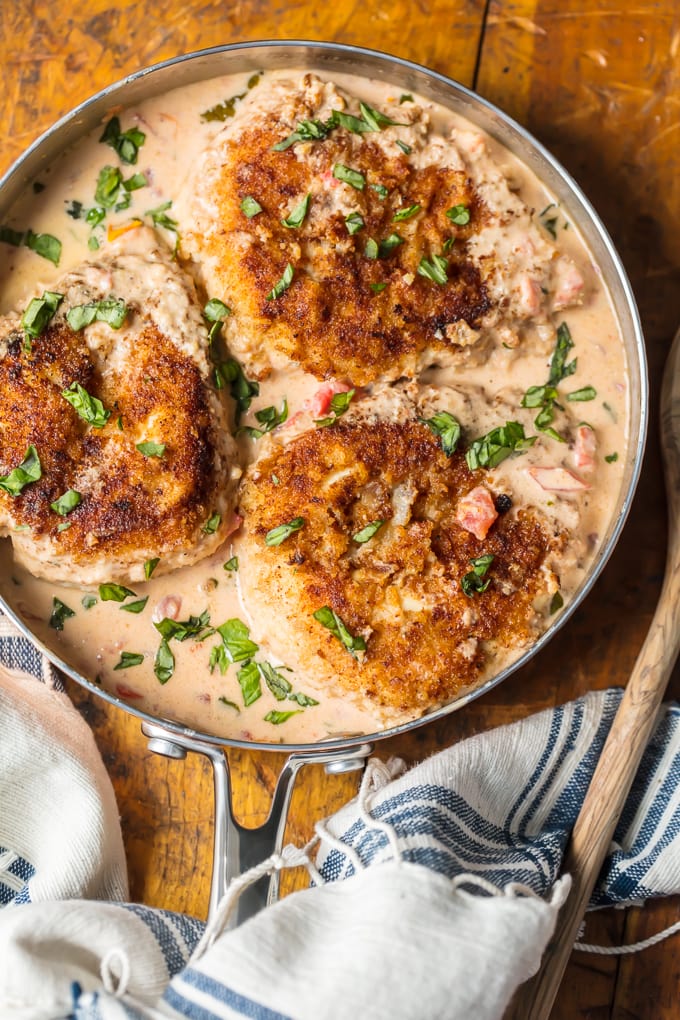 My Favorite Skillet Chicken Recipe
This basil chicken remains one of my very favorite recipes on the site and I come back to it over and over again.
I first made this years ago, but I've continuously worked to perfect the recipe every time I made it.
Some other favorite Skillet Chicken Recipes include Chicken Parmesan Pasta Skillet, Enchilada Stuffed Chicken Skillet, and Chicken con Queso. Can you tell I'm obsessed with one pot wonders?
Basil Cream Sauce
Everyone loves a good chicken recipe, but that CREAMY SAUCE is what makes this dish amazing. It cooks in the same skillet you cook the chicken in, so the leftover juices mix in with the cream and cheese and basil to cook down into the perfect flavor pairing.
Ingredients:
Heavy cream
Chicken broth
Pimentos
Diced tomatoes
Sherry (optional)
Parmesan Cheese
Garlic-Herb Cheese (like this homemade boursin)
Basil
Black pepper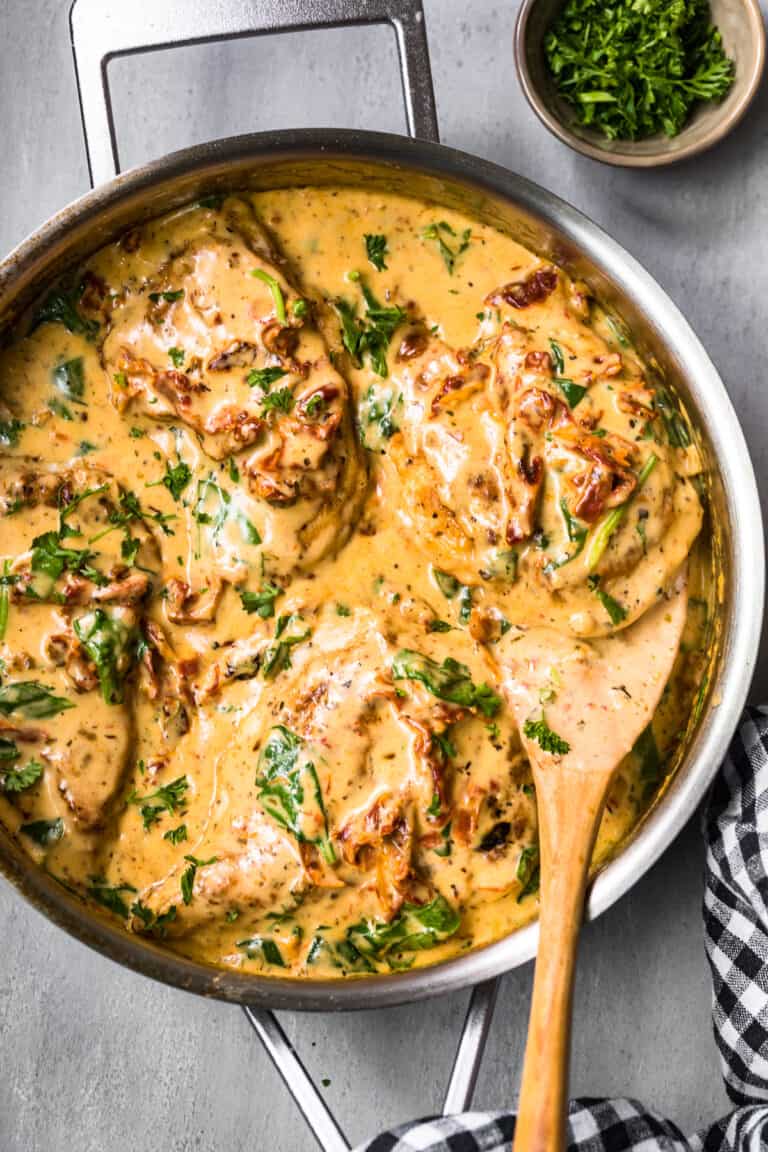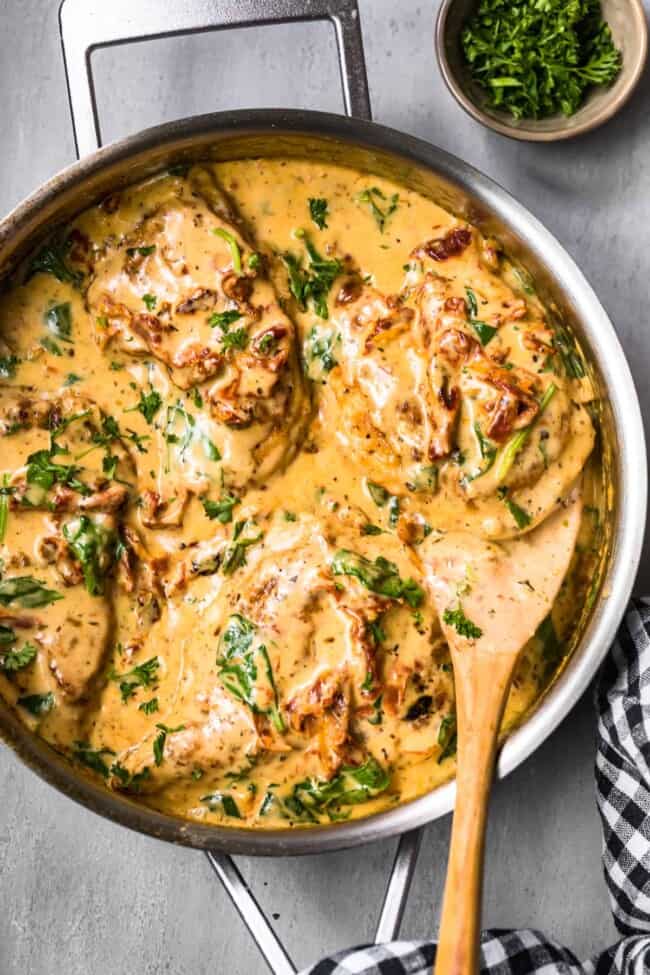 Winner Winner Chicken Dinner
72+ Chicken Dinner Recipes
See our Chicken Guide for all the best chicken recipes plus tips and tricks for juicy chicken every time.
Chicken Dinner Recipes
How to Make Basil Chicken with Cream Sauce
This one pan recipe is really easy. Here's a quick step-by-step:
Cover chicken breast in buttermilk then dip in breadcrumbs and place in skillet.
Cook 5 minutes, then flip and cook another 5 minutes, or until cooked through.
Remove chicken from the skillet.
Add chicken broth and sherry to skillet and bring to a boil.
Add cream, pimentos, tomatoes and bring to a boil.
Reduce heat and add in the cheeses and herb. Let it simmer until the sauce reduces by half.
Add chicken back to the skillet with the sauce until everything is heated through.
You can jump to the recipe card for full ingredients & instructions!
Serving Suggestions
I love serving this creamy basil chicken with a side of rice and veggies, or with pasta. The cream acts as the perfect pasta sauce, and the chicken is super tender!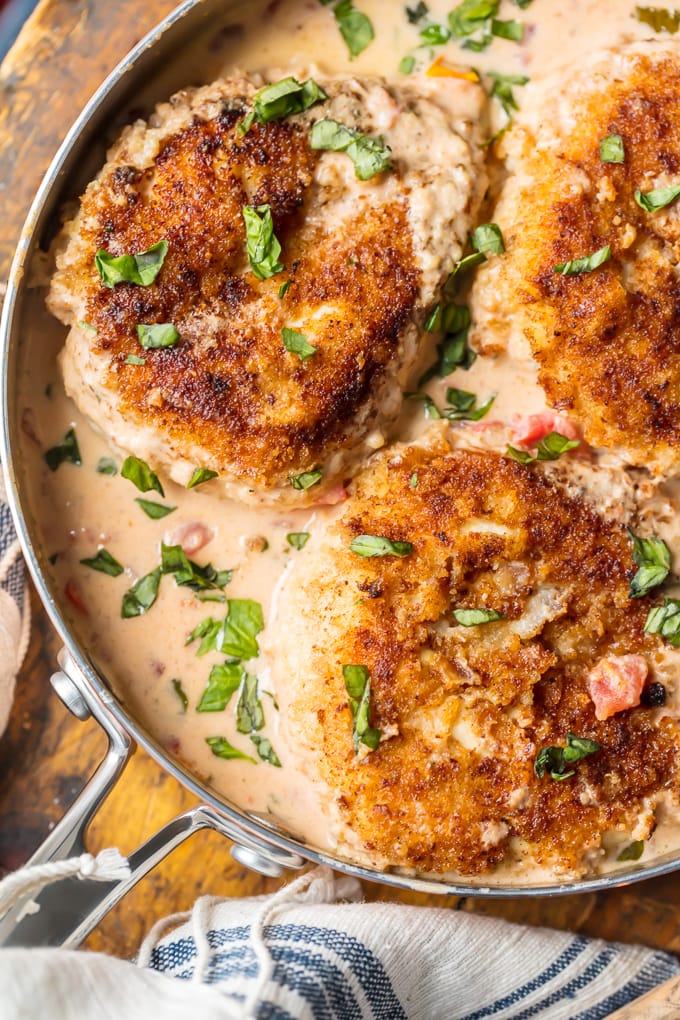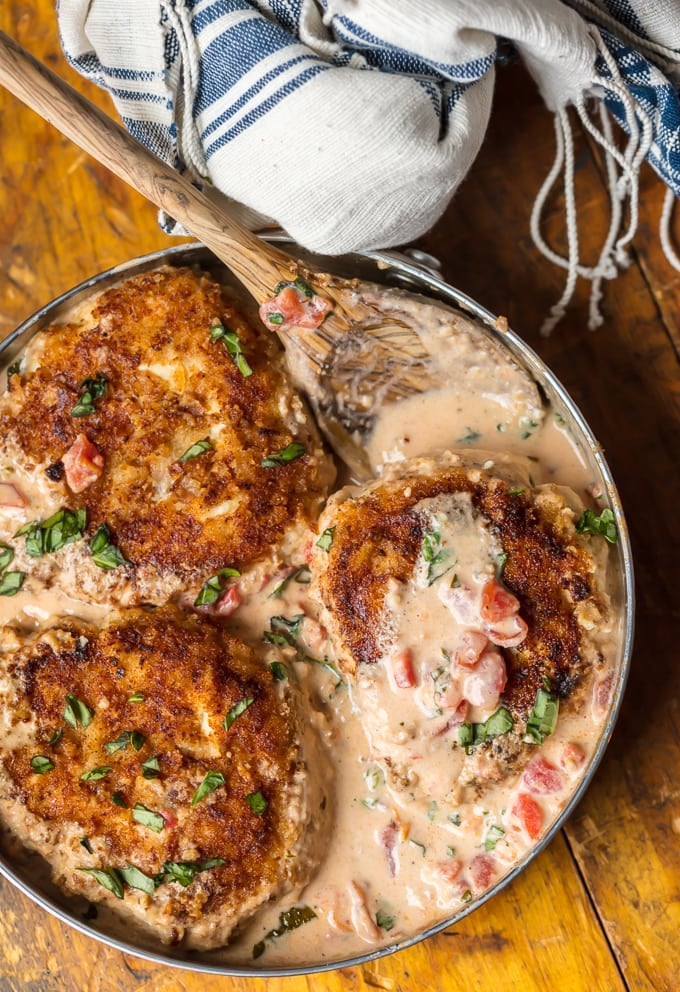 What to Do with Leftovers
This creamy basil chicken recipe makes for great leftovers.
Keep it in the fridge for 2-3 days. (If you're like us, it won't last that long due to you eating it immediately.)
To reheat: place the chicken and sauce in a skillet and heat over medium heat until heated through. Stir regularly so the sauce warms evenly. Reheating the chicken directly with the sauce helps keep it juicy.
It also reheats just fine when popped microwave for a little over a minute, if you're in a rush to eat. Be sure to smother it in lots of leftover sauce!
This dish doesn't freeze well due to the heavy cream component, so I recommend refrigerating and eating within a few days.
Tips!
This recipe works best with chicken breasts that aren't super thick. They cook faster and more evenly in the skillet and come out more tender.
You can slice larger breasts in half length-wise if you can't find thin cuts.
Soaking the chicken in buttermilk before starting helps tenderize the meat and adds a creamy texture before coating it in breadcrumbs.
After removing the chicken from the skillet, deglaze the pan and scrape off the brown bits as you start to cook the sauce. It adds extra flavor!
Man I love this recipe. Just looking at that basil cream sauce…I'm addicted!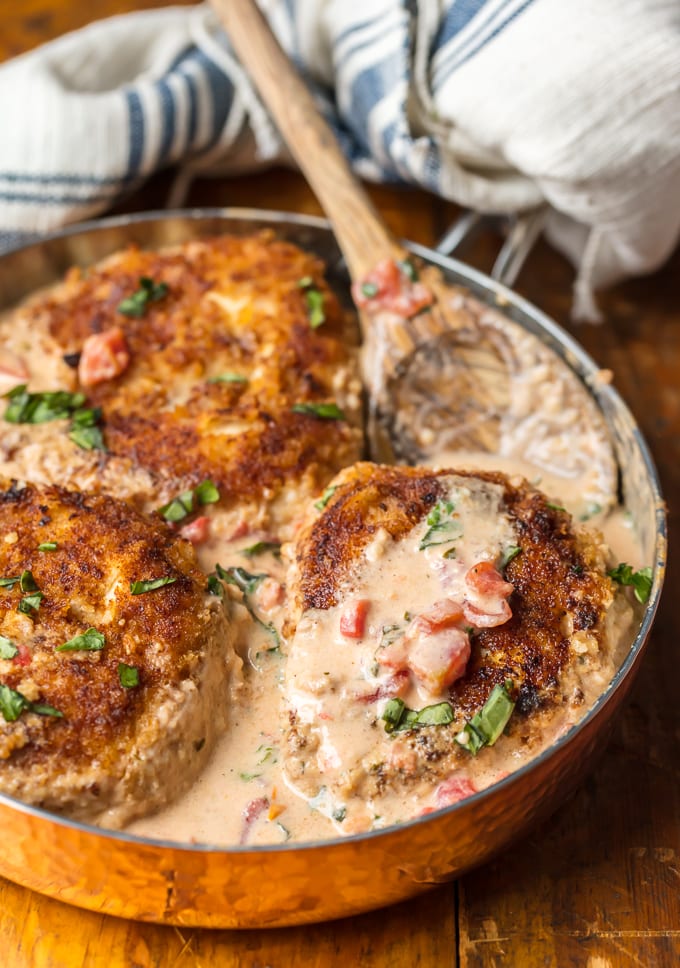 Recipes like this Skillet Basil Cream Chicken are my favorite thing to make, eat, and share with all of you!
If you make this recipe be sure to upload a photo in the comment section below or leave a rating. Enjoy! You can also jump to recipe.