Skillet Basil Cream Chicken has always been one of my favorite recipes.
It's the perfect comfort food for this cold weather! This is the kind of comfort food I can make again and again.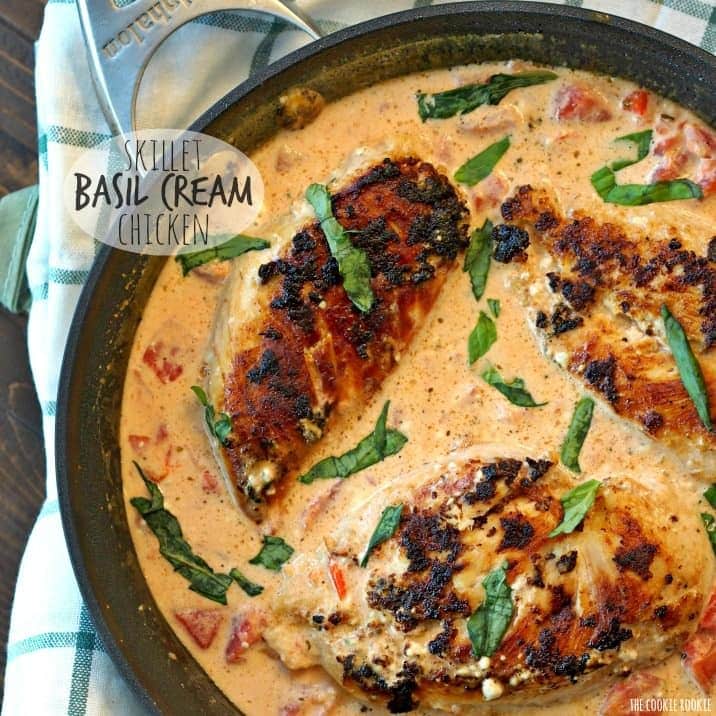 When I started The Cookie Rookie a couple days after my 30th birthday in 2012…I couldn't cook, anything. I started it as a hobby but it has become SO much more. I have made some pretty big strides in cooking, but also love it for the creative outlet, connecting with readers, the blogger friends I've made, and of course the never ending delicious leftovers!
Skillet Basil Cream Chicken was one of the first recipes I made when I started.
Although the post was all written in lowercase…and the pictures were HORRENDOUS (like, ouch!), it remains one of my very favorite recipes on the site. Click here to see the original post! (I warned you about the pictures!)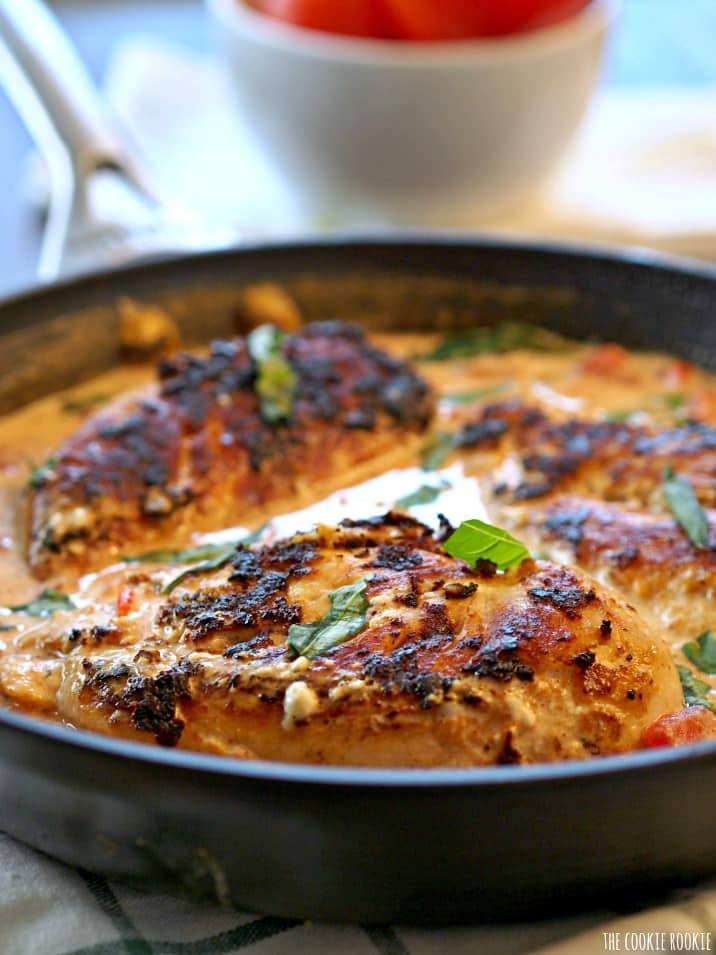 Speaking of leftovers, this recipe is the king of leftovers.  Serve it with rice or pasta, its delicious so many ways.  It's a keeper, even if those original pictures were not not not.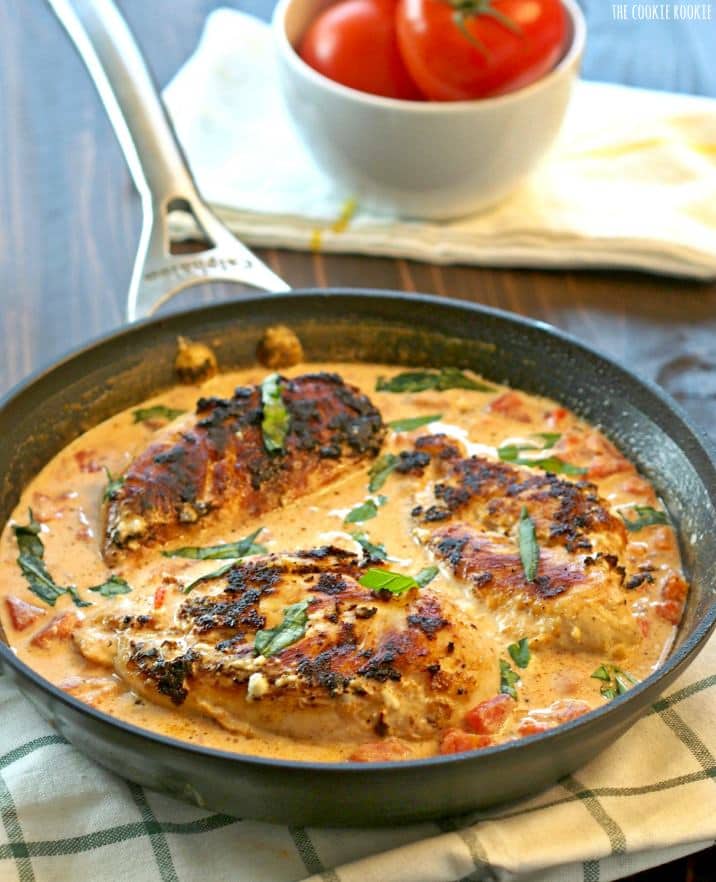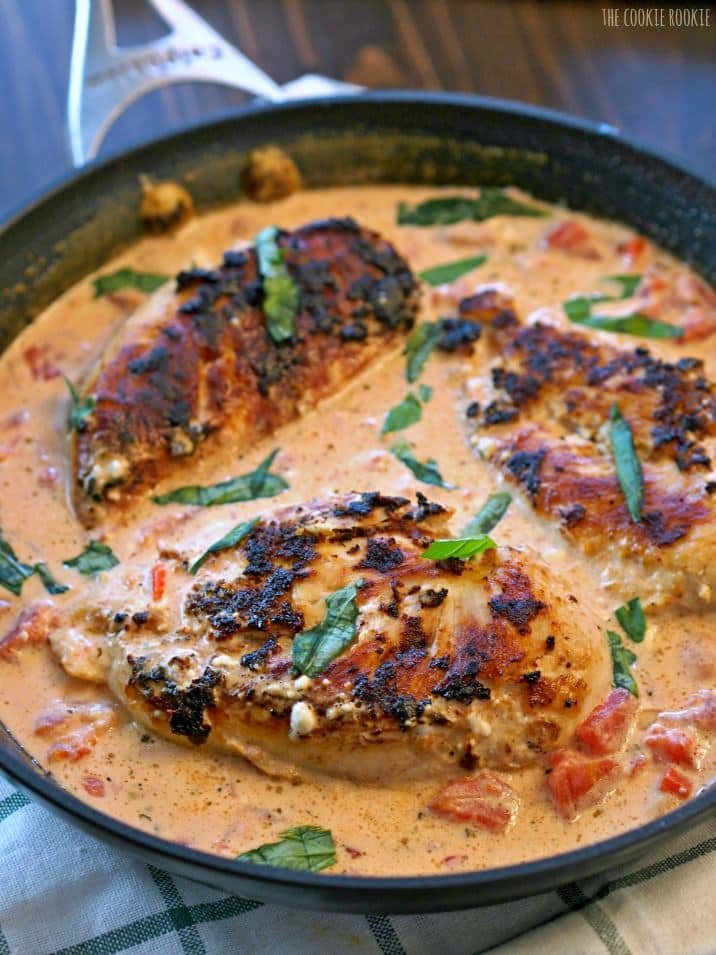 This works best when the chicken breasts aren't super thick. You could also slice bigger breasts (that doesn't sound right?) in half length-wise if you can't find thin cuts. They cook faster and more evenly in the skillet and are all the more tender! Man I love this recipe. Just looking at that basil cream sauce…addiction.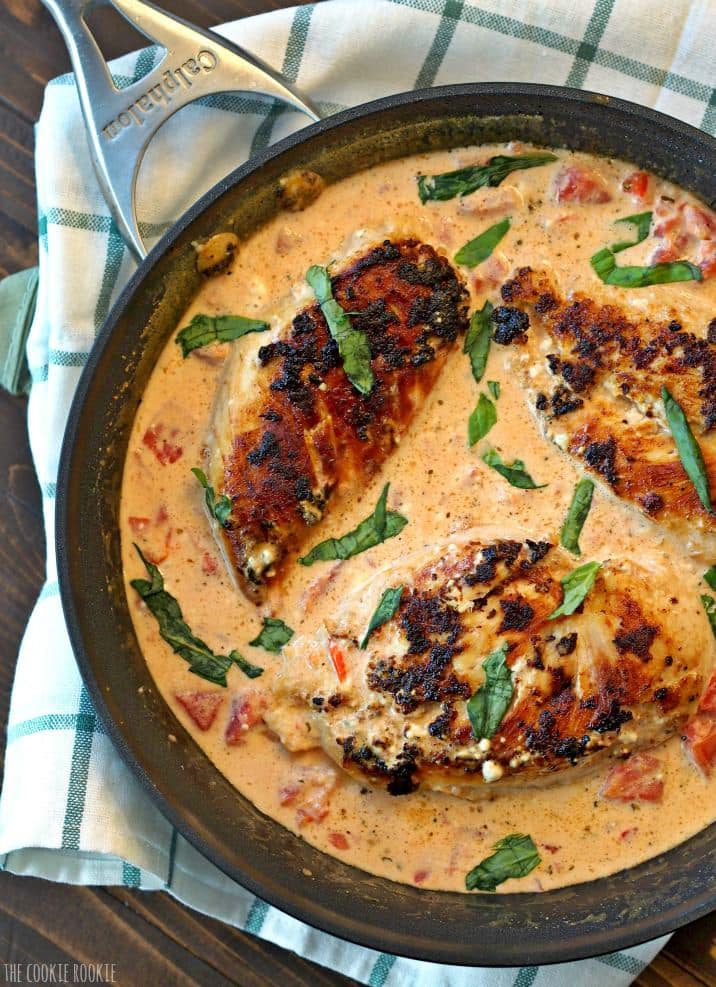 Thanks so much for coming along on this crazy Cookie Rookie ride with me.  I couldn't do it without you. I hope you enjoy this recipe as much as I do!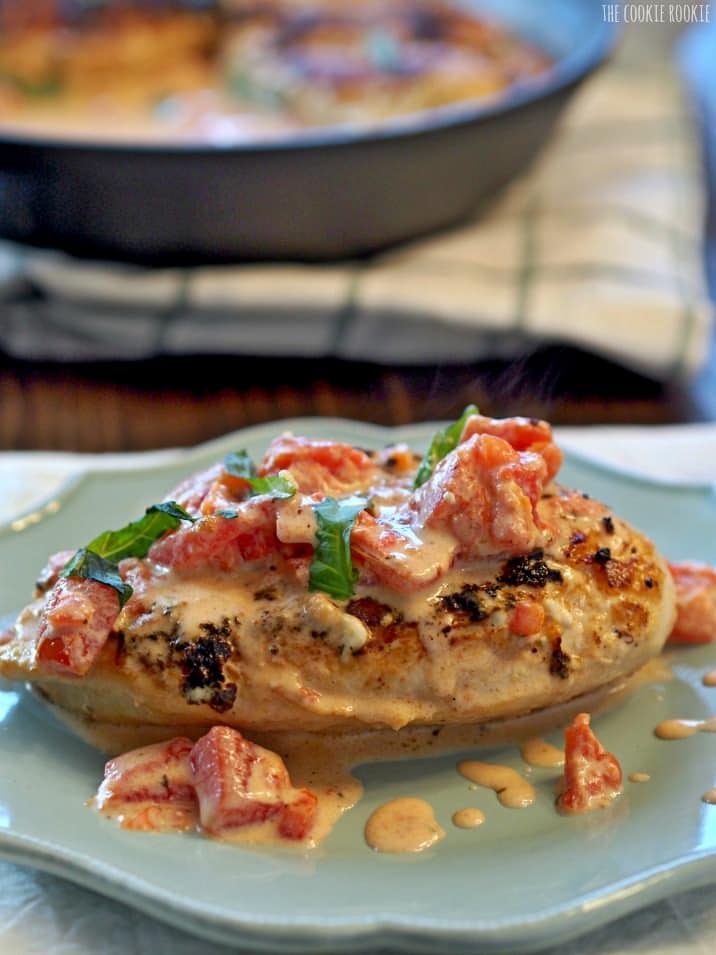 Skillet Basil Cream Chicken
10 minPrep Time
20 minCook Time
30 minTotal Time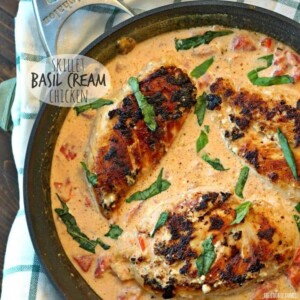 5 based on 1 review(s)
Ingredients
1/4 cup Milk
1/4 cup Dry bread crumbs
1 pound Boneless skinless chicken breast; 4 halves
3 tablespoons Butter
1/2 cup Chicken broth
1 cup Heavy cream
1 can (4 oz) Pimentos
1 cup diced tomatoes, or 1 can diced tomatoes
1/4 cup Basil; fresh, minced (i also added some dry basil)
1/2 cup Parmesan; grated
2 tablespoons boursin cheese
? teaspoon Pepper
Instructions
Heat skillet over medium high heat
Place milk and bread crumbs in separate shallow bowls
Dip chicken in milk, and then coat with crumbs
Add chicken to skillet with 1/2 of the butter about 5 min
Add remaining butter flip chicken and cook another 5-8 min or until chicken is cooked.
Remove and set aside
Add broth to skillet bring to boil over medium heat
Stir in cream, pimientos, and tomatoes; boil and stir for 1 min
Reduce heat, add parmesan cheese, bousrin cheese, basil and pepper; cook and stir until heated through.
Add the chicken back into the sauce.
Serve chicken as is, covered in sauce, or with rice or pasta.
Enjoy!
7.6.6
1760
https://www.thecookierookie.com/skillet-basil-cream-chicken-2/