This post is sponsored by Danish Creamery. All opinions are my own.
Creamy Garlic Chicken is the perfectly flavorful recipe you need for weeknight dinners! Chicken breast is cooked in a skillet with a garlic sauce and crispy bacon for a deliciously creamy and savory dish. This skillet chicken recipe is made in one pan for the easiest dinner of all!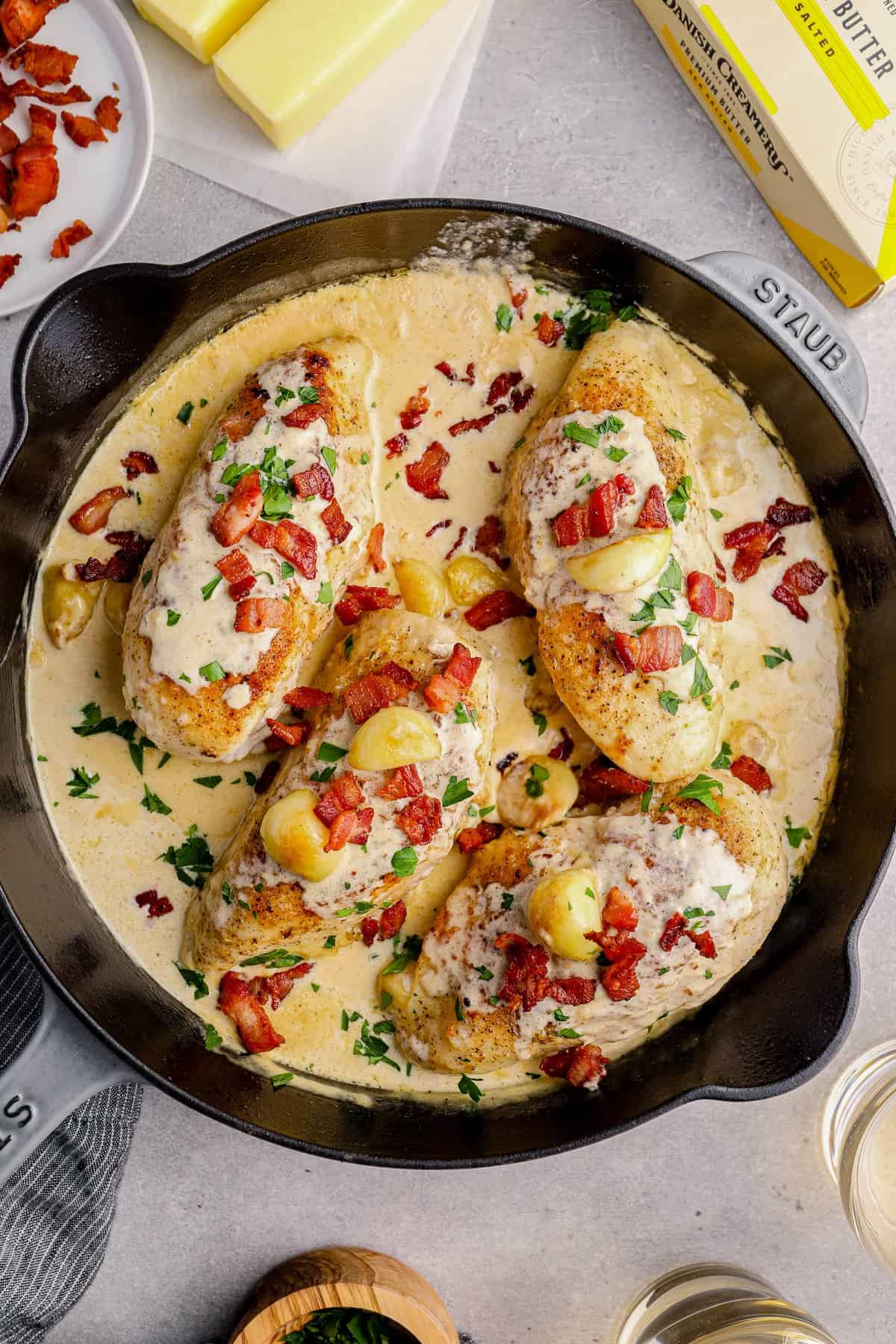 Creamy Garlic Chicken
Make dinner extra easy and tasty with this creamy garlic chicken with bacon. This one pan skillet recipe is sure to become a favorite!
This skillet chicken breast recipe comes out with the most delicious crispy texture, and that garlic cream sauce packs an extra punch. And of course, bacon makes everything better! Pair this dish with any of your favorite sides, and you've got a dinner ready for any occasion.
Everyone will love the flavor of this garlic chicken! It's just as great for family dinners as it is for a special meal at home.
Why You'll Love this Skillet Chicken Recipe:
FLAVORFUL: If you're a fan of garlic, then you're going to love this chicken! It's so rich and savory. Danish Creamery Premium Butter gives the sauce the most amazing flavor punch.
ONE PAN: You can make this creamy garlic chicken all in one pan, from start to finish. This makes clean up a breeze!
EASY DINNER: This dish is a surprisingly easy dinner that you can make any time. Whip it up on weeknights, or save it for date night.
That sauce is the real star of this recipe! It's made with heavy cream, white wine, and toasted garlic to create the most amazing taste. As the chicken cooks directly in the cream sauce, it absorbs all that rich flavor!
And if you LOVE garlic, be sure to try this 40 Clove Garlic Chicken and Potatoes recipe too!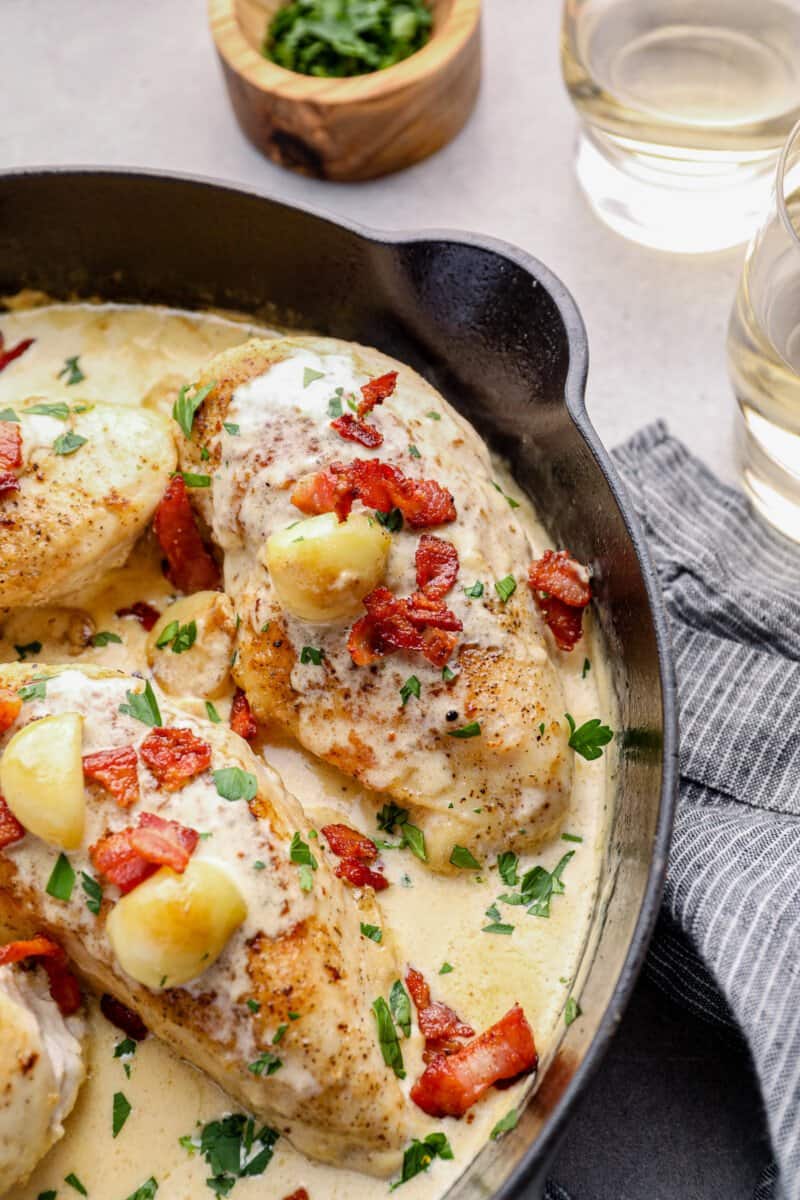 How to Make Creamy Garlic Chicken with Bacon
You can jump to the recipe card for full ingredients & instructions!
Season both sides of the chicken breast, then dredge them in flour and set aside.
Cut up the bacon and cook it until crispy. Then set it aside and wipe out the skillet.
Melt Danish Creamery butter in the skillet, and sear the chicken on both sides. Then set it aside.
Toast the garlic in the pan. Then pour in the wine and simmer until it reduces.
Add the heavy cream, then boil and simmer again.
Place the seared chicken breast in the pan with the garlic sauce, cover, and cook.
Sprinkle it with bacon bits and parsley to serve!
Recipe Notes
Be sure to dredge all sides of the chicken in flour, so that it gets that crispy texture all around when searing.
Using butter in the skillet instead of oil adds so much more flavor, plus it really helps with that pan-fried texture we want.
You can alter the amount of garlic you use based on your preference.
Let the garlic cream sauce simmer and come together before adding the chicken breast in to cook.
Be sure to cover the skillet while the chicken finishes cooking.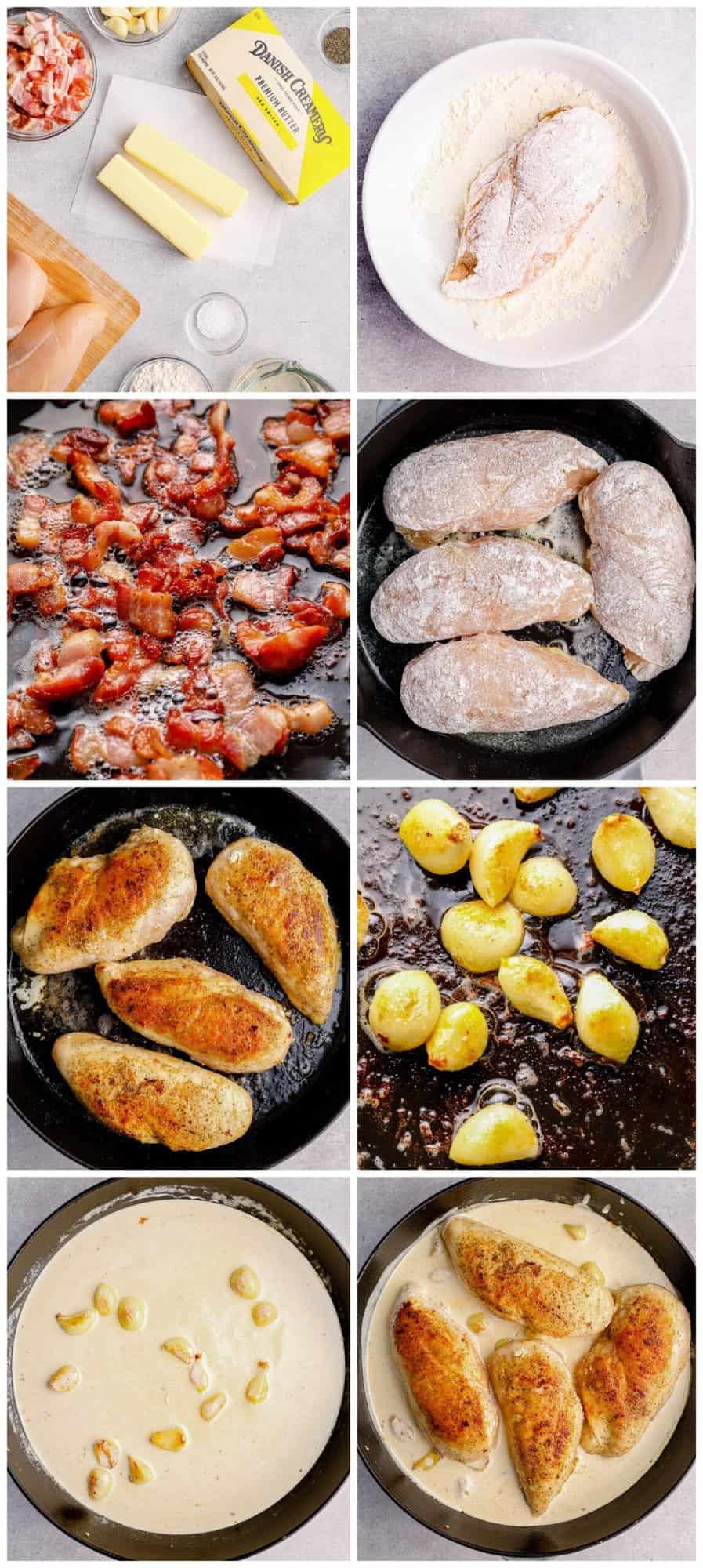 Quality Ingredients
I'm such a fan of easy recipes, but the key to making them delicious is quality ingredients. You want to buy high quality chicken, bacon, and especially the best quality butter!
The butter in this Creamy Garlic Chicken sauce really shines. We used Danish Creamery Sea Salted Premium Butter in this recipe and it makes all the difference.
I love using small batch butter in my recipes because I can trust the quality. I can trust that the cows are pasture-raised and that each batch is churned by hand.
You might remember me using Danish Creamery before, it's been my favorite for several years. Here are some other favorite recipes using Danish Creamery's delicious and high quality butter: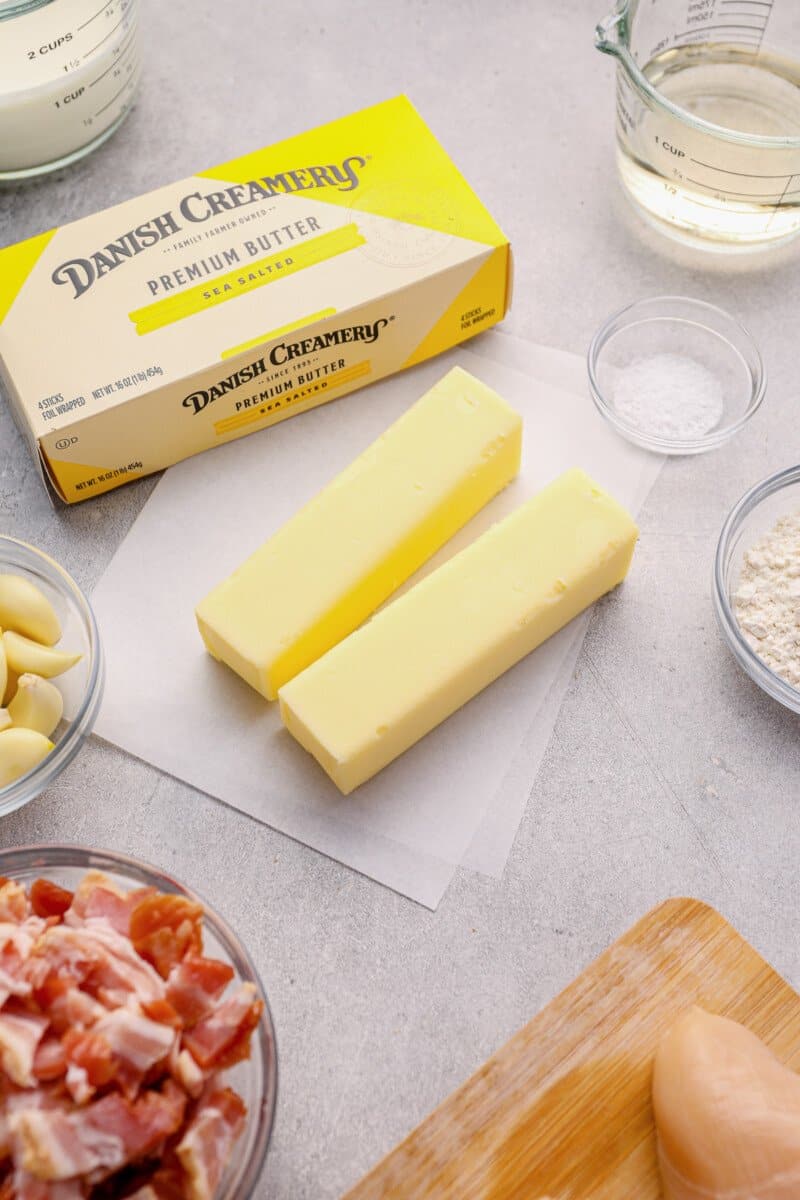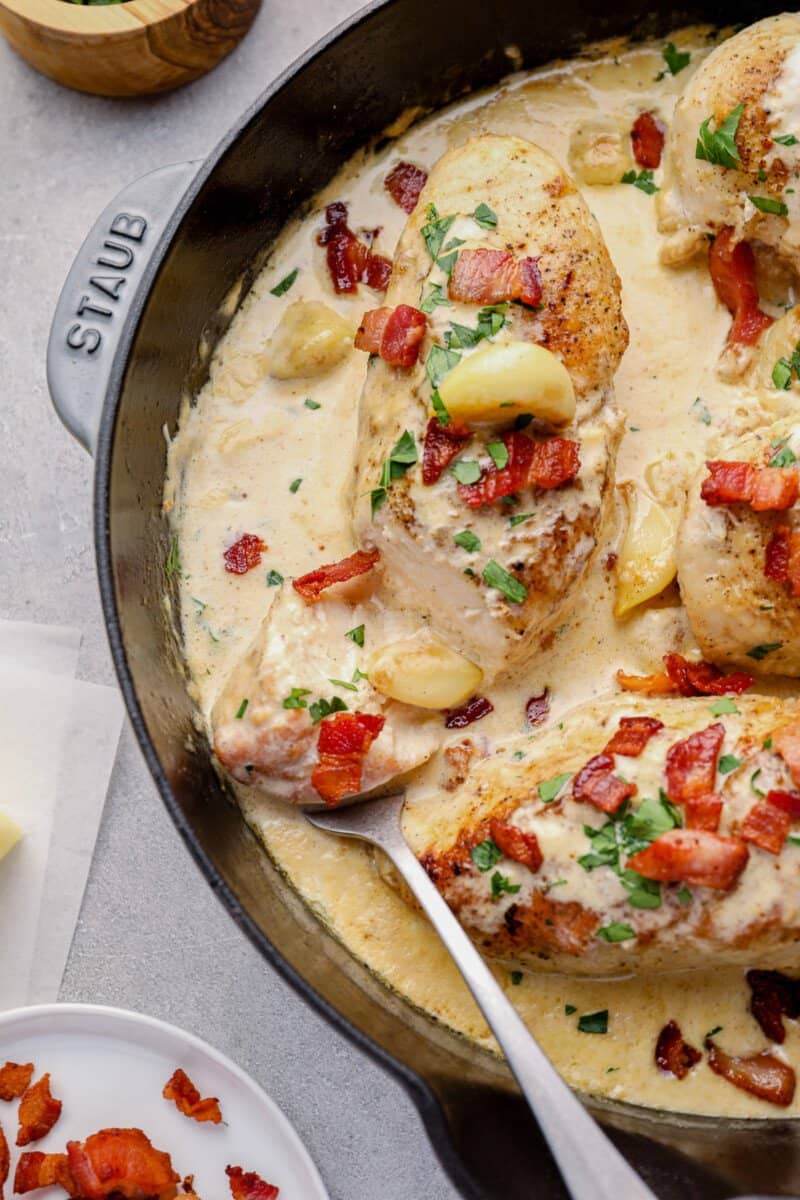 What kind of chicken should I use?
I recommend using boneless, skinless chicken breast for this creamy garlic chicken recipe.
Can I use chicken thighs?
Yes, you can substitute chicken thighs here if you prefer. Use skinless, boneless thighs.
How do I know when the chicken is cooked through?
The best way to know for sure is to check the internal temp with a meat thermometer. It should read 165F.
How many cloves of garlic should I use?
I recommend using one full head of garlic, which will be about 8-12 cloves of garlic total. But you can alter the amount based on your preferences!
What pan is best for this recipe?
Use a large skillet/pan with high sides (like a saute/fry pan). A deep cast iron skillet works great, or you could even use a dutch oven.
Serving Suggestions
This creamy garlic chicken with bacon will taste great with any of your favorite side dishes. Serve it with rice or another grain, some potatoes, or veggies. Anything will taste great with a little bit of that garlic sauce drizzled on top!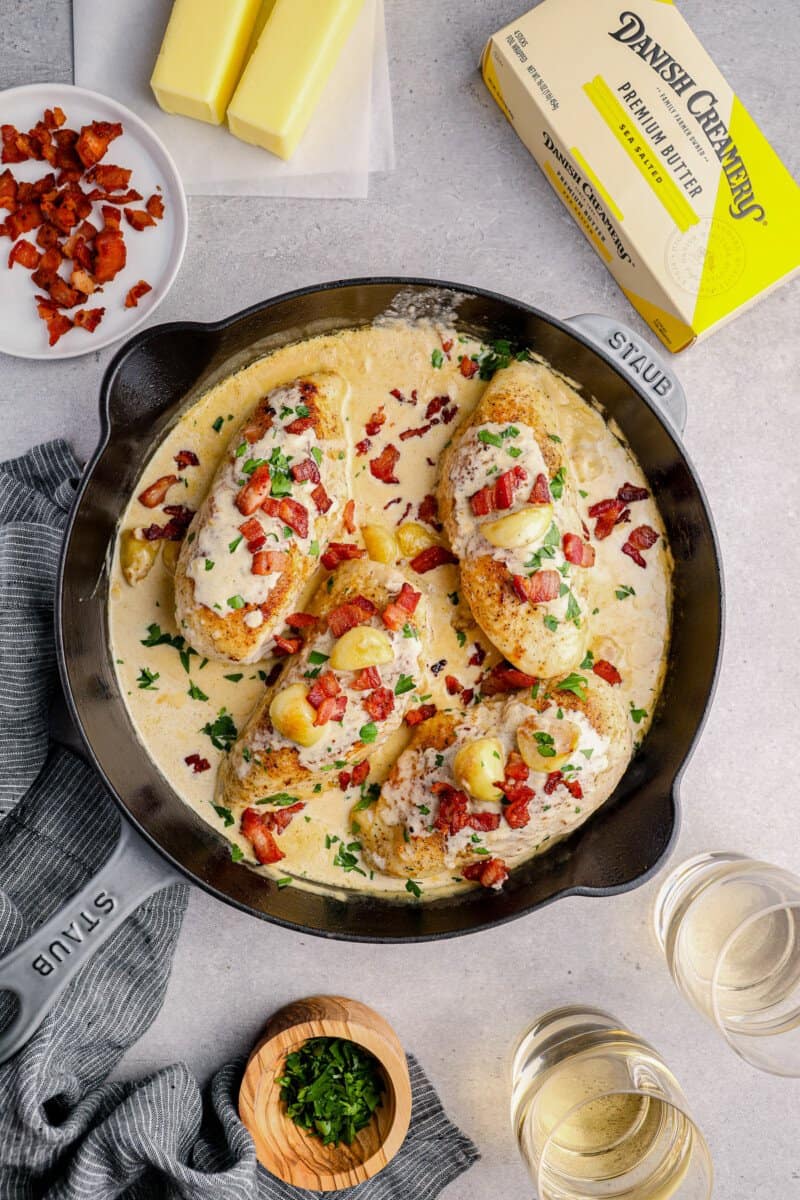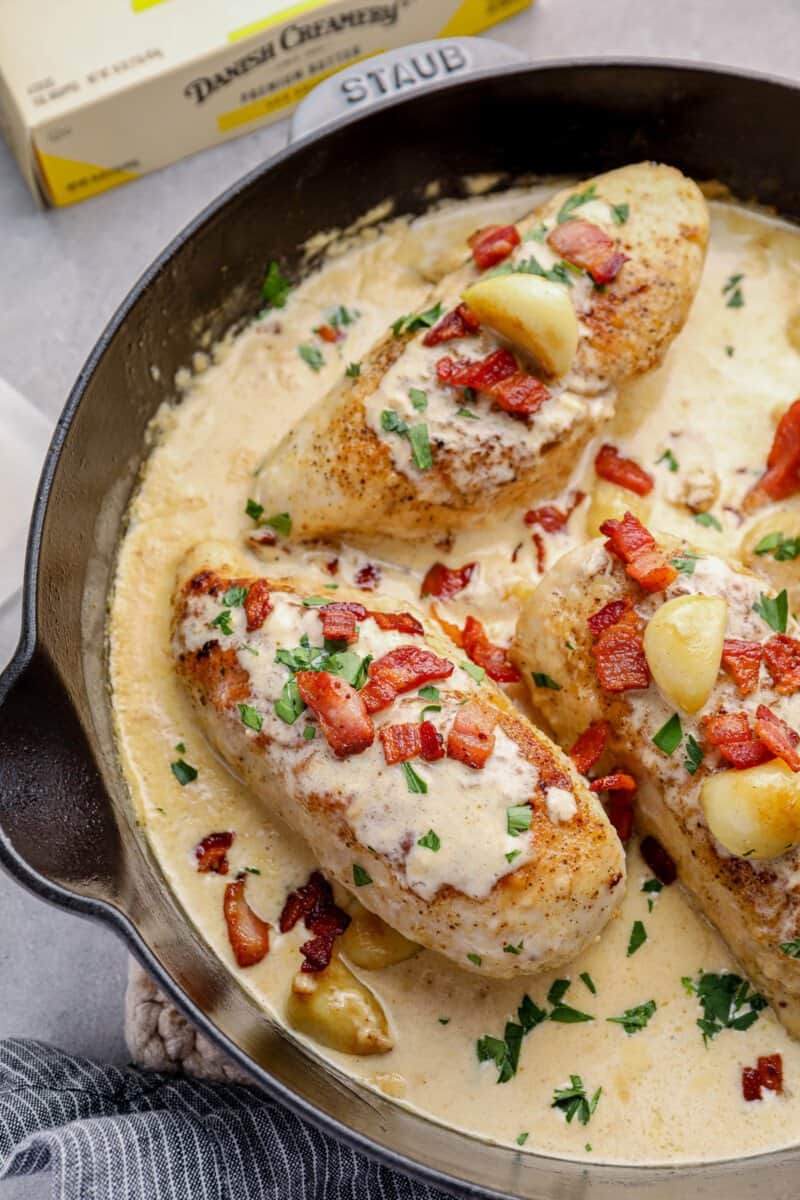 Make Ahead Instructions
This recipe is best made all at once, and eaten as soon as it's cooked. But you can store the final product in the refrigerator and then reheat to serve.
How to Store Creamy Garlic Chicken
Store chicken in an airtight container in the refrigerator for up to 3 days. I don't recommend freezing leftovers as cream-based recipes don't thaw and reheat well.
Chicken with Garlic Cream Sauce Tips
While the chicken is finishing cooking, continually baste in the sauce. This will keep it juicy and tender! To make sure it's done, use a meat thermometer to check that the chicken's internal temp is 165F.
Creamy Chicken Substitutions
You can swap out the white wine for chicken broth–this will add an even more savory, hearty flavor. Heavy cream can be replaced with half and half for a little bit lighter option. And you can use thighs instead of chicken breast if you prefer!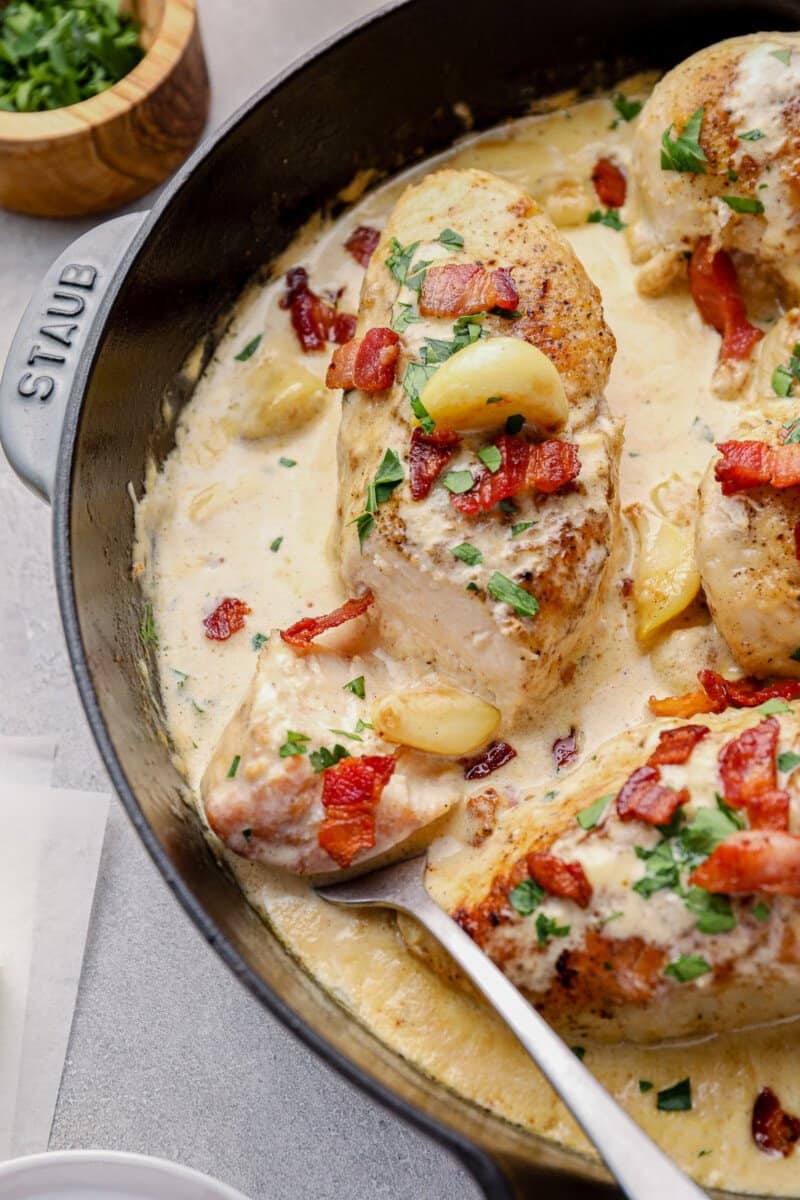 This creamy garlic chicken with bacon will definitely be a new and easy favorite. Creamy, flavorful, and perfectly crispy! A one pan skillet recipe always makes for a great dinner.
If you make this recipe be sure to upload a photo in the comment section below or leave a rating. Enjoy! You can also jump to recipe.