Cheesy Mashed Potatoes with Goat Cheese and Bacon belong on every holiday table! You need these Bacon & Goat Cheese Mashed Potatoes if you're about to entertain friends or family! Bacon Mashed Potatoes are the ultimate side dish. This Mashed Potatoes Recipe is so creamy, flavorful, and delicious. THE BEST cheesy mashed potatoes recipe!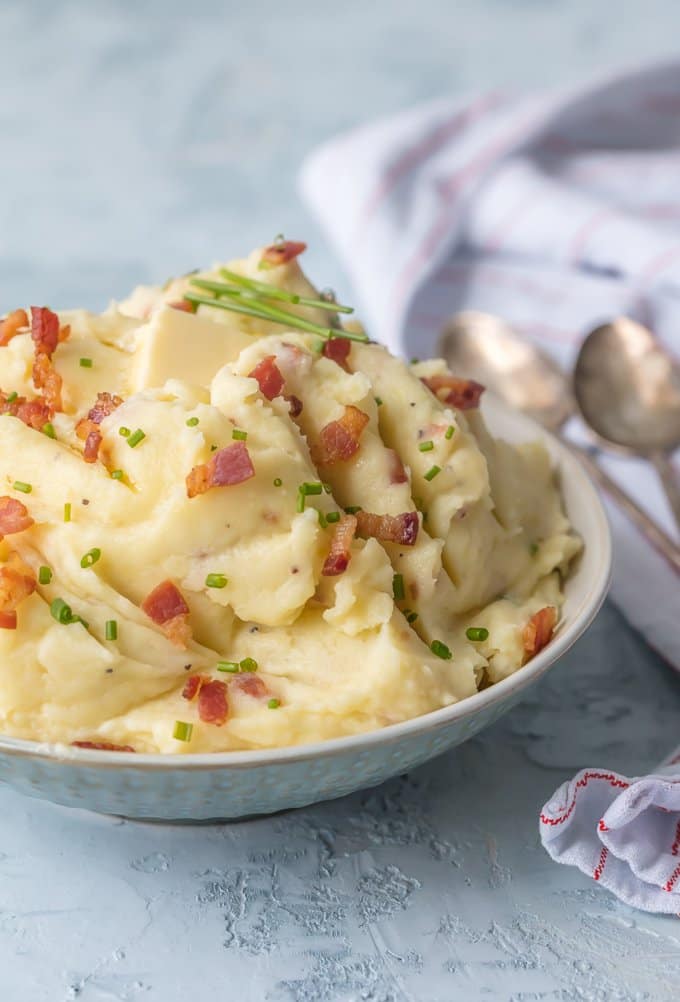 Easy Cheesy Mashed Potatoes Recipe
Cheesy Mashed Potatoes with Goat Cheese and Bacon are the only Mashed Potatoes Recipe I need in life!
Cheesy Mashed Potatoes are a recipe I hold near and dear…to my stomach. What's not to love about easy mashed potatoes filled with bacon and cheese? I made these goat cheese mashed potatoes, because the goat cheese is so creamy and adds lots of flavor!
It's officially FALL and officially OCTOBER and that means THANKSGIVING is just around the corner. ARE YOU SERIOUS?! I know I had a baby this year so its normal for time to fly but wow is this year going fast. I feel like time is on a race track and I need it to slow down. In the blog world, the holidays are the best time of year and the ultimate for a foodie. These cheesy mashed potatoes are the perfect recipe to cook up for the holidays.
All the best recipes are created between October and January. We have made different types of great Thanksgiving side dishes before, from Best Herbed Roasted Potatoes to Three Cheese Asparagus Gratin to Beer Bread Muffins, but these Goat Cheese & Bacon Mashed Potatoes might just be my favorite yet. The flavor is out of this world and just begging to make an appearance on your Thanksgiving table. Your guests will thank you!
This Cheesy Mashed Potatoes recipe is filled with bacon and goat cheese. That's right, goat cheese mashed potatoes are going to change your life!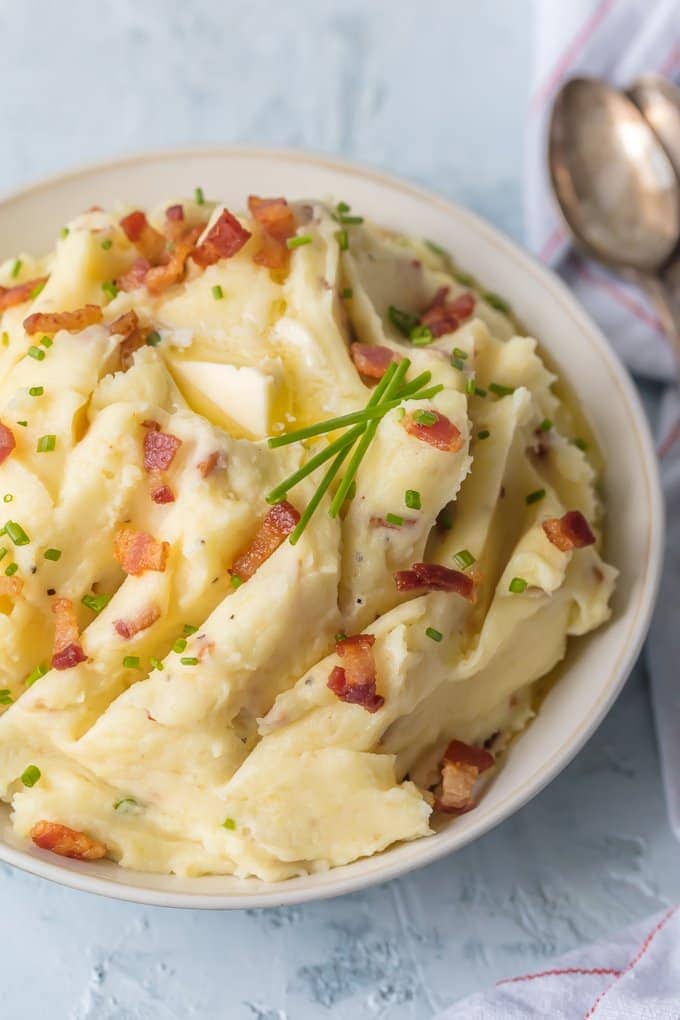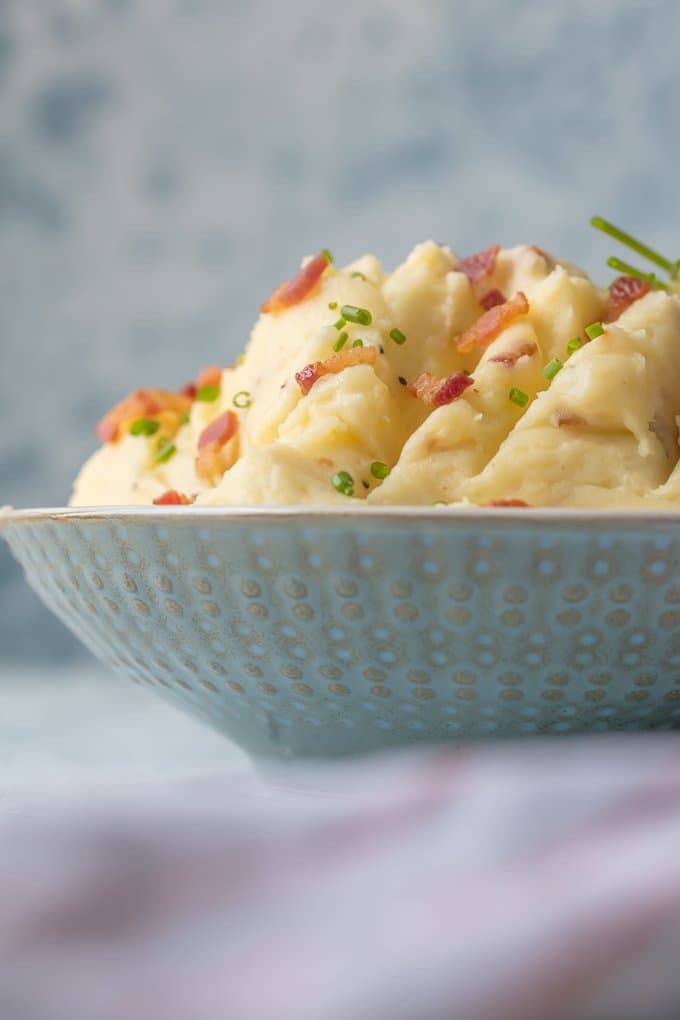 How do you make the Perfect Cheesy Mashed Potatoes?
These cheesy mashed potatoes aren't average at all. The Goat Cheese and the BACON…how could this go wrong? They're also just begging to be rolled into balls and deep fried. Would that be delicious?? That's next. But right now I'm eating them with a spoon and loving every minute of it. To say I'm addicted would be an understatement. These are legitimately my favorite mashed potatoes of ALL TIME.
These goat cheese mashed potatoes with bacon are the type of recipe that people will remember and look forward to at the next family gathering. They could become your signature Thanksgiving side dish!
Tips for Making Bacon & Goat Cheese Mashed Potatoes
We have chosen to use a double boiler to cook our potatoes beforehand. There are lots of ways to prepare the potatoes, but I like this way best.
When ready to serve, these cheesy mashed potatoes don't need a lot of extras like butter or gravy. They have plenty of flavor all on their own!
If you're already planning your holiday menu for either Thanksgiving or Christmas, add these Bacon Mashed Potatoes with Goat Cheese to your list. If you test them, you're sure to make them again and again. They don't need a gravy or a ton of butter because they're bursting with flavor on their own. Add a few chives or scallions and that's all you need. They are SO CREAMY thanks to the goat cheese.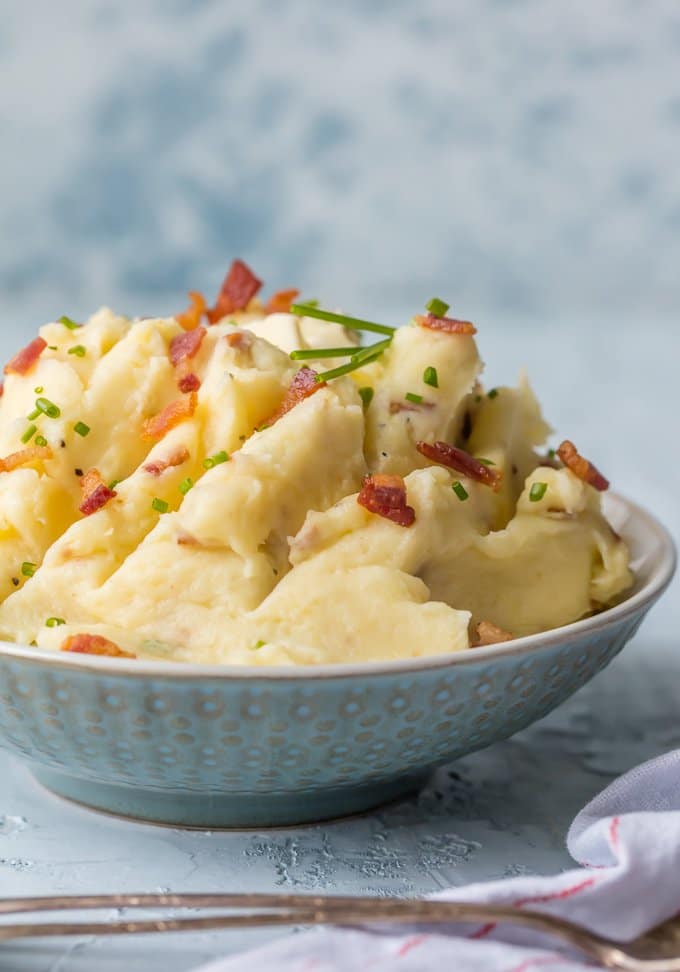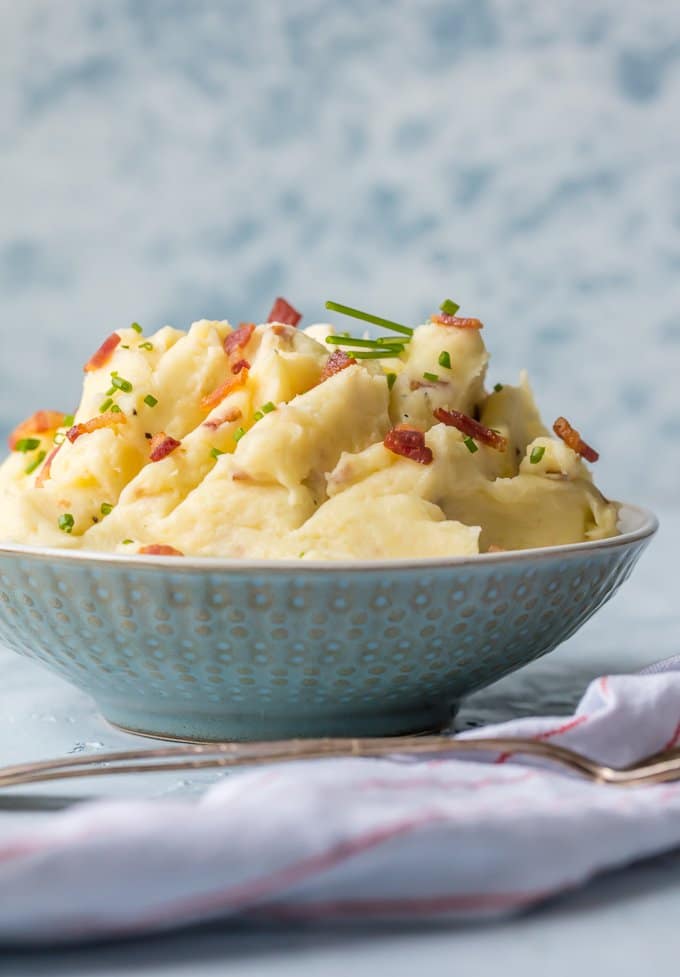 Can these Cheesy Mashed Potatoes be made ahead of time?
YES! You can make these ahead and then reheat when ready to serve. You might need to add a bit more butter and mix again to fluff on the day of your get together.
How long will these Goat Cheese Mashed Potatoes with Bacon keep?
Properly stored, this cheesy mashed potatoes recipe should stay good for 3-5 days in the fridge.
Serving suggestions
We love so many recipes with these Bacon Mashed Potatoes. Some of our favorites are Copycat Honey Baked Ham, Dutch Oven Short Ribs, Stuffed Pork Loin, or just simple poached chicken breast.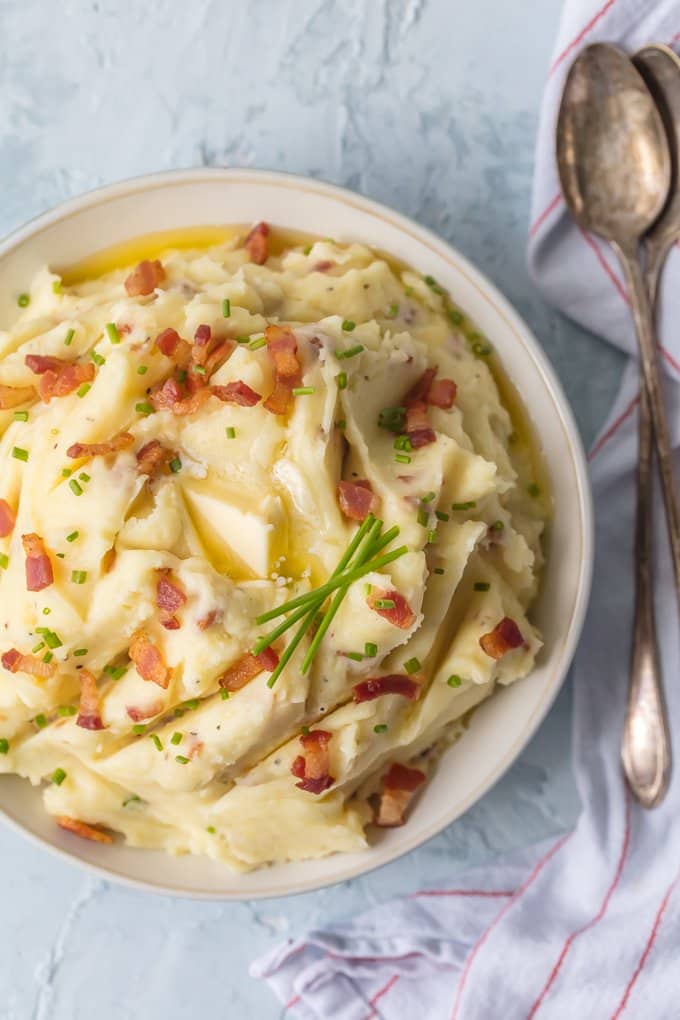 How can you say no to these CHEESY Mashed Potatoes? Bacon mashed potatoes with goat cheese are one of my favorites now, and I'm so glad I tried adding goat cheese because it really makes them so creamy. I hope you try these out too!
Watch the video or see the recipe card below for full details on How to make Cheesy Mashed Potatoes. Enjoy!
If you LOVE these cheesy mashed potatoes, try these other potato recipes too: