Sausage and potatoes is a classic combo that's perfect for breakfast. Make this sausage potato casserole in just 30 minutes, and have a hot breakfast ready in no time. I especially love this cheesy sausage breakfast casserole for Christmas and other holiday mornings.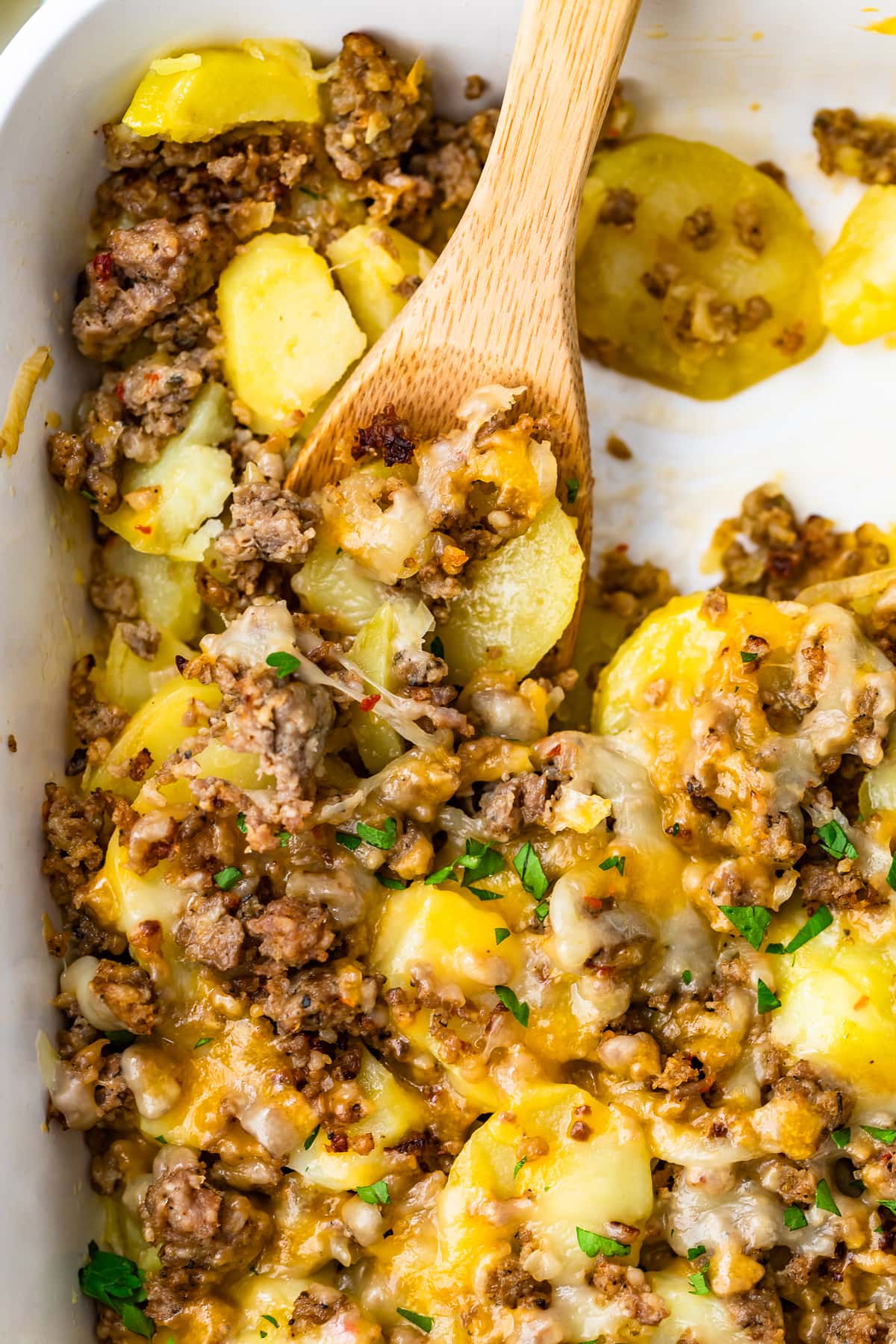 Sausage and Potatoes Breakfast Casserole
This easy sausage and potatoes recipe is always a hit. What's not to love about a sausage breakfast casserole covered in CHEESE?!
Easy breakfasts are a must any morning. I'm not a fan of waking up early to make big elaborate breakfasts, but I do like having something delicious to serve my family, especially on holidays! You can't go wrong with sausage and potatoes, so this cheesy Sausage Breakfast Casserole is a real winner!
This sausage potato casserole is so easy to make, and contains just a few ingredients. Give yourself half an hour, and you've got a delicious sausage and potato bake ready for breakfast. It's filled with sausage, potatoes, onions, and plenty of cheese. Yum!
This sausage and potatoes recipe can be an entire meal in one dish, or it can be the perfect side dish. Either way, it's incredibly tasty!
Make this Cheesy Sausage and Potatoes recipe for an easy and delicious breakfast any day of the week!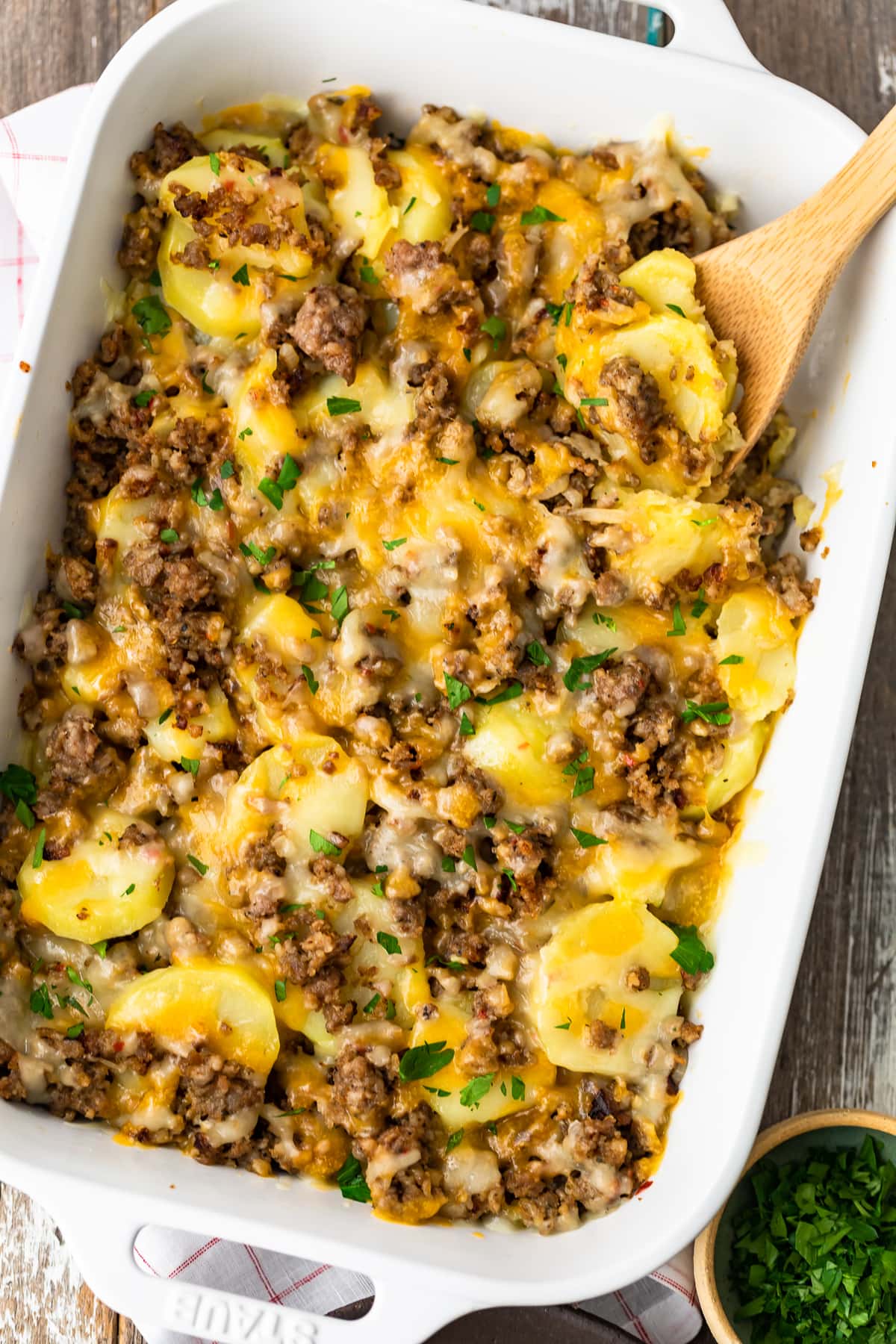 Cheesy Sausage Potato Casserole
Cheese, potatoes, sausage. Check, check, and check! What more could you ask for from a sausage breakfast casserole? We've also got some onion and parsley thrown in there to add even more flavor!
This cheesy sausage potato casserole has everything you need for an easy and tasty breakfast. It's savory, it's cheesy, and it's plenty filling. And with the short cooking time, you can feed the whole family in a flash!
This is easily an entire meal in one dish, but you could also serve it as a side dish for a bigger breakfast feast. Serve it with some eggs, pancakes, or breakfast biscuits, and you're really cookin'! I love this sausage and potatoes recipe for when guests are staying over, because I can make an impressive dish without stressing in the kitchen all morning. Win win!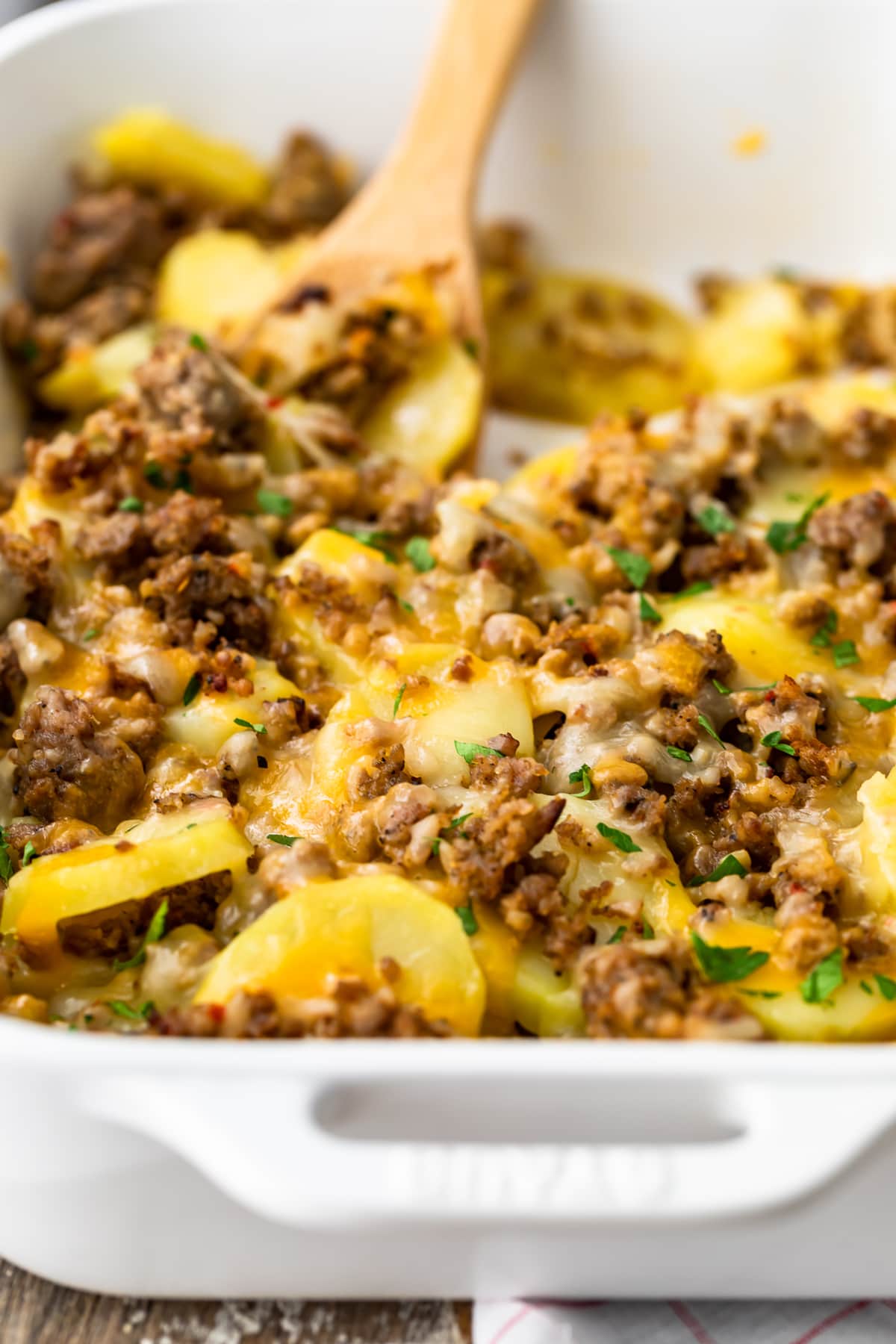 How to Make Cheesy Sausage and Potatoes
I just can't get over how easy this sausage and potatoes casserole recipe is. I really don't like spending all my time in the kitchen, especially first thing in the morning. This cheesy dish solves that problem!
How to Make Cheesy Sausage Breakfast Casserole:
Before beginning, peel the potatoes and cut them into 1/4 inch slices. Then chop the onions.
Place the sliced potatoes in a large saucepan and cover them with cold water.
Bring the water to a boil, then reduce heat and cook for 8-10 minutes (just enough to make the potatoes fork tender).
Crumble the sausage in a large skillet and add in the onion. Cook until the sausage is cooked through and onion becomes translucent. Transfer the mixture to a paper towel lined plate when done.
When the potatoes are done cooking, drain them and place them in the prepared baking dish. Then pour the melted butter over them.
Spread the sausage and onion mixture over the potatoes, and toss it all together.
Top the sausage and potato bake with cheese, then bake uncovered for 7-10 minutes at 350°F.
Throw in a bit of parsley when it's done, and serve it while it's hot! This cheesy sausage potato casserole is just so simple.
Be sure to watch the video to see the step by step process.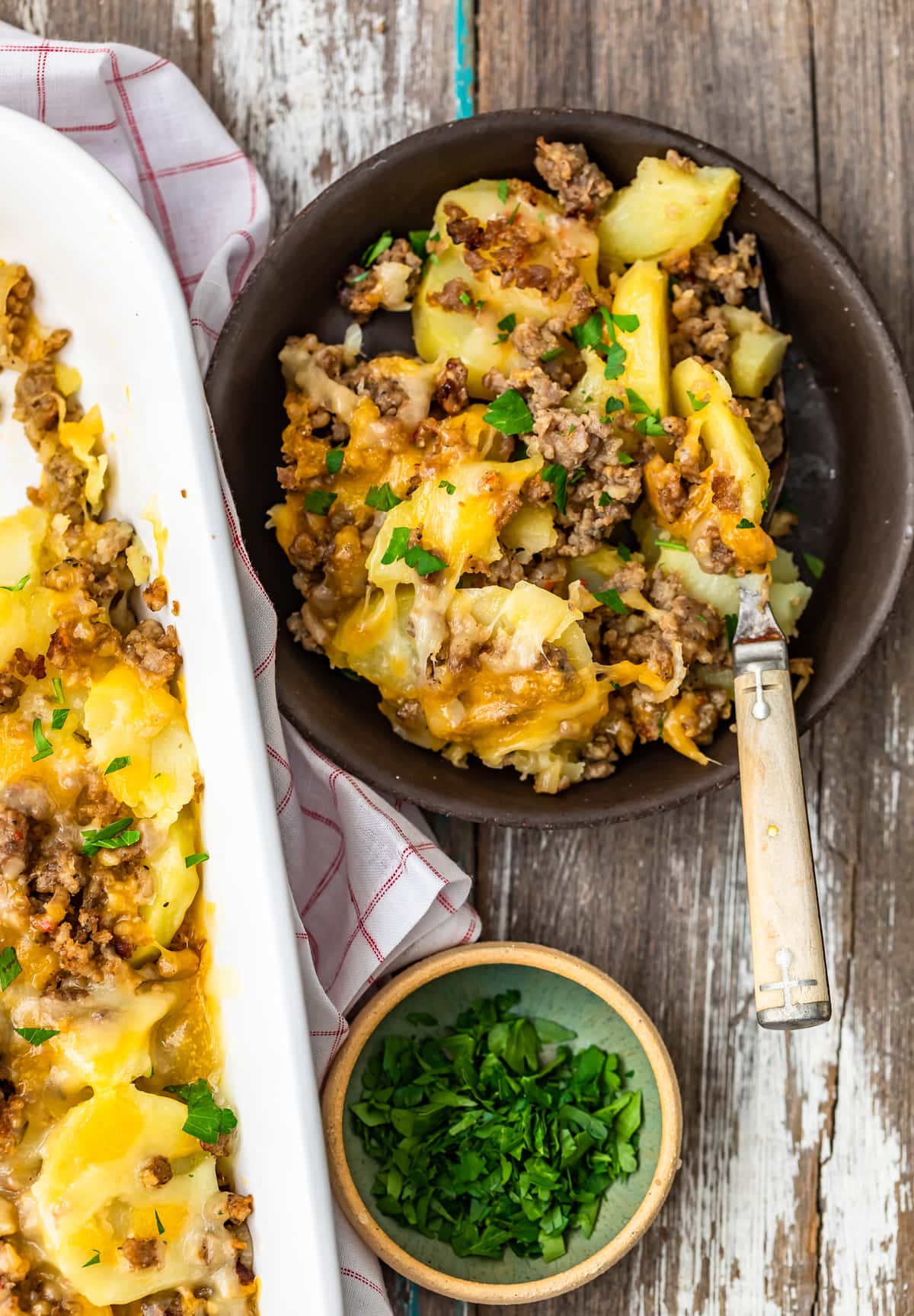 Sausage Breakfast Casserole
I love an easy cheesy casserole for breakfast, and this sausage and potatoes recipe really does the job. It's such a simple thing to make in the mornings, and it's absolutely delicious. This sausage breakfast casserole is just perfect!
Here are some other favorite easy breakfast recipes: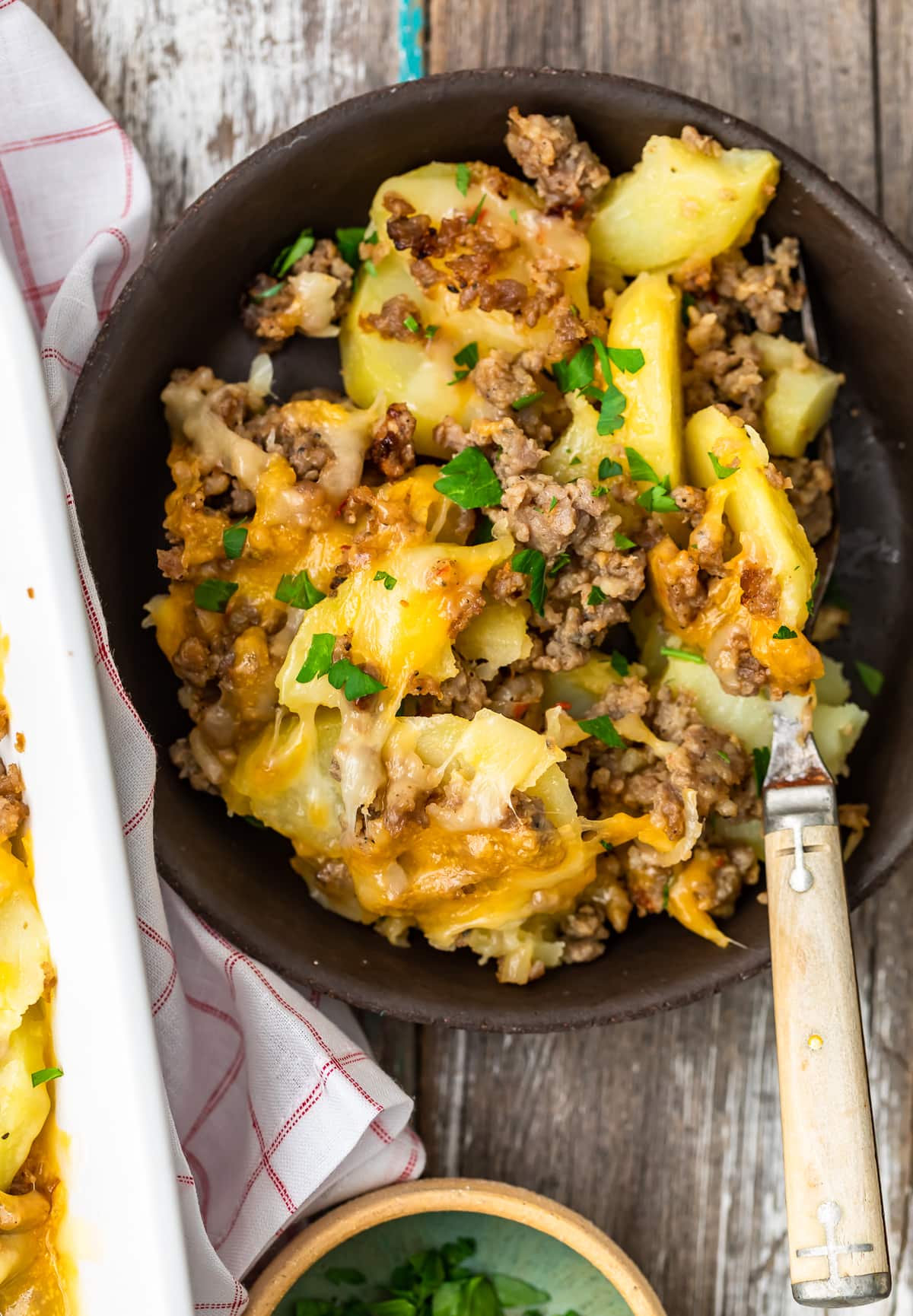 I can't wait for you to try this cheesy sausage and potato bake recipe with your family. I just know that everyone will LOVE this sausage breakfast casserole! This is one of our family favorite recipes for Christmas morning!
See the recipe card below for details on how to make this Cheesy Sausage and Potatoes Casserole. Enjoy!
If you like this sausage potato casserole, you'll love these other recipes too: