Sticky Buns are a sweet and delicious breakfast that the whole family will enjoy! This caramel pecan sticky bun recipe is a classic, and it's sure to bring everyone together around the breakfast table. They are perfect for Christmas morning, or as a special weekend treat!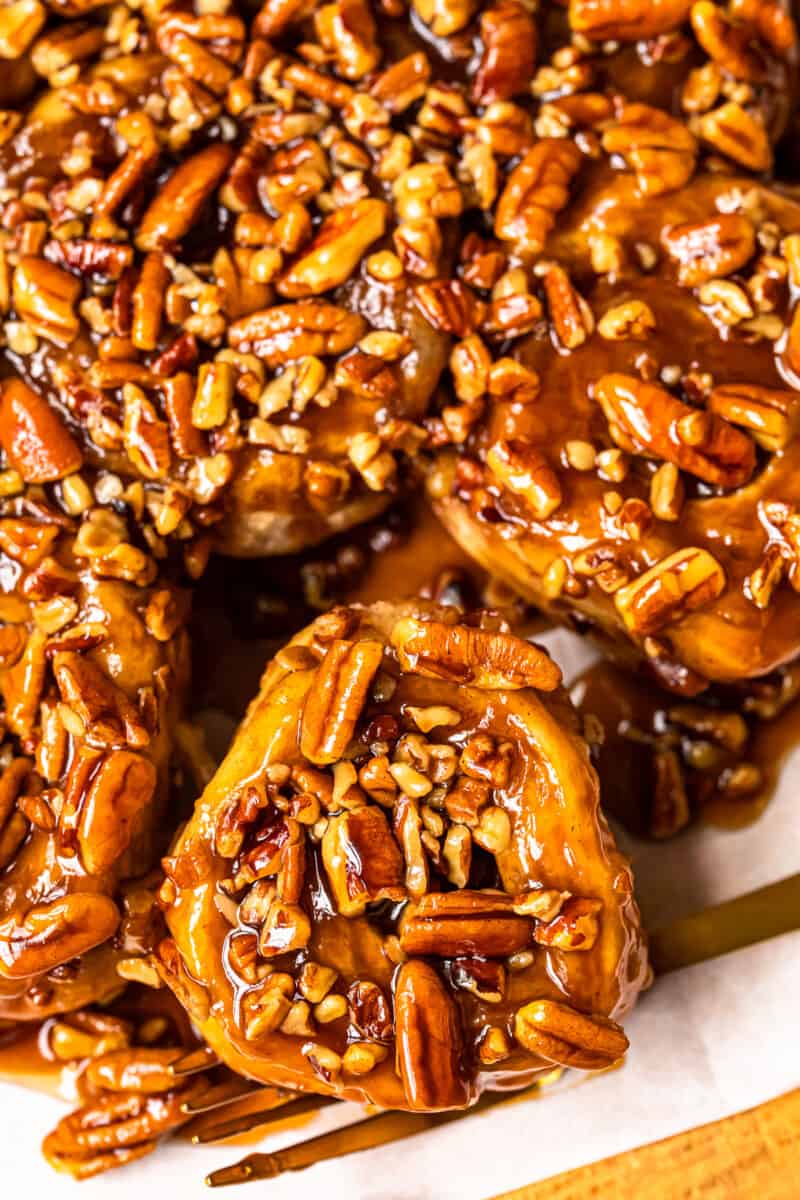 Pecan Sticky Buns
These sticky buns are the best breakfast! They're filled with cinnamon and baked with a tasty caramel pecan topping. They come out gooey, sweet, and absolutely delicious!
Everyone will be jumping out of bed to eat these pecan sticky buns. I love making them for Christmas morning, Easter breakfast, or just for a special little treat on the weekend. They make a great dessert too, so keep any leftovers for later!
Why You'll Love this Sticky Buns Recipe:
SWEET AND DELICIOUS: The pecan caramel glaze is super sweet, and it adds the perfect touch to these rolls.
FAMILY FAVORITE: These sticky buns are always a hit! They will quickly become a family favorite in your home, just like they are here.
OVERNIGHT BREAKFAST: You can prep this recipe the day before, and keep them refrigerated until ready to bake. This will make breakfast so much easier!
These upside-down sticky buns are basically the stickier cousin to cinnamon rolls. The brown sugar caramel glaze makes them extra tasty, but also a little messier. Grab some forks and napkins, then chow down!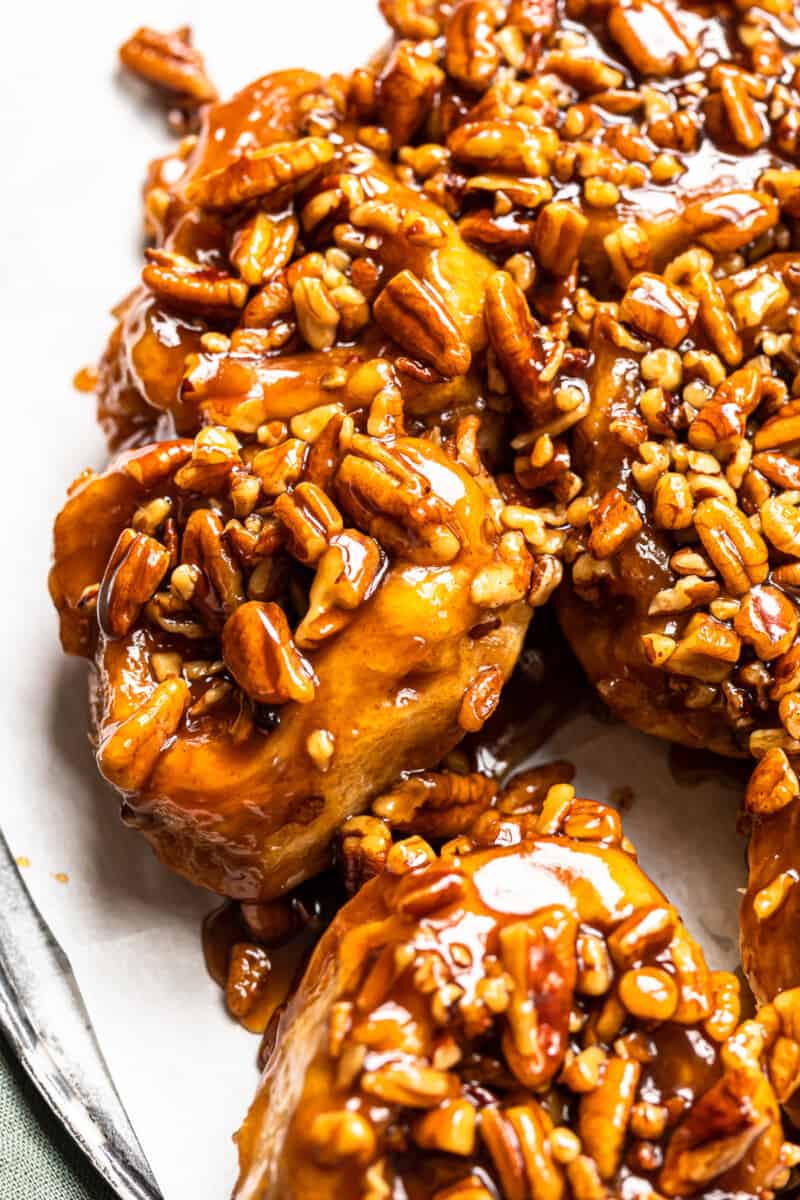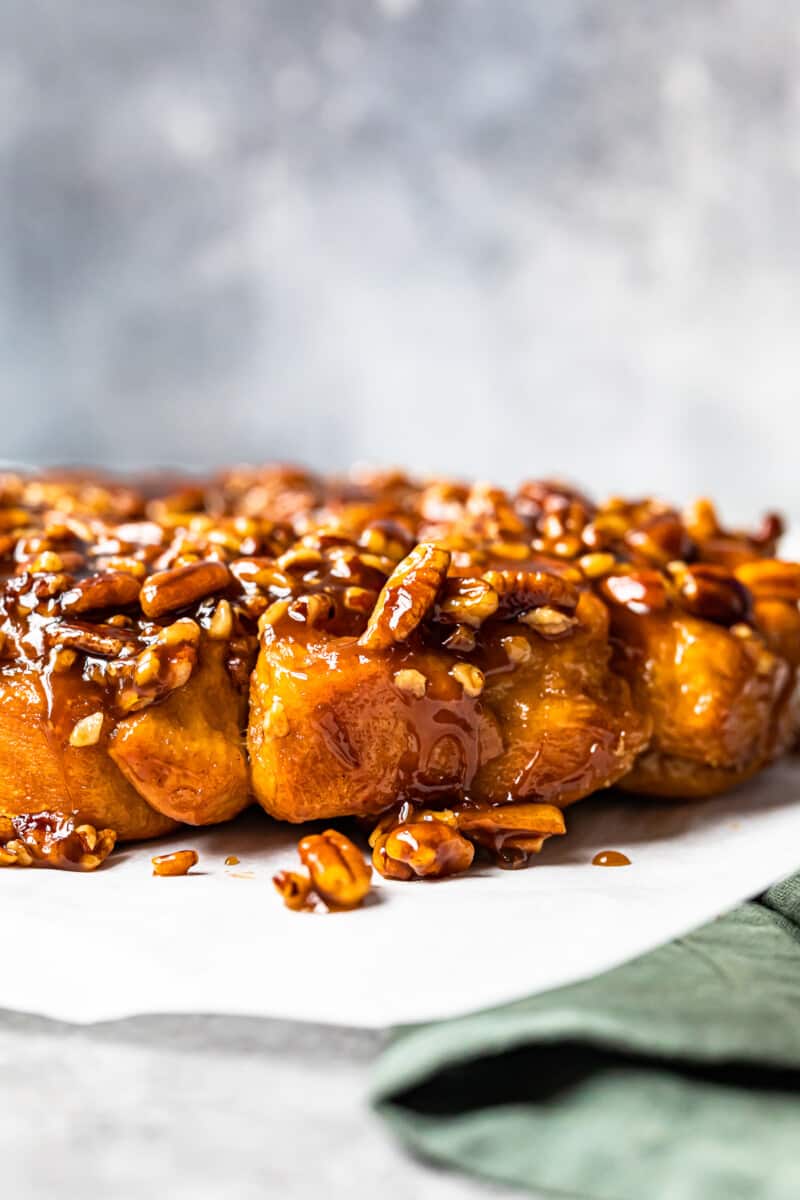 How to Make Sticky Buns
You can jump to the recipe card for full ingredients & instructions!
Dough: Start by activating the yeast, then make the dough. Place it in a bowl, cover, and let it rise. Then refrigerate it until ready to move to the next step.
Pecan Topping: While the dough rests on the counter, make the topping on the stove. Then pour the topping into the prepared baking pans.
Rolls: Make the cinnamon filling. Then roll out the dough, and cover it with the filling. Roll it into a cylinder, then cut them into individual rolls.
Second Rise: Place the rolls into the baking pans. Cover and let them rise.
Bake: Bake sticky buns for 30-35 minutes, at 350F.
Serve: Let them cool slightly, then turn the pan upside down to release the rolls. Give them a few more minutes to cool before serving. Enjoy!
Ingredient & Recipe Notes
Pans: Use two, round 9-inch baking pans for best results.
Yeast: Be sure to use active dry yeast here, not instant. The water needs to be between 110-115°F to properly activate the yeast.
Pie Spice: Use apple pie spice for best results, or use a mix of cinnamon, allspice, and nutmeg.
Dough: When rolling out the dough to prepare for the cinnamon filling, you want it to be ⅓ in thick. The overall size of the rectangle is not as important as the thickness.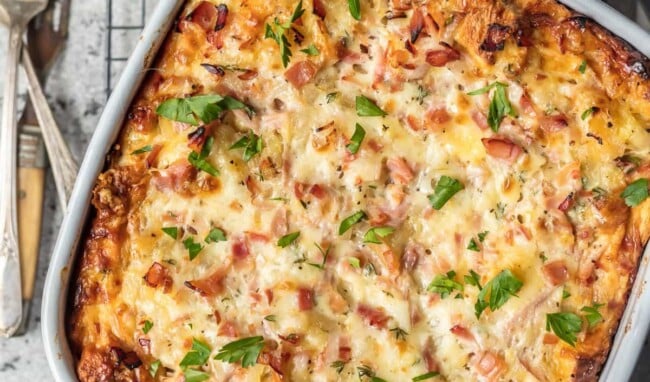 Christmas Morning Faves
34+ Christmas Morning Recipes
Nothing better than waking up to an amazing (and easy) breakfast bright and early on Christmas.
See Recipes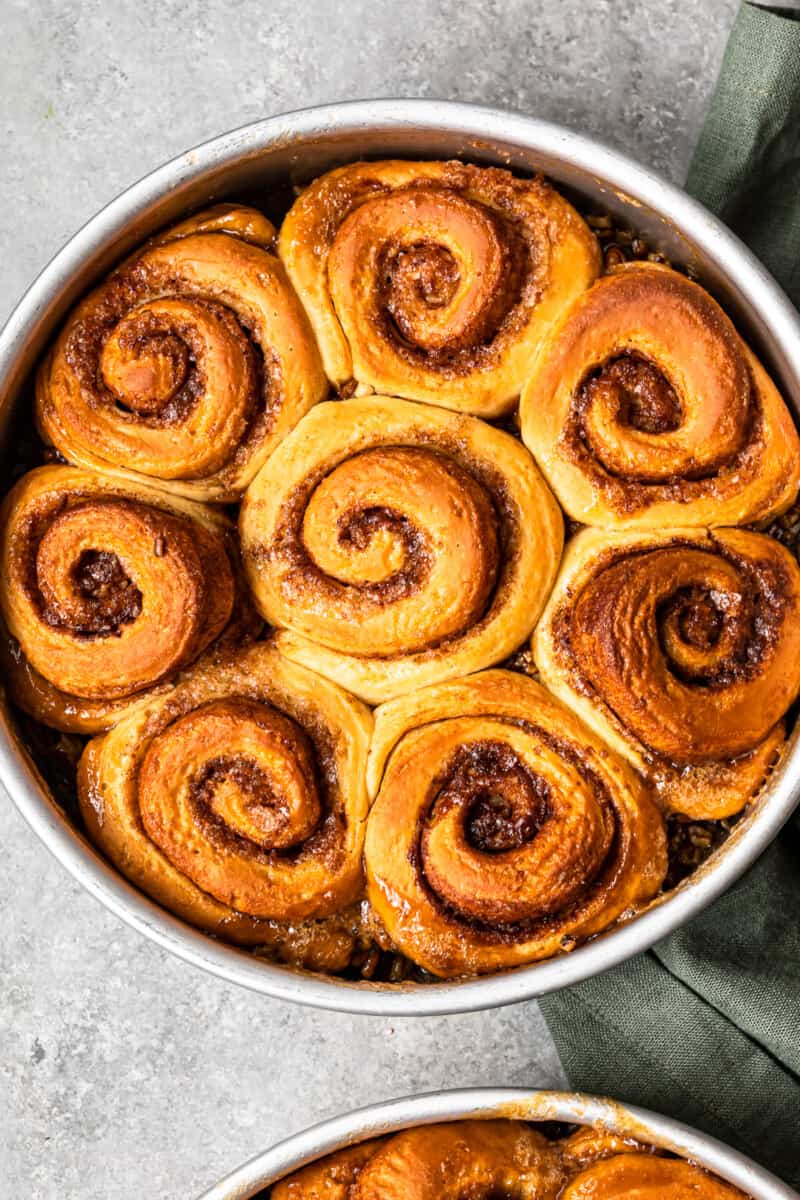 What is the difference between cinnamon rolls and sticky buns?
Sticky buns are denser, contain nuts (pecans), and use a glazed topping rather than frosting. They're also made "upside down", so you'll need to invert them after baking. Cinnamon rolls, on the other hand, are much lighter and fluffier, are mainly all about the cinnamon, and use a frosting or icing to top them off.

Do sticky buns need frosting?
These sticky buns have a syrupy caramel pecan topping instead of a frosting like you'd expect from cinnamon rolls. So no, they are not typically frosted.
What is the best way to store sticky buns?
Since these are so sticky, the easiest way to store leftovers is to cover the plate of buns with aluminum foil, then keep at room temperature for up to 3 days.
Are these rolls similar to pecan caramel rolls?
The flavor here is similar, but the sticky buns are baked with a syrupy topping, and the texture is a bit different. The pecan caramel rolls are more like traditional cinnamon rolls, just with added pecans!
Can I use any nut for these sticky buns?
The pecans here are great, but you can certainly use a different type of nut if you prefer. Try walnuts, or skip the nuts entirely if you like.
Serving Suggestions
Cinnamon pecan sticky buns are quite dense and rich, so they will be pretty filling on their own. But I like having some lighter additions to the table, like fruit and yogurt, to help balance out the meal. More importantly, I like having a delicious coffee drink by my side to complement this sweet breakfast!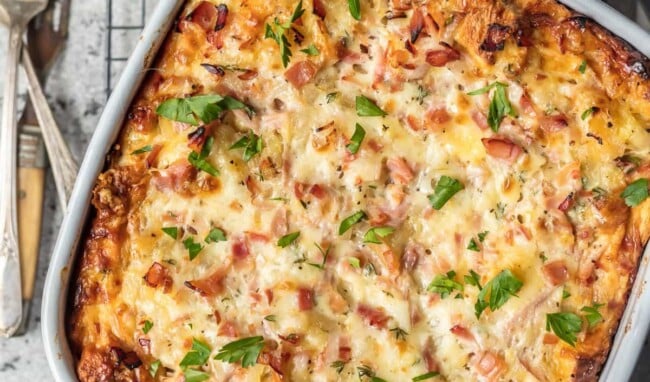 Christmas Morning Faves
34+ Christmas Morning Recipes
Nothing better than waking up to an amazing (and easy) breakfast bright and early on Christmas.
See Recipes
I always make a special breakfast for the holidays, and these feel like the start of a new tradition. Even on a regular day, these will make it feel like an extra special day!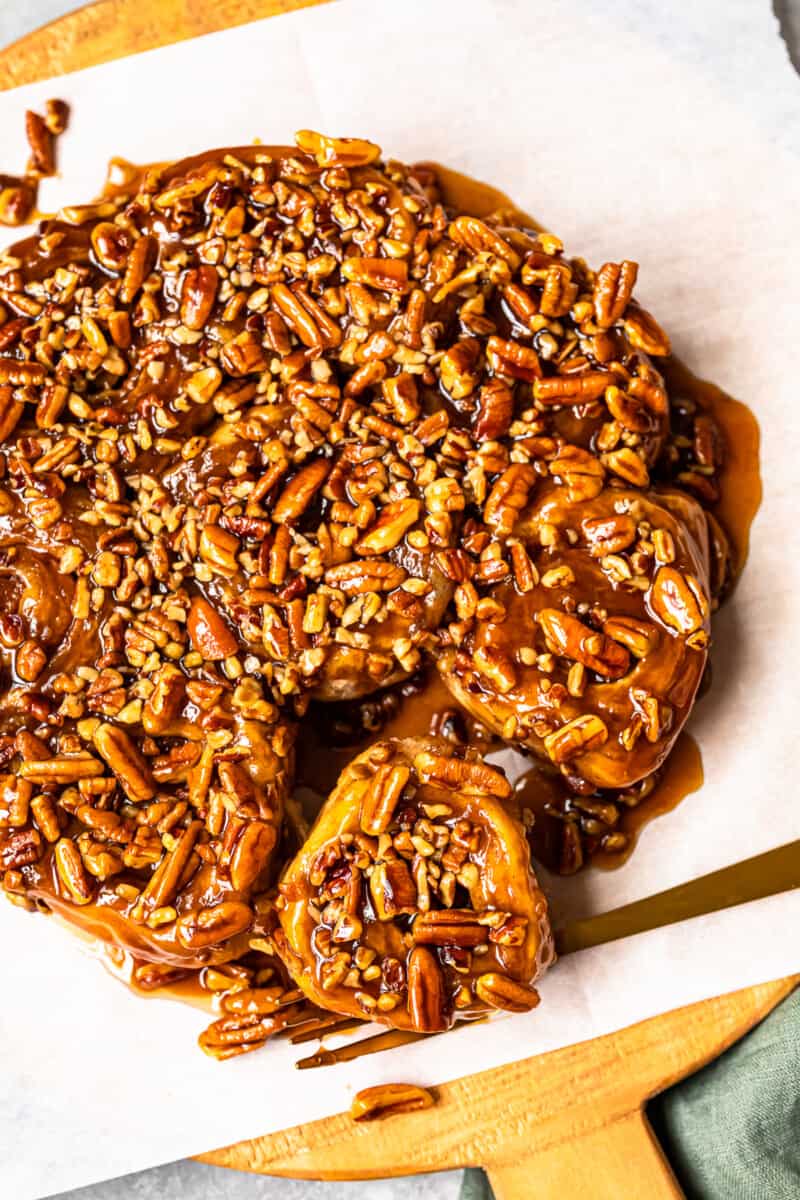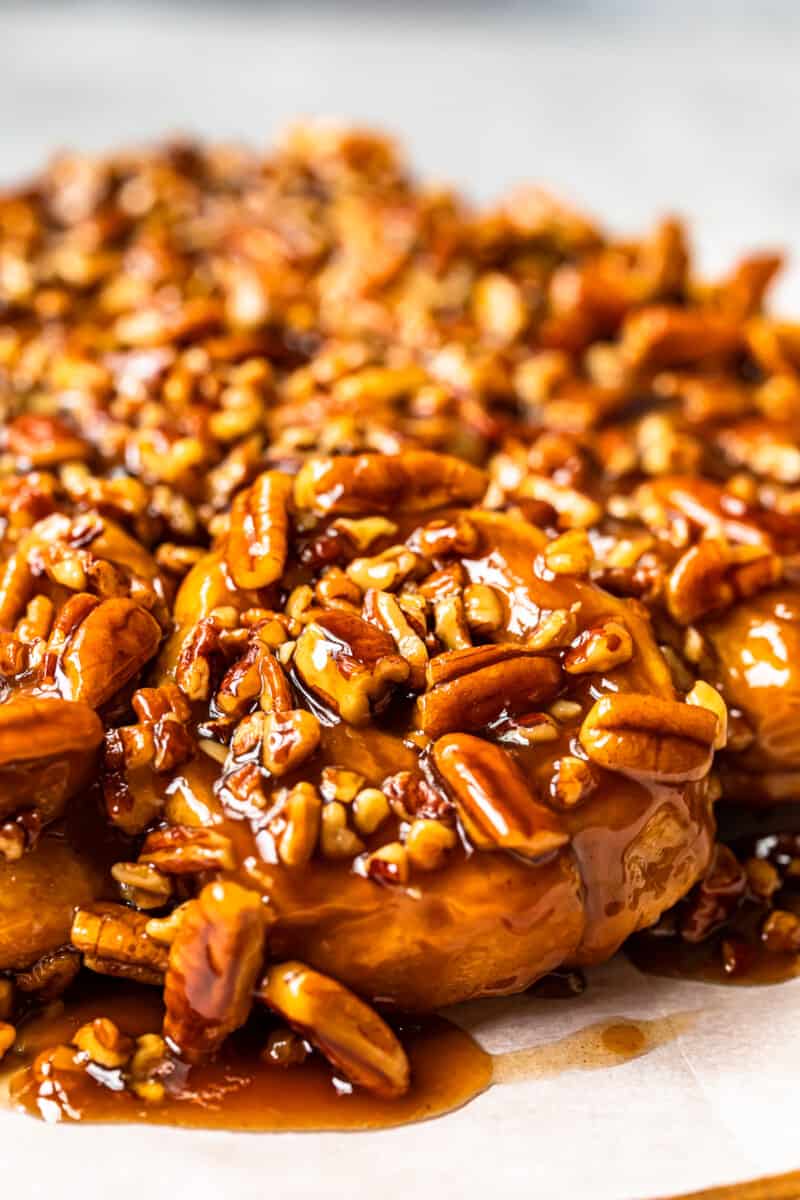 Tips!
Waxed dental floss is the best method to slice through the dough neatly and cleanly. Otherwise, use a serrated knife to cut.
If the sticky buns are browning too fast in the oven, loosely cover them with foil that has been sprayed with non-stick spray.
Be sure to spray the pans generously with non-stick spray to prevent sticking!
You can make these in a square baking pan if needed. The round pans just create the best results, in my experience.
When you flip the pan upside down to release the sticky buns, you'll get a glimpse of that delicious pecan topping! You want to eat them hot for the best flavor, but give them just a few minutes to cool before serving.
Where should dough rise?
The dough needs to rise two separate times. This should be done in a warm spot.
Choose a warm corner in your kitchen, or set it on top of the stove. You can also briefly warm the oven (just a couple of minutes at a low temp), turn it off, and let the dough rise in there. I find I only need to do this in the winter, when the kitchen is much cooler.
Can I make sticky buns ahead of time?
The dough needs to rise multiple times, so you will definitely need to prep this recipe ahead of time. After the first rise, you can simply keep the dough refrigerated overnight, or until ready to move on to the next step.
For another overnight option: Once you fully prep the sticky buns (with the topping and buns in the pan), cover the pans with plastic wrap, and keep those refrigerated overnight (or until ready to bake). Let them sit at room temperature in the morning while the oven preheats, then bake.
What can I use instead of corn syrup?
You can replace the corn syrup with other sweet syrupy ingredients, like maple syrup, agave, or honey.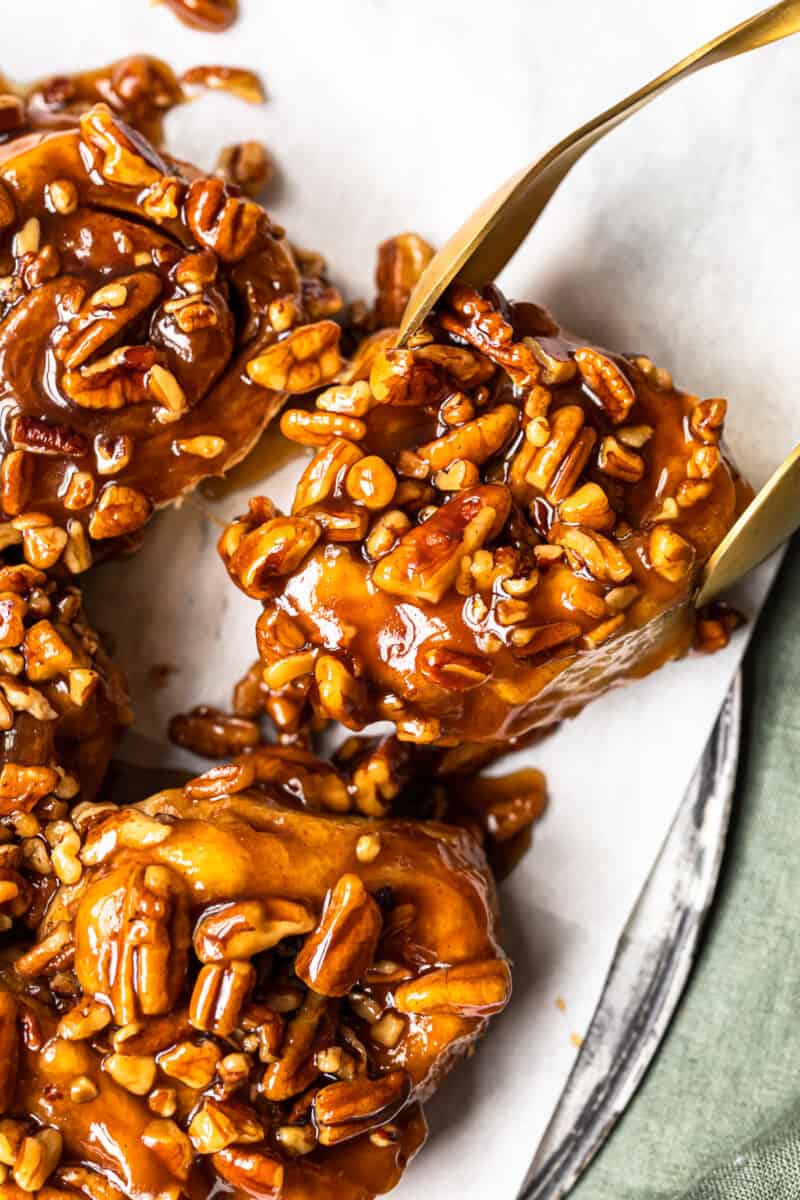 This pecan sticky buns recipe has become a fast favorite. Everyone (kids, guests, me) loves these sweet, glazed, cinnamon-filled rolls. A breakfast favorite for holidays and beyond!
If you make this recipe be sure to upload a photo in the comment section below or leave a rating. Enjoy! You can also jump to recipe.