Learn how to make scrambled eggs perfectly every time! Whether you prefer to make them on the stove, in the microwave, or with an Instant Pot or Air Fryer, it's a quick and easy recipe. They'll always turn out fluffy, soft, and just delicious!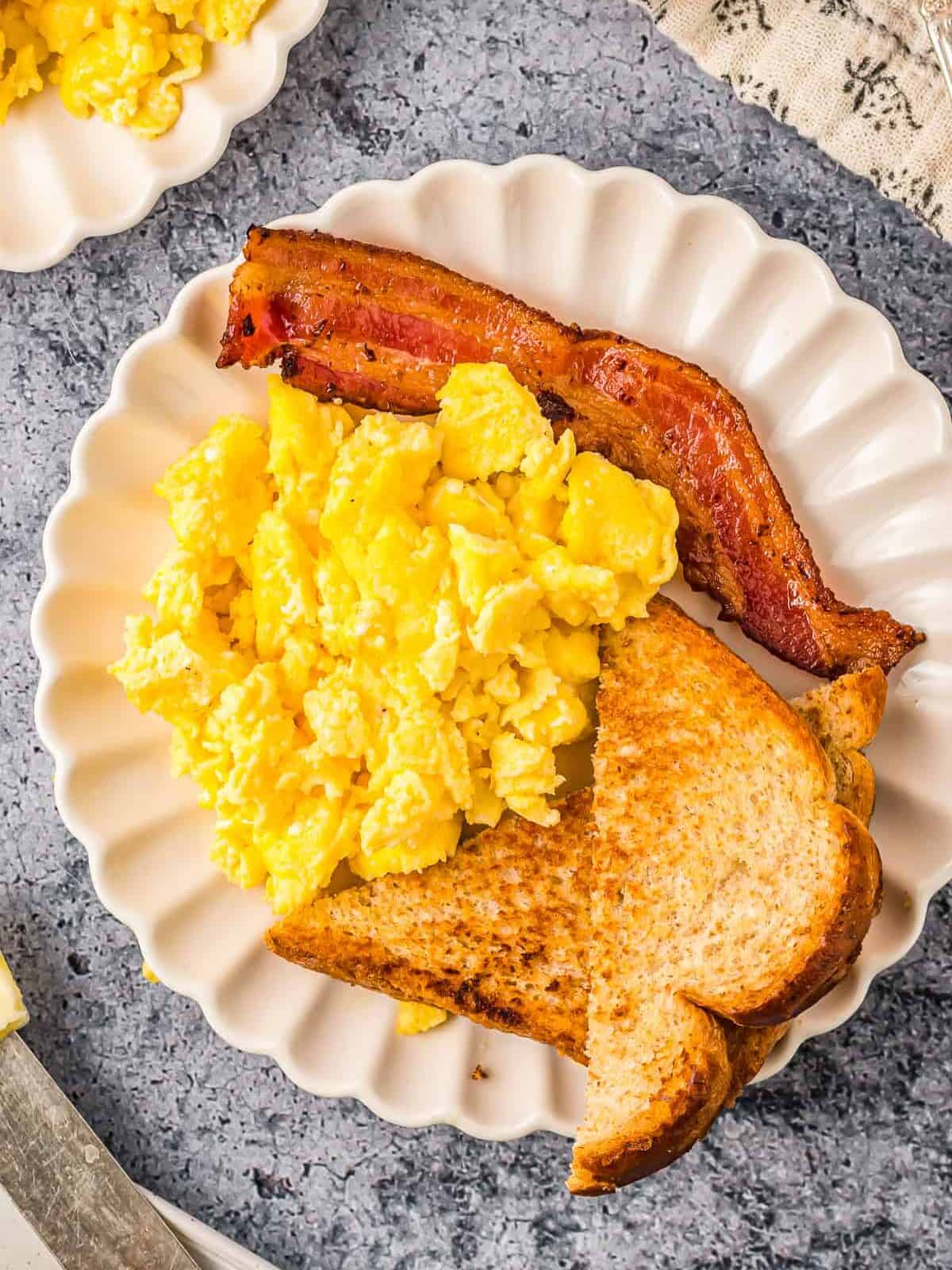 What's in Scrambled Eggs?
We're keeping our recipe as simple as possible, only using the most basic ingredients. You only need a couple of things to make the best scrambled eggs! Eggs, butter, and salt are the 3 ingredients necessary, the rest are optional.
Eggs: As a general rule of thumb, scramble 2 eggs per person/per serving.
Butter: I recommend using unsalted, real butter (although you can substitute margarine if you prefer).
Salt and Pepper: Keep seasoning as simple as possible with salt and pepper. Other seasonings can be added as desired.
Milk: This will add some creaminess to your eggs, but it is optional.
Scrambled Egg Add-Ins
While you're scrambling the eggs, you can add in lots of other ingredients to make them even better. Mix in spinach, shredded cheese, chives, or some extra herbs and spices. Cayenne pepper adds some heat, and this everything but the bagel seasoning adds all kinds of flavor!
And if you want to add everything all at once, try this loaded scrambled eggs recipe.
You can also add extras after they've been cooked. Try topping them off with sour cream, hot sauce, or bacon crumbles.
How Long Does it Take to Make Scrambled Eggs?
This depends on which method you use to cook scrambled eggs, but it never takes very long. You'll only need a few minutes!
| | |
| --- | --- |
| Cooking Method | Time |
| Stovetop | 7-8 minutes |
| Instant Pot | 3 minutes |
| Air Fryer | 7-9 minutes |
| Microwave | 1 minute, 30 seconds |
Are scrambled eggs healthy?
Yes! They are a great source of protein and healthy fats; however, they also contain a lot of cholesterol, so consume them in moderation!
How do you make scrambled eggs fluffy?
At the start of the recipe, whisk the eggs vigorously to help incorporate air. This is the best way to get super fluffy eggs! The more whisking, the more air, the fluffier they'll get.
Can you scramble egg whites?
Yes. Just separate the yolk from the whites to start, then follow the same steps. Egg whites have a slightly different texture and consistency, but you can still scramble them.
Can you reheat scrambled eggs?
They will taste best if eaten as soon as they're cooked, but you can save and reheat scrambled eggs. Heating them in the microwave is the easiest option.
What's the difference between soft and hard scramble?
This is really just a difference in doneness and how long you cook them. Soft eggs are cooked on lower heat and for less time, whereas hard eggs are cooked longer until they are set and firm.
Can you freeze scrambled eggs?
Yes! Scrambled eggs freeze well for up to 3 months.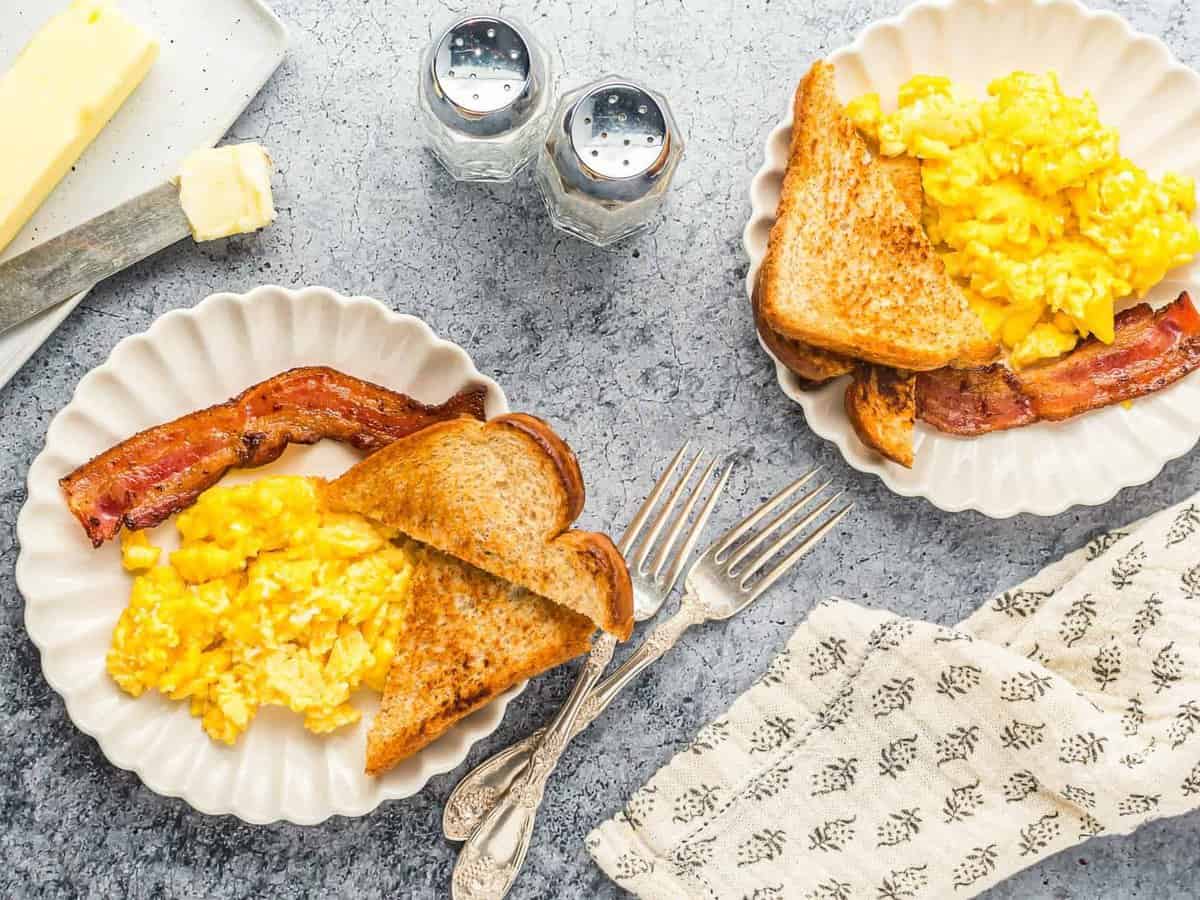 How to Store and Reheat Fluffy Scrambled Eggs
Store leftover scrambled eggs in an airtight container in the refrigerator for up to 5 days. Reheat in the microwave in 15-second bursts until warmed through.
How to Freeze Perfect Scrambled Eggs
Freeze scrambled eggs in individual portions in airtight containers for up to 3 months. Let thaw overnight in the refrigerator before reheating.
What to Serve with the Best Scrambled Eggs
This scrambled eggs recipe makes a quick meal on its own, but it can be served with all your breakfast favorites. Add some bacon or sausage, breakfast potatoes, toast, or pancakes. Or for a lighter, healthier meal, add some fresh fruit or sautéed veggies.
More Egg Recipes We Love